Everything You Need to Know About Safer Sunscreen
If you consistently lather up with sunscreen before spending time outdoors, you're probably already feeling like you're ahead of the game. And you kind of are! According to CBS News, only one-third of people apply sunscreen to all of their exposed skin (per medical recommendations). Being in a consistent routine with safer sunscreen — especially in the summertime — is absolutely a victory.
But there's more to sunscreen than you've heard about from advertising… and maybe even from your dermatologist. While mainstream, readily available sun protection brands do have a pretty good track record of minimizing risk of skin cancer (for those who use it properly, of course!), they aren't exactly doing you any other favors health-wise, and people are starting to notice.
P.S. More recently, chemical filters in sunscreens have been linked to the killing off of coral reefs. It's why Hawaii, and recently Florida have newly passed a bill to ban these types of sunscreens from being sold in the state.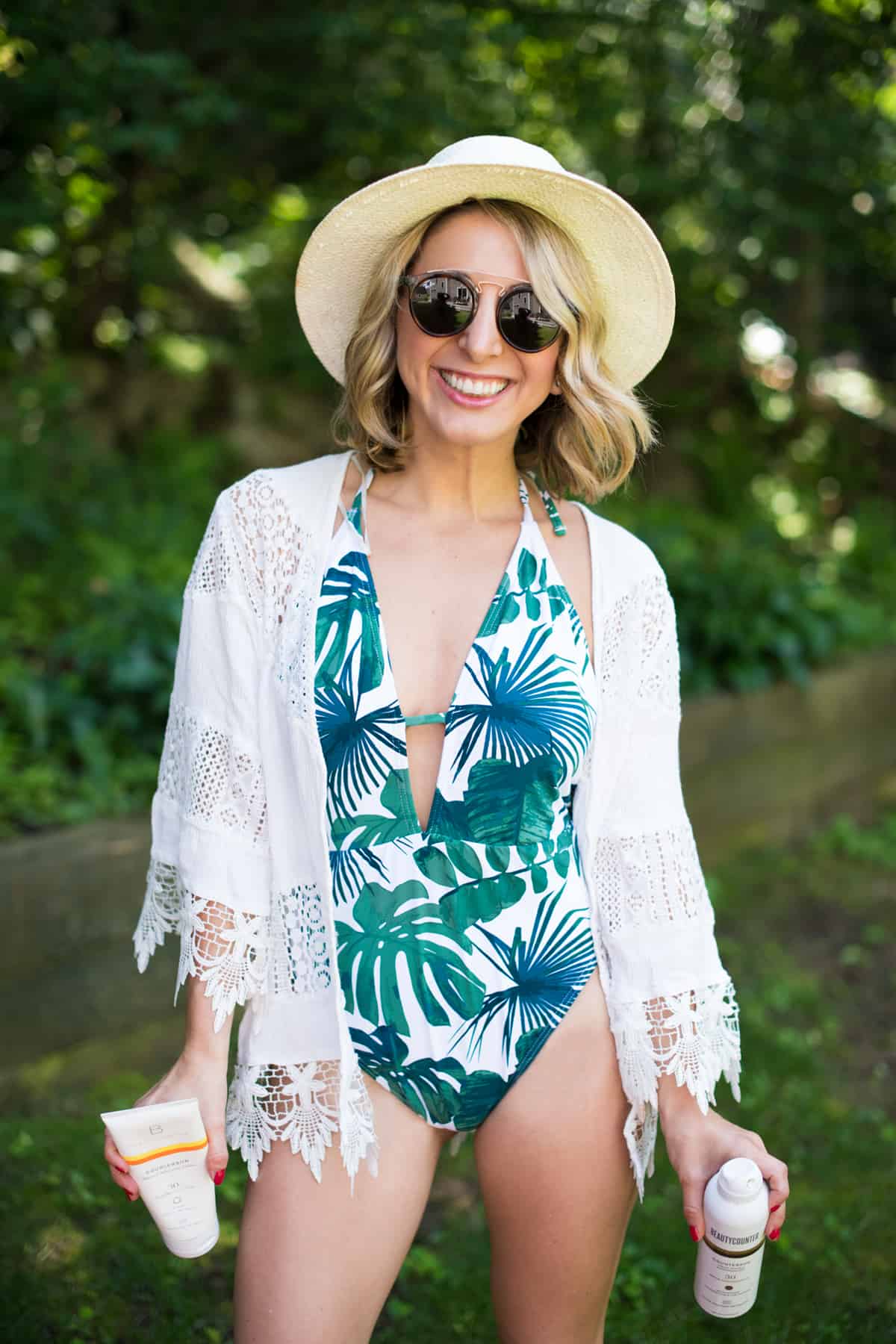 Everything You Need to Know About Safer Sunscreen
There's more to it than the SPF number
Here's a fact you've probably never even thought about: Many of the sunscreens you're probably most familiar with are known as chemical sunblocks. These products actually absorb into your skin, ultimately absorbing UV rays so they can be converted into heat and released from your body. Active ingredients in these sunscreens typically include avobenzone, octinoxate, and oxybenzone. Think about it for a sec — if these chemical sunscreens are to work properly, those chemicals need to be fully absorbed into your body. Do you want your skin absorbing things that are known to be harmful to your health, or just anything that you can't even pronounce? No, thanks.
If you are unsure of the ingredients in the sunscreen you thought was decent, EWG.org/skindeep is my go-to resource to search and learn about the ingredients in my products. You simply search an item, and see it's toxicity rating based on the ingredients and can read about why those ingredients aren't good for you. It's pretty awesome!
Now, all of this isn't to scare you! The good news is that you don't have to avoid sunscreen altogether in order to avoid these chemicals, and the answer is certainly not to stop wearing sunscreen. There are alternatives! It's a good thing, too, because I want to help you preserve your healthy skin and stay glowing and ageless forever.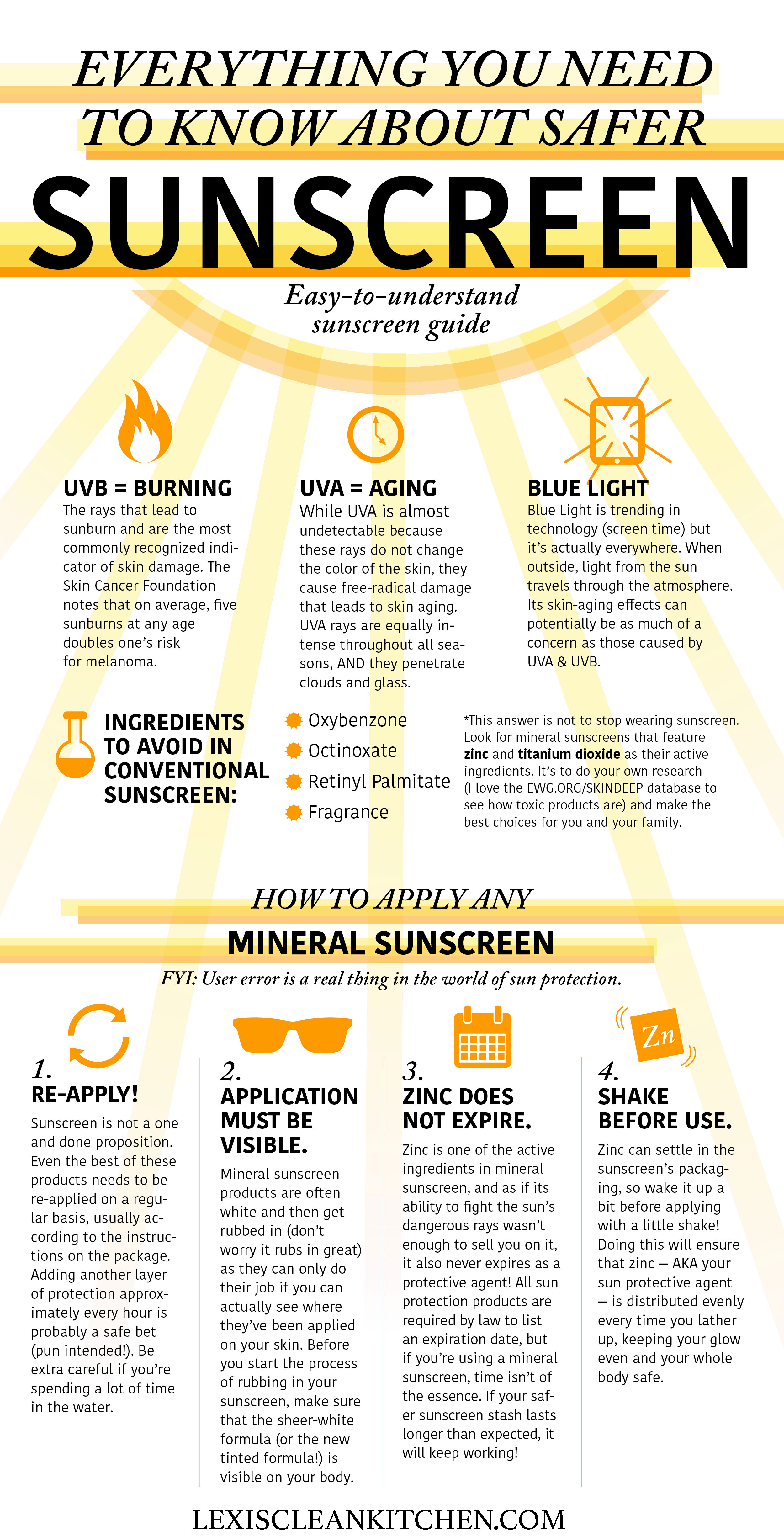 Is mineral sunscreen better than chemical?
The best alternative for chemical sunscreen is a category of sun protection called mineral sunscreen.
Look for mineral sunscreens that feature zinc and titanium dioxide as their active ingredients, rather than the chemicals present in most conventional products. This makes your sunscreen a lot cleaner and safer. Mineral sunscreens use these active ingredients to physically block the rays from your skin — they actually reflect the suns rays. As an added bonus, many mineral sunscreens are fragrance-free, which is a win for babies, kids, and anyone with sensitive skin and can help you further streamline the dangerous chemicals being absorbed into your body.
Ingredients you should avoid when searching for sunscreen are:
Oxybenzone
Octinoxate
Retinyl Palmitate
Fragrance
The best mineral sunscreens
My personal pick for my family is Beautycounter's sunscreen line, Countersun.
Here's why: Beautycounter just happens to be the market leader in safer, mineral sunscreen. I trust them for their skincare, make-up, and mission, and their triple-tested Countersun line is no different, (plus it's reef safe)! Beautycounter's sunscreen offers all of the benefits of sun protection without the dangers associated with many of the products you can buy at your local pharmacy or grocery store. Please, do your research when you pick up that sunscreen that looks good in CVS!
Countersun (Beautycounter's mineral sunscreen line) has a lotion, a non-aerosol mist, and a face stick, and the line now includes tinted sunscreens — a little extra glow, anyone? — and an aftersun cooling gel, to help ease the pain of a little too much time spent catching rays. Basically, all of your bases are now officially covered… and a lot more safely!
Here's a handful of other miner sunscreen options that pass the test: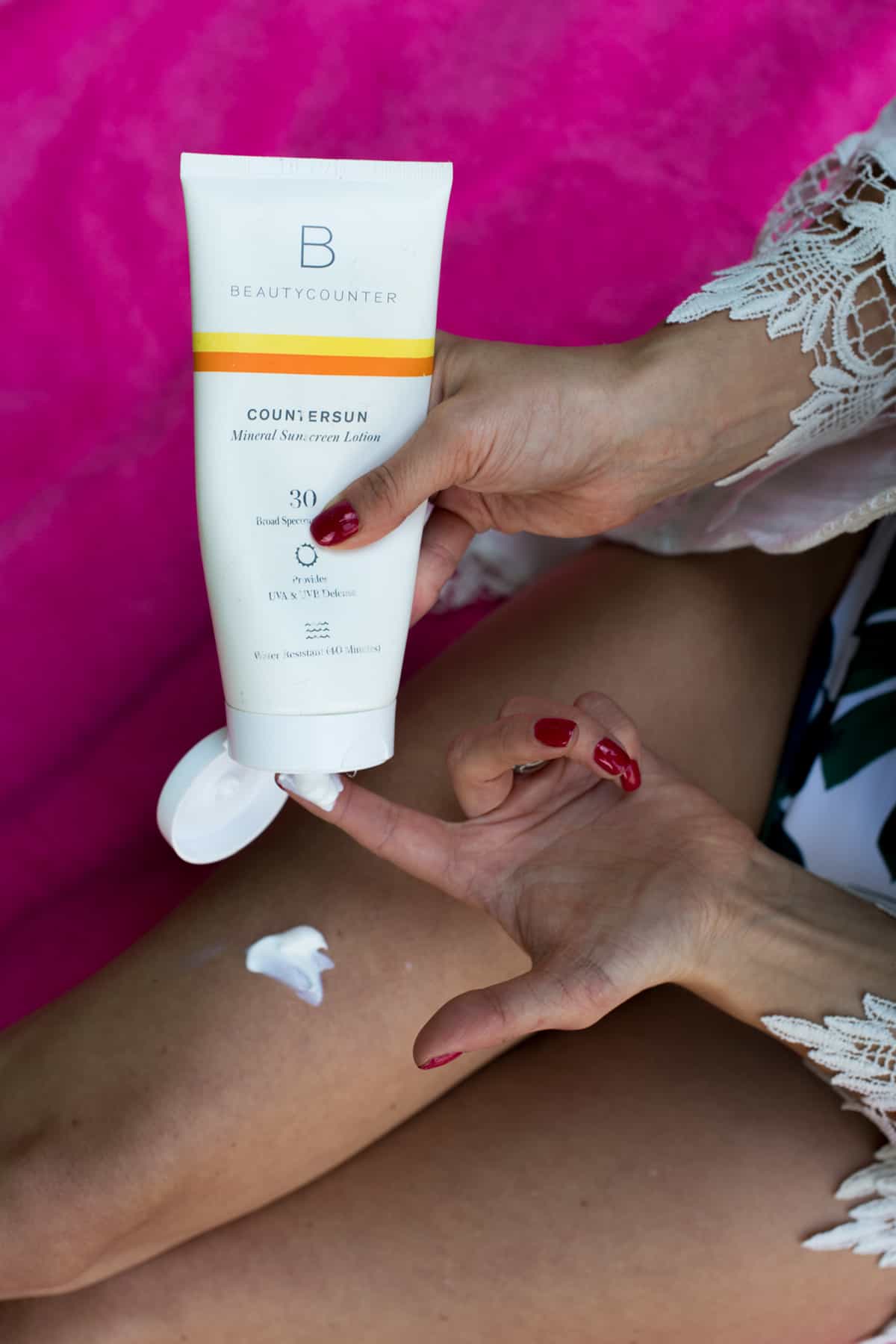 Here are a few of my go-to tips for applying Beautycounter's safer mineral sunscreen:
Just because these products are great (which they are) doesn't mean that they can prevent 100% of sunburns. Mineral sunscreen and chemical sunscreen are quite different, and user error is a real thing in the world of sun protection.
1. Re-apply! Sunscreen is not a one and done proposition. Even the best of these products needs to be re-applied on a regular basis, usually according to the instructions on the package. Adding another layer of protection approximately every hour or two is probably a safe bet (pun intended!). Be extra careful if you're spending a lot of time in the water. Water resistant is not the same as waterproof, so make sure to reapply after or taking a dip or sweating on a run!
2. Application must be visible. Mineral sunscreen can only do their job if you can actually see where they've been applied on your skin. Before you start the process of rubbing in your sunscreen, make sure that the sheer-white formula (or the new tinted formula!) is visible on your body. We're not talking about a clear mist here!
3. Zinc does not expire. Zinc is one of the active ingredients in mineral sunscreen, and as if its ability to fight the sun's dangerous rays wasn't enough to sell you on it, it also never expires as a protective agent! This means that it will be effective for years after purchase. All sun protection products are required by law to list an expiration date, but if you're using a mineral sunscreen, time isn't of the essence. If your safer sunscreen stash lasts longer than expected, it will keep working!
4. Shake before use. Zinc can settle in the sunscreen's packaging, so wake it up a bit before applying with a little shake! Doing this will ensure that zinc — AKA your sun protective agent — is distributed evenly every time you lather up, keeping your glow even and your whole body safe.
---
Generally speaking, I encourage you to never underestimate the sun. It is so powerful, and even the best of sunscreens won't help if you're not sure to use them properly. Be careful, be safe, and have fun in the sun!
P.S. Want some other reads? This article from NY Post is really informative and this one from CNN is as well.
---
Disclosure: There may be affiliate links in this post! By clicking on them, or purchasing recommended items I may receive a small compensation, at no cost to you! However, I only recommend products I absolutely love and use on my own body. Thank you for supporting Lexi's Clean Kitchen when you shop.
Everything You Need to Know About Safer Sunscreen
Winter dry skin here in Boston is NO joke. I've talked about dry skin before, and how to beat it, but I need to spotlight one product and how I use it that has changed my dry winter skin this year for the better. As soon as the temperatures drop and the air becomes less humid, it's no secret that dry skin starts to appear, even those who normally don't have a problem with it. I've had such issues with this in the past, but not this year! I've finally found the one product that has changed the game for me and today I'm excited to be sharing my #1 must-have face product for dry skin!

My #1 Must-Have Face Product For Dry Skin
Meet… the super popular Cleansing Balm! It's an award-winning product and one of their most popular items, and admittedly, one that I waited way too long to try out. I've been using Beautycounter's Cleansing Balm for about a year now, but this winter I've been using it a little bit differently that has eliminated my typical dry and flaky winter skin and I'm so glad I discovered it.
What is the Cleansing Balm
This is the product that does it all– literally! The Cleansing Balm is:
A daily cleanser and makeup-removing balm: It doesn't foam like a typical cleanser, but it definitely cleans your face really, really well. You simply massage an almond-sized amount onto dry skin, applying gentle pressure to cheeks, forehead, and eyebrows for increased circulation. Gently wipe it off with a dampened cleansing cloth and thoroughly rinse skin
A replenishing overnight mask: Massage it into clean skin and rinse away in the morning when you wash your face.
AND the ultimate moisturizer: This has been the game-changer for me! How I use it as a moisturizer below.
How I Use the Cleansing Balm
Since winter has started I've been using the the cleansing balm as a thick moisturizer that has halted the dry, itchy skin I usually experience in colder months. It is so hydrating (made with raspberry and cranberry seed oils… think Vitamin C!) and my skin just soaks it up! I use it in the morning and at night before bed, and even before applying make-up!
Let me say, I have breakout prone skin, so I don't take moisturizers lightly, since I can so easily breakout. I use an almond-sized amount in the morning and at night, or any time my skin is feeling particularly dry after spending time outdoors. While on vacation I also used it after being in the sun and the beach (you know that tight skin feeling?) and my face was seriously grateful.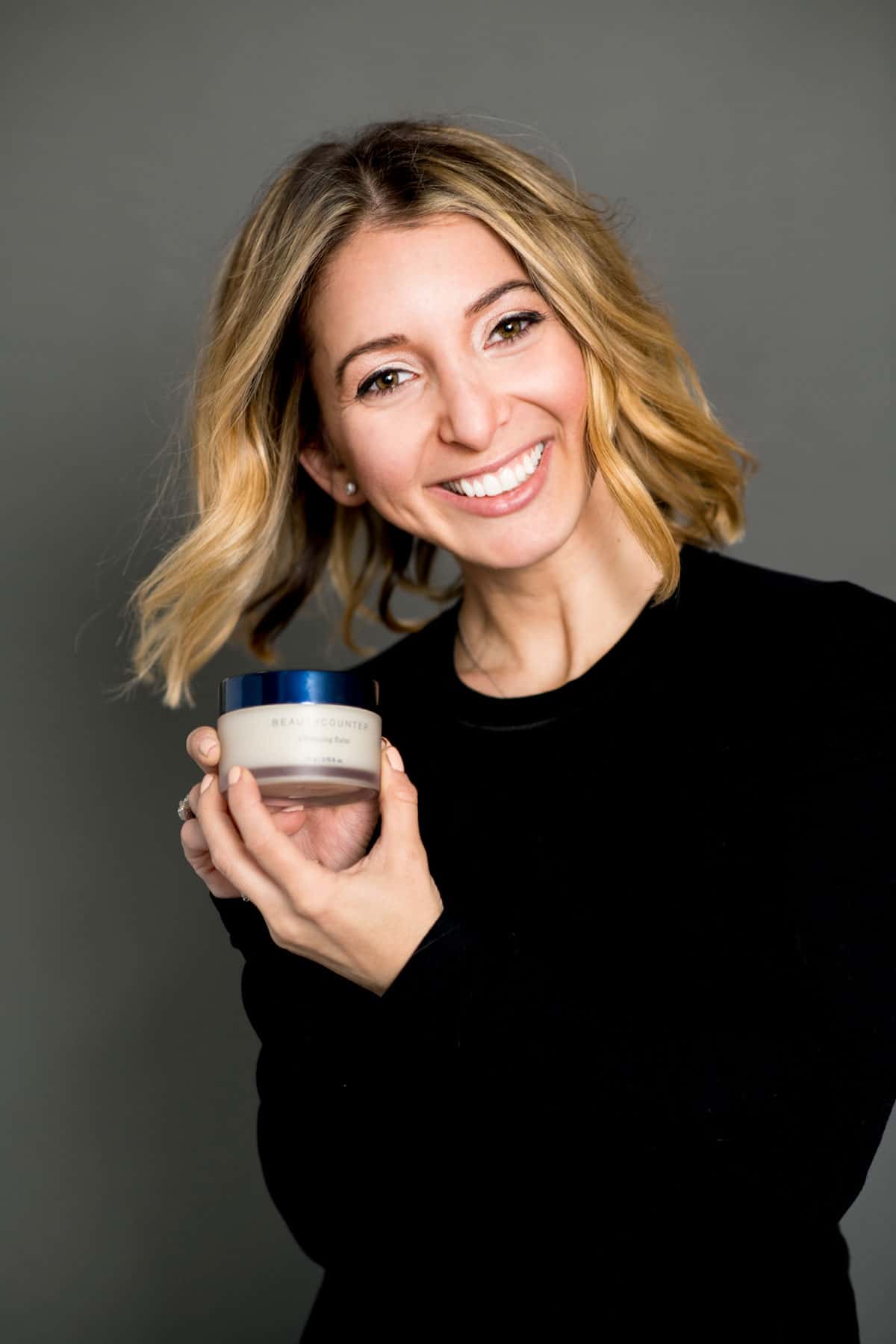 ---
Other Environmental Factors to Help Dry Skin
Last year we talked all about how to deal with enviromental factors that affect your skin, but I feel it's important to recap here because I certainly focus on these as well when it comes to dry skin.
Here are some tips to help beat winter dry skin:
Get a humidifier: Add moisture BACK into your skin at night while sleeping.
Drink and eat more water: Carry a water bottle with you wherever you go to constantly remind yourself to hydrate and consume more nutrient-dense fruits and vegetables, which in their natural forms typically have high hydration levels and electrolytes!
Consume more healthy fats: If you don't already eat a variety of healthy fats in your normal diet, now is a great time to add them in as healthy fats will contribute to your skin health and fats help keep moisture in.
Have a good skin care routine for your face: Nourish your skin topically by establishing a good routine, and don't forget these key things:

As much as possible use skin care products without harmful chemicals (why I proudly support Beautycounter, a B-corp fighting to change the industry overall)
Exfoliate at least 3x a week (I like this exfoliating scrub for a deeper scrub and the Beautycounter Overnight Resurfacing Peel)

Have a good skin care routine for your body:

Dry Brush before you shower to remove dead skin!
Exfoliate in the shower with this body scrub (or make your own).
Moisturize: I LOVE Primally Pure's body butter. I always have it for myself and get it for my friends who are pregnant to use on their bellies!
---
Want to Try the Cleansing Balm?
A little goes a LONG way. Mine lasts me over 6 months of daily use.
Cleansing Balm $80: I know this is price is steep, but I promise, a little goes a long way. I've used my current one twice a day and I've been using this jar for 4 months now. It is worth it, truly!
AMAZING RETURN POLICY: If you're a first-time Beautycounter shopper, you should know that they have a 60-day return policy, no questions asked, with free return shipping. I trust you'll love everything but I think that's helpful to know since buying makeup and skincare online can be nerve-wracking! Want to see my other favorites? Click here for my personal routine.
P.S. I truly think it's great for any skin type:
My mom uses it daily for anti-aging and loves it.

Nanny (who is 95) uses it and it soaks right into her skin for major hydration.

I am acne-prone and it's been great for me, no issues whatsoever!

Mike, who has pretty normal skin, uses it on his nose when it gets dry/irritated.

Kelli swears by it for her skin

and

she even uses it for her children!
If you have dry or combination skin, I think it's 100% worth a try. The only skin type I'd probably be cautious/avoid it with is super oily skin, as it is a thicker, super hydrating balm.
---
Here's to safer skincare and better beauty! This post is not sponsored, but does contain affiliate links. I would never share something I don't 100% stand behind and personally use, and I hope you've grown to trust that from me over the years.
As always, thank you so much for your continued support of my Beautycounter business and all of my work. Please reach out with any questions, I am happy to help in any way that I can! And make sure to join my safer skincare email list for fun exclusives!
Your friend,
Lexi
My #1 Must-Have Face Product For Dry Skin
As you know, a main focus of mine is helping others live healthier, cleaner lifestyles through clean eating and nutrition. But there's a whole other area that affects our health, even beyond nutrition, and that's our lifestyle choices. In particular, the products we choose to put on our bodies every. single. day.
I decided to become a consultant with Beautycounter – a young (just 5 years old), industry-disrupting, safer, performance skincare & makeup company, nearly 2 years ago. And I didn't take the decision lightly.
As I do with any product or service I share with my audience, I needed to REALLY get to know the products. I experimented with their skincare and makeup for months before I decided to share the products with you, my readers, and my community. (Because that's my commitment to you – I'll never share something I haven't fully vetted and experienced.)
I also took a ton of time to truly get to know Beautycounter's mission. Because this company isn't just about selling products. It's also a B-Corp, which is extremely important to me, and Beautycounter is deeply involved in pressing local, state and even the federal government for more health-protective legislation governing the personal care industry. That's right, Beautycounter is actively asking the government for more regulation of its own industry – because our founders believe that there's more to this multi-billion dollar industry than just the bottom line. They truly believe that beauty should be good for you, and their products and their advocacy work reflects that.
The personal care industry in the United States is governed by just a few pages of legislation, and a major federal law governing the industry hasn't been enacted since 1938. (For reference, this is a decade that saw rat poison in depilatory creams, among other things.) http://www.nbcnews.com/id/22546056/ns/health/t/suffering-beauty-has-ancient-roots/#.W0kVQRJKiqA
Today, even still, companies are basically responsible for policing themselves. Which is probably why we're still finding lead in lipstick. (See above.)
I chose Beautycounter because their products are amazing and rigorously screened for safety.
I wanted to be part of changing the beauty industry as a whole, and there's nothing more powerful than voting with my own dollar and providing others with solutions they can use, that solve their problems, and that perform beautifully without potentially harmful ingredients.
I also chose Beautycounter because of their company ethic, their integrity, and their commitment to innovation and safety. And it was one of the best decisions I have ever made for myself and my business!
---
My Why:
I've been wanting to share my WHY with all of you for some time now.
If you don't already know by now, I have the MTHFR gene mutation, as does my husband, and am working hard on my DETOX system as well as detoxing my home. My heavy metals are a little higher than we'd like, which I attribute to years of putting things on and in my body that I, and many others like me, cannot get rid of (detox) properly.
Aside from all of that, my skin has always been problematic. For as long as I can remember I had been self-conscious about going out without wearing make-up, and just feeling badly that my skin was STILL an issue. I figured this was just the way it was and that sadly my skin wasn't going to ever change.
As I got a bit older, I became more and more upset about my skin. I would constantly say, "I'm in my mid-to-late twenties and my skin still looks like I'm a teenager." If any of you have struggled with skin issues in your adult life, you can attest that it is such a frustrating journey.
I always knew I wasn't using the best products that I could be using on my skin, nor was I totally taking care of my skin the best way that I could. But I kind of ignored all of that and attributed everything to hormonal issues. And while I have and do struggle with some hormonal "stuff," I knew I could probably be doing more to help my skin on the surface. And I am saying this 100% no bullsh*t, these products absolutely changed my skin.
This has been a gift: not only do I feel confident in the products I'm using on my face and body for the sake of my internal health, but my skin also looks SO MUCH BETTER on the OUTSIDE! It's a win/win.
It's really, truly sad that we can't trust the government to ensure the basic safety of our self-care products, but it's the reality. (I'm not talking over regulation, I'm just talking basic protective measures!) Many of our personal care products contain harmful ingredients that are known endocrine disruptors (that means they can cause hormonal imbalance), ingredients linked to cancer, and even heavy metals – and that's just to name a few. Many of these ingredients are banned in Europe, but are in most of the self-care products sold in the US.
Did you know that (per a recent study), 80% of Americans do *not know* that their personal care products contain ingredients that are questionable or potentially harmful to human health? 80%!
Companies are not required to screen their cosmetics for contaminants like heavy metals. They're not required to review the scientific literature on the potential problems with certain ingredients. Most companies just produce products that sell – and sure, sometimes they work, but at what cost?
Beautycounter screens every single ingredient for safety by reviewing the scientific literature and commissioning studies where data is lacking. They test every batch of color cosmetics THREE TIMES for heavy metal contamination (did you know "natural" makeup, like mineral makeup, is at risk for high metals contamination?) They're transparent about every ingredient they use and why. And even better? They use active ingredients that work.
SO, for me? It's personal. I'm personally avoiding heavy metals, fragrances, and endocrine disrupters in my self care products. I'm personally choosing safer products that are good for my acne-prone skin. For me, it's personal that I share this with all of YOU. So you can make the best choices for you and your family. You may not have detox issues, but if I've learned anything over the past number of years in this area of my work, it's that genes can be "turned on" at any time.
We have a choice. I strongly believe that, when it comes to our health, we must control what we can. The products I use are something I can control – so I absolutely will.
---
Direct Sales:
Let's get right down to it. Beautycounter is a "Direct Sales" company, which is often written off as an MLM (multi-level marketing company). Many people are thrown off by this approach. I was too. I get it. 1000%. I had a negative attitude left over from dealing with the pushy/negative tactics I witnessed in the past few years from people I thought were my friends! I was beyond hesitant to add this aspect to my business, but let me say this:
Yes, Beautycounter is a direct-retail company with a network of independent consultants – however, its products are brought to market via three different avenues: e-commerce (the Beautycounter website), strategic partners (like J.Crew, Goop, Rachel Zoe, and Target), and through their force of one-on-one consultants (the largest leg). Consumers can shop however they're most comfortable, and if they don't want to purchase through a consultant, it's not required. (However, we all deeply appreciate your business!)
Beautycounter has taken some of the best aspects of an MLM (flexible income potential, the ability to work from anywhere, and the ability to earn money from the products you recommend) and eliminated the downsides (required purchases, pressure tactics).
The woman behind Beautycounter, Gregg Renfrew, chose this sales model because she felt it was the best way to spread their mission – to get safer products into the hands of everyone. She felt the mission would get lost selling in big-box department stores, and honestly, she was right. Each consultant comes with a story as to why they chose to change their lifestyle to improve their health and how Beautycounter was a part of that.
There are no monthly minimums and no auto-draws. Clients can shop exactly how they want to shop, when they want to shop. Beautycounter is an education-first company working to get safer products (not just Beautycounter products) into the hands of EVERYONE by way of our advocacy in government policy, pioneering safer skincare technology, and peer-to-peer education.

As a blogger, I would never, ever promote products I don't stand behind. I'd never be part of a "scam" where you can only make money off of other people "signing up" for some obscure business opportunity. My goal is simple: spread safer skincare and better beauty to as many people as I can, because I believe in it. If I can earn a living by helping people get healthier in all ways, using every tool we have, I've done my job right!
---
What Makes Beautycounter Products Different?
✓ Beautycounter has banned more than 1,500 ingredients (The "Never List") yet their products perform like conventional products – they're as indulgent as any luxe shampoo, lipstick or cream on the market.
---
✓ Beautycounter uses the best of SAFER SCIENCE. While Beautycounter's products aren't 100% natural, they have innovated performance-oriented products that are significantly safer than anything on the market – so they're perfect for someone who wants a little extra oomph from their products without sacrificing safety.
---
✓ Beautycounter has developed a rigorous ingredient screening process, looking for data on skin irritation, carcinogenicity, reproductive toxicity, and more.
---
✓ Every single Beautycounter product is rated between 0-3 on EWG's Skindeep database, which is the most amazing go-to resource for product safety! If you haven't checked that database out for some of the products you are using in your home, I highly recommend it. It is majorly eye-opening.
---
Getting Involved:
Retail is becoming less and less of the way people shop, and the direct sales model is becoming stronger and stronger! I'm so thankful to have the opportunity to earn money from referring people to my favorite products.
I think it is important to find a business that is ideal for you and what you are passionate about. So whether you get involved with makeup, essential oils, supplements, body care items — I would pick one and focus on it. Top people like Tony Robbins and Robert Kiyosaki believe in this type of sales approach, and Robert has even called it the "perfect business."
What I love about working with Beautycounter is: YOU get to decide how you run your business. You get to decide how much time you want to spend on it. Yes, there are pushy people out there. YES, there are people who take approaches that you may cringe over. But they don't get to decide how YOU run your business and what you decide to do for YOUR future. YOU DO.
I was so focused on hating how others approached direct sales, and so stubborn about this business model, that I waited a long while to get involved, despite my love for the company, the mission, and the products. Don't be stubborn like me!
Through research, advocacy for more protective regulation, an education-first mission, and the development of safer products, Beautycounter is making it happen. So, if you're looking for a way to DO something that's both flexible and rewarding, this can be an avenue for you.
I have a purpose in saying this: I see people struggle all the time in their daily lives. They are constantly stressed and overwhelmed, they are buried in bills, debt, etc., and they can't stop and just enjoy life.
The thing is, you CAN do something to change your finances. If that's not a direct sales or network marketing business, that's okay! But at least do something to change your life so that you can live well and thrive! Do that for yourself.
I am mentoring, with careful intention, a team of women who are committed to building a business with Beautycounter. If this business resonates with you, please email me (beauty@lexiscleankitchen.com). I'm available to answer questions and help get you pointed in the right direction.
---
Want to be the first to know about deals and things or want a one-on-one skincare consult?
Sign up for my safer skincare/better beauty email list here, and please email me (beauty@lexiscleankitchen.com). I'm available to answer questions and help you find products that would be great for YOUR skin.
Lastly, you can check out other home swaps we've made here. This is not limited to deodorant, toothpaste, cleaning products, etc.
Why Beautycounter!
Is anyone else feeling the impact from Winter? My skin has been exceptionally dry this year, so I thought I'd share what I'm doing this year to beat dry winter skin! Everything from skincare to sleep, and all things in between!
So, How do you get rid of dry skin on your face?
Upgrade Your Skincare Routine:

How can I keep my skin hydrated during winter?
Add Moisture To Your Environment:
Use a humidifier to add more moisture to your environment. I have my running in our bedroom at night. Here are two great options:
How can I hydrate myself?
Drink more water: Bringing a reusable water bottle around with you! This is the #1 small thing I do to drink more water daily and it changed the game for me! When I don't have mine with me, I drink much less! Tip: infuse your water with mint, lemon, or cucumber for added flavor and nutrients!
What foods are good for your dry skin? Eat hydrating foods such as:

Veggies (like cucumber, celery, cauliflower, spinach, lettuce, and carrots)
Broths to sip on
Green juices
Fruits like watermelon and cantaloupe
Fatty fish such as salmon and tuna contain high amounts of omega-3 fatty acids that are good for your skin
Eat other sources of vitamin C, such as strawberries, broccoli, and spinach
Healthy fats and oils, like avocado, nuts (rich in vitamin E), olive oil, and coconut oil

Avoid dehydrating beverages/foods: Avoid drinks with artificial sweeteners, like sodas and fruit juices! Avoid the candy and chip aisles, and remember that alcohol and caffeine can dehydrate the body as well, so consume in moderation!
What About The Rest of Your Body:
Dry brushing: Dry brushing takes all of 2 minutes and is a great way to enhance blood circulation and remove dead skin cells1 When done regularly, dry brushing is known to stimulate the lymphatic system (allowing the body to rid itself of toxic build-up), exfoliate the skin, remove dead skin cells and stimulate the growth of new ones! Simple rub your body with the dry brush before showering. Begin with your extremities and gently move towards the heart in upward, circular strokes. I use this dry brush.
Exfoliate in the shower: I love this body scrub! It's perfect for exfoliating and removing dead skin. I use it twice a week!
Get a gentle, safe body wash: Let's take a vow this year to stop putting toxic products on our biggest organ of our body, our skin! Grab a safer body wash. This is the body wash we absolutely love. My entire family uses it, men included!
Moisturize right after the shower: I love the Primally Pure body oil in Lemongrass and Blue Tansy, and also love their body butter in Eucalyptus and Lavender or Almond + Vanilla.
Moisturize your feet: If your feet get dry and crack like mine do, before bed, use your body butter on your feet and cover them with socks!
Get Enough Sleep:
Getting a full night's sleep to help to restore the skin's moisture balance, fight inflammation (a biggie during cold season), and stimulate collagen.
Get Moving:
Exercise helps get your blood flowing! When your blood flow is boosted, nourishment is sent to skin cells, reestablishing a radiant complexion and minimizing the effects of inflammation.
I hope that was helpful! XOXO!
P.S. This post contains affiliate links to my FAVORITE products and ones I use daily. I only share products that I personally use and stand behind 100%. This adds no extra cost to you while shopping!