Gluten Free Strawberry Shortcake (with dairy free whipped cream)
This Gluten Free Strawberry Shortcake recipe is a must make during the summer! With buttery drop biscuits as it's base, the macerated strawberries are topped with a delicious dairy free coconut whipped cream and make the easiest end to a summer meal. They'll be loved by all, and nobody will know (or care) it's gluten free!
Gluten Free Strawberry Shortcake Recipe
There might be no better dessert out there than a classic Strawberry Shortcake during those hot summer months! While there may be some controversy whether or not Strawberry Shortcakes should be made with a cake or with a biscuit, after trying this gluten free version, you'll be hooked on the biscuit. This version tops the lightly macerate berries with a dairy-free coconut whipped cream and it's just so perfect.
How do you make it?
There are three steps to making this gluten free Strawberry Shortcake recipe.
Make the biscuits! This recipe uses the beloved LCK drop biscuit recipe as the shortcake. You can check out this post for more information and helpful hints on this recipe! They can be made up to 1 day head of time.
Macerate the strawberries. This may sound complicated but it's not! To macerate strawberries you add in a touch of honey and let it sit at room temperature until the delicious strawberry liquid has started to release.
Make the coconut whipped cream. Using an electric mixer, whip the coconut cream until light and fluffy. Add in powdered sugar or honey and whip a bit more and then you'll have luxurious coconut whipped cream!
Tips for Making Coconut Whipped Cream
Our best piece of advice for making coconut whipped cream is to make sure the coconut milk is cold! Leave it in the refrigerator for at least 24 hours to make sure that the cream (or fat) separates completely from the light coconut milk. Then when you are whipping make sure to only scoop the solid cream into the bowl, and leave behind any trace of the milk. It won't be quite as thick as whipped cream made with dairy, but the luxurious taste more than makes up for it.
We've given options for using organic powdered sugar or honey. The powdered sugar gives the cream a better texture and more stability, so we recommend that over the honey. But if you're avoiding refined sugar, the honey will work fine to sweeten it.
Don't make the coconut cream too far in advance, and no more than 4 hours before you plan to serve.
Make Ahead Instructions
The simplicity of this dessert is one of the reasons this dessert is so beloved, but there are a few components needed before assembling. To make it easy, make the biscuits up to 1 day ahead of time. The whipped cream and the berries can be made up to 4 hours ahead of time, and chilled in the refrigerator until ready to serve.
You cannot assemble this dish until right when you are ready to serve.
If you like this clean eating strawberry dessert, check out these other recipes:
Gluten Free Strawberry Shortcake (with dairy free whipped cream)
Knowing How to Make Coconut Whipped Cream is essential for making delicious, dairy free whipped cream! This healthy alternative is more nutritious and tastes amazing! It's made with three ingredients, and aside from chilling time, comes together within 5 minutes!
How to Make Coconut Whipped Cream
This dairy free Coconut Whipped Cream is a great recipe to have on hand for when you want an alternative to regular whipped cream that still tastes great! Even if you don't need to be dairy-free, this coconut whipped cream is so good! It's creamy with a hint of vanilla and perfect with so many different dishes. We're dishing all the details on what you need to know on how to make!
Here is what you need to make it: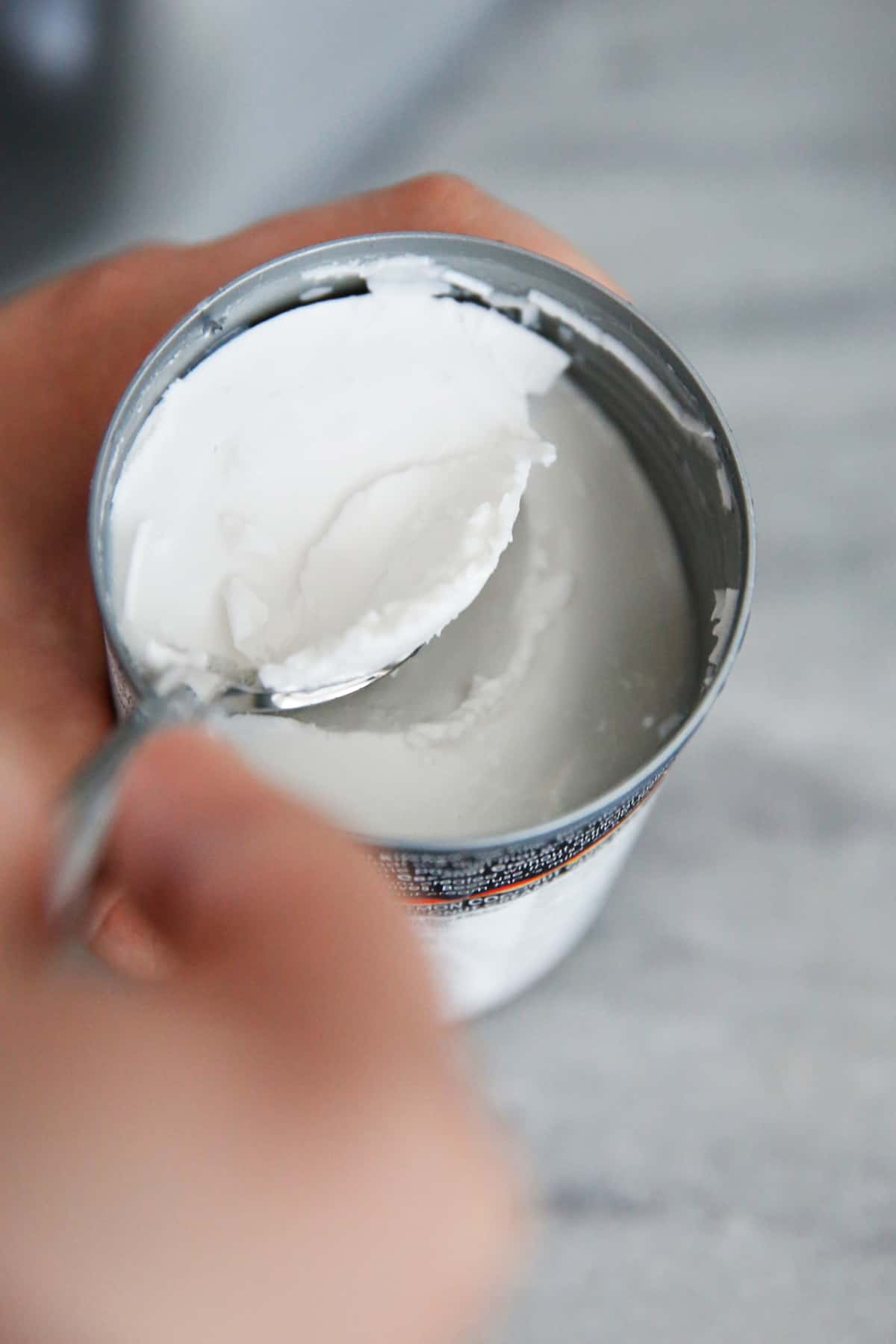 Tips for Making Coconut Whipped Cream
Look for coconut cream instead of coconut milk. It will give you more of the solid part of the coconut milk the that you need to whip up. If you can't find it, you can use regular coconut milk, but you may need about 2 cans to get enough of the solid part of the coconut milk.
You absolutely must refrigerate your coconut cream. We recommend doing so for 24 hours. However, if you are in a pinch 8 hours will work.
Use powdered sugar as a sweetener. It helps thicken the consistency of the coconut cream. If you were avoiding refined sugar you could use honey, but it will be a bit thinner.
Add vanilla extract to give it an extra flavor boost!
Serve immediately. You can make it up to 4 hours ahead of time, but it hardens back up in the refrigerator if stored for much longer.
If it does stiffen up too much in the refrigerator, you can rewhip it again to get it to a consistency you desire.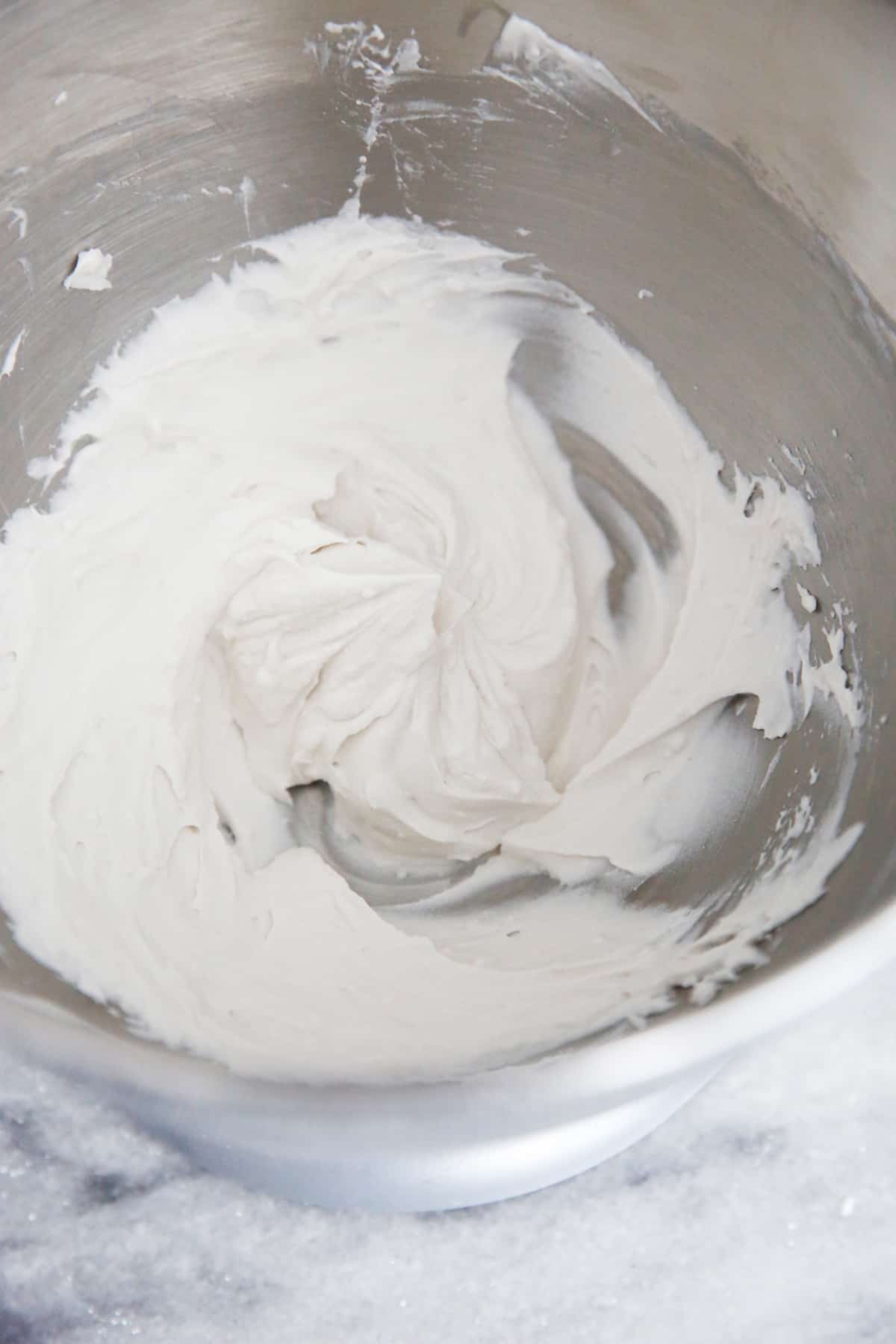 Ways to Use It
Use coconut whipped cream in place of many of your favorite uses for regular whipped cream! Just know that it is very susceptible to warm temperatures so it will not hold up as long as traditional whipped cream does.
Coconut whipped cream is delicious with: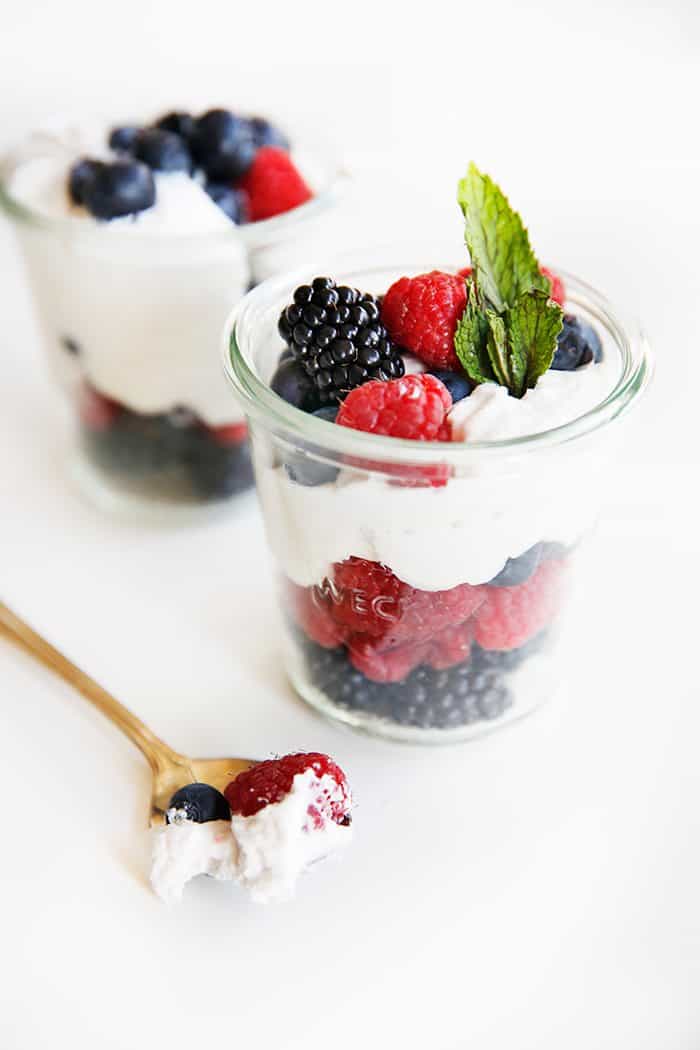 If you like this How To recipe, check out these others:
---
How to Make Coconut Whipped Cream
For many things it's easier to buy product at the store instead of making at home, but sometimes the resulting homemade product is SO GOOD that it's worth the effort which is why we're talking all about How to Make Coconut Milk Yogurt in the Instant Pot! Made in partnership with our friends at Vital Proteins!
How to Make Coconut Milk Yogurt in the Instant Pot
Sometimes we are so excited about a recipe that we absolutely cannot wait to share, and How to Make Coconut Milk Yogurt in the Instant Pot is definitely one of them. There is no hiding the fact that there are a few steps needed to complete this recipe, because after all it is making yogurt at home. But trust us when we say the resulting Coconut Milk Yogurt is so worth the effort. It's so incredibly delicious and creamy, it's super filling and only contains a very minimal amount of maple syrup. It's worlds-away-different from anything you'll buy at the store and you control the amount of sugar that goes in it! It's dairy-free and even compatible with low-carb diets. We are so in love with this dairy-free yogurt and are so excited for you to get your hands on this recipe!
We also love that homemade yogurt has way more probiotics than most anything you can buy at the store, because you can control how long you ferment the yogurt. The longer you ferment the more probiotic bacteria you have! We also can attest that making yogurt is so much cheaper than it is to buy at the store.
Prefer to make dairy yogurt? Check out this post.
---
Why coconut milk yogurt and why in the Instant Pot?
Buying a dairy-free yogurt in the stores usually means choosing one that is heavy on the sugar or is flavored and sometimes we'd just like a plain dairy-free, lower-carb yogurt that isn't going to feel like we've eaten a candy bar. We loved the idea of doing it in the Instant Pot because it means we don't need to buy a separate gadget to incubate the yogurt (and we know there are ways to do it without any gadget, but we'd prefer the controlled temperature). Of course, we are talking about an Instant Pot that has a yogurt function button. However if you do have a dedicated yogurt maker, you can certainly use it with this recipe as we opt to heat the milk on the stove because we didn't like that heating it in the Instant Pot left the milk stuck to inner pot and in turn left the resulting yogurt chunky. If you prefer to skip this and just do the whole thing in the Instant Pot you can! All you need to do is hit the yogurt button until it says boil, and then let the Instant Pot do the rest. You follow the remainder of the steps after that.
What does it actually mean to make yogurt or ferment food?
In a nutshell, when you are making yogurt you are introducing bacteria cultures to milk and creating a warm and comfortably environment for them to grow for a specified period of time, or ferment. The culture is either a purchased yogurt culture or probiotic capsule that is combined with the milk to inoculate the batch with bacteria. You can also make yogurt with a previously inoculated batch of yogurt. The introduced bacteria feed off of the sugar in the milk (see below for difference with coconut milk) and will thrive and multiply in an environment around 110 degrees or so, and the Instant Pot Yogurt setting keeps the milk at that temperature consistently.
If you've never made yogurt or fermented food before this can seem a little daunting. But once you get the hang of it making it will seem easy and can be done every week for an unending supply of yogurt!
---
How is coconut milk yogurt different than dairy yogurt?
There are a few tricks needed to make yogurt out of coconut milk that don't apply when you are making dairy milk. Namely that coconut milk does not have a lot of natural sugar in it so it needs the addition of maple syrup to feed the bacteria and that it does not thicken the same as dairy once it's fermented so we use gelatin to create the consistency we want.
Tips on How to Make Coconut Milk Yogurt in the Instant Pot
Read through the entire post and follow all of the recipe instructions. This is the type of recipe where the directions sound so specific and it's all for a reason!
If you are making this for the first time purchase a starter culture. After you've made the yogurt for a few times and have a feel for it you can start saving a tablespoon of yogurt to make new batches, but wait to do that until you've got the hang of making yogurt.
Clean all your utensils and cookware and anything else you are going to use with hot soapy water, or place in the dishwasher. Generally speaking whenever you are fermenting food you want to make sure your cookware and utensils are sanitary so you don't encourage the growth of bad bacteria. We also remove the inner seal from the Instant Pot lid because it has a tendency to hold on to odors, and they will definitely transfer to the yogurt.
Use an instant read thermometer (we love our Thermapen: it's an investment but one that will last forever) to make sure you have the correct temperature when heating up the milk and cooling it down so you don't accidentally kill the starter culture by placing it in liquid too hot. If you don't have an instant read thermometer make sure the milk is warm, but not hot by pickup up a couple of drops and putting them on your inner wrist. If it feels very warm it's likely too warm for the bacteria.
Don't skip out on the maple syrup. It is needed to feed the probiotic bacteria, without it your yogurt will never become yogurt but will instead be just a spoiled batch of coconut milk.
The longer you ferment the yogurt the tangier it will be. But you CAN ferment it too long. Check the package of your yogurt starter to see what it recommends. We found a sweet spot between 12-16 hours, but if your package says something different start out with that time and see how your yogurt tastes. If it isn't very tangy try fermenting it for longer than next time you make a batch to get the yogurt you think tastes best.
Whisk the finished coconut yogurt while it's still warm until it is fully emulsified. It will not be very thick when it is warm though because the gelatin needs to set up.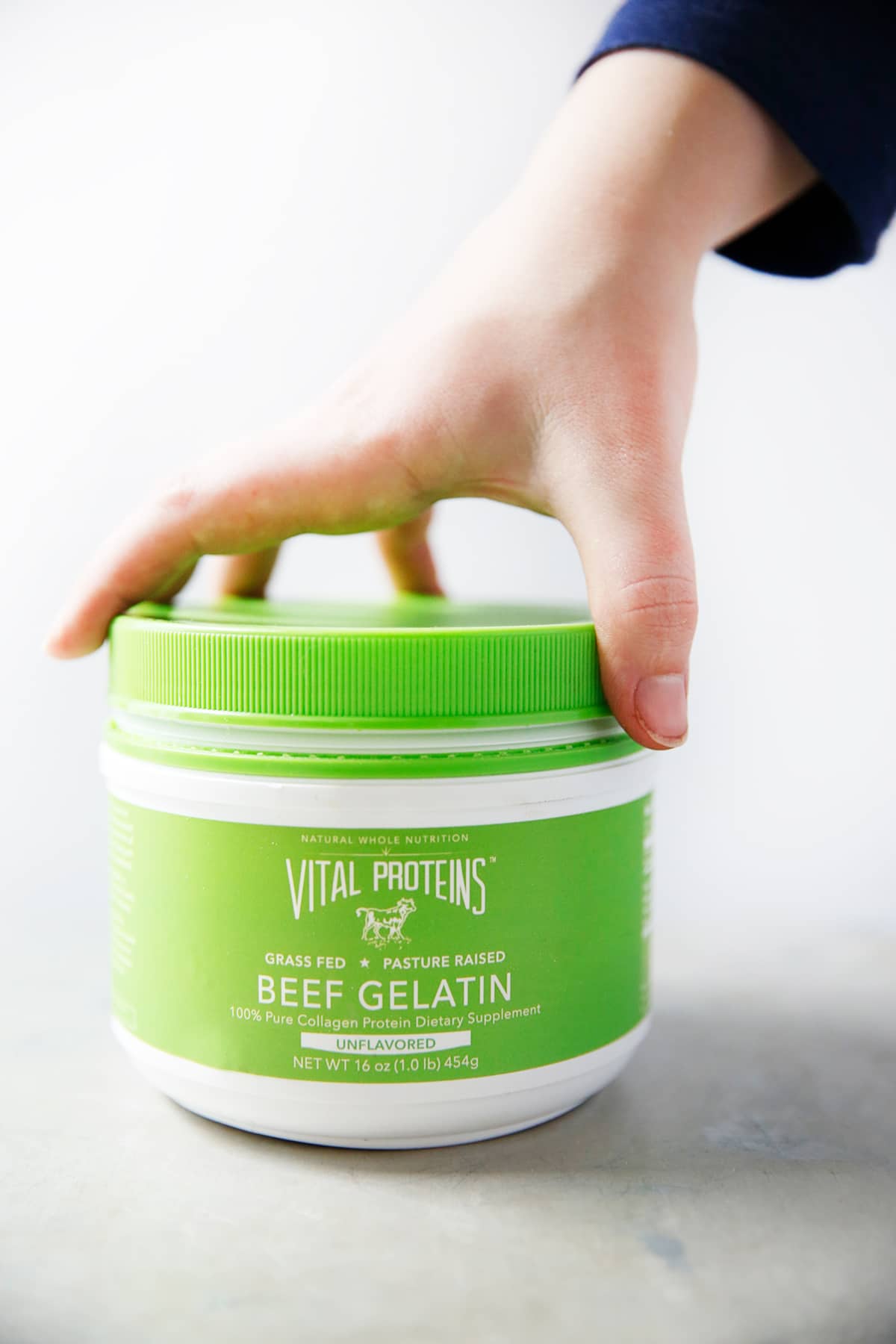 The biggest difference between making yogurt with coconut milk and dairy milk is that it doesn't quite thicken the same way dairy does. Because of this coconut milk yogurt needs a thickener and we love using gelatin for this. To be sure, even though this yogurt is dairy-free, it is not vegan because it uses beef gelatin. We use our favorite Pasture-Raised Beef Gelatin from Vital Proteins in our yogurt and love that it gives it an added boost of nutrition thanks to the collagen. Vital Proteins is known for their Collagen Peptides, which is great to use in everyday drinks like your morning coffee or food, but we love being able to use their good quality gelatin here in this yogurt. Adding collagen to your diet can be a great way to improve and promote bone and joint health, aid in healthy digestion and gut health, improve sleep and nourish your skin. We love adding it to overnight oats, smoothies, and more.
For this recipe, make sure you're grabbing the green container. While gelatin does have collagen, it isn't the same as the Collagen Peptides (blue container) as it has special attributes that transform liquid and is perfect for jello, marshmallows, homemade candies/gummies, and of course thickening up this amazing yogurt!
Don't be intimidated to make your own yogurt, simply watch the video:
If you like this How To, check our these others:
Tools we used to make this recipe:
---

This post is sponsored by Vital Proteins. All thoughts and opinions are always 100% ours! We love the integrity of their products and think you'll love them too. Thank you for continuing to support us and the brands we love and work with!
How to Make Coconut Milk Yogurt in the Instant Pot (Dairy Free)
This holiday season it is time to get fancy because we're showing you How to Make Creme Brulee! This dairy-free and refined-sugar free version is just as decadent as the classic version but lightened up with a secret healthy ingredient! It's perfectly sweetened with a blend of honey and maple sugar and despite it feeling fancy it is really easy to make! We're showing you all the tips and tricks to place this spectacular dessert on your table this holiday season! Made in partnership with my friends at Vital Proteins!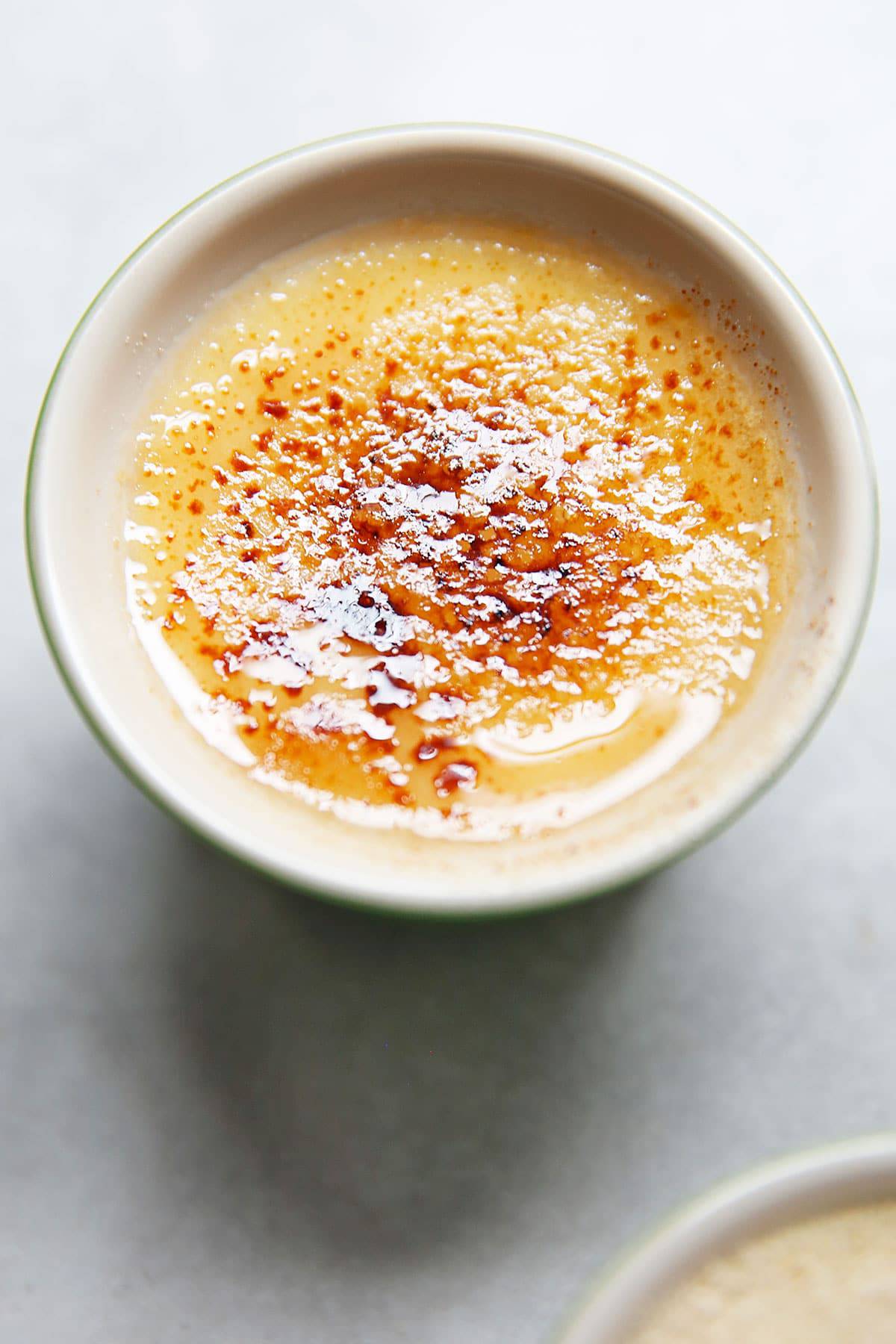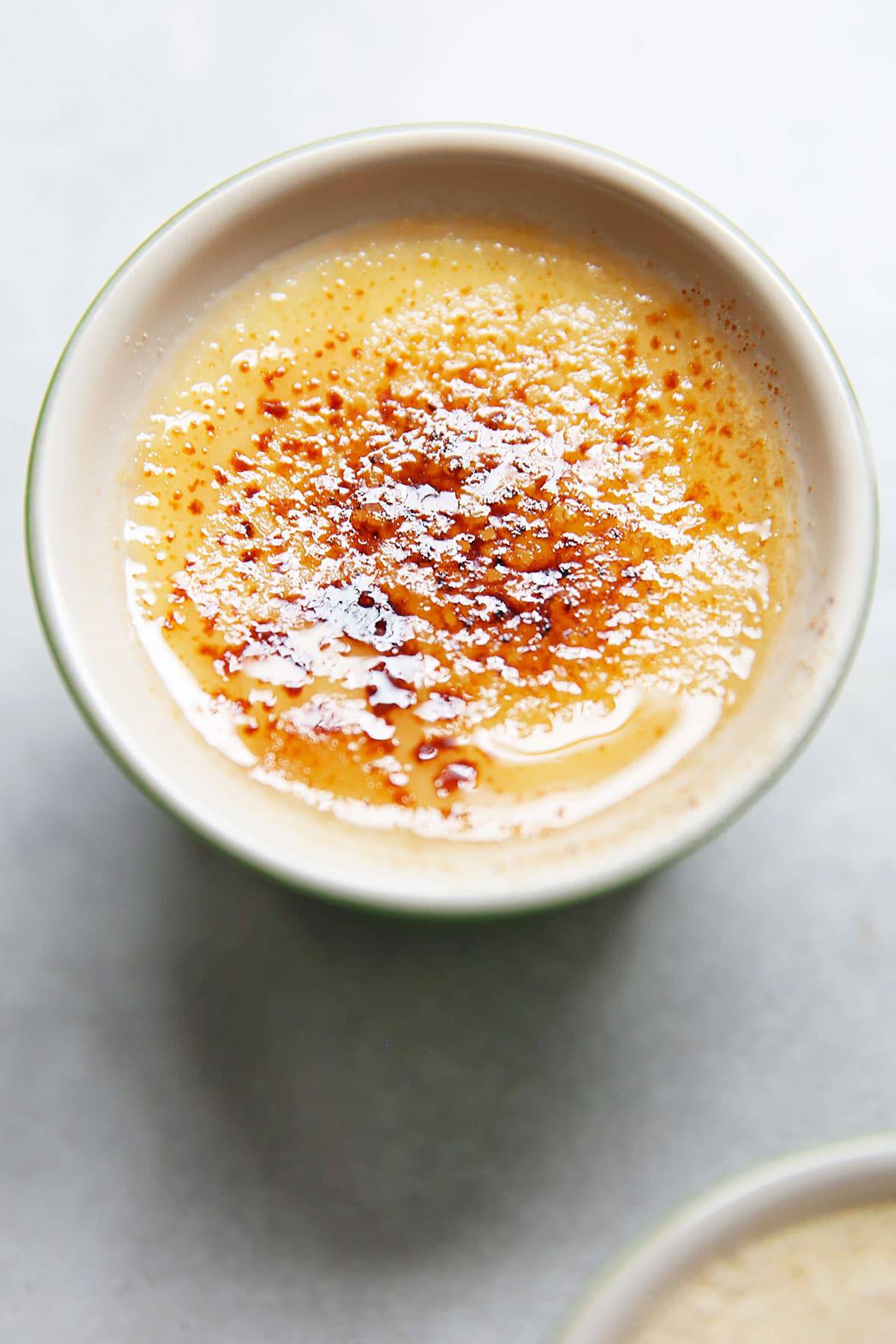 How to Make Creme Brûlée (Dairy-Free)
Today we're talking about How to Make Creme Brûlée because holidays are made for this special treat! But I'm here to let you in on a little secret: it's really easy to make! Creme Brulee is just simply a custard baked in the oven and topped with caramelized sugar. See? When you spell it out that way, it sounds so SIMPLE (it is)! We made our lightened up version a little extra special with the addition of my favorite Vital Proteins Collagen Peptides. Nobody will know it's there but it gives your dessert a little extra boost of health benefits! Great for your hair, nails, skin, gut, and so much more- it's the perfect sneaky addition!
Making the Custard
Let's talk about custard. Custard is essentially just a liquid mixture that uses eggs to set up that is baked slowly and gently in the oven. Traditionally custard uses dairy milk and heavy cream as it's base, but we're using a mixture of almond milk and coconut cream. We didn't want the Creme Brûlée to take on too much of the taste of coconut so we found the balance of those two really allowed the vanilla flavor to shine through without any coconut interferrence. Similarly we used a blend of maple sugar and honey as a sweetener for the same reason, using only one ran the risk of taking on too much of that flavor. You'll need the maple sugar for the caramelized sugar on the top too at the end! Our Creme Brûlée is JUST sweet enough, but if you prefer your desserts on the sweeter side you can add an extra 2 tablespoons of honey.
To make the custard you must first temper the eggs. All this means is that you are going to gently warm up the liquid and slowly ladle and whisk it into the eggs. The reason for doing all of this is so that the custard bakes evenly in the oven. You want to make sure you do not scramble your eggs, so do not boil the liquid mixture and then dump it all in to the egg mixture all at once–you'll end up with cooked eggs!
If your mixture has a lot of froth (from over-mixing) a great trick is to use your kitchen torch and very quickly turn it on and burn off the bubbles. It takes just one second or so and they pop and disappear making for a smooth custard (and it is kind of fun)!
Baking the Custard
After you've tempered the eggs and added in all the ingredients you're going to cook these custards slowly and gently in the oven.  This means using a water bath! You'll want divide the custard mixture into 4-6-ounce ramekins that are placed in a roasting pan. In the roasting pan you'll pour in hot water to come up the sides of the ramekins by about half way.
Bake in the oven until the custard is just set! This means the outside edges are set but the middle part is still a little wobbly. Once they're cooked through let them cool down slightly and then let them chill in the refrigerator until they're just set. You can do this 1-2 days ahead of time.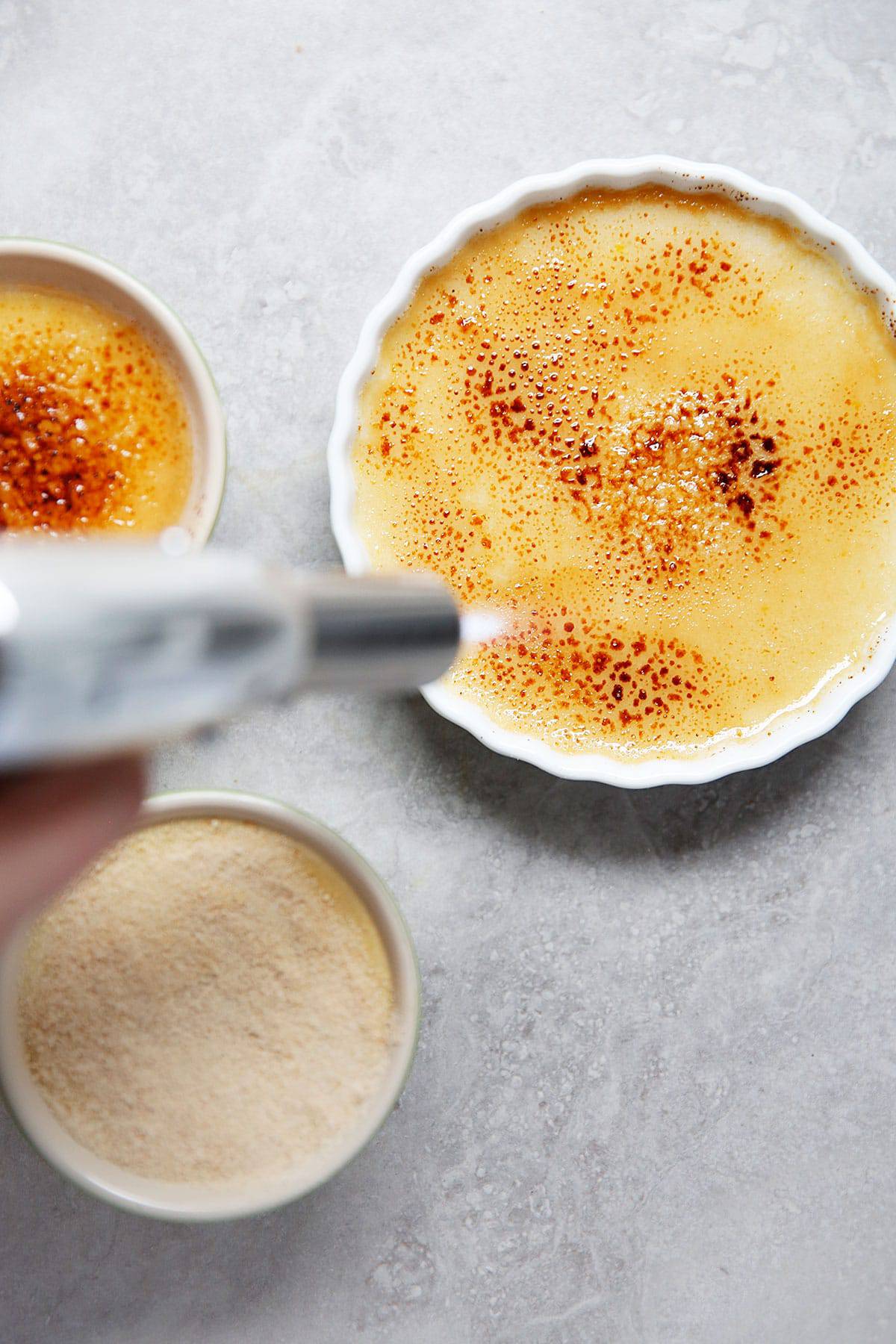 The fun part… Caramelizing the sugar:
Once your custards are completely set and you are ready to serve the creme brûlée you'll want to put about 1 scant teaspoon of maple sugar on top and shake it gently until the sugar is even. Light up your kitchen torch and begin to caramelize the sugar! Set the flame a few inches from the sugar and let it slowly go from light brown to darker brown, but do not let it go so long that it turns black. The sugar will harden once it cools after a minute or two. Serve right away so there is still that nice crunch on top!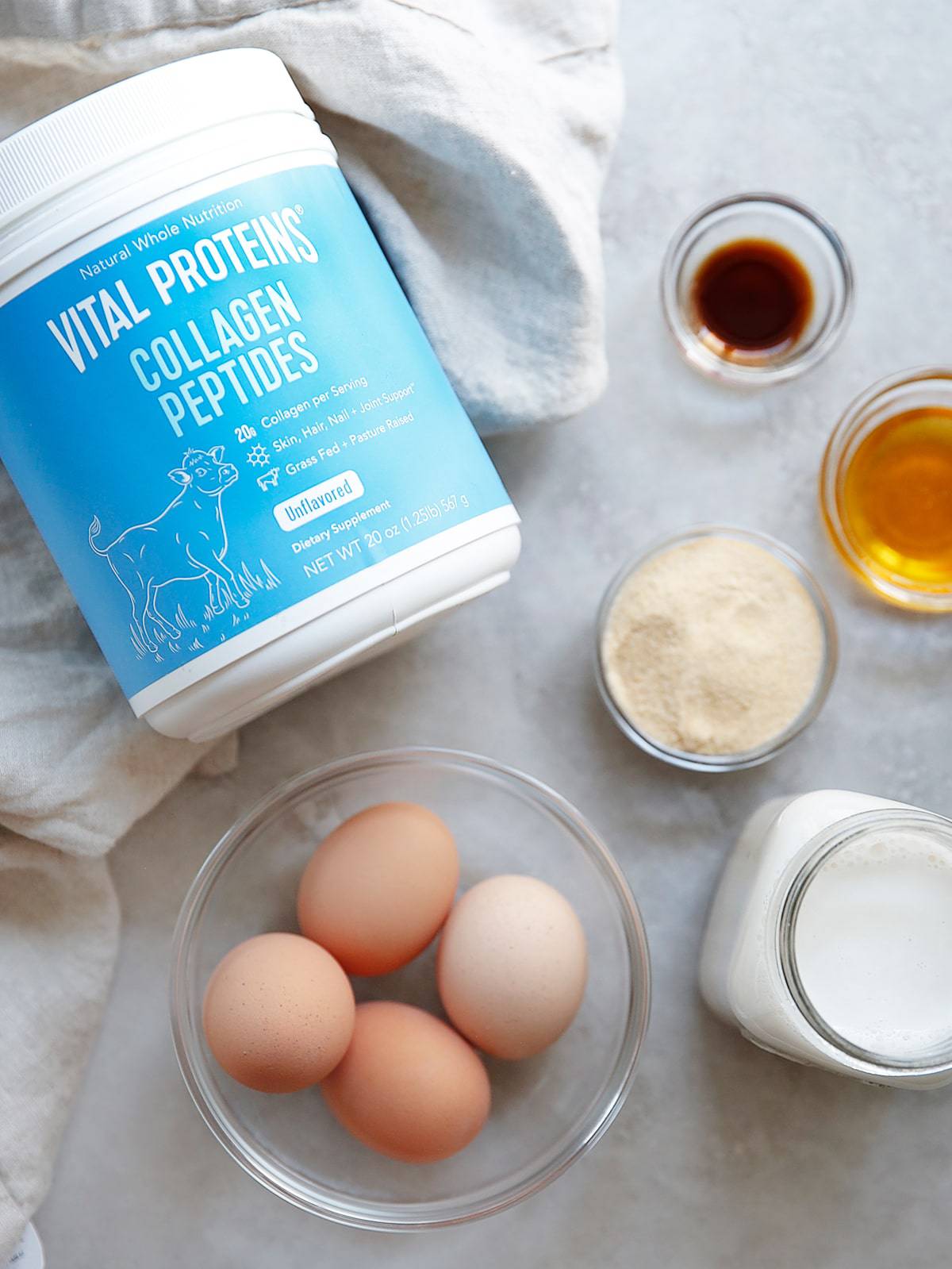 I am so excited to bring you today's recipe with a little sneaky favorite ingredient of mine! My love for collagen peptides is well documented, and I never tire of ways to make it part of my daily routine. I use it in my coffee each morning, but there are so many ways to use it because it totally dissolves and is tasteless. Adding collagen to your diet can be a great way to improve and promote bone and joint health, aid in healthy digestion and gut health, improve sleep and nourish your skin. It can be added to just about anything including this Creme Brûlée recipe!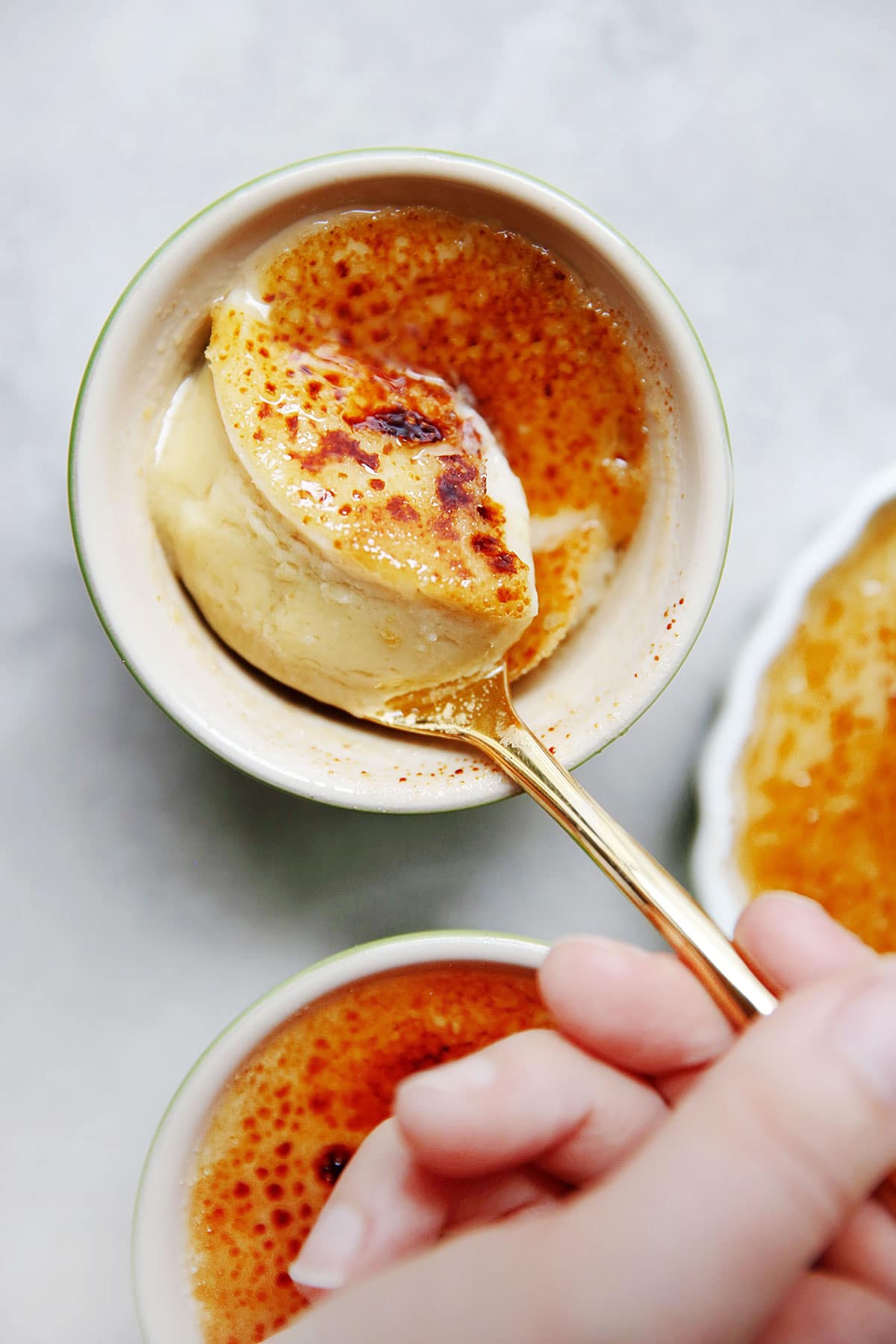 Tools we used to make this recipe:

Watch the video:

If you like this show stopping dessert, check out these others:


This post is sponsored by Vital Proteins. All thoughts and opinions are always 100% my own! I love the integrity of their products and think you'll love them too. Thank you for continuing to support LCK and the brands I work with!