Thanksgiving Leftover Breakfast Hash
This Thanksgiving Leftover Breakfast Hash is the perfect post holiday meal! It uses a mix of sweet and savory leftovers and will be a huge hit. It's so delicious and is simple to put together, for a great day-after-thanksgiving breakfast.
Thanksgiving Leftover Breakfast Hash
We love non-recipe recipe's over here, and this is the perfect one. While this Thanksgiving Leftover Breakfast Hash certainly is a recipe, it leaves a lot of room for creativity based off of what you served at your Thanksgiving meal. Using both sweet and savory elements, this hash uses brussels sprouts, potatoes, turkey and cranberry sauce to make the ultimate post holiday meal. Plus, we include some other options to use, just in case you don't have all the leftovers you need to make it!
Top it with a fried egg, or eat it as is. Either way, it'll be delicious and dare we say it, maybe even better than the actual Thanksgiving dinner?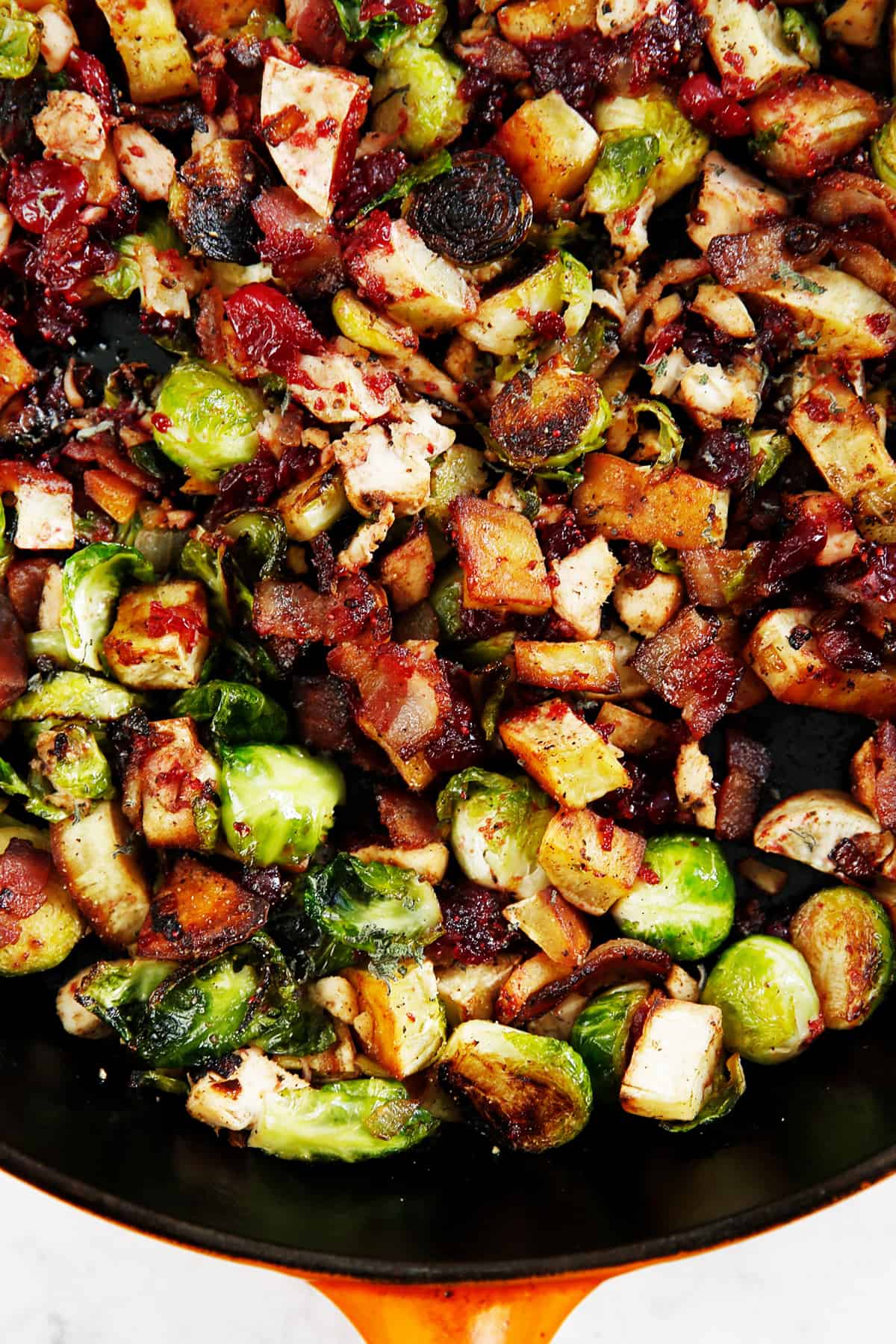 Ingredients for Thanksgiving Leftover Breakfast Hash
Here is what we included in our leftover hash. We went ahead and offered alternatives for each ingredient, just in case you don't have all of the suggested ingredients.
Bacon: Start with fresh bacon here!
Onion: Also, fresh. Using some fresh elements gives this a "new" feel to the hash.
Roasted Brussels Sprouts: If you didn't have roasted brussels, either use fresh (they'll cook at the same time) or substitute in another hearty vegetable. Or alternatively you could use something like leftover green beans, though you'd want to wait to add those until the end.
Roasted Potatoes or Sweet Potatoes: If you didn't have these, go ahead and use fresh potatoes. You must par-boil them first. To do so, boil them until they are just barely tender. Then, finishing cooking them for a few more minutes in the actual skillet with the other leftovers.
Leftover Turkey Meat: If there is one thing you likely have leftovers of, it's this! If you didn't you could substitute in cooked chicken.
Cranberry Sauce: This sweetness really brings the dish all together! If you didn't have any leftover cranberry sauce, use a fresh apple. Add it to the skillet along with the brussels sprouts so it can cook all the way through.
Salt and Pepper: Depending on how well seasoned your original food is will dictate how much seasoning you may need to add. Don't add any until the end.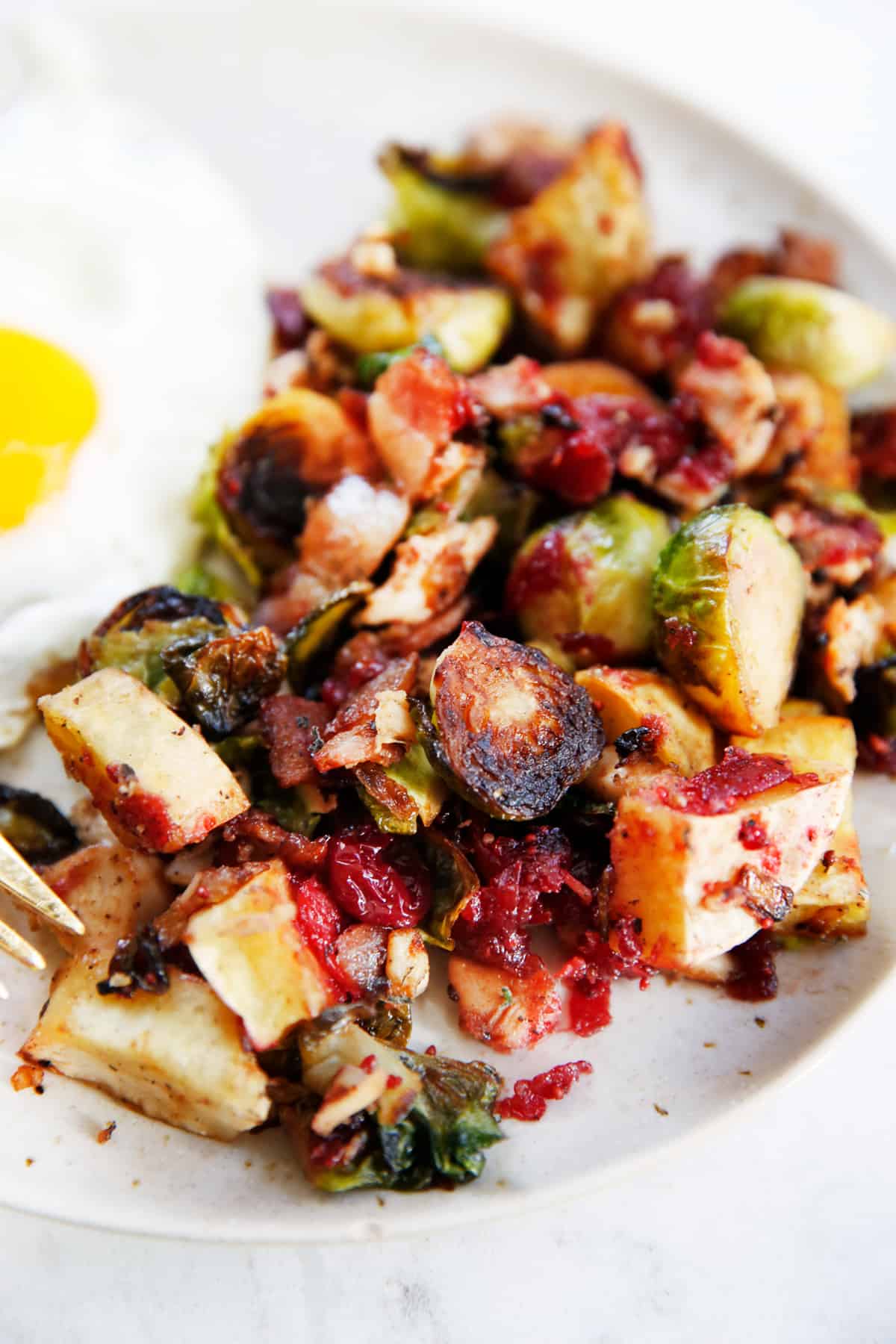 If you like this breakfast recipe, try these others:
If you like this leftover Thanksgiving breakfast idea, check out these others:
Brussels Sprout Breakfast Hash
---
---
Ingredients
2 lb. brussels sprouts, cleaned, outer layer removed, and chopped somewhat fine
6 strips nitrate-free bacon
2 chicken sausages, chopped
1 large orange sweet potato, cubed
1 large white sweet potato (or red potatoes), cubed
1 apple, cut into cubes
1 onion, sliced
2 cloves garlic, minced
1 tbsp grass-fed butter or oil of choice
Himalayan sea salt, to taste
Directions
In a skillet heat oil and garlic
Add in onions and let sauté for 2 minutes
Add in cubed sweet potatoes and brussels sprouts (cut in half or quarters) and let cook for 5-7 minutes, mixing often, until soft
Add apple, cooked crispy bacon, and chicken sausage into the pan
Mix and cook for an additional 5-7 minutes until all the flavors are combined and brussels sprouts and sweet potatoes are soft
Serve plain or with eggs!
---
Nutrition
Loading nutrition data...
Thanksgiving Leftover Breakfast Hash
Thanksgiving is on my mind! Now that it's here next week, let's discuss the menu. What are we serving with our turkey? It's seriously a must for your dinner! This easy Cranberry Spice Relish aka the best ever cranberry sauce. It's sweet and flavorful, the perfect dollop on top of your slices of turkey. Or if you're like me, a nice big spoonful onto of the entire plate which turns into a big mix of everything in one bite.
The Best Cranberry Relish (In Under 30 Minutes!)
Other Thanksgiving Sides:
How long can I keep cranberry sauce in the fridge?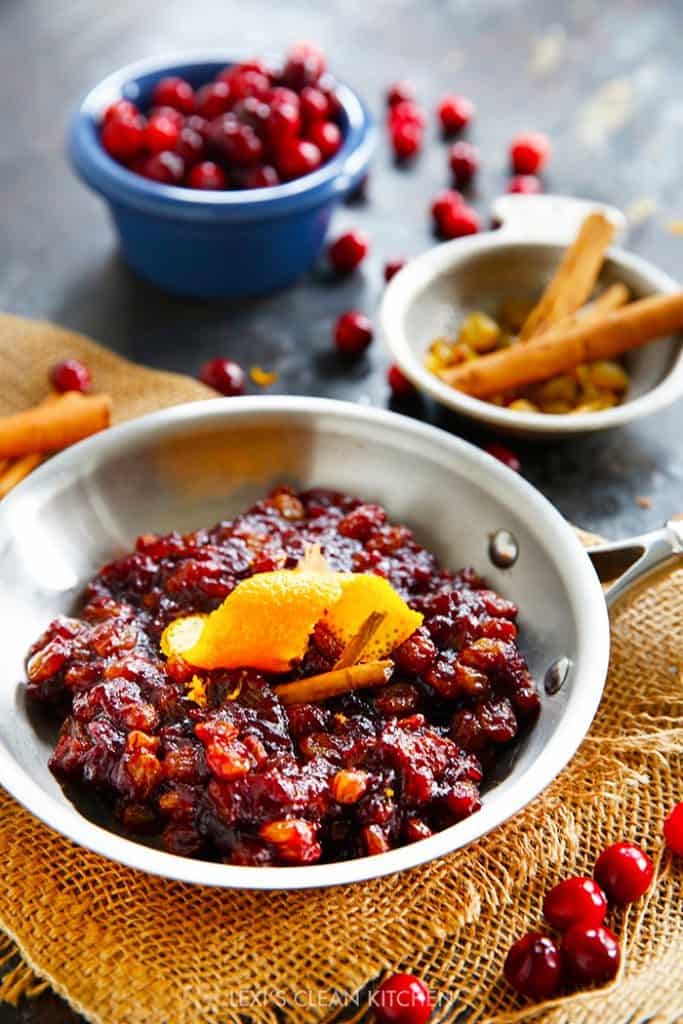 [yumprint-recipe id='327′]
Cranberry Spice Relish
---
---
Ingredients
1 cup water
1/2 cup maple sugar
1/2 teaspoon grated ginger
1 cup fresh cranberries
3/4 teaspoon cinnamon
1 cup golden raisins
1 teaspoon- 1 tablespoon orange zest, for garnish
Directions
Add maple sugar and water in a small pot, bring to a boil over high heat until the sugar is dissolved.
Add in everything else except for orange zest and let boil for 20 minutes, or until all of the water has evaporated (stir occasionally so that the mixture does not burn on the bottom and sides of the pot).
Top with orange zest and enjoy!
---
Nutrition
Loading nutrition data...
I was selected by American Express to contribute to their Tumblr community. As such I was paid for my services, but all opinions in general and about American Express are my own.
What's on your Thanksgiving menu every single year?