DIY Lunch Pinwheels
Finding a great on-the-go lunch that is both adult and kid-friendly is a hard task, but these DIY Lunch Pinwheels are just that! One-hundred percent customizable, easy to make-ahead, and a way to bring everyone around the table to make a meal together!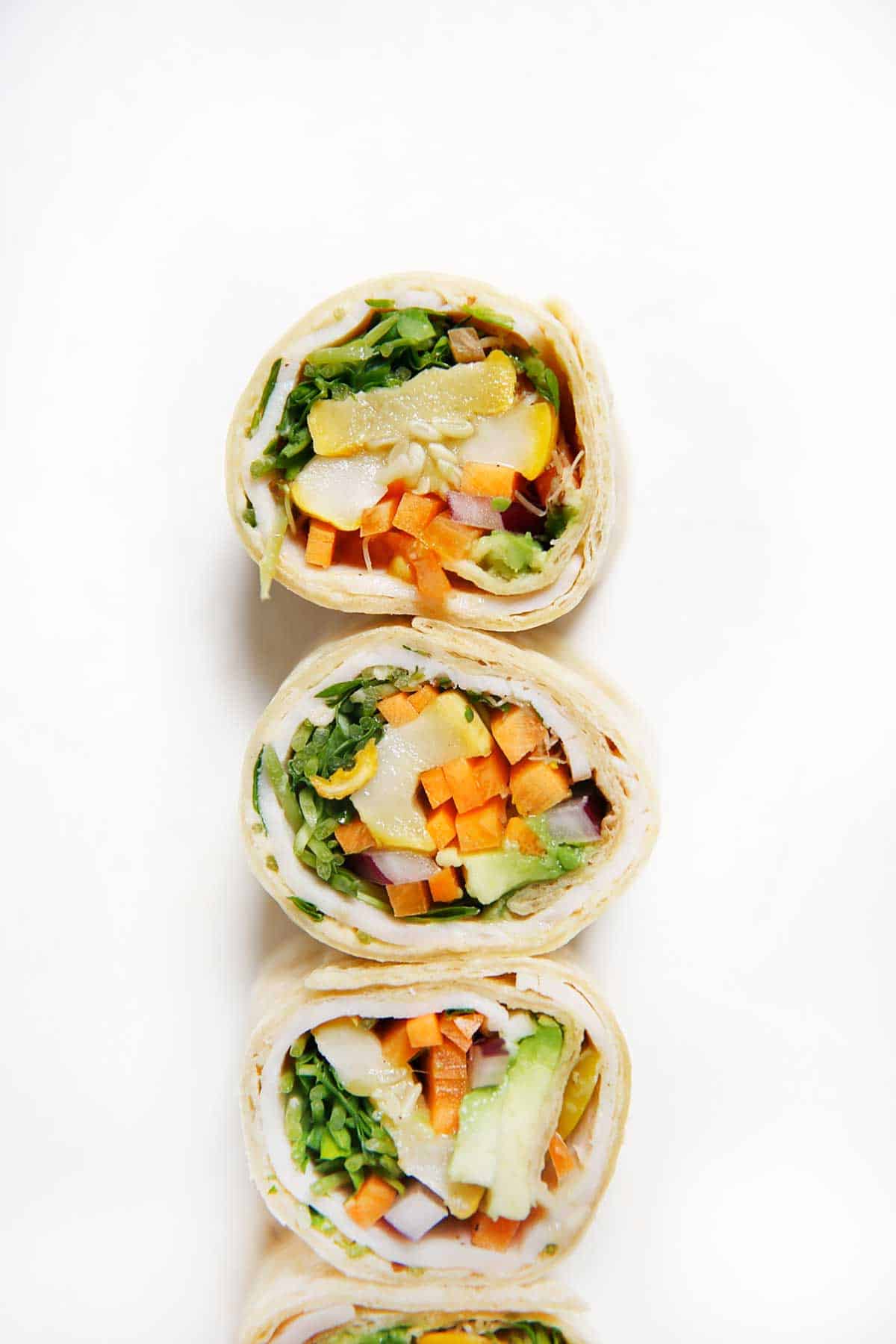 Although these pinwheels are perfect for school or work lunches, I cannot wait to make this DIY Pinwheel Spread for Football entertaining! I am excited to partner with Dietz & Watson for their Choose The Table campaign because I truly love the concept of more social and less media! Though my job has me on, almost all that time, I treasure the moments where I can shut off! Gathering around the table for a meal, to make lunch, to make a snack, and just chat and have some Face-time is truly so important!
Lay out all of the ingredients and have your family members and/or friends create their own pinwheels! The perfect party pleaser for those picky eaters out there!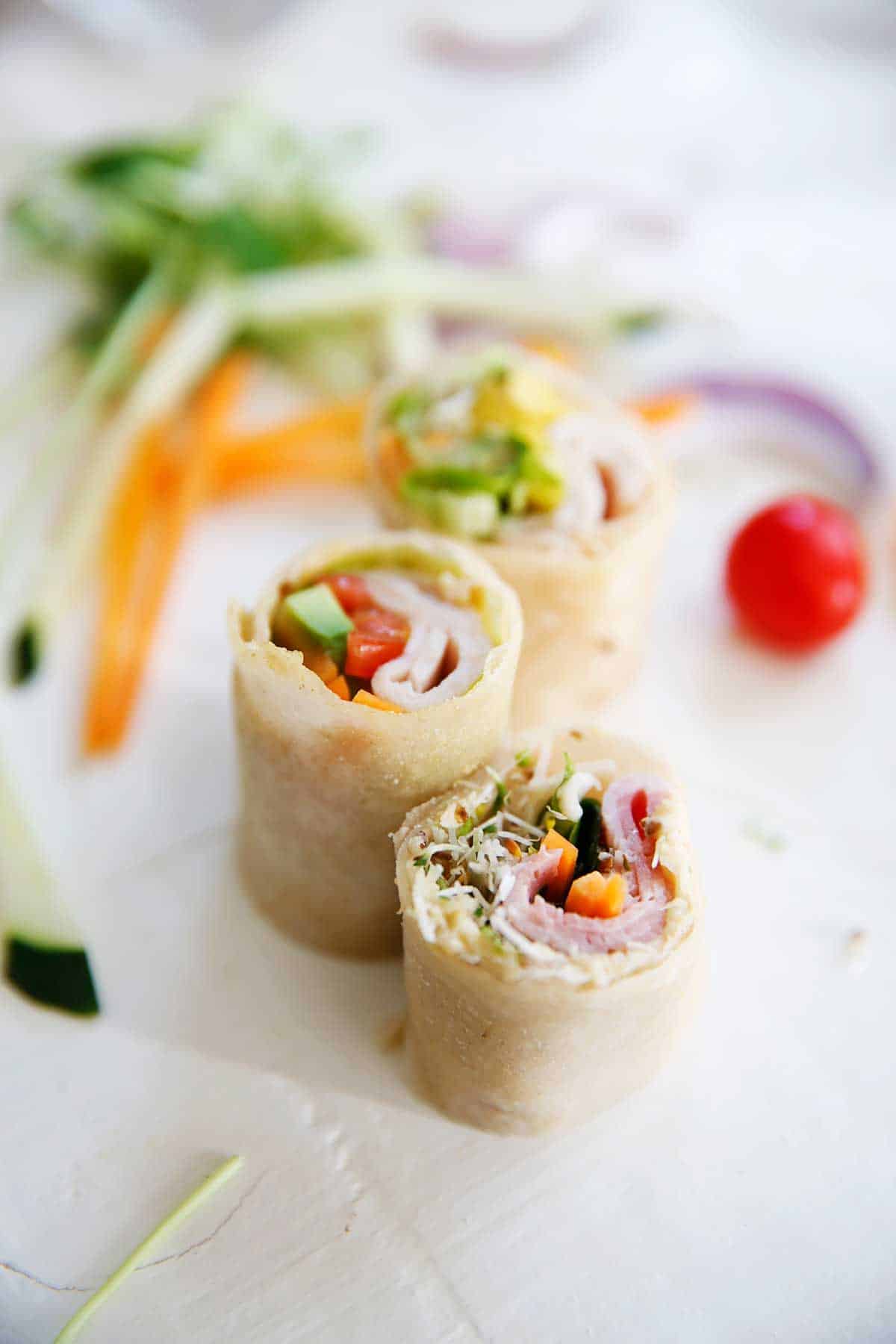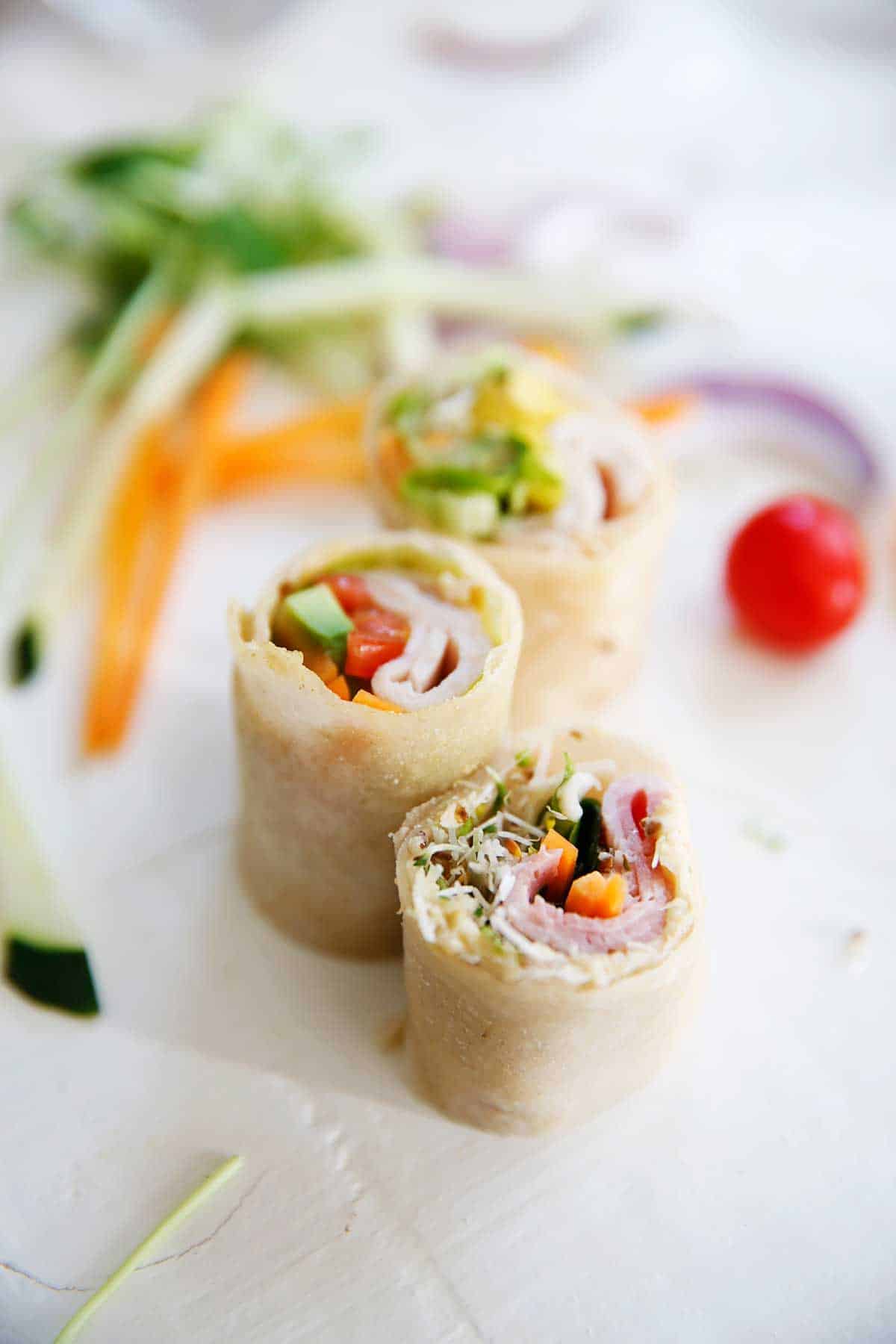 I love how creative you can get with these pinwheels. Make a BLT pinwheel with turkey, or a Caprese BLT with pesto, or even an ultimate roasted veggie wrap pinwheel with all of your favorite Summer fixings… the options are endless!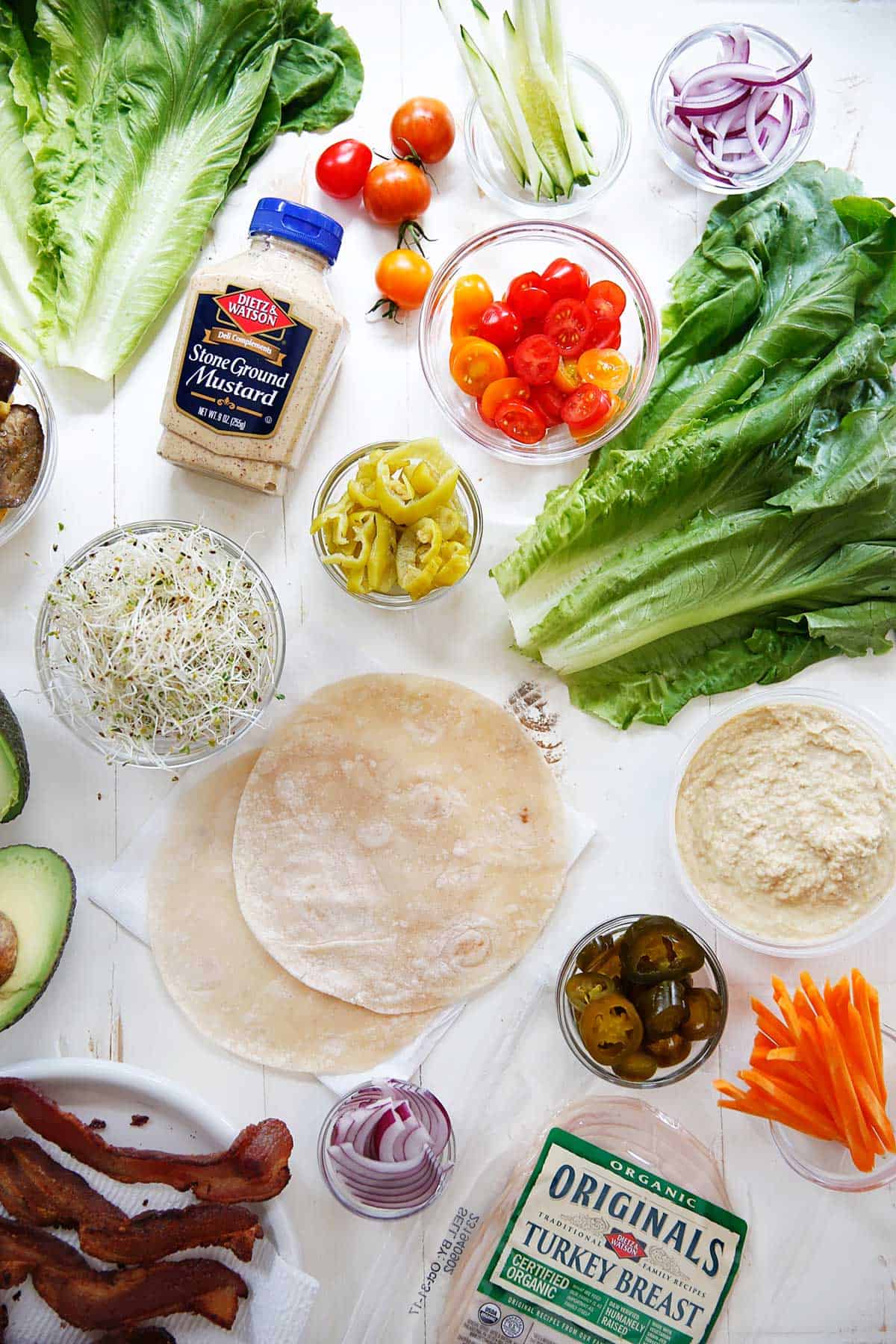 I was so excited to find that Dietz & Watson has an organic line of turkey breast and chicken breast, plus DELICIOUS mustards! They even have organic, minimal ingredient beef hot dogs! Perfect options to grab in the grocery store.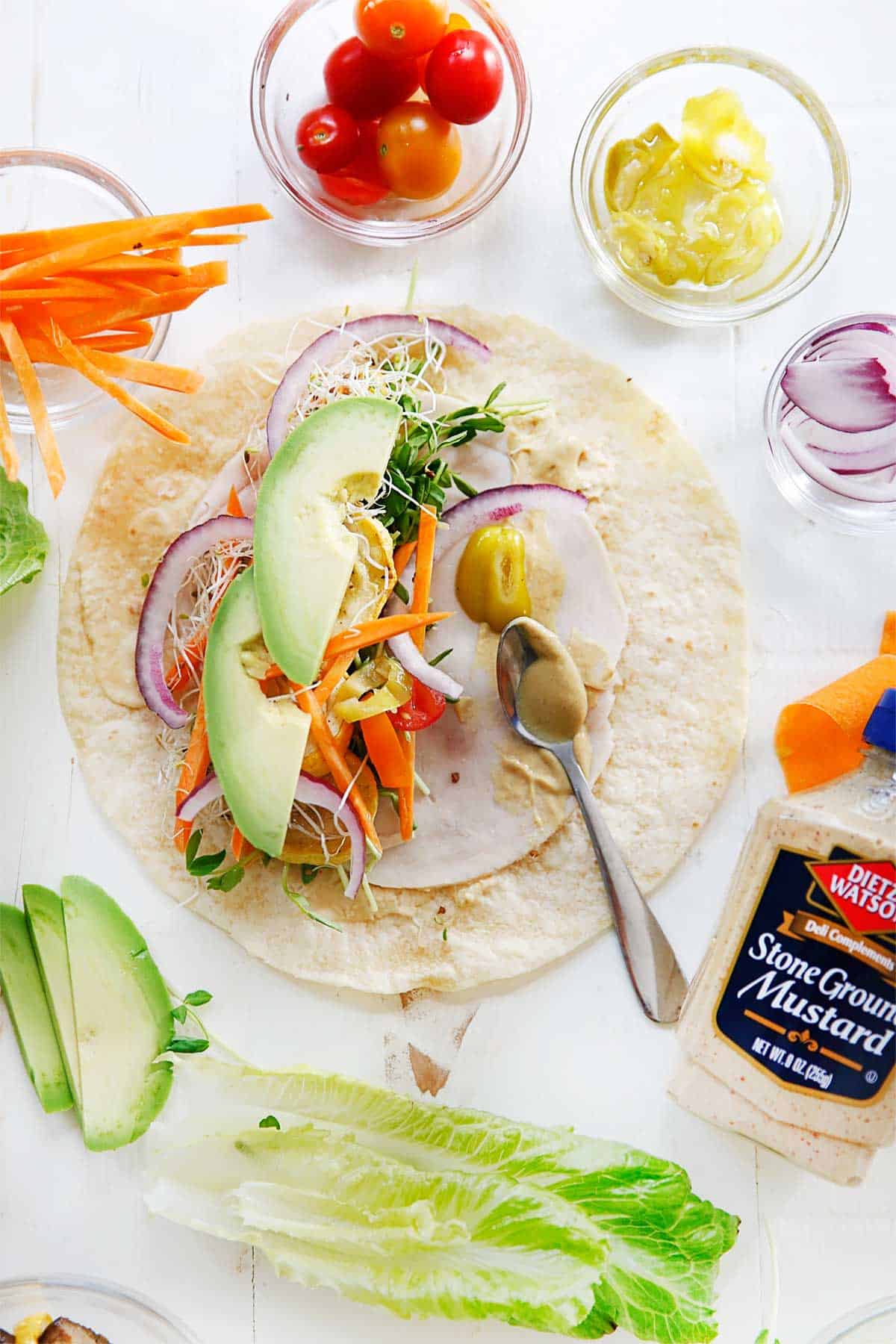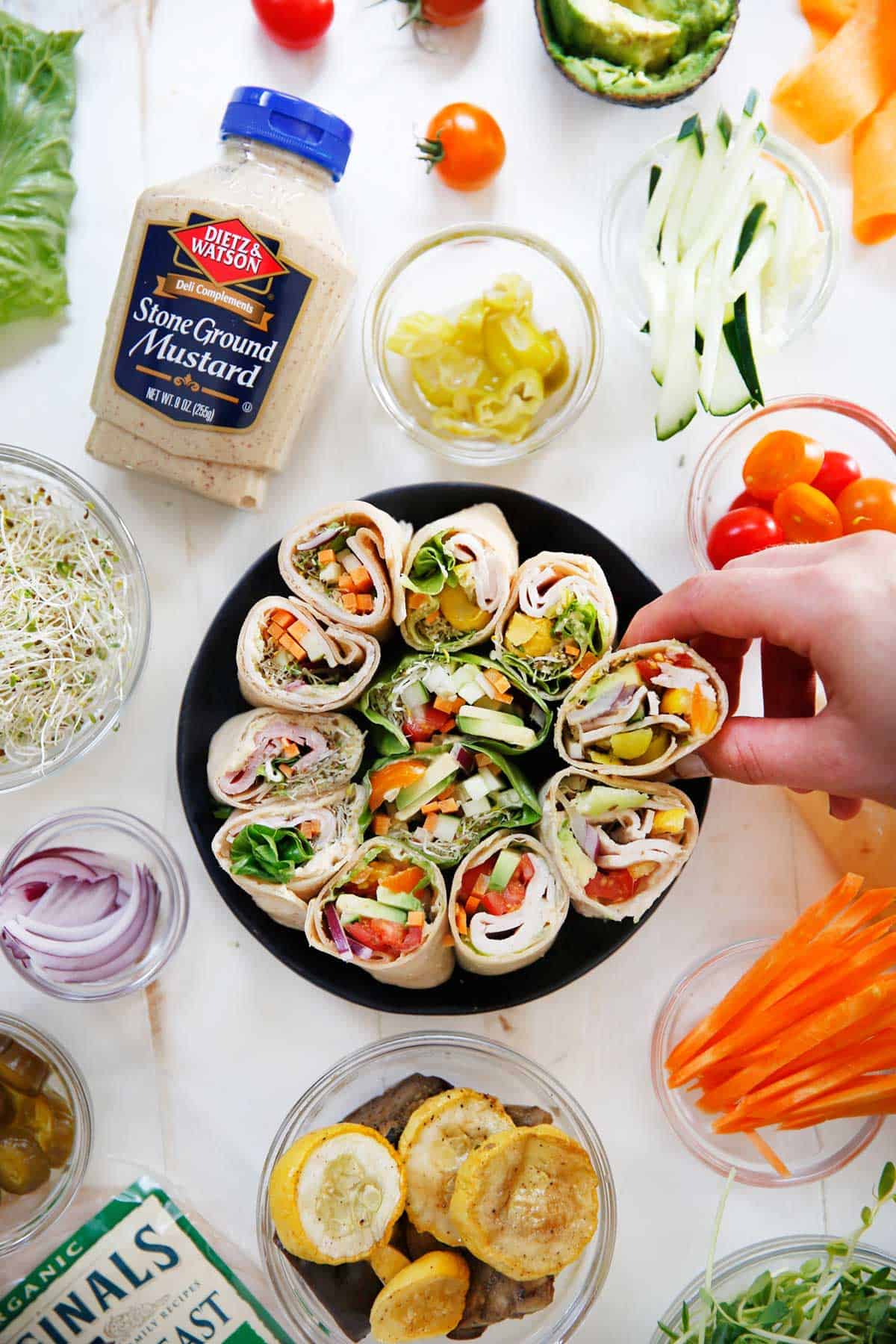 DIY Lunch Pinwheels
---
---
Ingredients
Wraps
1 package gluten-free tortillas
4 leaves romaine lettuce or collard greens, stemmed shaved
Flour tortillas
Homemade Tortillas
Spread Ideas
1/2 cup hummus
1/2 cup pesto
1/2 cup Dietz & Watson whole-grain mustard
Meat Ideas
1 pound organic turkey breast 
1 pound sliced pepperoni
1 pound sliced salami
1 pound shredded rotisserie chicken
Sliced chicken breasts
Veggie Ideas
Shredded lettuce
Tomatoes, sliced thin
Cucumbers, sliced thin
Alfalfa sprouts
Spinach, more as needed
1 avocado, thinly sliced
1 red onion, sliced thin
1 eggplant, sliced into rounds and grilled
1 zucchini or yellow squash, sliced into rounds and grilled
Other Add-Ins
Bacon, cooked
Cheese, sliced or shredded
Pickled jalapeños
Sliced pickled pepperocini
Black beans, drained and rinsed
Roasted red peppers, sliced
Sundried Tomatoes, sliced
Directions
Place lettuce leaves, collard leaves, or tortillas of choice on a flat surface.
Spoon 1 to 2 tablespoons of your spread of choice onto the middle of your wrap.
Add a few slices of meat and/or veggies on top of the spread in a straight line along the stem of the lettuce wrap or the long side of the tortilla.
Lift the side of the tortilla closest to you and roll, using your fingers to make sure none of the filling falls out. If making a lettuce wrap, the stem should span the length of the whole roll. Before closing the roll, place a teaspoon of spread on the edge of the wrap. This will help the wrap stay together. Roll as tightly as possible for best results.
Using a sharp knife, cut the wrap into 1-inch pieces.
Place in the refrigerator until ready to serve!
Recipe Notes
*You can use a toothpick to help the pinwheels stay together if they start to fall apart!
---
Nutrition
Loading nutrition data...
Choose The Table Dinner
I had the amazing pleasure of dining with Chef Michael Schlow for the #choosethetable event at Doretta Tavern in Boston! I've always known it to be true that food really does bring people together, so I truly love this campaign which encourages others to gather around the table with family and friends to reclaim some extra moments of quality time together! More social, less media, my friends!
He brought out the delicious meat sauce, sans pasta for me, and he made even the cheesecake especially gluten-free for me! I'm not usually a cheesecake fan and this was insane!
Boston friends: Go enter to win your very own exclusively curated, private dinner at Doretta Tavern with Chef Michael Schlow on 9/12!
This post is sponsored by Dietz & Watson. All thoughts and opinions are always 100% my own! I love the integrity of their products and think you'll love them too. Thank you for continuing to support LCK and the brands I work with!
DIY Lunch Pinwheels
This Apple Dill Chicken salad is the perfect low-carb make ahead Fall lunch! Inspired by a local cafe who makes a similar chicken salad, I simply can't get enough of it!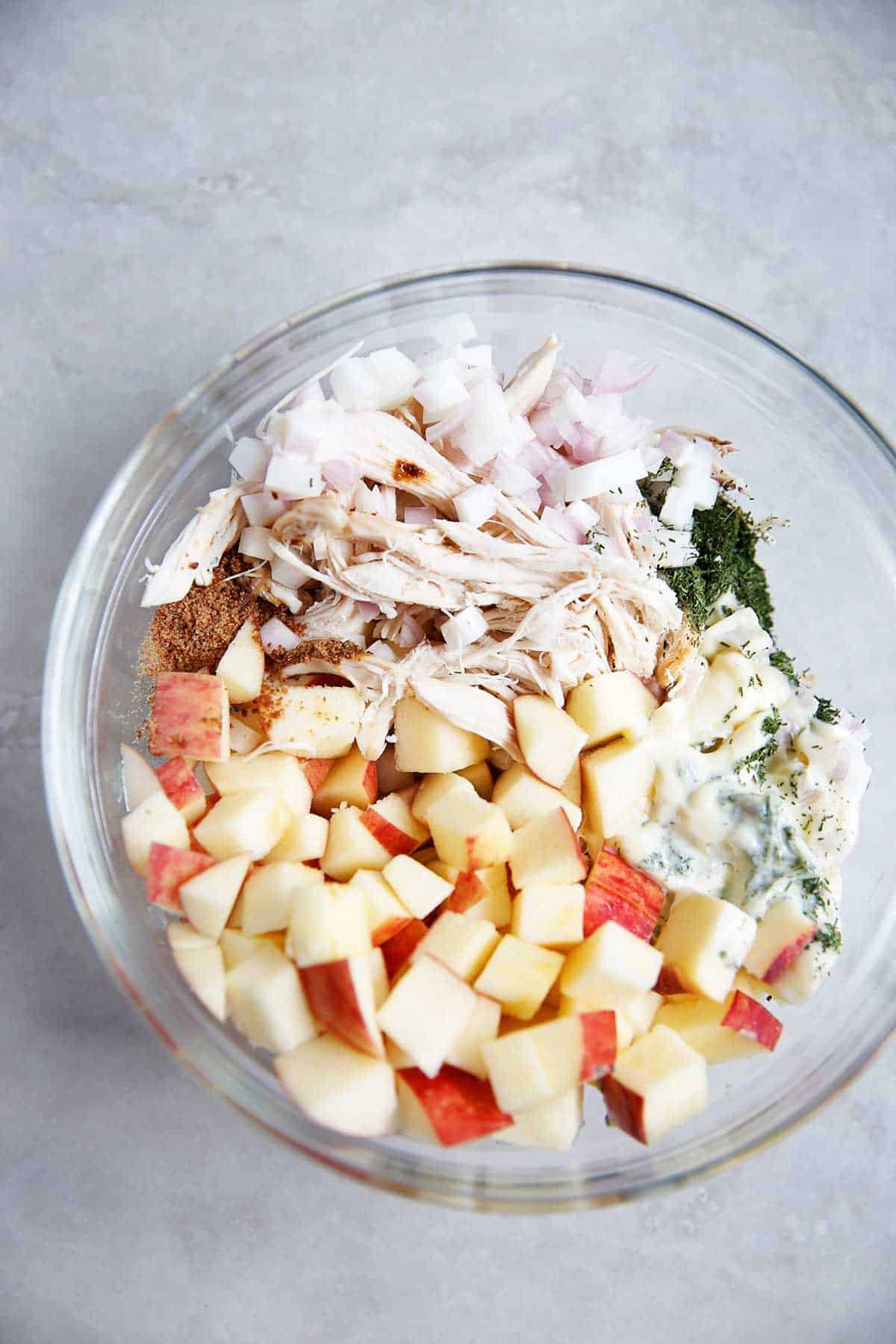 What a fun-filled weekend I had!
Mike, his family, and I headed to Toronto on Saturday for Mike's cousin's wedding. I had never been to Toronto before and I had a great time meeting new people, exploring the city, and getting to know the Canadian lifestyle.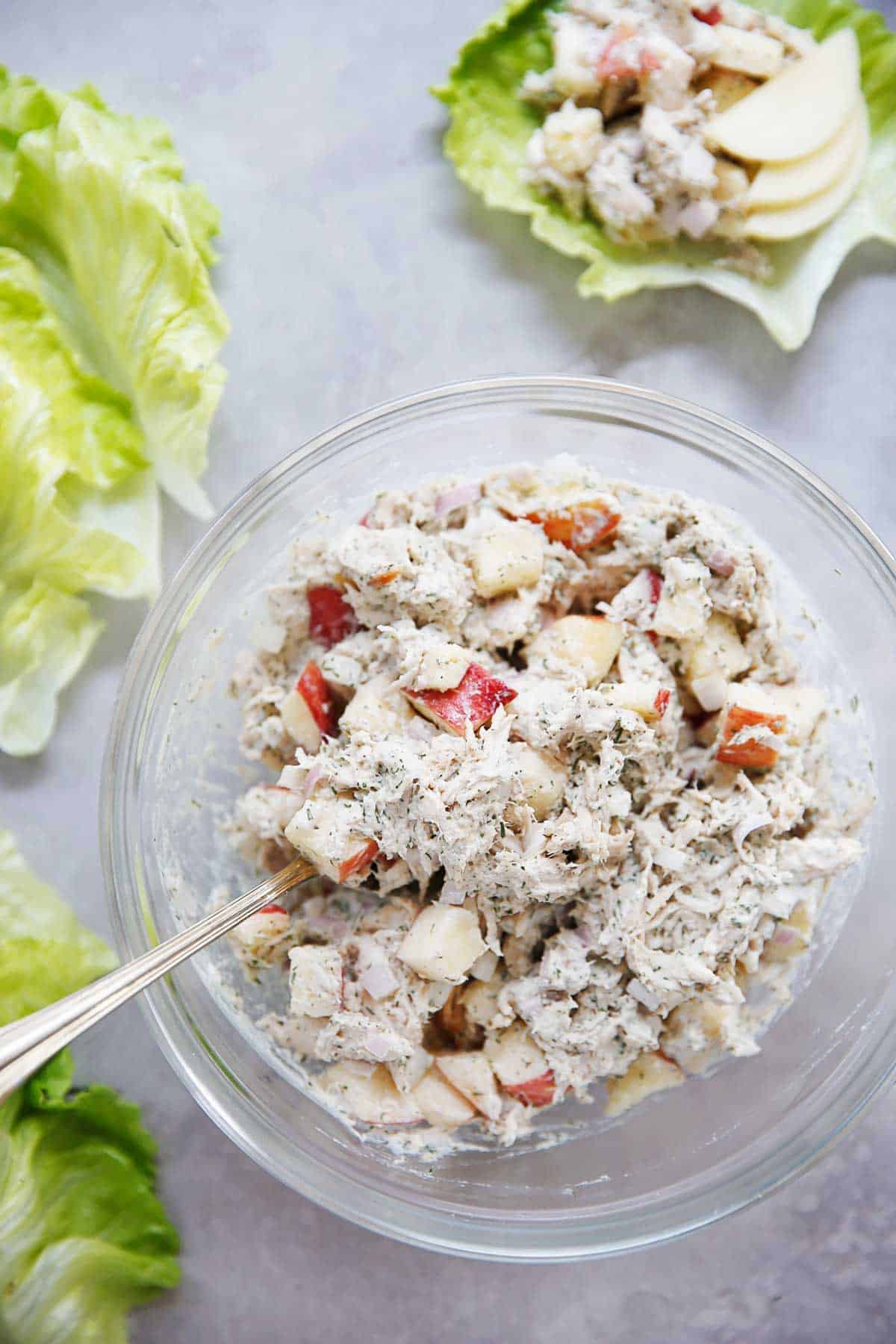 A definite highlight of my weekend trip was getting to meet my girl Davida from over at The Healthy Maven.
If you haven't been over to her blog yet, I suggest you head over there; I love her blog and absolutely love her! And a small world it is! It turns out Mike and Davida went camp together when they were kids.
We met, we talked, and it felt just like a bunch of old friends hanging out. I can't wait for our next Toronto trip (over the Summer) when we can spend more time together!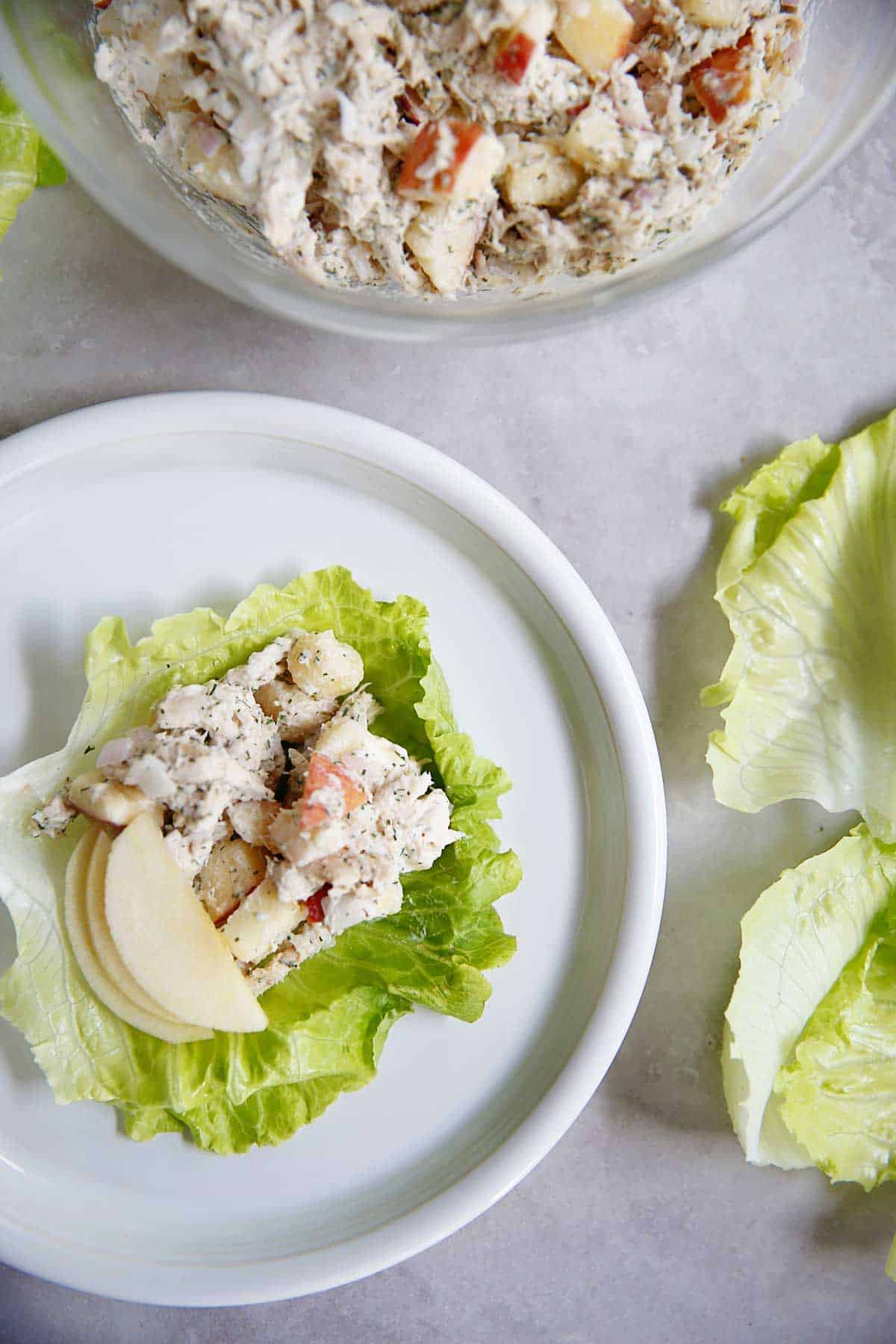 Now that we are home and are getting settled for the work week, I wanted a lunch that was quick, easy, and light (since our weekend was anything but) and this was just what I needed.
10 minutes to toss together, one-bowl for minimal cleanup, and loaded with delicious Fall flavors = the perfect lunch for busy work weeks!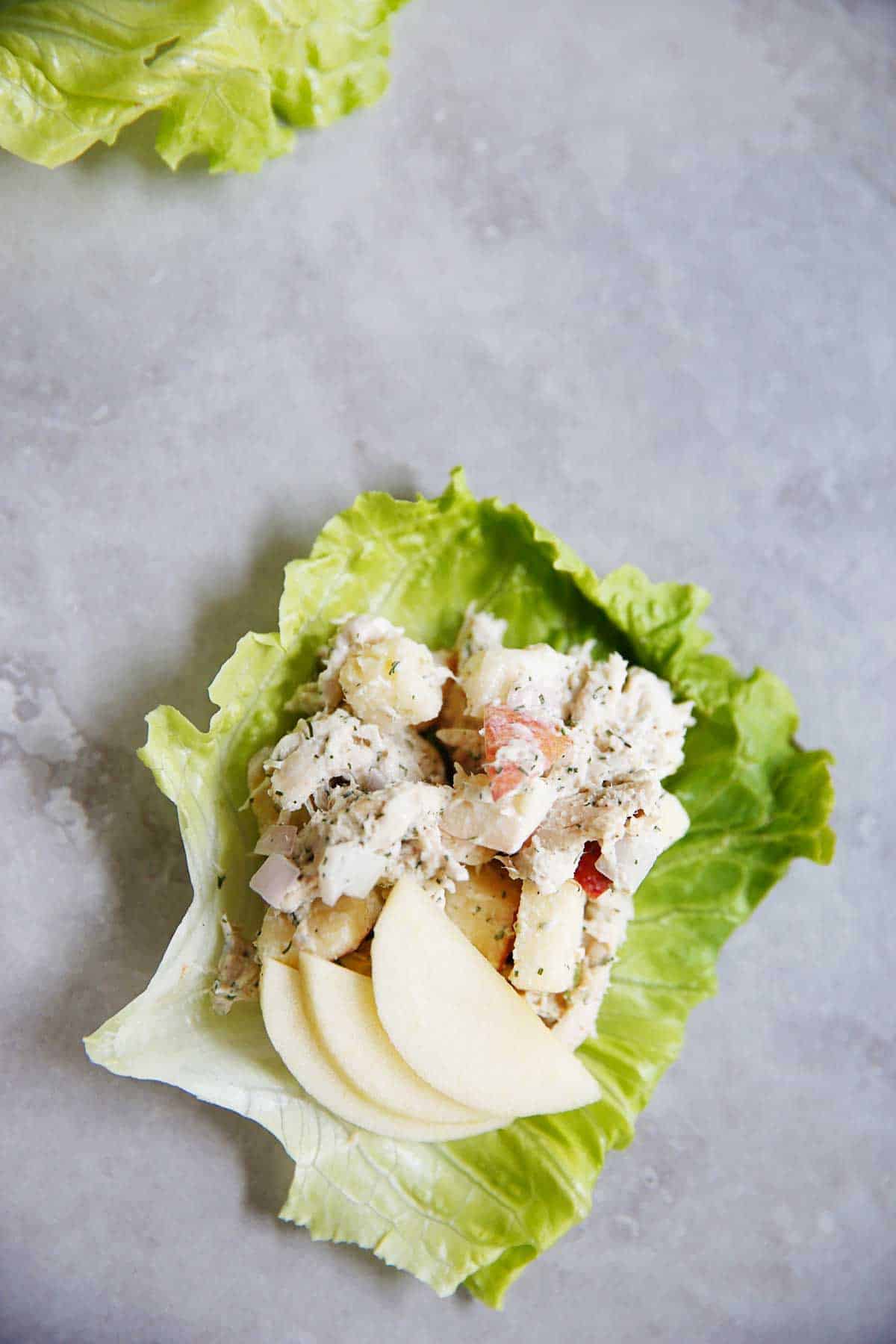 Watch the video:
Apple Dill Chicken Salad
---
---
Ingredients
2 cups cooked chicken, shredded
1/3 cup organic mayonnaise (homemade or store-bought), add more as needed
2 organic apples, finely diced
1 1/2 teaspoon dried dill, more to taste
1/2 red onion, finely diced
2 teaspoon coconut sugar
Directions
Cook Chicken: How To: All-Purpose Shredded Crock Pot Chicken
Allow chicken to cool and transfer 2 cups to a large mixing bowl.
Add mayonnaise, apples, dill, and red onion to the large mixing bowl.
Mix well to combine. Taste and adjust ingredients as needed.
Store in an airtight container in the fridge for up to one week.
Recipe Notes
I start with a tablespoon of mayonnaise and add until I reach my desired amount
---
Nutrition
Loading nutrition data...