Sweet Potato Chili
This easy-to-make Sweet Potato Chili is the perfect option for meatless Monday or a family-friendly weeknight dinner win. With sweet potatoes, beans and tomatoes, it is hearty vegetarian comfort food. It's made easily in the slow cooker or Instant Pot and easily customizable by adding on all your favorite toppings.
Sweet Potato Chili Recipe
This is my classic go-to vegetarian chili recipe to make all fall and winter long. I call it healthy comfort food in a bowl because it's hearty and satisfying for all of those chilly days. It is perfect for a big gathering, football Sunday festivities, or for a good weekly meal prep option since there are tons of leftovers! Make it in your slow cooker or your Instant Pot pressure cooker for easy hands-off cooking! And don't forget about the best part about chili: all the toppings! I've got a list of my favorites below.
Vegetarian Chili Ingredients
Bell Peppers
Celery
Onion
Garlic
Sweet Potatoes
Beans
Veggie Broth
Spices
Tomato Sauce
Diced Tomatoes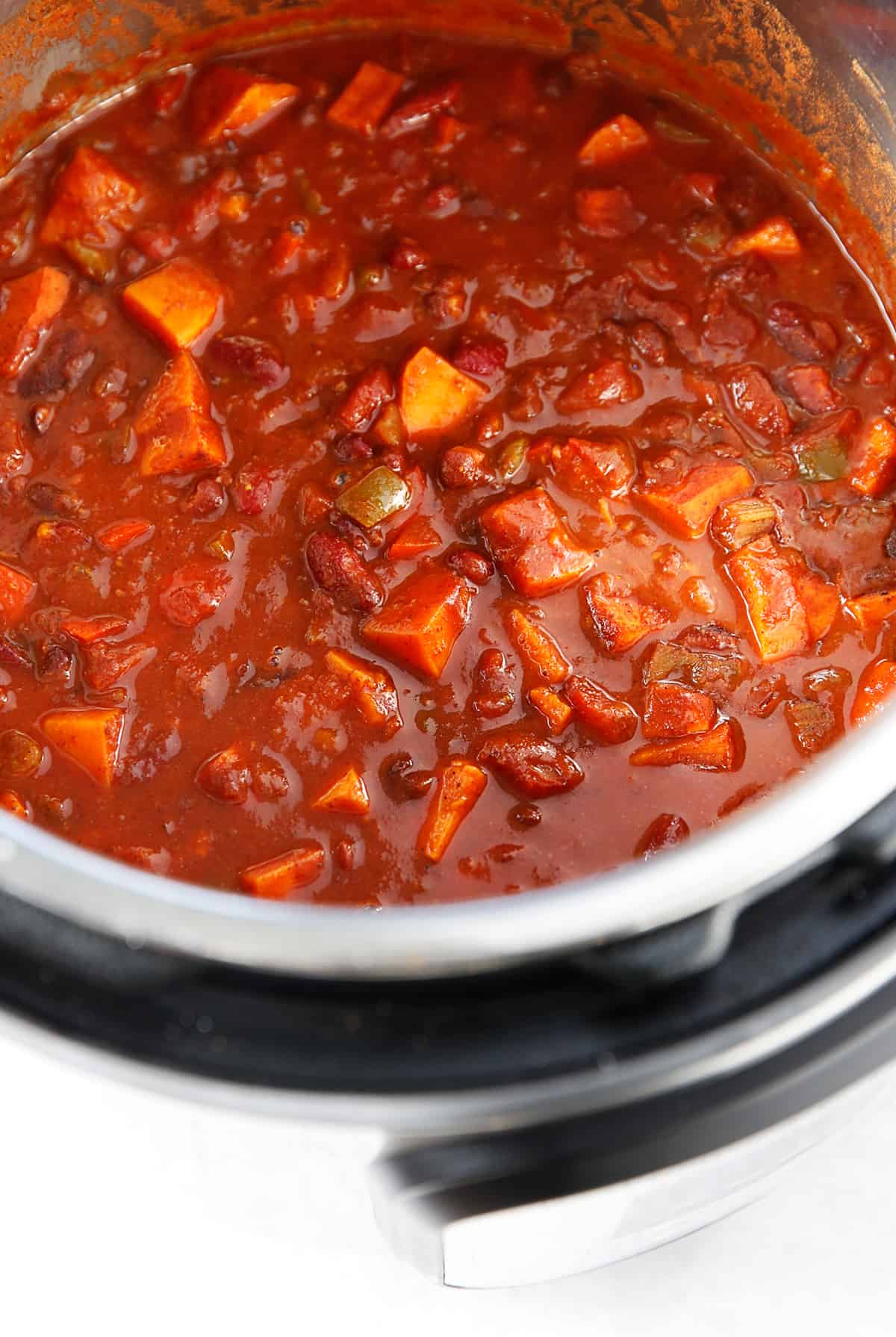 How to Make It
We've got options for making this in both the slow cooker and the pressure cooker. The slow cooker is a great option for making this if you want to prepare it in the morning before leaving for work and have it ready in the evening when you return home.
Making it in the Instant Pot is great because it builds flavor quickly without much hands on time. The vegetarian chili is under pressure for 5 minutes, with a 10 minute pressure release. However, don't forget to account for the prep time (gathering up your ingredients and dicing some up), the saute of the veggies and the time it takes to come up to pressure. It will take at most about an hour to cook this in the Instant Pot. But it's mostly hands-off cooking time and it adds a ton of flavor.
To Make on the Stove Top
We didn't include instructions for cooking this on the stove top in the recipe, but you could. To make on the stove top:
Heat the oil in a dutch oven. Once hot add peppers, celery, onion and garlic and cook, stirring occasionally, until very softened, about 10 minutes.

Add the sweet potatoes, beans, broth, all spices, tomato sauce and diced tomatoes and stir together. Bring up to a boil and then reduce heat to simmer.

Cook until the sauce has thickened and the sweet potatoes are cooked through.

Serve with desired garnishes.
Chili Toppings
Scallions
Avocado Slices
Cheese
Cilantro
Diced or Marinated Onions
Cilantro
Diced Tomatoes
Guacamole
Tortilla Chips
Shredded Lettuce
Sour Cream
If you like this chili recipe, check out these others:
Slow Cooker Sweet Potato Chili
---
---
Ingredients
1 red pepper, chopped
1 green peppers, chopped
2 garlic cloves, minced
2 sweet potatoes, cubed
2 celery stalks, chopped
1 onion, chopped
1 15 oz. can kidney beans, rinsed and drained
1 15 oz. can black beans, rinsed and drained
1 15 oz. can tomato sauce
1 15 oz. can diced tomatoes
1 cup water
2 tablespoons chili powder
1/2 teaspoon sea salt, more to taste
1 tablespoon paprika
1/8 teaspoon cayenne pepper, more to taste
1 tablespoon ground cumin
1 1/2 teaspoon celery seed
1 teaspoon ground cinnamon
1/4 teaspoon red pepper flakes, more to taste
Directions
Add in beans, tomato sauce, diced tomatoes, water, and spices
Mix well to combine
Set on low for 8 hours
After 7 hours, taste and adjust spices to your liking (i.e. add additional salt, cayenne, or red pepper flakes)
---
Nutrition
Loading nutrition data...
Sweet Potato Chili
This Slow-Cooker Beef Stew is the perfect healthy comfort food for cold days! It's hearty, flavorful, packed with veggies, and easy to make right in your crock pot. Make it for a cold winter night, or a festive St. Patrick's Day meal! Beef stew is a simple recipe that will wow everyone who tries it.


The Slow Cooker is an amazing phenomenon in my opinion. Even those friends of mine who aren't big cookers use it! Throw all the ingredients in with the right flavor combo and BOOM: the perfect stew. It's hands off, easy to use, and safe!
What is Irish stew made of?
Filled with beef, carrots, mushrooms, onions, and potatoes is the perfect main dish for your St. Patrick's Day celebrations. The beef is so tender, it just melts in your mouth!
Tips For Slow Cooker Beef Stew
Brown your meat
Don't use too much liquid
Don't skimp on the cook time
Layer your beef and veggies
Set it and forget it! The beauty of a slow cooker!

This stew is: hearty, flavorful, tender melt-in-your-mouth beef, and packed with veggies! It is also paleo-friendly, dairy-free, whole30 compliant and has no sugar added… does it get any better than that? I love making this soup at the beginning of the week and enjoy it all week long!
What defines a stew?
In a stew you aren't looking for the consistency of a soup, so minimizing added liquids is helpful!
Beef stew doesn't need to be super, super thick. You'll most likely be using potatoes, and their starch will naturally thicken your stew! If not, don't worry, this stew thickens whithout it, too.
What kind of beef is used for stew?
You can buy beef stew meat, which is cut and cubed and is generally chuck or round! Beef round cuts (bottom and eye) are generally leaner than chuck (shoulder, leg and butt) and very well-suited to stew.
I always add beef stew meat to my ButcherBox order in the cold weather months. Each month, ButcherBox curates a one-of-a-kind selection of the healthiest, tastiest meats, humanely raised and free of antibiotics and hormones. Or you can customize your box and select your favorite cuts and get 20% more meat.The price works out to less than $6.00/meal and shipping is always free. You can also space it out so it's not every 4 weeks, too! ButcherBox delivers your meat for the month, saves you money, and is the best quality! Order Today and get this amazing deal:
Get FREE bacon
FREE Shipping
$15 OFF!
Can you put raw meat in a slow cooker?
You certainly can, but for this beef stew recipe, we prefer to sear the meat first to bring out the amazing flavor that you'll get!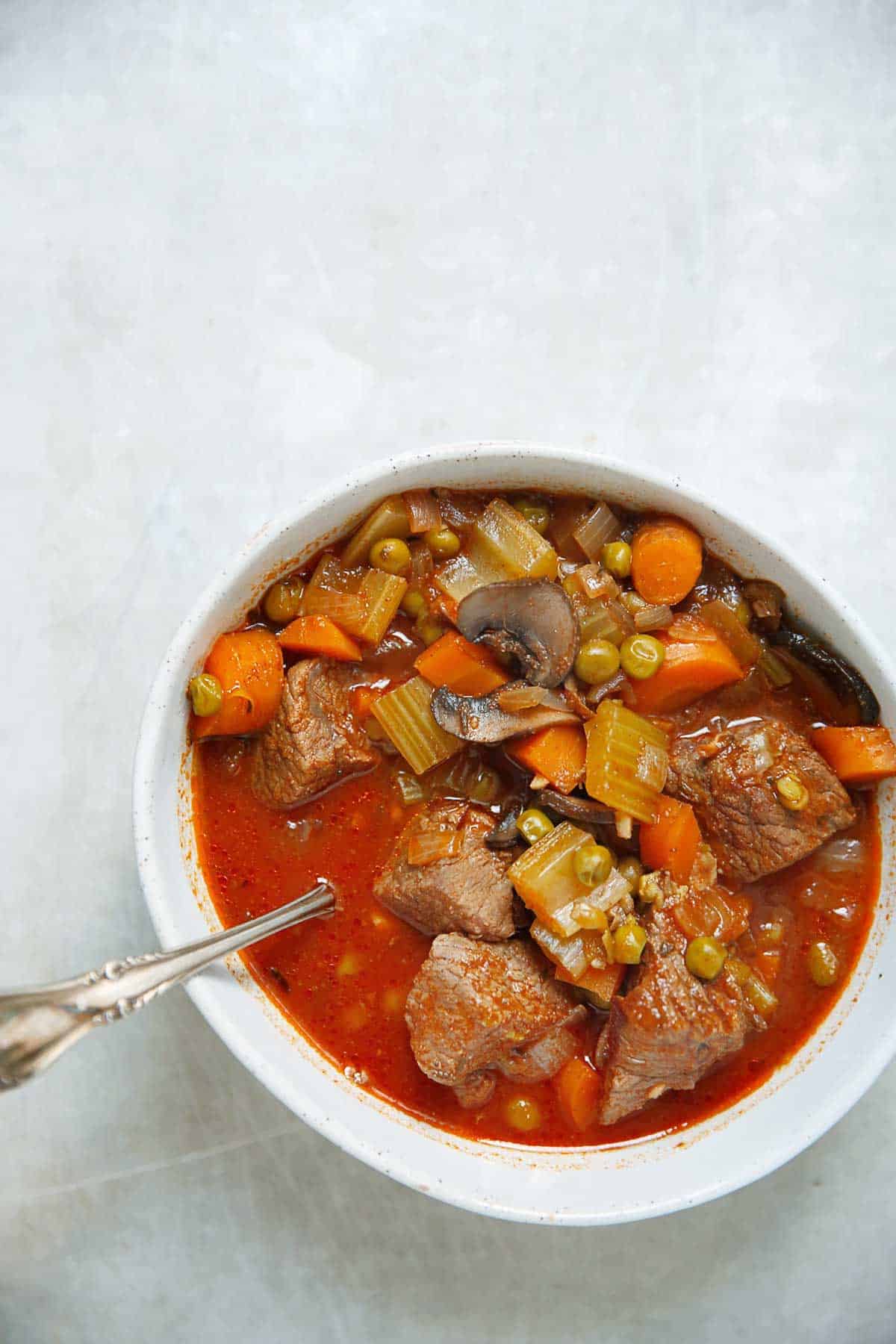 Tools used to make this easy slow cooker beef stew recipe:
Want other slow cooker recipes? Try these favorites:
If you like this beef stew recipe, make these other St Patrick's Day Favorites:
Slow-Cooker Beef Stew
---
---
Directions
Heat oil over medium-high heat in a large skillet. Sear meat for about 3 minutes on each side, until brown. Set aside.
Place meat and vegetables in the crockpot
Add in broth, tomato paste, tapioca, and spices
Mix well to combine
Set on low for 8-10 hours
After 7 hours, taste and adjust spices to your liking (i.e. add additional salt, cayenne, or red pepper flakes)
Remove bay leaf and serve hot
---
Nutrition
Loading nutrition data...