This Slow Cooker Beef Stew is hearty, healthy, and so flavorful. It's packed full of colorful veggies, fluffy potatoes, and tender bites of beef. Just 10 minutes of prep needed for this hands-off crockpot recipe!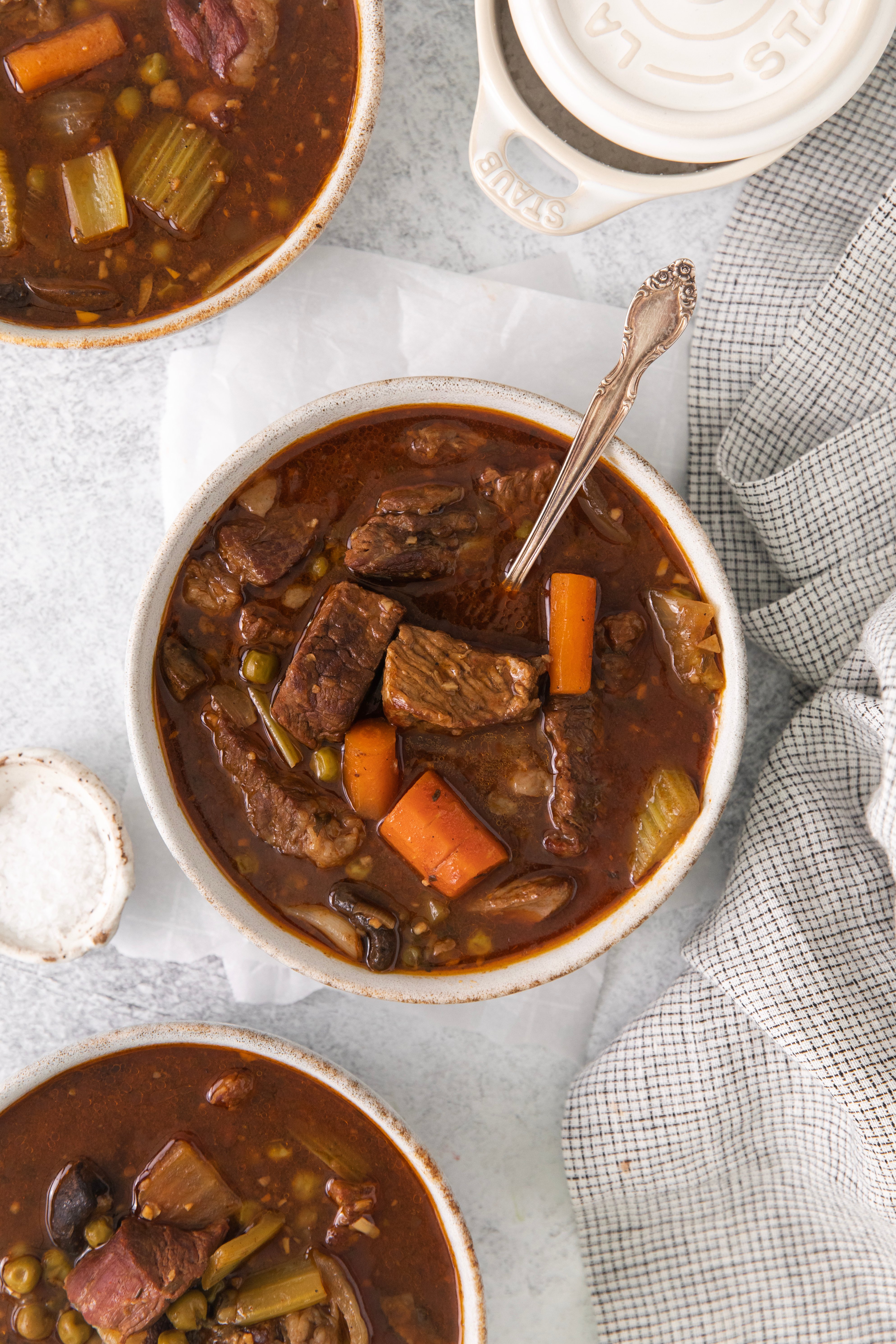 Easy Irish Beef Stew Recipe
If you're looking for the perfect recipe to make when you're craving something comforting and filling?
Look no further.
This Slow Cooker Beef Stew is just what you need in your life. It's brimming with tons of good-for-you ingredients and is so easy to make right in your crockpot. Simply combine everything in the slow cooker and let it work its magic!
This recipe is paleo, dairy-free, whole30 compliant, and has no sugar added. I love making this soup at the beginning of the week and enjoying leftovers all week long.
Ingredients Needed
This crockpot beef stew is made with the best simple ingredients! Here's what you'll need:
Olive Oil: You'll need a little bit of olive oil to sear the meat before adding it to the crockpot.
Beef: I recommend chuck or round for slow cooker beef stew. You can find already chopped stew meat at the store or chop it yourself.
Veggies: Our colorful veggie blend consists of chopped carrot, onion, mushroom, celery, frozen peas, and optional potatoes.
Garlic: I recommend freshly minced garlic for the best flavor.
Beef Broth: Beef broth gives the stew a rich flavor base.
Tomato Paste: A couple tablespoons of tomato paste adds richness and flavor depth to the stew.
Flour: I usually use tapioca flour, but feel free to use the flour of your choice.
Herbs and Seasonings: We're seasoning our Irish stew with a combination of paprika, garlic granules, dried parsley, dried thyme, sea salt, ground pepper, and a bay leaf. Don't forget to remove the bay leaf before serving!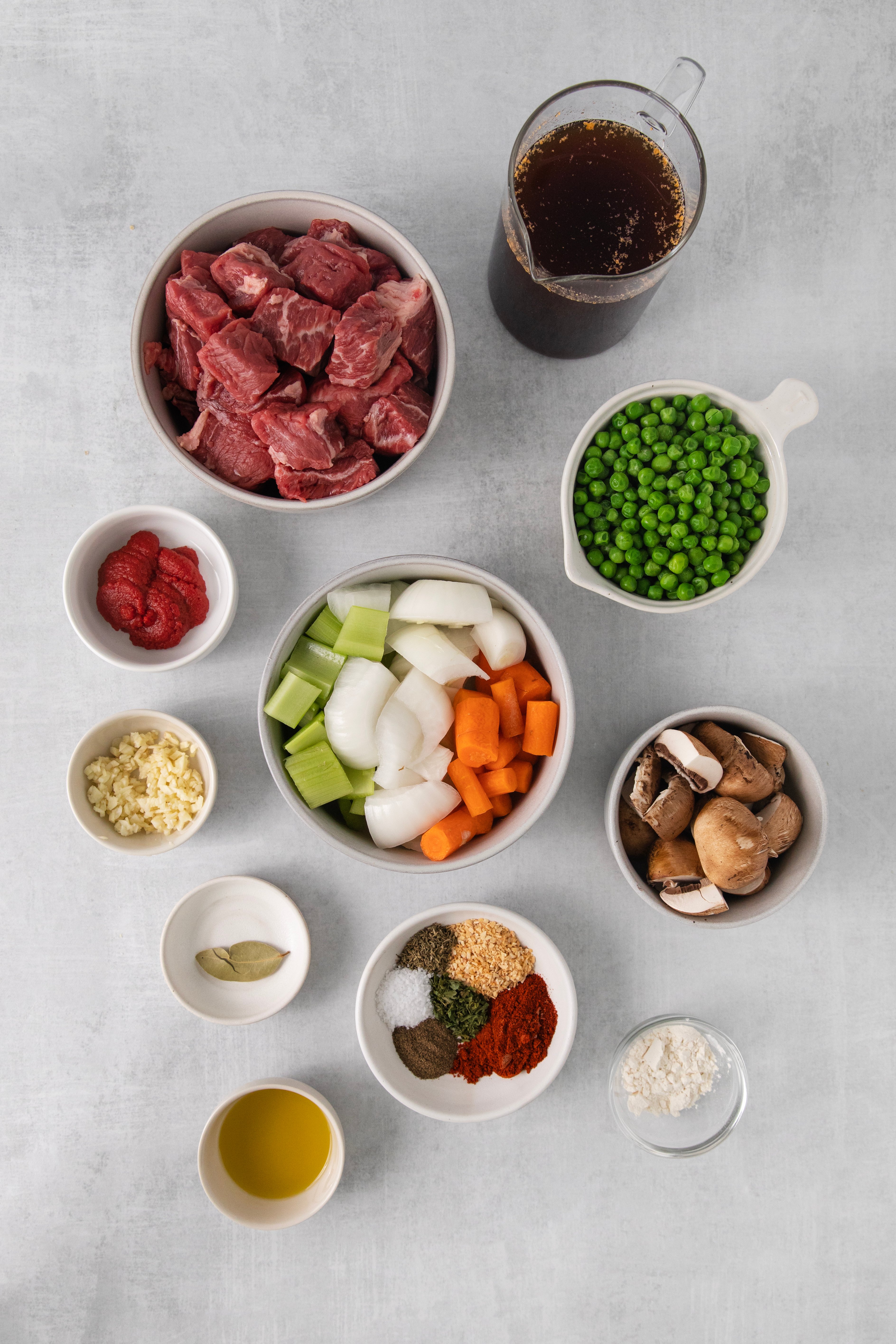 What liquid do you use for beef stew?
I recommend using beef broth to add tons of flavor and create a rich, beefy base.
In a pinch, you can sub the beef broth out for chicken broth or veggie broth if that's what you have on-hand.
What kind of beef is used for stew?
The most common cut of beef for stew is chuck steak, which tends to be more affordable, but also tougher than other cuts of beef.
Fortunately, its tougher texture makes it perfect for crock pot beef stew. The long, slow cooking time breaks the meat down perfectly and results in deliciously tender bites of steak.
Other cuts of beef that will work include round, sirloin, or brisket!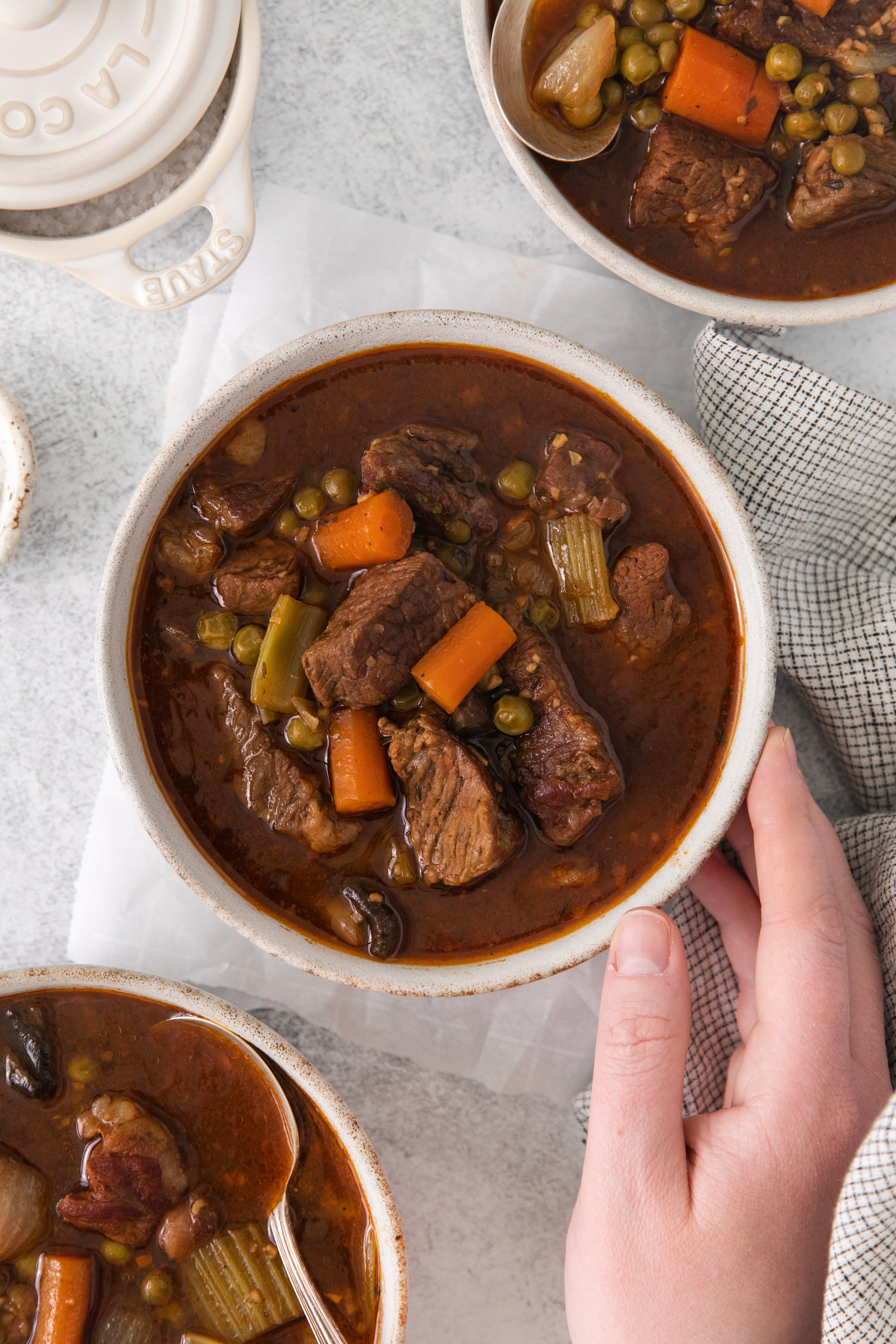 How to Make Beef Stew
This easy beef stew recipe takes a quick 10 minutes to prep! Once everything is combined, you can walk away and come back to the perfect home-cooked meal!
Brown the beef: In a skillet, heat oil over medium-high heat, then add in the beef. Sear until browned on each side.
Combine the stew ingredients: In the crockpot, combine the meat, veggies, broth, tomato paste, flour, and spices. Mix well.
Cook: Cover and cook on low for 8-10 hours, then serve hot.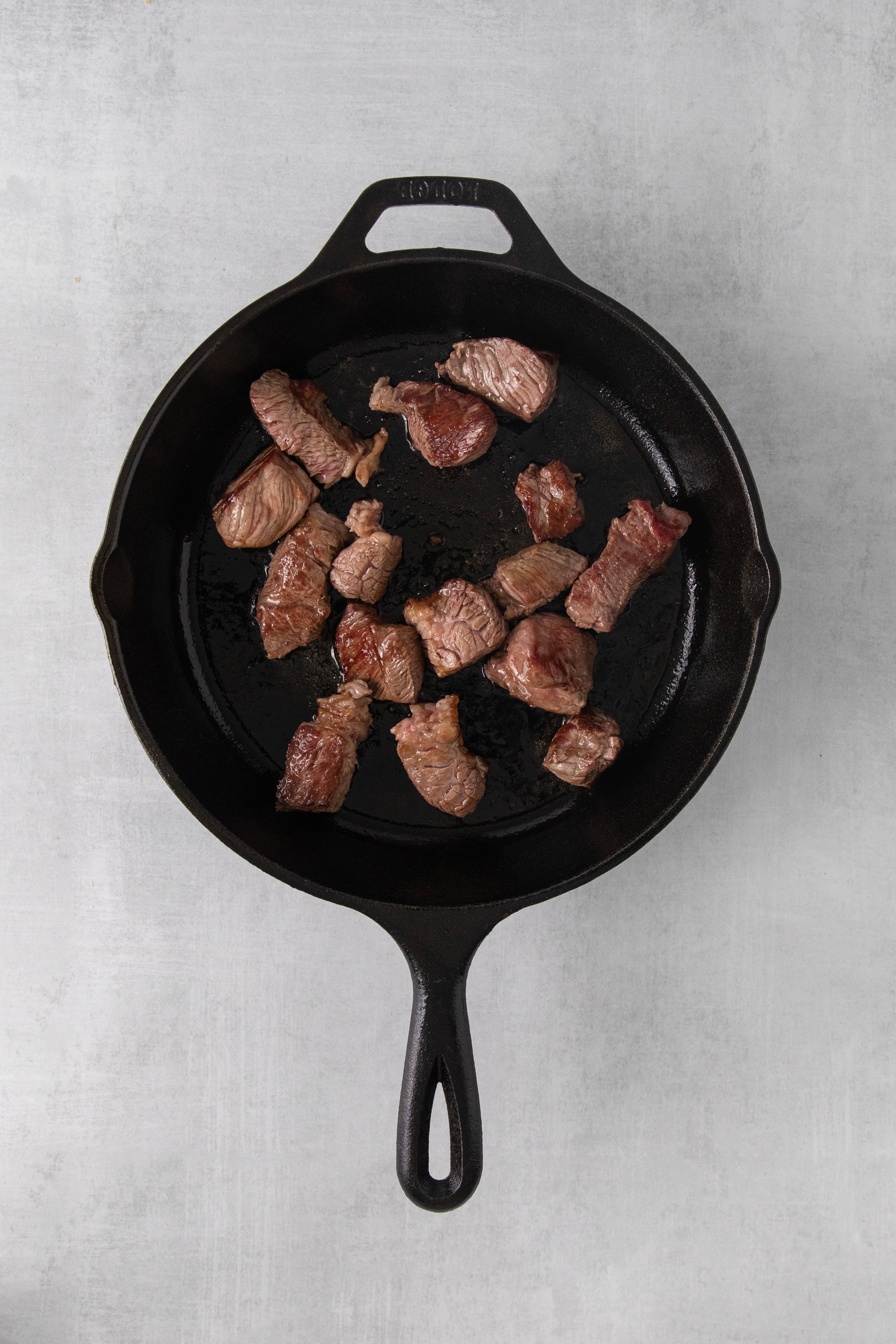 How to Thicken Beef Stew
There are a couple of ways you can make sure you're creating the perfect thick and hearty Irish beef stew:
Flour: The tapioca flour in this recipe helps soak up some of the moisture and create a thicker stew texture.
Potatoes: The starch in the potatoes naturally helps thicken the stew. That is, of course, only if you decide to use potatoes. If you don't use potatoes, you may want to add less broth.
Cooling: The stew will naturally thicken up as it sits and cools.
If your stew is done in the crockpot, but not as thick as you would like, you can either mash some of the potatoes or transfer it to a large stockpot and simmer it on the stove, uncovered, until it reaches your desired texture.
Can You Put Raw Meat in a Slow Cooker?
You definitely can, but for this recipe I recommend searing it first! This isn't for food safety purposes, but solely for flavor and texture purposes.
Searing the meat first gives the steak pieces that perfect crispy exterior and adds another layer of richness and flavor.
Is It Better to Cook Stew on Low or High in the Slow Cooker?
Low! This Irish stew needs that longer, lower, and slower cooking time to allow the beef to get perfectly tender and juicy.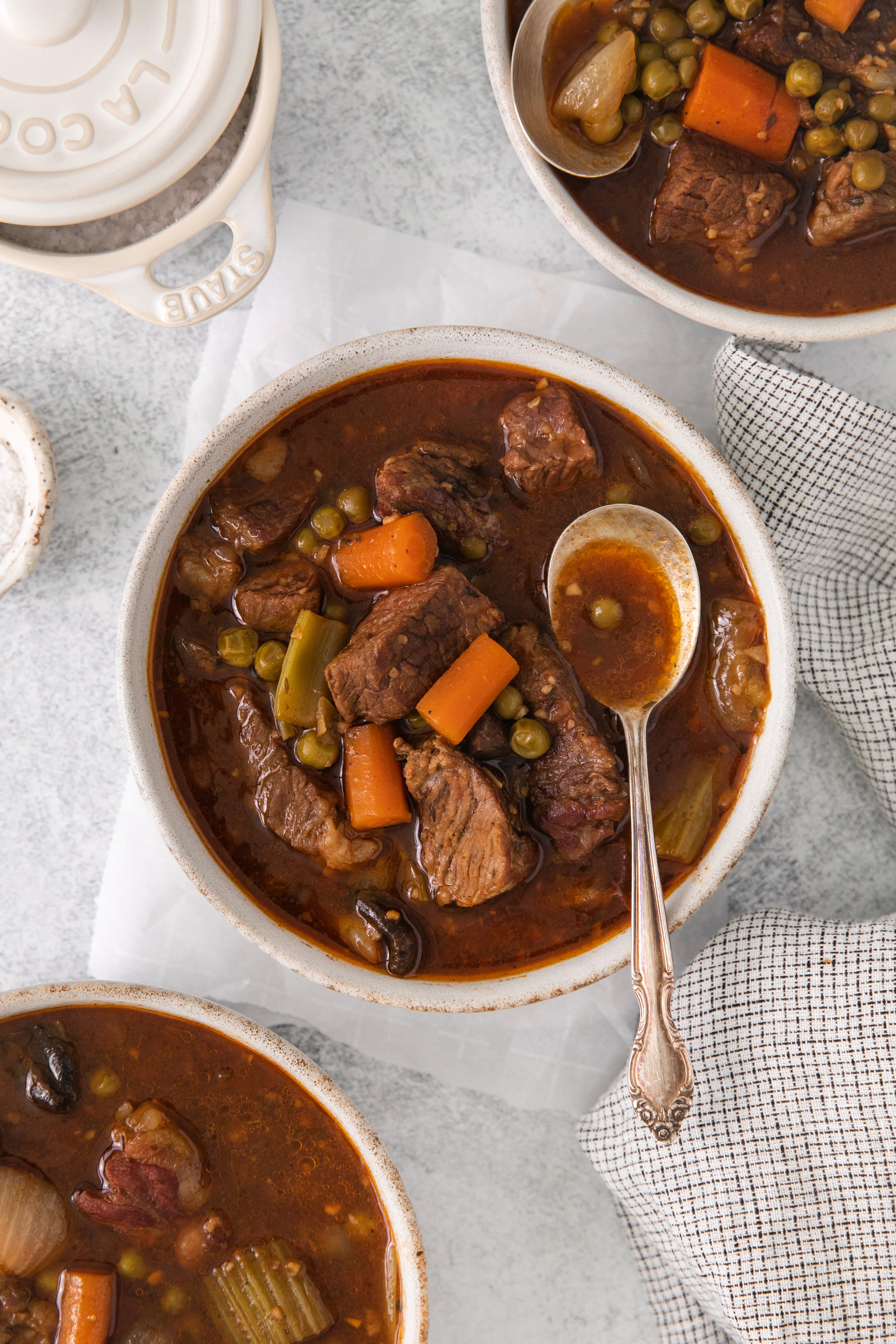 Tips and Notes
Brown the beef. While this isn't totally necessary, it really does add the perfect extra layer of flavor to the meat.
Don't use too much liquid. Stew is less "soupy" than soup. We don't want too much liquid or we won't get that thick texture.
Don't skimp on the cooking time. Make sure you cook on low for the full 8-10 hours. The longer, the better for that juicy, tender beef.
Serving Suggestions
This Irish beef stew makes an excellent hearty dinner for any regular night of the week, but it also makes the perfect addition to a St. Patrick's Day feast!
No matter when you plan to serve it, these dishes are the perfect way to round out your meal:
How to Store
Leftover beef stew will last in an airtight container in the fridge or in the freezer for up to 3 months.
To reheat, thaw the stew overnight in the fridge if frozen, then warm in the microwave or on low on the stove until heated through.
Tools used to make this easy slow cooker beef stew recipe:
More Slow Cooker Recipes
Watch The Video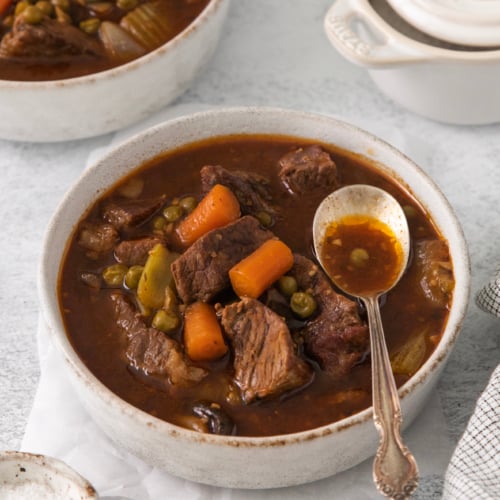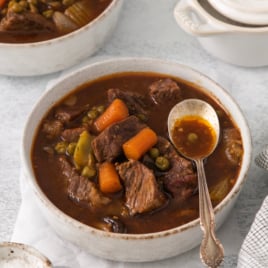 Slow-Cooker Beef Stew
This Slow Cooker Beef Stew is hearty, healthy, and so flavorful. It's packed full of colorful veggies, fluffy potatoes, and tender bites of beef. Just 10 minutes of prep needed for this hands-off crockpot recipe!
Ingredients
1

tablespoon

extra-virgin olive oil

2

pounds

boneless grass-fed chuck

cubed

3

carrots

chopped

1

large onion

chopped

1

cup

mushrooms

chopped

2

cloves

garlic

minced

2

celery stalks

chopped

1

cup

frozen peas

2

cups

beef broth

2

tablespoons

tomato paste

1

tablespoon

tapioca flour or flour of choice

1

bay leaf

1

tablespoon

paprika

1

tablespoon

garlic granules

1

teaspon dried parsley

1

teaspoon

dried thyme

1

teaspoon

sea salt

more to taste

1

teaspoon

ground pepper

more to taste

Optional: 3 large yukon gold potatoes

diced
Instructions
Heat oil over medium-high heat in a large skillet. Sear meat for about 3 minutes on each side, until browned. Set aside.

Add in broth, tomato paste, tapioca, and spices. Mix well to combine.

Set on low for 8-10 hours.

After 7 hours, taste and adjust spices to your liking (i.e. add additional salt, cayenne, or red pepper flakes).

Remove bay leaf and serve hot!
Nutrition
Calories:
397
kcal
Carbohydrates:
12.3
g
Protein:
44
g
Fat:
18.5
g
Saturated Fat:
5.4
g
Cholesterol:
91
mg
Sodium:
722
mg
Fiber:
3.8
g
Sugar:
5.1
g