5 Easy Tips for Getting More Vitamin D
There's a lot to love about Vitamin D and all of the benefits it offers your body. According to Medical News Today, it promotes healthy bones, reduces your risk of catching the flu, lowers your risk of diabetes, and improves overall health for babies and pregnant mamas. It also supports the immune system, brain, nervous system, and cardiovascular system. Let's all pause and think about how to get more vitamin D into your lives, right?
5 Easy Tips for Getting More Vitamin D
You'll be glad you did!
Well, it's tricky. It's tougher than you might think to take in ideal levels of this particular vitamin, which is created in the body primarily as a reaction to sun exposure. Most of us don't spend that much time outside, and even when when we do, we might be protecting our skin by hanging out under an umbrella or a big hat. As a result of all of this, deficiencies in Vitamin D are actually pretty common.
We all want to take advantage of all of those great benefits, so here are five simple ways you can naturally boost your Vitamin D every day.
1. Get some sun. Sunlight is probably the best-known source of Vitamin D out there, and if your lifestyle allows for regular outdoor time, it really is a good way to start to boost your intake. According to the Vitamin D Council, you don't need to get a tan or risk a sunburn in order to get the ideal amount of the vitamin in your system — which is a good thing, because you know how I feel about practicing safe sun! An Australian study cited by Harvard Medical School actually showed that there's no real difference in Vitamin D absorption between people who use sunscreen and people who don't, so you can soak in this vitamin even while using sun protection. Go ahead and lather up!
This one is more difficult in the winter months. If you live in a winter-y climate like I do, visit your local garden center or greenhouse. They are packed with warmth, plants, and give you all those sunny feels!
2. Drink it in. You won't find many of the store-bought beverages that are typically fortified with Vitamin D in my kitchen, but I'm happy to report that several LCK-approved dairy alternatives do contain a Vitamin D boost. Califia Farms Unsweetned Übermilk, Good Karma Flaxmilk, Almond Breeze Almond Milk, and So Delicious Coconut Milk are just a few of the drinks that will help you get closer to that recommended vitamin intake. We have our own DIY dairy-free milks, too!
3. Eat seafood. Per Healthline, fatty fish and seafood are among the richest natural food sources of Vitamin D. Even though it's a stretch to get all of the Vitamin D your body needs through food, you can certainly chip away at it by including tuna, wild salmon, mackerel, oysters, and shrimp in your diet. Check out my Sweet Potato Tuna Melts, One-Pan Shrimp and Green Beans in Chinese Garlic Sauce, Chili Maple Glazed Salmon, Mediterranean Tuna Salad with No Mayo (pictured), Tequila Lime Shrimp and Watermelon Ahi Tuna Salad recipes for a few ideas!
4. Add mushrooms to your meals. Mushrooms can also help you get closer to your recommended Vitamin D intake. Some of my favorite recipes featuring mushrooms are Meatless Chipotle Mushroom Tacos, The Ultimate Garlicky Mushroom Side Dish, Spinach Dip Stuffed Mushrooms, One-Pan Chicken in Mushroom Sauce and Paleo Veggie Mushroom Burgers. I'll take any excuse to make these meals a little more often!
5. Consume more egg yolks. Like seafood and mushrooms, egg yolks are richer than other foods in Vitamin D. Sounds to me like another great way to get that good stuff in your system first thing in the morning! Try Baked Egg Cups (pictured), Chard and Potato Leek Frittata, Sheet Pan Classic Breakfast Bake (Eggs, Bacon, & Home Fries!), Saucy Chorizo Skillet Baked Eggs, and my Easy Pizza Scramble!
All this aside, if you're feeling like you need additional support getting your Vitamin D in, supplement with it! Especially in the winter months. Make sure you discuss with your doctor before adding anything new into your regimen.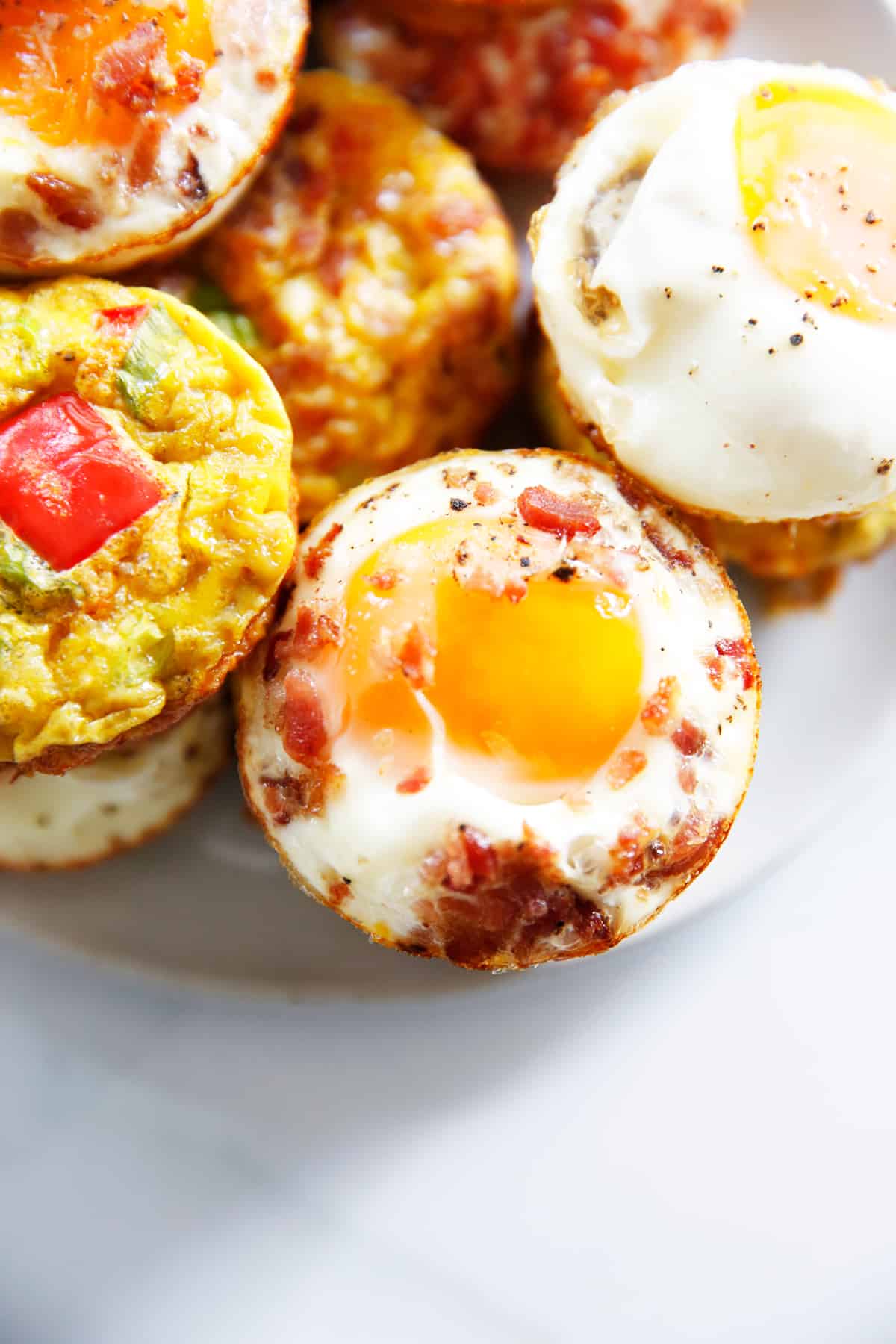 ---
Pin it for later: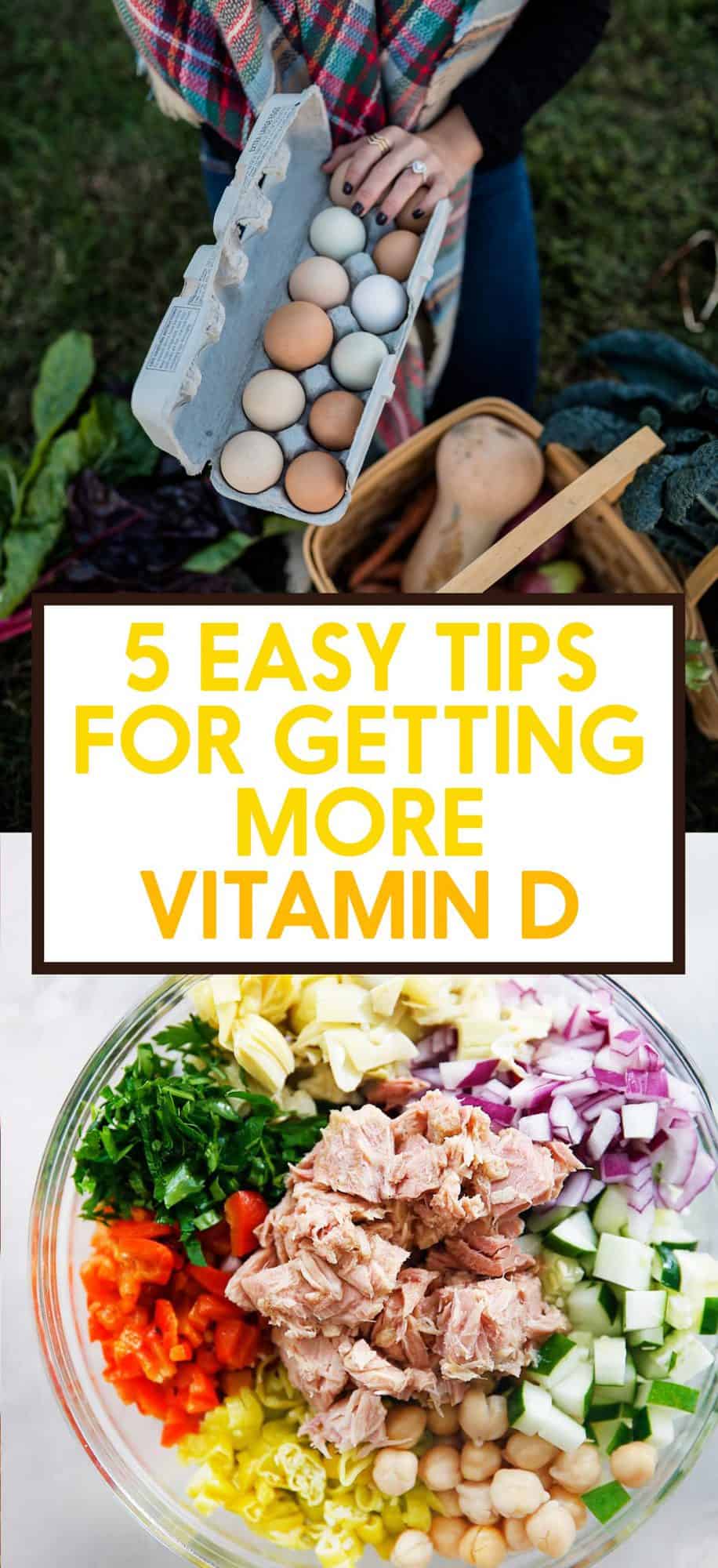 5 Easy Tips for Getting More Vitamin D
Remember those goals and intentions you made way back in the new year? Did any of them stick? It can be so easy and exciting to create new goals for yourself, but where it gets difficult is maintaining healthy habits that can last a lifetime. Creating healthy habits for yourself (and your family) and making them a part of your lifestyle is not only good for your health, but also important for your self-esteem and confidence.
But first, what healthy habits are we talking about? We're talking about the ones that generally make us feel like our best self. These include:
Nourishing your body with good-for-you food

. What the definition of that is up to you to decide. But either way, you should make finding out what foods make you feel the best and give you the most energy a priority.

Moving your body

: Exercise has more to do with moving your body to increase the feel good endorphins than it has to do with losing weight. Every body benefits from exercise and it builds confidence.

Finding balance in your life.

It's so easy to run yourself ragged in this busy life, but finding balance is key to creating a healthy life.
13 Tips to Help You Maintain Healthy Habits
After reaching out to our readers on social media we asked: "What is your biggest hurdle to maintaining a healthier lifestyle?" and so many of you responded with similar struggles: not having enough time, difficulty keeping up with exercise goals and staying on track with good-for-you food choices. We're going to try to break it down and give you our best 13 Tips to Help You Maintain Healthy Habits that last a lifetime.
---
1. Be kind to yourself and celebrate your victories. This is the most important tip we can offer. Beating yourself up over your perceived "failure" is absolutely no way to maintain any type of habit except the habit of negativity. Celebrating what you have achieved, no matter how small!
2. Make a plan. Write down what it is you want to achieve and break it down into really simple tangible goals. Just thinking "I want to eat healthier" is not enough. Get specific with your goals. If it is to "eat healthier" write down the foods you want to eat and even why it is you want to eat them. If you are looking for more balance in your life write down what time of the day you want to stop all work related activity so you can truly focus on other parts of your life.
3. Just get started. Now. Take any possible small step you can towards your goal. If your goal is to get to the gym in the day, put your gym clothes on! You are now one step closer to getting there. If your goal is to eat more vegetables pack some cucumber sticks with you at the start of the day. Don't wait for tomorrow to start. Do it as soon as you possibly can with the smallest step you can manage if that is where you are it.
4. Try to accomplish less. This may seem counterintuitive but stick with us. Your plate can only handle so much, figure out what fits on yours and get rid of the rest. This applies to not only your health goals but also other areas of your life. If your health goals are meditating, starting a workout routine, getting dinner on the table, making time for friends, and ten other things, it's unlikely you'll succeed. Say no as often as you can for things that don't accomplish your true health priorities. Stop being so busy and to try to be more productive with what is important. You don't have to do it all! Pick 1-3 things you can do each day that pushes you closer to your bigger goal: that can be as simple as getting a healthy meal on the table.
5. Focus on the habit, not the result.When we think about healthy habits it is usually attached to a result (such as losing weight or getting 8 solid hours of sleep). Instead try to focus on the habit itself that will get you to your goal. Just "show up" with what it is you need to do and make that a habit first, and then work out the rest of the details later about how to get to your goal.
6. Make sleep a priority. Chronic fatigue can lead to poor health, poor choices and just generally not have the energy to do what you want or need. Set yourself a bedtime and stick to it. Use apps and timers and technology to make sure you get enough sleep.
7. Stress management. Everybody knows this but it's worth putting on this list. You have to find a way to keep stress down as that can affect your health and the ability to make good choices for yourself. Use mediation or breathing apps to help you slow down throughout the day, say no as often as you can (see #4) to the things that don't accomplish your big goals and yes to the things as often as you can that make you happy and less stressed. Ask yourself what those things are and start to pay attention to them.
8. Moderation. We're all about this one. Don't set yourself up for failure by being overly ambitious or having unrealistic goals. If you've set a goal for going to the gym 5 days a week, and previously you only went 1 (or zero) days a week, that's a lofty jump. So be realistic, be easy on yourself, and remember that more isn't always better. If your goals or intentions feel overly restrictive, it's going to be harder to accomplish.
9. Surround yourself with people who encourage your goals. Try to build up the positivity in your life, because negativity is contagious. Tell who you are comfortable with about your new lifestyle habits so they can help keep you accountable, or even better join in with you!
10. Lead by example. Healthy habits are contagious. If your family isn't on board at first, you have to be the one to start. It can be so hard if you are the only one doing it, but look at it like you are the one that is going to lead the path to contagious healthy habits for not only yourself but the rest of your family. Just like taking on bad habits can be contagious, so can catching good ones. For kids, get them involved with choosing and cooking healthy meals and making movement a fun family activity as much as possible.
11. Meal prep. Whether you are happy with your current food habits or not, making a plan for meals is key to balancing life! Do some planning and prepping that won't keep you overwhelmed in the kitchen for 6 hours on a Sunday, but do-able so you can have items in the house ready to go. If you don't have as much time to cook look into healthier prepared ingredients that make dinner a snap, such as: jarred pasta sauce, frozen meatballs and prepared zucchini noodles. Plan out the week and think about leftovers for lunch, what you already have in the freezer, and more. Download this weekly menu planner we created to get organized! Try to plan one week ahead so you just have to go to the store once, or use grocery delivery to check that chore off your list.
12. Have a back up plan. Always have an emergency back up of some time of food or snack that is good for you in case all else fails and your stuck on a dessert island with nothing to eat. But seriously! Stash an energy bar or other shelf stable snack in your purse or work bag at all times. Some ideas: nuts, trail mix, jerky, dried fruit, nut butter packs.
13. Learn how to swerve. Pay attention to how you feel and change directions if you need to. Are you overwhelmed? Do the habits fit with your lifestyle? Is it easy to maintain your new habit without severely impacting other areas of your life? If you find that you haven't kept up with your new plans as you've hoped, don't get upset! Acknowledge and give yourself some love for even noticing and having the awareness that you need to reevaluate your plan of action!
---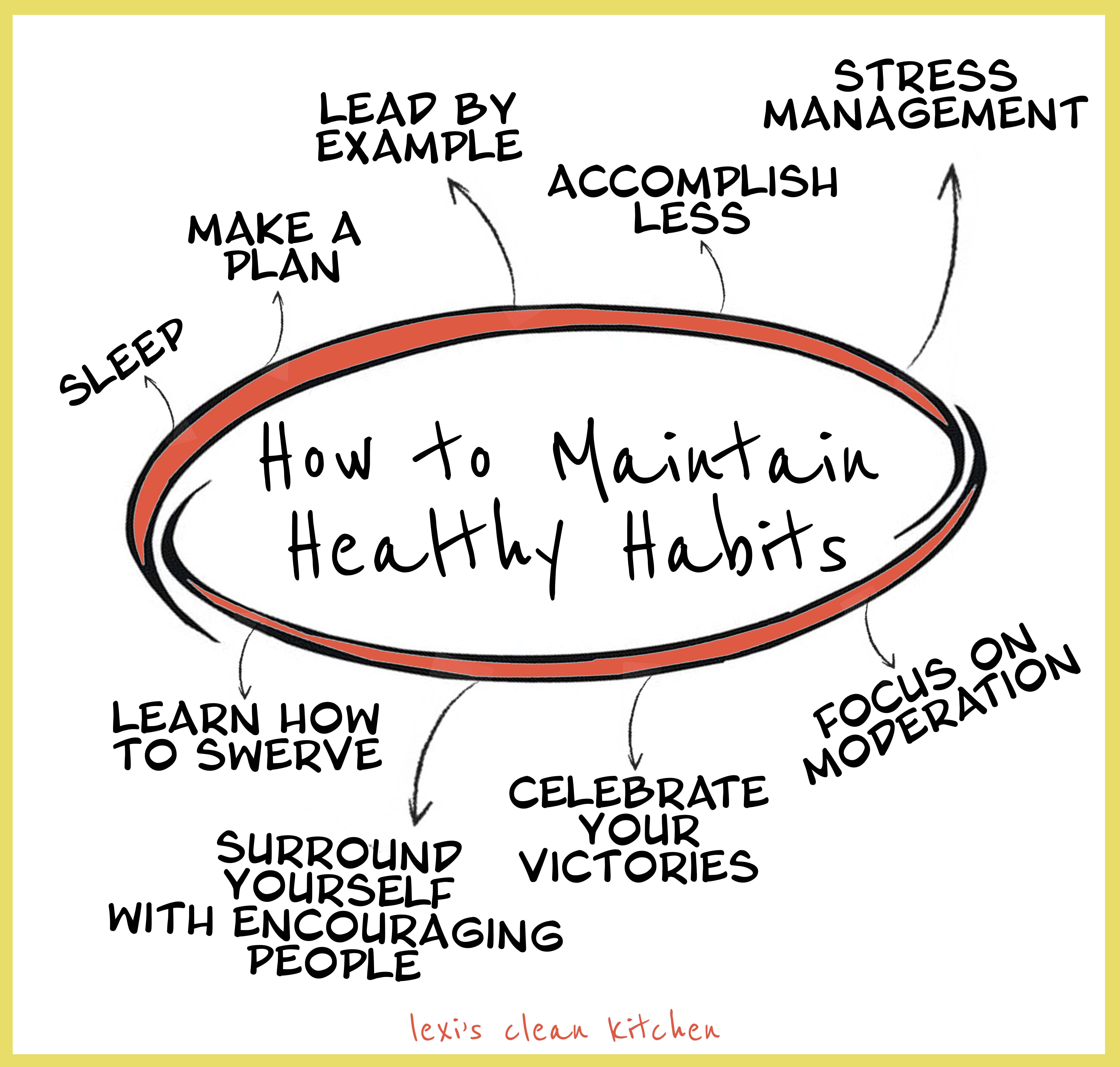 13 Tips to Help You Maintain Healthy Habits
Mike and I had the greatest weekend. On Friday night we drove up to Lenox, MA to the gorgeous Canyon Ranch for a little pre-birthday celebrations! We arrived late, were greeted by the most friendly staff, had a quick dinner (they packed us gluten-free cookies to-go in our room), and we went to relax before a fun-filled day ahead.
We woke up and explored this gorgeous place. It is so serene, quaint, friendly, and relaxing.
We walked down, sat on some adirondack chairs overlooking the woods and rocked (in the words of Emily from Zivamind) a 15-minute meditation to kick start a day of fitness, relaxation, and wellness.


We ate phenomenal food, took awesome fitness classes, got pampered in the spa, and got to take in the gorgeous views of Lenox. At night, they have quite the epic DVD collection filled with old and super new movies. Since the lovely staff always gave us soft, delicious gluten-free cookies to go, the nights were relaxing and filled with cookies and movies in bed, something we never ever get to do! It was delightful.
All in all, it was truly a fantastic weekend getaway, and with all there was to do- over 40+ indoor and outdoor fitness activities daily, workshops, talks, treatments- I could totally have seen us staying for days and days!
The Food
There are two main restaurants at Canyon Ranch. The Dining Room (where we ate dinner the first night and lunch the following day) and The Cafe (where we are breakfast both days and dinner Saturday night). The Cafe is new. It is farm-to-table style, and also where you can grab a snack throughout the day, a cappuccino, a smoothie, and so on. Of course, The Cafe was right up my alley and we loved loved loved it there. Especially Sunday brunch because… brunch!
I'm merging together breakfast (Saturday) + brunch (Sunday), because they were both just so fantastic. I started each day with an almond milk cappuccino and went from there. The accommodations for gluten/grain/dairy-free were beyond amazing. I was greeted with a full ingredient list of every single food at CR upon arrival, down to the brand of tomato sauce they use! They had three different types of almond milk, local maple syrup, coconut water for the smoothies. Everything down to the T!
The breakfast you ordered, with the open bar to help yourself to other things, and the brunch was station buffet-style.

Everything was beyond delicious! We grabbed a quick lunch on Saturday, and then got right back into our day of fitness and the spa!
Dinner at The Cafe was a highlight for sure. I loved seeing where a variety of the food I was eating came from. What is better than that? It is so apparent how much the chefs value their food and their expertise.
Bravo to the CR Lenox chefs. It was truly amazing seeing your craft in action.
P.S. There is no alcohol served at Canyon Ranch. I actually really enjoyed this little detox aspect.
The Fitness
CR Lenox is different then any spa I've been to. It is super focused on fitness, wellness, and health out of just the food and the spa. There were lectures on sleep, an integrative medicine practice where you could actually get tests done right there, and so much more.
I took a circuit class, a spin class, and a yoga class. Now I'm not the biggest Yogi but I am making an effort to get more into it, so I decided to take a class. Antoinette was the teacher and she was beyond amazing. I loved her nature, energy and the vibes of the class. I wish she was here in Boston! Mike took a meditation workshop, a yoga class (more intense than mine), and a kettlebell class which ended up being one-on-one since he was the only person who showed up!
I really loved the classes, and also loved spending time in the Women's Spa. Sauna, steam room, hot tub, relaxation area, and more. Total bliss.
Another highlight that we loved was the natural "sports drink" in the fitness area. Seeing the word Sports Drink you can imagine what I thought the ingredient list would look like, but I was in fact wrong! A blend of iced teas, orange juice, white grape juice, lemon oil, and sea salt. That's it! We added a little to our waters to fuel us through the day. I think I'll have to recreate this one for all of you 🙂
Next time, we'll stay for longer and get outside for one of the hikes and other activities that we couldn't fit into our stay!
The Spa
Mike and I both got massages, mine an 80-minute deep tissue and his a 50-minute Swedish. I also got a deep cleansing facial which was phenomenal. I loved the spa area of CR and the awesome, knowledgeable staff there!

---
Disclosure: I was not paid to write this post, but did receive complementary amenities. All opinions are 100% always my own!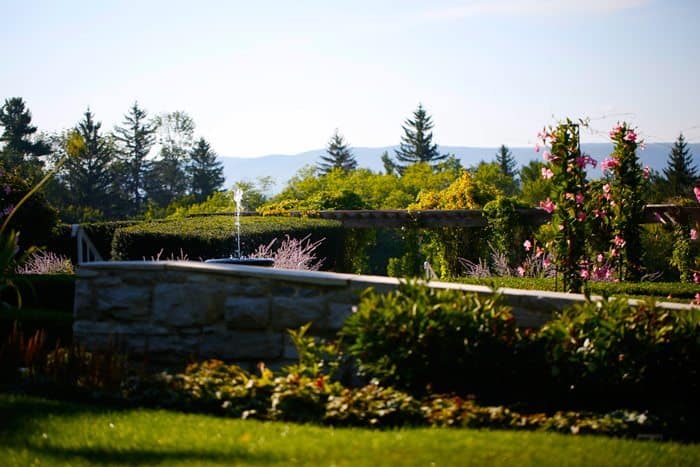 ---