There's a lot to love about Vitamin D and all of the benefits it offers your body. According to Medical News Today, it promotes healthy bones, reduces your risk of catching the flu, lowers your risk of diabetes, and improves overall health for babies and pregnant mamas. It also supports the immune system, brain, nervous system, and cardiovascular system. Let's all pause and think about how to get more vitamin D into your lives, right?
5 Easy Tips for Getting More Vitamin D
You'll be glad you did!
Well, it's tricky. It's tougher than you might think to take in ideal levels of this particular vitamin, which is created in the body primarily as a reaction to sun exposure. Most of us don't spend that much time outside, and even when when we do, we might be protecting our skin by hanging out under an umbrella or a big hat. As a result of all of this, deficiencies in Vitamin D are actually pretty common.
We all want to take advantage of all of those great benefits, so here are five simple ways you can naturally boost your Vitamin D every day.
1. Get some sun. Sunlight is probably the best-known source of Vitamin D out there, and if your lifestyle allows for regular outdoor time, it really is a good way to start to boost your intake. According to the Vitamin D Council, you don't need to get a tan or risk a sunburn in order to get the ideal amount of the vitamin in your system — which is a good thing, because you know how I feel about practicing safe sun! An Australian study cited by Harvard Medical School actually showed that there's no real difference in Vitamin D absorption between people who use sunscreen and people who don't, so you can soak in this vitamin even while using sun protection. Go ahead and lather up!
This one is more difficult in the winter months. If you live in a winter-y climate like I do, visit your local garden center or greenhouse. They are packed with warmth, plants, and give you all those sunny feels!
2. Drink it in. You won't find many of the store-bought beverages that are typically fortified with Vitamin D in my kitchen, but I'm happy to report that several LCK-approved dairy alternatives do contain a Vitamin D boost. Califia Farms Unsweetned Übermilk, Good Karma Flaxmilk, Almond Breeze Almond Milk, and So Delicious Coconut Milk are just a few of the drinks that will help you get closer to that recommended vitamin intake. We have our own DIY dairy-free milks, too!
3. Eat seafood. Per Healthline, fatty fish and seafood are among the richest natural food sources of Vitamin D. Even though it's a stretch to get all of the Vitamin D your body needs through food, you can certainly chip away at it by including tuna, wild salmon, mackerel, oysters, and shrimp in your diet. Check out my Sweet Potato Tuna Melts, One-Pan Shrimp and Green Beans in Chinese Garlic Sauce, Chili Maple Glazed Salmon, Mediterranean Tuna Salad with No Mayo (pictured), Tequila Lime Shrimp and Watermelon Ahi Tuna Salad recipes for a few ideas!
4. Add mushrooms to your meals. Mushrooms can also help you get closer to your recommended Vitamin D intake. Some of my favorite recipes featuring mushrooms are Meatless Chipotle Mushroom Tacos, The Ultimate Garlicky Mushroom Side Dish, Spinach Dip Stuffed Mushrooms, One-Pan Chicken in Mushroom Sauce and Paleo Veggie Mushroom Burgers. I'll take any excuse to make these meals a little more often!
5. Consume more egg yolks. Like seafood and mushrooms, egg yolks are richer than other foods in Vitamin D. Sounds to me like another great way to get that good stuff in your system first thing in the morning! Try Baked Egg Cups (pictured), Chard and Potato Leek Frittata, Sheet Pan Classic Breakfast Bake (Eggs, Bacon, & Home Fries!), Saucy Chorizo Skillet Baked Eggs, and my Easy Pizza Scramble!
All this aside, if you're feeling like you need additional support getting your Vitamin D in, supplement with it! Especially in the winter months. Make sure you discuss with your doctor before adding anything new into your regimen.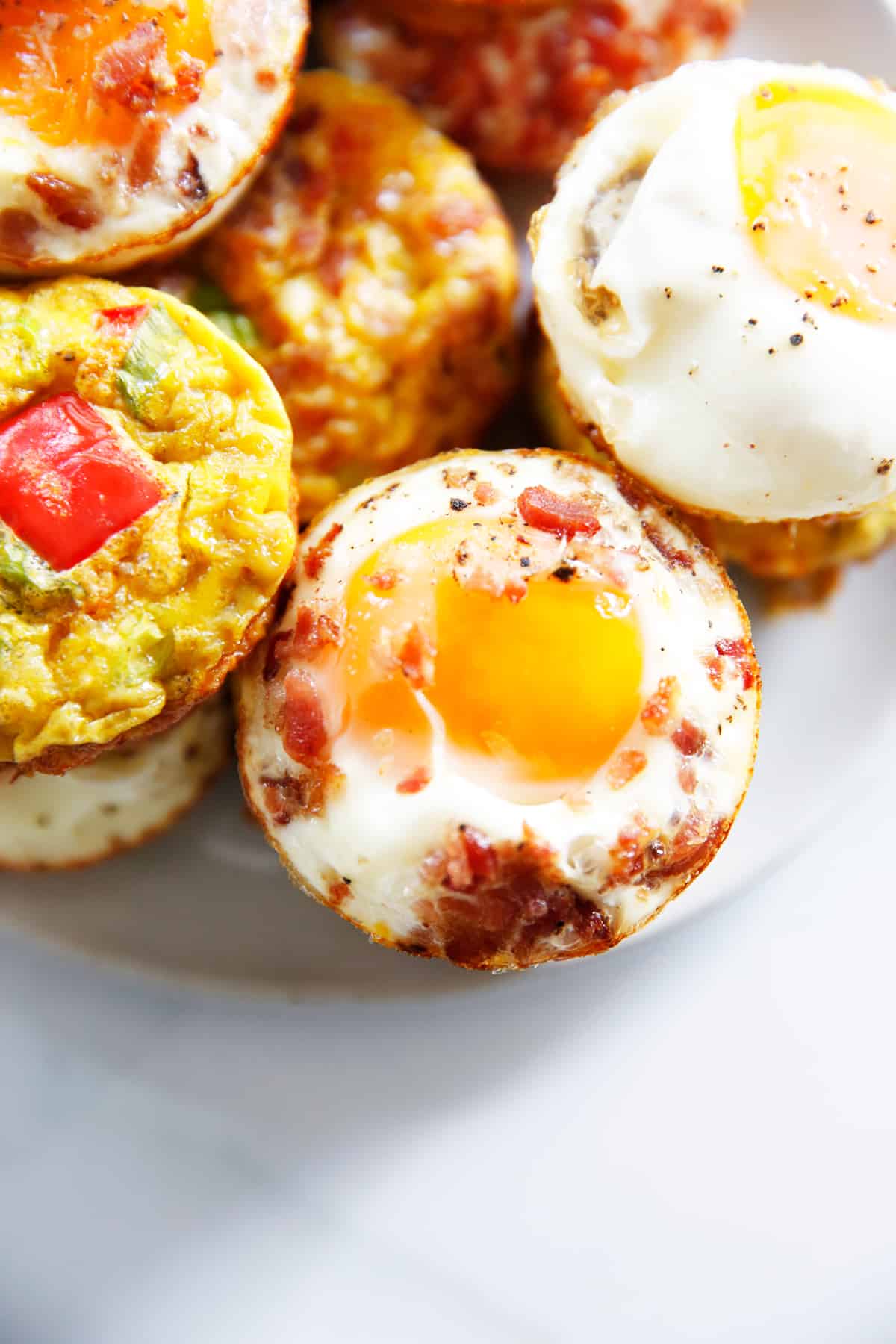 ---
Pin it for later: