At the end of November we embarked on a magical trip to Morocco! We planned and planned, and then we were finally off on a plane to fabulous Morocco. The flights were a breeze (only 8 hours), and it was a trip to remember with amazing food, lovely people, and so much culture. Read about where we stayed, what we did, and my 10 Morocco Travel Tips!
Travel:
We flew from JFK Airport to Casablanca Airport via Air Maroc
From Casablanca Airport we had a driver to our hotel in Fes, Riad Fes (about 2 1/2 hours)
From Fes, we flew Air Arabia from the Fes Airport to Marrakech (a super easy 1 hour flight)
From Marrakech we had a driver back to the Casablanca Airport where we flew Air Maroc back to JFK (about 2 hour drive to the airport)
P.S. I packed EVERYTHING in a carry on but it was still too heavy and I had to check it. So I would pack a bigger suitcase so you can shop!
First stop… Fes!
Fes is a remarkable city, in the northeastern part of Morocco, It's often referred to as the country's cultural capital. It's primarily known for its Fes El Bali walled medina, with medieval Marinid architecture, vibrant souks and old-world atmosphere. We loved visiting Fes in contrast to Marrakech as it definitely felt more old-world.
Where We Stayed:
We stayed at Riad Fes, which I cannot recommend more. It was a gorgeous hotel right in the center of the walled medina. We were looking for a more authentic experience, rather than finding a modern hotel, and this hotel exceeded our expectations. It's a mini-oasis in the center of the walled Medina! It's a smaller hotel, so it feels extra personal, which I loved. The food was outstanding at the hotel, the rooftop views were beautiful, the room was delightful, the ornate detail was truly beautiful, and the staff made you feel like family. They knew what you were up to that day and evening, and were beyond accommodating.
Gorgeous details at Riad Fes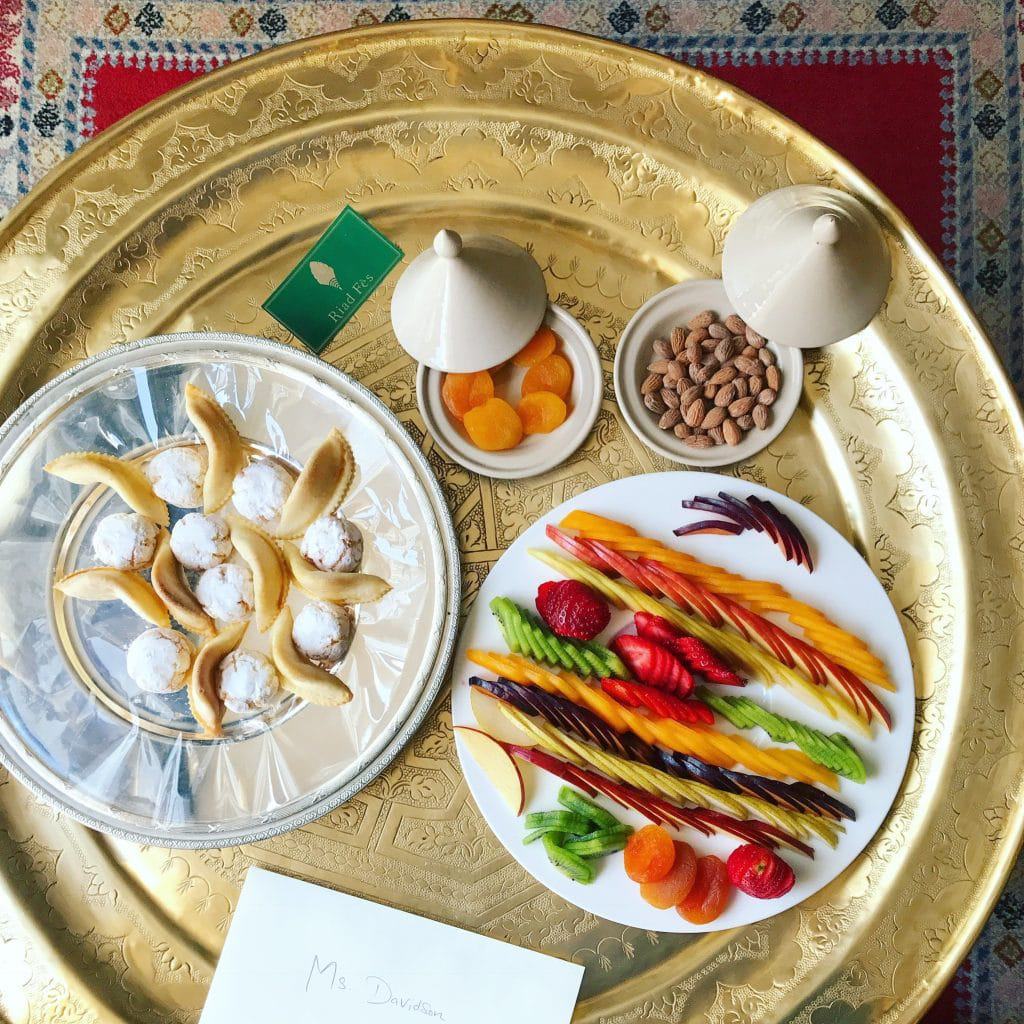 Welcome treats at Riad Fes!
Fes Details:
We spent 3 1/2 days and 3 nights in Fes.
When we first arrived, we attempted to explore on our own, and quickly realized how lost we would get! We ventured out the next few days with a wonderful guide. I highly recommend having a guide show you around Fes! I highly recommend Hussain! And can provide his email for you if you're looking.
Some Places We Visited:
The al Quaraouiyine Mosque – non-Muslims are not permitted entry to the mosque itself but can enter the newly (it was built in the 7th century) refurbished library.
Shop the Souks in the walled Medina
Dye Pits and the Tanneries
Traditional Moroccan Cooking class at Riad Fes
Dinner at Amaraz in Hotel Sahrai: SO good!
And more!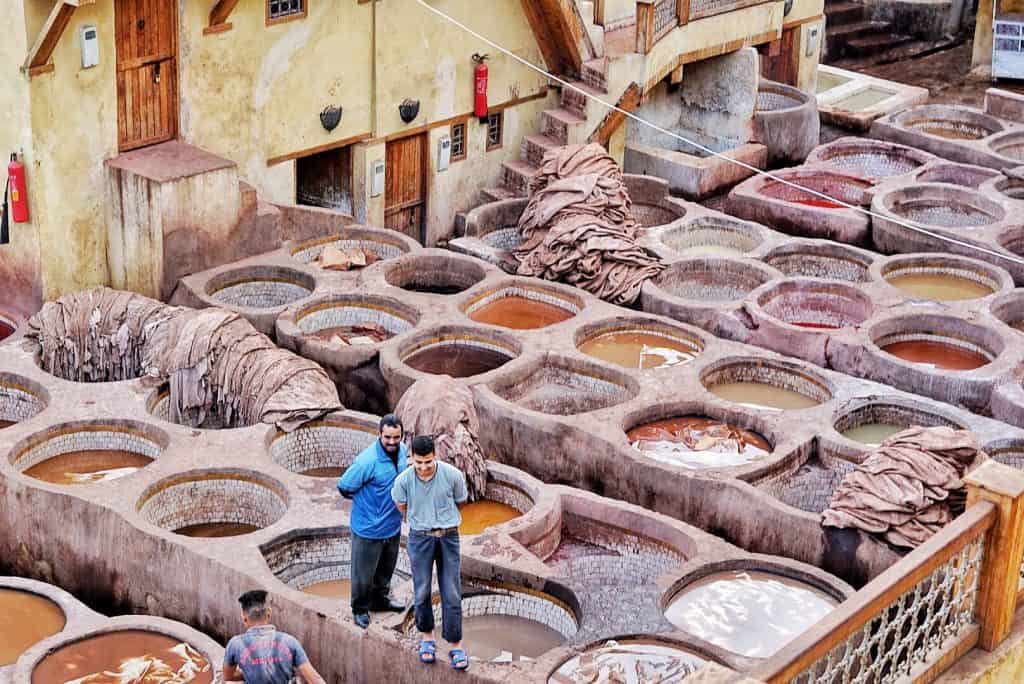 The Leather Tannery Dye Pits: We watched them dye the skin to become leather and suede! All the dye is natural (i.e. red is poppy, etc.) We both got jackets! They even tailored mine and delivered to our hotel.
Stop 2… off to Marrakech!
Marrakech, a former imperial city in western Morocco, is a major economic center and home to mosques, palaces and gardens. The medina is a densely packed, walled medieval city dating to the Berber Empire, with mazelike alleys where thriving souks (marketplaces) sell traditional textiles, pottery and jewelry. A symbol of the city, and visible for miles, is the Moorish minaret of 12th-century Koutoubia Mosque. Marrakech, in contrast to Fes, feels younger with more to do! We truly loved both, but Marrakech was really a neat place.
Where We Stayed:
We stayed at the amazing La Mamounia and wow, is it beyond gorgeous there! The grounds itself is huge, set on a former royal estate dating from the 12th century, and is super close/walking distance to the lively Jemaa el-Fnaa market square. The rooms are out-of-this-world stunning, the food fabulous, and every attention to detail you could possibly think of. I highly recommend staying here if you have the chance!
Swoon-worthy pool at La Mamounia
Marrakech Details:
We spent 3 days and 4 nights in Marrakech.
Guide: Just like in Fes, I highly recommend having a guide take you around. They can navigate the area and make sure you are safe, don't get ripped off, etc. I highly recommend Hatim as a tour guide and Mustapha as a driver.
Places we visited:
Lunch at Nomad
Jemaa el fnaa
Bahia Palace
Koutoubia Mosque
Saadian Tombs
Heritage Museum
Lunch at Cafe Clock
Ben Youssef Mosque
Slat Al Azama Synagogue
Mellah, the Jewish Quarter
Dinner at Le Marocain
Morocco Travel Tips:
Definitely get a guide for day activities!
Being proper adaptors. Morocco uses the same electrical system as Europe, 220v – make sure you have an appropriate converter for your electronics.
You can't exchange money beforehand in the US or once you get back, so don't go home with their money! I by accident brought home some and you cannot exchange once back in the states.
Bargain (it's part of the culture there) and leave space for gifts. A few favorites: Argan oil, rugs, lanterns, spices, artwork, hamza art, arabic calligraphy posters etc.
Schedule airport transfers ahead with hotel or known drivers. Booking through the hotel often can be more expensive in my experience.
Download google maps offline. This was hugely helpful while our internet wasn't up and running.
Schedule the trip with relax time included. Don't be married to your schedule! Be open to meeting people, changes, etc. We met a lovely couple and the nicest girl and ended up having dinner with them, we also changed plans two of our nights and relaxed with room service!
Food sensitivities: It's worth researching where you are eating beforehand. Super traditional places may not be able to accommodate allergies. So definitely do your research before hand. I'm not celiac so I have more flexibility than those with an allergy.
If you're navigating without a guide, make sure to figure out taxi prices and set on a price before getting in the taxi to avoid being ripped off.
Don't drink the tap water, ice, or food from vendors. If you get sick from the food/water, ask your guide or hotel about Intetrix. It works in no time. Mike can attest (p.s. he thinks it was ice in a drink he had).
And now… a photo dump: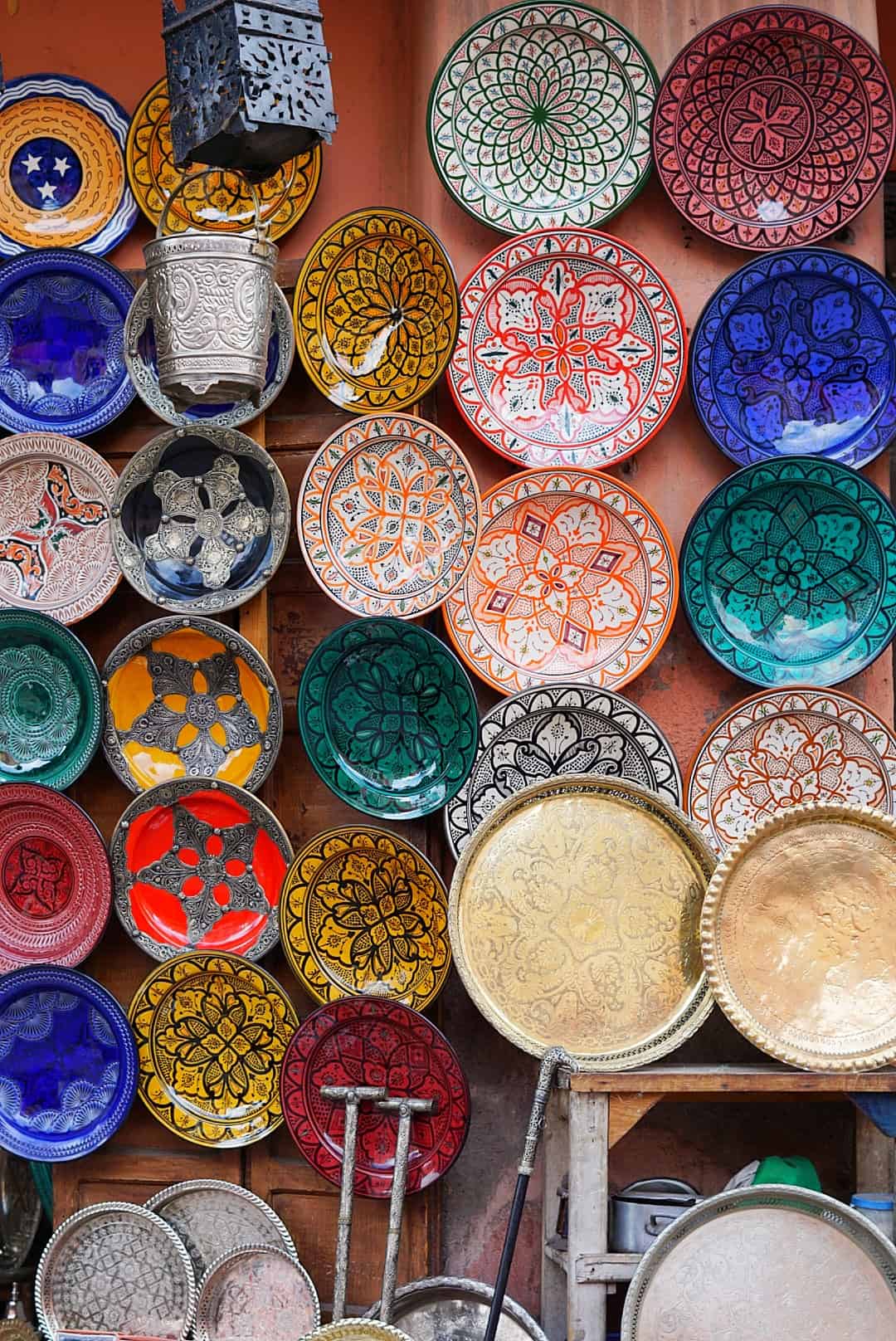 Gorgeous plates everywhere!
Plants and teas!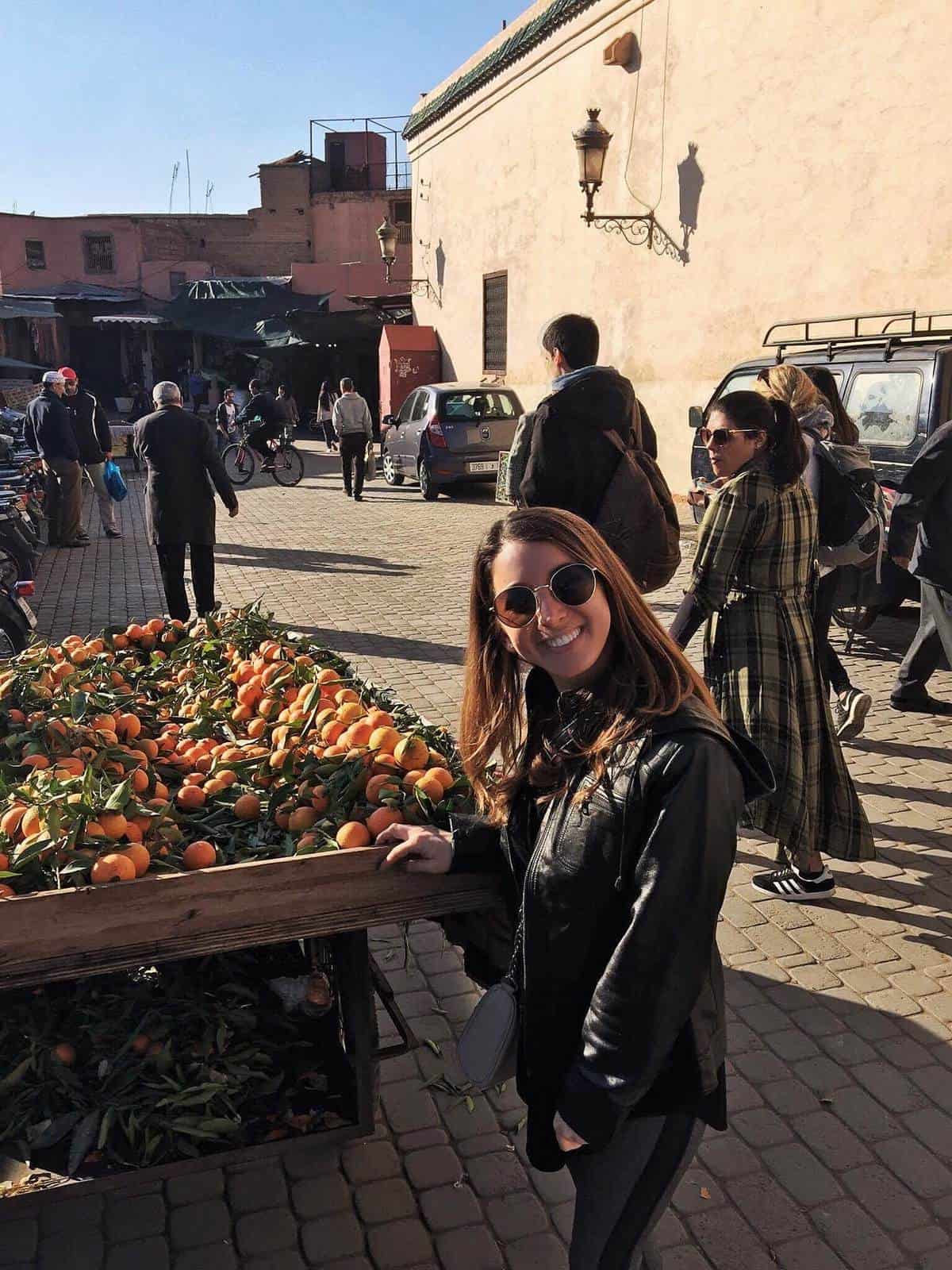 Shopping in Marrakech
Cocktails in Marrakech!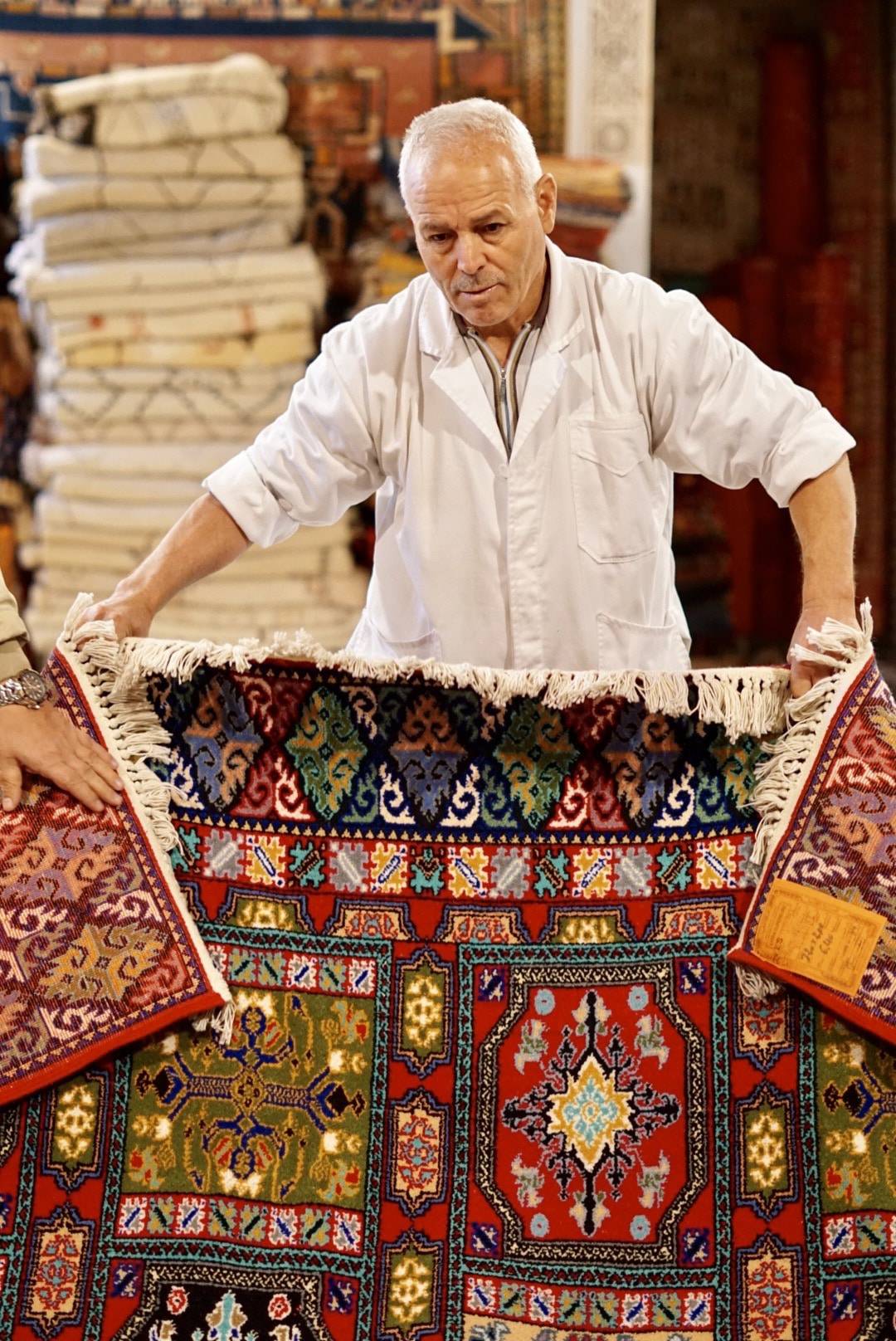 Rug shopping in Fes!
Details in Fes!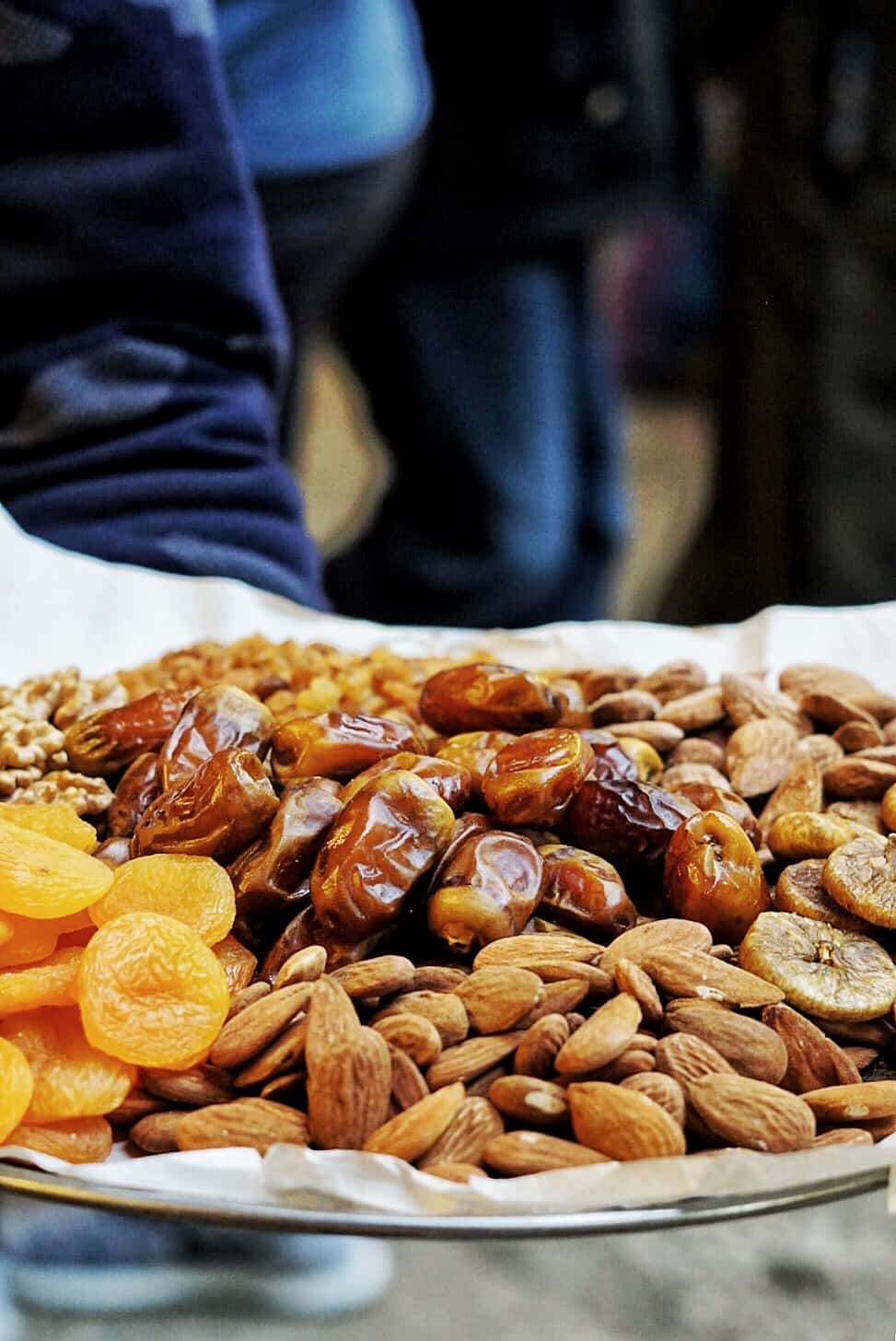 Best dates ever!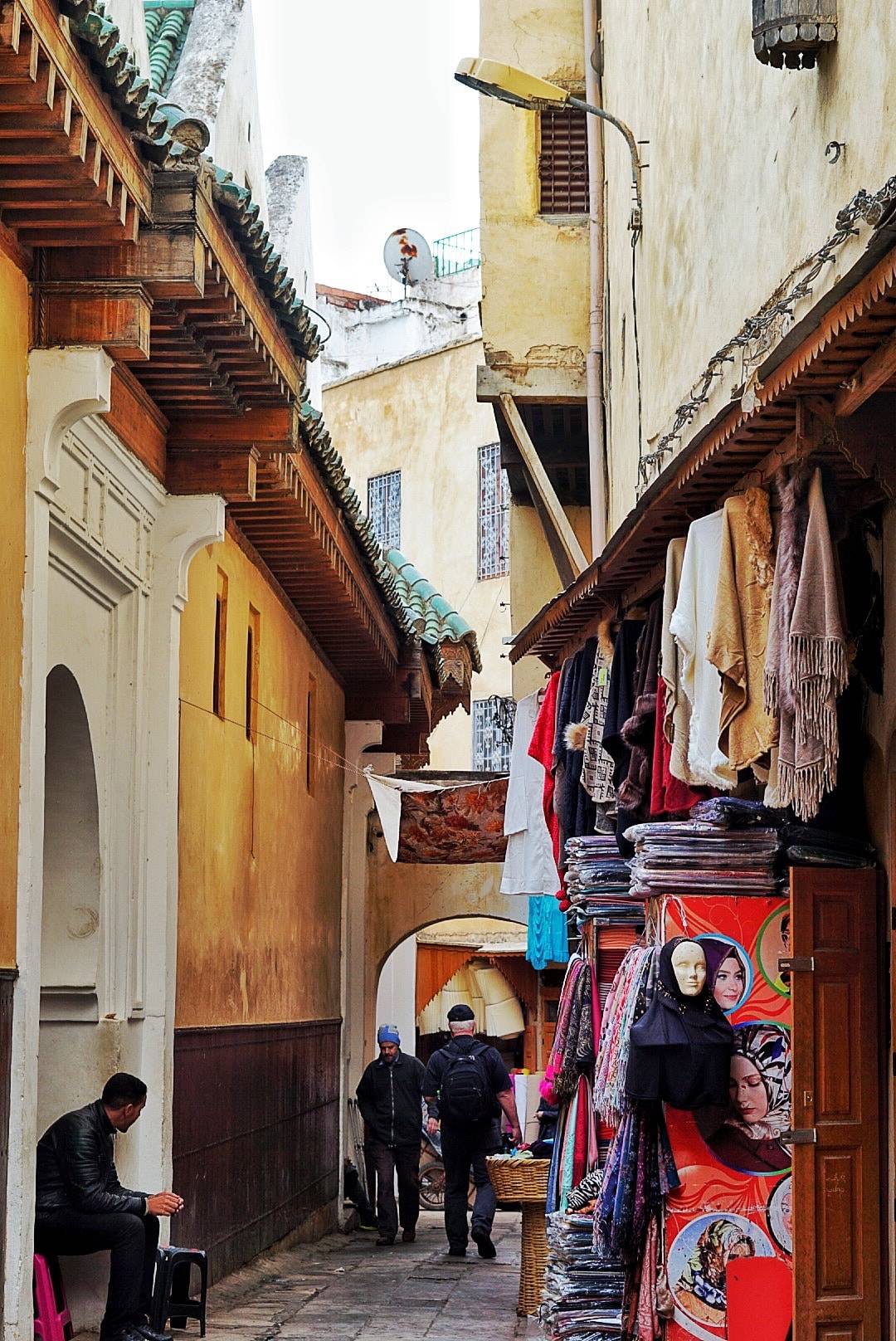 Walled Medina in Fes
Gorgeous roses!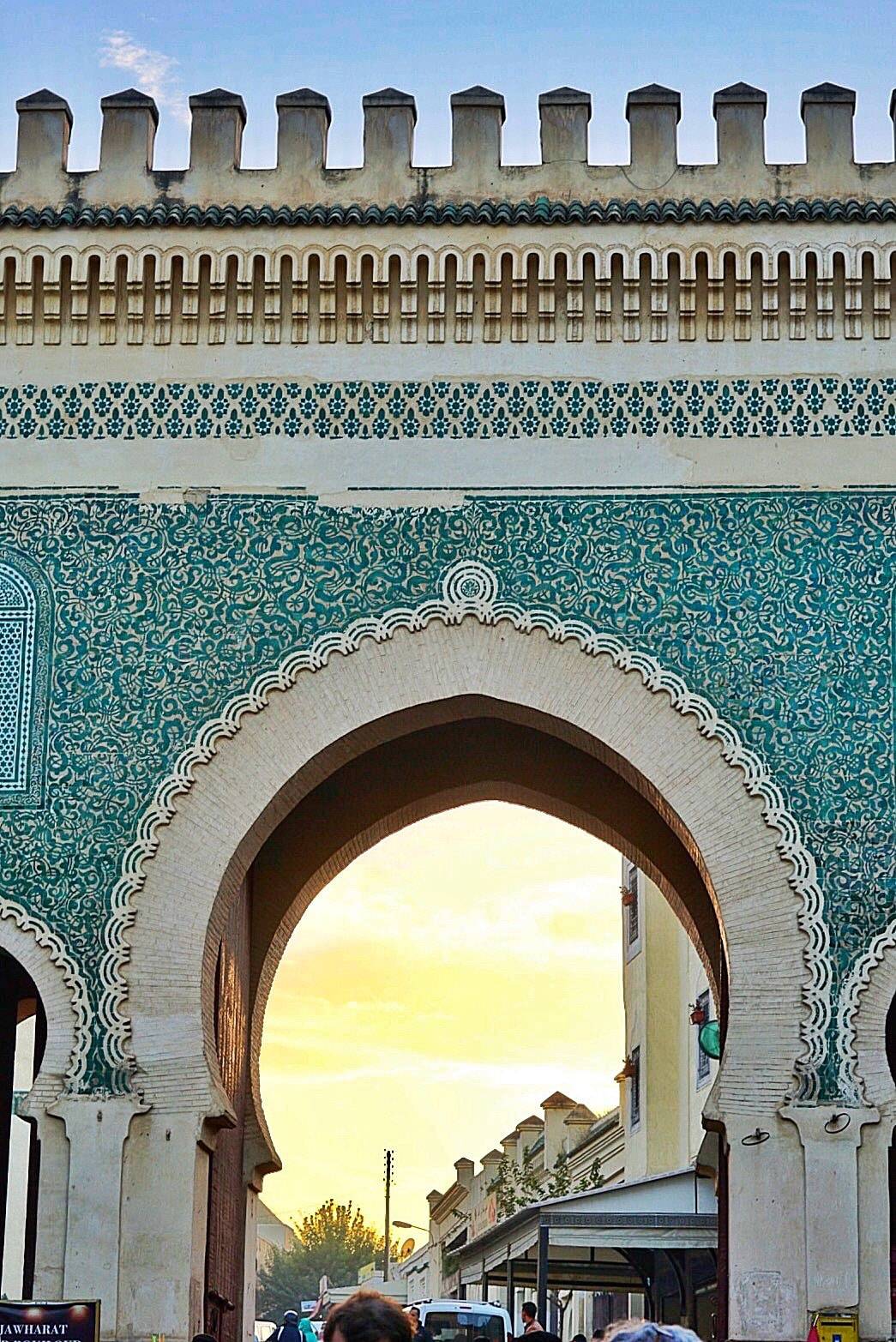 The Blue Gate of Fes at Sunset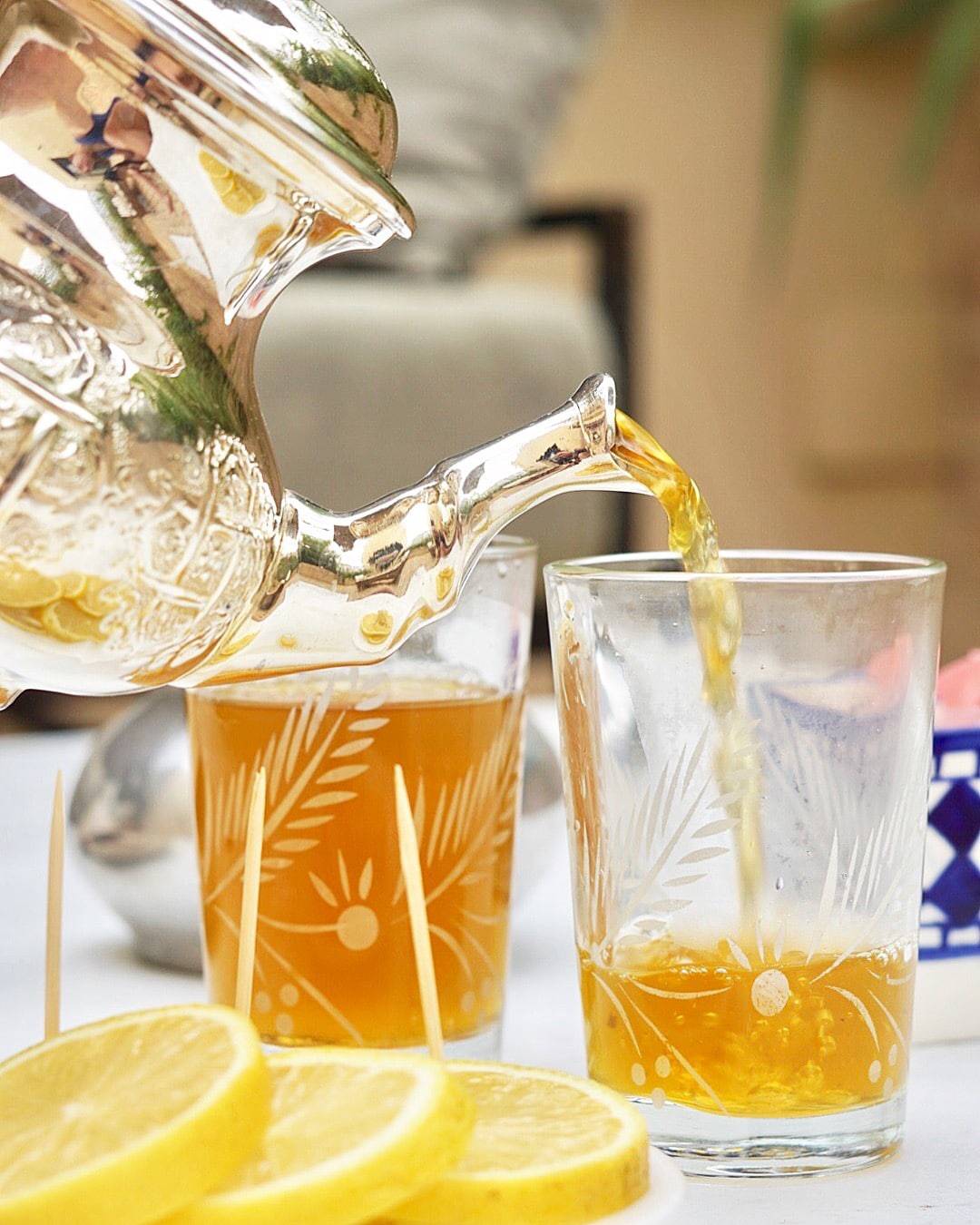 Mint tea everyday!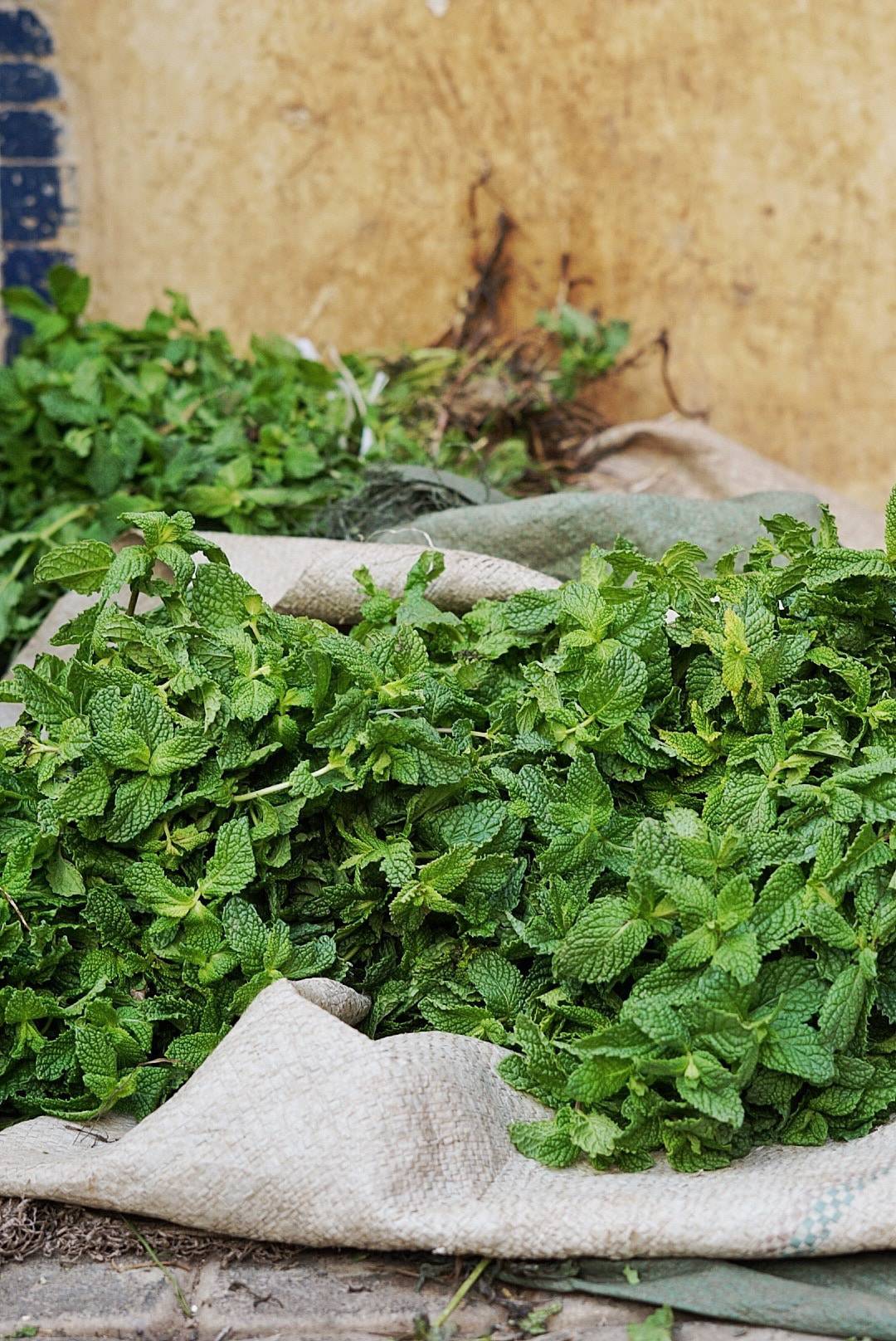 So much fresh mint!
Nighttime vibes in Fes!
Ancient Tombs in Marrakech
Disclaimer: I was not paid to write this post. We did receive discounted rates, some complimentary meals, and complimentary nights of stay. All opinions are always 100% my own, and I will always be honest with you about my experiences.
Have questions about our trip? Ask away! I'm happy to answer the best I can. I highly recommend visiting Morocco. It was truly amazing.
Also stay tuned the next 2 weeks for recipes from our Moroccan cooking class!