These Meatless Mushroom Burgers are flavorful, savory, hearty and simple to prepare! They are a great way to add more veggies into your weekly routine without compromising flavor. The best part? These don't have ANY beans or grains, a meatless burger WIN in my book!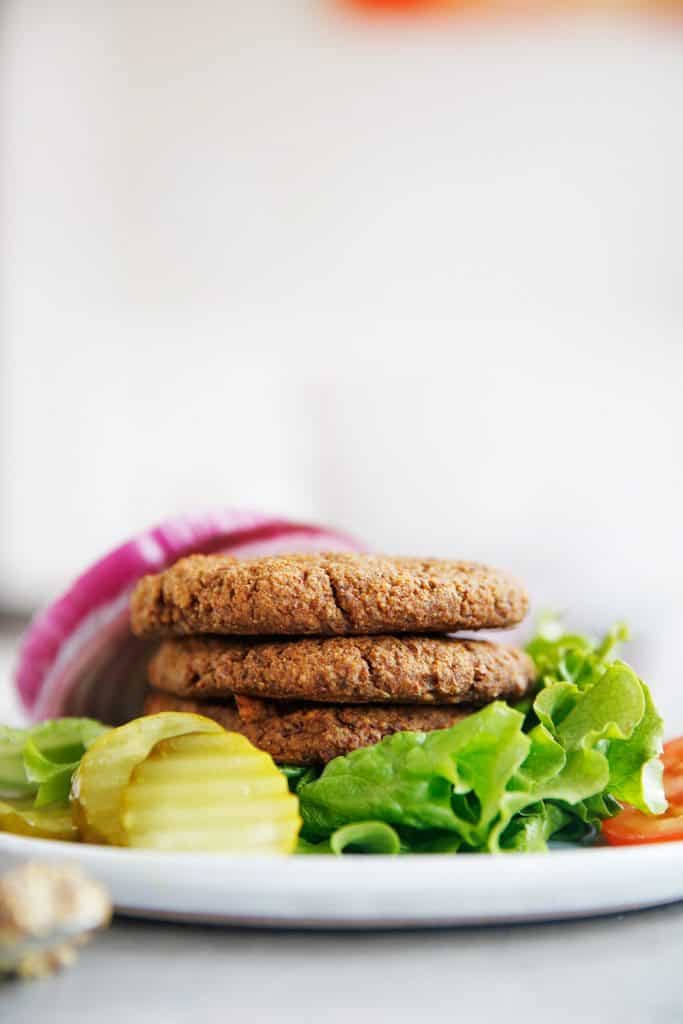 We have a new series over here on LCK! Meatless Monday! We're working on incorporating more plant-based meals into our diet, and honestly, it's been a challenge to find good recipes that aren't filled with grains and legumes! SO, we set out to do just that! To make some awesome plant based recipes free of those ingredients that can often cause inflammation.
We worked hard getting the flavor and texture of these just right, and I know you are going to love them as much as we do!
Meatless Mushroom Burgers
Instructions
1.Pre-heat oven to 400 °F.

2. In a medium skillet over high heat, cook mushrooms and onions until caramelized. About 8-10 minutes.

3. Place sweet potato on a sheet-tray lined with parchment paper. Toss in a teaspoon of olive oil, one teaspoon sea salt, and one teaspoon pepper. Roast for 15-20 minutes, or until fork tender.

4. In a food processor add mushrooms, onions, 1 cup of the cooked sweet potato, walnuts, spices, almond flour, egg and chia seeds. Blend until well combined.

5. Line a sheet tray with parchment paper and bring the oven temperature down to 350 °F.

6. Shape the sweet potato and mushroom mixture into 6 one-inch patties.

7. Bake for 30 minutes or until the patties are firm to touch. Let cool for 5 minutes and serve warm with toppings of choice!
What is your favorite meatless recipe to make?