Vegetarian or not, you're going to love these meatless holiday-inspired Wild Rice Stuffed Portobello Mushrooms. These stuffed mushrooms are stuffed with wild rice, cranberries, walnuts and red pepper and make for the perfect meatless main course to serve at Thanksgiving. They're vegan friendly (just skip the optional goat cheese) and gluten-free, too.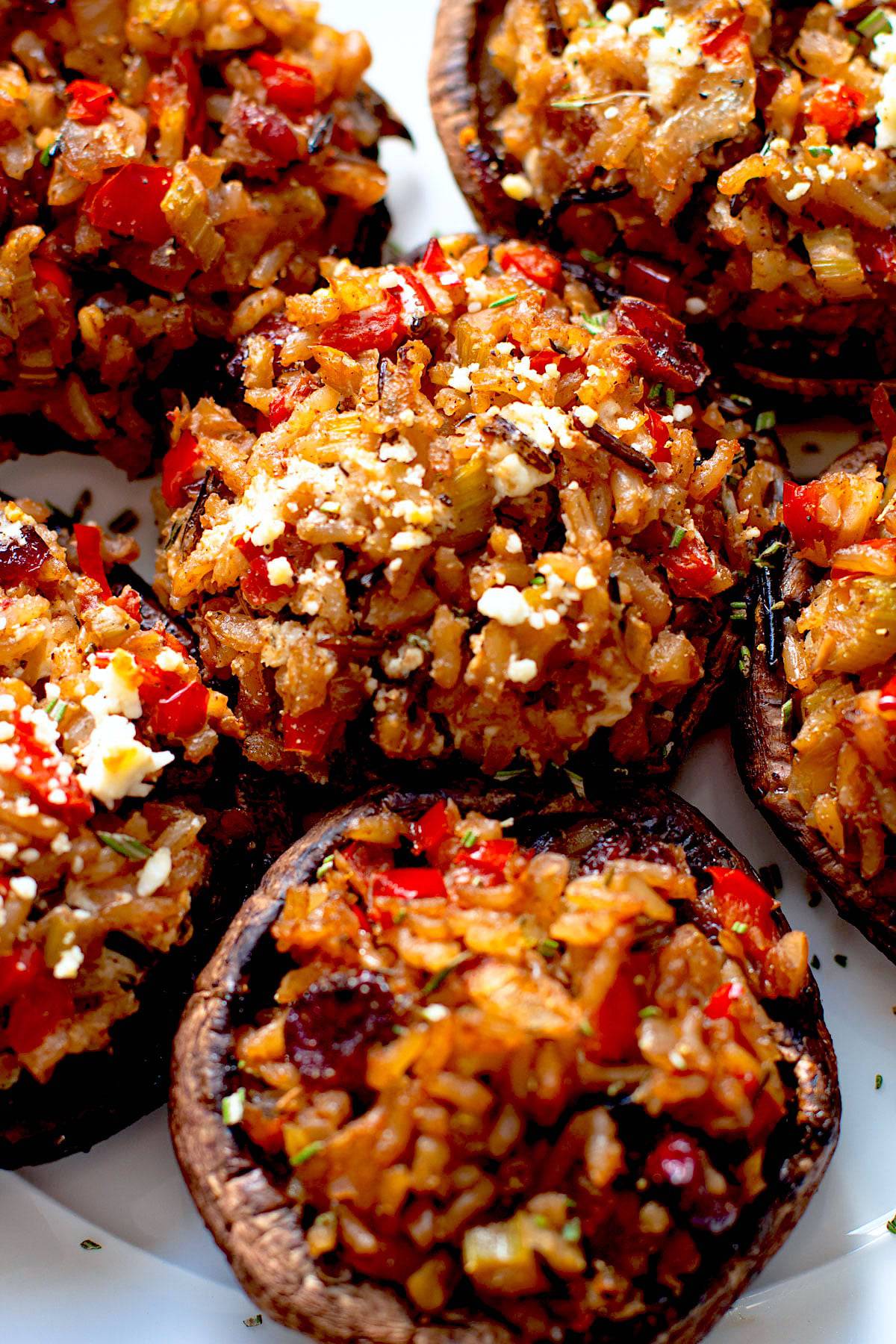 Holiday Vegetarian Stuffed Mushrooms
There is a lot going on with these Vegetarian Stuffed Mushrooms but in all the best possible ways. These mushrooms are so good, with a lot of flavors packed in. This recipe is inspired by some classic thanksgiving flavors, such as celery, cranberries and walnuts, as well as a few untraditional ones such as red peppers and balsamic vinegar. They all blend together and result in some amazing stuffed mushrooms that will hold its own next to the traditional Turkey centerpiece. Pair it with some classic vegetarian Thanksgiving sides (we've got a list below!) for a truly lovely meal.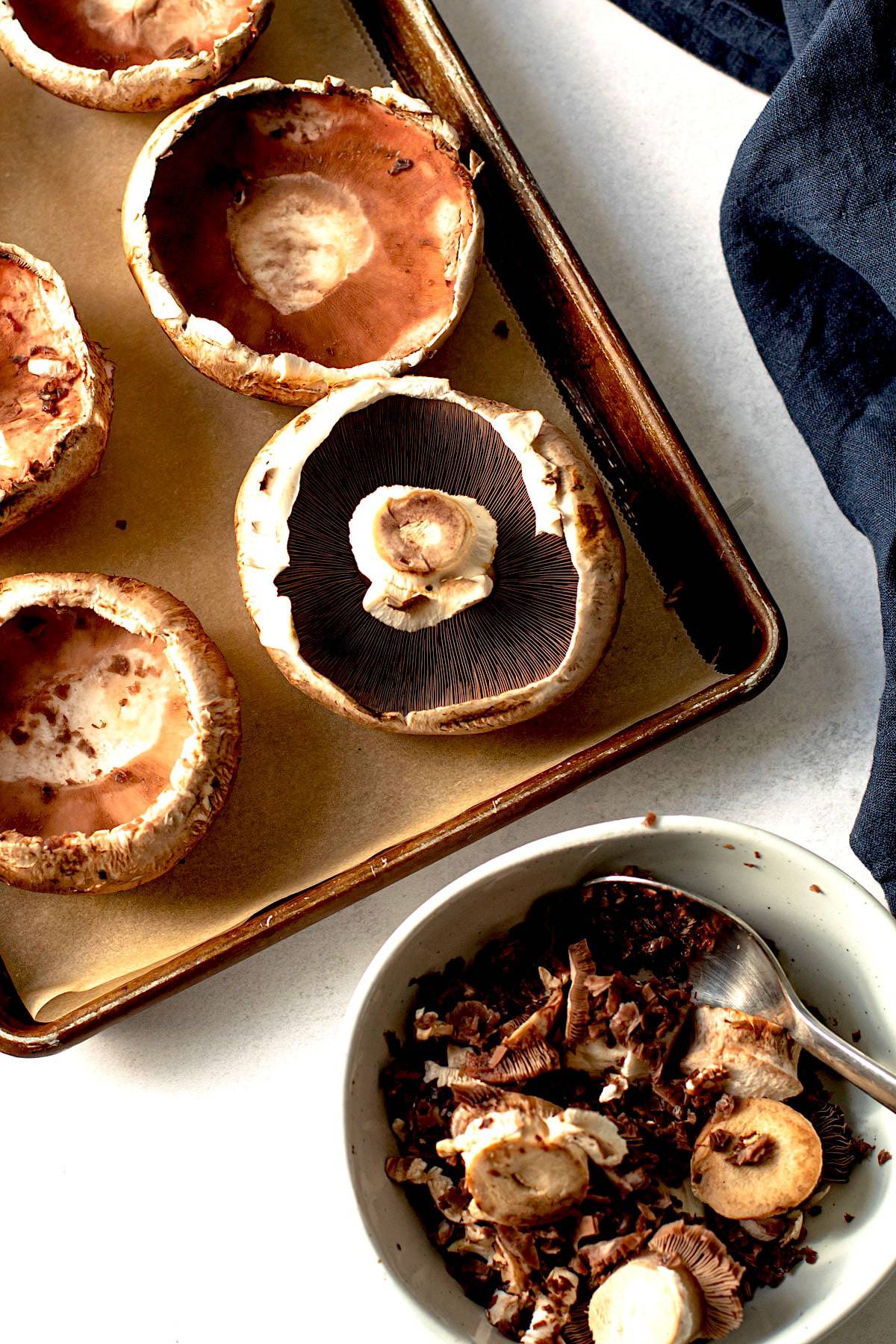 Ingredients Needed
Wild Rice or Wild Rice Blend

Portobello Mushrooms

Onion + Celery + Red Bell Pepper
Spices: Salt, Pepper, Garlic Powder, Dried Sage, Nutmeg

Dried Sweetened Cranberries

Walnuts

Vegetable Stock

Balsamic Vinegar

Goat Cheese (optional)

Fresh Rosemary
Substitutions
Rice: Feel free to substitute in regular rice, brown rice or even cauliflower rice! It'll all work here.
Mushrooms: Portobello mushrooms work the best here due to their size, so we don't recommend using any other type.
Goat Cheese: To make this fully vegan and dairy-free, omit the cheese. It's still super delicious without it. Or if you have a few guests who are vegan, you can separately mix in the goat cheese for some mushrooms, while keeping other dairy-free.
Nuts: Feel free to omit the nuts if you have a nut allergy. They add some extra protein and nice textural contrast, but these stuffed mushrooms will still be delicious without them.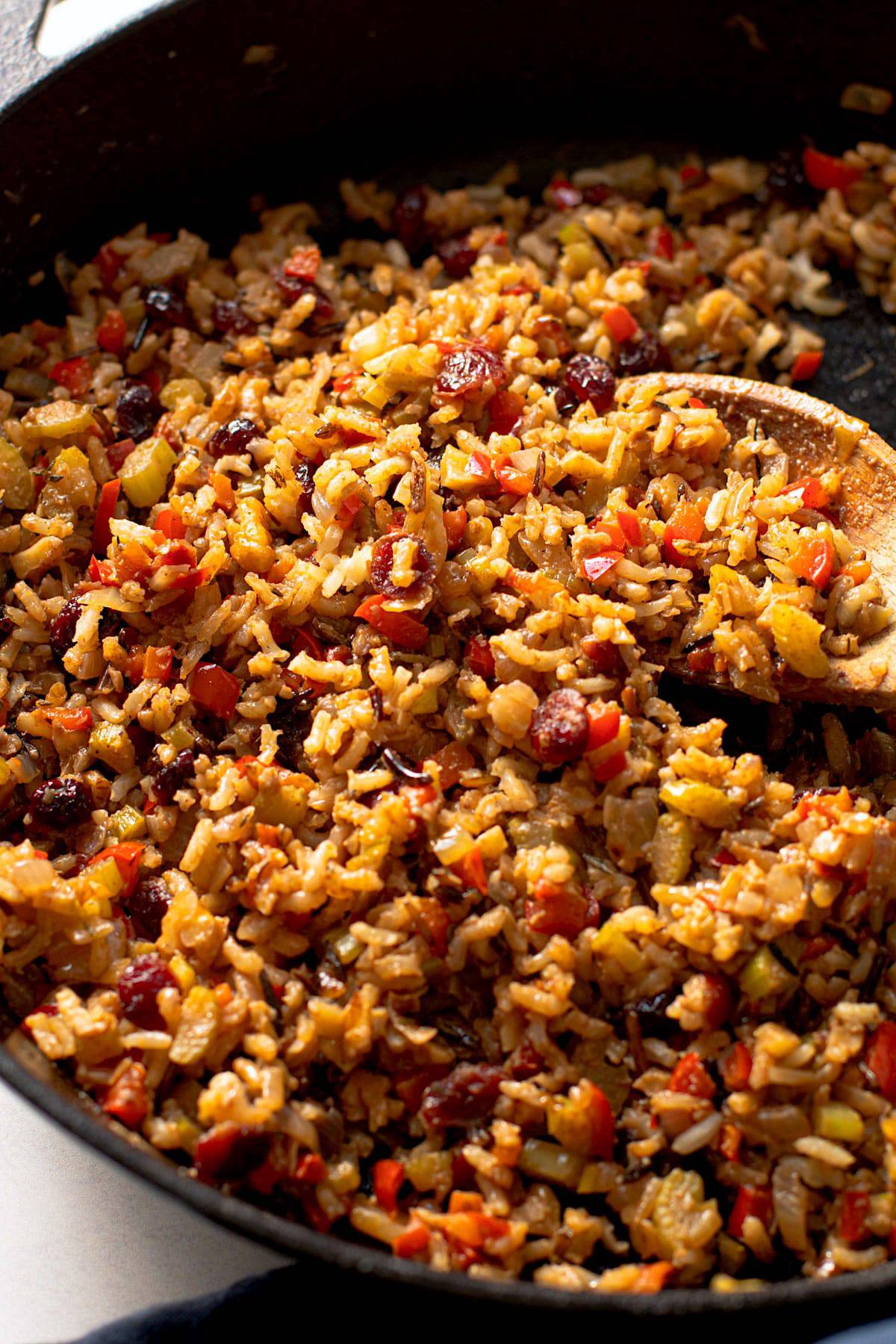 How to Prepare Portobello Mushrooms for Stuffing
There are a few prep steps to get the mushrooms ready. But first things first: buy mushrooms that smell fresh and are completely dry. Pass on any mushrooms that look wet or have any damaged spots on them.
Then, move on to prepare them:
Clean off the mushrooms with a dry towel or brush to remove any dirt and debris. Do not rinse the mushrooms. Mushrooms absorb liquid, and you just don't want a super soggy mushroom!
Turn the mushroom over and remove the stem. Discard it.
Finally, take a spoon and gently scoop out the gills. While some people are fine eating them, for a stuffed mushroom recipe it's best for taste and textural reasons to remove and discard them.
How to Cook Wild Rice
Let's talk about wild rice! Wild rice, technically is not rice at all, but a tough seed. That is why it takes so long to cook it! We want to be able to give you instructions on how to cook it, but it can depend on exactly what type of wild rice to buy. We actually prefer using a wild rice blend. To cook it, we followed the instructions on the package of wild rice, and we recommend you do the same with the rice you buy.
If your package of wild rice does not have instructions on it, you can cook it similarly to how you would cook white rice, but with a lot more water and double to triple the amount of time. And you don't need to worry about the rice absorbing all the liquid like you do when you cook white or brown rice. With wild rice, you can simply strain the water out when the rice is fully cooked if you need to.
What to Serve with Stuffed Mushrooms
We envisioned this meatless main course to be served with whatever you typically would for Thanksgiving. We are sharing a few of our favorites here:
Of course, you can also serve this at another holiday meal or just for dinner! Pair with your favorite sides.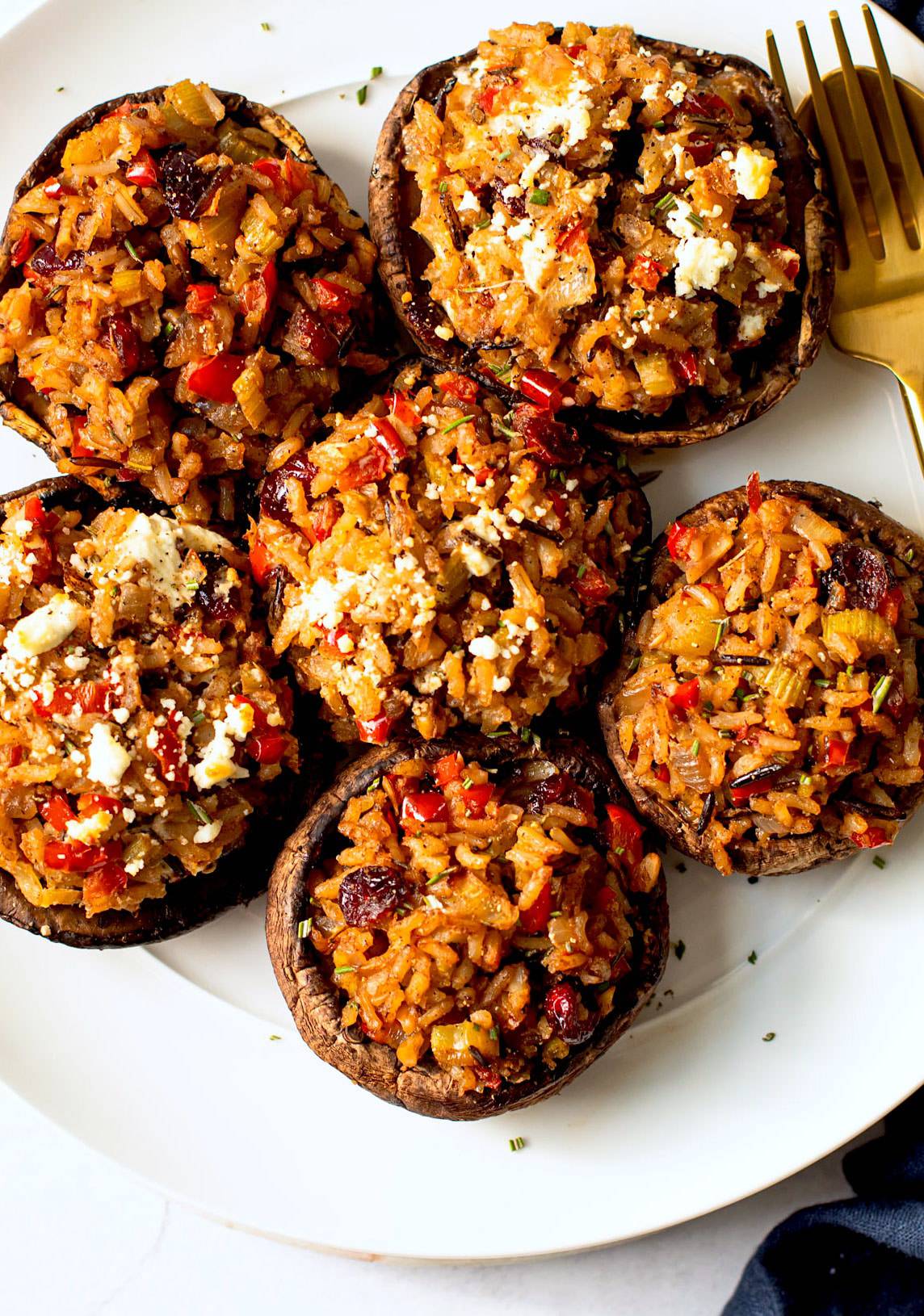 If you like this meatless main dish, check out these others: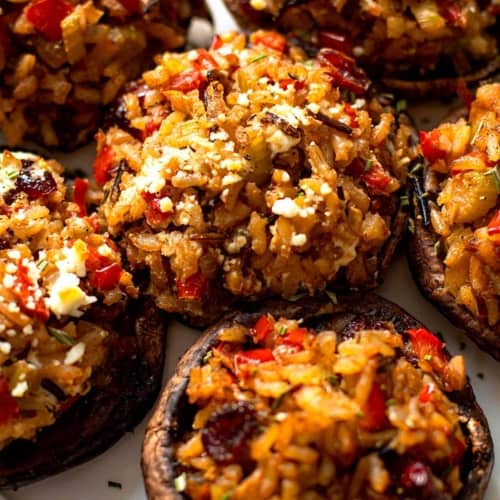 Vegetarian Wild Rice Stuffed Mushrooms
Ingredients
1

cup

wild rice

cooked according to package instructions

6-8

portobello mushrooms

2

tablespoons

olive oil

divided

½

small onion

2

celery stalks

finely minced

1

red bell pepper

finely minced

1

teaspoon

salt

½

teaspoon

garlic powder

½

teaspoon

onion powder

1/4

teaspoon

dried sage

1/4

teaspoon

black pepper

Pinch

ground nutmeg

1/2

cup

dried sweetened cranberries

½

cup

walnuts

minced

1/2

cup

veggie stock

1

tablespoons

balsamic vinegar

1

cup

crumbled goat cheese

optional

1

tablespoon

fresh rosemary

finely chopped, for garnish
Instructions
Preheat oven to 400 degrees and line a sheet tray with parchment paper.

Cook wild rice according to package instructions and set aside.

Wipe any dirt or debris off of the mushrooms. Remove the stem and discard. Using a spoon, scoop the gills out from the cap of the mushroom and discard.

Lightly oil the mushrooms with 1 tablespoon of oil, and sprinkle both sides with salt and pepper. Place the caps facing up, and roast for 10 minutes.

Meanwhile prepare filling: Heat remaining 1 tablespoon oil in a large skillet. Once hot add onion, celery and bell pepper. Cook, stirring occasionally until softened, about 5-7 minutes.

Add spices, dried cranberries, walnuts, veggie stock and balsamic vinegar and bring to a boil. Reduce heat to low and stir in the rice, and let cook for 2-3 minutes.

Remove from heat. If adding goat cheese, fold it now.

Flip the mushrooms over, leaving behind any excess liquid. 

Fill the mushrooms. Return to the oven and bake until the mushrooms are tender, about 10-14 more minutes.

Top with some fresh rosemary, and serve hot with your favorite sides.
Notes
Want this to be vegan and dairy-free? Omit the goat cheese.
This recipe serves 4-6 generously, assuming sides are being served, depending on the side of the mushrooms. This is the assumption that each person will have 1-2 mushrooms per serving.
This recipe was originally published in 2014, and republished with an updated recipe and photos in 2020.