My Baby Registry Must Haves
With the help from trusted friends, a borderline insane amount of research, the search for my baby registry must haves is near complete! After she arrives and we've used (or not used) many of the items, I will make sure to come back and continuously keep this list updated with our personal favorites, what you need, what you may not need, what we wish we had sooner, and more. Updated, so far, on 7/21/2020 and 10/27/20. Baby Skylar arrived 6/12/2020.
This baby registry covers the initial decisions we've made so far (pre-baby research), keeping non-toxic and safer, where possible, in the forefront of my mind. I hope it helps you with your registry and that it can be used as a great registry resource for you fellow soon-to-be-mamas!
Remember, you don't need all of this! You can absolutely go way more minimal (I mean, there's a lot on here y'all). I'm simply sharing my registry/personal decisions thus far in it's entirety because I'm a major planner, and as mentioned, I promise I will report back as the months go on and will write when the post was last updated!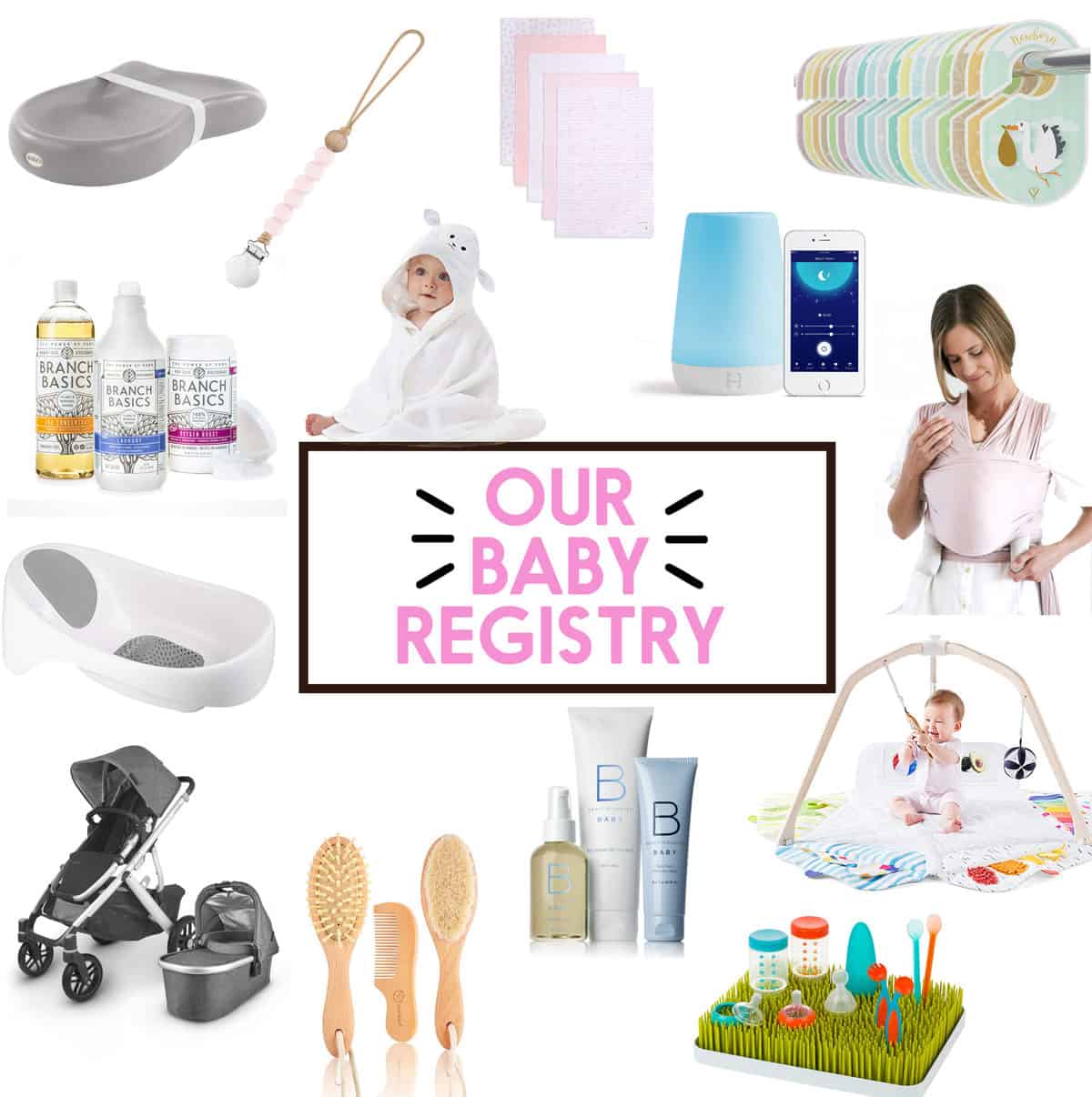 Updated, so far, on 7/21/2020 and 10/27/20l.
Helpful Tips for Preparing Your Baby Registry
Breastfeeding pump through your health insurance: If you're considering breast feeding, many insurances actually cover a pump or partially cover the pump! I'm opting for spending a drop more through insurance and getting the Spectra S1. I was told it's nice to have one that can be on-the-go that can plug in OR be battery operated. This website is the resource I'm using to grab mine at a fraction of the cost, or ask your OB if they have forms to fill out. Update: Love the Spectra S1 + love also having the Portable 9 Plus. You really just need the S1!
All-in-one registries, with one caveat: I'm using Babylist as a one-stop shop for my registry. It allows you to add things from any store, so you're not limited or having people go to a bunch of different stores to shop. One tip I received that I want to pass along is to be careful with return issues. Though using Babylist, I did create separate registries and linked them all. Here's why: If you have a registry somewhere, they are often more lenient with their return policy, and I've heard that's not always the case if it is through a third-party. Example being– you get a gift a few months before baby arrives and it doesn't work for your family. By the time you have a chance to return it, the return window has expired. Some stores give extra time when you have a registry specifically with them, so it might be wise to make them separate and link them into Babylist. Update: No complaints. Would use again with all the above done.
All babies are different: This is probably the biggest piece of advice I've gotten when creating my registry. You can get everything from your trusted friend's registry, but your baby simply might not go for it. Some moms swear by a certain rocker, some say it was a bust, some say don't get one they aren't safe. Some moms say to get the Sock Owlet to relieve anxiety, some say it'll cause more anxiety. You don't necessarily need a separate jogger stroller if you don't live in a city, and depending on the size of your home, you may opt out of a pack-and-play. See where I'm going with this? Ultimately there will be some trial and error involved in the process and thinking about YOUR situation and what will work for you, baby, and your family.
I didn't include a few things, like our furniture, but can share if y'all want (FYI we got our furniture from Pottery Barn Kids and used their free design service– they came to our home)! If there's something I didn't include, it's likely because im still on the fence about it (like the Snoo Sleeper & a Dock-a-Tot, for example), but rest assured, I will come back and add and also give my honest reviews!
Lastly, you do NOT need all of this. You can go more minimalist and your baby will be perfect. Do what works for you. I will come back and bold items I think are essential.
---
My Baby Registry
Nursery:
Baby Closet Dividers – 18 Wardrobe Organizers/Hangers: How dang cute? My organizing friends at Neat Method are going to be so happy with me. Update: Love these!
Casafield 50 Velvet Baby Hangers: When all of your hangers match, you conserve space! Update: Love these!
Humidifier: A baby must from veteran parents. Update: Haven't used yet but will in her room.
Air Purifier: I've wanted this for a while, so it will live in our room while she's in there with us. Remember: always use a 20% coupon at BB! Update: BIG fan.
Baby Monitor: I've settled on this Motorola Halo+.  It has an app and a monitor. We will use this more once she's in her room napping & sleeping. Update: Haven't used this much yet since she's in our room, but so far when I have, it's been great. No complaints. DO NOTE: It is a drop bulky and needs to hook to bars on the crib, so if your crib has a back, you'll need to attach it in the front.
Non-Toxic Crib Mattress: I was deciding between Holy Lamb Organics, Newton Baby, Naturepedic, Ouef, and LifeKind, and ultimately have narrowed it down to Newton Baby or Naturepedic after much research. WHAT WE CHOSE: I went with Newton Baby. Get 20% off with this link – not sponsored, just received a code when I shopped! Update: Haven't used yet, but am excited about this mattress and feel good about the choice.
Non-Toxic Bedding: I've added a handful of Aden + Anais organic cotton musilin crib sheets to my registry along with some Pottery Barn 100% organic bedding set pieces that are super cute. Since I went with the above mattress, I'll make sure it's a breathable cotton muslin sheet, until age 1, that doesn't hinder airflow (since this was a selling point for me). Update: Haven't used yet, but they're washed and on the crib.
Baskets: For toys & things! Update: Can't go wrong! Also definitely will want more organized storage solutions as she has more stuff.
*Room details coming soon,
White Noise: (MUST-HAVE)
Hatch Baby Rest Sound Machine: Will likely use this multi-use (nightlight, sound machine, and time-to-rise alert) once she's in her room. Update: We use this every night. It's a must.
Hushh Portable White Noise: Added this post-baby: A must for travel, stroller, or downstairs. We use this all the time.
Baby Shusher For Babies: Update: We love this, but it does shut off after a number of minutes!
I also got an app on my phone called Guva that you can play (or record) shushes, other songs, noises, etc., and can set a timer! It's $7.99 to upgrade for all the features. I actually use it all the time.
Sleep & Downtime:
SWADDLES: I was told to try all the sleep swaddles for before she rolls, so I picked the most recommended/rated/favorited to try.
SLEEP SACKS: Once babe is rolling (for us this was around 4 months), it's time to transition out of the swaddles and into a wearable blanket. The reason to try a few in the beginning (like the Merlin) is because the transition is often not easy for babies. It wasn't easy for us!
Other:
Newborn Feeding & Accessories:
My Brest Friend Original Nursing Posture Pillow: I've heard this over the Boppy for a nursing pillow. Update: Love this so much I got a second to have!
Maternity/Nursing Bras: After trying many bras during my pregnancy, these were recommended (a 3-pack for $25) and they are super comfy. Also loving these. Update: Still using these when not bra-less, haha.
Nipple Creams: Based on recommendations, I'll try  this one by Earthmama and this one by Motherlove. Update: Love the Motherlove.
Lansinoh Breastmilk Storage Bags: I might try silicone molds to avoid plastic at some point, but was told these are the best leak-free storage bags so I'll be using them to start! Update: These are GREAT.
Lansinoh Stay Dry Disposable Nursing Pads: My momma friends said these are a must grab. Update: I haven't used these yet honestly.
Haakaa Silicone Breast Pump & Silicone Cap: I will also be getting one through insurance (see above), but have heard great things about this for catching extra milk, etc. Update: I haven't really used yet, but will start. Stay tuned.
Munchkin Deluxe Dishwasher Basket: Love the idea of keeping her things separate in the dishwasher. Update: a must!
Boon Drying Rack Lawn Countertop / Boon STEM Drying Rack Accessory / OR Space Saving OXO Tot Drying Rack: Have heard nothing but great things! Update: Went with OXO and LOVE.
Bottle Brush with Nipple Cleaner: I will let you know if this is really needed, but I can imagine It is! UPDATE: I've switched my decision to a fully silicone bottle brush cleaner since it's easier to clean/can throw in the dishwasher. Going to grab this one instead. Update: So far happy I went silicone.
Baby Bottles: Whether exclusively breastfeeding, pumping, formula, or a combination (FYI: fed is best, do you), having some bottles on hand is a good idea, and it's one of those things, like pacifiers, that it's good to try a few out and see which baby likes. Trying these, these, and these. Update: Dr Brown's and Comotomo are the winners so far.
Formula: I plan to have formula on hand, though I hope to donate it eventually. In my mind, it's best to have what you want than scramble if you need it. Update: Haven't used.
Organic Burp Cloths: I was told to stock up on these, which makes plenty of sense. I grabbed these and these. Both seem great so far.  Update: The more the better! 
Aden + Anais Classic Snap Bibs: I heard these are wonderful as well as these. Update: Haven't used yet.
3 in 1 Multi Seat: I've heard people can't live without, and some say they didn't use it much. I can see it very helpful, so we're trying it! Update: Haven't used yet.
Stokke High Chair: I personally did not add this to my registry as we have a little time, but this is the one I'm eyeing for when we need a high chair. I have friends who have gotten more simple ones, and what they say is they like that this has a foot rest. So regardless where you net out with a high chair, think foot rest! Note: I also didn't include feeding stuff for once baby starts eating solids, but I will add what we decide. Update: Haven't used yet of course. Just arrived. Stay tuned.
You'll notice a handful of different pacifiers on here. Every baby is different so one great suggestion I got was to not open a million different ones and clean them all just yet, because your baby not like them! Hey, your baby (or you) might decide on no pacifiers! Another game of trial and error and to each their own. Luckily they're fairly inexpensive. Update: So far she isn't pacifier obsessed, but these are the verdicts after 5+ weeks.
Carriers:
Another one that is truly trial and error! For baby of course, but especially for petite ladies like me. I'm going to try out a few carriers and wraps, and report back on which work best for me (petite mom-to-be) and for Mike should he use it.
Tip: If you know before you're showing, go try them on just to see what fits your body. I didn't do this and I wish I did! Of course, it's hard to say what baby will like, but good to know what is comfortable for you going in, too!
Solly Baby Wrap: I hear nothing but wonderful things. Update: Current obsession. Mike too!
Ergobaby Carrier Omni 360: I've heard Mike will love this! Update: We haven't used yet, but seems more complicated than the Baby Bjorn.
Baby Bjorn Carrier: Was lent this and find it easier to use than the Ergo.
Boppy Baby Wrap/Carrier: A mix of the above! Update: Haven't used yet.
Baby Tula Explore Baby Carrier: Similar to Ergo. I like the support I think this one offers. Update: Haven't used yet. I think if you have an Ergo or Bjorn you can ditch this, or grab this instead of those.
If/as we add other carriers into the mix, I will make sure to update! Update: Get a Solly for sure, and maybe one or two of the others. I'd go Baby Bjorn as of now.
Bathtime:
Diapering:
Travel/On-the-Go:
Strollers: Strollers are another specific one to your own needs. We decided with the UPPAbaby VISTA for our Stroller after much research. It converts for two kiddos (if needed), and UPPAbaby does not use toxic flame retardants, BPA, Phthalates, Lead, Latex, Teflon, or ScotchGuard in any of their products. Plus they are local to me here in MA which is fun! Update: I LOVE THIS STROLLER.
*After seeing this, these items were gifted to us by UPPAbaby. All opinions are my own and I was not paid to share this as my stroller, just a generous gift!
Toys & Entertainment:
Floor Items: