Cooking for Others: A Guide to Home-Cooked Meals & Meal Train Ideas
I recently shared a few ideas about cooking for others (aka home-cooked meals and meal train ideas) and so many of you were looking for more ideas, had ideas to share, and were interested in seeing a guide about it and how I usually go about it!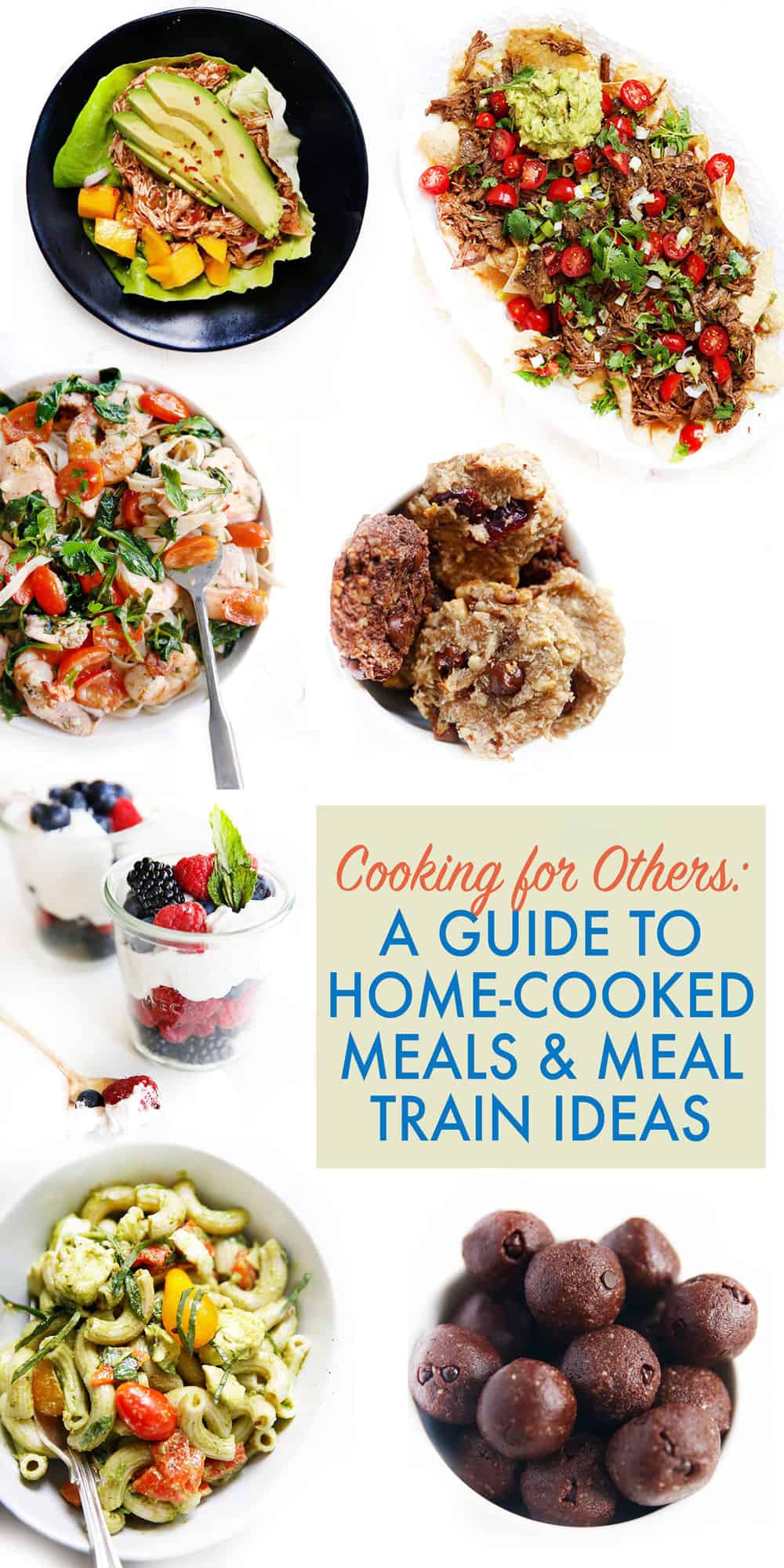 I am really excited to share this post with you today because I truly think it is a useful tool and resource and filled with great recipes that will help you, help those in need! I've been cooking a lot lately for various families so before I jump into the recipes, here are a few tips I've gathered.
A few notes about delivering meals:
Dietary Restrictions: Always inquire about dietary restrictions before planning the meal! What do the kids hate? What are you hoping to get the kids to eat more of? Does everyone eat meat? Etc.
Delivery Time: Text/email/call the coordinator or the family to find out the best time to deliver dinner. Keep in mind that the family is dealing with an important issue (either good in the case of a new baby, or difficult in the case of illness) and may not want to visit with friends, so plan on dropping off on the porch.
Disposable Containers: I alway use disposable food containers/trays so the family doesn't have to clean dishes for me to pick back up!
Make it Extra Special: If I have time and depending on the situation, I'll add chocolates, wine, flowers, or something extra special. If the occasion is a newborn baby, something special for the big brother or sister, like a coloring book, stamps, stickers, or a little game is always a great idea to make them feel extra special. If  I know the person and am in communication with them, I'll ask them if they need any groceries on my way (milk, etc.)
No time to cook? Look into local meal delivery services or restaurants and have a meal delivered! Chip in with friends and figure out a schedule that works.
P.S. Don't know what a meal train is? Mealtrain.com is a crowdsourcing platform that helps organize home-made meal giving for a friend around a birth, surgery or illness also known as a Meal Train! It's essentially just a website that helps you organize the process and allows people to sign up for different days, etc.
Breakfast:
Cut Up Fresh Fruit & Yogurt
Frozen Smoothie Packs: Place smoothie ingredients for one serving in freezer-friendly Ziploc bags, label with an expiration date (about 6 months for frozen fruit), and store in the freezer until ready to use!
Freezer Waffles: Pumpkin Waffles, Double Chocolate Banana Waffles, or the Best Ever Waffles in my Cookbook
Breakfast Burritos (freezer-friendly)
Muffins: Cinnamon Bun, Banana Berry, Pumpkin Sticky Bun Muffins, Gingerbread Chocolate Chip Muffins, Chocolate Chip Zucchini Muffins, Coffee Crumb Cake Muffins
Main Meals: Lunches & Dinners
Pasta Dishes: Pesto Pasta Salad, Pasta with Meat Sauce, Sausage and Veggie Pasta, Mac and Cheese
A Protein: Grilled Chicken, Steak, Shrimp, Fish
A batch of soup: Chicken and Kale Soup, Turkey Chili, Game Day White Chicken Chili, Healthy Broccoli Soup, Green Chili Vegetable Soup, Feel Good Veggie Soup, Classic Chicken Soup, Butternut Squash Curry Soup, Tomato Basil Soup (with grilled cheese), Slow Cooker French Onion Soup (and send a loaf of bread)
Chicken Nuggets: Zesty Chicken Bites, Pecan Popcorn Chicken
Sheet Pan Dinners: Sheet Pan Buffalo Chicken, Sheet Pan Chicken & Veggies
One Pan Meals: Lemon Garlic Chicken & Rice, One-Pan Indian Spiced Chicken & Cauliflower, One-Pan Fiesta Chicken
DIY Taco Bar or Taco Salads
Slow Cooker Dishes: Caribbean Pulled Chicken Lettuce Wraps, Thai Curry Chicken, Beef Barbacoa, Carne Asada, Slow Cooker Baked Potato Bar
Pre-Made & Wrapped Sandwiches
A Tray of Lasagna
Side Dishes
Snacks/Treats
Cut up Veggies & Hummus or Other Dip: Tzatziki Sauce, Spanish Eggplant Dip, Buffalo Chicken Dip, Spinach and Artichoke Dip
Chips & Salsa
Trail Mix (make a homemade blend of nuts, dried fruit, seeds, and chocolate chunks)
No-Bake Energy Balls: Nut-Free Powerbites, Mint Chip Bites, Chocolate Chip Cookie Energy Bites
Cookies: Double Chocolate Macadamia Nut Cookies, Chocolate Chip Cookies, Chai Cookie Bars, Oatmeal Raisin Cookies
Secret Ingredient Brownies (send a pint of ice cream, too)
Bowl of Fruit (pre-cut)
Misc.
A Pitcher of Iced Tea
A Pitcher of Lemonade
Paleo Sandwich Bread or a Loaf of Bread
Wine
Chocolate
Flowers
Fresh Milk (or other groceries)
Non food related: Chip in with friends and hiring a cleaning service!
Have other ideas? Leave them in the comments below!
8 comments
August 18, 2017
This website may at times receive a small affiliate commission for products that we shared with you in our posts. Although we may receive a commission for linking certain products, there's no additional costs to you and all of our opinion and suggestions are 100% our own and unbiased. That's our promise to you!
Subscribe to get our FREE clean eating guide!
Join our email list TODAY to start recieving our newsletter weekly, access to exclusive content and deals, *and* a FREE complete 24-page clean eating guide!