It feels weird to say that plants are trendy because they've been around for, well, ever… but it does kind of seem like they're having a moment right now, particularly the best plants for air quality. Houseplants abound on Pinterest and HGTV, and suddenly, we all need a little pop of green to fill those awkward, empty corners of our homes. Indoor plants are good for more than just that pop of green, though. We are sharing our favorite 13 best plants for air quality below!
13 of the Best Plants for Air Quality
Breathe out the bad, breathe in the good.
---
These 13 best plants for air quality are especially effective at cutting down on toxins and pollutants indoors, so get growin'!
1. Peace Lily: Peace Lilies tend to be on the smaller side, making them perfect accents for those corners of your home that need a little extra life — but they still pack a punch in terms of air quality! They help remove chemicals including ammonia, benzene, formaldehyde, and trichloroethylene (nothing that hard to pronounce should be lingering in the air you breathe) from your home, though it's worth noting that they do have a noticeable floral scent. Steer clear if you're not into a flowery smell! These flowers thrive indoors in medium sunlight, and only need to be watered once a week.
2. English Ivy: English Ivy will look good pretty much anywhere you put it, and it can remove harmful pollutants, too. Say goodbye to benzene, formaldehyde, xylene, and toluene! Need another reason to bring some into your home? Studies have shown that English Ivy helps reduce mold! Like other types of ivy, it needs plenty of bright light, so put it in an especially sunny part of your home.
3. Ficus/Weeping Fig: Even if you're not super concerned about the air quality in your home, you might consider picking up a ficus. These plants are low-maintenance, requiring little more than bright, indirect light. Beginner gardeners, fear not: you're actually supposed to let the soil dry out between waterings of a ficus. As an added bonus, these plants are effective at filtering out common indoor air pollutants.
4. Bamboo Palm: Handy for removing chemicals like benzene and formaldehyde from the air, bamboo palm makes a great houseplant, since it grows best in part sun or shade and requires only an occasional watering. We bet you can find a place in your home for one of these!
5. Chinese Evergreen: If you're in the market for something that looks a little different than your garden variety (get it?) plant, you may just fall in love with the Chinese Evergreen. Its red and green marbled leaves are pretty and unique, and like the other plant life on this list, they help maintain healthy air quality indoors. They also can be easily overwatered, so you won't need to spend too much time taking care of them. Pet parents, beware! If you have furry friends at home, you may want to skip this one, as Chinese Evergreen can be toxic to animals.
6. Gerber Daisies: They're more than just for show! Beyond just being cute, Gerber Daisies can also take benzene from the air. These are an especially good fit for you if you like to keep your house on the toastier side, as they thrive in temperatures 75ºF or higher.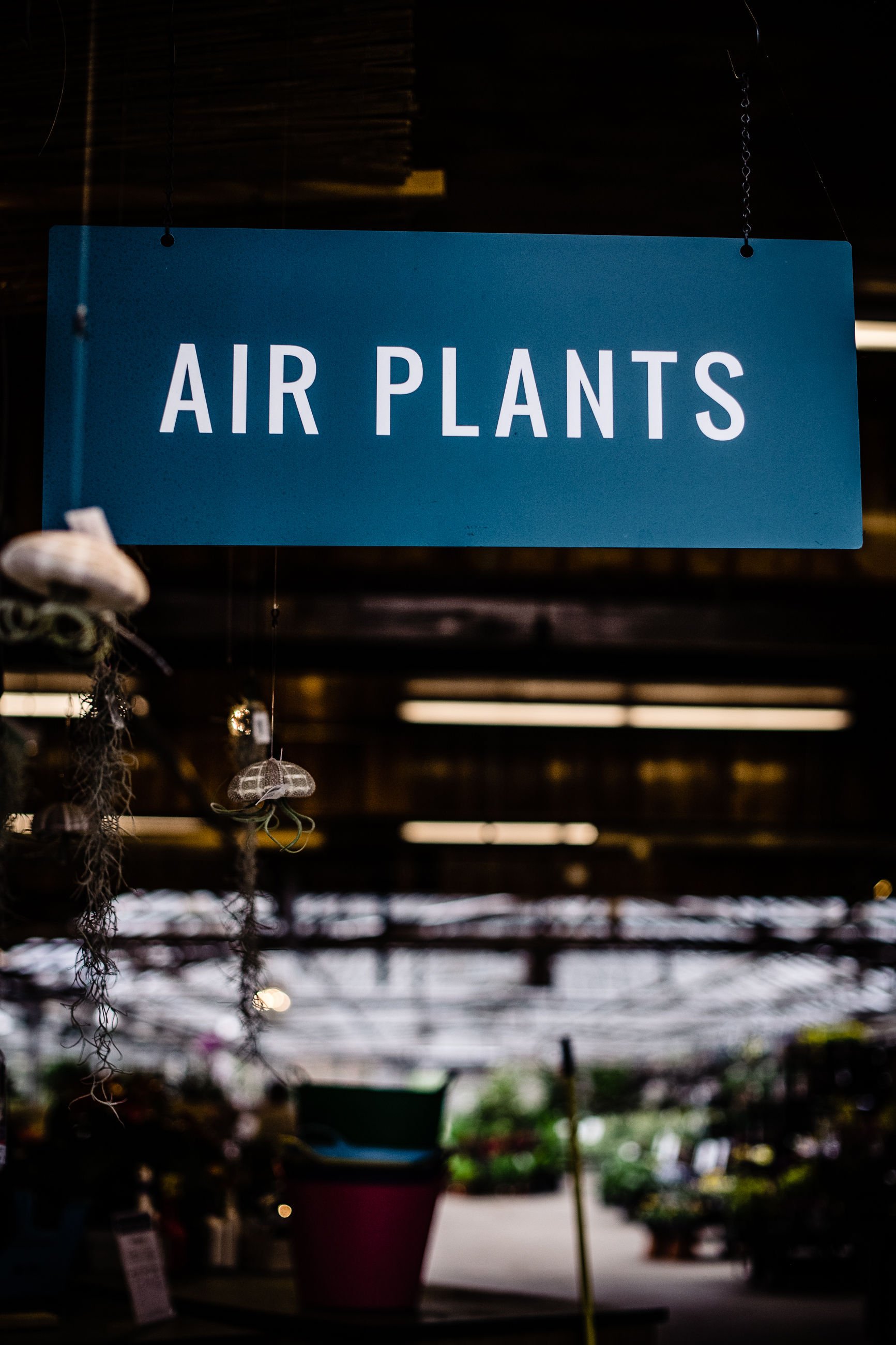 7. Boston Fern: Boston Fern likes to work under very specific conditions: in a cool, humid location with indirect light. Once those conditions are satisfied, though, you're in business, and your Boston Fern can put a significant dent in formaldehyde and xylene.
8. Dracaena: Among the 40 variations of Dracaena plants out there — all of which are marked with long, wide leaves lined with white cream, or red — you're bound to find one that suits your fancy. Don't start searching for the perfect Dracaena right away if you're a pet owner, though. These houseplants are dangerous for dogs and cats. They also need even less water than other houseplants, and should do well with just a light mist any time the top soil dries out.
9. Mother-in-Law's Tongue/Snake Plant: Snake Plants are known as one of the very best options available for absorbing toxins like formaldehyde, nitrogen oxide, benzene, xylene, and trichloroethylene. And while these plants prefer to have plenty of bright light, they can survive for long periods of time in low light, so they're a great starter plant for anyone trying to figure out how best to hone a green thumb indoors. Keep away from pets!
10. Pot Mum: According to NASA research, pot mums are effective at removing ammonia, benzene, formaldehyde, and xylene from indoor air. As a fun added bonus, you can re-plant these pretties outside for a pop of color in the garden! They do require a little more TLC than other house plants, since you'll need to water them regularly. Keep them where they can get plenty of air circulation, and in a low-humidity environment.
11. Aloe Vera: You've probably heard of aloe previously as it relates to health and skin care, and this plant really is a win win. When it's not working to remove formaldehyde from the air, it can become a beneficial part of your natural wellness routine. The leaves of an aloe vera plant contain a clear, vitamin-rich liquid that can heal wounds, counter inflammation, and help skin conditions like psoriasis. Simply place these plants in indirect or artificial light, and water them deeply but infrequently, and you should be set to go.
12. Spider Plant: Pop a spider plant in a sunny spot in your home and breathe deep, because these greens are great for air purification. Spider plants like to dry out between waterings, so water them well, but don't let them get too soggy.
13. Golden Pothos: No plant experience? No problem. Golden Pothos are especially hardy, so you're going to have a tough time killing one… which means you have plenty of clean air in your future. As long as they get light water, they'll flourish — and they'll survive in almost any environment in your home!
A quick animal-loving reminder: we've flagged several plants that are toxic to pets, but if you do have fur babies at home, it never hurts to double check that new greenery is safe for animals before you bring it into your space!
Pin it for later: