Homemade popcorn is a thousand times better than any alternative and is really simple to make. We're talking all about the magic of how to make stovetop popcorn at home (without any fancy equipment) that you can customize to your taste.
How to Make Stovetop Popcorn
If you've never made popcorn at home before, it may feel a little intimidating. Sure it's easy to buy it premade, or even use packets you make in the microwave but I'm sure you can already guess what we're going to say about that: it doesn't taste even a fraction as delicious as homemade, it likely contains ingredients that aren't that healthy and it's expensive!
Making it at home is so economical (even the organic heirloom popcorn is inexpensive) and OF COURSE it tastes infinitely better–plus you can customize it at home to suit your tastes with different flavoring. We also talk about how to make Maple Kettle Corn over in this post, so be sure to check that one out too. Careful though, once you learn to make it once you might find it happening everyday!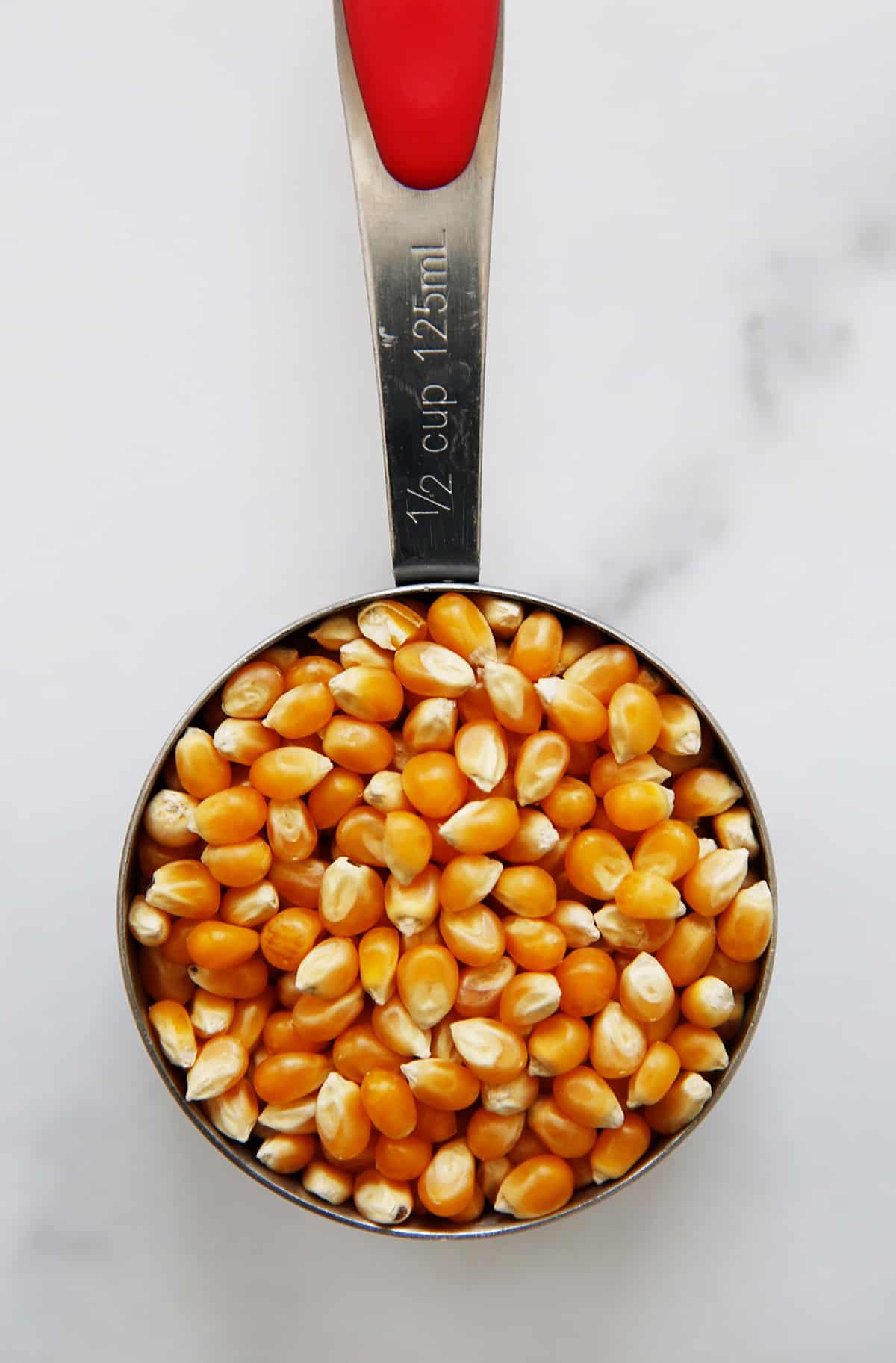 A word on what popcorn to buy:
We don't always recommend buying organic everything, but corn crops in this country are often sprayed with harmful chemicals. With that said, we recommend buying an organic (and non-GMO) brand of popcorn, and there are many, and if possible choosing an heirloom variety. These are available in a lot of stores, and also on Amazon. We like the brand Tiny but Mighty or Arrowhead Mills.
What you need to make homemade popcorn:
Coconut Oil or Avocado Oil
A heavy bottomed pan with a tight fitting lid
Tips for Making Homemade Popcorn
There are a few key factors to making sure you are successful at making homemade popcorn:
Use a heavy bottom pan. A heavy pan conducts heat evenly and will ensure all the kernels will pop and that you won't burn any popcorn.
Don't skimp on the oil! This recipe calls for 3 tablespoons coconut oil. It make seem like a lot but it is needed in order to create enough steam and heat in the pot to pop all the popcorn.
Give the pan a good shake once the kernels have started rapidly popping. This ensures all the kernel pops.
If at any point you see smoke–not steam, immediately turn down the heat. While this never happened during testing for us, if you accidentally cook it too high and the oil burns you'll want to start over. This will flavor the the whole batch of popcorn like burnt.
Keep the pan covered until the popping starts to slow down. Then you want to leave a small space to let the steam escape so you don't get soggy popcorn.
Season the popcorn after it's cooked! Place it in a large bowl and immediately add the seasoning to the popcorn while it's still hot.
It's best consumed while fresh.
Toppings for Homemade Popcorn
Salt (under salted popcorn tastes bland)
Fresh ground black pepper
Butter or ghee
Extra virgin olive oil
Spices (garlic powder, chili powder, chipotle powder, cumin, celery salt, oregano, curry powder, cayenne)
Nutritional yeast
Grated parmesan
Truffle oil
Balsamic vinegar or white vinegar
Lime or lemon zest
Make it sweet: check out this post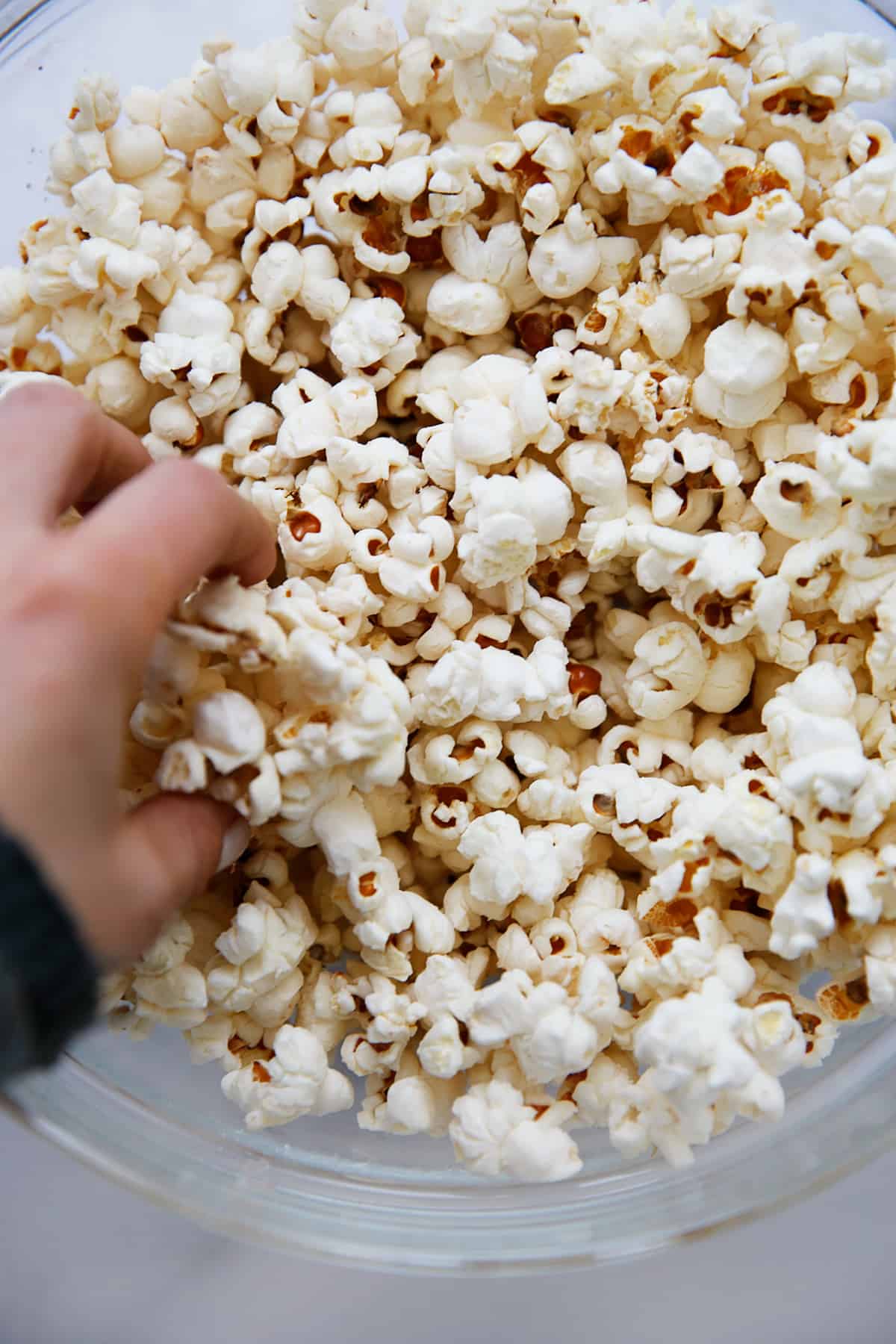 If you like this How To recipe, check out these others:
---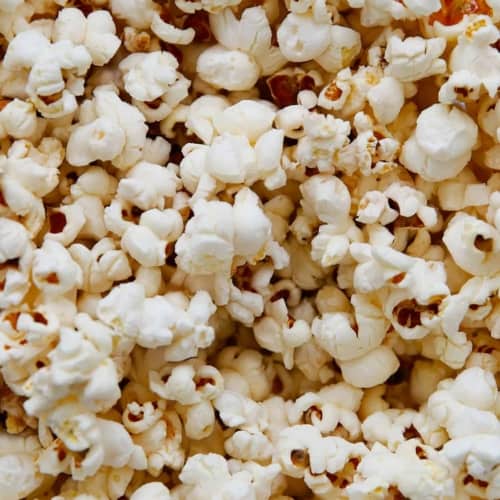 How to Make Stovetop Popcorn
Homemade popcorn is a thousand times better than any alternative and is really simple to make. We're talking all about the magic of How to Make Stovetop Popcorn at home (without any fancy equipment) that you can customize to your taste.
Ingredients
3

tablespoons

coconut oil

1/3

cup

popcorn kernels

melted butter and salt

for serving (optional)
Instructions
Heat a heavy-bottomed pot over medium heat. Add the oil and two popcorn kernels and cover the pot.

Once the popcorn has popped the oil is ready. Add the remaining popcorn kernels and return the cover. Remove the pot from the heat for 30 seconds. This ensures the oil doesn't overheat.

Return the pan to heat. Give the pan a shake every few seconds as you wait for the popcorn to start popping. Once it starts to pop rapidly give the pan a good shake to make sure the kernels pop evenly.

Once the popping has slowed down, and let the steam vent by moving the cover on the pan slightly.

Once all the popping has stopped, pour into a large bowl.

Add toppings while hot and toss until it coats the popcorn evenly.

Serve immediately.
Notes
You can use another oil such as avocado oil.
If at any point you smell smoke, or you see smoke (not steam) shut off the heat. You will have to start over as the oil and kernels have burned and the smell will permeate the popcorn.