Greek Three Bean Salad [VIDEO]
This Greek Three Bean Salad is such a great side-dish to serve a crowd for Summer entertaining! Loaded with Mediterranean flavors, packed with protein, and super simple to prepare = Summer side-dish perfection!
Lately, I've been experimenting with digesting certain foods, and beans have been one of those foods that when I was healing my gut I eliminated. I've been exploring how I feel when eating cooked dry beans or canned beans, and I am super excited that it hasn't been bothering me too much!
I often get asked about my eating philosophy and simply put, I am a huge believer in eating based on how your body reacts and feels. If you can tolerate something, eat it! I don't always think it should make up 100% of your diet, but eating it in moderation is fine! A lot of people write to me saying things like, "isn't that not paleo?" and I always say that if you tolerate it and it works for you, go for it! When I was healing my gut I was super strict, and I have more flexibility now, which has been really nice!
Now about this salad, because it's seriously so good! It's one of those that the longer it sits, the better, so you can make it hours before, or a day ahead, and have a fabulous meal prep item or a dish for a crowd!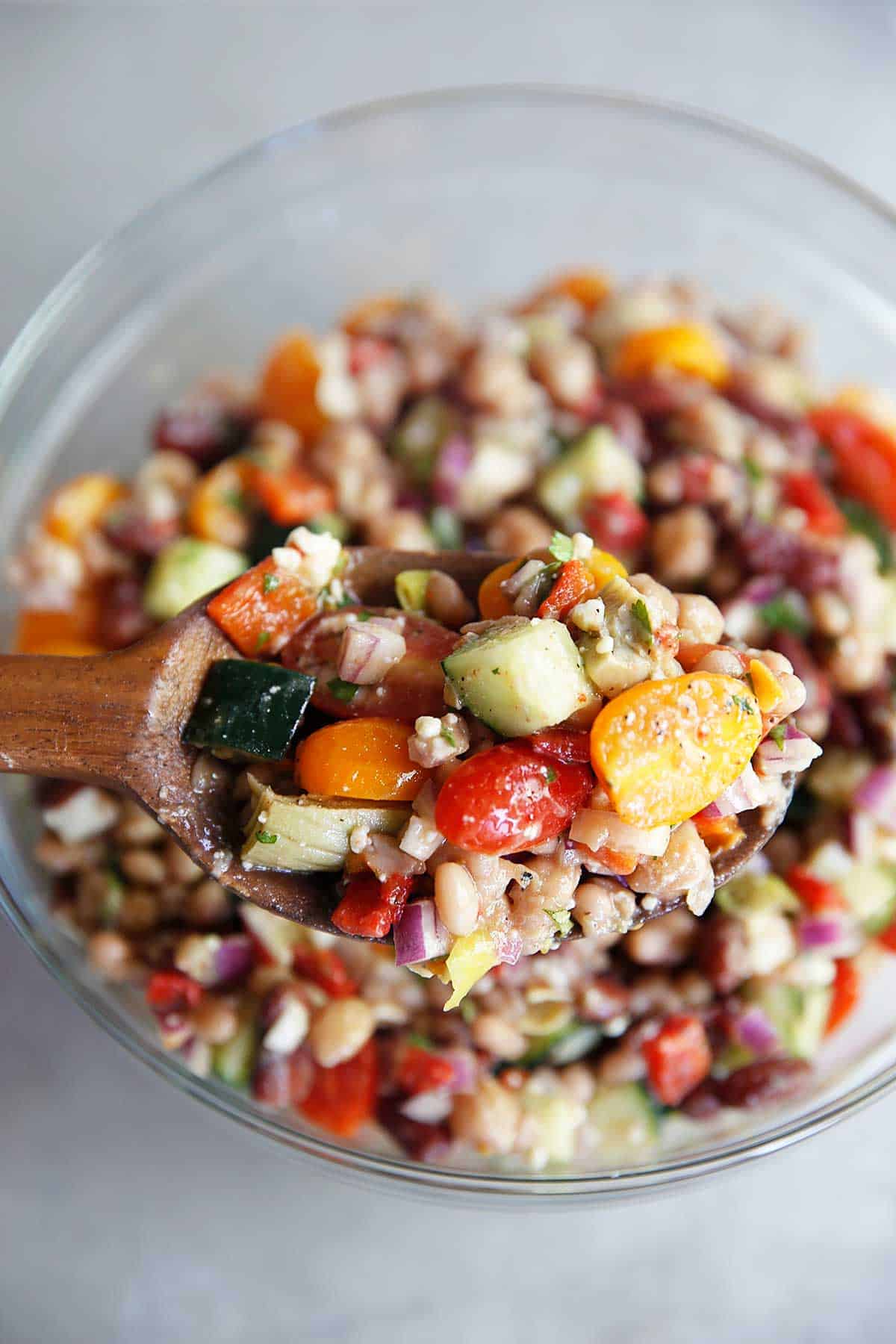 Watch the video here:
Greek Three Bean Salad
---
---
Ingredients
Lemon Vinaigrette

1 tablespoon lemon juice
2 tablespoons red wine vinegar
2 teaspoons dijon mustard, more to taste
1 teaspoon sea salt
1 teaspoon ground black pepper
1 teaspoon oregano
1/4 cup extra-virgin olive oil, add more to taste

Three Bean Salad Ingredients

1/2 can cooked cannellini beans, or 1/3 cup dried cannellini beans*
1/2 can cooked navy beans, 1/3 cup dried Kidney Beans*
1/2 can cooked kidney beans, 1/3 cup dried White navy beans*
1 Red Onion, diced
2 cups grape tomatoes, sliced in half
1 cucumbers, diced
1/2 cup diced Roasted Red pepper
4 Pepperocini, diced
Marinated artichokes, diced
1 tablespoon cilantro, roughly chopped, add more to taste
1 tablespoon parsley, roughly chopped, add more to taste
Optional: 1 tablespoon mint, roughly chopped
Optional: 1/4 cup crumbled feta cheese
Optional: 1/4 cup chopped olives
Directions
Place all salad dressing ingredients except for olive oil in a small mixing bowl. Slowly pour in extra-virgin olive oil. Taste and adjust seasoning as needed. Set aside.
In a large mixing bowl add all of the salad ingredients. Add half of the salad dressing to the salad bowl, mix well and taste. Add more salad dressing as desired.
Let sit for at least 20 minutes before serving, the longer it sits the better! Best if made the night before.
Recipe Notes
*Tips for cooking dried chickpeas to aid in digestion and reduce the gas-producing properties:
1. Place all beans in a large container with a generous amount of water. Cover and soak for at least 8 hours or overnight in the refrigerator. The beans expand during this soaking process, so make sure there is a good amount of space in the container. Soaking the beans both decreases cooking time and helps remove some of the sugars that are hard to digest!
2. Drain soaking liquid from beans and rinse them under cold water. Add beans to either a pressure cooker or large pot and cover with 8 cups of water or stock. Add a 2-inch strip of kombu to the pot or pressure cooker along with a clove of garlic and a bay leaf. Kombu, an edible sea vegetable high in iodine, iron, and calcium, has enzymes that further assist with breaking down the sugars in beans that can cause gas or intestinal complaints! The garlic and bay leaf are mainly for flavor!
3. Cook for 20 minutes in a pressure cooker or about 1 hour on the stove until soft. If using a pressure cooker such as an instant pot, let the pressure release on its own instead of using the quick release method. This will help the beans hold their structure.
4. Drain liquid from beans if there is some left in the pot and pour into a large mixing bowl. Add a generous amount of sea salt and let cook before adding the beans to your salad!
---
Nutrition
Loading nutrition data...
11 comments
July 10, 2017
Subscribe to
Lexis Clean Living
Join our email list to get instant updates and weekly summaries of our top content and special exclusive offers along with our free clean eating kickstart guide!
This website may at times receive a small affiliate commission for products that we shared with you in our posts. Although we may receive a commission for linking certain products, there's no additional costs to you and all of our opinion and suggestions are 100% our own and unbiased. That's our promise to you!