Did you know you can make tea out of fresh mint leaves? It's so simple and can be made to drink hot or cold! Scroll on down because we're walking you through the steps on How to Make Fresh Mint Tea!
Easy Fresh Mint Tea Recipe
Sipping tea can be so soothing! Mint tea in particular has the ability to immediately calm the mind. Fresh mint tea made with real mint leaves only makes it more amazing! It's earthy, bright and truly minty. And the best part is making it is SO EASY requiring only two ingredients: mint and water! You can use any type of mint that you'd like, and it tastes even better when you make your own blend! We found it easiest to make the tea inside of a French press, but you can just as easily make it in a bowl and then strain out the tea in a strainer once it's steeped.
Types of Mint For Fresh Mint Tea
There are so many different types of mint out there! They all have their own taste and aroma. More than likely if you've just got your standard run-of-the-mill mint either growing in your backyard or from the grocery store, it is probably peppermint or spearmint. Both of those will work well for this recipe and give it a typical mint taste. If you are lucky enough to have a garden with some of these varietals, definitely use them in this mint tea recipe! Some of our favorites for mint tea is made from these varietals:
Chocolate Mint
Pineapple Mint
Apple Mint (or Whooly Mint)
Orange Mint
You can use just one type of mint or mix them up!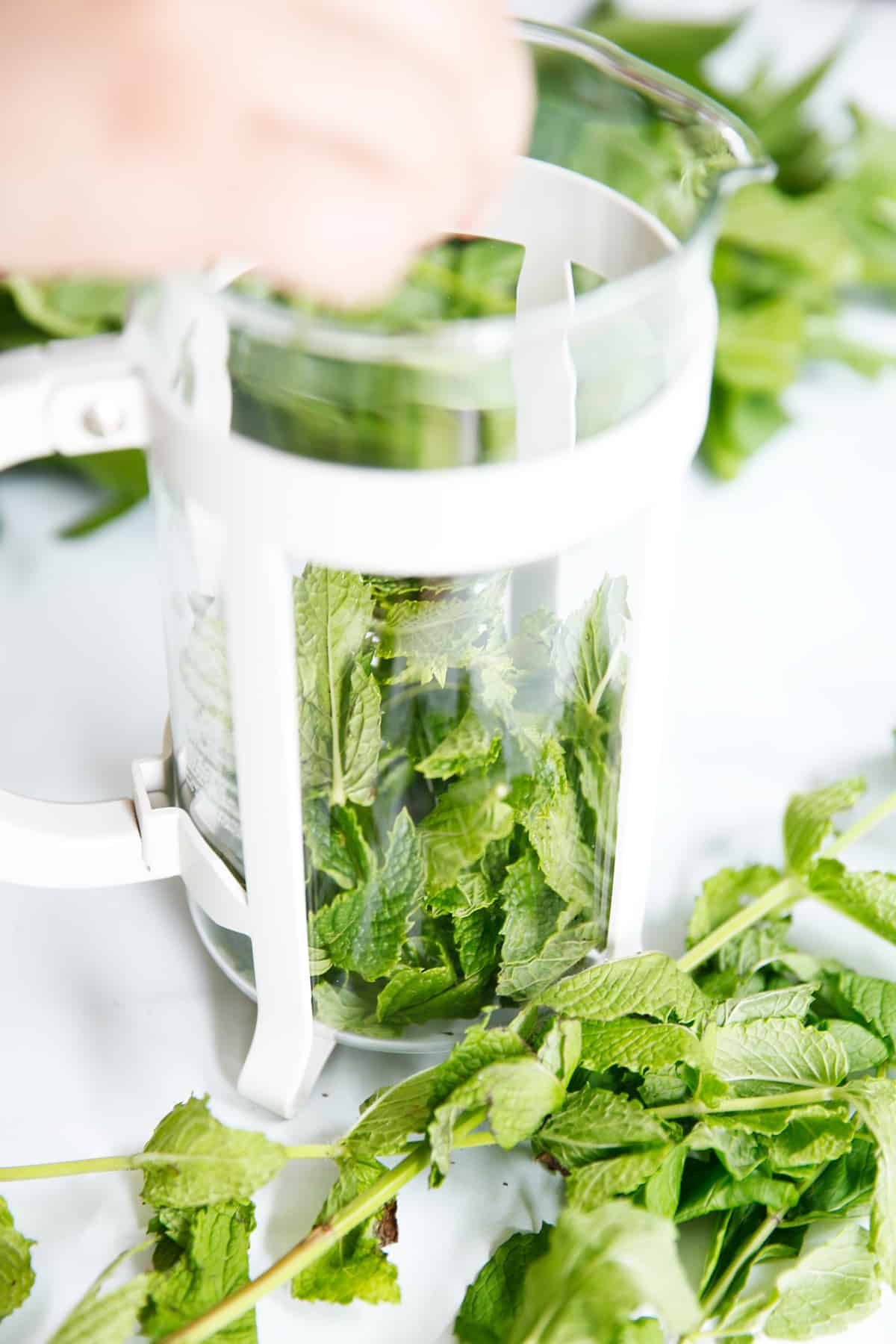 Washing Your Mint Leaves
Mint can often be very gritty and dirty. Washing the mint leaves really well is important because if left with grit on them, the mint will turn the tea muddy. To properly wash mint you should:
Pick all the mint leaves off the stem
Fill a big bowl with cool water
Submerge the mint leaves and swoosh them around.
Let them sit for a minute so that the dirt drops to the bottom.
Pick up the mint leaves as gently as possible, so as to not disturb the dirt, and place in a colander.
Empty out the water, rinse the bowl and repeat the process until no dirt is left behind in the bowl.
If desired you can run the mint leaves in a salad spinner to dry them off.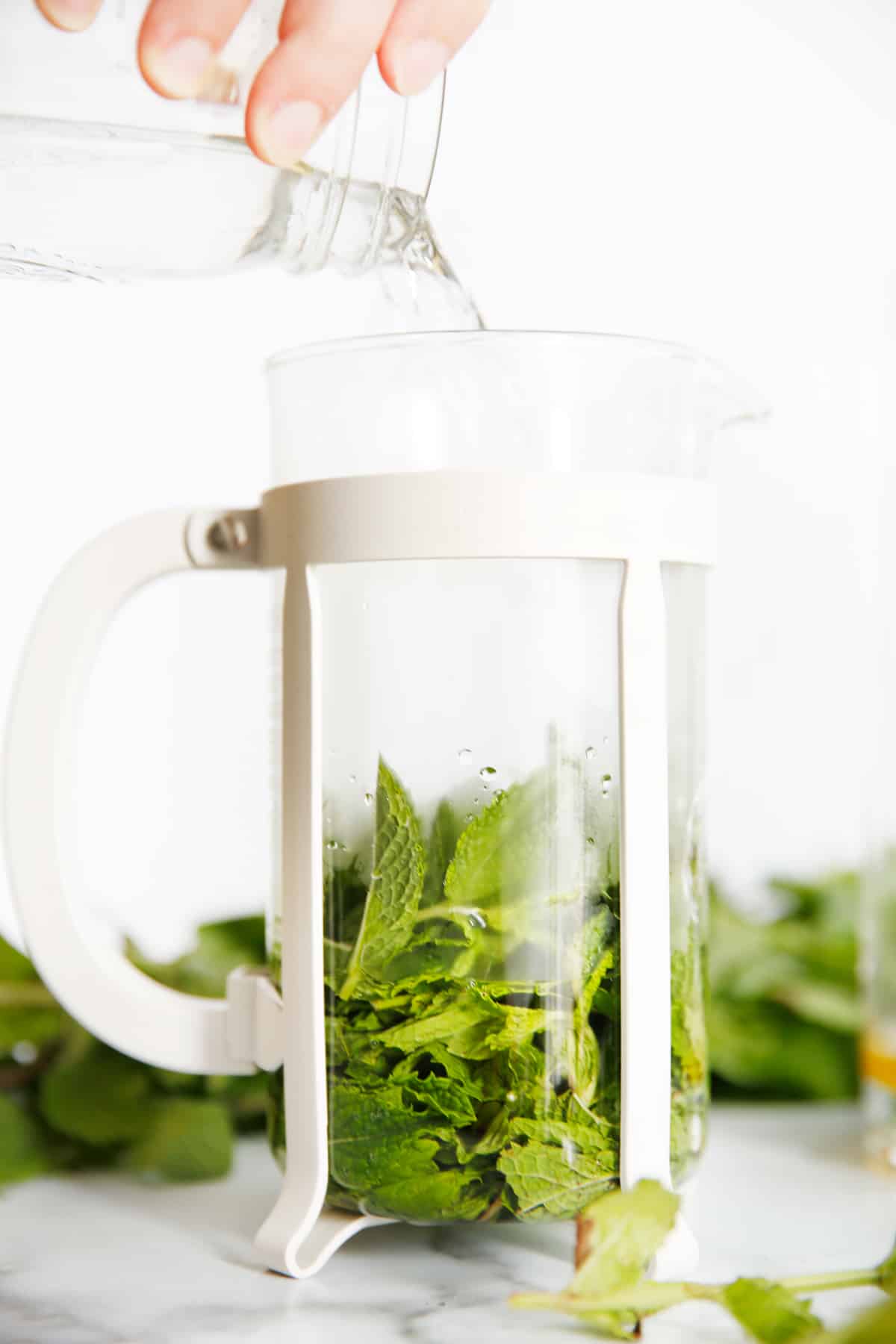 How to Make Fresh Mint Tea
Wash your mint leaves well! Gritty mint leaves will make for muddy tea!
Tear and bruise the mint leaves with your hands. Roughing up the mint leaves will help bring out the oil and make for a stronger mint flavor.
Pour the boiling water over the mint leaves and let infuse for 5-8 minutes. The longer you infuse the stronger the mint essence. However, it reaches a point when the mint tea can start to taste a little grassy, so depending on your varietal of mint start tasting it around 5 minutes.
Strain the tea and pour into tea cups. Add honey, if using.
Serve immediately or cool down and serve cold.
Ways to Enjoy Tea Made with Fresh Mint Leaves
You can spice up your mint tea by adding in some other flavors! You can add in some lemon juice, some honey or maple syrup or even other culinary herbs such as thyme! If you wanted to really amp up the flavor, you could skip the honey and instead make a mint simple syrup to add to the tea to sweeten it (recipe coming in two days!)
If you like this mint recipe, check out these others: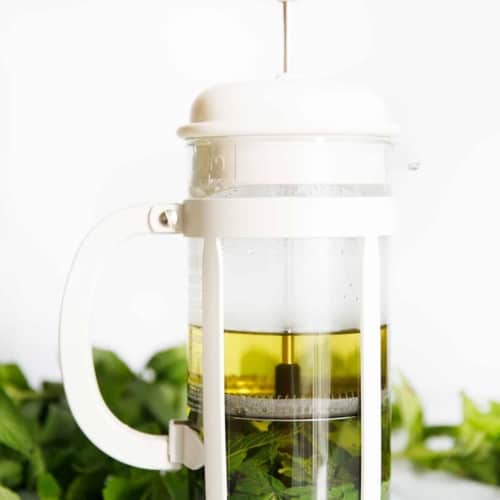 How to Make Fresh Mint Tea
Making fresh mint tea from mint leaves is so simple and can be serve hot or cold.
Ingredients
1

bunch

about 2 ounces fresh mint leaves, cleaned well

2

cups

boiling water

1

tablespoon

honey

optional
Instructions
Tear and bruise the mint leaves with your hands and place in either a fresh press or a bowl.

Pour the boiling water over the mint leaves and let infuse for 5-8 minutes.

Strain the tea and pour into tea cups. Add honey, if using.

Serve immediately.
Notes
You can also serve this cold. While still warm add honey if using, and stir. Store in the refrigerator until cold, at least 6 hours. Will keep up to 2 days.
P.S. take me back to Morocco for all the mint tea!