Homemade Paleo Mayo is so easy to make, using a handful of ingredients you likely already have on hand and made in under 5 minutes! Want to make it even more special? Turn that homemade mayo into 4 easy and delicious flavored ones in just a matter of minutes.
Easy Paleo Mayonnaise Recipe
If you follow a strict paleo diet, or you care about avoiding unhealthy fats like canola or soybean oil, finding a clean store-bought mayo can feel impossible. Luckily there are a few brands on the market now that are selling mayonnaise made with avocado oil, but the downside is that they are super expensive, and some of them do have a strong flavor. If you've never made it before, you might think that making mayo at home is hard or involves a lot of ingredients, but we're here to tell you homemade mayonnaise:
is easy
is inexpensive
and it taste so much better than anything you can buy
You may be wondering what the difference is between paleo mayo and regular mayo? Simply put, it's the oil! There really is no other change to making paleo mayo then to switch out the canola or soybean oil with a paleo-friendly oil. We're suggesting to use half avocado oil and half light olive oil. We love the flavor of olive oil, but if you make mayo with only olive oil the taste is overwhelming, and the same goes for only avocado oil. And if you only have a really heavy tasting olive oil than use even less of it proportionally.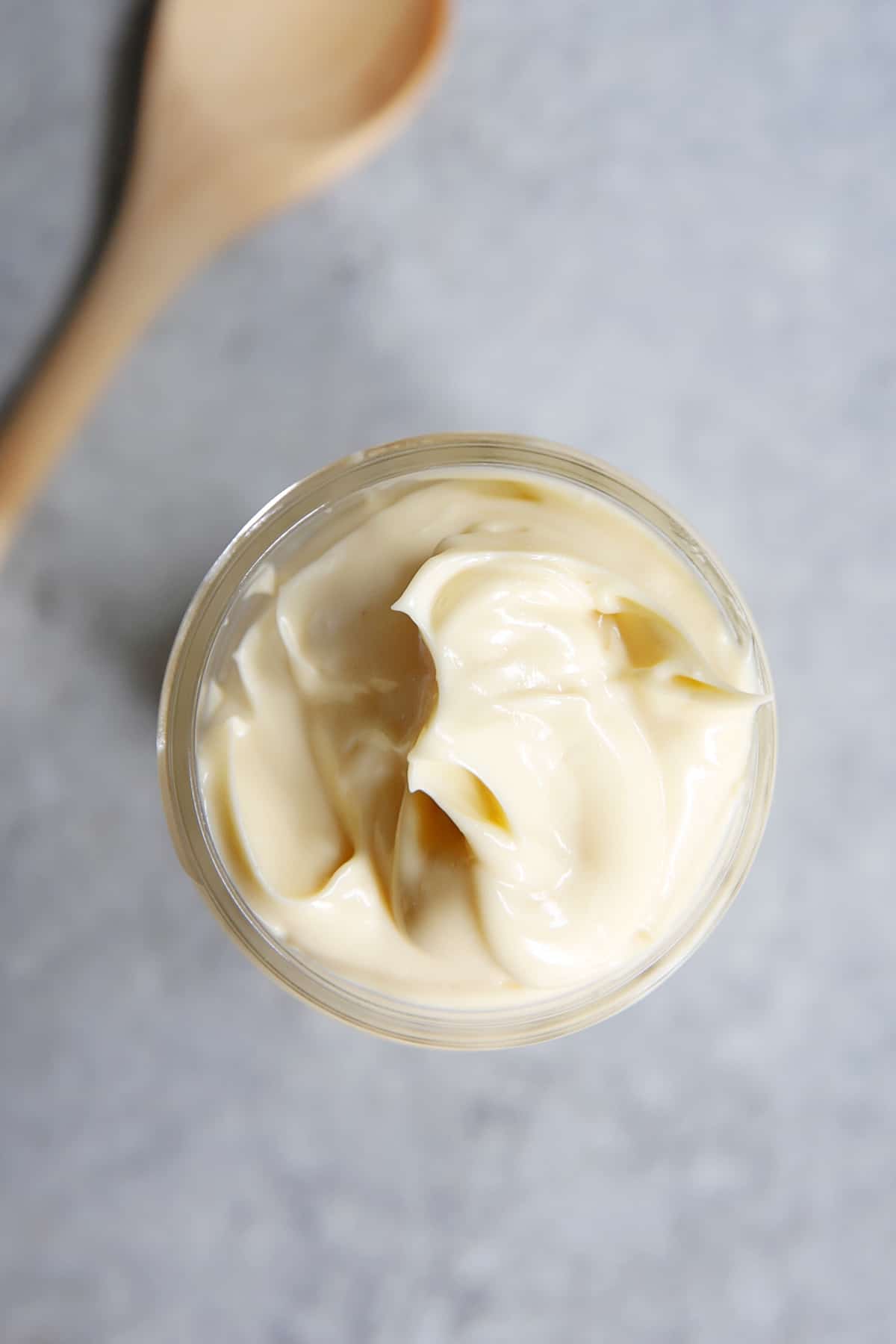 Here's what you need:
1 egg
1 lemon
dijon mustard
salt and pepper
avocado oil or light olive oil
Tips on Making Paleo Mayo
In our recipe below, we've offered 3 different ways to make paleo mayo with a food processor, a blender or an immersion blender. They basically all have the same concept in mind though. A mayo is an immersion of oil into an egg, with a few other flavor components to it. The dijon mustard also helps bind it, so don't skip that.
The most important part when making mayo is to slowly (very, very slowly) drip the oil into the blending egg. It's important to start dripping the oil in at first so that it has time to emulsify. Once it is stable, you can drip the olive oil in faster.
Troubleshooting Tips
If your mayo is thin: it has "broken" which means that it didn't emulsify properly. You can start over with the whole broken mayo. Start by getting a clean bowl and adding in an egg yolk and another drop of dijon mustard. Place a wet towel around your bowl to stop it from moving and then whisk it together and very slowly add the broken mixture, while whisking constantly, a tiny bit at a time until the mayo becomes thick and creamy.
If your mayo is too thick: you can thin it out with a little extra bit of lemon juice or even some warm water. But start with a small amount at a time.
If your mayo is bland: season it more with salt and pepper, and more lemon juice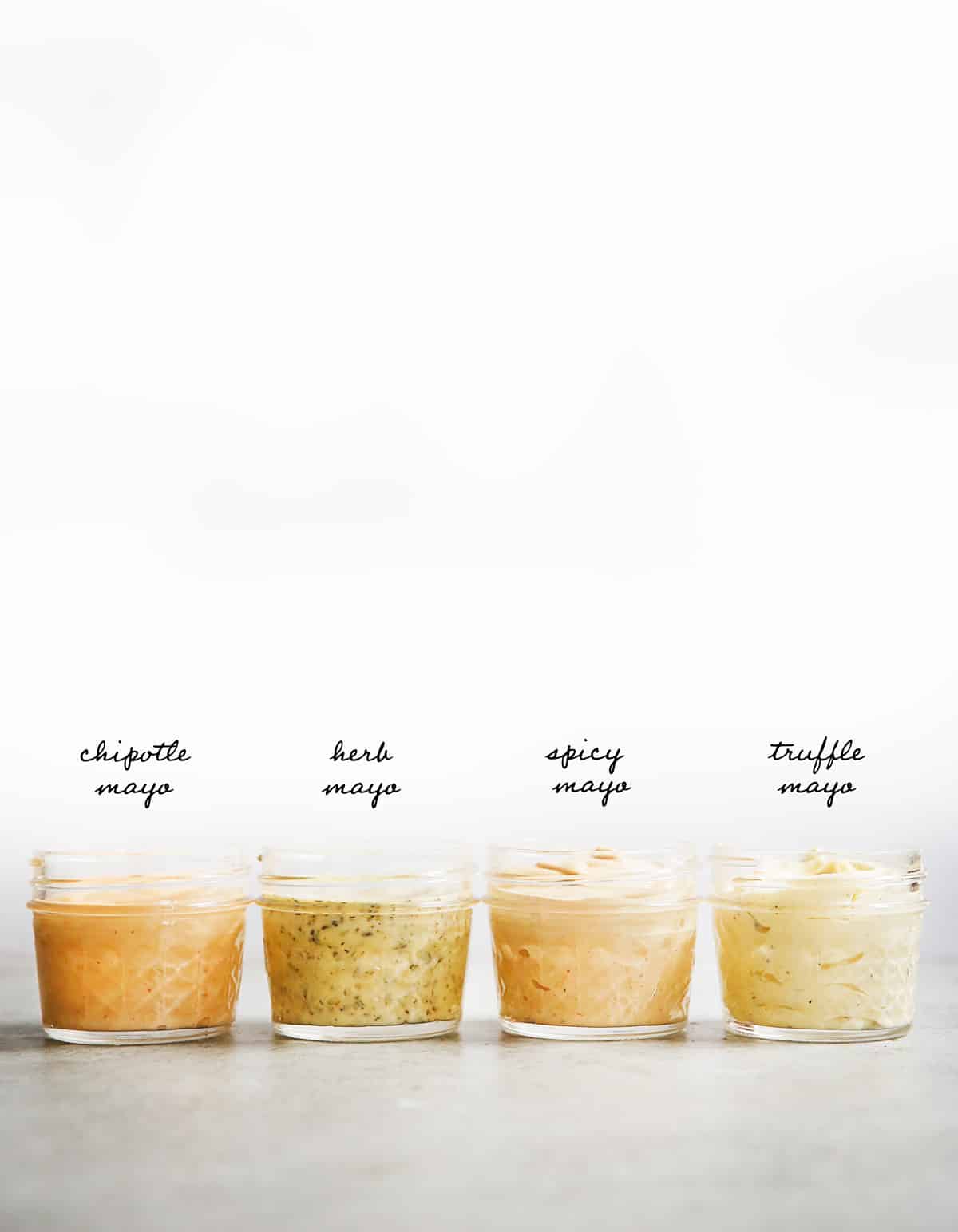 How to Make Flavored Mayo
Here are a few different flavor variations for the mayo. Simple whisk the ingredients into the mayo.
For Spicy Mayo:
1/4 cup mayo
1 teaspoon sriracha (or more to taste)
Herb Mayo:
1/4 cup mayo
1 tablespoon Italian seasoning
Truffle Aioli:
1/4 cup mayo
1 clove garlic, grated
2 teaspoons truffle oil
Chipotle Mayo:
1/4 cup mayo
1 tablespoon chipotle adobo sauce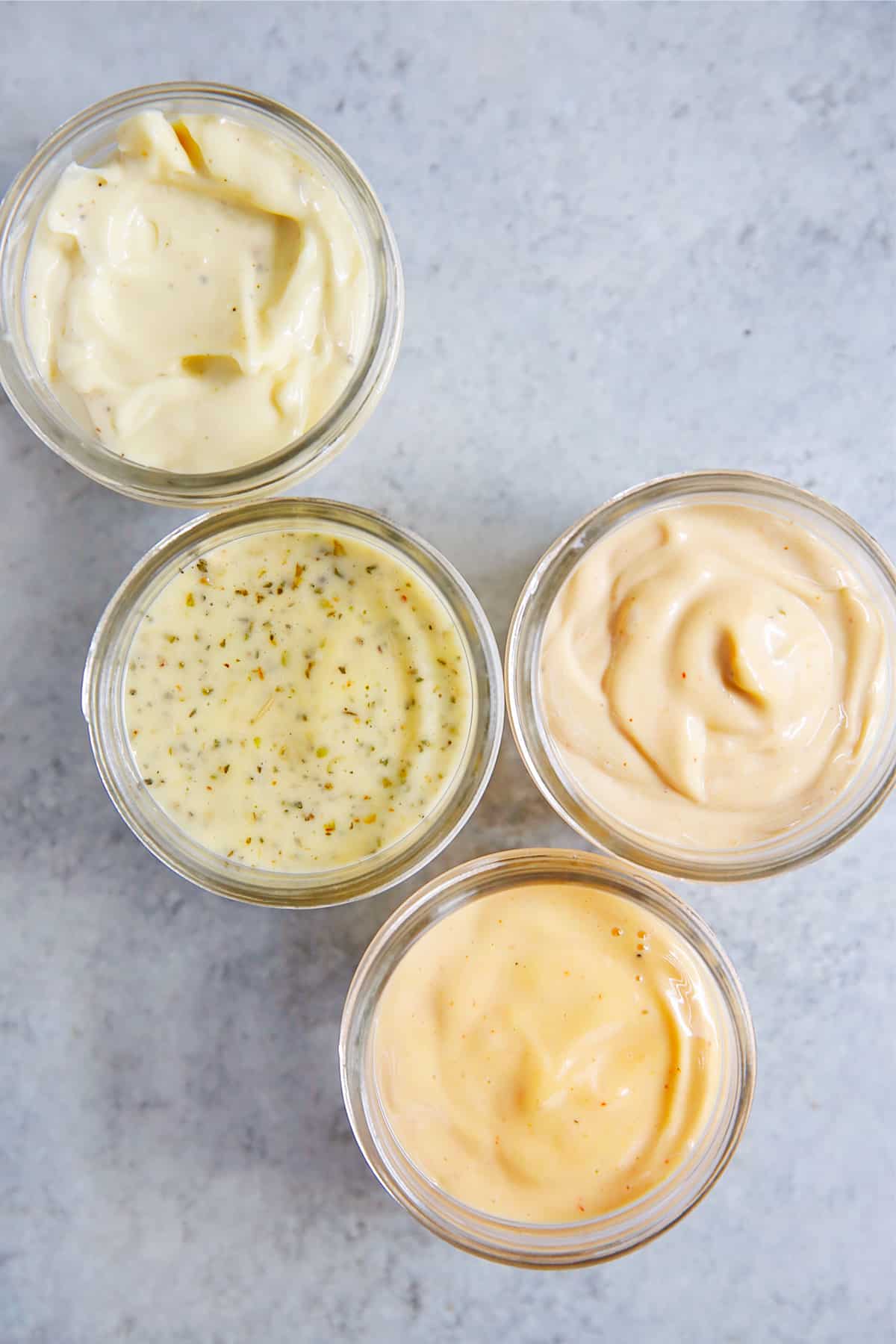 How long will paleo mayo last?
It will keep for 1-2 weeks in your refrigerator. This makes a smaller batch so that you can use it up quicker. If you go through mayonnaise quickly you might want to double a batch.
If you like this How to recipe, check out these others:
Watch the video: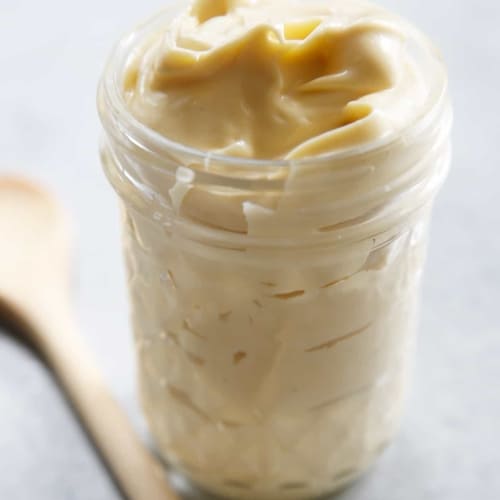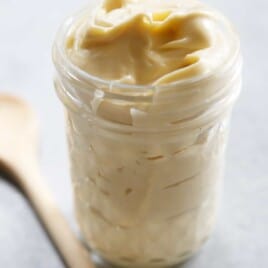 Ingredients
For mayonaise:
1

large egg

at room temperature

1

teaspoon

lemon juice

1/2

teaspoon

ground mustard

1/4

teaspoon

fine sea salt

1/4

teaspoon

ground black pepper

1 1/4

cup

light olive oil or avocado oil

or a mix
Instructions
In a blender:
Add egg, lemon juice, mustard, salt and and pepper into the blender basin and turn on until combined. With motor running very, very slowly add the oil in in drips until the mayo thickens.

Taste to adjust seasoning.
Food processor:
In a food processor, pulse the egg, lemon juice, mustard, salt and and pepper until combined.

With the machine running, very, very slowly drip in the oil until the mayo thickens.

Taste and add additional salt if desired.

With an immersion blender

Place all ingredients minus oil in a tall container (the container the blender came with is ideal)

Using a hand immersion blender, blend until smooth

While blender is on, very, very slowly drip in the oil and blend until the mayo thickens.
Notes
See notes on troubleshooting tips.
See body of post for flavored mayo ideas.
Nutrition
Calories:
123
kcal
Carbohydrates:
0.2
g
Protein:
0.4
g
Fat:
14
g
Saturated Fat:
2
g
Cholesterol:
10
mg
Sodium:
29
mg