If you loved our coffee guide, you may also love today's matcha guide! While Matcha has been around for centuries, its popularity has been on the the rise in the US recently. This Matcha 101 guide is for beginners so let's discuss what Matcha is and everything you need to know about it before enjoying your first cup!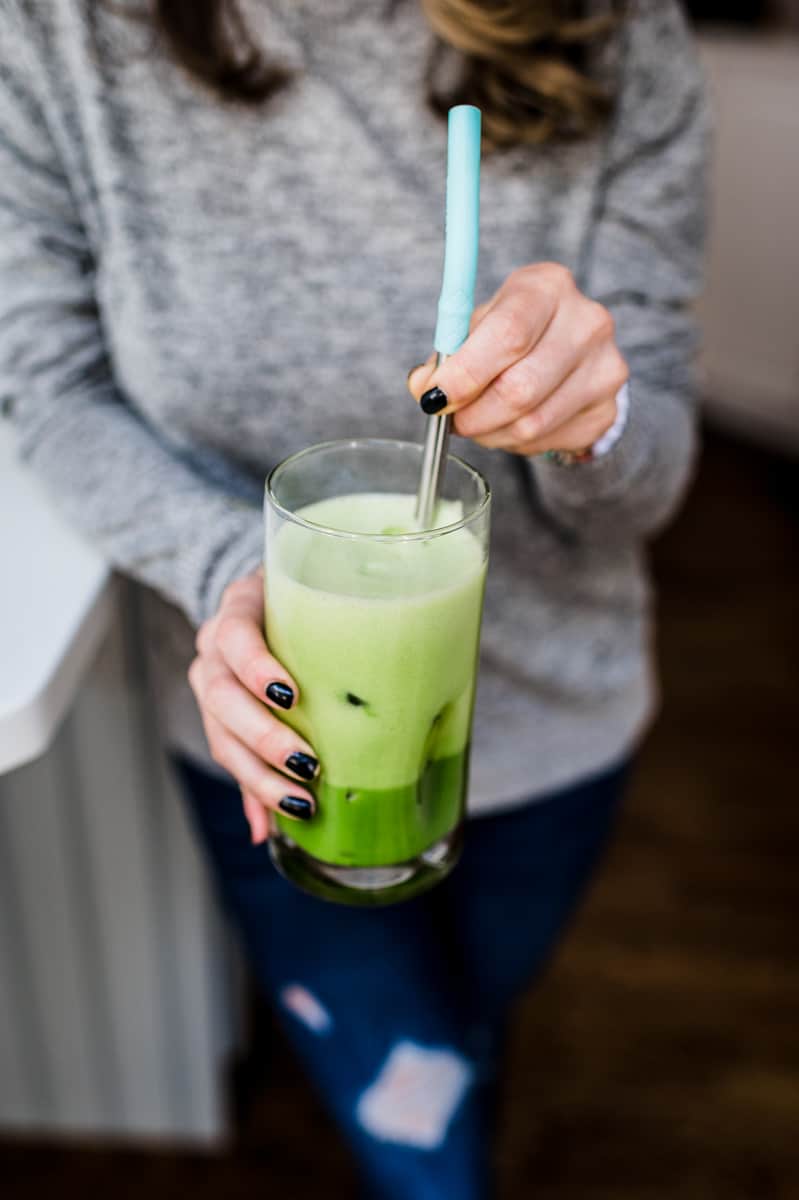 In the last few years, it seems like matcha has gone from "never heard of it!" to "I'll take one!" Even people who haven't tried matcha themselves or who don't especially enjoy it have probably seen it listed on a menu or posted on Instagram. That green color does make it oh so 'grammable.
Matcha is still a pretty new ingredient — to us! — and there's still a lot to learn about it. I only got into matcha myself in 2019, when I was pregnant with Skylar. I'm usually a coffee girl, but as soon as I became a mama-to-be, I pretty much lost all interest in drinking coffee. To be honest, it was totally grossing me out! I wasn't ready to give up my morning beverage routine, though, and I found my way to matcha. My baby girl is almost a year old now, and even though I've reintroduced coffee to my diet, I've kept matcha in the rotation, too.
I really enjoy matcha and have loved learning more about it over the last year. And since matcha seems to be here to stay, I figured I would go ahead and share what I've discovered!
What is Matcha?
Matcha's origins are in Japan. It's a green tea powder made from finely powdered dried leaves that have a high chlorophyll content, which is where that signature color comes from. Matcha tea is made using matcha powder whisked into hot water or milk, instead of steeping tea bags in hot liquid. It can also be used in beverages like matcha lattes… and you may have even seen it listed as an ingredient in desserts!
It's important to remember that matcha might be new to us, but that it's been around for centuries. It's played a major role in traditional Japanese ceremonies for a very long time. It's recently gained popularity outside of those traditions because of its health properties, which you'll read more about a little later on.
What distinguishes drinking matcha from drinking other types of green tea is that you actually consume the entire leaf, which dials up its benefits. Matcha also contains more caffeine than regular green tea and about two-thirds as much caffeine as coffee, which can be a big selling point for people (like me!) who are attached to the kick they get from their morning coffee but not so sure they want to drink a cup of joe (or three) every day. As a caffeinated beverage, it is a healthy alternative.
If you haven't tried matcha yourself, you probably have one major question that needs to be answered before you're ready to consider adding it to your life.
What does Match Taste Like?
You know I'm always going to tell it to you straight. And if I'm being 100% honest, I would say that matcha has a definite earthy flavor. It's hard to describe, because it's unlike pretty much anything else I've ever tasted.
For some people, the earthy taste of matcha is a total turnoff to the flavor palette. Others enjoy it! You definitely have to try it to decide.
That being said, if you have trouble with the matcha flavor but want to start drinking it as an alternative to coffee or benefitting from its healthy properties, you might consider adding a sweetener. You can use the same sweeteners you would add to other teas! I like adding beet sugar!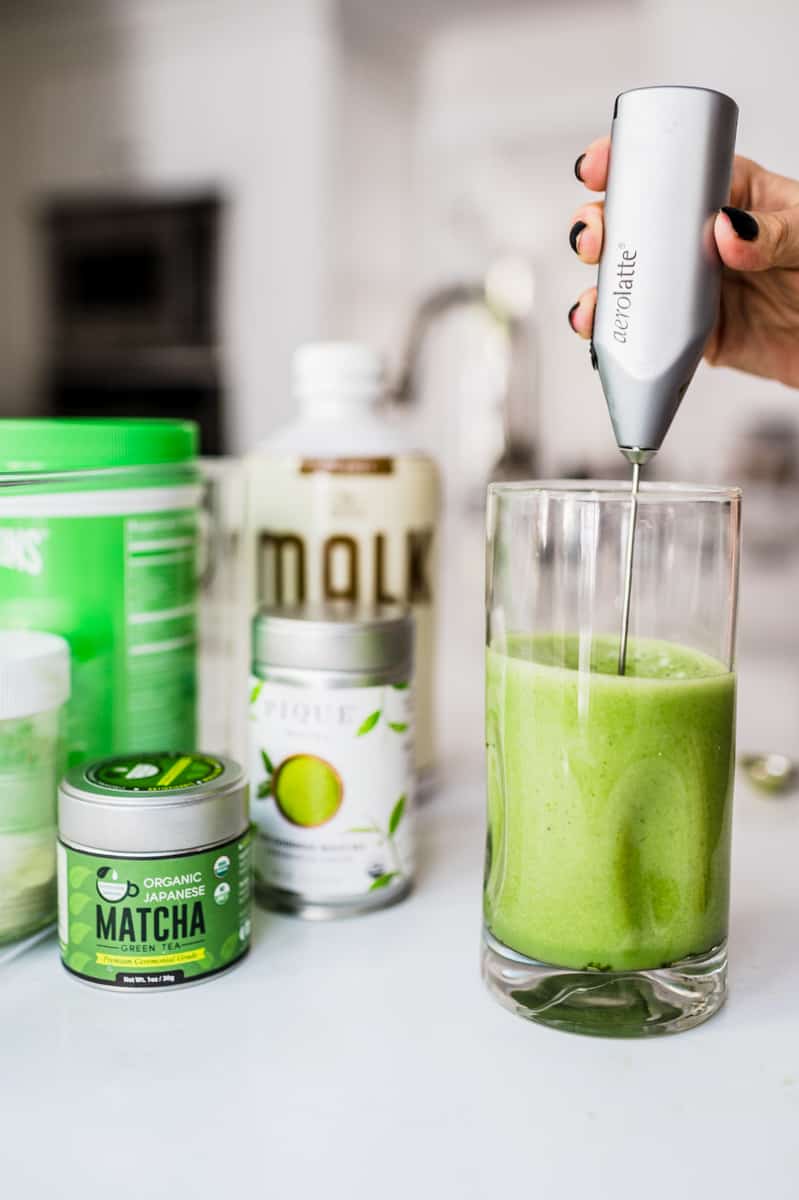 Where to Buy Matcha Powder
Ready to give matcha a try for yourself? First, it's helpful to understand that matcha comes in multiple grades.
Ceremonial grade matcha consists of only the youngest tea leaves and buds, which are picked from the first tea pickings of the year. It is very high quality matcha, but it is used almost exclusively for traditional tea ceremonies.
Culinary grade matcha is harvested later than ceremonial grade matcha. Culinary grade matcha leaves are older and have been exposed to the sun for longer. This is the grade of matcha that you'll find more easily available for purchase in stores, and it's also what's typically used by cafes and restaurants. Culinary grade matcha is less expensive than ceremonial grade matcha.
If you don't mind the higher price tag, ceremonial grade matcha is higher quality and usually has a more gentle flavor. If you plan to drink matcha with water alone (instead of milk), ceremonial grade is probably the way to go.
No matter the grade, though, not all matcha is created equal! Tea is one of the most pesticide-laden crops and is commonly farmed in areas with high industrial pollution, so it's worthwhile to be a smart consumer. When you're choosing matcha, you can get a pretty good idea of the quality of the ingredient based on its color. Generally speaking, matcha that has a more vibrant green color is of a higher quality than matcha that's paler or more brown. Brighter matcha has been grown with the proper amount of shade and harvested at the right time. This means it will have better flavor!
As with everything else, when shopping for matcha, quality counts. Based on what I've learned, you won't find high-quality matcha in a standard grocery store. Your best bet is to order it online, either direct from the company or even on Amazon or Thrive Market.
Personally, I'm a big fan of the Pique brand, which offers matcha that is triple screened for dangerous and common toxins such as pesticides, heavy metals and toxic mold. Their matcha has also been shaded for 35% longer and is crafted by one of only 15 Japanese tea-masters in the world. Aside from rigorous screening standards, it's made without preservatives, sugar, and artificial sweeteners. You can use code LEXI for 5% off sitewide at Pique.
If you want to grab a ceremonial grade on Amazon, I've tried this one and thought it was good!
Matcha Tea Benefits
As I mentioned above, many people have come around to matcha because of its health properties. Here are a few matcha tea health benefits, according to Healthline:
Like other green tea, it's high in antioxidants, which help stabilize the harmful free radicals that have been found to damage cells and cause chronic disease. Remember: because you make matcha tea with powder instead of leaves steeped in water, you get more antioxidants out of it.
It's good for the liver, which is key for clearing your body of toxins, metabolizing medications, and processing the nutrients you take into your system. Studies have shown that matcha helps protect the liver from liver damage and liver disease.
It improves brain function. Research shows that some of matcha's components can boost attention, reaction time, and memory. Matcha has also proven beneficial for older people experiencing a decrease in brain function as a result of aging.
Some research suggests that matcha prevents cancer, thanks to its many healthy compounds. Studies are ongoing!
It may promote heart health. Green tea — not matcha — is known to protect against heart disease, which is the leading cause of death worldwide. Studies have also shown that drinking green tea reduces the risks associated with high cholesterol, as well as strokes. When you add matcha to a lifestyle that is already healthy and well-rounded, it can help promote heart health in the long run.
It can support weight loss efforts. If you're looking to lose or maintain weight, matcha may be a good addition to your regimen. Green tea is well known to enhance weight loss, so much so that you'll find it on the ingredient list for many weight loss supplements (not that I'm recommending those!).
Does Matcha Have Caffeine?
As far as how matcha compares to coffee nutritionally, they have a lot of similarities. For instance, coffee and matcha both have minimal calories. If you're concerned about the health consequences of caffeine, though, matcha is a better choice, since it does contain less caffeine than coffee. I break down the health properties of coffee in this post, so I would recommend comparing that list to the one above, then deciding which nutritional properties are your priority.
Of course, it doesn't really matter how healthy matcha is if you don't know how to prepare it correctly.
Tips for Storing and Making Matcha
Matcha should be stored in airtight containers. When matcha is exposed to oxygen, it will oxidize and turn brown, which doesn't do any favors for the flavor, either.
If you're making matcha tea with water, use filtered water for the best taste and quality.
Don't be afraid to experiment with how much matcha powder you're using in your tea. If you don't love the flavor right away, consider adding more or less powder the next time you make it. I'll share my favorite matcha recipe below, but people drink matcha tea prepared with anything from one to two grams of matcha powder.
Do not brew matcha with boiling water. Boiling water is one of the major culprits in producing matcha tea with a bad taste. The ideal temperature is somewhere between 158* and 176* F. If you're wondering if you have to heat your water, see below!
Tools Needed to Make Matcha Tea
Traditionally, matcha tea is made by heating water to between 158* and 176* F (not boiling) and whisking with a bamboo whisk but my go-to iced recipe below uses a $10 hand milk frother like this one! I find this is a great alternative that will save you some time and arm power.
If you're new to matcha, I know this is a lot of information, but don't get overwhelmed! You can start with my go-to recipe…
Lexi's Favorite Way to Make Matcha
A big reason I was intimidated to make matcha at home was figuring out the right water temperature as discussed above. While it's true that making matcha with hot water can release L-theanine, heat does not destroy the nutrients, so drinking matcha both iced or hot is wonderful! In fact, cold brew matcha is so easy, and you'll experience the same benefits! Here's my easy go-to recipe that I make almost daily.
Note: Matcha is not an instant tea, so it technically does not dissolve in water! That is why you need to whisk, froth, shake to fully dissolve!
Watch The Video: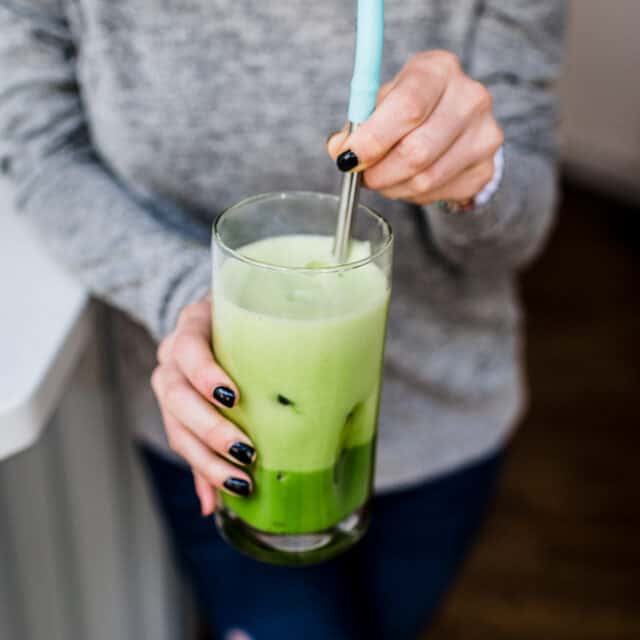 Easy Iced Matcha Recipe
This easy cold brew iced matcha recipe takes 30 seconds and is delicious!
Ingredients
1

teaspoon

ceremonial grade matcha powder

1.5

cups

milk of choice

water, or coconut water

Optional: 1/2 teaspoon sugar of choice

I like beet sugar!
Instructions
Add matcha tea powder to a large glass, then add your milk or water. If adding sugar, add it here, too.

Using your

hand frother

, whisk/froth for about 15 seconds, until smooth and no clumps remain. 

Add in ice cubes and enjoy!
Notes
No hand frother? You can use a shaker cup and shake vigorously until no clumps remain!
Nutrition
Serving:
1
latte
Calories:
61
kcal
Carbohydrates:
5
g
Protein:
3
g
Fat:
4
g
Fiber:
3
g
Sugar:
2
g
Don't forget to use code LEXI for 5% off sitewide with Pique, my favorite matcha (and trusted tea) brand. This is not sponsored, I just am a huge fan of their standards and quality, and wanted you to have a deal, too!
Pin this guide for later!