You may have seen over on my Instagram that we recently had our kitchen and a few other spaces professionally organized. It has been such a game changer having a *truly* organized space, and I loved working with our local NEAT Method girls (Jess from Boston NEAT & Steph from Providence NEAT). The Container Store hooked us up big time, and it was the coolest process watching them work and seeing what goes into organizing a space. A process that felt daunting to me came together in the most perfect way and I am excited to share it with you!
How We Organized Our Home
After we moved, we unboxed everything and started to figure out where we thought things would belong. I felt like spaces weren't optimized well, but I just let them live there. I've followed NEAT METHOD and various organizing accounts on Instagram for a while, and I was inspired to really get our new spaces, especially our kitchen, organized but honestly completely overwhelmed by where to start. SO, I brought in the professionals!
Their Kitchen Tip: Plan your layout around the dishwasher! Place highly used items in prime real estate spaces. Store pieces less commonly used for special occasions and entertaining in the hard to reach cabinets or a separate storage space.
Bringing in the Professionals!
What I think is so cool about NEAT Method is that they are located in over 70 markets across the US & Canada. They are thoughtful and educated and a pleasure to work with. Check their locations page for the most up to date list of the current cities they are in so you can take advantage!
The Process:
Here's how it works! An educated (and insured) organizer comes to assess your needs and give you a quote before things get started.
From there, they will get you on the schedule! They measure your space, do the shopping based on your budget, and then come on over for the big organizing days!
Once the organizing begins they completely transform your space and leave you with a sustainable solution that you, or anyone in and out of your house, can maintain. That was important to me!
They ALSO handle all donations for anything you don't want. I loved this nice surprise. We made a huge donation box by the end.
I thought their process organizing in the space was so cool and inspired me!
First, they take EVERYTHING out so they can see what you have and discard of anything expired.
Up next, they categorize everything and start planning the space.
Then they begin figuring out what goes where. It's like a puzzle. They move things around so much until it's just right.
Lastly, they label and all that fun jazz!
The snack and things area! I originally had my appliances here but it really wasn't the best use of the location! Their tip for organizing snacks & things: Take prepackaged snacks out of their individual boxes, then sort by type, find an appropriate storage bin & label. Make a space for kids snacks so they can access their snacks on their own (if they can be trusted, haha). We also love to decant pasta into jars with labels then you can clearly see when it's time to stock up!
My Take Aways:
These ladies SERIOUSLY know what they're doing.
I could not be happier with how this all turned out. It all actually feels realistic for me to keep organized. I can also add labels/change things as needed over the years.
I will 100% have them back for other areas of my house. I think having something like this done once, really can set the stage for your future of being SUPER ORGANIZED!
The Container Store is the best place on earth.
If it's not in the budget right now, follow NEAT METHOD (and specifically franchise branches in your area on Instagram (hello inspiration), etc., and get inspired to DIY!
What I also loved was they handle donations! When you're getting rid of stuff and organizing, you often end up parting ways with things. I thought it was so cool that Neat Method takes care of that and hauls it away to donate for you!

Hello, upstairs linen closet. Next to this we have a tiny closet for extra linen items, so this one is strictly towels and sheets and things! The baskets will have miscellaneous items and sheets and pillow cases for all the different rooms, organized by their sizes! Their tip: Categorize a linen closet by type (queen sheets, bath towels, Hand towels) – sort into baskets with labels!
I also got a lesson on towel folding — though I'm pretty sure nobody is allowed to touch any of these, haha.
---
Let's SHOP:
YA'LL, The Container Store's Holiday Kitchen and Pantry Sale is going on through today, November 10th, 2019. It's the perfect time to get your kitchen organized and maximize space before the holidays. I seriously am so excited about all the things the NEAT ladies found, and how it will keep me organized moving forward in a practical everyday life kind of way!
---
Picture Dump!
We now have an "appliance garage" — pictured above. I had never heard of this term! But I LOVE it. All of my appliances are organized in one space with containers for accessories. Game CHANGER.
Our gifting closet is one of my favorites. It was SUCH a mess before. It has gift bags, wrapping paper, tissue paper, cards, stamps, writing utensils, ribbon, tape, and more.
I love that they decanted my spices into glass jars. I had so many mix-matched sizes, and this made it so I had even more room for spices! I highly recommend this if you have a lot of spices and need more space. It's an investment (on time and buying the spice holders) but to me worth it! If you don't have a built in solution (like above) you can purchase a spice rack/riser. Spices can be stored standing up and labeled on the front or they can be in a drawer and labeled on top of the jar.
Our coffee and tea station right above our coffee maker is perfect. Before this, my tea and coffee wasn't even in the cabinet over my coffee maker! Gone are the days of me hoarding 7000 tea boxes because I forgot what I had (aka shoved in the back of a cabinet). Everything right where we can see it, in the practical location.
A peak into our storage area with our extra items like cleaning products, back stock, dog area, and you can also see a glimpse into the gift closet! Both of these were SUCH disasters before the NEAT ladies got their hands on it. The tip here: Baskets, bins, containers, and lazy susans galore!
Don't have additional storage space? Only keep what you need! Don't over buy at the store if you don't have space for back stock, get rid of expired items in the kitchen and bathrooms and toss or donate things you're no longer using. One of the things the ladies helped me with was seeing what I actually have, so I don't keep buying the same things over and over!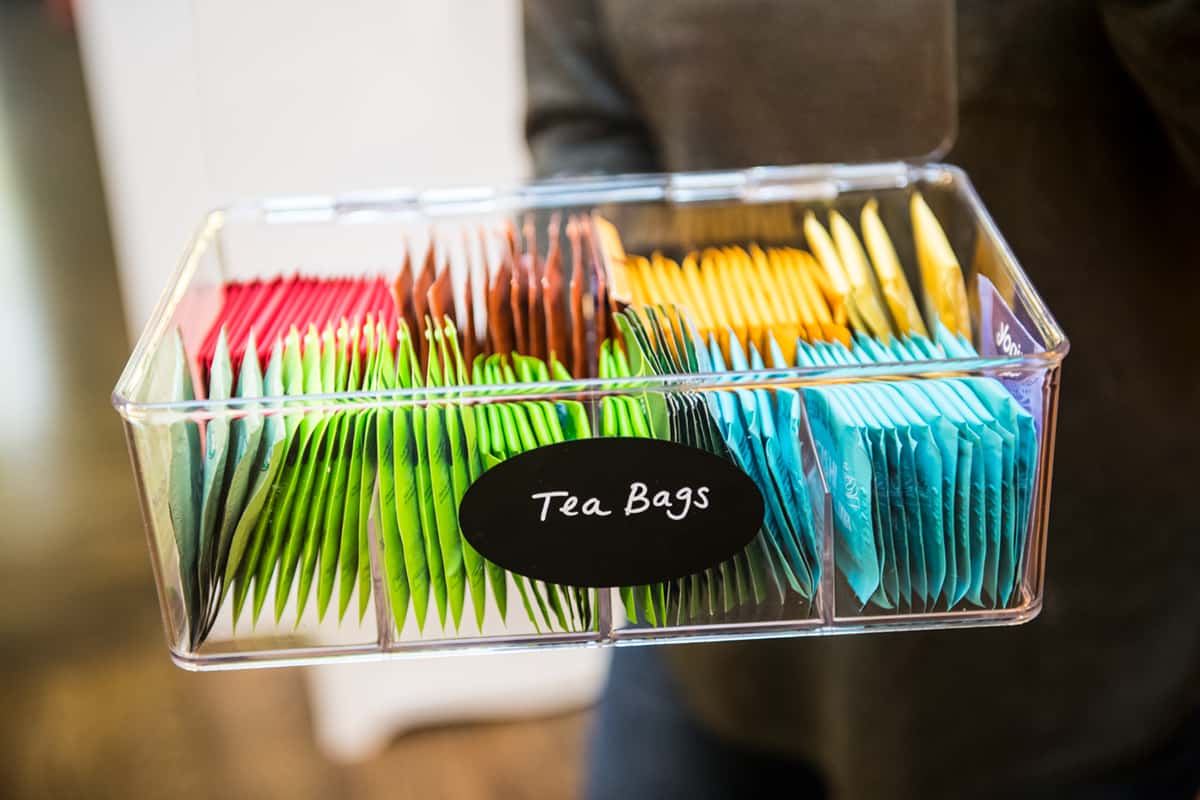 Dreamy tea storage!
Fridge goals! Bins in the fridge and areas for leftovers/breakfast items/etc., are making it so I actually keep it organized!
---
I was not paid to write this post. I did receive product from The Container Store & services from Boston NEAT Method. All opinions are always my own! This is an honest review with product affiliate links that WE ACTUALLY are using in our home and loving. Thank you for supporting the companies we love, use, and work with!