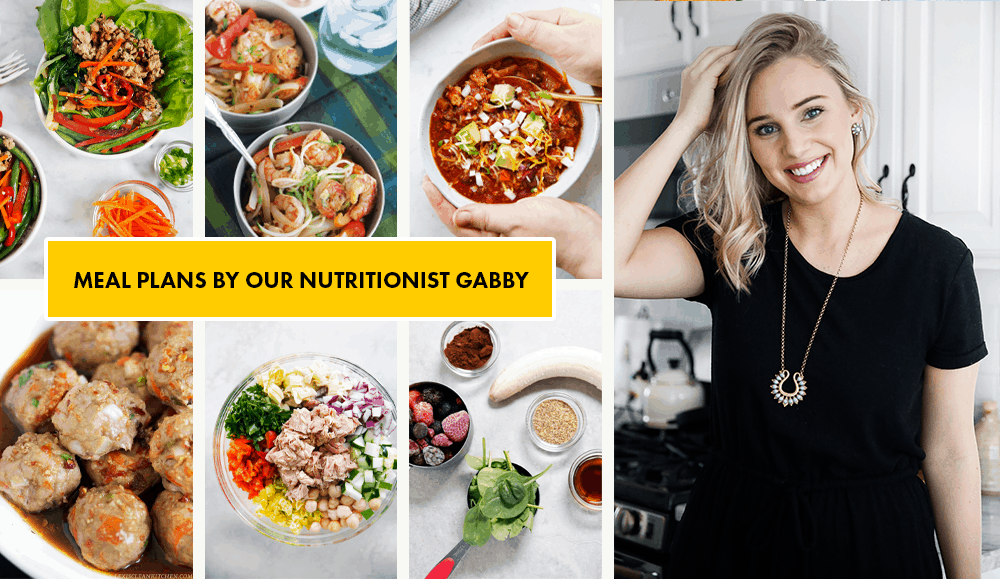 There are a variety of benefits from eating a more plant-based diet. A balanced plant-based diet is high in fruits, vegetables, beans and lentils, whole grains, nuts, and seeds. "Plant-based" can mean a number of things; vegan, vegetarian, simply incorporating more plants into your diet, and so on. To us, it means we love plants and their incredible benefits so we're going to find fun recipes to incorporate more when we can!
Research tells us there are many potential benefits of eating more plant-based . It can improve digestion by keeping our gut in good health from eating lots of fiber from whole grains, fruits, vegetables, and legumes. It is also associated with increased heart health due to the increased intake of nutrients, such as vitamin K from leafy greens, and decrease in certain animal products that are high in saturated fat. The decrease in animal-based fats and increase in fiber can also decrease your risk of insulin resistance, decreasing chances of type 2 diabetes. Lastly eating a plant-based diet can have an enormous positive impact on the water supply, helping the environment.
If you choose to follow a vegan or vegetarian diet long-term, our in-house dietitian recommends that you pay close attention to consuming enough complete proteins from things like quinoa, incorporate calcium and vitamin D into your diet from sources like leafy greens and sunlight. Be sure you are getting enough vitamin B12 from fortified products, nutritional yeast or a supplement. Look for plant-based sources of iron in beans, nuts, seeds, and whole grains. Take an algae-based EPA DHA omega-3 supplement if you choose not to have the EPA DHA omega-3 from fatty fish. Consume seeds, beans, lentils and quinoa for your plant-based zinc. Lastly, enjoy 3-4 Brazil nuts per week to make sure you are getting your selenium!
This week's meal plan includes all vegan and/or vegetarian recipes with vegetables, nuts, seeds, beans and more providing you with a variety of flavors, cuisines, and nutrients. Be sure to read the "to reduce waste and save time" tips for each dinner!
Creamy Mushroom and Ricotta Pasta
I cannot stop making this creamy mushroom ricotta pasta! It's made in under 30 minutes, uses minimal ingredients, is a meatless dish, and is a hearty dinner (think super special, but not complicated), that will make everyone fall in love with mushrooms all over again.
To reduce waste and save time:
Be sure to get three 24 oz of mushrooms as you'll also need 8 oz for Dinner 4's Vegan Spicy Noodle Soup

Use up your leftover ricotta for a snack or breakfast one morning. Take a piece of toast, top it with ricotta, honey and blueberries!
Butternut Squash and Black Bean Enchiladas
If you are looking for the perfect veggie enchilada recipe then look no further. Butternut Squash and Black Bean Enchiladas are simple to make, using real wholesome ingredients, and are just so delicious! Bake some for now, and freeze some for later. Your future self will thank you!
To reduce waste and save time:
Vegan Cheese Sauce with Pasta
This flavorful and creamy non-dairy sauce is the perfect replacement for a cheese sauce. It's simple, nutrient-dense and hard-to-believe it's not actually cheese. We're sharing all the tips you need to know for How to Make Vegan Cheese Sauce.
To reduce waste and save time:
Throw your leftover spinach from Dinner 2's Butternut Squash and Black Bean Enchiladas for extra veggies
So quick and flavorful, this Vegan Spicy Noodle Soup is an easy, weeknight dinner that will satisfy. Made with mushrooms and bok choy, this brothy soup is served with noodles for a comforting vegetarian meal with a little bit of a kick to it.
To reduce waste and save time:
With your leftover cilantro, mint, and basil, make some pesto with about ½ cup cilantro, ½ cup basil, ½ cup mint, ½ cup toasted pine nuts, ¼ lemon juiced, salt, pepper, red pepper flakes, ⅓ cup olive oil. Add all ingredients other than the olive oil to a food processor or blender, and pulse to combine. Once the mixture is combined, add the olive oil and blend to desired consistency. Taste and adjust!
5 Ingredient Vegan Healthy Fudge
This 5 Ingredient Healthy Fudge recipe is my new favorite treat. It's easy to make, made with minimal ingredients, has the perfect texture, is customizable with your favorite fudge add-ins, is packed with healthy fats, and is a rich and decadent treat that everybody will love!
To find other meal plans that fit your lifestyle and learn how these meal plans were created, click here.