This Superfood Summer Smoothie is loaded with Summer fruits and packed with tons of antioxidants! It is dairy-free, vegan, and the perfect start to any morning!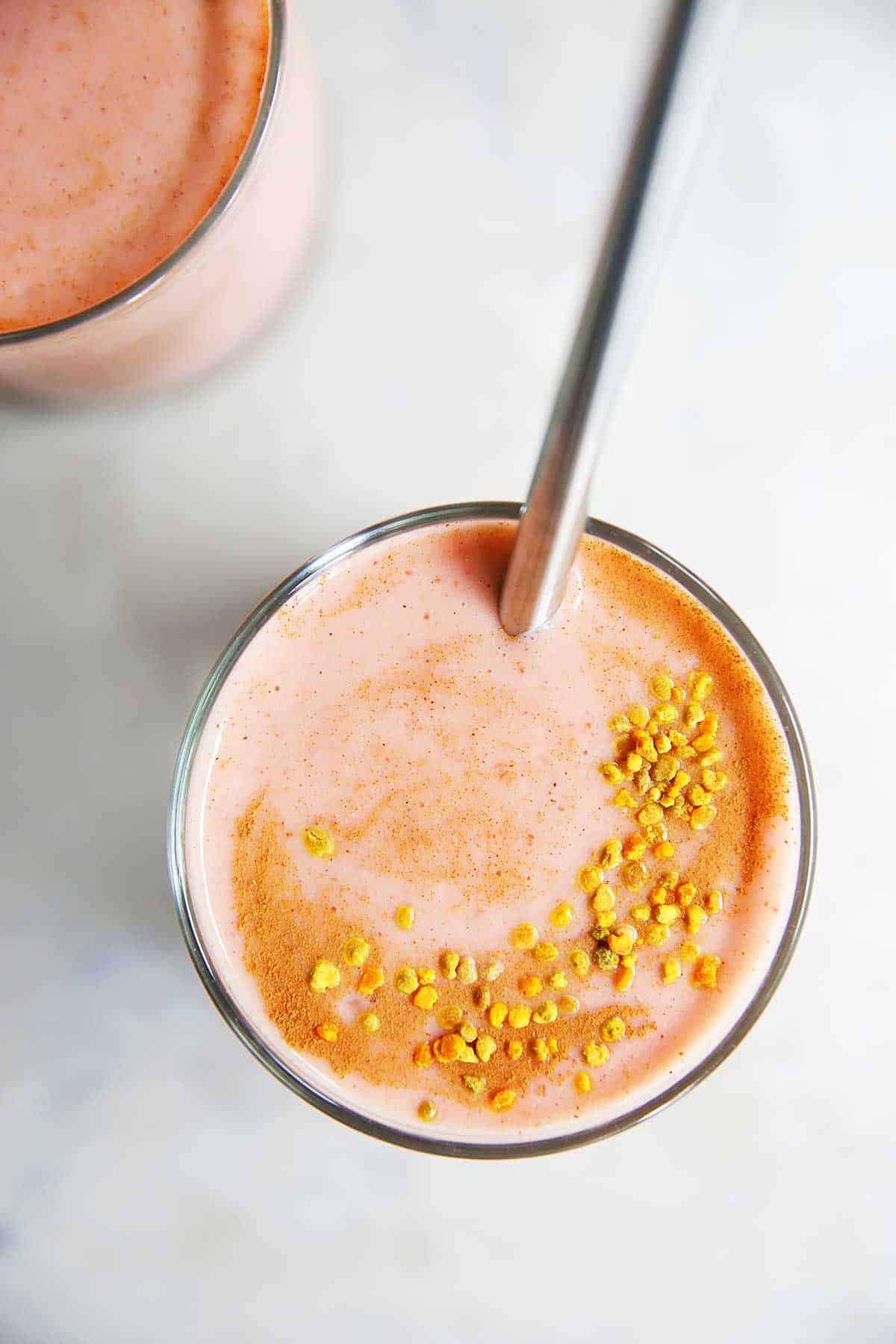 I used to really be into smoothies, and then I hit a wall and decided they weren't as exciting to me as a breakfast option like eggs or a hearty meal. Lately, especially after a long weekend away, I am back on my smoothie game and this Superfood Summer Smoothie hits the spot! It is creamy, fruity, and packed with nutrients to fuel your body for success!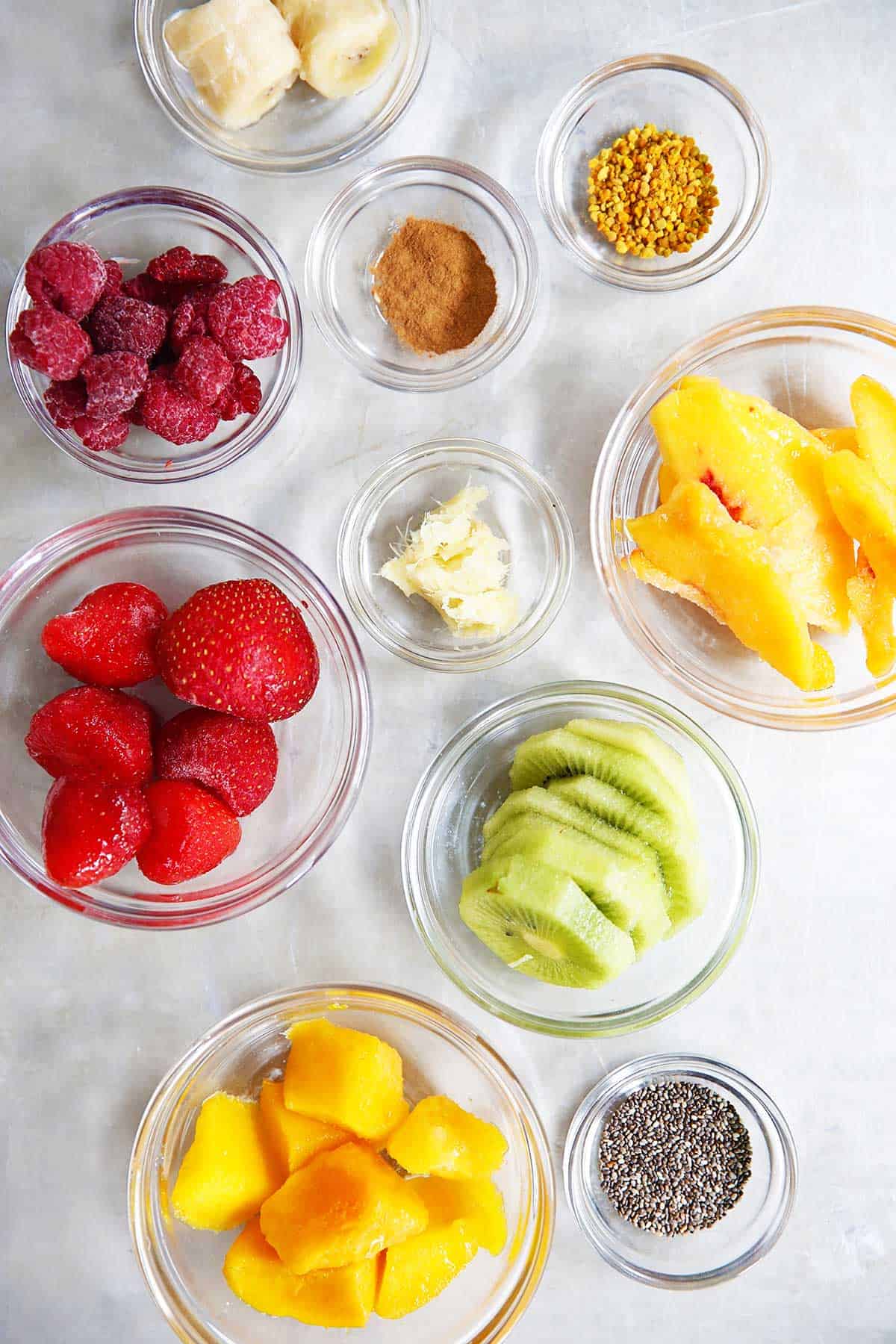 This smoothie makes for the perfect breakfast, snack, or even for a night time treat/dessert!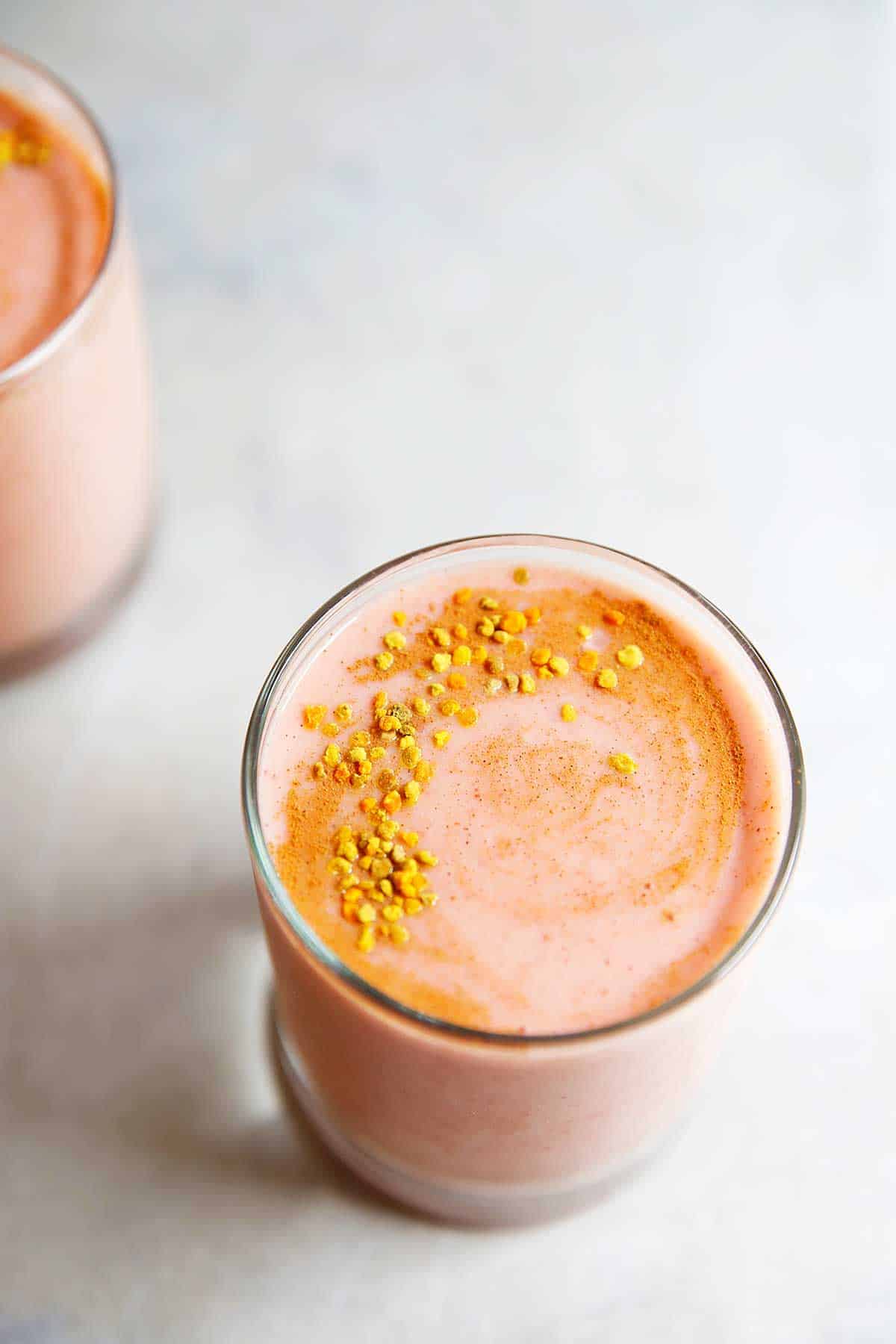 Super Food Summer Smoothie
Ingredients
1/2

frozen banana

1

Kiwi

skin peeled

1/4

cup

frozen pineapple

1/2

cup

frozen strawberry

1/4

cup

frozen Peaches

1/2

cup

frozen Raspberry

1

teaspoons

grated ginger

more to taste

1

teaspoon

chia seeds

2

cups

cashew milk

or nut-milk of choice, add more based on desired consistency

1/4

teaspoon

cinnamon

more for garnish

Optional: 1/4 cup cauliflower

frozen

Optional: 1 teaspoon bee pollen

either blended in or used as a garnish

Optional: 1 teaspoon ground flaxseeds

Optional: 1 scoop protein powder of choice
Instructions
Place all ingredients in a high-speed blender. Blend until smooth. If too thick, add more liquid and blend longer. Serve right away!
Notes
If you want to add more veggies into your diet the cauliflower is a great way to do so! It will also help make this smoothie extra creamy.
Check out these 5 smoothies from my blogging girlfriends!
Smoothies are the perfect on-the-go healthy breakfast or delicious snack. Add this Refreshing Ginger Pineapple Smoothie to your rotation this summer, it won't disappoint!
This Creamy Spirulina Superfood smoothie recipe is an easy way to boost Energy and Protein intake with real food. No protein powder needed. Just coconut milk, spirulina, fruit, avocado, ginger root, and extra antioxidant rich spices! Paleo and Vegan friendly.
Combine frozen blueberries with peanut butter and banana for a protein-packed peanut butter and jelly smoothie that tastes just like your favorite sandwich from childhood!
This simple guava pineapple smoothie is made with light coconut milk and a few frozen strawberries for a refreshing dairy-free summer drink.
This healthy 4 ingredient mango avocado smoothie with watermelon and banana is an easy, vegan, paleo and whole30 compliant summer breakfast or snack that is ready in 5 minutes!
Build the PERFECT Smoothie: