This simple chicken sheet pan dinner is packed with veggies and flavored to taste like pizza for a unique weeknight dinner! It's easily customizable to add your favorite "pizza" toppings, is gluten-free and easily made low-carb for a meal everyone can enjoy. This recipe comes to us today from the new book by Cassy Joy Garcia, "Cook Once, Eat All Week"!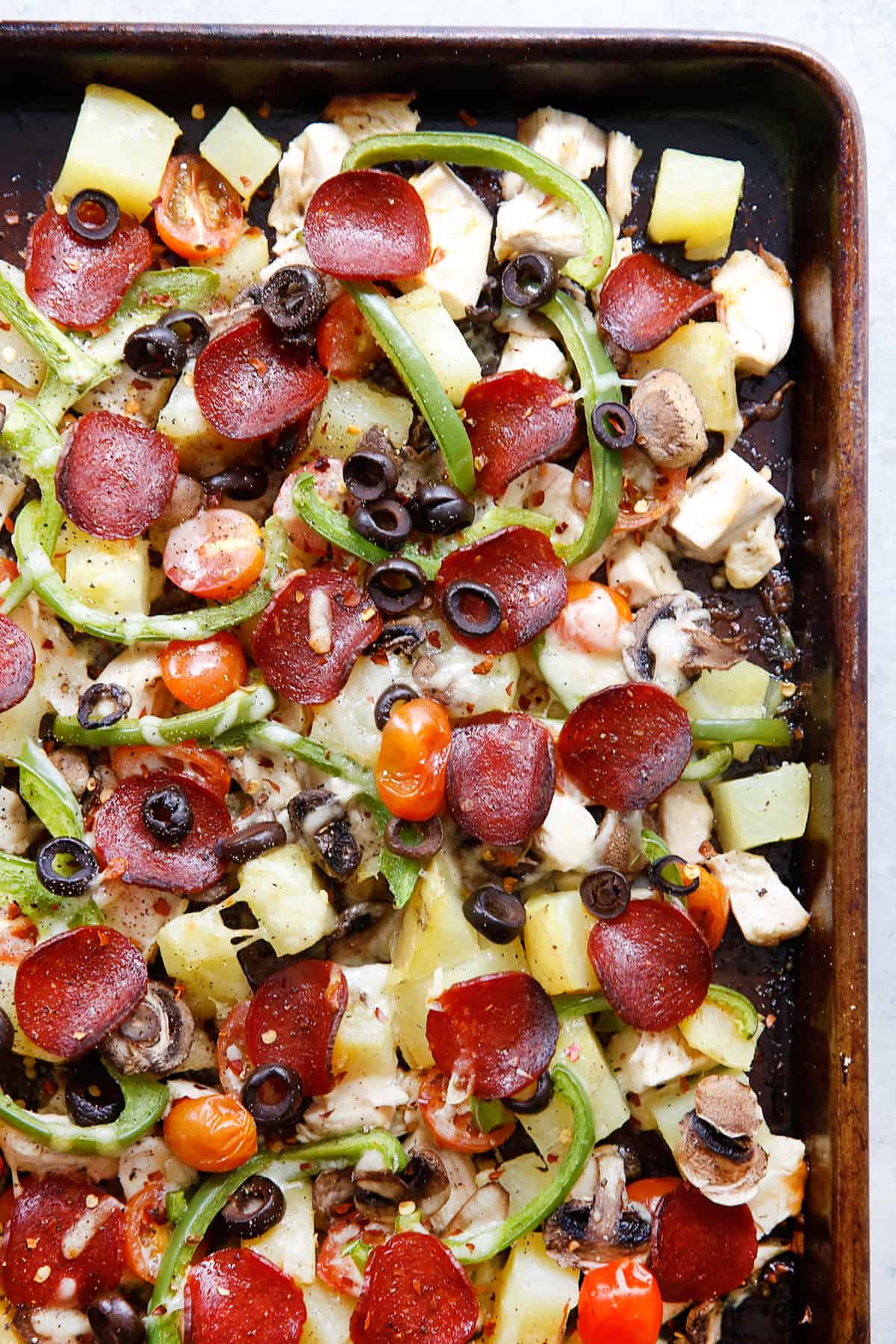 Pizza Flavored Sheet Pan Chicken and Veggies
This sheet pan chicken dinner is just SO FUN! It's coming to us today from "Cook Once, Eat All Week", Cassy Joy Garcia's newest book. When we were flipping through the pages trying to decide which recipe to share (this was hard, because they all looked so good!) we were instantly in love with how unique this sheet pan dinner recipe sounded! It basically has all the flavor and fun of pizza, but made hearty and healthy using protein and veggies!
And of course, like so many sheet pan dinners, it's so easy to throw together! Her book is all about meal prep made easy (see below for more about this) so we made a few minor modifications from her recipe so it could be made as a stand alone dish. We're sure you're going to love this dinner so much you'll definitely want to grab a copy of her book now to see how she guides you on how to make meal prep easy.
Other Options for this "Pizza" Sheet Pan Dinner:
This sheet pan recipe is chock full of chicken, veggies and fun pizza toppings. Cassy has suggested her favorites, and we're adding to that and suggesting a few other options you might find fun to substitute in for this dinner depending on what you have in the house:
Jalapeños
Spinach
Sausage
Side of Marinara Sauce
Red Onions
Barbecue Sauce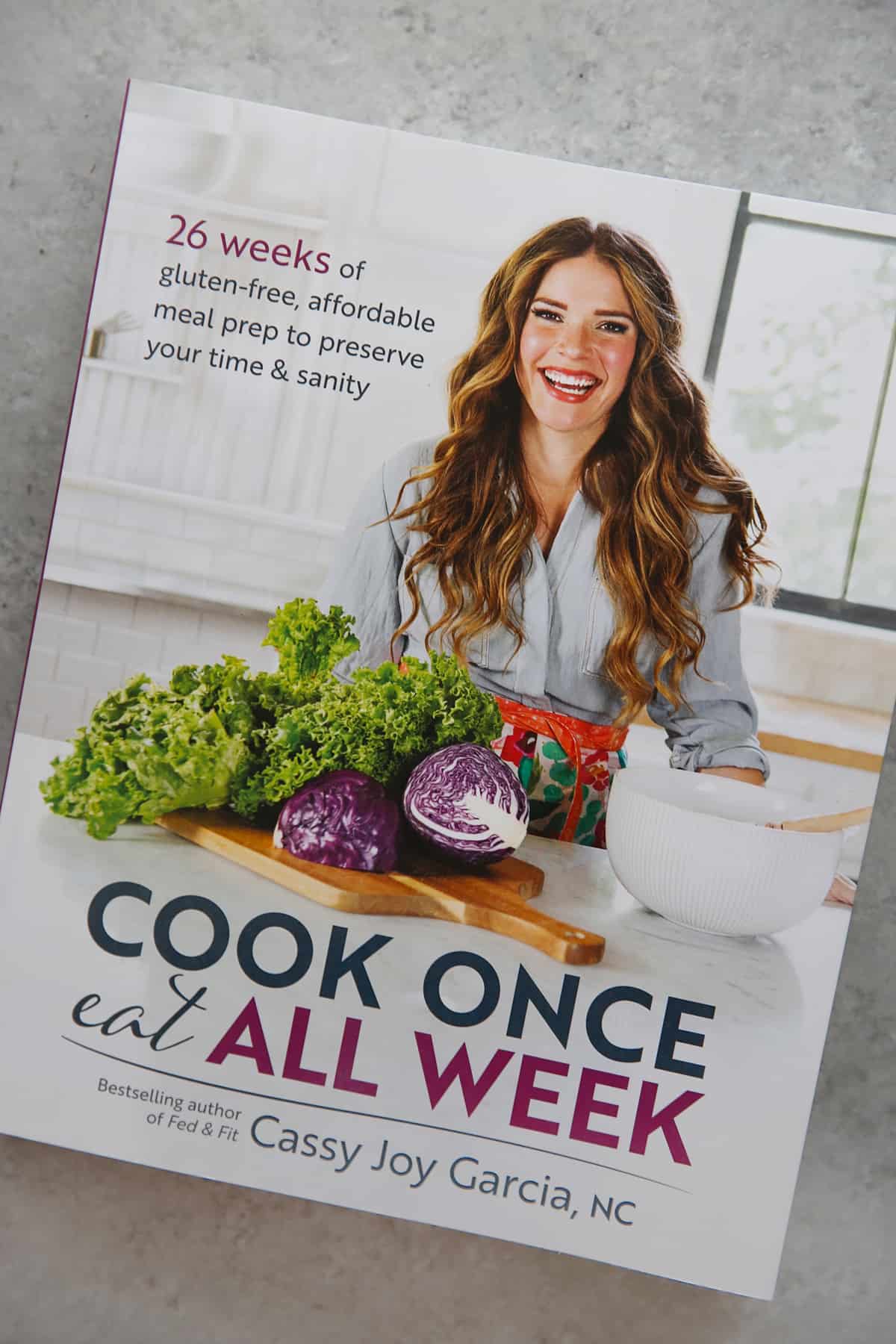 I've known Cassy for around 4+ years now, and she instantly became one of my closest friends right when I met her. Nothing makes me happier than meeting an Internet/blog friend who becomes an in-real-life best friend! We go to conferences together, we go on girl trips, and she even introduced me to Beautycounter! She is just the best.
Let me tell you about Cassy: She is genuine, beyond kind, and SO hard working. So, when she told me about her new book concept I had no doubt it would be an amazing resource, but when I opened it, I was BLOWN AWAY. Ya'll, this book is amazing. It reinvents meal prepping and combines it with batch cooking in a way that makes your weekly meals fun and exciting, without spending the entire day in the kitchen over the weekend! This is one of those books that anyone looking for a REAL solution to help them eat healthy and delicious meals, while also wanting to save time and money, needs in their kitchen!
Here's the premise of Cook Once, Eat All Week: You have a prep day to get all your main ingredients ready to go – a protein, veggie and a starch – then you can make 3 (or more, depending on your needs) different meals throughout the week with those prepped main ingredients.
The book gives you 26 weeks of recipes: 123 recipes, sauces, and spice blends.
Each week will look a little different!
There's also a chapter full of bonus 20-minute meals.
Optional Instant Pot and slow cooker instructions are included to save even more time!
Meal storage and reheating tips.
Supports diets including: gluten-free, dairy-free, Paleo, low carb, egg-free, kid-friendly and more.
Nutritional facts included!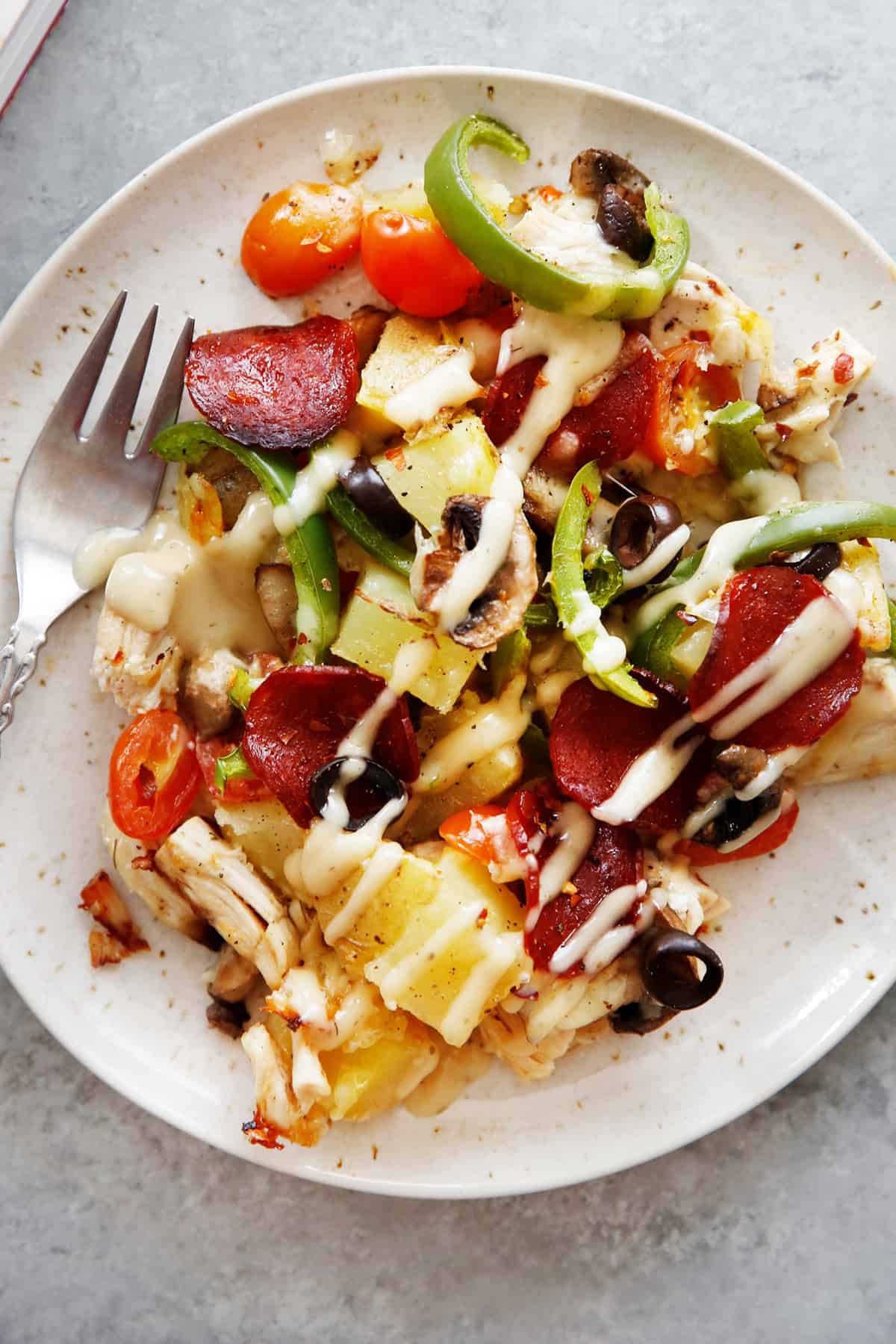 If you like this sheet pan dinner, check out these others:
Grab a copy of Cook Once, Eat All Week here!
---
Chicken "Pizza" Sheet Pan Dinner
Ingredients
2 cups cubed cooked chicken breasts (see note)
¼ cup ranch dressing
1 cup cherry tomatoes
2 cups 1" cauliflower florets, or leftover cubed yellow potatoes (see note)
1 cup shredded mozzarella cheese
2 ounces sliced pepperoni
1 cup sliced mushrooms
2 tablespoons sliced black olives
½ green bell pepper, sliced

½ teaspoon red pepper flakes, for garnish
Optional: We love serving this with a side of warm marinara sauce!
Directions
Preheat the oven to 375°F. Line a rimmed baking sheet with parchment paper.
Toss the cooked chicken with the ranch dressing, then spread the chicken on the lined baking sheet.
Cut the tomatoes in half and sprinkle them on top of the chicken. Follow with the cauliflower (or potatoes) and then the cheese. Season the entire sheet pan with salt and pepper. Layer the pepperoni, mushrooms, black olives, and bell pepper on top of the cheese.
Bake for 20 minutes, until the toppings are browned and the cheese is bubbly and the cauliflower is cooked through. Garnish with the red pepper flakes, additional ranch dressing (if desired) and serve!
Recipe Notes
This recipe is an excerpt from "Cook Once, Eat All Week" by Cassy Joy
Garcia, which is a meal prep book. This recipe is intended to be cooked after a meal prep day, but we've adapted it slightly to be used as a solo stand alone recipe. This recipe is reprinted with permission.
In "Cook Once, Eat All Week" Cassy uses cubed turkey breasts instead of chicken for this meal, but we felt it easier to use chicken if you haven't completed the whole meal prep as her book indicates.
We substituted the option to use cauliflower florets to keep it low carb, and because most people don't have cooked potatoes. Make sure to cut the cauliflower florets on the smaller side, around 1", so they cook in the indicated amount of time. But feel free to opt for the original use of cubed potatoes if you have them.
Loading nutrition data...
There may be affiliate links in this post! By clicking on them, or purchasing recommended items I may receive a small compensation, at no cost to you! However, I only recommend products I absolutely love and use in my own home! Thank you for supporting Lexi's Clean Kitchen when you shop! See my
privacy policy
for more information about this, the information we save, and more!