Maple Roasted Brussel Sprouts with Bacon
If you are looking for a versatile side dish that works for both a quick weeknight meal or a decadent holiday dinner look no further than this recipe for Maple Roasted Brussel Sprouts with Bacon! Cooking the brussels sprouts with bacon and maple syrup is sure to make this side dish a fan favorite for everybody! This paleo-friendly recipe is sweet and savory and definitely going to be in your winter meal plan rotation!

Maple Roasted Brussel Sprouts with Bacon
I was never a fan of brussels sprouts until a few years ago, and now I can't get enough! These Maple Roasted Brussel Sprouts with Bacon convert just about anybody to be a brussel sprout lover. This easy brussel sprouts recipe combines savory and sweet tastes to adhere to just about anyone's liking! Plus, is there any greater combination than maple and bacon together?
Ingredients Needed:
We love the short ingredient list here, especially since this dish is so flavorful!
Brussels Sprouts
Bacon
Maple Syrup
Olive Oil
Salt and Pepper
Garlic Powder

What to serve with Roasted Brussel Sprouts
This dish is the perfect Thanksgiving side dish. But also, it's so darn good you'll want to have this on rotation all Fall and Winter long. This dish would be great served with:
Watch the video:
Like this veggie side dish? Try these other favorites:
[yumprint-recipe id='215′]
Maple Roasted Brussel Sprouts with Bacon
This low-carb and keto-friendly Sausage, Peppers, and Onion, one-pan dish is made in just twenty-minutes! Such a perfect sausage and peppers recipe for any night of the week.
Sausage, Peppers, and Onions
Did you know that peppers are at their growing season peak right now? I was over at my favorite little farm and they had a bin with the most beautiful looking peppers, so I just had to get a bunch! This dish went over big time here.
This is the EASIEST sausage and peppers recipe! It is made in one skillet, is so flavorful, and you can use chicken sausage, pork sausage, or any sausage you like! I like to find ones with minimal added ingredients.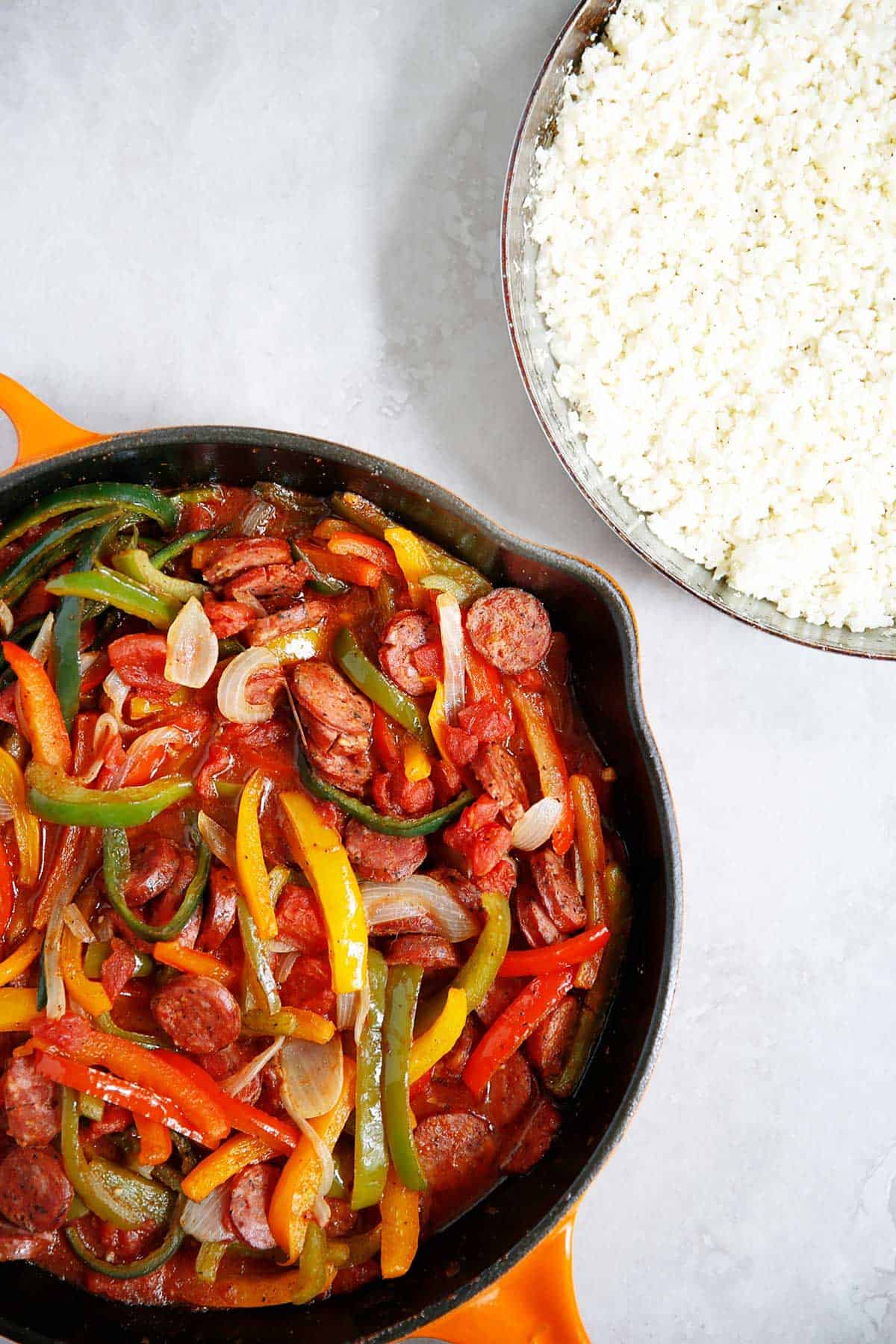 It is flavorful, comforting, and just plain delicious with the perfect amount of sauce. A great dish for football Sunday or those nights when you need a quick and easy meal!
How to make Sausage and Peppers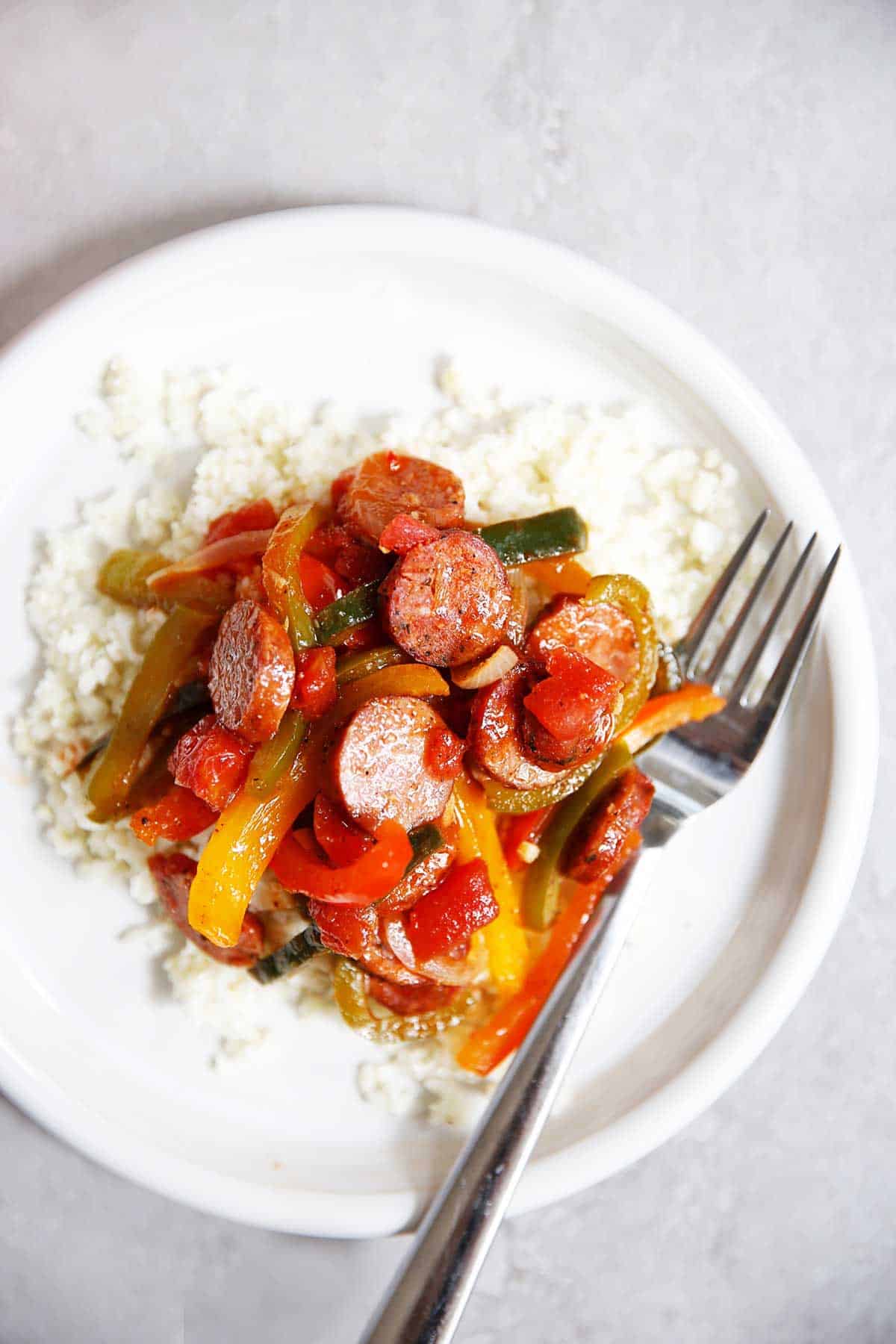 You can get creative with how you serve this dish! I love it served over roasted spaghetti squash or cauliflower rice but I bet it would be great with gluten-free pasta or spiralized veggies as well! This sausage and peppers recipe is Paleo friendly, whole30 compliant, dairy-free, grain-free, and no sugar added!
Like this easy skillet recipe? Try these other favorite one pan meals!
Sausage, Peppers, and Onions
These Egg Roll Bowls are all of the delicious classic egg roll filling, without the junk!
I am so thrilled that it's finally release day for my fabulous friend Gina, from Skinnytaste! Gina is beyond sweet, so genuine, and so talented!
Her new cookbook, Skinnytaste Fast and Slow,  is now available in stores everywhere, and it is TRULY an amazing and beautiful resource. Gina's hard work does not go unnoticed in this cookbook! All of the recipes are either cooked slow in the slow cooker, or are quick under 30 minute meals. My two favorite things!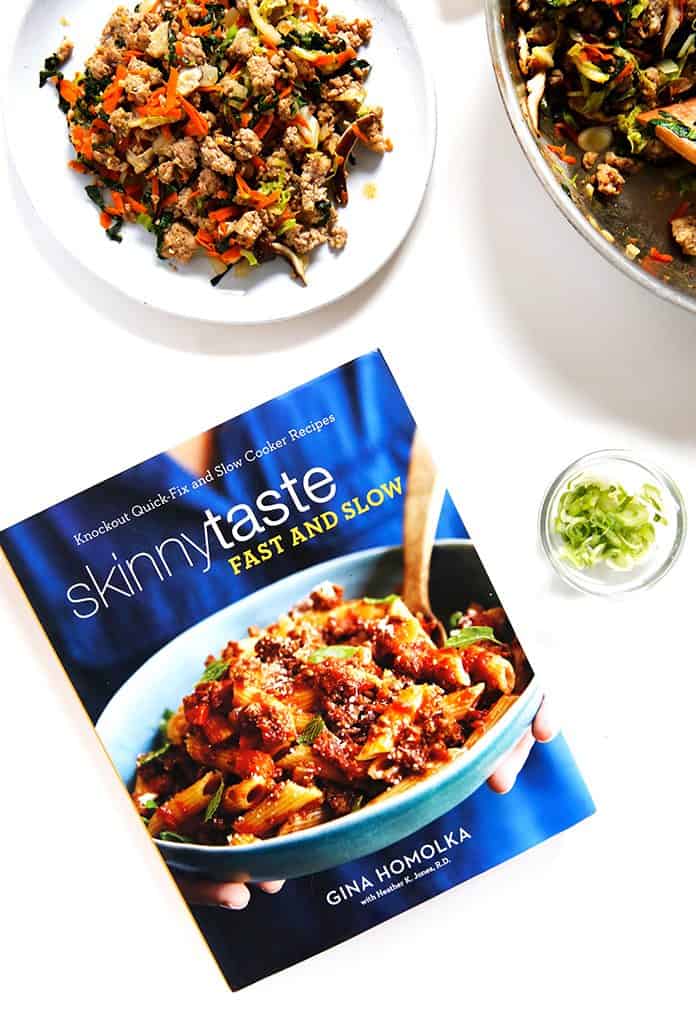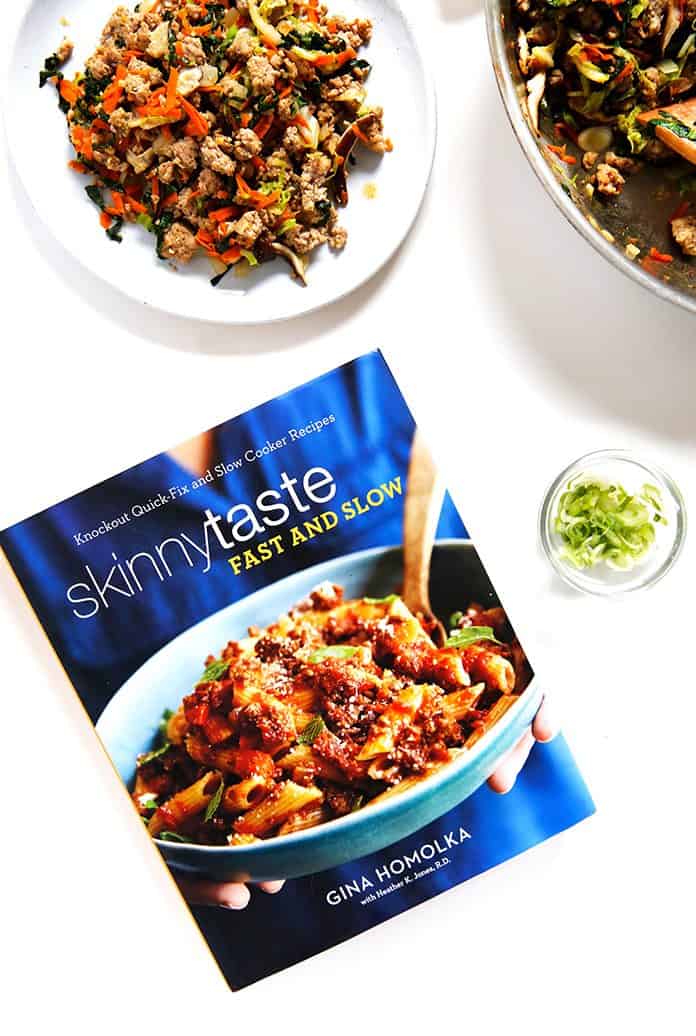 I am so thrilled to share this recipe with you today. We devoured it so quickly!
Gina has a whole chapter on TACOS (my favorite), and recipes like Slow Cooker Lasagna Soup (page 53), Slow Cooker Maple Dijon Chicken Drumsticks (page 167), Slow Cooker Carne Desmecjada (page 195), Slow Cooker Vanilla Bean Pear Butter (page 291), and Slow Cooker Pumpkin Flan (page 298). I just cannot wait to get cooking!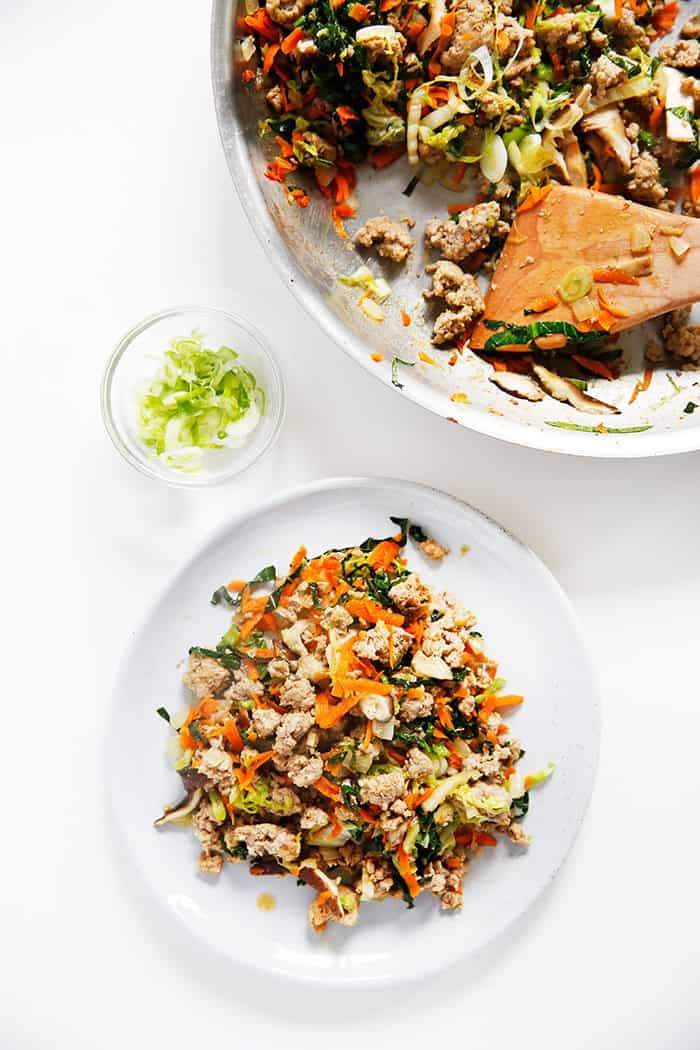 [yumprint-recipe id='396′]
 
Congratulations, Gina! Find her newest cookbook in stores everywhere books are sold, or on Amazon! It's a must-buy!
Egg Roll Bowls
Throw together this flavorful Chicken Buddha Bowl with Spicy Mango Sauce packed with spicy broccoli, roasted sweet potato, avocado, and MORE. Top it with this light spicy mango sauce for a perfect and hearty lunch or dinner.
Chicken Buddha Bowl with Spicy Mango Sauce
I'm obsessed with meals in bowls right now! Something about it just speaks to me. This month with my blogging girlies, we're bringing you 4 healthy meals to eat in BOWLS and I'm so excited about it.
Put that can of tuna in your pantry to good use with this inexpensive, easy and flavorful Broccoli Avocado Tuna Bowl recipe.
Make your own healthy, gluten free and paleo-friendly Chipotle Burrito Bowl at home with this quick and easy, 30 minute recipe! It's perfect for busy weeknights and under 450 calories!
These protein packed polenta breakfast bowls are made with creamy coconut milk and filled with juicy ripe spring strawberries for a sweet start to the day.
---
Now, my Chicken Buddha Bowl with Spicy Mango Sauce.
What exactly is a Buddha bowl, you may ask?
Generally, it's a combination of: Grains, Protein, Veggies, and Toppings/Dressing. I swapped out the grains for spinach and kale, but this bowl is awesome with some cooked white rice, too!
I love it because it's customizable to what you have on hand, and absolutely anything and everything is awesome with this Spicy Mango Sauce on top!
If you have a rotisserie chicken made, chop it up and use that. Have no chicken made? Dice, marinade, and cook in a skillet. The options are endless and all results in a delicious and nutritious meal.

Chicken Buddha Bowl with Spicy Mango Sauce
This Easy Pumpkin Soup is creamy, flavorful, smooth, and garnished just right with Chili Garlic Oil and roasted pumpkin seeds! It's perfect for the fall season, and for any holiday gathering! This soup comes together quickly and is paleo-friendly!
How do you make a pumpkin soup?
October has me feeling all Fall! It makes me realize how much I truly love this season. The weather has been just right, and I am loving all of the Fall flavors popping up in my CSA! I purchased some amazing blanket scarfs, my boots are out and in use, and this past weekend we went apple picking! The foliage in New England is really starting to shine in only the way it can in New England! So beautiful.
Today is special. Not only am I bringing you my delicious (and easy) pumpkin soup, but my girlfriends and I have SIX total pumpkin recipes to get you through the next two months.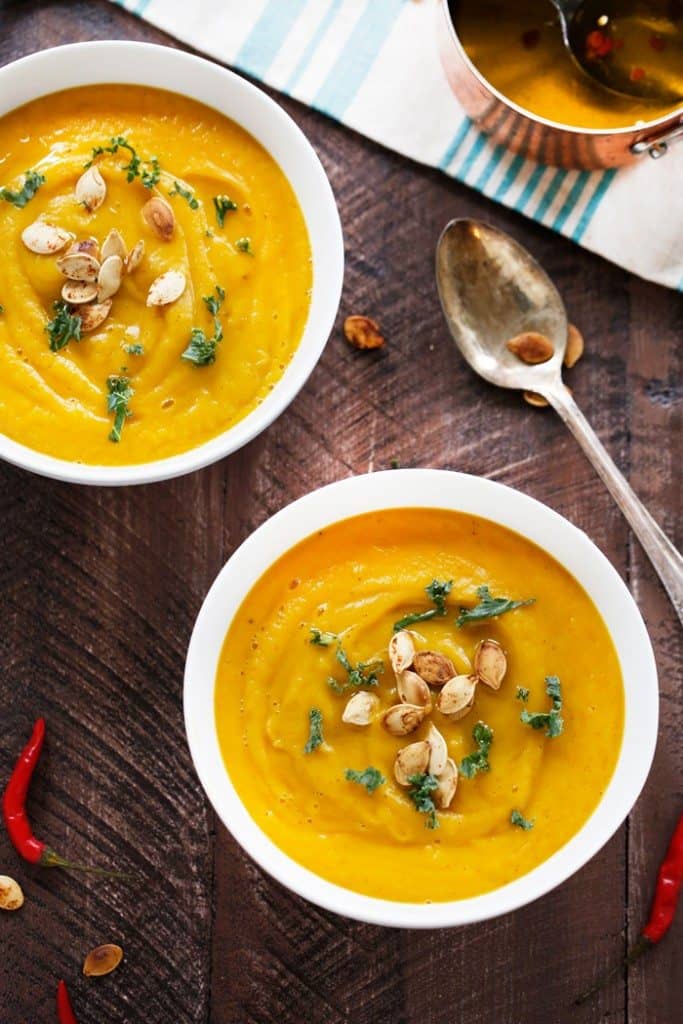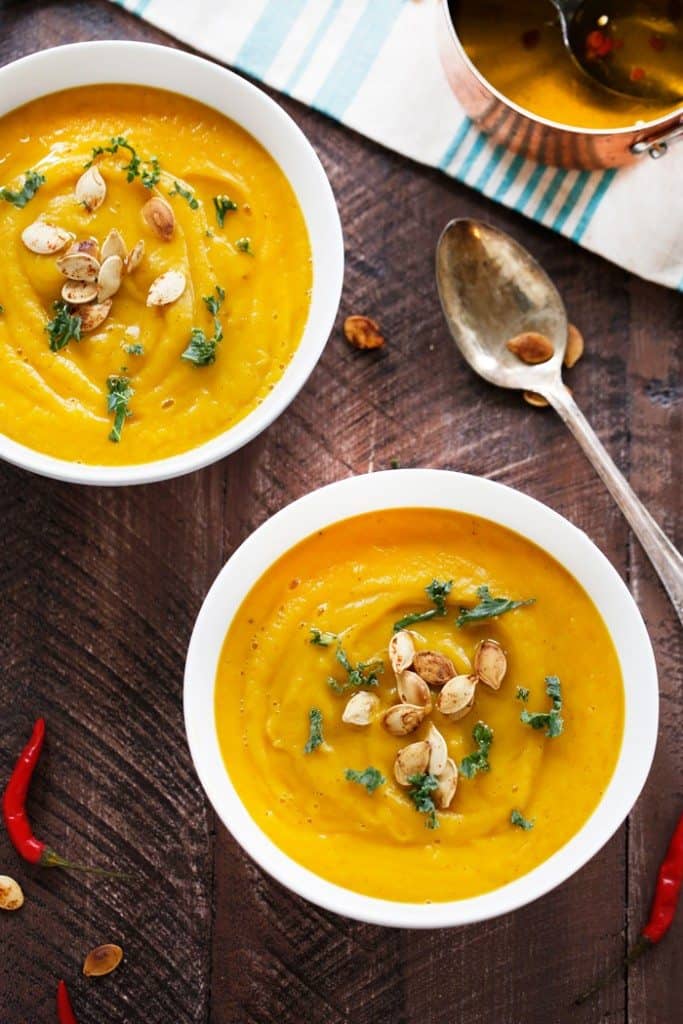 Can you taste that creamy goodness? OH. YEAH. 
This is the perfect Fall soup for all of you pumpkin lovers! Delicious, flavorful, and packed with nutrients. Creamy pumpkin topped with a drizzle of chili garlic oil and roasted pumpkin seeds. You'll enjoy this soup all season long!
Looking for more pumpkin recipes?
Looking for more soup recipes?
[yumprint-recipe id='322′]
Let's get to these recipes!
Coconut Pumpkin Chia Pudding from Brittany of Eating Bird Food
Pumpkin, coconut milk and chia seeds are combined and topped with toasted coconut flakes and an almond butter drizzle to make a thick and creamy chia pudding that's paleo-friendly, vegan and great for breakfast or as a snack. 
Pumpkin Blondies from Taylor of Food Faith Fitness
These pumpkin blondies are so dense, and sweet that you'd never know they're a healthier treat for only 105 calories! They're paleo and vegan friendly too!
Pumpkin Pancakes from Lee of Fit Foodie Finds
Get festive with your breakfast and make these delicious Paleo Pumpkin Pancakes that are grain-free, packed with pumpkin, and paleo-friendly!
Toasted Pine Nut Herb Muffins from Gina of Running to the Kitchen
Paleo toasted pine nut herb pumpkin muffins are a savory side perfect for serving with your fall soup, stew or chili. Maybe even replace the Thanksgiving biscuits this year with a basket of these!

Pumpkin Spice Freezer Fudge from Davida of The Healthy Maven
Healthy Pumpkin Spice Freezer Fudge made with just 5-Ingredients! Free of refined sugar, dairy and gluten, this healthy dessert recipe will make you fall in love with fall.
Easy Pumpkin Soup
This Paleo Jambalaya is a delicious healthy take on the classic Louisiana dish! Loaded with just the right amount of spice, sweetness, and hearty flavors, it is the perfect low-carb comfort food for any night of the week! Paleo-friendly, Whole30 compliant, and so simple!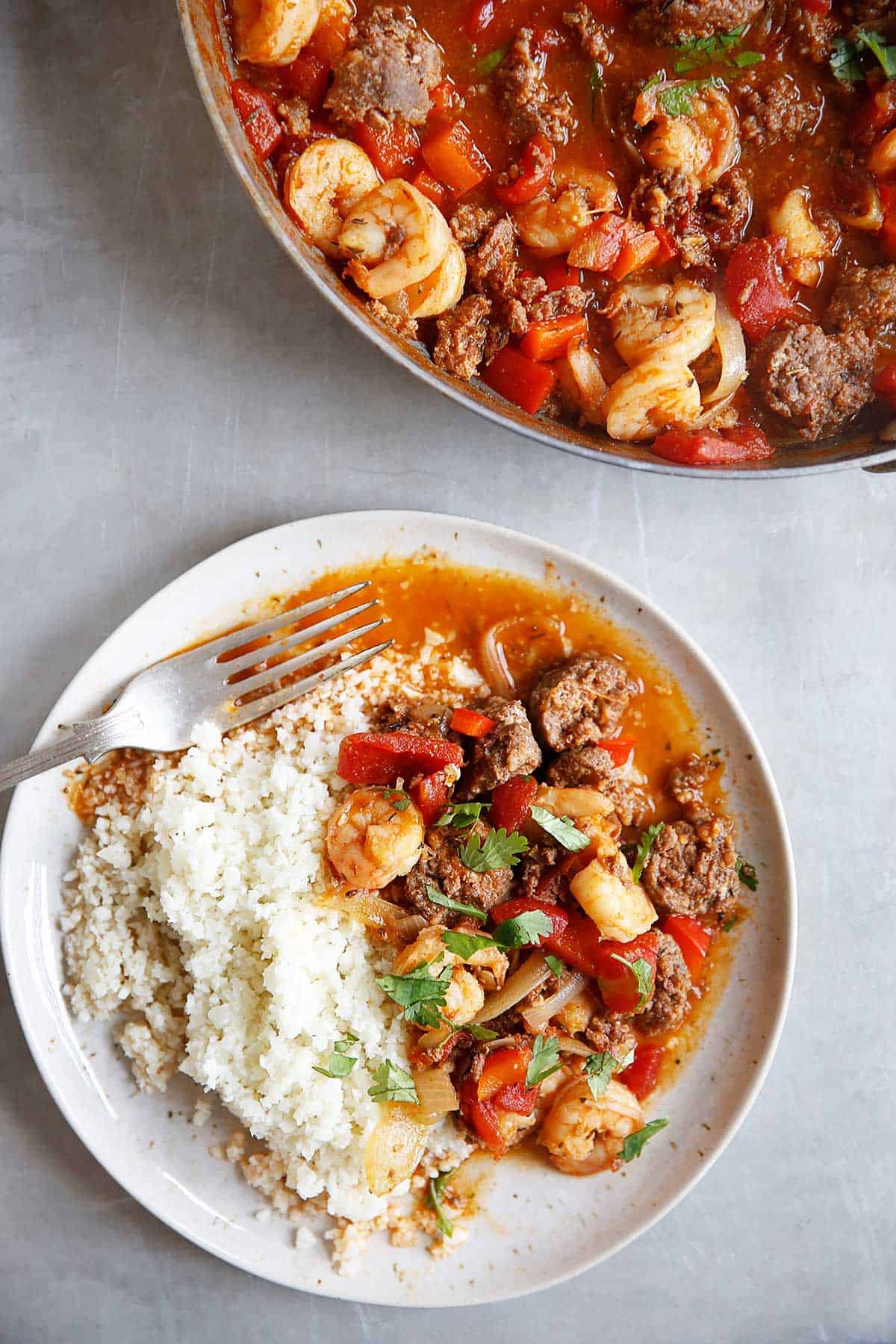 I love a dish that can be adapted, and this one is just that; add your protein of choice (maybe I'll add some chicken in next time), and watch the spicy and savory flavors meld together so nicely. Make it even more guilt-free by making a garlic-y cauliflower rice to serve it with!
Paleo Jambalaya
These Everything Bagel topped Cauliflower Rolls are low carb, paleo-friendly, and a perfect roll alternative. Growing up in New York, the "everything" bagel was my go-to sandwich bread. A toasted egg everything or a whole wheat everything… You name it, I loved it.
Paleo Cauliflower Rolls
Now, you know I don't eat those bagels anymore, not even the gluten-free ones, so I bring to you an alternative that is really so beyond good! When these rolls were baking in the oven my whole apartment smelled like those glorious everything bagels I loved so much.
I don't typically eat them as a total replacement to bread — they are made out of cauliflower! But they do hold up well if you want to!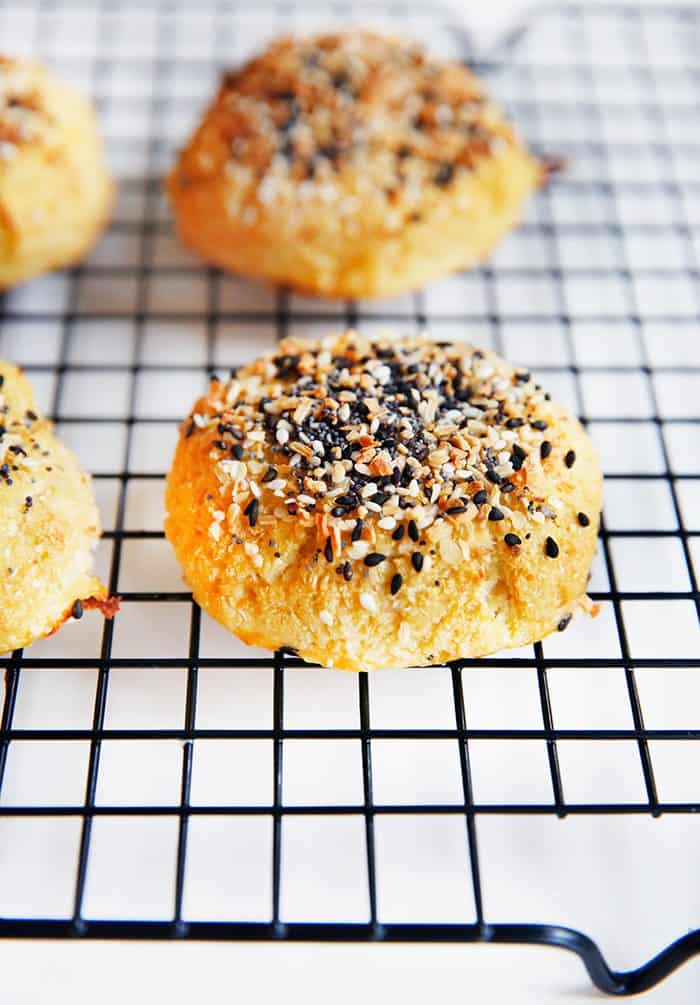 Cheers to another delicious and healthy alternative!
Can you use store-bought cauliflower rice?
Frozen or refrigerated pre-riced cauliflower is not riced fine enough for these rolls. Here's a guide on how to make cauliflower rice!
Is cauliflower good for Keto?
There are 2.9 grams of net carbs in an entire cup of this low carb vegetable, making it a great option. Plus it's super versitile!
Like this recipe? Try these other LCK reader favorites:
Want other cauliflower recipes? Try these:
Watch the how-to video:
---