Teal Pumpkin Project: Everything You Need to Know!
Halloween is around the corner, and if you aren't familiar with the Teal Pumpkin Project®, I am so excited to share about it with you today. The Teal Pumpkin Project is an amazing campaign that is designed to create inclusion for all children to Trick or Treat, by offering non-food choices!
Teal Pumpkin Project
It is an incredible campaign that really makes a huge difference is so many children's Halloween festivities! It's also great for parents who don't want their children to eat SO MUCH candy, and can encourage them to check out the non-food basket for a healthier option! This post is made in partnership with Stop & Shop.
As a former elementary school teacher, I know first hand how special Halloween is for children. They SIMPLY LOVE IT. The dressing up, time with family and friends, and of course, some special goodies at the end of the night.
It was always such a bummer for those kids with allergies or specific issues that couldn't participate in Halloween festivities, and/or had to get rid of all of their candy right away due to food allergies.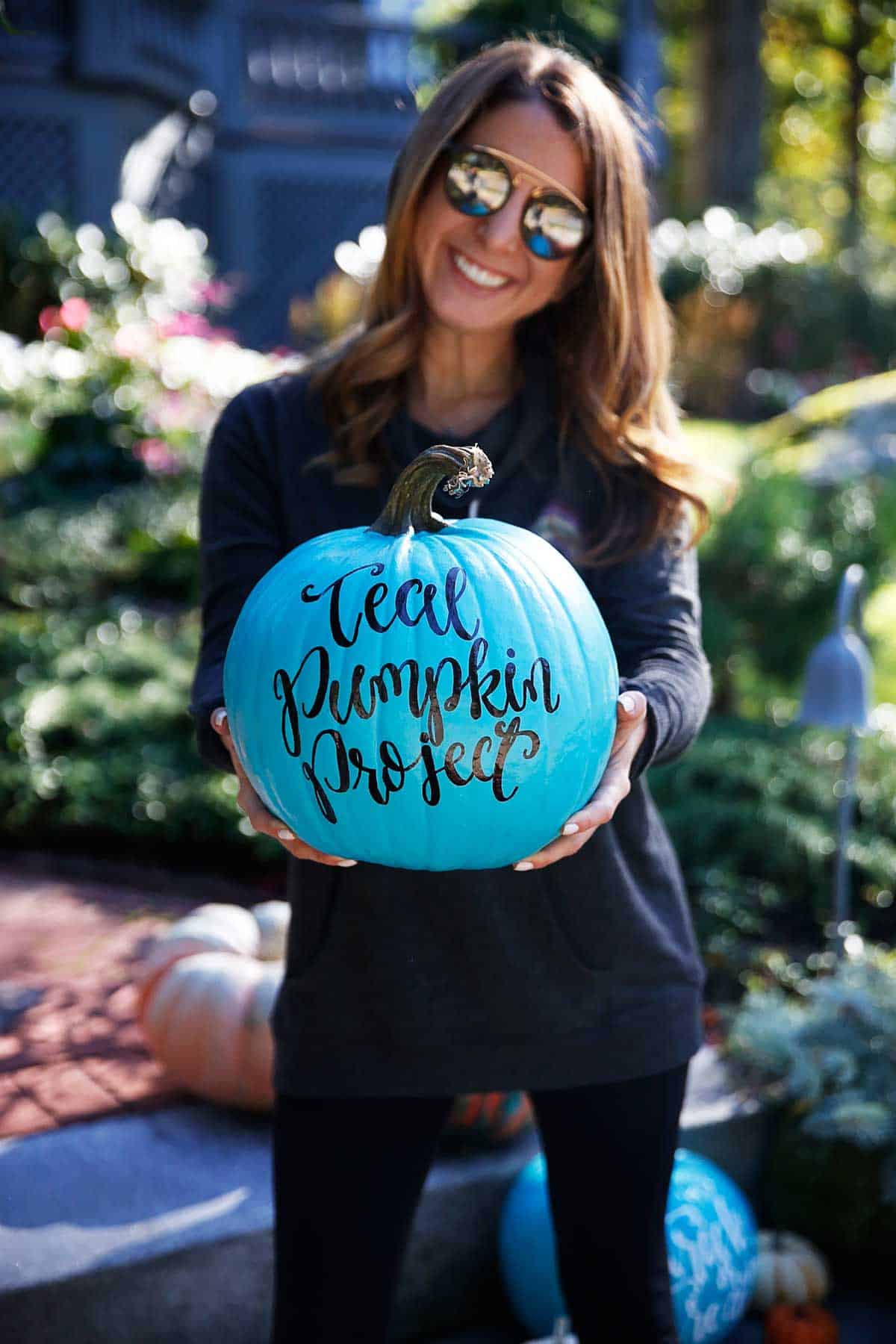 Many grocery stores now have Teal Pumpkin Project sections where customers can purchase allergy friendly, non-food treats as well as the teal pumpkin baskets, I was so beyond happy and proud to work with a company who is making a difference in these kiddos lives! I truly couldn't love this project more, and am always so excited when a kid comes to the door and I can make their Halloween that much better!
Let's support all trick-or-treaters by offering allergy-free goodies and non-food goodies such as tattoos, stickers, glow sticks, pencils, crayon sets, and more!
Want to Participate?
Make or get a teal pumpkin! You can purchase one at many stores now, or simply grab the supplies and have fun painting one with your kiddos or family (mine is designed by the fabulous Jen of Love Always Me)!
Get a bowl or a basket and fill it with non-food goodies!
Place your pumpkin outside your home. It's that simple! You can also print out a variety of signs here.
What Types of Goodies to Buy:
Stickers
Tattoos
Spider Rings
Glow Sticks
Pencils & Fun Erasers
Crayon Sets
Mini Coloring Books
Slinkys
Halloween Braclets
Bouncy Balls
Halloween Straws
Vampire Fangs
Bubbles
Yo-Yo's
Finger Puppets
Snap Bracelets
Find homes near you, or enter your home so your neighbors know you're participating!
Find homes near you, or enter your home so your neighbors know you're participating!
This post was originally posted in 2017 sponsored by stop & Shop. Stop & Shop has a variety of options, perfect to help me prepare for Halloween! They are the exclusive grocery partner on the East Coast to the Food Allergy Research & Education (FARE) Teal Pumpkin Project! All thoughts and opinions are always 100% my own! I love this project and know you will love it too.
2 comments
October 25, 2017
This website may at times receive a small affiliate commission for products that we shared with you in our posts. Although we may receive a commission for linking certain products, there's no additional costs to you and all of our opinion and suggestions are 100% our own and unbiased. That's our promise to you!
Subscribe to get our FREE clean eating guide!
Join our email list TODAY to start recieving our newsletter weekly, access to exclusive content and deals, *and* a FREE complete 24-page clean eating guide!