This Thai Chopped Chicken Salad features chopped chicken, veggies, mango and more in a chili-peanut dressing. This flavorful salad is prepped in mason jars, making for the most convenient make-ahead healthy lunch in a portable to-go container.
Mason Jar Chopped Chicken Salad
Mason jar salads are really just perfect. I say this honestly (and you can see my love for them in this How to Make Mason Jar Salads post). They are in my opinion the best way to pack a salad for your on-the-go lunch! The lettuce never gets soggy, and they last for 4-5 days in the refrigerator and if done right, are so delicious! And this Thai-inspired Chopped Chicken Salad is no exception.
This recipe has been around on my website since 2015, but it was in need of some new photos to allow more of you to find it! I've also streamlined the recipe a bit to make it easier to make, and updated some of the ingredients. It's been one of my favorite go-to salads since then, and now it's even better!
And while I often make it as a mason jar salad for lunch prep, it's also perfect to be made right away to serve for lunch or dinner! Either way, you are going to love this salad loaded with Thai-inspired flavors!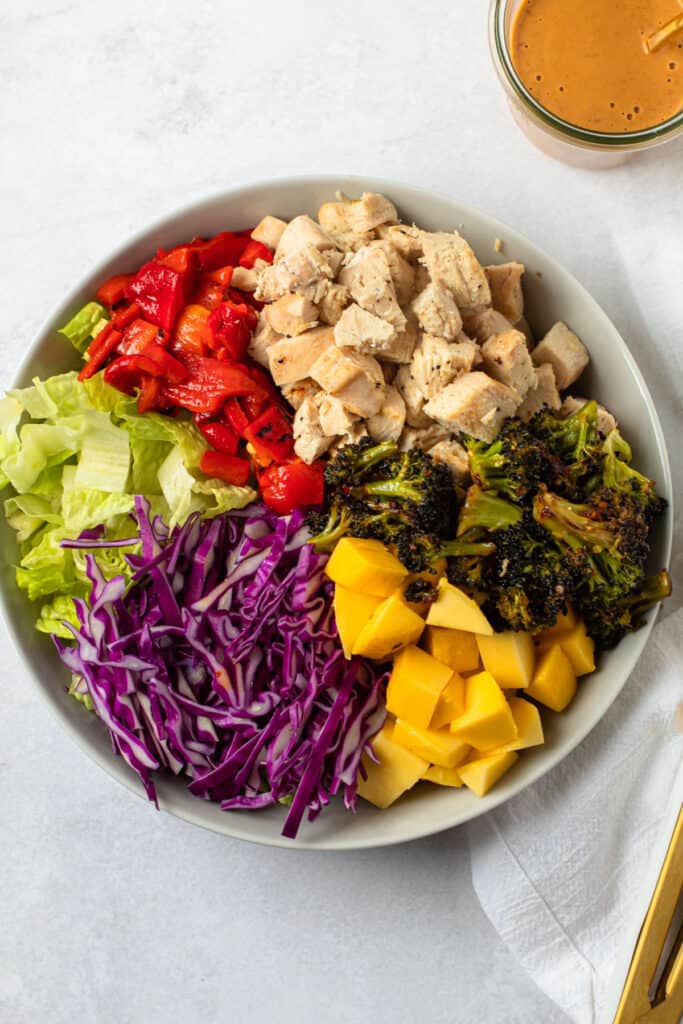 Thai Chopped Chicken Salad Ingredients
Chicken Breasts
Broccoli Florets
Red Cabbage
Mango
Roasted Red Peppers
Olive Oil
Salt + Pepper
Chili Paste
Coconut Aminos
Creamy Peanut Butter
Rice Vinegar
Lime Juice
Ginger
Salt and Pepper
Lettuce
4 cups hearty lettuce
Substitutions
Chicken: Want to swap out this protein or make it vegetarian? Go for it!
Peanut Butter: You can substitute this with almond butter, cashew butter, or sunflower seed butter although the flavor will change somewhat.
Veggies: Swap in some other veggies if you don't have the veggies called for on hand.
Chili Paste: This ingredient is a bit crucial in terms of the vibe of the recipe we have, but if you want to omit it, you can. We used Sambal Oelek, but you can use another type of chili paste or even Sriracha if you have that on hand.
Coconut Aminos: This is a soy-free soy sauce alternative. You can replace this with soy sauce if you want.
Steps to Make It
There are just a few steps between you and this delicious salad. To make this recipe you need to:
Cook up the spicy broccoli and chicken.
Put together the dressing.
Prepare raw salad ingredients.
Assemble!
How to Make it for Meal Prep
We envision this salad as the perfect meal prep for make-ahead lunches (though you don't need need to do this, obviously). So let's talk a bit about what makes salad prep in mason jars awesome!
At first glance, you might be thinking it's just some trendy way to serve a salad, but a salad in a mason jar is so much more. Because of the unique way of layering the salad vertically, it preserves the freshness of the salad for longer. This Thai Chopped Chicken Salad pasta about 5 days.
Next, you need to know how to layer your ingredients. You want to layer your ingredients in terms of their moisture content, hardiness and density (as in–how heavy they are!).
Layer in the wettest ingredients first. And then in ascending order move all the way up factoring in how hardy an ingredient is (such as how absorbent they are) and how heavy they are.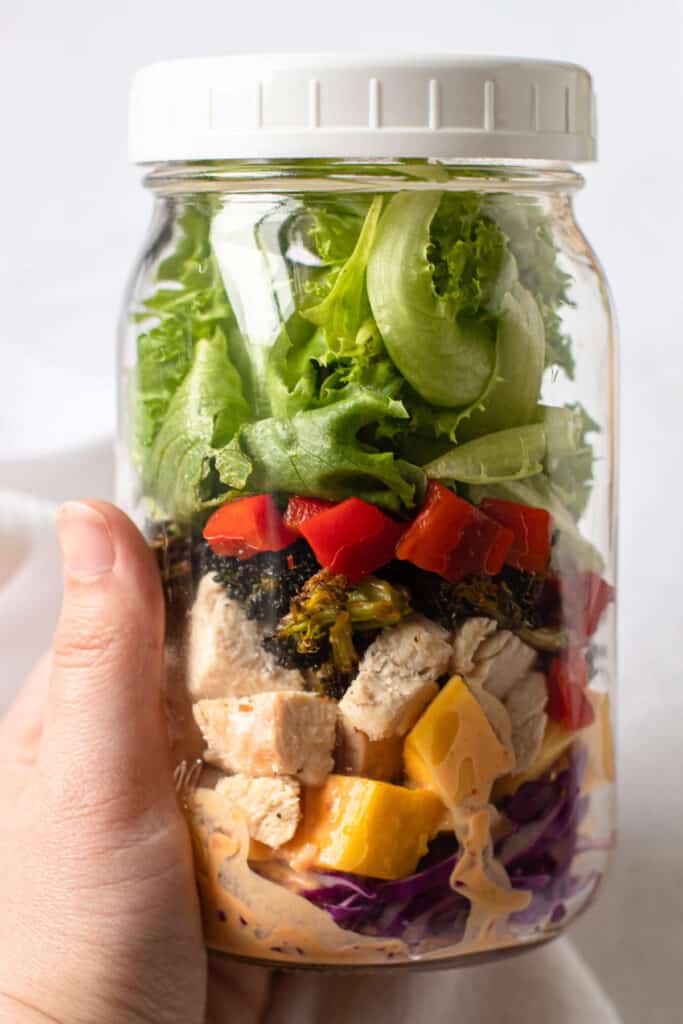 Here is how to layer this Thai Chopped Chicken Salad:
Layer 1: Cabbage and Mango
Layer 2: Dressing (the dressing goes on top of the cabbage and mango, to make a faux slaw)
Layer 3: Chicken
Layer 4: Spicy Broccoli
Layer 5: Roasted Red Peppers
Layer 6: Lettuce
How to Serve It
And now the fun part! There are two ways to serve this mason jar salad, and will probably depend on where you are when you are eating it.
You eat the salad right from the jar if you want! Just shake up the salad to mix it up, grab a fork and enjoy. This works well for an on-the-go lunch!
Or, if you are at home, go ahead and pour the salad into a bowl. You likely won't need to toss it, since the dressing is coming from the bottom.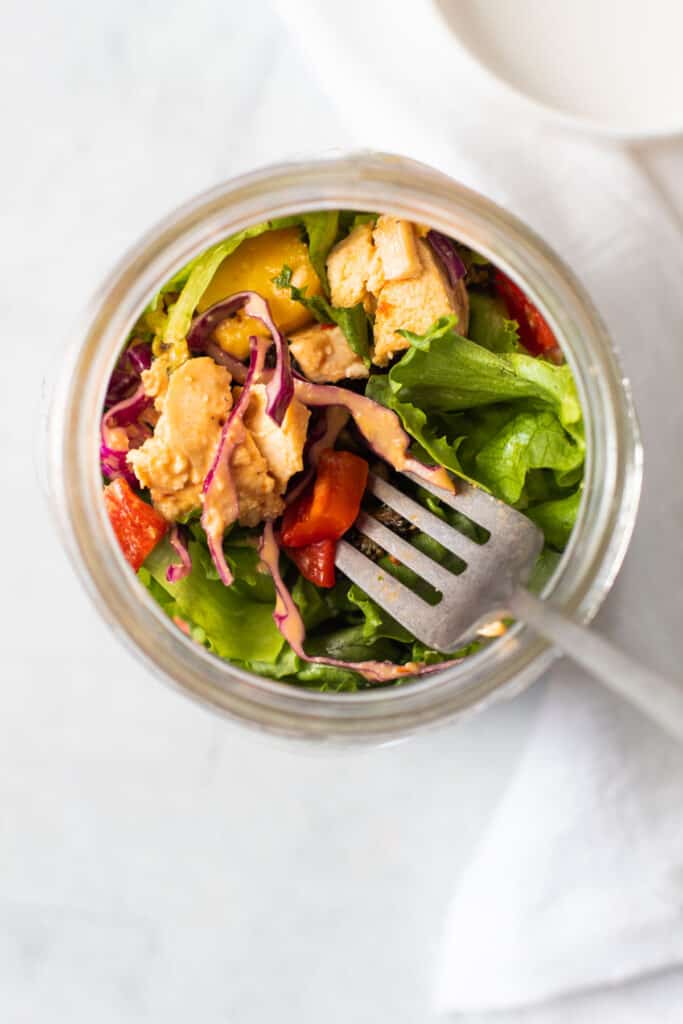 If you like this salad recipe, check out these others: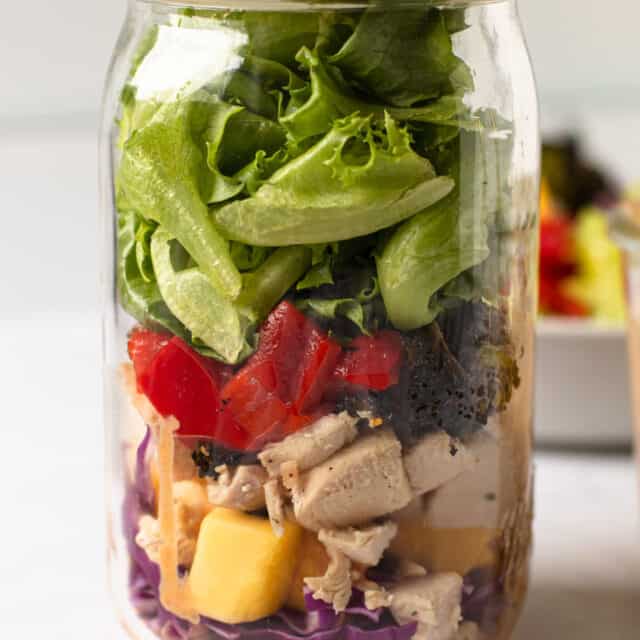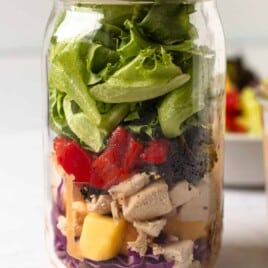 Mason Jar Thai-Inspired Chopped Chicken Salad
This Thai Chopped Chicken Salad features chopped chicken, veggies, mango and more in a chili-peanut dressing. This flavorful salad is prepped in mason jars, making for the most convenient make-ahead healthy lunch in a portable to-go container.
Ingredients
2

cups

broccoli florets

1

tablespoon

olive oil

1

teaspoon

chili paste

see note

Salt and pepper

1

lb.

boneless and skinless chicken breasts

1

cup

cubed ripe mango

1

cup

finely sliced red cabbage

1

cup

roasted red peppers

4

cups

hearty lettuce
Chili Peanut Dressing:
2

tablespoon

rice vinegar

3

tablespoons

creamy peanut butter or almond butter

1

tablespoon

coconut aminos

1-2

tablespoons

water

1

teaspoon

fresh lime juice

1

teaspoon

chili paste

see note

1/2

teaspoon

freshly grated ginger
Instructions
Preheat your oven to 400°F and line a sheet pan with parchment paper.

Add broccoli florets, olive oil, chili paste, and a big pinch of fine sea salt and black pepper to a bowl (or directly onto the sheet pan) and toss to coat. Transfer the broccoli to one side of the sheet pan in an even layer. Place chicken breasts on the other side, and rub a splash of olive oil, salt and pepper on top. Bake on the lower rack until broccoli is tender and chicken is cooked through to 165ºF, about 30-40 minutes.

Meanwhile, make the chili-peanut dressing: Add all ingredients to a jar or small bowl and whisk together. Taste and adjust seasoning, adding in more water or lime juice as necessary to thin the dressing.

In this order, layers the salads into 4 quart-sized mason jars: mango, red cabbage, 2-3 tablespoons of dressing, chicken, broccoli, roasted red peppers and lettuce.

To eat, either shake up the mason jar and eat directly from the jar or pour the salad into a bowl and enjoy.
Notes
We used the Sambal Oelek chili paste. There are many, many different types of chili paste out there, and this recipe is pretty flexible to use what you have. Sriracha works, too.
Nutrition
Calories:
290
kcal
Carbohydrates:
19.2
g
Protein:
22.3
g
Fat:
13.9
g
Saturated Fat:
2.5
g
Cholesterol:
65
mg
Sodium:
403
mg
Fiber:
2.5
g
Sugar:
11.4
g