Thai Chopped Chicken Mason Jar Salad with Chili Vinaigrette
All of your favorite flavors come together in one jar! This Thai Chopped Chicken salad is loaded with veggies and packed with flavor. Taste the hints of chili and lime with a touch of sweetness in this easy-to-pack on the go meal!
Mason jar salads are really just perfect. I say this honestly. They are in my opinion the best way to pack a salad for your on-the-go lunch! The lettuce never gets soggy, and they last for 4-5 days in the refrigerator! Simply pour the contents into a bowl and devour.

The girls and I have come together to bring you tons of mason jar salad ideas this month! Let's see what we've got!
Take advantage of the spring's bounty and make yourself this Strawberry Spinach Salad with roasted asparagus, grilled chicken, crunchy cucumber slices, avocado, red onion, toasted almond silvers and a citrus poppy seed dressing. Toss all the ingredients into a mason jar for a healthy, portable lunch that's way better (and prettier) than your average restaurant salad.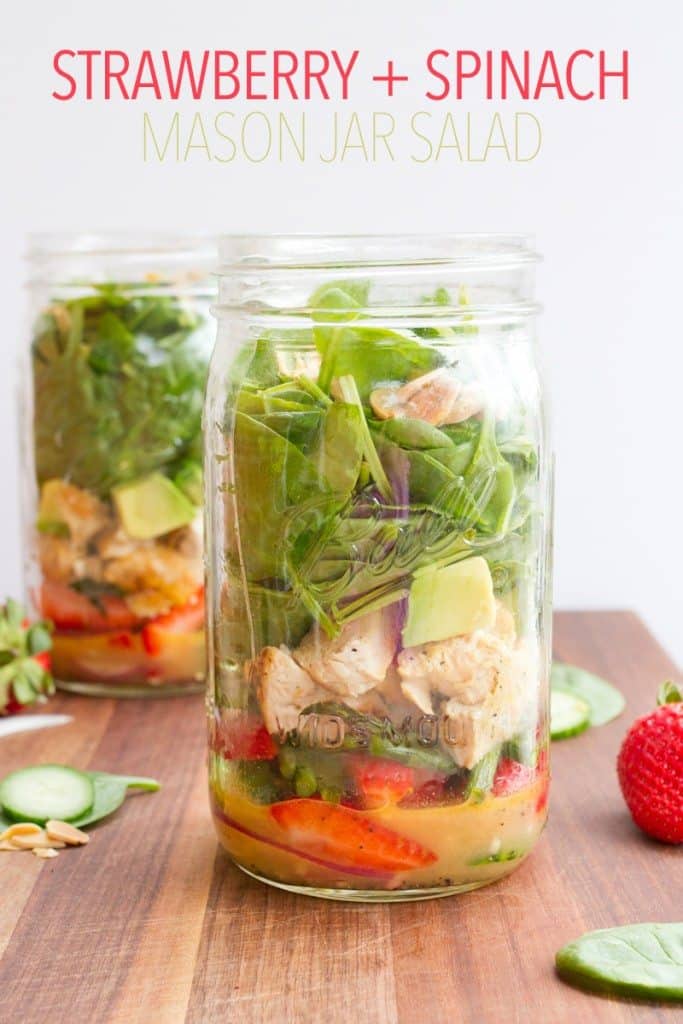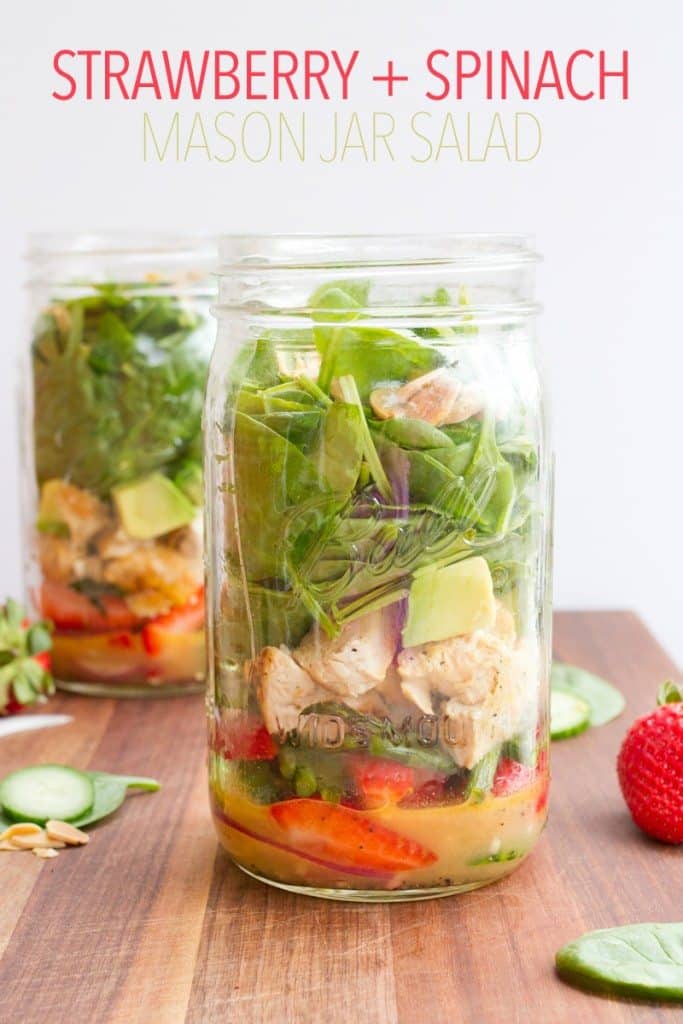 Change up your usual salad game with this spicy and sweet Tropical Sriracha Chicken Salad. It's packed full of veggies and flavor with an added boost of protein from the Sriracha-Pineapple Marinated chicken breast.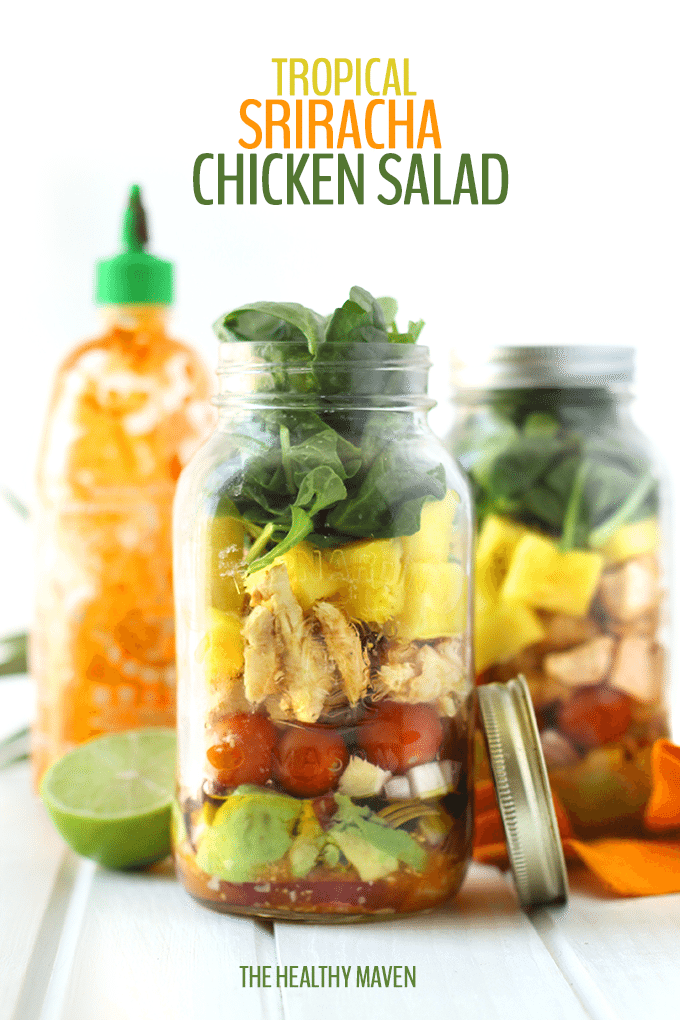 No time to make a healthy lunch? I think not! Prep the ingredients for this Spring Cobb Salad and arrange it in a mason jar for easy access during the week!
This carrot noodle salad is vegan, but don't let that fool you. It's filled with plant-based protein so that you'll actually stay full 'til dinner! It's the perfect way to transport healthy, nutrient-packed salads to work… and it's gorgeous, delicious, and totally satisfying.
A healthy twist on a restaurant favorite that sounds simple but is BIG on flavor, with the perfect amount of spice and creaminess from the cumin and avocado. It's packed in a mason jar for a portable, tasty lunch that won't get soggy!
My Thai Chopped Chicken Salad with Chili Vinaigrette is hands-down my new favorite salad.
You've got:
Chopped Lettuce
Grilled Chicken
Spicy Broccoli
Mango and Cabbage Slaw
Roasted Red Peppers & Tomatoes
Chili vinaigrette

Print
Thai Chopped Chicken Mason Jar Salad with Chili Vinaigrette
Scale
Ingredients
Chopped Lettuce

1

–

2

Spiced Grilled Chicken Breasts: 1 tsp oregano, 1 tsp garlic granules, pinch of sea salt

1/2 cup

Spicy Broccoli: 1 tbsp chili paste

1 cup

Mango and Cabbage Slaw: 1/2 cup sliced or cubed mango, 1/2 cup finely chopped cabbage, 1 tsp apple cider vinegar

1 cup

Roasted Red Peppers & Tomatoes: 1/2 cup chopped roasted red peppers, 1/2 cup chopped grape tomatoes
tbsp Chili vinaigrette:
2 tbsp

rice vinegar

1 tsp

coconut aminos

1 tbsp

extra-virgin olive oil, avocado oil, or sesame oil

1 tsp

fresh lime juice

1 tsp

chili paste

1/2 tsp

freshly grated ginger
Instructions
Cook grilled chicken on your grill pan or BBQ
Saute broccoli until cooked to your desired crunch/softness
In a bowl combine mango and cabbage with 1 tsp apple cider vinegar
Chop lettuce, tomatoes, and roasted red peppers
Notes
Bottom- Chili Vinaigrette
Roasted Red Peppers & Tomatoes
Mango and Cabbage Slaw
Top- Spicy Broccoli
Grilled Chicken
Chopped Lettuce
Nutrition
Calories:

290

Sugar:

11.4g

Sodium:

403mg

Fat:

13.9g

Saturated Fat:

2.5g

Carbohydrates:

19.2g

Fiber:

2.5g

Protein:

22.3g

Cholesterol:

65mg

Build the perfect salad with this handy guide!

Have you made a mason jar salad? What is your favorite salad ingredients?
16 comments
April 13, 2015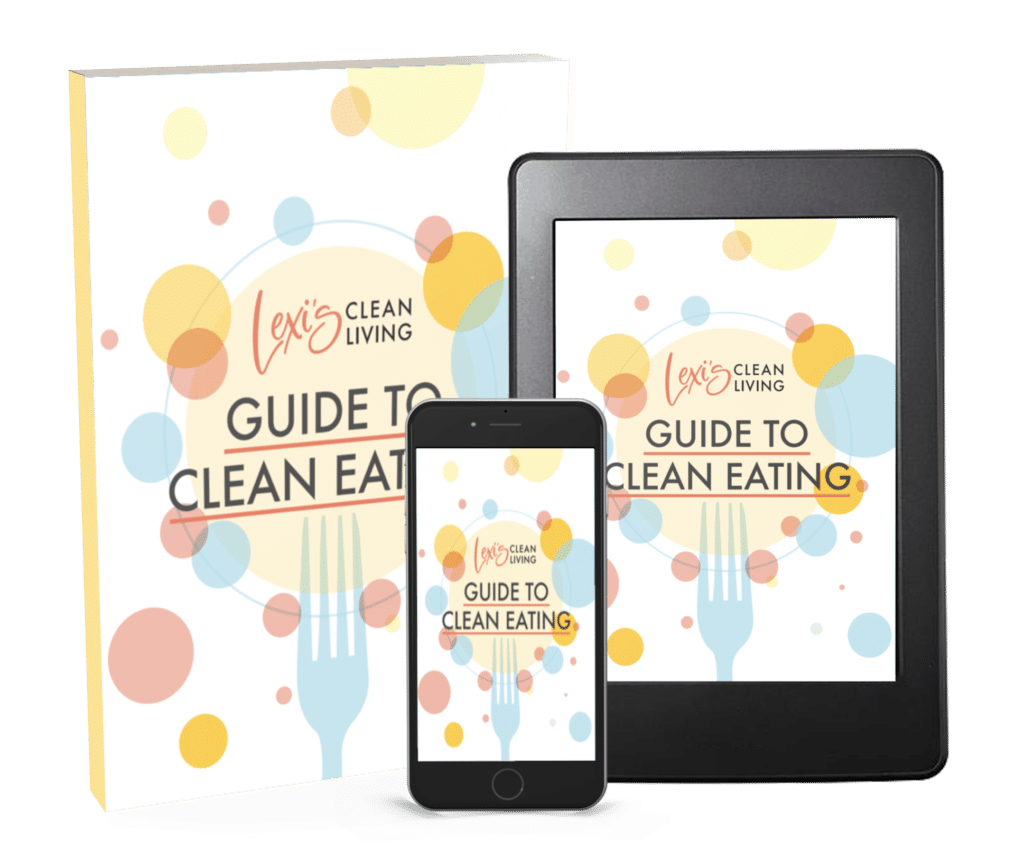 Subscribe to
Lexis Clean Living
Join our email list to get instant updates and weekly summaries of our top content and special exclusive offers along with our free clean eating kickstart guide!
This website may at times receive a small affiliate commission for products that we shared with you in our posts. Although we may receive a commission for linking certain products, there's no additional costs to you and all of our opinion and suggestions are 100% our own and unbiased. That's our promise to you!
Subscribe to get our FREE clean eating guide!
Join our email list TODAY to start recieving our newsletter weekly, access to exclusive content and deals, *and* a FREE complete 24-page clean eating guide!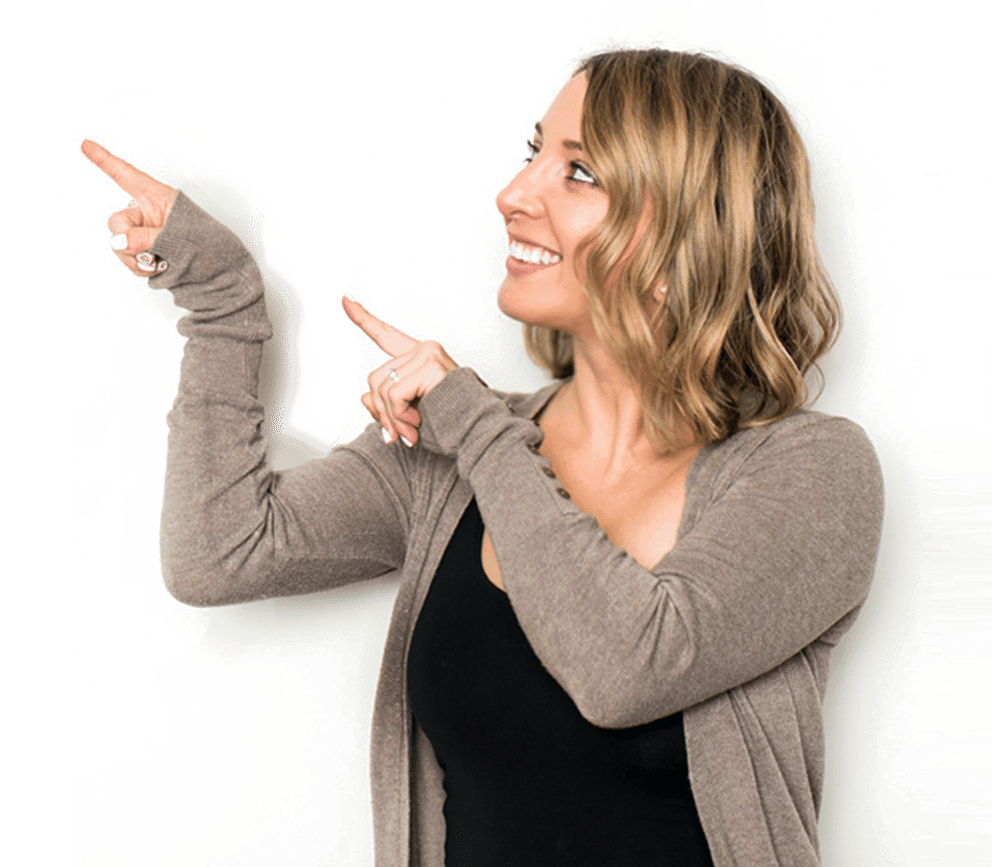 Subscribe to get our FREE clean eating guide!