My Must-Have Travel Supplements
It's hardly a secret that traveling can be rough on our bodies. Digestion issues, dehydration, and atypical sleeping circumstances… all of it can really add up! I've totally been there. Over time, though, I've worked out a travel supplement routine that makes traveling easier so I can actually enjoy it. With some help from my partners at Pure Encapsulations®, I'm thrilled to share it with you today!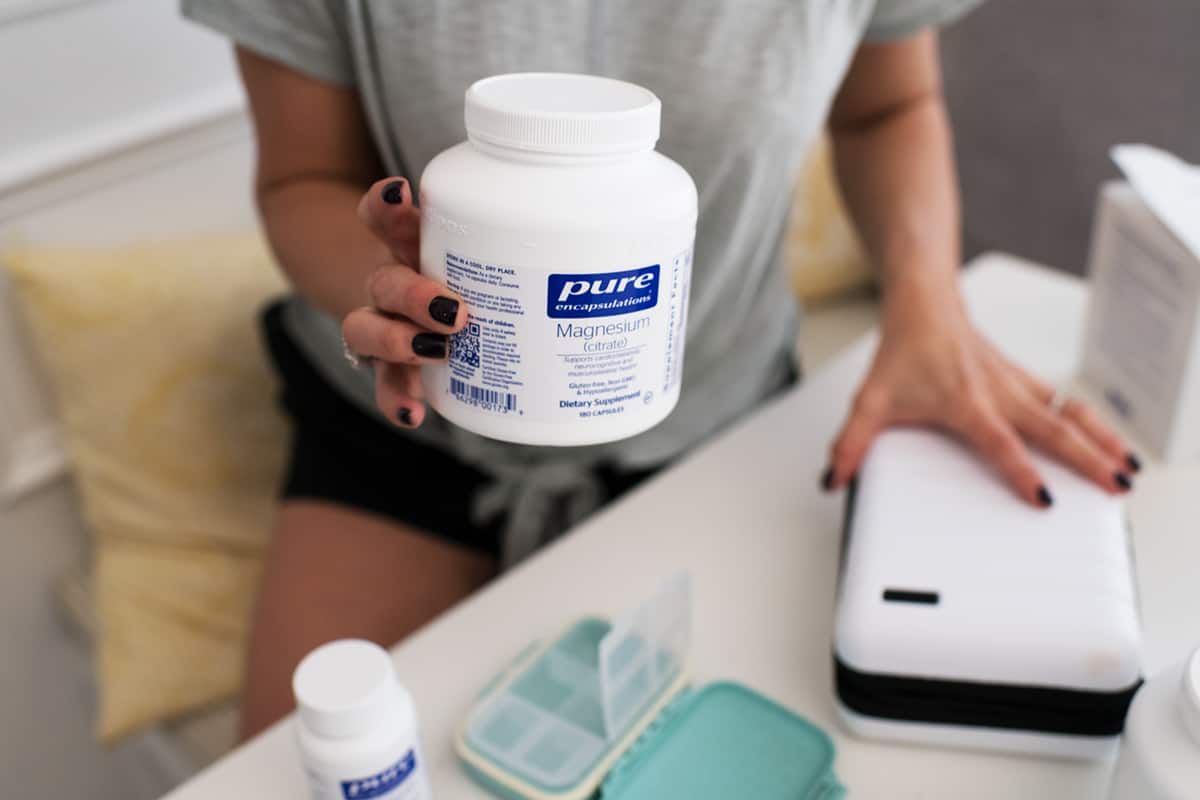 My Must-Have Travel Supplements
If you've been following me for a while now, you already know that I don't usually share my daily supplement routine. I make a random exception here and there (always for Pure Encapsulations®supplements!), but I tend to keep it on the DL. Here's why: Giving you the details of my personal regimen would be doing a disservice to you, and I truthfully feel it might even be a little irresponsible on my part. Supplements are not one-size-fits-all! They should be used as needed based on what your body specifically needs at the time.
With that in mind, traveling is a beast, and I want to clue you in on how you can make it a little easier. Being on the go affects most people, and some (including me!) more than others. My MTHFR gene mutation and less-than-stellar detox system made travel difficult for me for years. Without fail, I'd get awful headaches, I'd be dehydrated and swollen — no matter how much water I drank — and my digestion would be off for days. I knew I needed to figure out a supplement routine to help with travel. I wanted energy, to be ready to go, and to feel my best. Who doesn't, especially when they're supposed to be having fun on vacation or trying to be on their toes for a work trip? I firmly believe that the system I've developed can truly help anyone, so I'm breaking my usual rules around opening up about supplements to share it with you.
I've partnered with my long-time favorite supplement company Pure Encapsulations® to bring you this post today, because you need to really know the supplement companies you are relying on. It's important to understand their standards and quality. Personally, I don't recommend going to your local drugstore and grabbing just anysupplement brand. If you've ever tried doing this yourself, you know how overwhelming it is… and the supplement industry is honestly saturated with products that don't meet certain standards.
Enter Pure Encapsulations®. I've used their supplements for years and I trust what they are doing, so when we decided to work together on this post I was THRILLED. Pure Encapsulations®partners with healthcare professionals to create the best products out there. They use the highest quality raw ingredients, hold themselves to rigorous testing and manufacturing standards, are free from common allergens and contaminants, and they're non-GMO. I also love the fact that they're local, based right here in Massachusetts! The list of positives goes on and on.
Pure Encapsulations®professional supplements are available for purchase through healthcare practitioners and independent pharmacies. If you are looking for a practitioner or pharmacy near you who carries Pure Encapsulations products, head over to their website and use their helpful Practitioner Locator Tool here.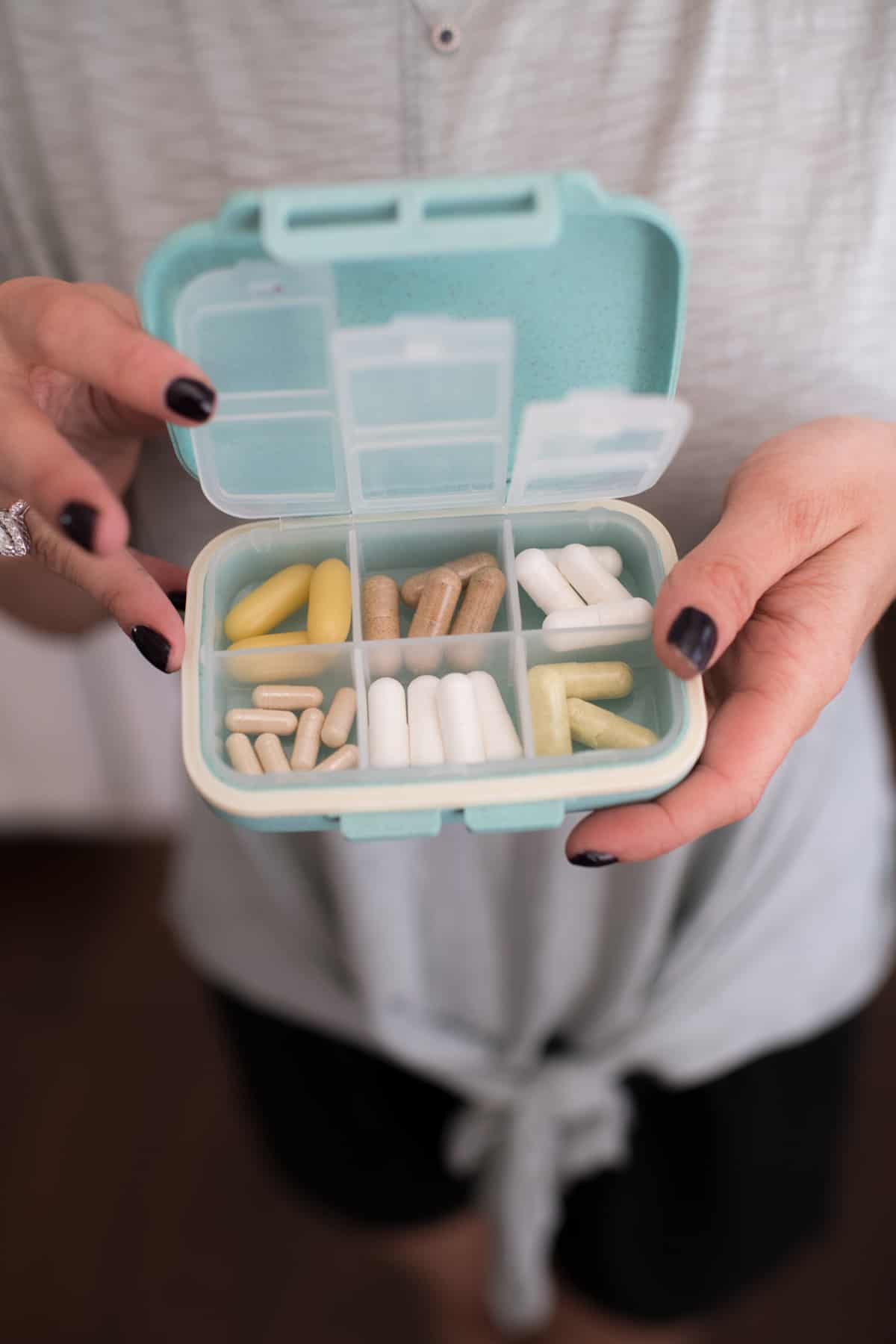 So grab a trusty pill organizer, and let's go pack our supplements!
---
My 7 Essential Supplements for Travel
Food Recovery
Traveling is often a time when we're having fun, trying new foods, eating differently than normal, and just living our best lives… but that can be tough on your system. I always keep enzymes or charcoal on hand in case I eat something that bothers my stomach. Your travel buddies will thank you for having these available if they end up with tummy troubles, too.‡
I bring: Digestive Enzymes or Activated Charcoal
Digestion
It's well known and documented that travel can throw off your digestion. Ever go somewhere and not go to the bathroom for a few days? It happens. When we're out of our usual routine and in a new place, we can throw our body off its normal rhythm.
I bring: Magnesium Citrate and a shelf-stable, non-refrigerated probiotic for travel (supports gut health and immune function)‡
Sleep:
Many people have a hard time sleeping away from their own cozy beds. I tend to struggle with this on the first night of any trip. Magnesium plays an important role in mood and calming, so I add a little extra to my supplement regimen — along with Melatonin — which can support your body's natural sleep cycle.‡ Take both of these at night!
I bring: Melatonin and Magnesium Citrate
Immune Booster:
From airports and train stations to the planes and trains themselves, your immune system can take a beating when you're in transit (and this goes for any form of transportation). Adding some Vitamin C can provide immune defense so you'll actually enjoy yourself when you get where you're going!‡
I bring: Vitamin C or Pure Defense which has Vitamin C, Zinc, and more!
Hydration:
Planes literally dehydrate us. For too long, I'd get off a flight swollen… and no matter how much water I'd drink, I couldn't get myself rehydrated. Electrolyte packets have changed everything.
I bring: Electrolyte Packets
Stress Support:
If flying stresses you out, you better bring your adaptogens! Flying aside, whether you are traveling for work or on a vacation, stress happens. You're worried about flying, concerned that things at home are running smoothly, and still focused on your email inbox (you gotta let that go!). No matter what your stressors are, an adaptogen like Ashwaganda can really help moderate occasional stress!‡ These are best taken daily on your trip, because — let's be honest — the end of the trip can often be just as stressful as the beginning. It's the ultimate Sunday Scaries!
I bring: Ashwaganda
Airport Detox & Overall Detox:
Supporting your detox pathways while on vacation or traveling is soimportant. Airports have a ridiculous amount of radiation and are generally chaotic, and beyond the airport or train station, you're simply doing things differently than you do at home when you're away! These supplements will support your body whether you're eating and drinking differently, or even just off from being in a different time zone.‡
I bring: Liposomal Glutathione (helps support antioxidant defenses and liver health – our master detoxifying organ) and Detox Packs (super convenient and has B vitamins, omega-3s, NAC, l-glutamine and chlorella) which are so important for supporting your liver and body during travel!‡
---
Other things I do while traveling:
Clean and wipe down my cell phone to boost immunity.
Get fresh air.
Stay active and move my body.
Hydrate (a reusable water bottle is a mustfor traveling).
Get plenty of sleep.
Eat well, but also live a little and enjoy!
Get more details about my travel routine on this post.
---
Disclaimer: Always consult with a doctor before making changes to your supplement regimen, especially if you have health issues. Try out supplements before your travels if possible so you know how you react! Pure Encapsulations is a brand that I personally use and have recommended to you all for years (you should see my supplement drawer!) so I was so excited to be able to partner with them on this post. All opinions are 100% my own, and I'd never share something I don't personally use or fully stand behind.
‡These statements have not been evaluated by the Food & Drug Administration. These products are not intended to diagnose, treat, cure or prevent any disease.
This website may at times receive a small affiliate commission for products that we shared with you in our posts. Although we may receive a commission for linking certain products, there's no additional costs to you and all of our opinion and suggestions are 100% our own and unbiased. That's our promise to you!
Subscribe to get our FREE clean eating guide!
Join our email list TODAY to start recieving our newsletter weekly, access to exclusive content and deals, *and* a FREE complete 24-page clean eating guide!