Frittatas are great for a weekend brunch or for an on-the-go weekday breakfast! Potatoes, leeks, swiss chard, and cherry tomatoes from the CSA or farmer's market give this frittata bursts of delicious, rustic, fresh flavor!
We are back to reality after an amazing trip (you may have seen snippets on Instagram or Snapchat). I can't wait to recap the trip for you and all that we did! But first, now that we're home after a week of amazing indulgent meals and cocktails/wine, it's been tons of light fresh (home-cooked) food, and this frittata has been on the menu non-stop!
I can't believe the last week of the #summerCSArecipes (use the hashtag when you share a remake on Instagram!) series with Fed and Fit and PaleOMG is here. It's been an awesome 9 weeks of all things CSA ingredients!
Potato, Leek, and Chard Frittata
Ingredients
1

tablespoon grass-fed butter or avocado oil, more as needed

1 1/2

cup potatoes, cut into small cubes

1

leek, finely diced

1

bunch chard, chopped

Optional: 1/3 to 1/2 cup cherry tomatoes

10

large eggs

1

teaspoon fine sea salt

1/2

teaspoon black pepper

1/2

teaspoon paprika

1/2

teaspoon garlic granules
Instructions
Preheat oven to 375°F.
In an oven-safe skillet, heat oil and sauté leeks for 30 seconds. Add in potatoes and sauté for 5 minutes.
Add in chard and toss until wilted. Sprinkle 1/2 teaspoon of the salt.
In a bowl whisk together the eggs. Add in remaining salt, pepper, and paprika.
Pour into skillet and let set for 30 seconds to 1 minute.
Transfer skillet to the oven and bake for 20 to 30 minutes until eggs are set and no longer jiggly.
Slice and serve hot.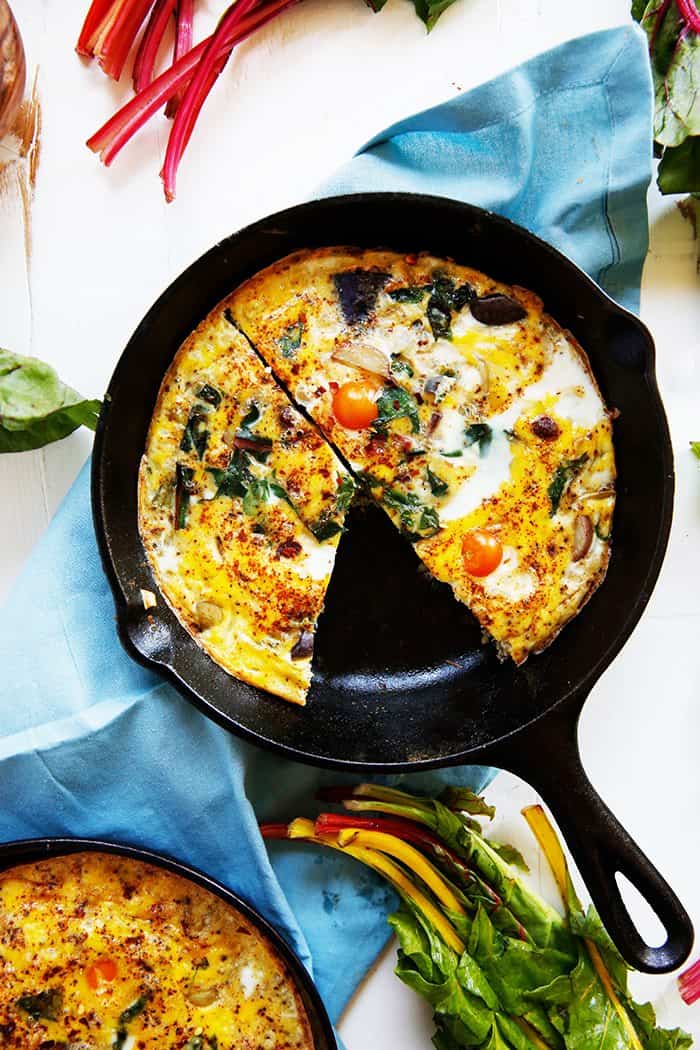 ---
This sausage and cabbage sheet pan dinner recipe is a tribute to cooks everywhere who want to make a delicious meal, have plenty of leftovers, dirty minimal dishes, and would prefer to only spend 10 minutes preparing the ingredients! This Paleo-friendly, balanced sheet pan meal calls for the sausage of your choosing, green cabbage, purple cabbage, and a few redskin potatoes for healthy starch.
You may never think of pairing figs and tomatoes together, but with a fresh basil, local honey, and a touch of salt, all the flavors really come together. This is a super easy side dish that can be made in minutes and is super fresh and flavorful!
We hope you loved this series and come back to cook from it time and time again! And if you missed any, here's what I cooked for each week, and you'll find Cassy's and Juli's in those posts, too!
Week 9: Potato, Leek, and Chard Frittata
use our hashtag!
I am so excited that you are making a recipe and would love to see how it turns out! Make sure to use the hashtag on social media!
#LEXISCLEANKITCHEN
share this post!
subscribe to the email list!