These Air-Fryer Fish Sticks are a great update on the traditional store-bought frozen fish we all hate-to-love! While that version usually has a long list of foreign ingredients, our gluten-free version is made with tapioca and almond flour and cooked in an air-fryer! They're paleo, kid-friendly, and they reheat well so you can make them in a big batch for a quick lunch or dinner anytime.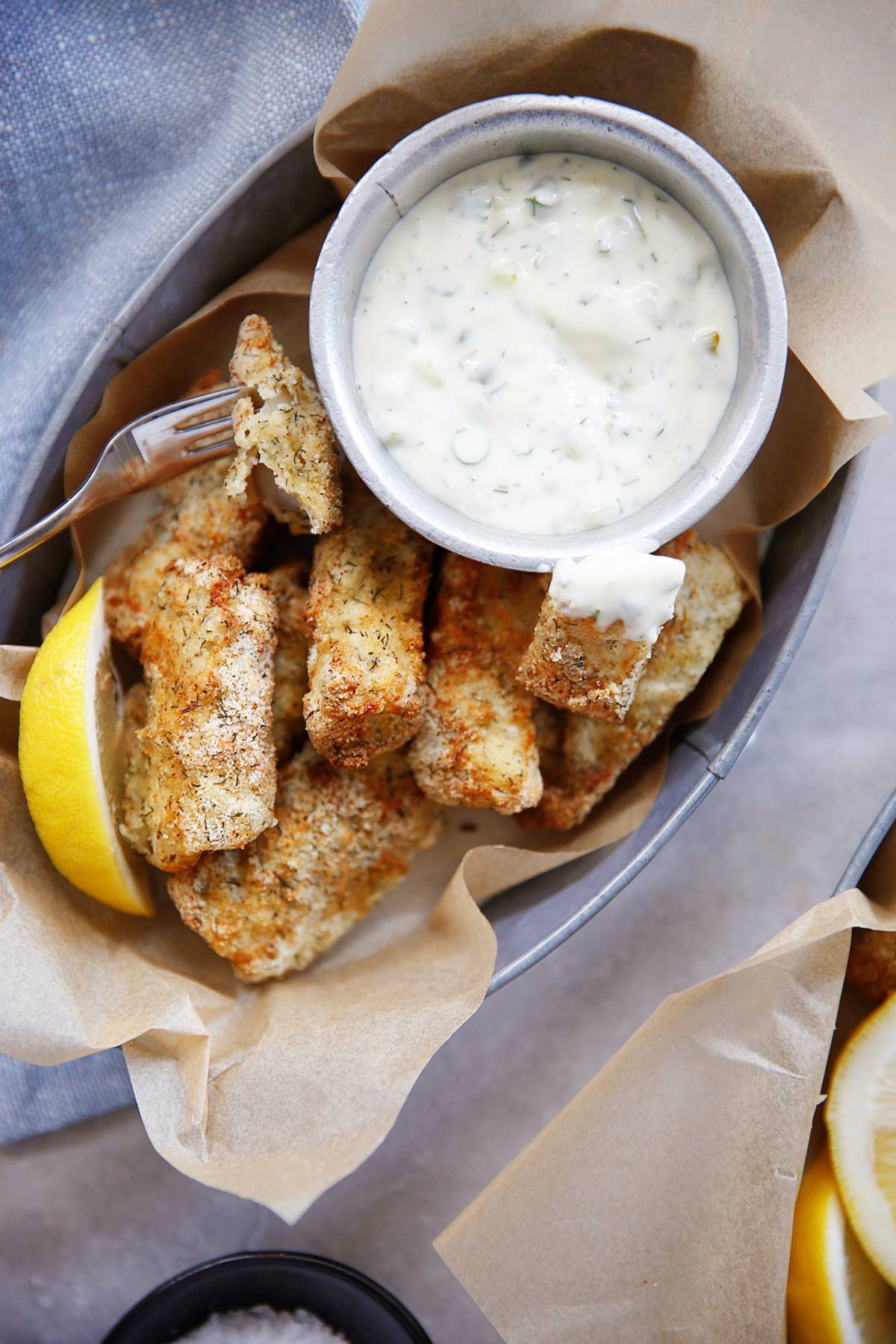 Paleo Air-Fryer Fish Sticks
By now many kids have returned to school and adults are starting to get back in to normal routines as summer rolls to a close. I know that an easy lunch or dinner is just what this time calls for! We busted out our (still-new-to-us) air fryer to remake a classic: Fish Sticks! We of course made them gluten-free, with a short list of ingredients you can pronounce and included a tasty side of tartar sauce to go with it.
Admittedly, we had to test this recipe MANY times. We loved the idea of skipping the deep fat fry on these (though we aren't afraid of fat over here!). Deep frying can use a lot of oil and we will always take the opportunity to experiment with our air-fryer, but we still wanted it to be crisp. Because fish holds so much moisture the fish needs to be cut somewhat small, or similar in size to store-bought fish sticks, about 1/2″ by 1/2″ by 2″. Fish of course isn't uniform, so you will have some pieces that are slightly different so you don't waste any fish pieces, but try to keep most pieces about that size.
We also found that we needed bit more oil than we typically use in the air-fryer. We added two tablespoons to the bottom of the basket, and then additionally sprayed the basket and breaded fish with avocado oil. As always, we love using avocado oil because of its nutritional benefit and its high-smoke point, but feel free to use whatever oil you normally do.
How Long Does it Take To Cook Fish in the Air Fryer
We cooked our fish sticks for a total of 11 minutes at 390ºF, flipping after the first 5 minutes. Fish should be cooked to an internal temperature of 145º F. Take care not to overcook the fish as it becomes too flaky and delicate and it can break.
Best part about these fish sticks? They held up well in the freezer and were great when reheated. We froze ours for one month and had great results, but likely they will last at least 2-3 if properly stored. If you want, you can make a larger batch and freeze for a future quick lunch or dinner.
They must be frozen individually first so they don't stick together. Simply place them on a plate or sheet pan with plenty of space in between. Once frozen you can place in a storage container or bag until ready to use. We reheated ours in a toaster oven and have included the instructions in the notes of the recipe.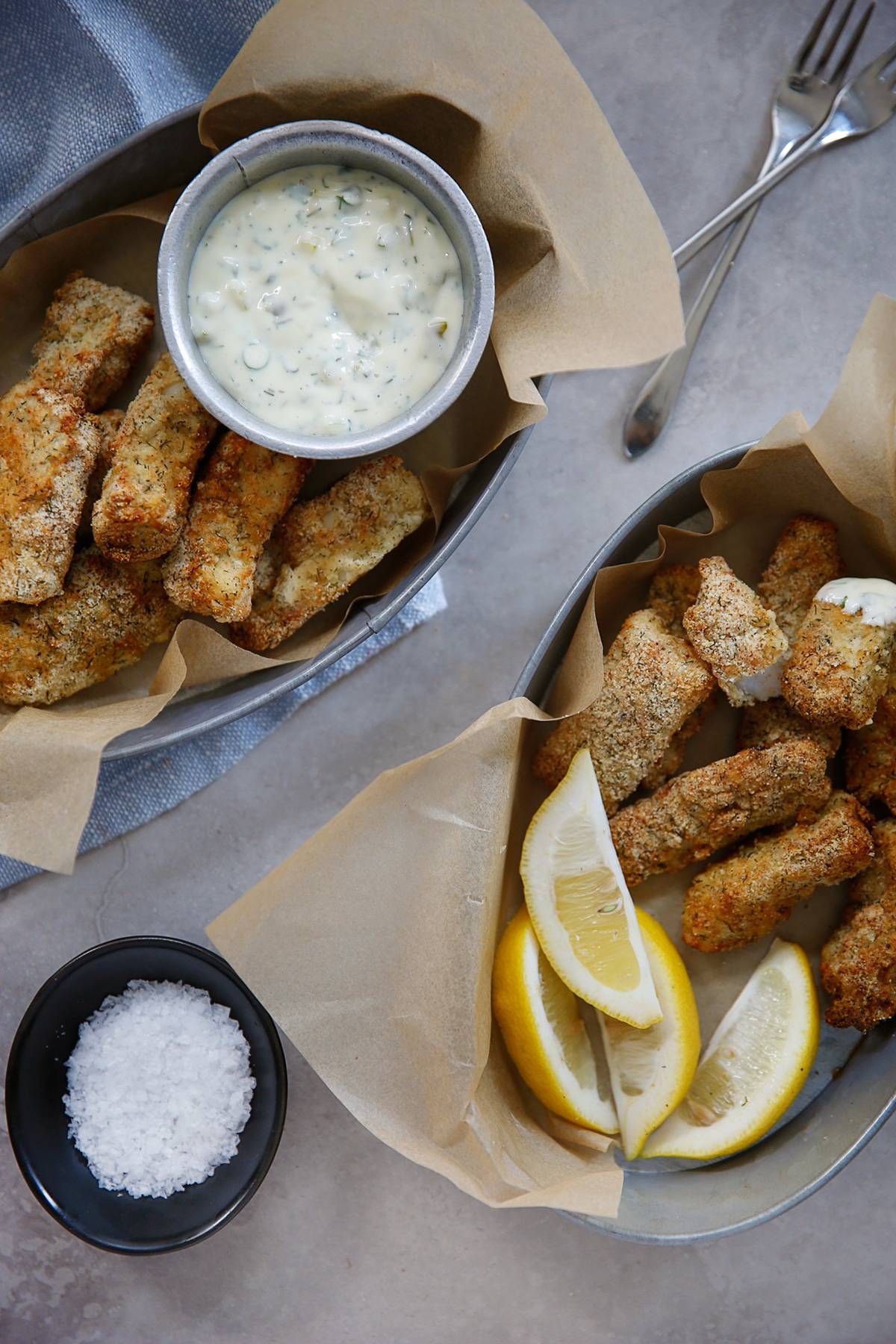 Let's also talk about the AIR FRYER!
I have this one and I really like it, but one thing to keep in mind is despite the large size of the appliance,  you can't overcrowd the food you are frying so you have to cook in batches.
It's not a small appliance, so make sure you have space for it!
I am really excited about the air fryer! It cooks things SO well. Really, I am super impressed with it and excited to make my chicken tenders and chicken nuggets in it moving forward!
If you like this fish recipe, check out these others:
Paleo Air-Fryer Fish Sticks
Ingredients
1-1/2

pound

cod

or other white fish

1/2

cup

tapioca starch

2

eggs

1

cup

almond flour

1-1/2

teaspoon

dried dill

1-1/2

teaspoon

onion powder

1

teaspoon

fine sea salt

1

teaspoon

ground black pepper

1/2

teaspoon

mustard powder

2

tablespoons

avocado oil

avocado oil spray
For Tartar Sauce:
1/3

cup

avocado oil mayo

1

tablespoon

dill relish

1

tablespoon

chopped fresh or dried herbs

dill, parsley, scallions are great here

2

teaspoons

lemon juice

1/4

teaspoon

salt
Instructions
Pre-heat air fryer to 390ºF.

Pat fish dry with paper towel and season with a pinch of 

salt

and pepper.

Cut into small fish sticks, about 1/2" x 1/2" x 2". (See note)

In a medium bowl place tapioca starch. In a second medium bowl whisk

eggs

.

Add the avocado oil to the basket and then spray the air fryer basket generously with avocado spray, and place as many fish sticks in the basket that will fit with plenty of space in between. Spray fish sticks with additional avocado spray to lightly coat.

Fry for 11 minutes, delicately flipping once at 5 minutes.

Meanwhile make tartar sauce by  combining all ingredients in a medium bowl. Set aside.

Repeat with remaining fish until they have all been cooked through to reach an internal temperature of 145ºF. Be careful not to overcook or the fish will fall apart.

Serve immediately with tartar sauce or cool completely before freezing.
Notes
During the testing of this recipe we found that the larger the fish stick, the less crunchy it was, due to the high moisture content of the fish. Cutting them small enough, and of equal size assures for a crispy exterior.
We love how well these froze! Please follow the instructions below to freeze and reheat your fish sticks.We froze ours for one month and had great results, but likely they will last at least 2-3 if properly stored.
To Freeze and Reheat:
Cool down completely before freezing. To freeze first place on a plate, without letting any of the fish sticks touch. This will allow them to freeze individually so they don't get broken when you try to take them out. Once completely frozen place in storage container or bag.
When ready to eat, pre-heat a toaster oven or regular oven to 400 degrees. Place on parchment lined baking sheet and reheat for 7-10 minutes. The fish should be crispy again and fully heated through.
Nutrition
Serving:
2
g
Calories:
598
kcal
Carbohydrates:
35.2
g
Protein:
61.7
g
Fat:
22.5
g
Saturated Fat:
3.3
g
Cholesterol:
285
mg
Sodium:
1600
mg
Fiber:
2.9
g
Sugar:
1.1
g