These Paleo Fish and Chips are everything you want in this classic summer dish: crunchy and flavorful on the outside with the freshest fish on the inside and of course, gluten-free. And those oven baked fries served alongside? They're the crunchiest you'll ever have, with minimal preparation. This is a must-make before the summer is over. They are paleo-friendly and nut-free and SO delicious!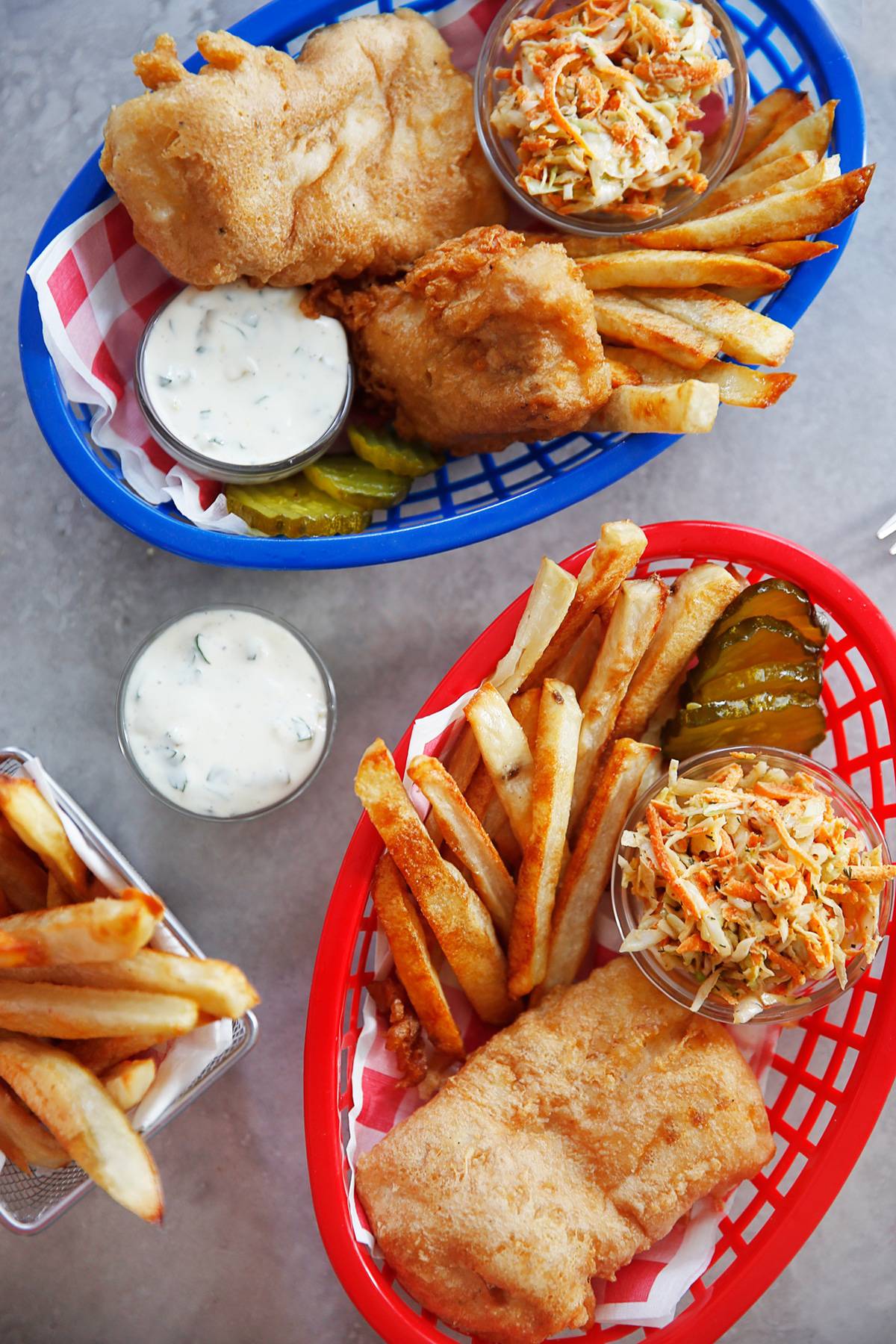 Paleo Fish and Chips
I love making a classic dish, that traditionally contains gluten, updated to include better-for-you-ingredients without sacrificing on any of the flavor or texture. This Paleo Fish and Chips recipe is exactly what you expect from this summer-time favorite without any gluten and a short list of ingredients.
For ease of making this dish we choose to oven bake the fries, instead of frying. We do this so that both the fish and the chips are finished cooking at the same time, and you don't have to wait for oil temperature changes to achieve crispy fries. Also, we really love the taste of baked fries and it's so simple to do.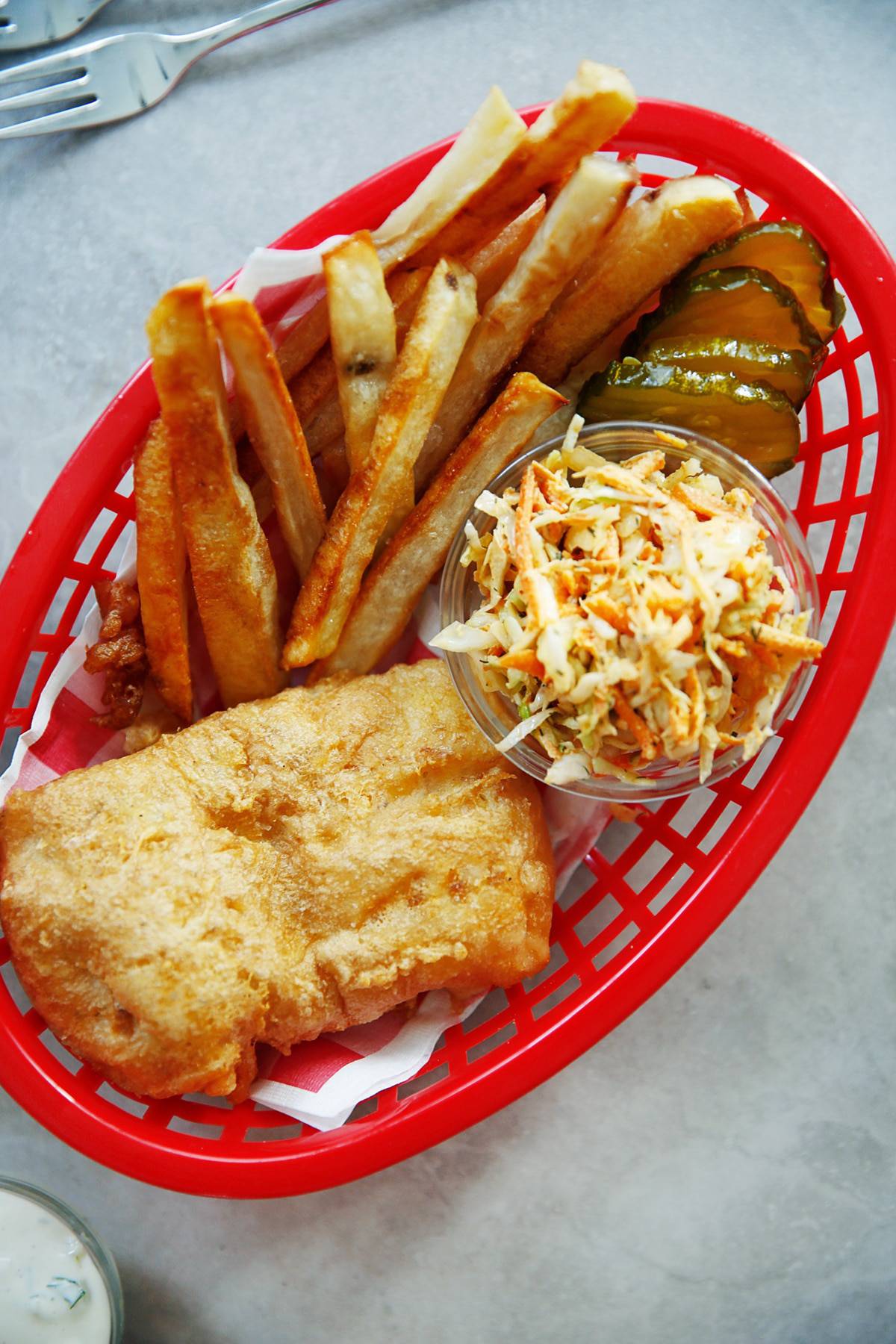 Our fish batter is super simple, using only 4 staple ingredients any gluten-free household has stocked up. All you do is whisk it up and dip in your fish before frying.
How to Make Crispy Oven Baked Fries
If done incorrectly, oven fries can be soggy and disappointing. To match the crispy battered fish we wanted REAL DEAL french fries. Below we've shared our best tips for making super crispy oven baked fries:
Start with the right potato: We like russet potatoes for these oven baked chips. You can peel the potatoes or leave the skin on if desired. We also tested these by soaking the potatoes in water before hand to see if losing some of the starch would help make them crispier, but we did not feel it made a huge difference in the final outcome, so have decided to streamline the recipe and leave it out.
Pre-heat the oven! Make sure the oven is nice and hot when you place in the fries.
Give the potatoes space to crisp up: You cannot crowd the pan when making oven baked fries, you have to leave space in between each potato. We found that two large russet potatoes fit on a standard sheet pan. Anymore than that and you will have a tougher time making the chips crispy.
Use enough oil: We like to spray the potatoes with oil one last time after we flipped them to get them extra crispy!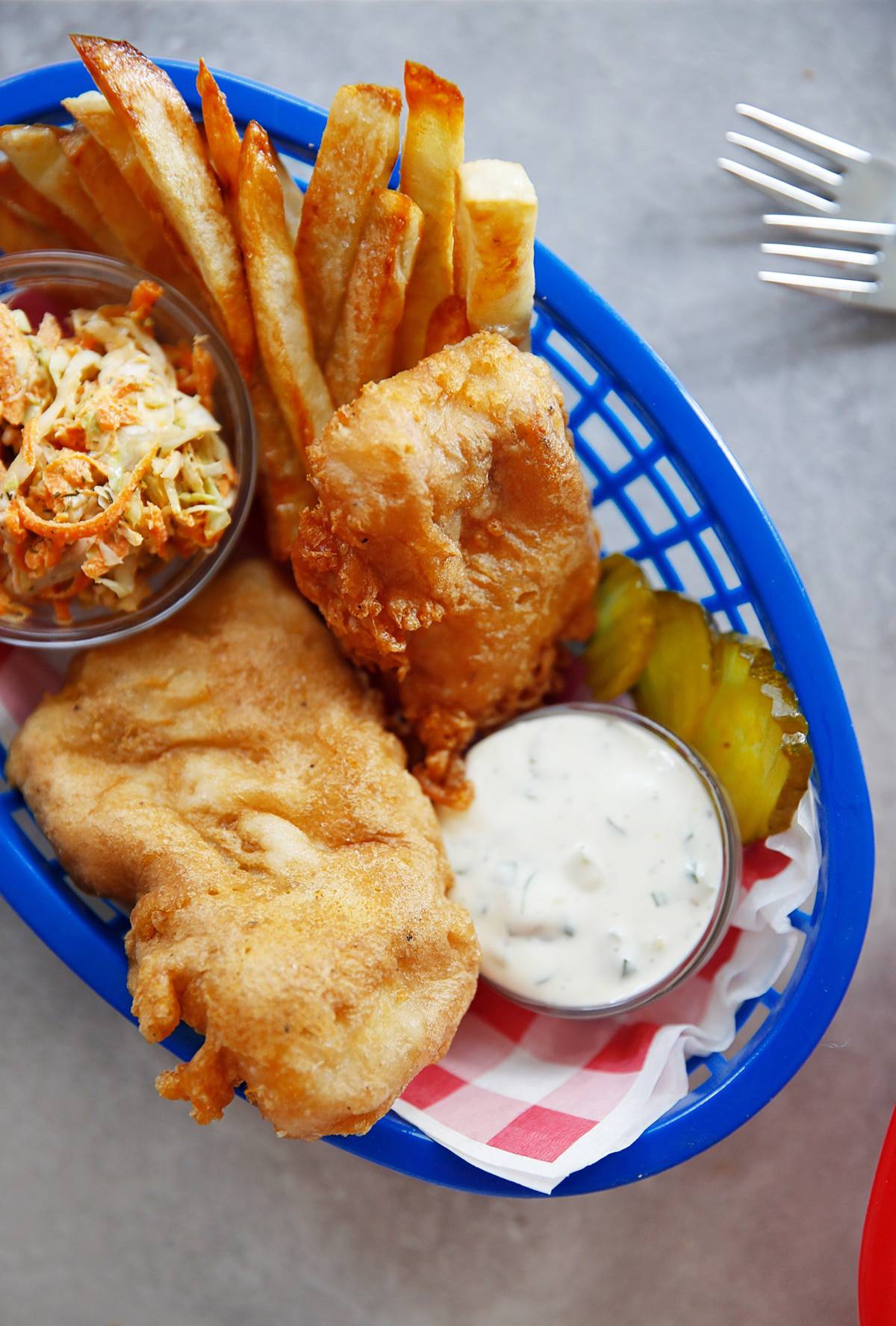 Want other summer seafood favorites? Try these recipes:
Ingredients
For the "Chips":
2

large russet potatoes

peeled and cut into 1/2" strips

2

teaspoons

oil

we like avocado for high heat cooking

1

teaspoon

fine sea salt

1/2

teaspoon

black pepper
For the Fried Fish:
1-1/2

lbs.

white flesh fish

such as cod

2

teaspoons

fine sea salt

divided

1/2

teaspoon

ground black pepper

3/4

cup

tapioca starch

2

eggs

1/2

teaspoon

baking soda

1

teaspoon

white vinegar

3

cups

avocado oil

more if needed, for frying
For Homemade Tartar Sauce:
1/3

cup

avocado oil mayo

1

tablespoon

relish or chopped dill pickle

1

tablespoon

fresh herbs

we like dill and chives

2

teaspoons

lemon juice

1/4

teaspoon

fine sea salt
Instructions
Pre-heat oven to 400ºF and line a baking sheet with parchment paper, if desired.

Place cut "chips" on the baking sheet and toss with oil, salt and pepper. Space out "chips" so they do not touch and have space in between to crisp up.

Bake for 20 minutes. After 20 minutes take out of oven and flip chips to crispy on the other side and bake for an additional 20 minutes, or until crispy on the outside and tender on the inside. (See note)

Meanwhile begin to prepare fish: cut into 4 even portions. Depending on the cut of your fish will decide how to portion it. Pat with paper towel to dry it over, and season with 1 teaspoon salt and 1/2 teaspoon pepper.

Heat oil in a heavy-bottomed tall pot over medium heat. We used a smaller pot that required less oil to submerge the fish. You want the oil to reach about 2-1/2" inside the pot.

Make the batter for the fish by whisking together tapioca, baking soda, 1 teaspoon salt, eggs and white vinegar until fully combined.

When oil has reached a temperature of 350º to 370º (we use a Thermapen for this!) take a piece of fish and submerge in batter. Working quickly take out of batter before placing inside of oil. Continue with additional fish as space is available. We were able to fry two pieces at once. Flip fish after 2-3 minutes. Monitor the frying temperature to ensure it doesn't dip below 350º for too long and adjust heat as needed. Fry fish until it reaches a temperature of at least 145º and is golden brown on the outside, 5-7 minutes depending on the thickness of your fish.

Between frying batches of fish make sure oil temperature returns to 350º. Continue to fry until all fish has finished. Place fried fish on paper towel to drain of excess oil. Season with salt, if desired.

Make tartar sauce by combining all ingredients in a small bowl.

Serve fish and chips immediately with tartar sauce.
Notes
For EXTRA crispy chips, when flipping spray fries with additional avocado oil. We like the spray that has not other ingredients other than avocado oil.
Serve with coleslaw and pickles!
Nutrition
Serving:
4
g
Calories:
595
kcal
Carbohydrates:
55.9
g
Protein:
44.8
g
Fat:
20.6
g
Saturated Fat:
3.3
g
Cholesterol:
190
mg
Sodium:
1385
mg
Fiber:
4.8
g
Sugar:
4.3
g