These Air Fryer Roasted Potatoes are perfectly tender in the middle and crispy on the outside. They're a simple side dish made with just potatoes, oil, and a few spices!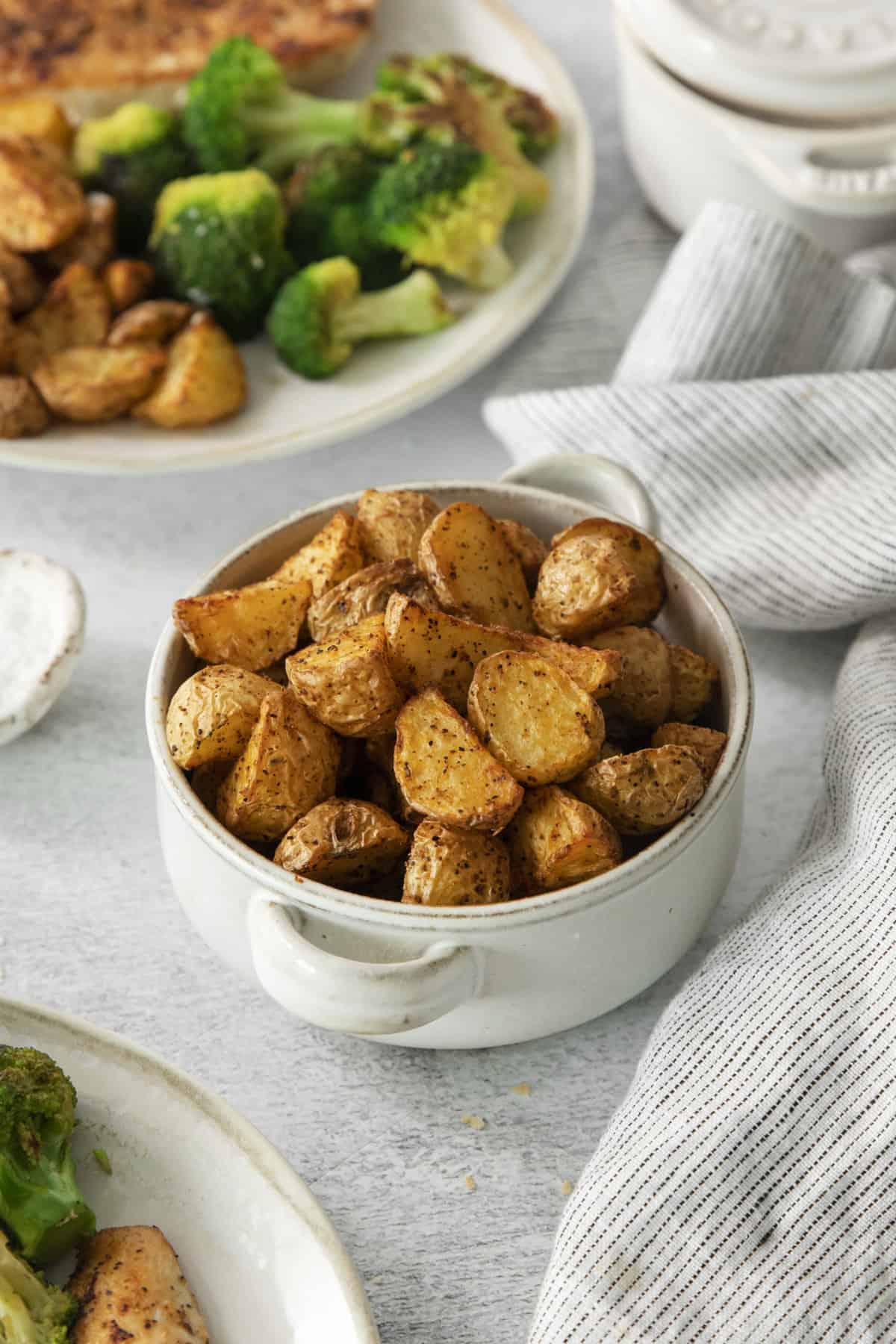 Easy Roasted Potatoes in the Air Fryer
This recipe for air fryer roasted potatoes will have you believing that air fryers were made only for roasting potatoes. They will quickly become your new favorite way to cook up a potato side dish. They're that good!
This is a quick and easy recipe that requires just 5 minutes of prep and 20 minutes in the air fryer. It's made with creamy Yukon Gold potatoes that are chopped into chunks, coated in oil and the perfect blend of seasonings, then air fried at high heat until perfectly soft and crisped.
This recipe is so quick, so easy, and goes with everything!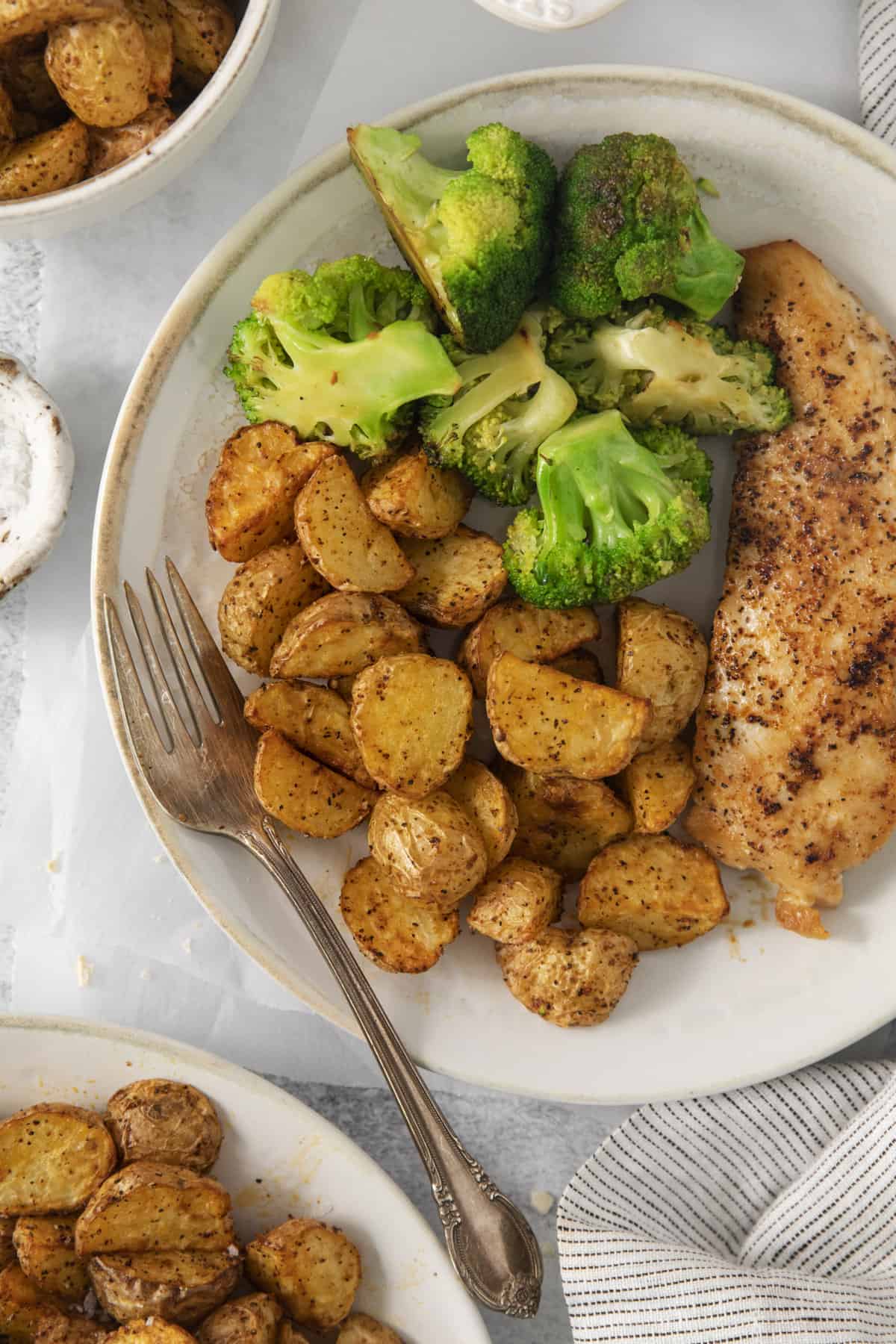 Ingredients Needed
You need just a few simple ingredients for this recipe—many of which you probably have on hand already!
Potatoes: I use baby Yukon Gold potatoes cut into quarters or 1-inch cubes. You can also use Russet potatoes or red potatoes if preferred.
Oil: Olive oil helps the outside of the potatoes crisp up and allows the seasonings to stick.
Spices: We're spicing these up with a combination of salt, black pepper, garlic powder or granules, and paprika for a little bit of smoky spice.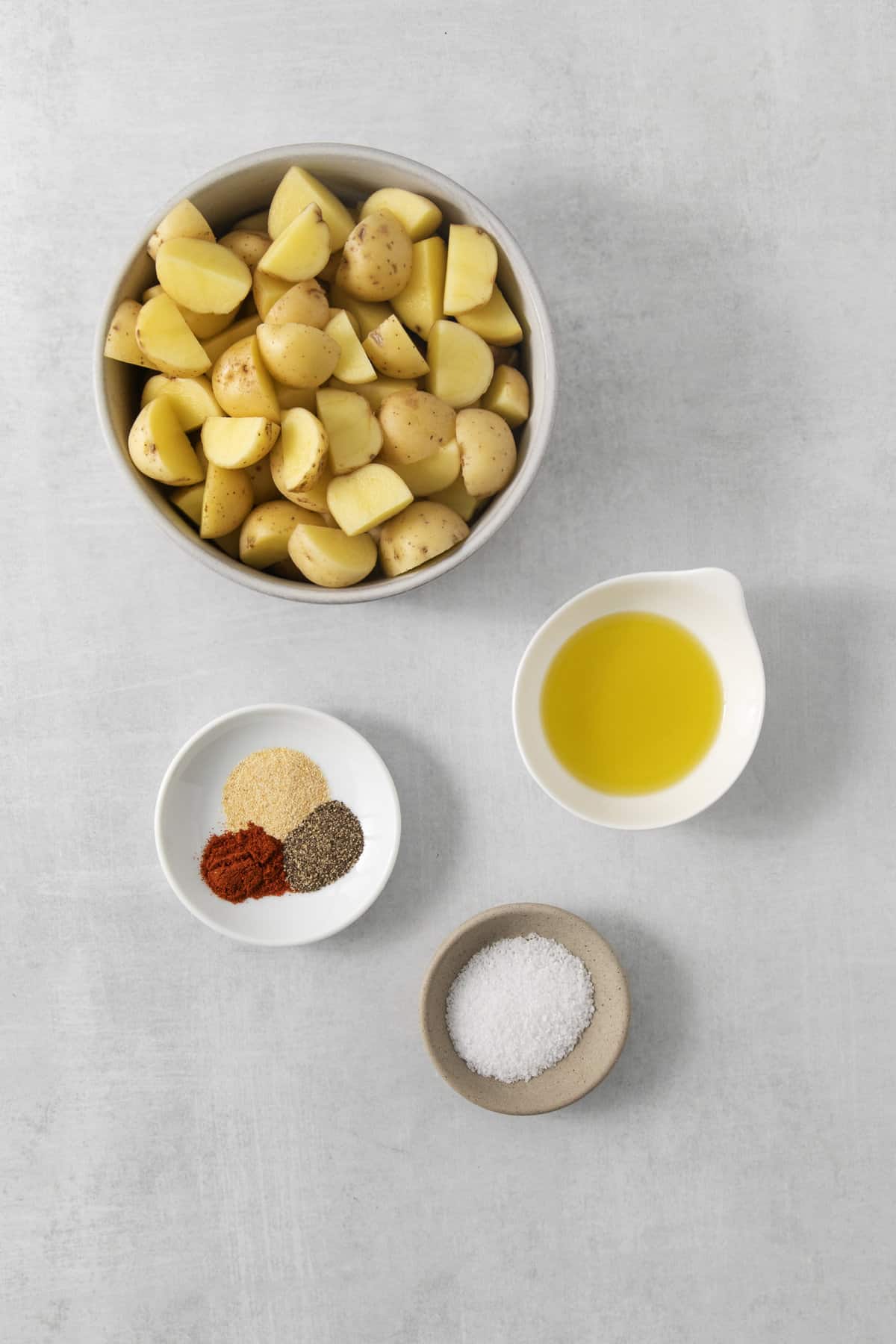 How to Cook Potatoes in the Air Fryer
These air fryer roasted potatoes couldn't be quicker or easier! Just a few minutes to prep!
Prep the potatoes: Wash and dry the potatoes thoroughly, then use a knife to chop them up into 1-inch chunks.
Season and air fry: In a bowl, combine the potatoes, oil, and spices. Add to a preheated air fryer and cook until tender and crispy!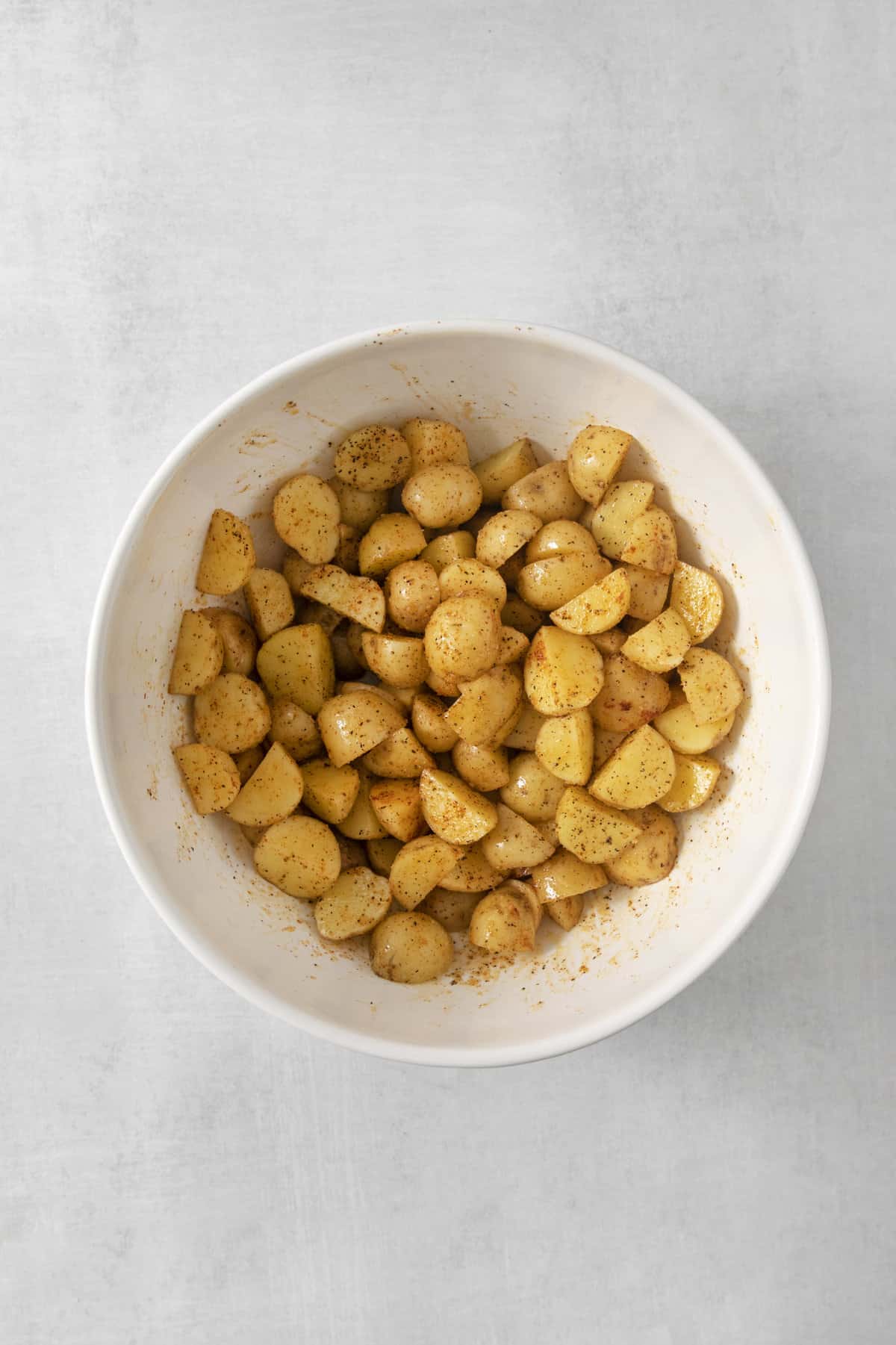 What Happens If You Don't Soak Potatoes Before Air Frying?
Depending on the type of potato you use, not soaking can prevent them from crisping to their full potential.
With the Yukon Gold baby potatoes I use for this recipe, I don't find it necessary to soak the potatoes before cooking.
If you use a starchier potato, such as Russet potatoes, you may want to soak them in salt water first. This step draws that excess starch for a crispier texture.
Why Won't My Roast Potatoes Go Crispy?
There may be a couple of reasons the air fryer roast potatoes aren't crisping up as much as you would like. Here are a few tips for the perfect texture!
Cut the potatoes into 1-inch chunks. If the potatoes are in larger pieces, they won't crisp up as quickly.
Preheat the air fryer. It should be nice and hot when you add the potatoes in so that they start cooking right away.
Use oil. A light coating of oil on the potato pieces helps the exteriors crisp up. Don't skip it!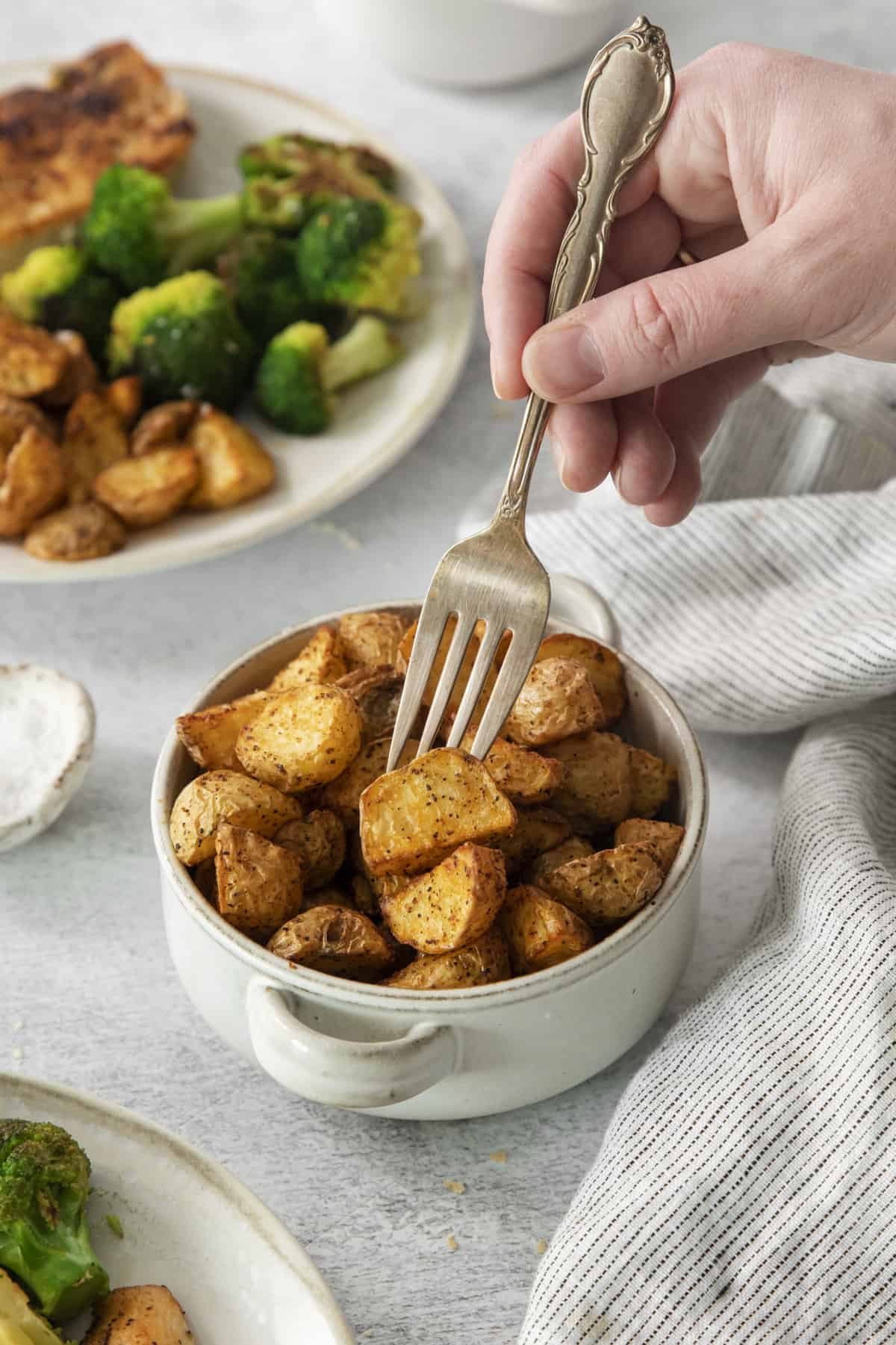 Tips and Notes for Air Fryer Potatoes
Clean and dry the potatoes well. I like to leave the skins on the potatoes, which means I also like to make sure they're good and clean before I chop them up. Once you scrub your potatoes clean, dry them thoroughly. Excess moisture can cause them to steam rather than roast.
Leave space in the air fryer. The potatoes need space so that the hot air can reach all sides. If necessary, air fry in batches.
Flip halfway through the cooking time. After 10 minutes of air frying, grab the air fryer basket and give it a little shake to redistribute the potatoes. This ensures they cook evenly and crisp up all around.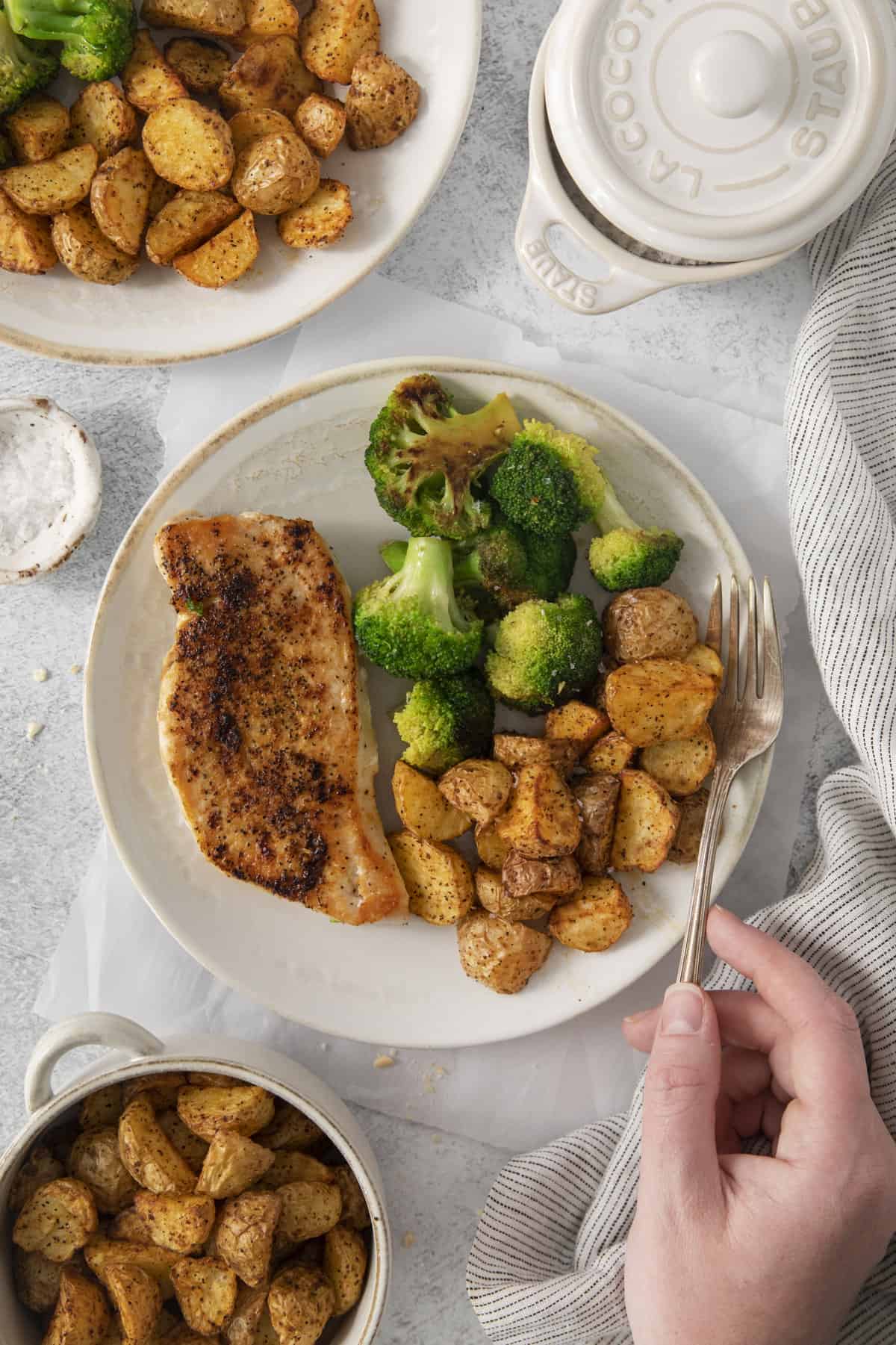 Variations
I love the flavor and versatility of the seasoning blend listed in this recipe, but feel free to play with flavors to enjoy these air fryer roasted potatoes with any meal! Here are just a few other ideas:
Mexican: Whip up a batch of homemade taco seasoning and coat the potatoes in the mix!
Cajun: Give your potatoes a smoky, spicy twist with a coating of homemade cajun seasoning.
Everything: Love a classic Everything bagel? Try this DIY Everything bagel seasoning mix.
Extra Spicy: Stick to the seasonings listed, but add in a sprinkle of cayenne pepper for a little extra heat.
Herbs: Try coating the potatoes with dried herbs such as rosemary, parsley, basil, you name it.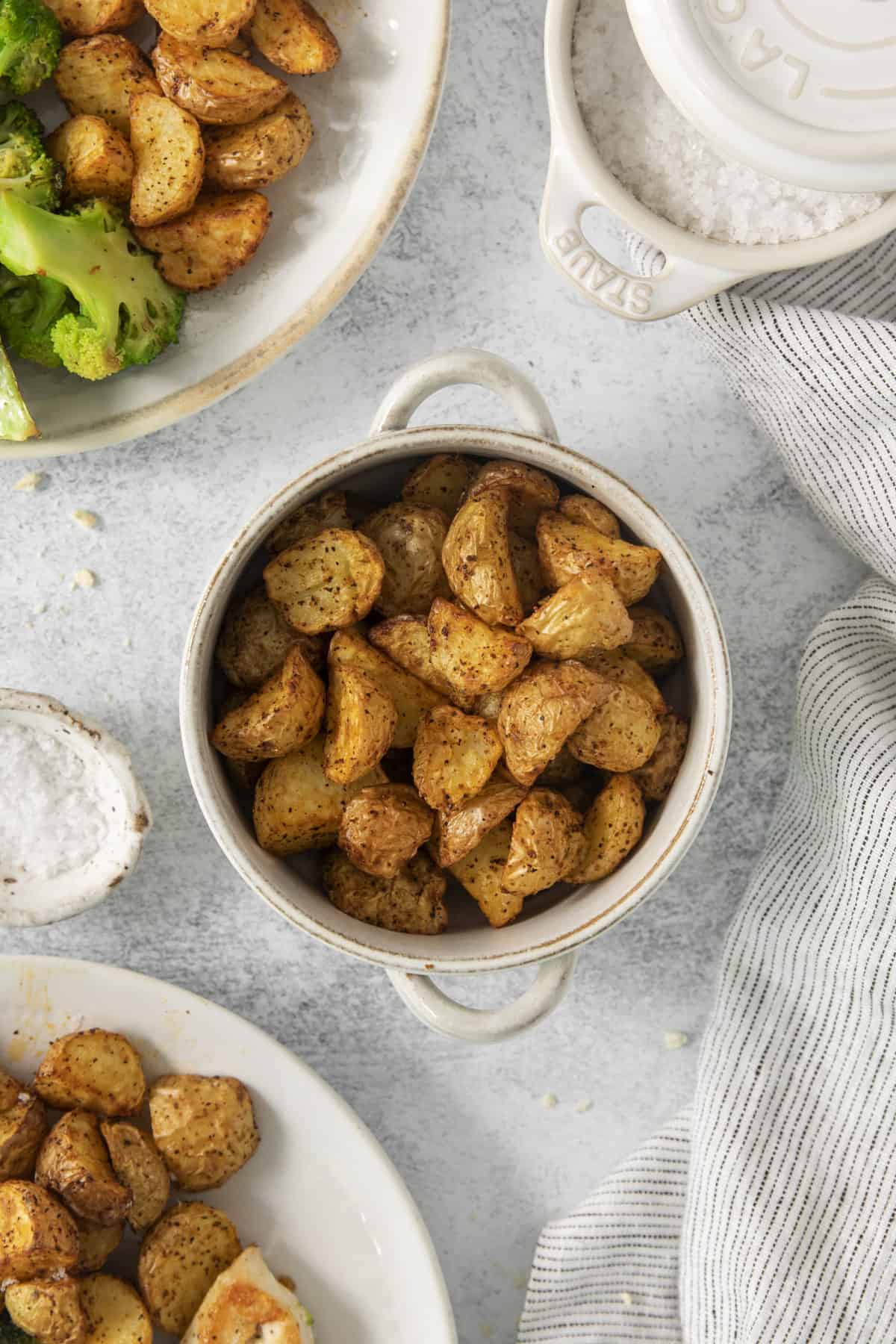 Serving Suggestions
While these air fryer roast potatoes are plenty flavorful, they are also so versatile and can be served alongside an array of different entrees. Here are a few ideas: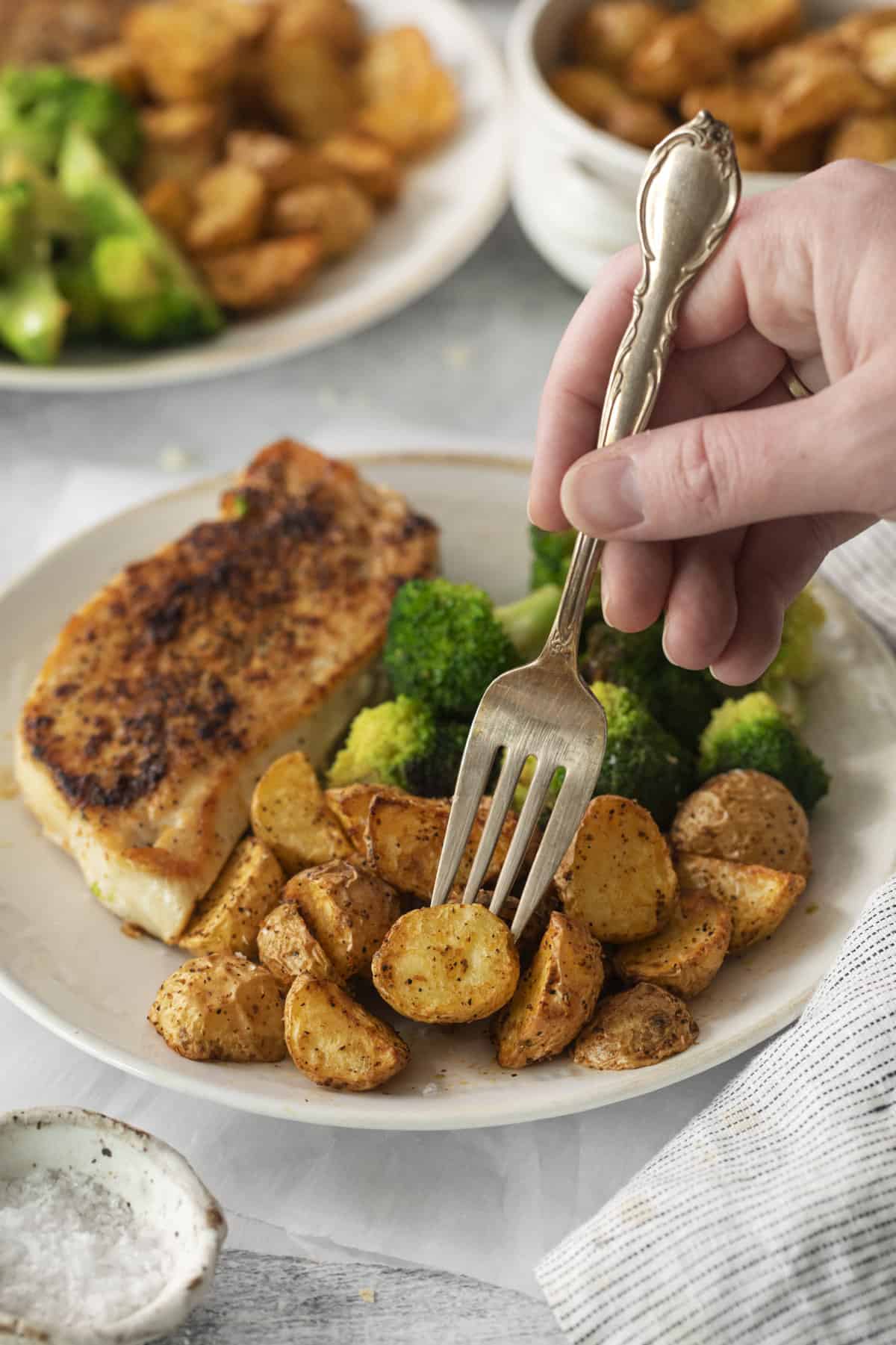 How to Store
Air fryer roasted potatoes are best enjoyed right away, but any leftovers can be stored in an airtight container in the fridge for 4-5 days or in the freezer for up to 6 months.
To reheat, thaw overnight in the fridge if frozen, then warm back in the air fryer at 390ºF until heated through and re-crisped.
More Potato Recipes You'll Love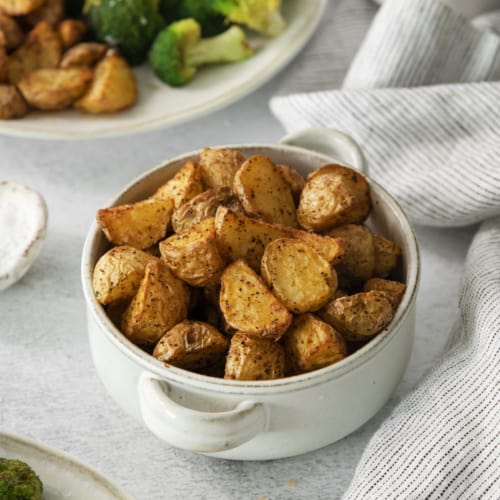 Air Fryer Roasted Potatoes
These Air Fryer Roasted Potatoes are perfectly tender in the middle and crispy on the outside. They're a simple side dish made with just potatoes, oil, and a few spices!
Ingredients
1.5-2

pounds

baby Yukon Gold potatoes

cut into quarters

2

tablespoons

olive oil

1

teaspoon

fine sea salt

1/2

teaspoon

black pepper

1/2

teaspoon

garlic powder or granules

1/2

teaspoon

paprika
Instructions
Use a sharp knife to cut the potatoes into pieces about 1-inch around.

In a medium bowl, combine the potatoes with the olive oil and all of the spices. Stir to coat evenly.

Add the potatoes to the air fryer basket and cook at 390ºF for 20 minutes, tossing halfway through. Cook until your desired tenderness and crispness is achieved.

Serve hot with additional salt if needed!
Nutrition
Serving:
1
person
Calories:
195
kcal
Carbohydrates:
30
g
Protein:
4
g
Fat:
7
g
Saturated Fat:
1
g
Polyunsaturated Fat:
1
g
Monounsaturated Fat:
5
g
Sodium:
592
mg
Potassium:
730
mg
Fiber:
4
g
Sugar:
1
g
Vitamin A:
128
IU
Vitamin C:
34
mg
Calcium:
23
mg
Iron:
1
mg