Smoothies are the easiest make-ahead breakfast! This Antioxidant Smoothie Freezer Pack is loaded with berries, spinach and flax seed and can be prepped in five minutes, and in bulk if you want, for a chill morning start that will keep you satisfied until lunch time. It's vegan and naturally gluten-free for an antioxidant rich start to your day!
Antioxidant Smoothie
We are on week 2 of our Make-Ahead Freezer Smoothie Pack series! You all know I believe that food can play a big part in not only keeping the body healthy, but also healing the body, so we are doing a series of 4 nutritionally-based smoothie packs that target specific health benefits, and at the end we'll do a round up and a bonus 30 Budget-Friendly Smoothies guide!
Last week we talked about chronic inflammation in the body, and how food can play a big role in keeping it at bay. Today we're going to talk about why it's important to consume foods that are high in anti-oxidants and what foods are the best to do this.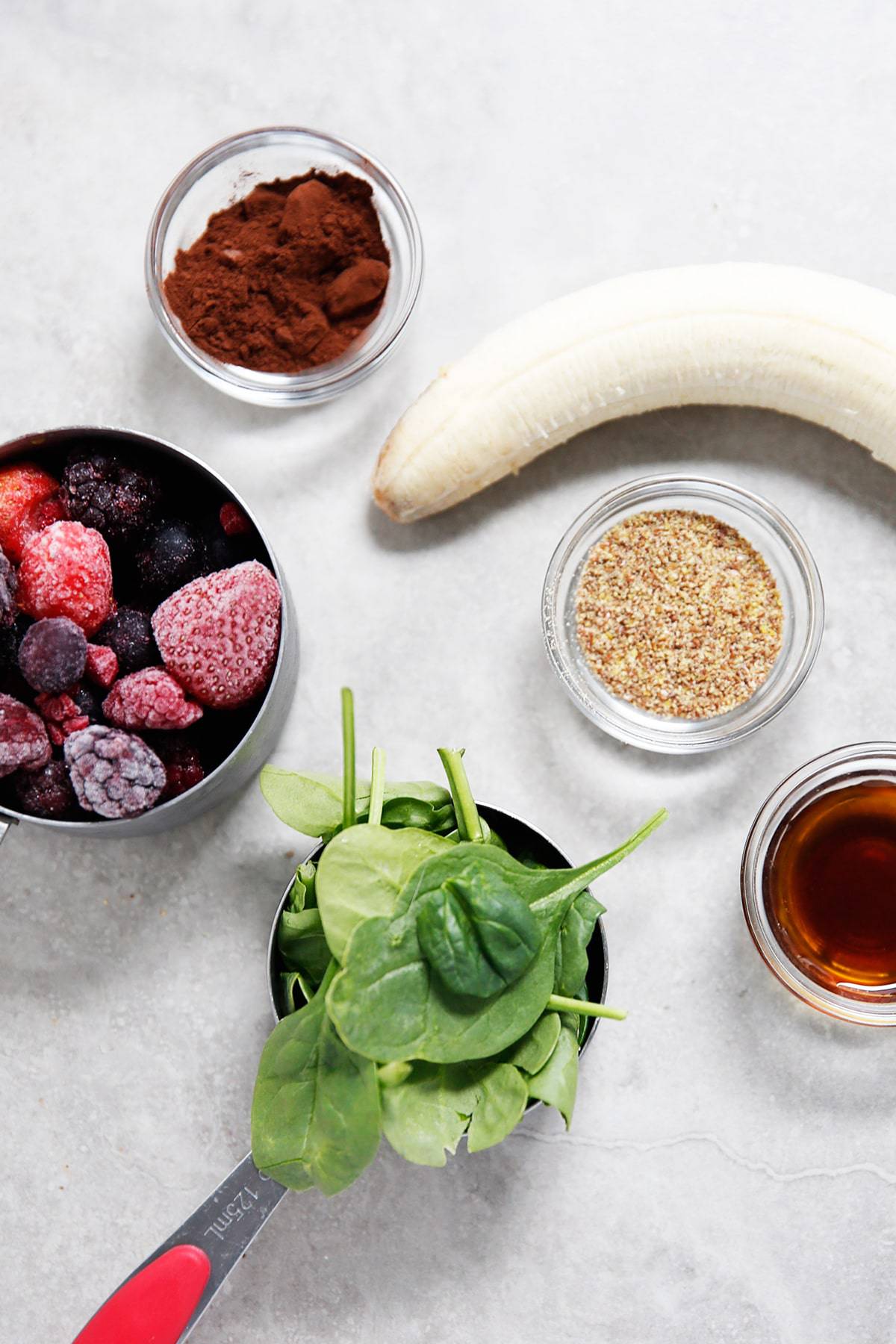 Benefits of Antioxidants
Anti-oxidants help protect your body and cells from free radicals, which are unstable molecules that naturally occur in your body that damage cells and cause disease and aging. Consuming a diet rich in anti-oxidants help counteract the effect of free radicals and protect your body.
Best Antioxidant Foods
Anti-oxidants are found in many common foods like berries, vegetables and sweets as well! Some common sources are: berries, nuts, dark chocolate, spinach, and artichokes! For our smoothie we've included berries, spinach, ground flax seeds and cacao powder!
Stay tuned for the rest of the make-ahead smoothie freezer pack series:
Antioxidant Smoothie Freezer Pack
Detox Smoothie Freezer Pack
Round Up + 30 Budget-Friendly Smoothies
Items we love for smoothie packs: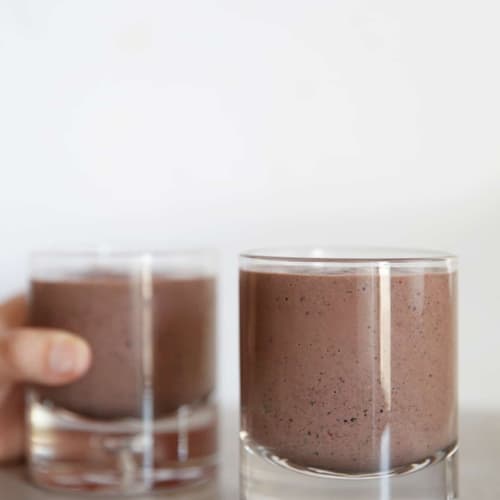 Antioxidant Smoothie Freezer Pack
Ingredients
1

cup

5 ounces frozen berries

1

banana

sliced

1/2

cup

baby spinach

1

tablespoon

flax seeds

1

tablespoon

cacoa powder

1

tablespoon

maple syrup

1

cup

almond milk

more as needed

1

scoop collagen peptides

optional
Instructions
To Make Freezer Packs:
Place all ingredients, except almond milk, into a freezer safe bag. Freeze until ready to use, up to 1 month.
To blend:
Combine all ingredients, including almond milk, in a high speed blender.

Blend until creamy, adding additional almond milk if necessary.
Notes
You can substitute fresh fruit, but we find it easier to buy prepped frozen fruit for these smoothies