Best Podcasts to Listen to this Fall
It's been at best, an unpredictable year. We're all managing unexpected situations — remote school for our kids, work from home circumstances for ourselves, spending wayyyy more time in our homes than feels normal… these are definitely interesting times! With everything you're juggling, you deserve to do something for YOU. Listening to a good podcast might just fit the bill! I hope that these recommendations of the Podcasts to Listen to this Fall can keep you company this season!
Best Podcasts to Listen to This Fall
Listen and enjoy.
---
Podcasts are easily accessible and free, which means they're the perfect simple joy for 2020. Whether you want to learn something new, get inspired, or just have some fun, there's a show out there in the podcasting universe that will give you what you need and make you smile.   
Cue up one of these thirty-six podcasts, grab yourself a snack or glass of wine, then snuggle up and listen in. (And if you must, you can also listen to a podcast while you're running around the house trying to do all the things. That's one of the best things about them.) Happy listening!
Health and Wellness Podcasts
Just the Good Stuff: With Rachel Mansfield, it's out with the bad and in with the good, and she shares alllll the good stuff she finds on this awesome weekly show. Rachel takes her expertise as a cookbook author, recipe developer, mom, and wellness blogger to the podcasting world on Just the Good Stuff, inviting brilliant guests to chat every week about fertility, food fears, anti-aging, gut health… and the list goes on! She also occasionally explores topics outside of the wellness space, but it's always just the good stuff.
Healthier Together: Even the title of this podcast captures one of my fundamental beliefs about pursuing a healthier lifestyle — it's easier, more effective, and so much more fun when we do it together! The host is my friend Liz Moody, a healthy cookbook author, magazine editor, and wellness blogger. On each episode of her podcast, she and a guest discuss their personal stories and health journeys. These guests are high-profile, too! You'll hear from author Glennon Doyle, former reality TV star Lauren Bosworth, thought leader Marie Forleo, and so many other amazing people.
What's Gaby Cooking in The Wild: Members of the LCL community recommended this one to me… and I'm so glad they did! I love Gaby! She's wonderful! While you know I love to cook, that doesn't mean I don't lose enthusiasm for getting in the kitchen every now and then. Listening to Gaby Dalkin talk about her cooking adventures on this podcast always gets me feeling motivated to prepare something yummy for myself and my loved ones.
What's The Juice: You may already be acquainted with Olivia Amitrano as the creator of Organic Olivia. This year, Olivia is sharing her health and self-care know-how with even more people, thanks to What's The Juice. On each episode, she gets down to the business of a health or wellness topic with the help of a trusted expert.
Dear Therapists: I've been super open about my journey with therapy, and when we talk about wellness, it's important that we focus on our mental health just as much as our physical health. Whether you've been going to therapy for years or have never set foot in a counselor's office, you're going to enjoy listening to Dear Therapists. It's hosted by two, well, therapists (you might even recognize one as the author of Maybe You Should Talk to Someone) and it gives you the chance to be a fly on the wall of real-life therapy sessions. The show may just inspire you to change the way you look at your own mental health.
The Nutrition Diva's Quick and Dirty Tips for Eating Well and Feeling Fabulous: The nutrition world fascinates me. Monica Reinagel has claimed the title of The Nutrition Diva on her podcast and I'm into it! On every episode of the show, licensed nutritionist Monica offers simple suggestions for healthier eating in a bite-sized format. Most episodes are between ten and twenty minutes long, so you can get a lot of info in a short period of time. (Fudgy paleo) brownie points for efficiency!
PaleOMG Uncensored: If you dig the paleo-friendly recipes I share on the site, you have to check out my friend Juli's recipes *and* give a listen to her podcast. On the PaleOMG Uncensored podcast, Juli skips the science and theory and gets right to what's most important to you in your daily pursuit of health and wellness — sugar, alcohol, fitness, and more. Plus, she's HILARIOUS.
The Party in My Plants Podcast: I was hooked the minute I read the show description in Apple Podcasts: "Finally! The show that makes healthy living not suck! So you'll actually want to do it. And so then you'll actually start feeling, looking and living your best." It feels a little like host Talia Pollock and I might just be soul sisters. Talia is a plant-based coach, chef, and speaker, and on each episode of her podcast, she interviews a health professional or answers health-related questions from listeners.
The Ultimate Health Podcast: The title pretty much says it all on this one. The hosts are a pair of married doctors — Dr. Marni Wasserman and Dr. Jesse Chappus, one a retired chiropractor and the other a nutritionist and natural chef. Their pod brings together informative voices from across the medical field to give you the ultimate health advice on everything from keto and skin care to cancer prevention and the dangers of perfectionism for your mental health.
Get Inspired + Educated
The Michelle Obama Podcast: Michelle Obama's star power goes beyond politics. In the years since she and her husband left the White House, she's become a role model for so many of us, thanks to her willingness to share her personal experiences and be vulnerable about tough topics. Lucky for us, she's brought that approach to a weekly podcast that will make you feel like you're becoming besties with Michelle! On her first season, she invited her closest friends and loved ones to join her for conversations about making the most of your relationships.
Code Switch: Ready to dive into the conversations about race and identity that feel scary all too often? We're all working on it — and listening to podcasts like Code Switch can help. This show was created by NPR as a place where journalists of color can directly tackle the matter of race and its intersection with pop culture, history, and more. It seeks to invite everyone into the discussion about race.
Raising Good Humans: I'm a new mom, and I'm always looking to learn more about how to be the best parent possible to Skylar. Who knew there was a whole world of parenting podcasts out there? I have it on good authority (from the LCL community, of course!) that Raising Good Humans is a good place to start. It's hosted by Dr. Aliza Pressman, a developmental psychologist and parent educator who is also the co-founder of the Mount Sinai Parenting Center. Her goal is to make good parenting feel a little less overwhelming for her listeners. Yes, please!
Doing It Different: Check out these lines from the description of the show: "Each week, Carly talks with people, practitioners, and experts who are doing work, life, or love on their own terms. This podcast proves that 'Doing It Different' can lead to incredible journeys of self-discovery, healing, and personal empowerment." Sign me up! I'm all for getting new ideas about how to do life on my own terms, especially when it's based on someone else's personal experience! The host of Doing It Different is Carly Johnson, a non-toxic living expert who never stops learning.
Unlocking Us with Brené Brown: Over the last few years, author and speaker Brené Brown has single handedly made vulnerability cool. If you need proof, just check out her podcast! She invites public figures to share their vulnerable stories and opens up to listeners about her own raw, honest thoughts.
Hurdle: This show is absolutely perfect for the LCK family! Every episode shines a spotlight on a guest who went through a tough time, but here's the twist — each of them leaned into personal wellness as an outlet to help them overcome. The ideal blend of motivation and health inspo, Hurdle will get you fired up to simultaneously beat obstacles and make healthy choices.
1619: Another show to add to your antiracist and allyship listening list! 1619 is produced by The New York Times and is a limited series (just six episodes), but it turns its focus to a critical moment of history: when, in 1619, a ship carrying 20 enslaved Africans arrived in what we now call Virginia. The series tells the story of this ship in detail and will make you think about how that ship has affected our collective history.
THE UPSIDE with Callie and Jeff Dauler: Sometimes, all it really takes to get some motivation going is a reminder of all of the wonderful things you already have happening in your life. My friend Callie Dauler and her husband Jeff are poster children for this! On each episode of their podcast, this couple chats about what's happening for them day-to-day, never failing to find the upside. You'll feel inspired to seek the upside in your own life so that you can stay motivated to make even more good happen!
Happier with Gretchen Rubin: You might recognize Gretchen Rubin as the bestselling author of The Happiness Project and Better Than Before. These days, she takes her expertise in the field of being happy to a weekly podcast! Every week, she offers advice from her own experience about the habits and choices that have made her feel her best. Gretchen also invites guests on to share their keys to happiness. You'll finish each episode feeling more motivated than ever to pursue your best life.
The Balanced Blonde Podcast // Soul On Fire: I personally love Jordan Younger and her contagious energy, and her podcast is no exception. Every week, Jordan invites a guest to join her for a discussion about what has set their soul on fire and inspired them to chase their big goals. You'll learn about everything from branding and writing to wellness and staying on track with a project.
Optimal Living Daily: Do you ever feel a little overwhelmed by the amount of information that's out there about personal development? Do you ever wish that you could read some of the motivational articles that your friends link on social media, but feel like you never have the time? The Optimal Living Daily podcast seeks to solve that problem by dedicating each episode to an article or essay about personal development, productivity, and more. You can listen to some of that content that overwhelms you while you drive, exercise, or cook.
Oprah's SuperSoul Conversations: I don't think I need to tell you how great or inspirational Oprah Winfrey is. That's already been pretty well documented! But if you find yourself needing a little dose of Oprah's very specific brand of motivation, I suggest you give her podcast a listen. Each episode features a conversation between Oprah and a guest — John Legend, Beyoncé, David Letterman, Elizabeth Gilbert, Deepak Chopra, and Michelle Obama have all made appearances — about what's most meaningful to them.
The School of Greatness: Do you love celebrities? Do you love getting pumped up with a little motivational speaking now and then? Combine the two and you've got The School of Greatness, a podcast hosted by former professional athlete and bestselling author Lewis Howes. He's interviewed Paris Hilton, Tom Brady, Whitney Cummings, and so many other public figures about the challenges they've faced and how they overcame them to become greater than ever.
DRIVEN: A podcast for the modern entrepreneur: Get in on the ground floor of this awesome pod, which launched in September 2019 by my two friends Cassy & Diane! You'll learn about all of the tools you need to successfully build a business from its earliest stages, from fabulous experts! Hosts Diane Sanfilippo and Cassy Joy Garcia are bestselling authors and serial entrepreneurs, and I can't think of anyone more qualified to inspire you with their biz know-how.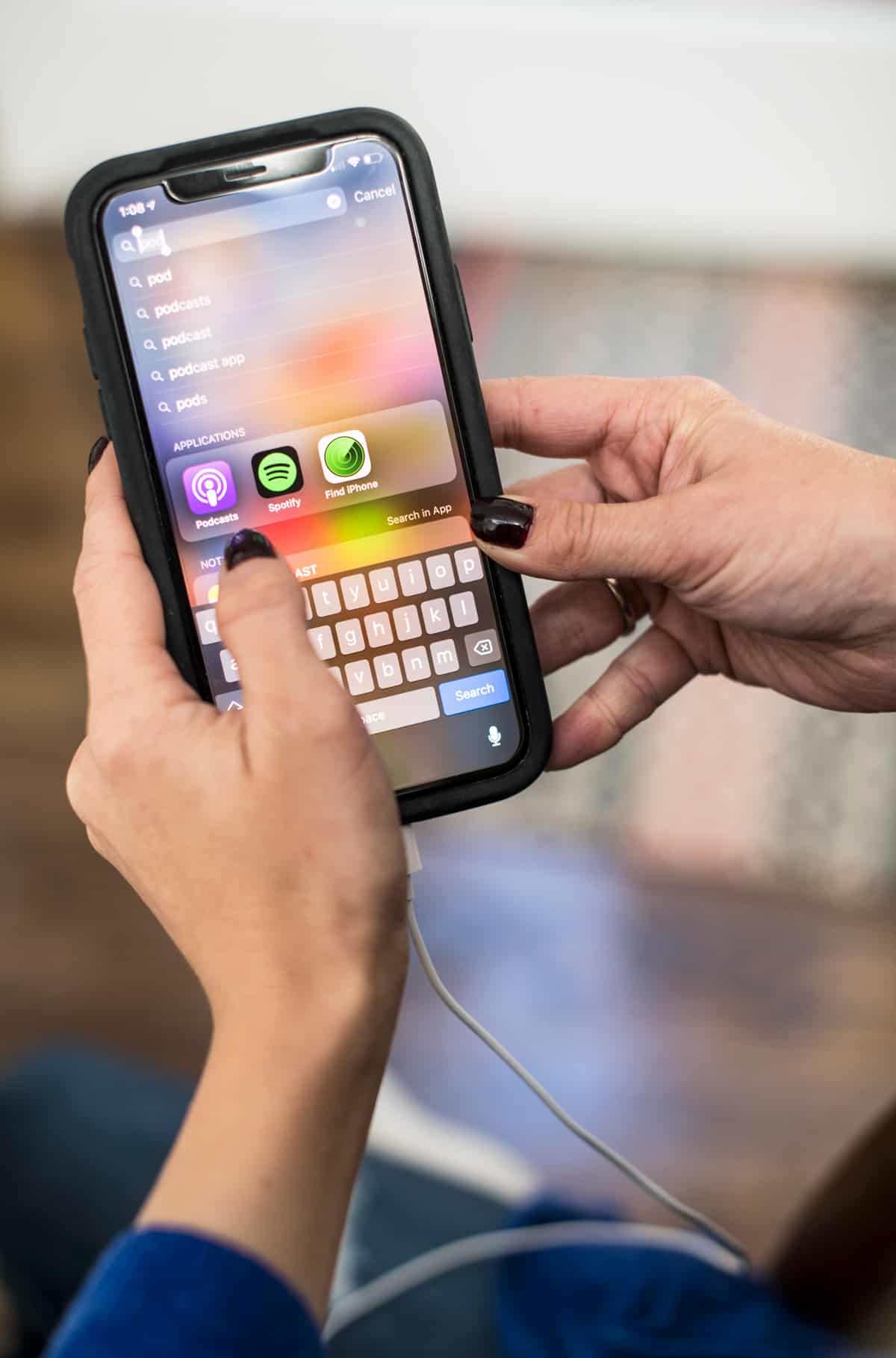 Just for Fun
Hey It's Okay: Every once in a while, don't you wish that someone would just tell you "Hey, it's okay!" About, well, everything? We all need a little encouragement now and then, and hosts Kristin and Kiwi are here to offer just that. Each episode centers around a different problem or concern that listeners might crave a "Hey, it's okay!" for, breaking down why we are made to feel bad about those things by society and offering the reassurance you're probably craving.
You Can Sip With Us: These days, going out for happy hour with friends isn't really an option. The next best thing? Sitting in on someone else's happy hour conversation and pretending you're in on it! Well, with You Can Sip With Us, you can make that experience happen… and you can even pour yourself a glass of wine or a French Kiss Cocktail for an added touch. Hosts Ashlie and Colleen talk about their go-to products and pop culture and share hot takes and advice with their listeners.
Work, Play, Love with Lauren Fleshman and Jesse Thomas: Two years into their podcasting journey, married hosts Lauren Fleshman and Jesse Thomas are still dishing out advice based on their personal experiences as professional endurance athletes, spouses, and parents. It's a little bit of everything, and you're sure to connect with this couple! Lauren and Jess capture it perfectly — "It's a circus, but hey, we're all in it together!"
Wine & Crime: I shared a few awesome true crime podcasts last year (more on those below), but Wine & Crime is my latest find. Here's the setup: three friends, drinking wine, and talking about true crime. It's really that simple… and it's really that fun.
Armchair Expert with Dax Shepard: Armchair Expert may be one of the most buzzed-about podcasts out there but it's never too late to join the party and become just as obsessed as the rest of the world. Dax Sheperd's interviews with celebrities (Jon Bon Jovi! Sara Bareilles! Melissa McCarthy! 50 Cent!) are at turns inspiring and hilarious — but always, always, always totally fascinating.
Crime Junkie: What is it about true crime that is so. darn. fascinating? I definitely can't explain it, but I can tell you that Crime Junkie will scratch your true crime itch if you're like me and can't get enough of these crazy real-life stories.
The SSR Podcast: Get your weekly dose of blast from the past on SSR! Each week, the host invites a guest to reread and chat about a book that was important to them in their middle or high school years. You may be surprised by how different some of your favorite stories sound in 2020! SSR is also a great reminder of the children's books that bring so many of our pasts together, including Little House on the Prairie, Charlotte's Web, and The Baby-Sitters Club.
Chatty Broads with Bekah and Jess: You may recognize co-host Bekah Martinez as a former contestant on The Bachelor, but these days, she spends a lot of her time gabbing on mic with friend and former stylist Jess Ambrose. Chatty Broads covers all kinds of content — mom life, astrology, mental health, relationships, and more. If you happen to be a fan of the Bachelor franchise, they also do a fair bit of recapping when the shows are on air!
LET IT OUT: Authors, musicians, entrepreneurs, chefs, comedians, and actors have all guested on this pod, taking the opportunity to let it out with host Katie Dalebout. It's a mix of heavy and light conversations that cover everything from chronic illness to building confidence, so you're bound to find something that speaks to you.
My Favorite Murder with Karen Kilgariff and Georgia Hardstark: Nope… I still can't explain why we're all so obsessed with true crime. But the reasoning doesn't matter when you have a pod as juicy as My Favorite Murder! Hosts Karen and Georgia are lifelong fans of true crime, and they spend each episode of their show swapping stories of crime and murder with their friends and fans.
Pop Culture Happy Hour: Twice a week, this podcast from NPR delivers easy-to-listen-to episodes that will download you on important happenings in the world of movies, television, books, and music. You'll never feel left out of a pop culture conversation again!
Bad On Paper: Launched originally as a book club podcast, Bad On Paper has evolved to cover a wider range of lifestyle topics — careers, dating, fashion, and more. Hosts Grace and Becca are best friends in real life, and you might be familiar with Grace as the blogger behind popular lifestyle site The Stripe. After listening to just a few episodes of Bad On Paper, you'll feel like you've been granted access to their top-secret girl friendship gang.
---
Pin it for later:

What would you add to this list?
4 comments
October 16, 2020
This website may at times receive a small affiliate commission for products that we shared with you in our posts. Although we may receive a commission for linking certain products, there's no additional costs to you and all of our opinion and suggestions are 100% our own and unbiased. That's our promise to you!
Subscribe to get our FREE clean eating guide!
Join our email list TODAY to start recieving our newsletter weekly, access to exclusive content and deals, *and* a FREE complete 24-page clean eating guide!