Corned Beef is more often purchased already brined than it is made at home, but using this easy Corned Beef Brine Recipe it's so simple to DIY using our pickling spice mixture and beef brisket. We are skipping the nitrates and using whole ingredients you recognize and the best part is the taste of the final product is far superior than anything store-bought and is SO FUN to accomplish!
Corned Beef Brine Recipe
Did you know that you could make your own corned beef at home, starting totally from scratch? It's so easy when you use this Corned Beef Brine Recipe, we promise! And honestly it results in the best tasting corned beef that is so incredibly flavorful–and you control what goes it in instead of putting in some strange spice package of unknown ingredients. Plus it's one of those cool things to be able to say that you know how to brine your own brisket, right?
What exactly is corned beef?
Let's start here, because some of you may have some questions! Corned beef is really just beef that has been preserved with salt, also known as brining. It's flavored with the salt, spices and a bit of a sweetener which essentially means that you are pickling it, so think of it like pickled beef! The name corned beef comes from an old English way of referring to large granules of salt as "corns", and therefor it just means salted beef, and there is not actually corn involved.
Most commercially prepared corned beef contains saltpeter, also known as sodium nitrate. The sodium nitrate is a curing salt that contributes to the pink color and cured flavor of corned beef. It also prevent the meat from spoiling or going rancid while it is curing. However, since the meat is cooked after it is brined it is not essential to use it. The use of nitrates and nitrites are controversial as to whether or not they are harmful in cured meats because cured meats typically contain such a small amount, and on average a person consumes larger amounts of naturally occurring sodium nitrates in vegetables like spinach, beets, celery and others. But in 2010 nitrates were declared a possible carcinogen by the World Health Organization, so when possible we avoid buying meat with added nitrates. So for this recipe we skip the sodium nitrate all together since it is not needed, and instead used beet root powder to color the meat, though this is optional.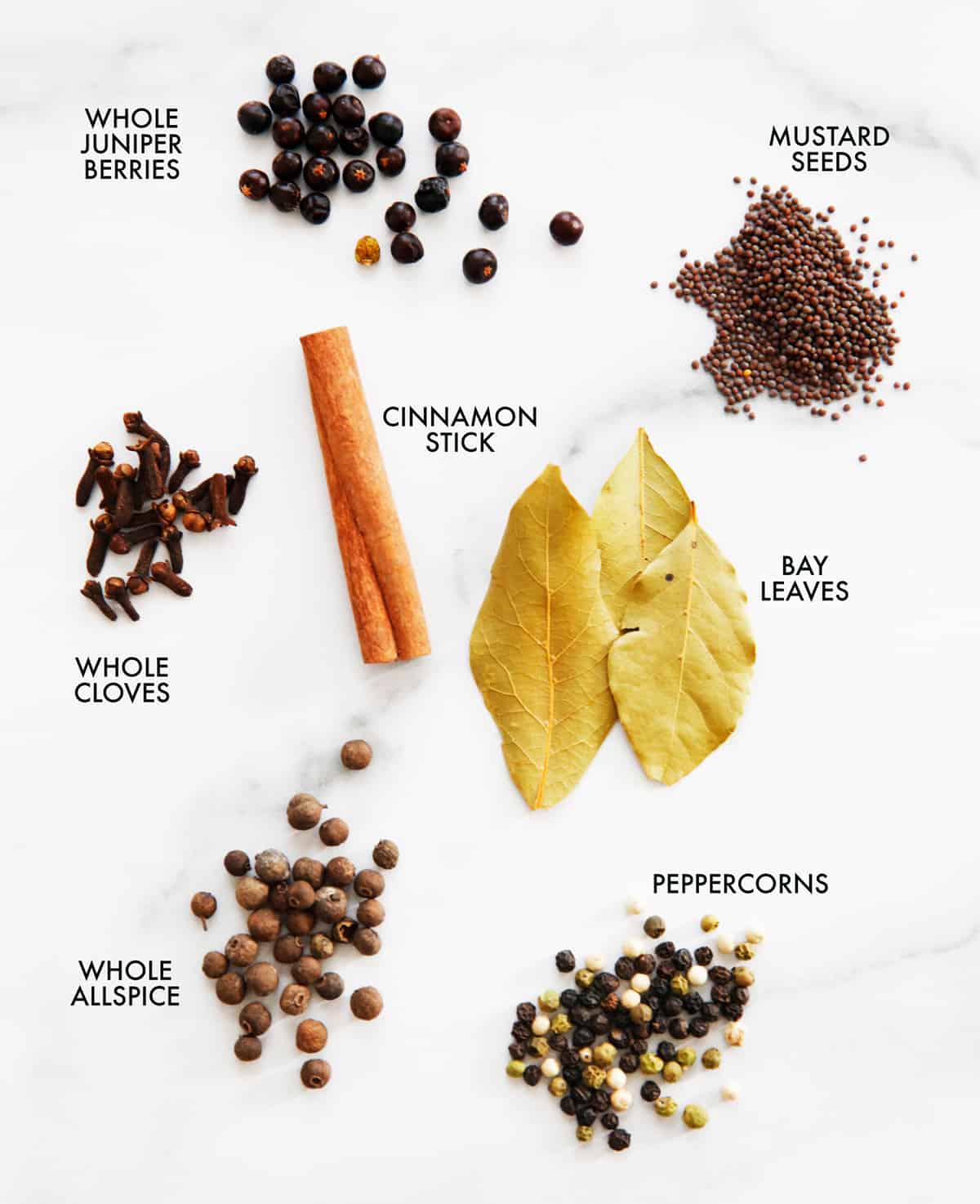 Why do we eat corned beef?
Corned beef is popularly cooked during the American celebration of all things Irish on St. Patrick's Day. It can be called a corned beef dinner or a boiled dinner, which refers to the fact that corned beef is often slowly boiled with some vegetables. But if you dig a little deeper, our American tradition of corned beef actually has little to do with food that you might find in Ireland, and more to do with the corned brisket you would have found in a kosher Jewish deli at the turn of the century. Corned beef can also be thinly sliced and use in sandwiches such as pastrami, or then remade into several different recipes, like corned beef hash.
What is the best cut of meat for corned beef?
For this recipe we're using a flat cut brisket! That cut of meat is ideal because it is contains a lot of fat (which equals flavor) and is generally tough, so the brining really helps transform it. You can also make corned beef from an eye round roast.
What is in the corned beef spice packet?
Honestly, anything can be in those spice packets that sometimes come with commercially produced corned beef. Which is why we advocate making your own (or buying a high quality one). For our corned beef pickling spice we use:
juniper berries
cinnamon
whole cloves
peppercorn
bay leaves
mustard seed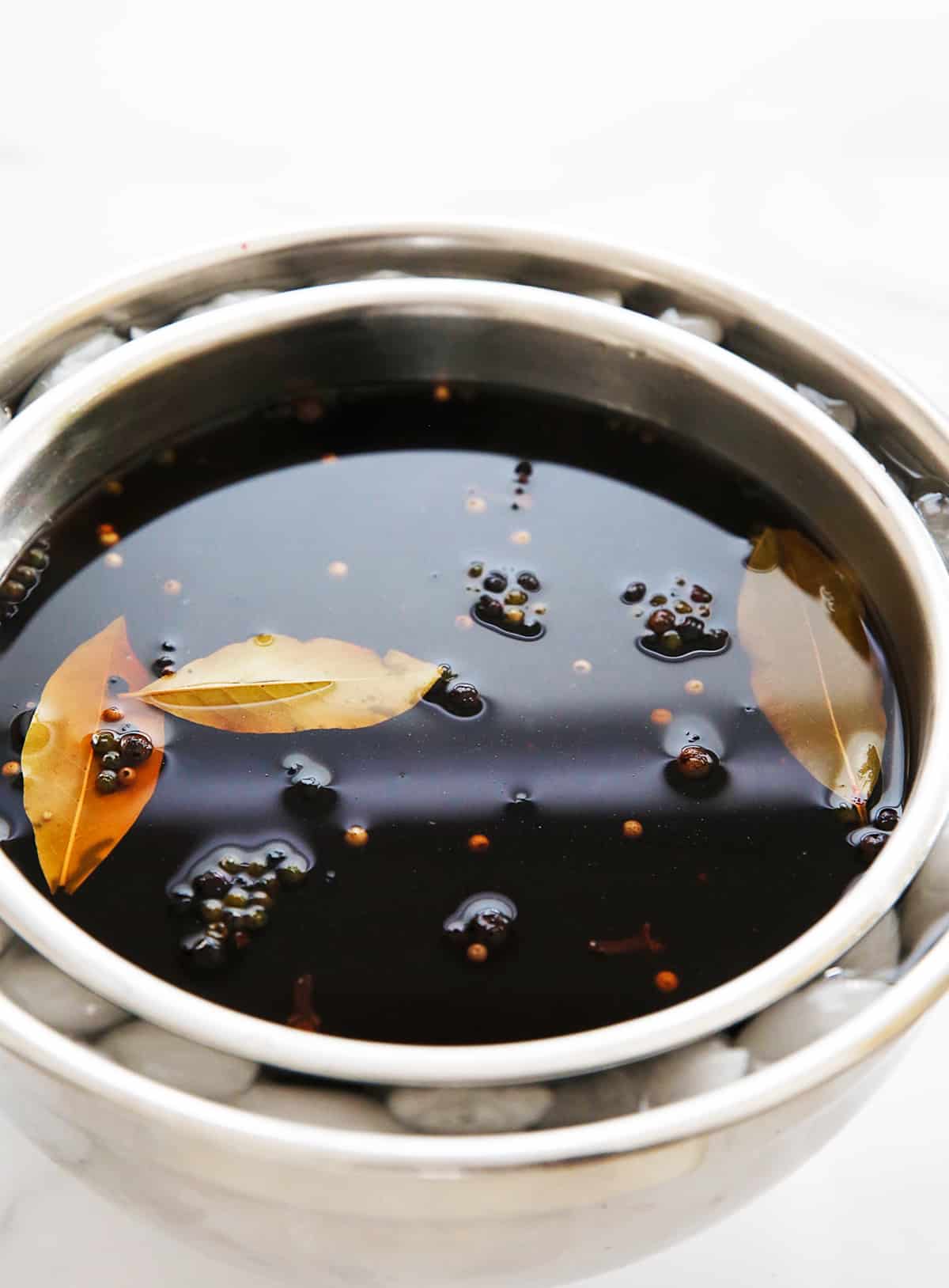 How long do you brine corned beef?
Traditionally brined corned beef with sodium nitrates can be brined for as long as 10 days. Because we were skipping it, we went with a smaller amount of time brining, about 5-6 days as there is enough salt in the brine to transform the meat in a shorter amount of days.
Why do you rinse corned beef?
This step is important! If the meat has been properly brined it has been infused with not only the flavor, but also the salt. Before you cook the meat you want to rinse it with cool water to remove all the excess salt. Similarly, you want to cook the corned beef in a ton of water to help bring out some of the salt. Don't worry though ALL of the flavor of the spices is inside of the meat, and a properly brined beef doesn't need additional spices during cooking because it's infused inside of it.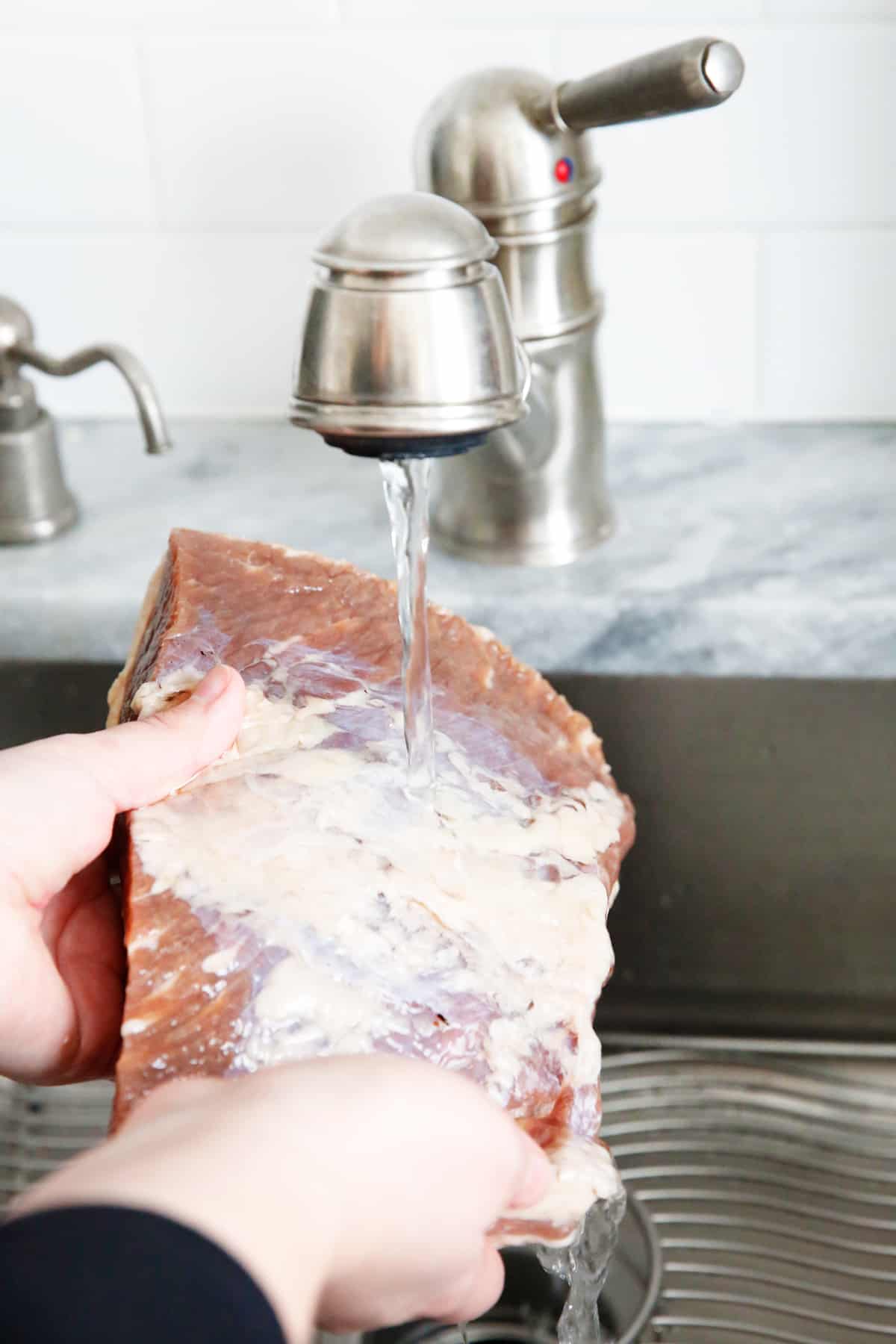 How do you cook corned beef?
Traditionally corned beef is brought to a boil on the stove top and simmered for a few hours. Vegetables like cabbage, potato and carrots are added into the pot and they're boiled in the flavorful stock until just tender. Another method of cooking it would be in the slow cooker on low for 6-8 hours, depending on the size of the beef, and similarly vegetables added in. We're talking all about how to cook it in the Instant Pot, which is our modern favorite way of cooking it over here in this post.
For this recipe, we used these tools:
Large pot
Plastic bag with a tight seal
Large container to hold curing beef
If you like this DIY recipe, check out these others: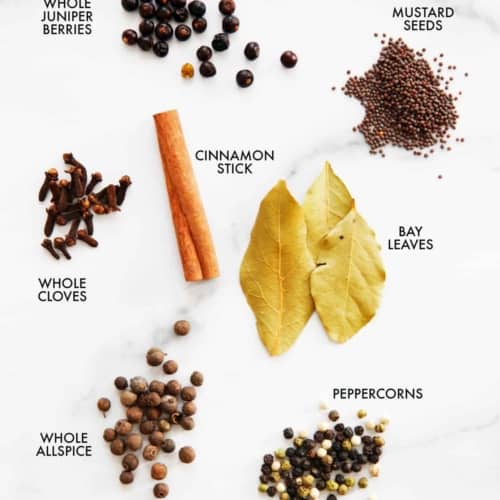 Corned Beef Brine Recipe (Nitrate Free!)
Using this easy Corned Beef Brine Recipe it's so simple to DIY corned beef using our pickling mixture and beef brisket. We are skipping the nitrates and using whole ingredients you recognize and the best part is the taste of the final product is far superior than anything store-bought and is SO FUN to accomplish!
Ingredients
2

quarts

water

preferably distilled / filtered

½

cup

coconut sugar

1

cup

kosher salt

1

tablespoon

mixed peppercorns

1

teaspoon

juniper berries

1

teaspoon

whole cloves

1

teaspoon

whole allspice

3

dried or fresh bay leaves

1

tablespoon

beet root powder

optional, see note

3-4

lb.

flat cut beef brisket
Instructions
In a large pot add all of the ingredients, except the beet root powder (if using), and bring to a boil. After all of the salt and sugar has dissolved shut off the heat.

Let the mixture cool completely. You can let this happen naturally, or you can place the brine in an ice bath by placing the brine inside of a clean bowl and then placing that bowl inside of another bowl filled with ice water.

Once the brine is cool place the beet root powder (if using) and brisket inside a 2 gallon plastic bag and place the bag inside of a large container that will catch any accidental drips. This container has to be able to fit inside of your refrigerator.

Carefully pour all of the brine inside of the plastic bag and seal it. Lay the plastic bag flat inside of the container and place in your refrigerator for 5-6 days.

Each day carefully turn the bag upside down to stir the brine and make sure all of the beef is submerged.

Once ready to cook discard the brine and the spices and rinse the corned beef thoroughly.
Notes
Traditionally corned beef is cured using a salt that turns the brisket pink. We are purposefully skipping this salt, also known as sodium nitrate because it's been labeled a possible carcinogen and is not necessary in this recipe. Without the sodium nitrate the corned beef is rather gray. We experimented with adding beet root powder to help counteract that and found that the resulting corned beef wasn't super pink, but it did change the color a bit. This is totally optional, and might not be worth buying a package of beet root powder just for this purpose if you are never going to use it again.
Nutrition
Calories:
482
kcal
Carbohydrates:
16.2
g
Protein:
68.8
g
Fat:
14.2
g
Saturated Fat:
5.4
g
Cholesterol:
203
mg
Sodium:
1900
mg
Fiber:
0.1
g
Sugar:
16
g