You've been hearing a lot lately about the precautions you and your loved ones can and should take to keep healthy. Hand sanitizer, in particular, has never been more popular, since it's been widely documented as one of the best ways to protect yourself on-the-go. I've never been a big fan of hand sanitizer (in theory, it kills both the good and the bad germs), but sometimes we gotta do what we gotta do! Nothing's more important than keeping ourselves and the people we love healthy, right?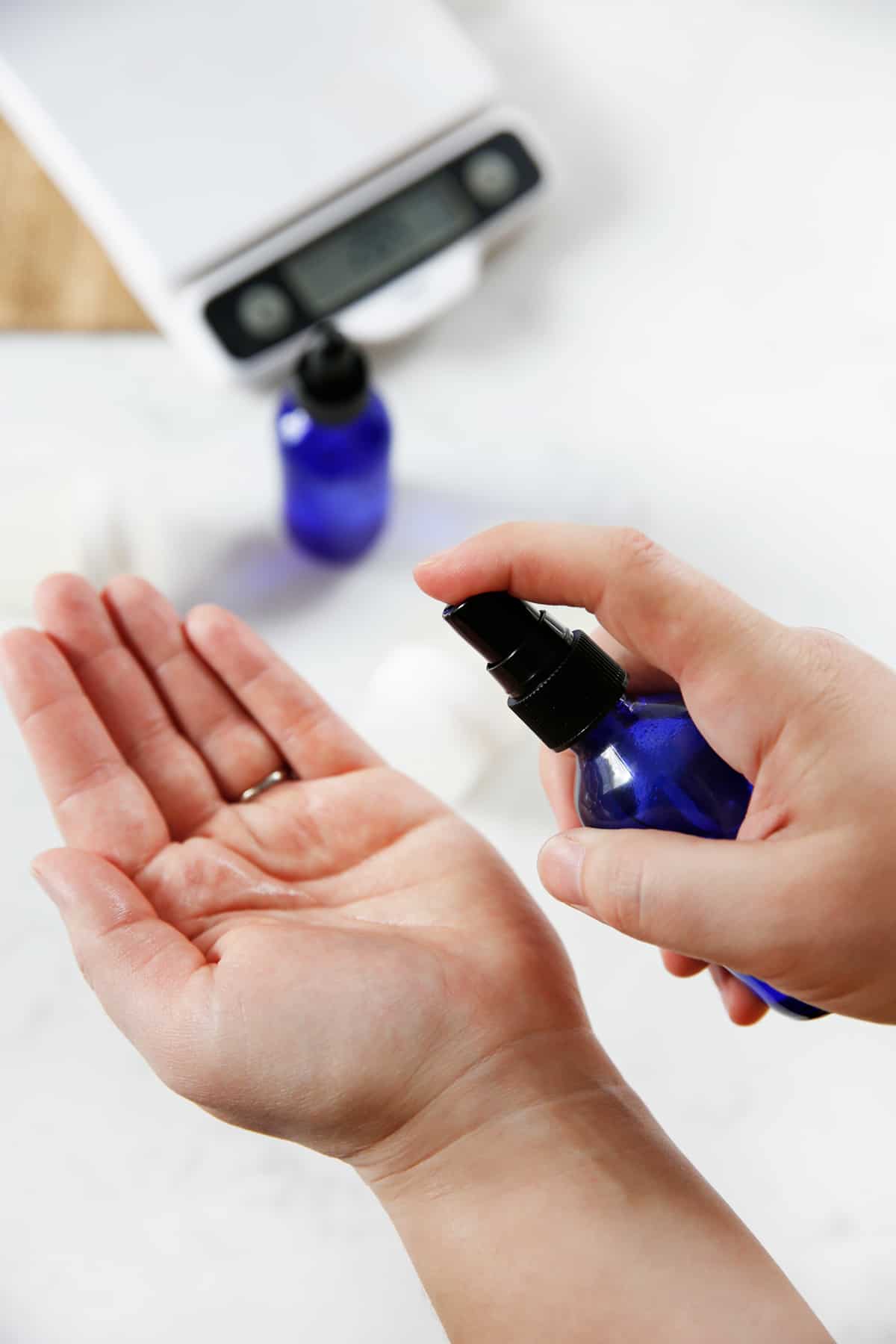 How to Make Your Own Hand Sanitizer
Before we go much further… I want to remind you that washing your hands in the sink with soap and water is still always, always, always going to be your best option. The Centers for Disease Control and Prevention (CDC) say so, and I'm all about trusting the experts! I also love my clean, safe hand soap from Beautycounter, which makes washing my hands an even nicer experience.
But let's get real: you aren't always going to have easy access to a sink and soap, and unfortunately, the moments when those things aren't available can definitely be the same moments when you feel like you need them the most!
If you and your loved ones are out shopping, traveling, or doing other activities in public, you're bound to feel like you need a quicker fix, especially during cold and flu season or the spread of more serious diseases like Covid-19. When you're out and about, you shouldn't wait until you get home to fight germs on your hands. If soap and water aren't available, you should use a hand sanitizer that contains at least 60% alcohol.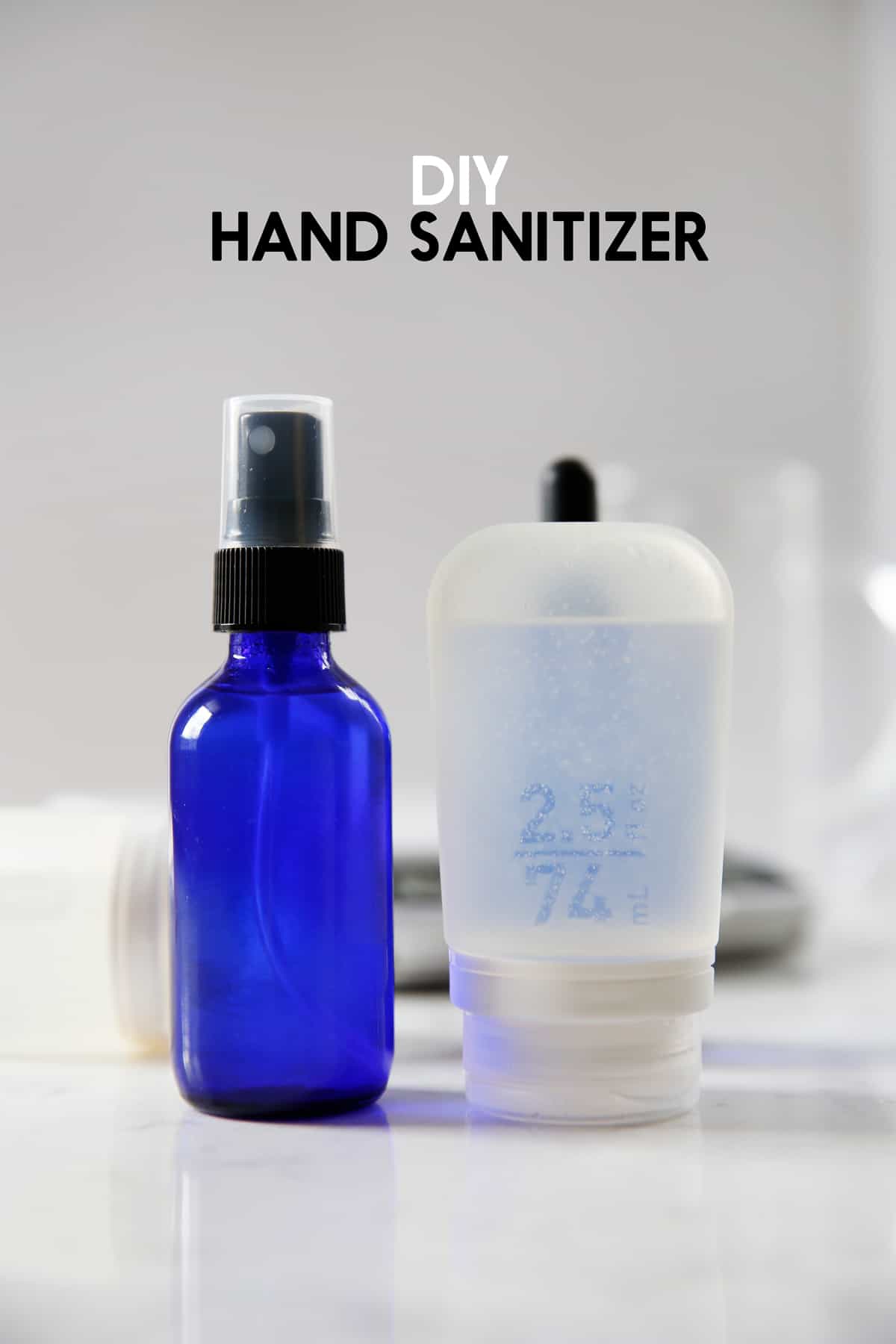 Hand sanitizer is a quick, convenient solution that's easy to travel with and can reduce the number of microbes and germs on your hands, according to the CDC. Store-bought, scientifically-formulated hand sanitizers are a solid next option when you can't wash your hands with soap and water.
If you're having trouble tracking down hand sanitizer at the store, you can make your own. While this can work in a pinch, it's still not as reliable as the store-bought kind, in which all of the chemicals are perfectly proportioned. So make sure you do your due diligence with measurements!
That being said, making your own DIY hand sanitizer is a simple process that only requires a few ingredients (although you can add a few others for extra benefits). And since many mainstream hand sanitizers contain dangerous fragrances and an antibiotic compound called triclosan that the FDA has raised concerns about, you're probably better off making your own, anyway.
What You Need to Make it
99% rubbing alcohol

(you can use 70% alcohol but you must change the proportions of the recipe, per the

CDC

). This is the active ingredient in any hand sanitizer recipe, and it needs to comprise at least 60% of the product in order to be an effective disinfectant. Use specifically isopropyl alcohol (rubbing alcohol) or ethanol (grain alcohol), since others can be toxic.

Essential Oils (like Tea Tree & Lemon)
Vitamin E Oil (optional)

Funnel

(or just pour it in)
Mixing bowl or Liquid Measuring Cup

A non-metal utensil for mixing (we found the aloe stuck to a metal whisk)
The Process
Start by sanitizing all of your tools (glass bottles/squeeze tubes, liquid measuring cup, and a spatula) in hot water or a dishwasher. There's no point in making something that's meant for sanitizing in an unsanitary way!

Put the rubbing alcohol and aloe vera gel in the bowl and mix thoroughly with the spatula. (If you'd prefer, you can put the ingredients directly into a jar or the bottle and shake it.)

Add your desired add-ins.

Use the funnel to carefully pour the sanitizer into your bottle.
How it Differs from Store-Bought Hand Sanitizer
As we've been using the hand sanitizer over the last week we've noticed that the aloe vera doesn't stay homogenized very well. To counteract this we shake up the bottle each time we're going to use it. Keep in mind when you put this together that this DIY hand sanitizer has minimal ingredients, with the most important one being the alcohol. If your aloe does separate, this isn't a concern, it merely means it isn't blending well. Shake it to the best of your ability, but don't sweat it, as long as you've got the alcohol you are good to go. We realize this isn't a perfection solution and isn't an exact replica of buying factory made hand sanitizer, but this has been so helpful for us since we cannot purchase it in the store, and we hope it will for you too.
Additional Add-Ins
Here are some other optional ingredients you can add to make it nicer to use! However be careful of how many additional products you add-in as it could dilute the alcohol. Keep in mind you need at least 60% alcohol in the solution.
Essential Oils:Different essential oils can add different properties to your hand sanitizer. Oils like tea tree, thyme, and clove have antimicrobial, antibacterial properties to help the sanitizer work even harder. Add just one or two drops of those oils to your mixture.
Gentle essential oils like lavender or chamomile can have a soothing effect on your skin and can be used in a slightly larger quantity — three to five drops. For a natural fragrance, you can also add five drops of lemon or orange essential oil! Safe essential oils should be labeled as wildcrafted, organic, and extracted without solvents.
Vitamin E Oil: Mixing in five drops of vitamin E oil will make your hands a little softer!
How long does it last?
Homemade hand sanitizer can be used effectively for up to twelve months, but don't use it as a substitute for washing with soap and water! That should still be your family's primary mode of washing up whenever possible. DIY hand sanitizer can also freeze and make a mess, so be sure to take it out of your car if temperatures are getting especially chilly.
Moisturize
Hand sanitizer, especially alcohol-based can be drying on your hands, so make sure to moisturize!
Wash up, everyone, and stay healthy!
DIY HAND SANITIZER
While hand sanitizer isn't the best option for getting rid of germs, sometimes it's the only option. Making DIY hand sanitizer is easy and quick to do!
Ingredients
6

tablespoons

99% isopropyl alcohol

see note

2

tablespoons

aloe vera gel

8-10

drops of essential oil

optional

5

drops vitamin E oil
Instructions
Sanitize all equipment that will come into contact with the sanitizer either by running it in a dishwasher or boiling for 5 minutes (take care to only boil heat safe items).

Either mix together ingredients in a sanitized bowl with a non-metal utensil, or add the ingredients to your destined sanitizer container and mix it up.
Notes
If you are using a 70% isopropyl alcohol you need to change the proportions to this:

7 tablespoons plus 1 teaspoon of 70% isopropyl alcohol
2 teaspoons aloe vera gel
DISCLAIMER: This website provides general information and discussions about health and related subjects. The information and other content provided in this website, or in any linked materials, are for informational purposes only and are not intended and should not be construed as medical advice, nor is the information a substitute for professional medical expertise or treatment. If you or any other person has a medical concern, you should consult with your health care provider or seek other professional medical treatment. Reliance on any information provided on this website or any linked websites is solely at your own risk.
Pin for later: