Don't let the ease of making this dish dissuade you, this Stir Fry Veggies recipe is simply delicious! Make as a side dish, or pair it with a protein for a complete meal. This vegan, Whole30 and Paleo-friendly dinner idea will be a hit with everyone.
Easy Stir Fry Vegetables
Sometimes the simplest dinners are the most delicious, and this easy Veggie Stir Fry is one of them! Take whatever veggies you have on hand, saute them up before dosing them in a yummy stir fry sauce and you've got yourself a 20-minute dinner! While we outline our favorite stir-fry veggies, you certainly can swap in with what you have at the moment, and have given some guidance below for how to do that. We love to serve this as a vegetarian main, along with some rice, rice noodles or even roasted spaghetti squash. It's vegan, Whole30 and Paleo-friendly and might even be good enough to convince the kids to eat some veggies for once!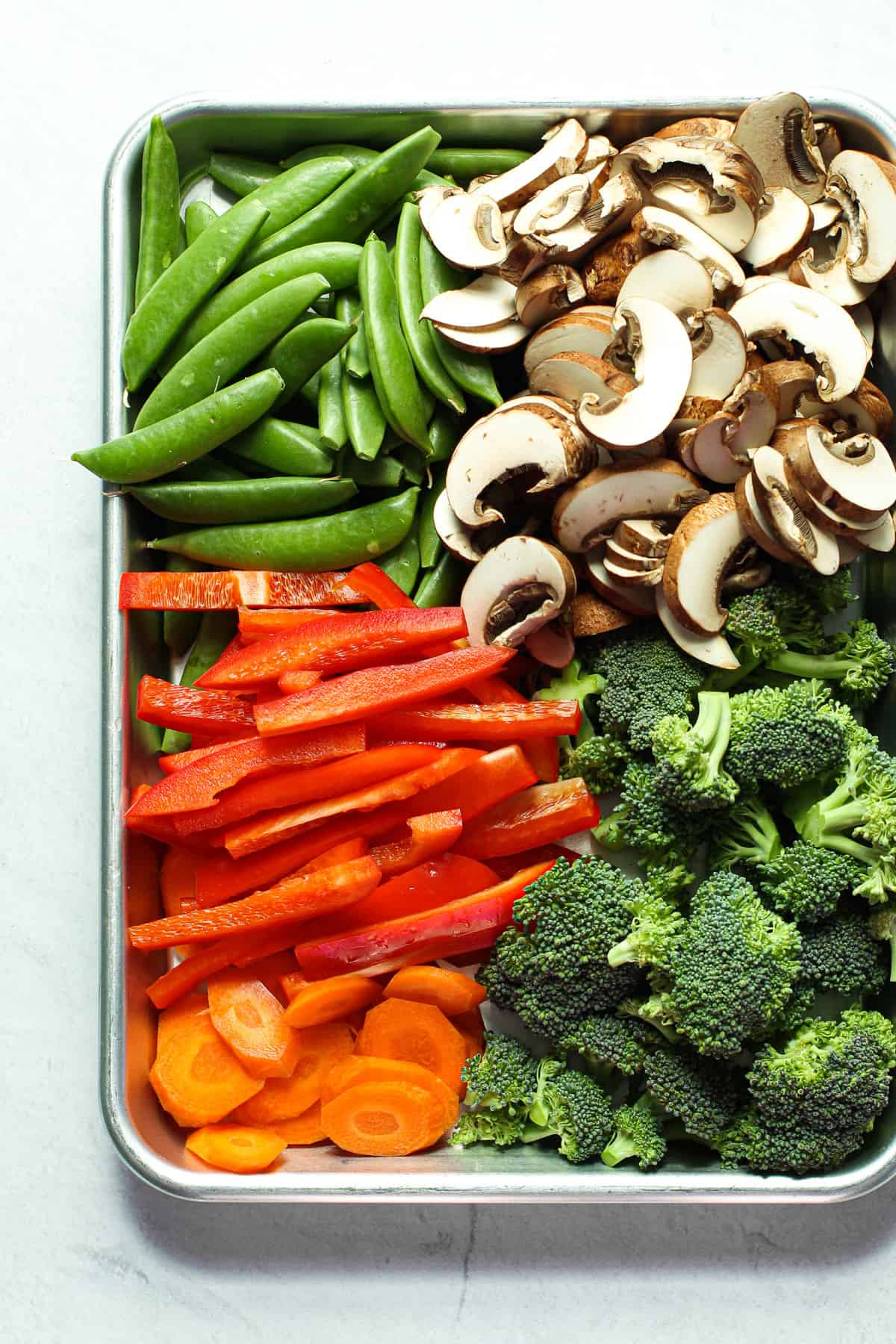 Veggie Options for Stir Fry
A stir fry typically calls for cooking the ingredients in stages. That way it ensures each ingredient, or group of ingredient, is cooked perfectly. Then they are all brought together in the end with a stir fry sauce.
For this Stir Fry we've chosen:
Broccoli

Carrots

Fresh Mushrooms

Bell Peppers

Snow Peas
This stir-fry is cooked in stages, pairing vegetables together that cook in the same time. If you want to swap in some vegetables that you have on hand, make sure to pair them together with veggies that will cook at the same time. Here are some veggies that work well for a stir-fry, grouped together by quicker cooking and longer cooking:
Quicker Cooking Veggies for Stir Fry:
Zucchini
Spring Onions
Asparagus
Green Beans
Greens such as Bok Choy, Kale, or Spinach
Longer Cooking Veggies for Stir Fry:
Cauliflower
Brussels Sprouts
Winter Squash such as Butternut or Spaghetti
Root Vegetables
Onions
Cabbage
The Importance of Cutting Veggies the Same Size
Regardless of what veggies you use, make sure to cut the veggies to be a similar size, that way they cook evenly. For instance, broccoli florets should all be cut about the same size as each other. Make sure to cut the carrot slices about the width.
Pro-tip: Prep up everything before you begin cooking. Because a stir fry is a very quick cooking time, you want to make sure the veggies all cook evenly.
Stir Fry Tips
A stir-fry isn't hard to make! But here are some tips for making it successfully:
Make sure all your ingredients, including the sauce, are prepped up before you start! Everything happens quickly so you don't want to be caught chopping veggies when you should be paying attention to the stir fry.
As mentioned above, cut the vegetables evenly.
Make sure your pan gets really hot! It gives the veggies good flavor and the correct cook of crisp, but tender.
What to Serve with Vegetable Stir Fry
Serve this stir fry with rice, rice noodles, veggie noodles or as a side dish along with some protein.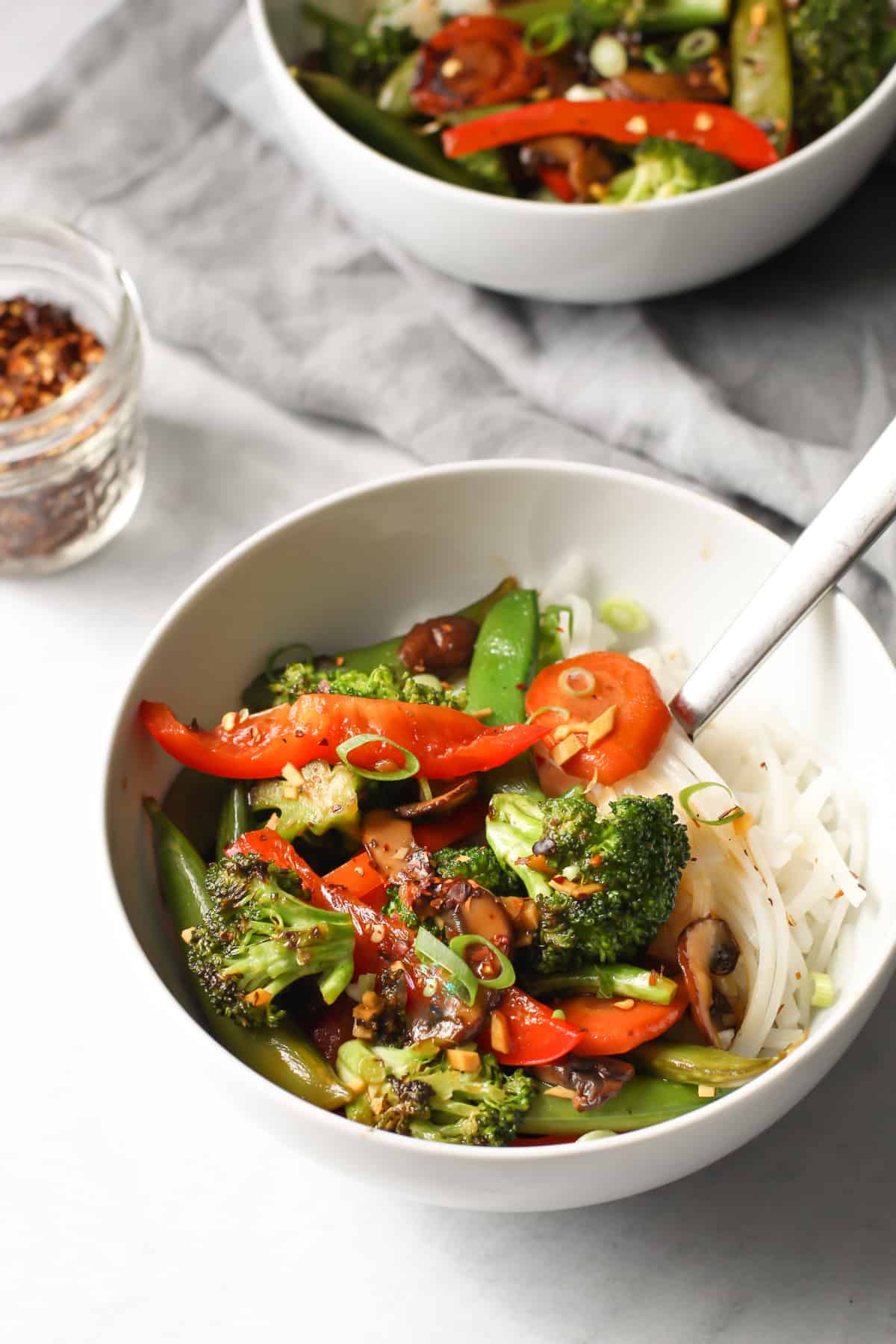 If you like this plant-forward recipe, check out these others:
[simple-recipe:471359c]