Garden Veggie Pizza with Tart Cherry Balsamic Reduction (Gluten-Free)
This Garden Veggie Pizza with Tart Cherry Balsamic Reduction is everything you want about summer: filled with fresh veggies, simple to put together and the most flavorful drizzle thanks to tart cherries. It uses my classic gluten-free and paleo pizza crust, with a white ricotta and garlic base, and can be thrown together SO quickly! Seriously, it's so easy to make! Topped with all your in-season veggies and you have the ultimate summer veggie pizza. Made in partnership with the Cherry Marketing Institute!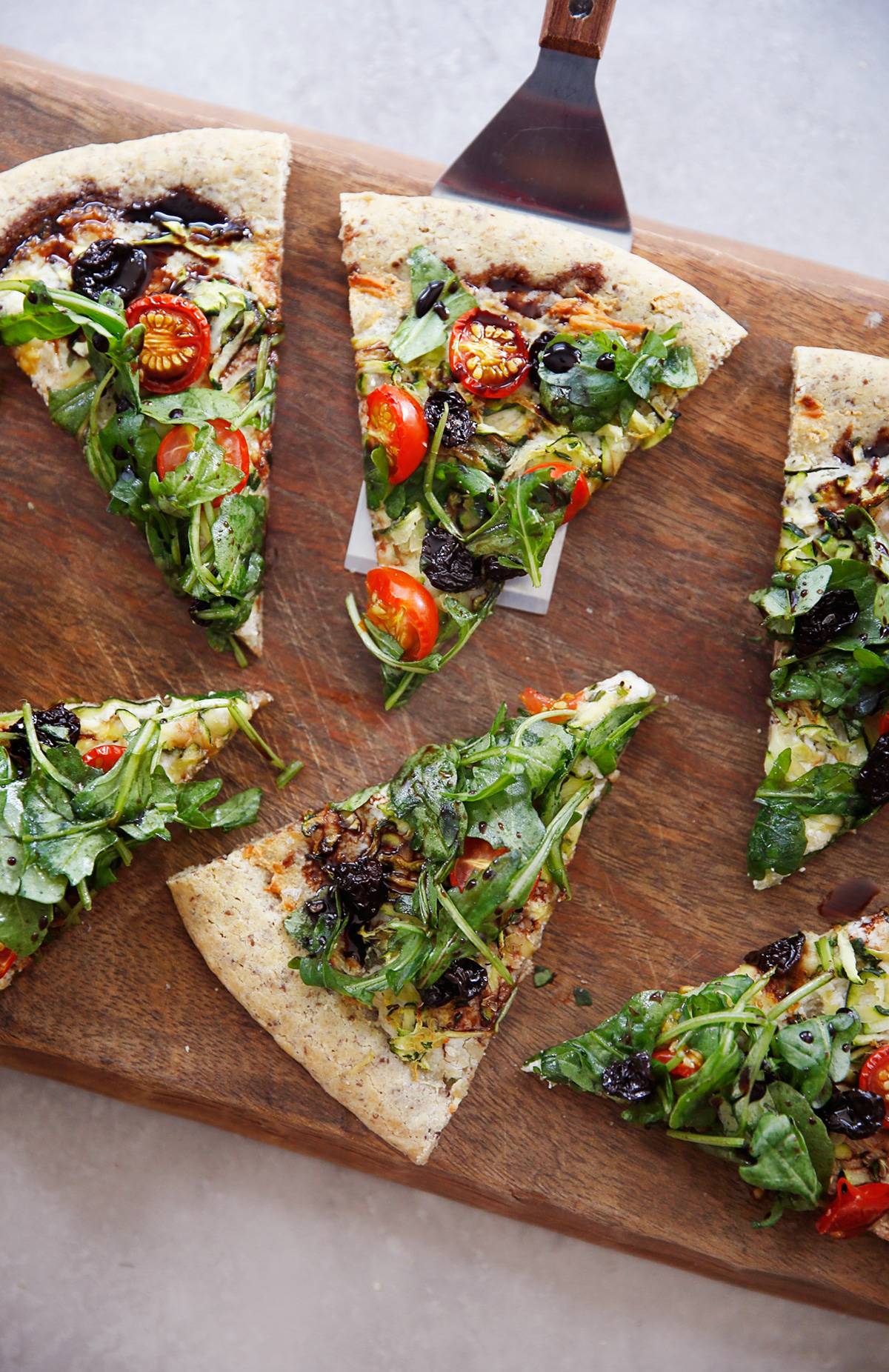 Garden Veggie Pizza
I am so excited to partner with my friends at the Cherry Marketing Institute today to bring you this Garden Veggie Pizza with Tart Cherry Balsamic Reduction recipe straight from my CSA and garden to your kitchen! U.S.-grown Montmorency tart cherries can be enjoyed year-round, and you can find them dried, frozen and in canned forms, in addition to juice and concentrate. Today, we're using dried tart cherries AND the tart cherry juice and they totally make this pizza!! I love the tart sweetness playing off the savory garden veggies and ricotta! It is the ultimate summer pizza combination.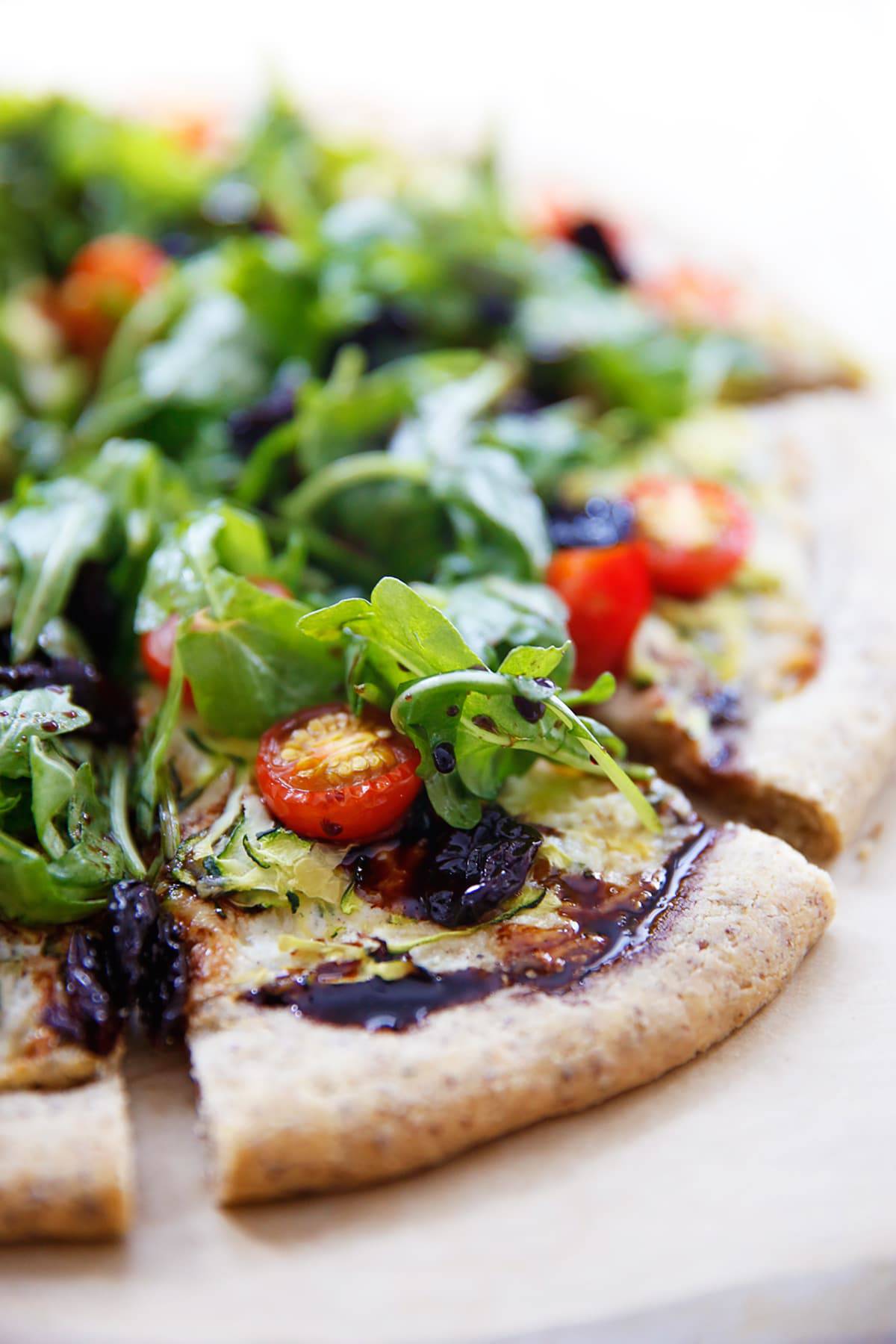 SO, why do I choose Montmorency tart cherries? Well, let's get a little science-y for a second! For one, they are abundant in anthocyanins – a natural compound that contributes to the ruby-red color and distinctive sweet-tart taste. This phytonutrient, a type of flavonoid, is also behind the potential health-promoting properties of Montmorency tart cherries. From exercise recovery to sleep and heart health to inflammation, like soothing arthritis symptoms these Montmorency tart cherries have been credited with an array of health advantages! I seriously love them so much!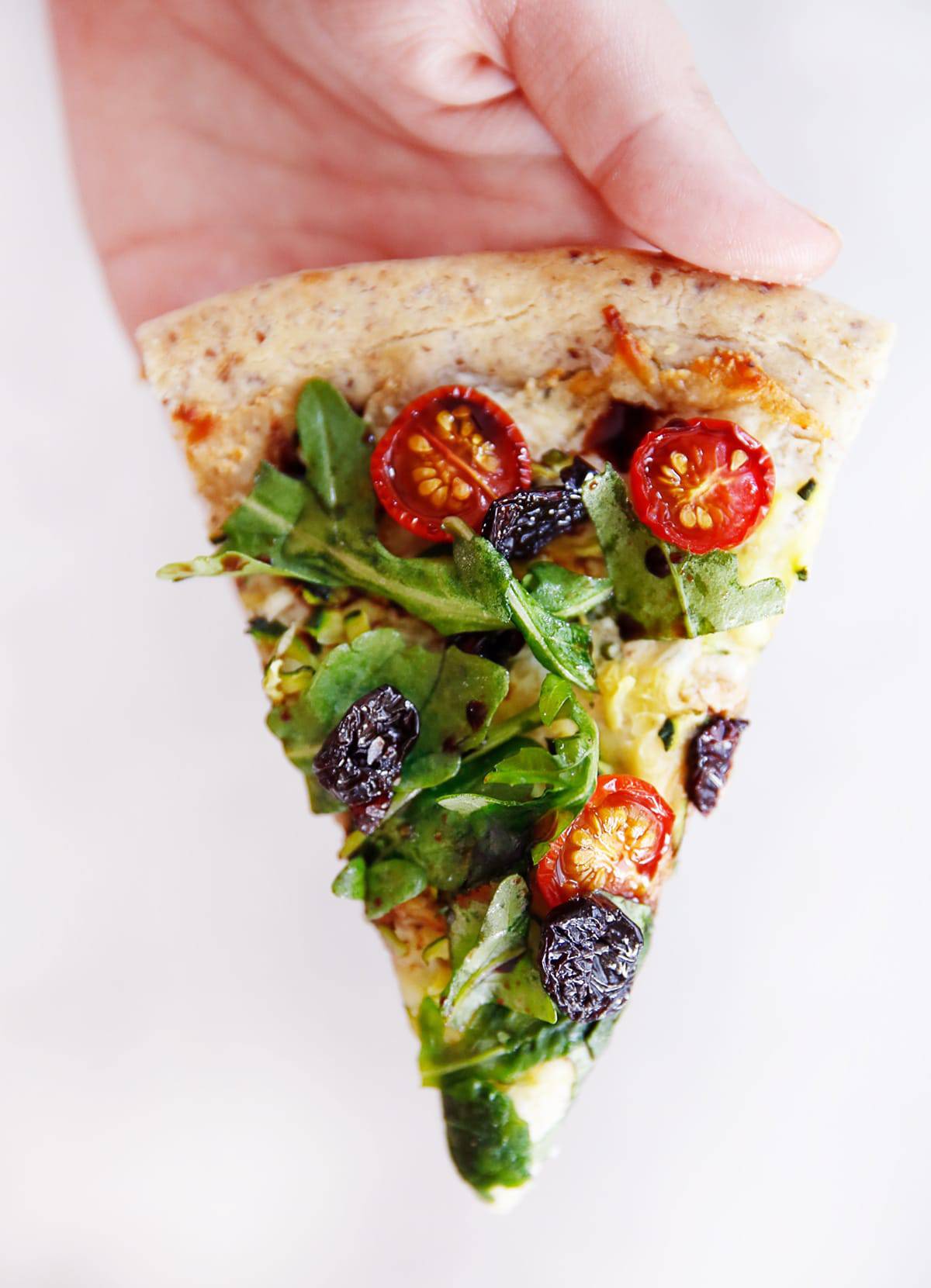 Want other tart cherry recipes? Here are two of our favorites: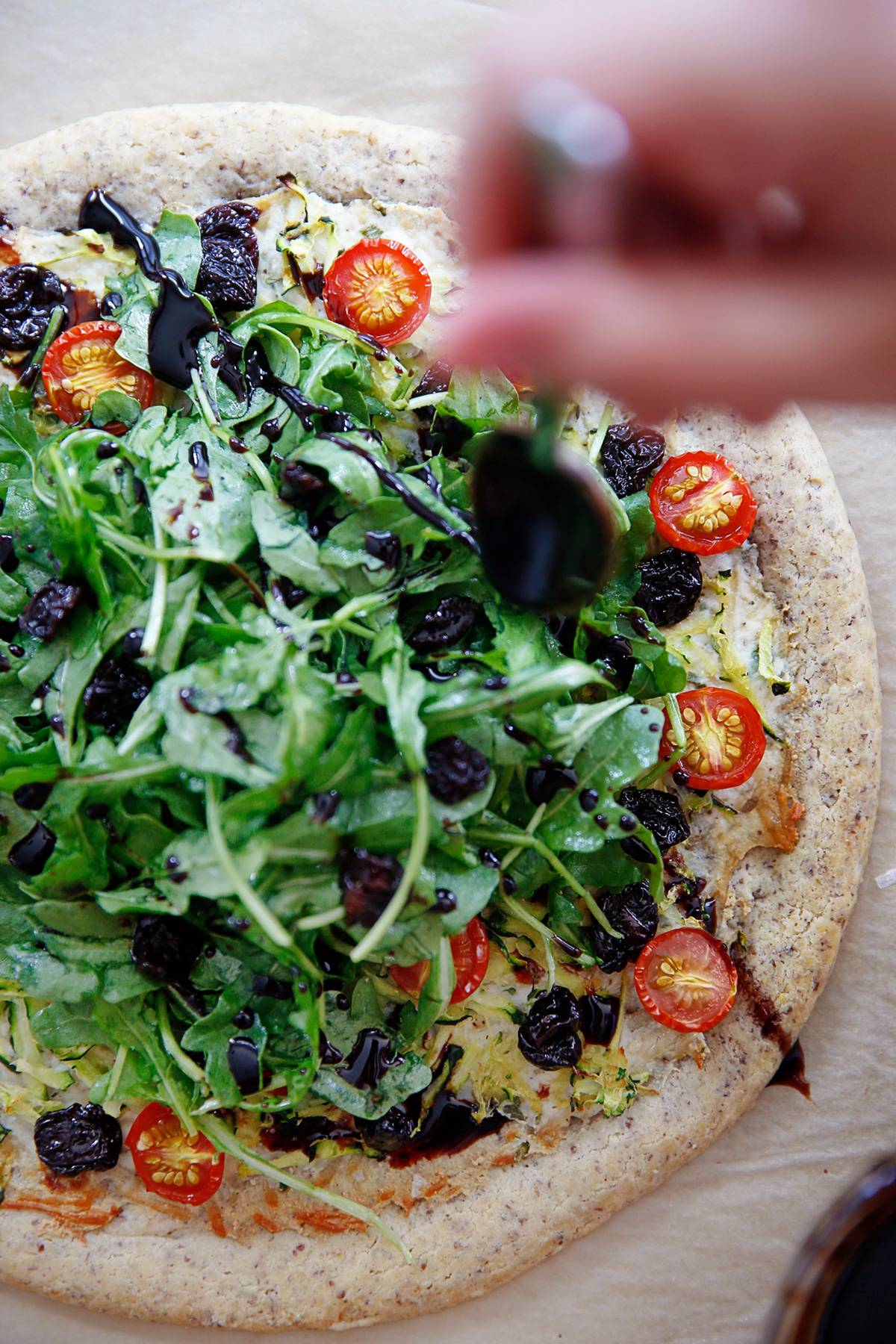 Just look at that cherry balsamic drizzle!!! And it's so easy to make. This crust is no-fuss, paleo-friendly, and SO good. Seriously, I've tried A LOT of gluten-free pizza crusts and this one is my all-time favorite.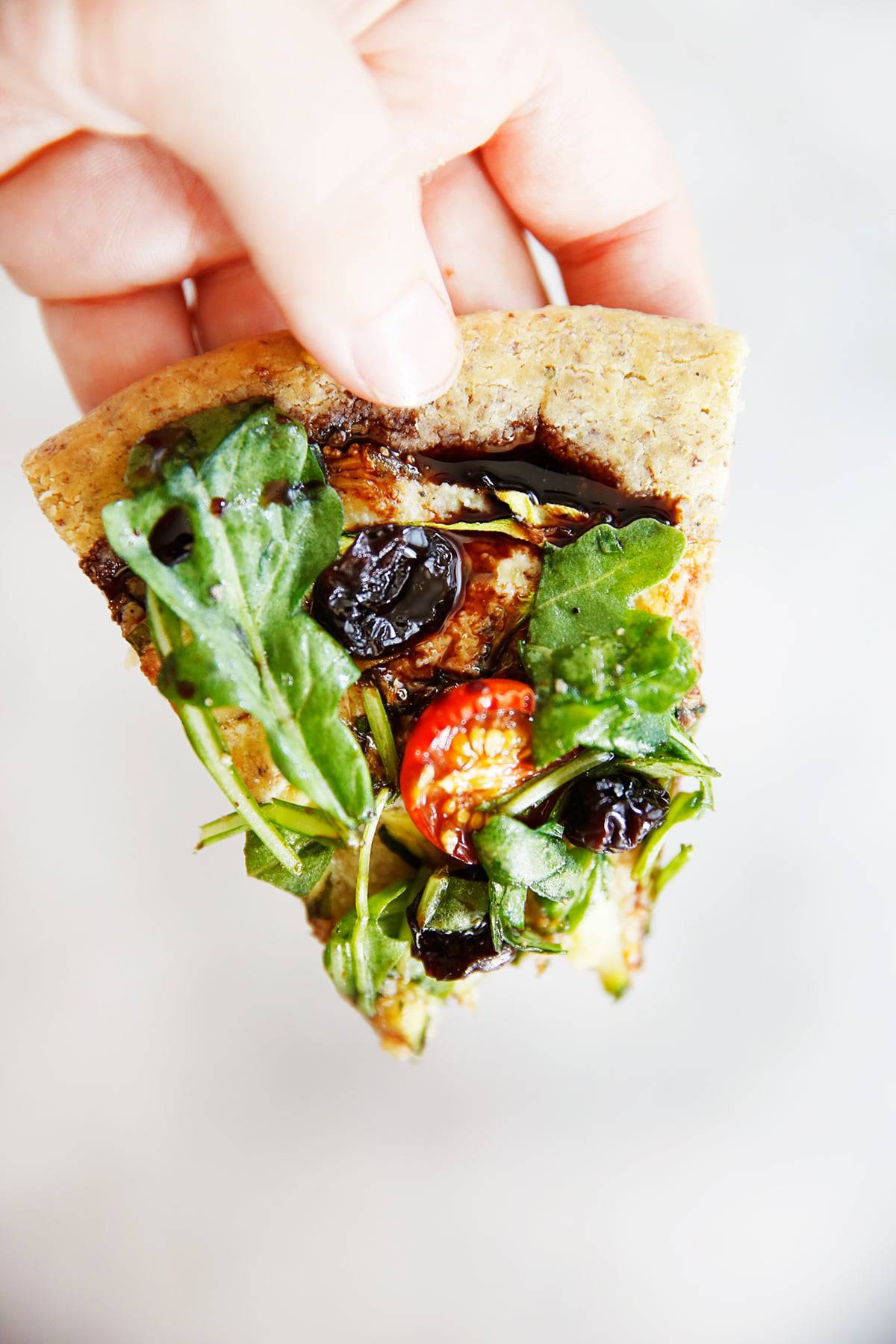 Print
Garden Veggie Pizza with Tart Cherry Balsamic Reduction (Gluten-Free)
Tart Cherry Balsamic Reduction:

1/4 cup

Montmorency tart cherry juice

2 tablespoon

balsamic vinegar, good quality
Pizza Dough:

1 cup

tapioca flour

3 tablespoon

coconut flour

3 tablespoon

ground flax seed

1 teaspoon

baking powder

1/2 teaspoon

fine sea salt

1

large egg

1/3 cup

palm shortening

1/3 cup

warm water
Everything Else:

1/3 cup

whole-milk ricotta cheese (see note for dairy-free)

1/3 cup

grated parmesan cheese

2

garlic cloves, grated

4

chives, sliced fine

1/2 teaspoon

ground pepper

1/2 cup

cherry tomatoes, cut in half

1/2

large zucchini, grated and squeezed in a clean kitchen towel to drain liquid

1/4 cup

dried tart cherries, divided

2 cups

arugula

2 teaspoons

avocado oil
coarse sea salt and fresh ground pepper, for serving
Instructions
Pre-heat oven to 350º.
Make tart cherry balsamic reduction by place juice and vinegar in a medium sauce pan and heat over medium. Bring to a boil and let cook for 2 minutes, or until the mixture has thickened slightly. You do not want to overcook this as it will turn to candy as it cools! Remove from pan and set aside in a small bowl to cool.
Meanwhile make pizza dough: In a bowl combine tapioca, coconut flour, flax seed, baking powder and salt. Add in the egg and shortening and mix with a wooden spoon to combine. Add the warm water and mix until the dough is smooth.
Place the dough on a piece of parchment paper. Top with another piece of parchment and using a rolling pin gently roll out the dough into a circle that is about 1/2″ thick. Remove the top piece of parchment and par-bake in the pre-heated oven for 12 minutes.
Make the ricotta mixture by whisking together in a bowl the ricotta, parmesan cheese, garlic, chives, and ground pepper.
Top the par-baked dough with the ricotta mixture and spread to the edges, leaving 1/2″ of space for the crust. Top with grated and drained zucchini, tomatoes and 2 tablespoons of the dried tart cherries.
Bake for an additional 20 minutes, or until the edges of the ricotta mixture is beginning to turn a light brown (the pizza crust doesn't change much color).
Take the pizza out and let cool for a few minutes before continuing on.
In a small bowl combine arugula, oil and a pinch of coarse salt and gentle massage the arugula to break it down slightly.
Top the pizza with the arugula, remaining tart cherries and drizzle with the tart cherry reduction. Top with coarse sea salt and ground pepper and enjoy immediately.
Notes
This is one of those ingredients that really pays off when you use a higher quality. If you have a very inexpensive balsamic vinegar you may need to reduce the cherry and balsamic glaze for longer to achieve the correct consistency.
To make paleo, sub ricotta for dairy-free version and omit parmesan cheese. Add 1/2 teaspoon salt to dairy-free ricotta mixture.
This serves 2, go ahead and double to make two pizzas to feed 4.
Nutrition
Calories:

745

Sugar:

8.9g

Sodium:

809mg

Fat:

54.2g

Saturated Fat:

17.7g

Carbohydrates:

49.2g

Fiber:

15.3g

Protein:

21.9g

Cholesterol:

124mg
This post is sponsored by the Cherry Marketing Institute. All thoughts and opinions are always 100% my own! I love tart cherries and think you'll love them too! Thank you for continuing to support LCK and the brands I work with!
5 comments
August 20, 2018
This website may at times receive a small affiliate commission for products that we shared with you in our posts. Although we may receive a commission for linking certain products, there's no additional costs to you and all of our opinion and suggestions are 100% our own and unbiased. That's our promise to you!
Subscribe to get our FREE clean eating guide!
Join our email list TODAY to start recieving our newsletter weekly, access to exclusive content and deals, *and* a FREE complete 24-page clean eating guide!