These super-simple Greek Yogurt Popsicles are made with 2 ingredients and are perfect for a summertime treat. Made simply, these healthy popsicles will be loved by both kids and adults alike.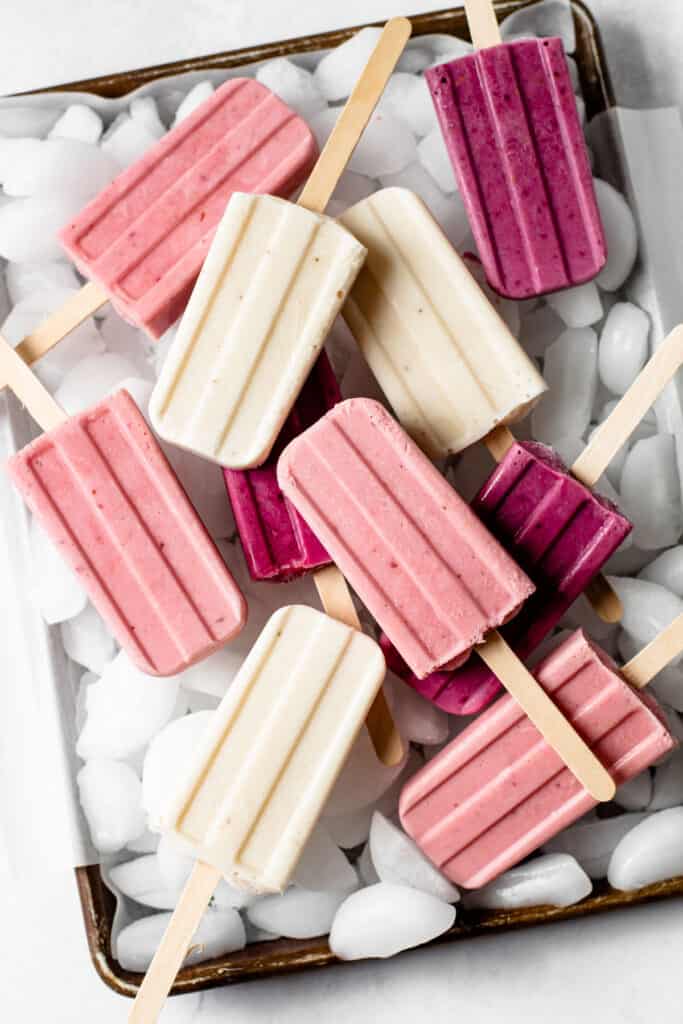 Healthy Yogurt Popsicles
These simple but delicious Greek Yogurt Popsicles are made with greek yogurt, fruit and optionally a bit of honey and require no special machine to make them other than a blender and a popsicle mold. They're creamy and delicious.
They're totally customizable to make whatever fruit flavored popsicle you want, and are really quite pretty! Grab the kids and get into the kitchen for this easy-to-achieve project that results in a healthy sweet treat.
Ingredients Needed
Ready for the super simple list of ingredients?
Greek Yogurt
Fruit
Honey (this is totally optional, and we don't recommend adding it if you are using sweetened yogurt)
That's it!
How to Customize It
What we love most about this recipe is how customizable it is. You can make any fruity popsicle you want here, or even divide the mixture and do a few different types!
Here is how it works. The best of the popsicle is made from greek yogurt. You can use any type of greek yogurt you want (or even regular yogurt). You can use the sweetened flavored kind (such as vanilla) or unsweetened. Then add two cups of fruit and blend it together.
We liked using berries and banana for our greek yogurt pops, but you can do what sounds good to you. Or a combination of different fruits. Just follow the suggested amount of fruit and yogurt, and you should be good to go.
A quick word about berries with seeds. We did find that some berries (such as raspberries or blackberries) were just a bit too seedy for our creamy popsicle. So we like to strain that mixture after blending it and before putting it in the popsicle mold. If you don't mind the seeds and like the extra fiber, you can leave them in.
What Popsicle Molds are the Best?
There are so many fun popsicle molds on the market these days! You can get silicone ones, stainless steel ones or plastic ones!
We actually have one of each, but always come back to this classic plastic version, because it holds up well and we like the shape of popsicle it makes. Just be sure to hand wash it in warm soapy water, as opposed to hot water or in the dishwasher. Here are some other favorite popsicle molds we like:
How to Easily Get Popsicles Out of the Mold
There are a few tricks you can use to get popsicles out of the molds but the easier one I've tried so far is to stick the popsicle mold in a big bowl of hot water. Place the entire mold inside of the water, making sure though not to get any of the water inside of the popsicles. Leave it in there for about 30 seconds and remove. Then all of the popsicles should easily pop out! If you have individual molds then you can stick each popsicle in a tall glass of hot water.
Or you can just run the molds under hot water from the tap if you can't fit it in a bowl.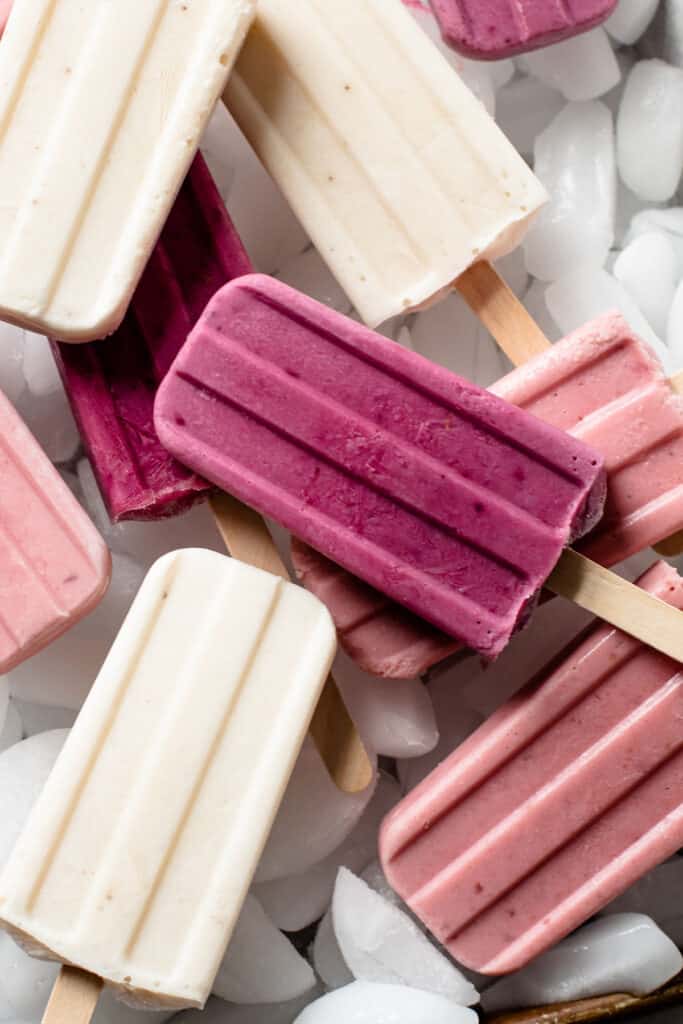 How Long to Store Popsicles
Unlike popsicles you buy at the store, we find that these popsicles are best eaten with 1 to 2 weeks. The fresher the better.
After they are frozen, remove them from the mold, and wrap them in parchment or wax paper. Store them in a bag or another container in the freezer and enjoy!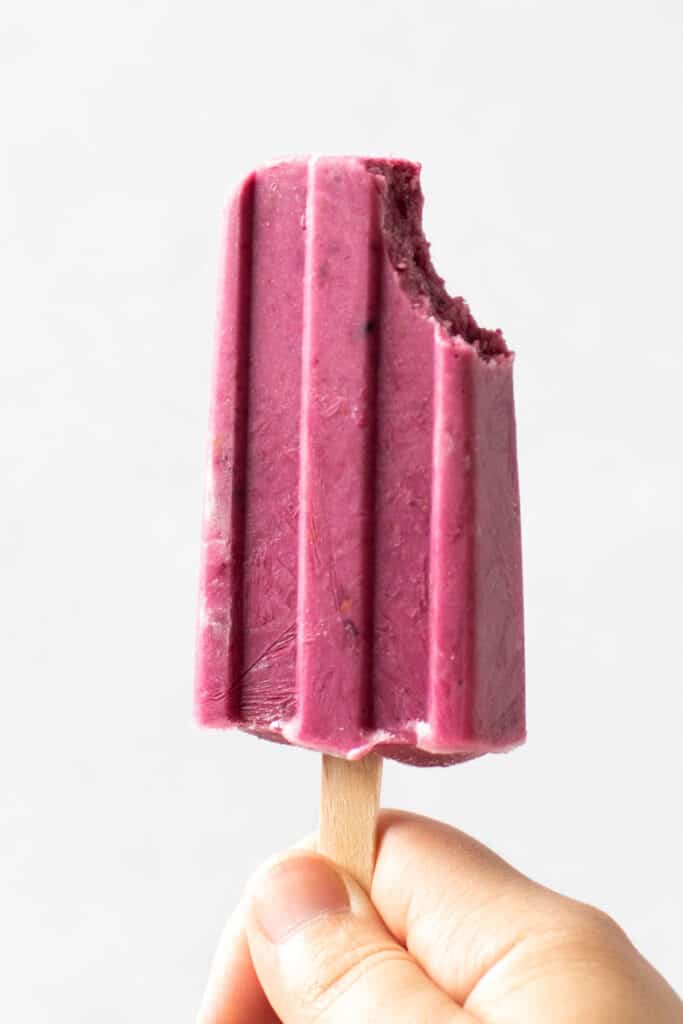 If you like this healthy fruit recipe, check out these others: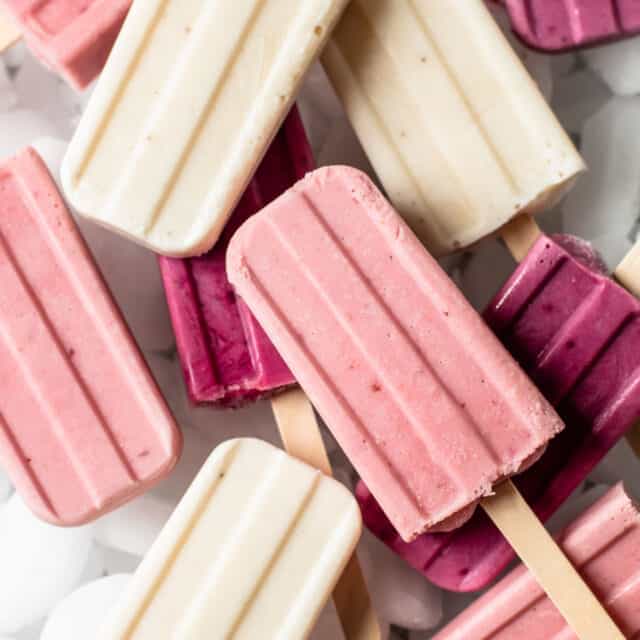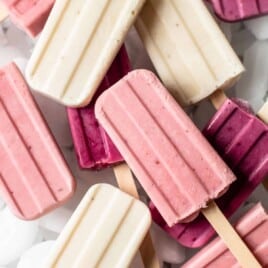 Greek Yogurt Popsicles
These super-simple Greek Yogurt Popsicles are made with 2 ingredients and are perfect for a summertime treat. Made simply, these healthy popsicles will be loved by both kids and adults alike.
Ingredients
2

cups

cleaned fruit

strawberries, banana, blueberries, raspberries, etc

2

cups

greek yogurt

unsweetened or vanilla

¼

cup

honey

omit if you are using a sweetened yogurt
Instructions
Add fruit, greek yogurt and honey (if using) to a blender. 

Blend until smooth.

If your fruit has seeds in it (such as blackberries) strain the mixture.

Pour the mixture into the popsicle molds. Add popsicle sticks.

Freeze overnight until frozen.

Enjoy!
Notes
Berries and bananas work best for this recipe.
Popsicles will keep well for about 2 weeks in the freezer.
Every popsicle mold will differ. This recipe makes about 2 cups of popsicle filling. If you have more filling than space allows in your popsicle mold, you can keep the blended filling overnight in the refrigerator and refill the popsicle mold the next day with additional popsicles.
Nutrition
Serving:
1
/6 recipe
Calories:
193
kcal
Carbohydrates:
45
g
Protein:
4
g
Sodium:
12
mg
Fiber:
3
g
Sugar:
20
g