Meatless Monday is here with these hearty and delicious Meal Prep Mediterranean Bowls. They are gluten-free, vegetarian, packed with the perfect flavors, and are great for meal prepping on Sunday and having lunches for the next number of days!

We're taking the Mediterranean Veggie Fritters from last week's Meatless Monday post and piling them over the best cucumber tomato salad, crispy za'atar roasted chickpeas, and marinated feta! Put a dollop of the No-Bean Hummus from the Lexi's Clean Kitchen Cookbook on top (or your favorite store-bought hummus) and devour these delicious bowls!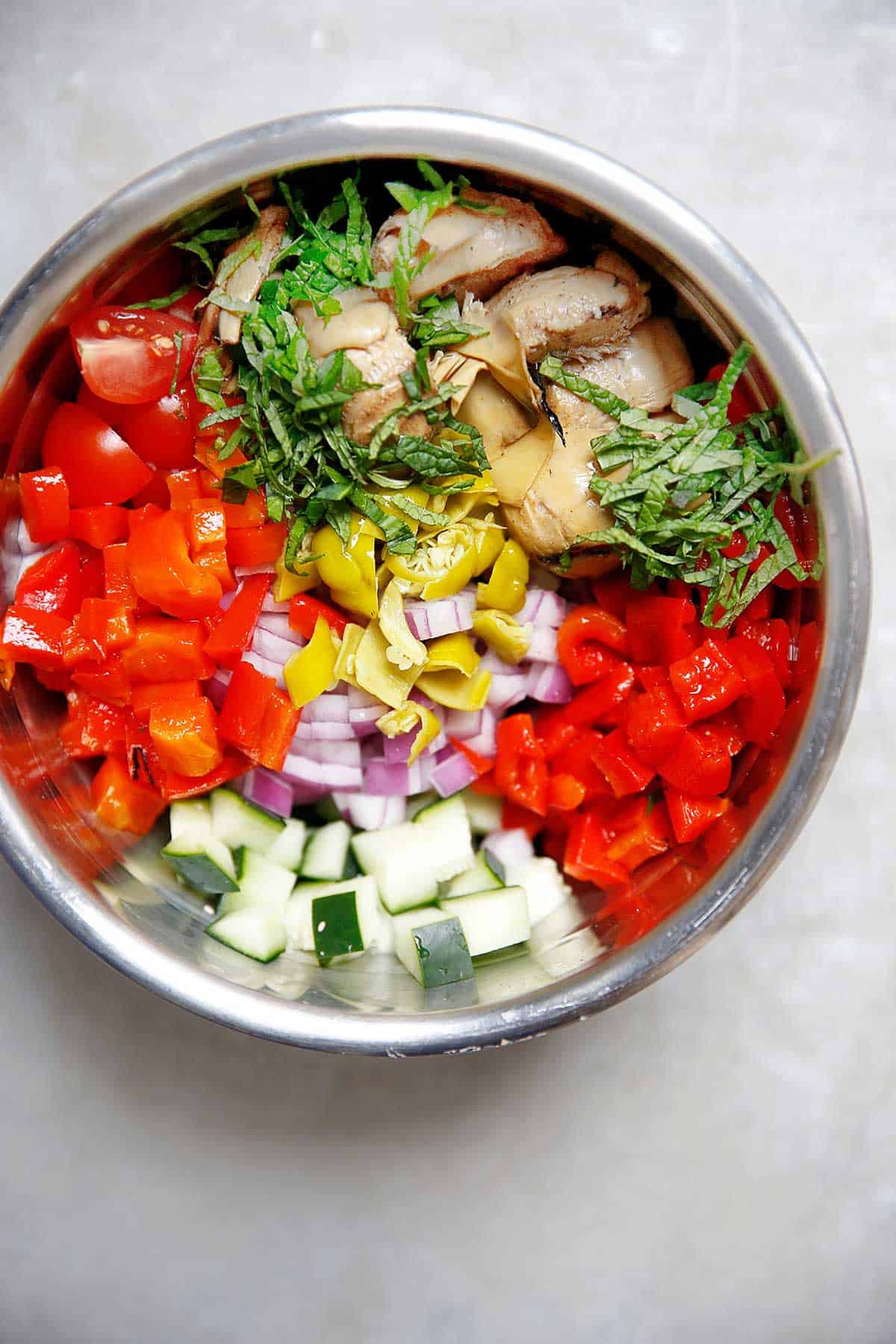 Cucumbers, tomatoes, roasted red peppers, pepperoni, red onion, marinated artichokes, and fresh herbs make up this fabulous salad base! The dressing is made from the marinated feta and it's divine!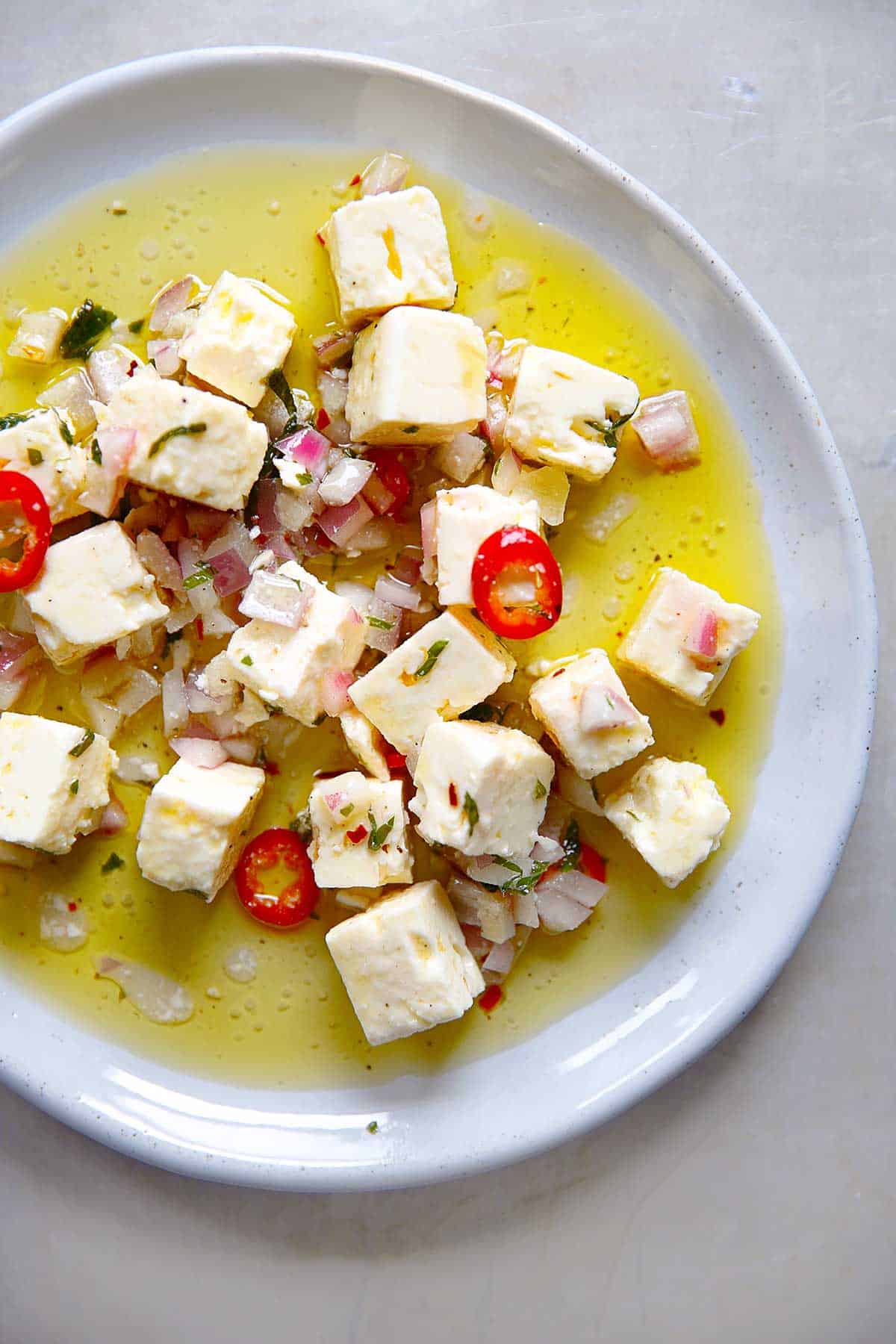 Assemble and devour, day after day!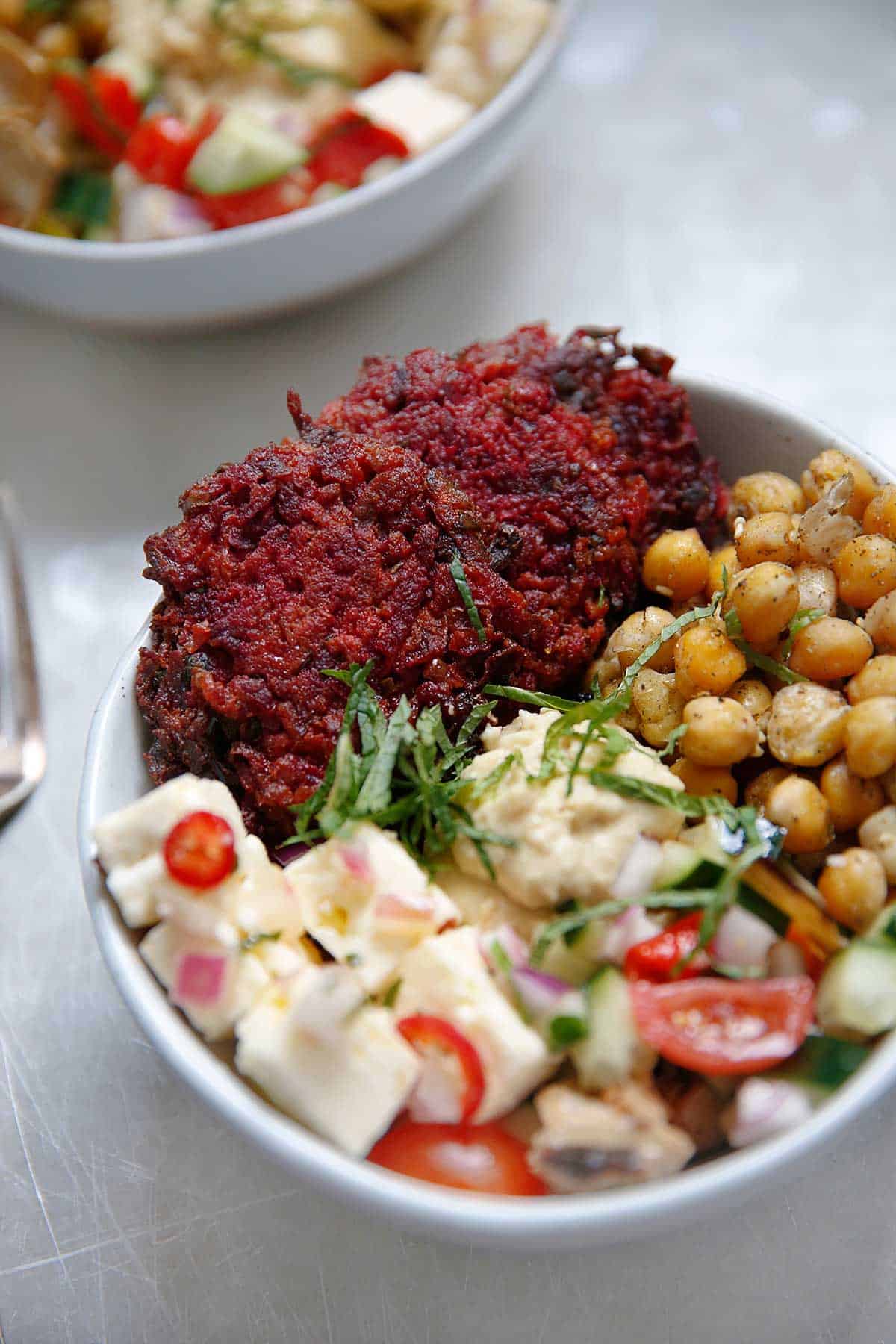 Meal Prep Mediterranean Bowls
Ingredients
Marinated Feta
Lemon Vinaigrette
Crunchy Za'tar Chickpeas
1 can cooked chickpeas, or 1 cup dried chickpeas *see our tips for cooking dried chickpeas in the notes section!
1 tablespoon extra virgin olive oil
1 tablespoon za'tar spice blend
1/2 teaspoon sea salt, more to taste
Base Salad
Directions
Place all marinated feta ingredients into an air-tight container. Refrigerate for at least 24 hours before using.
Make the dressing: Place all dressing ingredients into a small bowl and whisk to combine. Set-aside.
Pre-heat the oven to 350℉. Line a sheet-tray with parchment paper and set aside.
Drain cooked chickpeas and pat dry with a towel.
Add chickpeas to a medium mixing bowl with oil, za'tar, and sea salt. Toss until chickpeas are well coated.
Spread chickpeas onto the parchment lined sheet-tray in a single layer. Roast for 40 minutes, or until the chickpeas have started to harden.
Let cool for at least 20 minutes to let the chickpeas firm up. They will be soft when you first take them out. Store in an air-tight container.
In a medium mixing bowl, add in base salt ingredients. Pour 2 teaspoons of lemon vinaigrette over ingredients and toss to combine. Taste and adjust dressing as desired.
Top with roasted chickpeas, hummus, feta, veggie fritters, and a dash of za'tar. Serve warm or cold!
Recipe Notes
 To make this paleo-friendly: Roast sunflower seeds instead of chickpeas, omit the marinated feta, and make the Garlic Roasted Cauliflower No-Bean Hummus from page 90 of the Lexi's Clean Kitchen cookbook!
 The roasted chickpeas are best eaten within two days, but will keep for up to one-week.
Tips for cooking dried chickpeas to aid in digestion and reduce the gas producing properties:
Place beans in a large container with a generous amount of water. Cover and soak for at least 8 hours or overnight in the refrigerator. The beans expand during this soaking process, so make sure there is a good amount of space in the container. Soaking the beans both decreases cooking time and helps remove some of the sugars that are hard to digest!
Drain soaking liquid from beans and rinse them under cold water. Add beans to either a pressure cooker or large pot and cover with two inches of water or stock. Add a 2-inch strip of kombu to the pot or pressure cooker. Kombu, an edible sea vegetable high in iodine, iron, and calcium, has enzymes that further assist with breaking down the sugars in beans that can cause gas or intestinal complaints! 
Cook for 25 minutes in a pressure cooker or for about 1 hour on the stove until soft. Take off heat and serve as desired.
Loading nutrition data...
There may be affiliate links in this post! By clicking on them, or purchasing recommended items I may receive a small compensation, at no cost to you! However, I only recommend products I absolutely love and use in my own home! Thank you for supporting Lexi's Clean Kitchen when you shop! See my
privacy policy
for more information about this, the information we save, and more!
use our hashtag!
I am so excited that you are making a recipe and would love to see how it turns out! Make sure to use the hashtag on social media!
#LEXISCLEANKITCHEN
share this post!
subscribe to the email list!