How to Make a Nut Free Basil Pesto
This Nut Free Pesto is the perfect condiment to brighten up any dish. It's also a great way to use up the overabundance of basil at the end of the season to put up for winter!
Nut Free Pesto Recipe
Everyone loves a good pesto recipe! But not everybody can have nuts and most pesto recipes call for them. So we whipped up a bright and flavorful basil pesto that doesn't use pine nuts so that everyone get can enjoy it. This pesto recipe also sneaks in some healthy greens by using a combination of basil and kale.
Basil pesto is great for nearly any dish. And it's simple to put together and a great way to use up an overabundance of herbs. It also freezes well so make a bunch now while it's abundant and you can use fresh pesto in your dishes all summer long!
Nut Free Pesto Ingredients
Basil

Baby Kale

Parmigiano Reggiano

Lemon juice

Garlic

Salt

Olive oil
How to Clean Herbs
Herbs can be very dirty and gritty, whether coming from the supermarket or the farmer's market. The best way to clean herbs is to fill up a big bowl with clean, cool water. Dunk the herbs in the water, letting all the dirt and grit sink to the bottom. Empty the water, fill it back up and repeat until no sand or dirt remains at the bottom of the bowl.
Ways to Use Pesto
This bright pesto would be great with so many dishes! It is great with both chicken, turkey or even pork. You can use pesto in pasta dishes, rice dishes, in a salad, as a dip or spread and served over a grilled meat or veggies.
Check out these recipes using pesto:
How to Freeze Pesto
Pesto freezes really well. You can freeze it in small jars for single serve portions. Small mason jars work well for this.
How to Prevent it from Turning Brown
Pesto turns brown when the fresh herbs oxidize by coming into prolonged contact with oxygen. It isn't harmful to eat brown pesto, but it can have an off taste and it looks unpleasant. To prevent browning you can float some olive oil over the top of pesto in the container. Make sure to cover the pesto entirely. This creates an airtight seal and will prevent the pesto from turning brown immediately.
You can freeze for up to 3 months. The longer you freeze fresh herbs, the less potent they become. To defrost leave in the refrigerator overnight.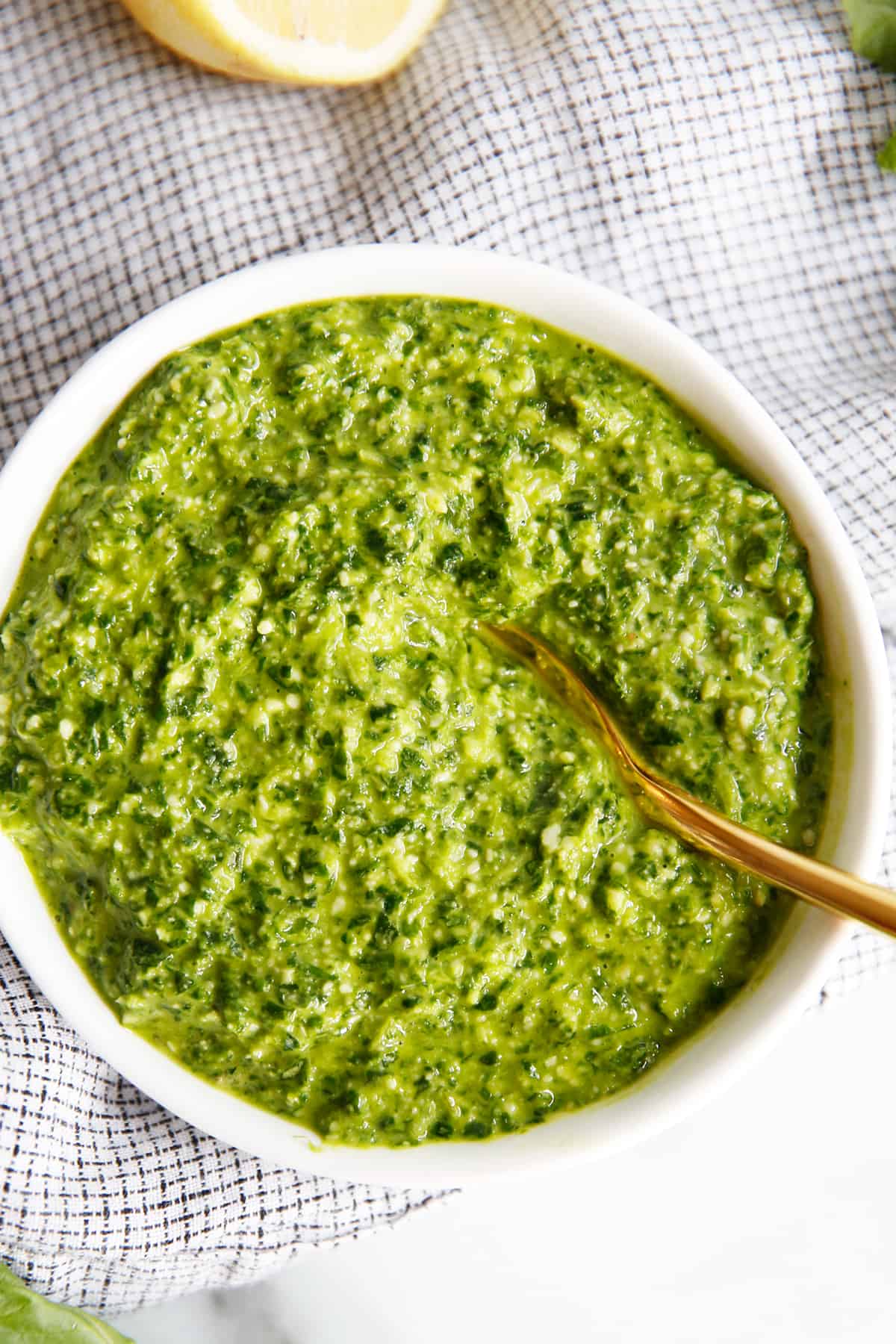 If you like this herb recipe, check out these others:
Nut Free Basil Pesto Recipe
This Nut Free Pesto is the perfect condiment to brighten up any dish. It's also a great way to use up the overabundance of basil at the end of the season to put up for winter!
---
---
Ingredients
Directions
Add all of the ingredients except the olive oil to a food processor or a high speed blender. Pulse until finely chopped. With the motor running, drizzle in the olive oil. If needed you can add in a tablespoon of hot water as needed to make a smooth pesto. Taste and adjust seasoning.
Use immediately or store for up to 1 week in a tightly sealed container.
Recipe Notes
You can replace the kale with equal portions basil for a basil only pesto.
---
Nutrition
Loading nutrition data...
0 comments
September 4, 2019
Subscribe to
Lexis Clean Living
Join our email list to get instant updates and weekly summaries of our top content and special exclusive offers along with our free clean eating kickstart guide!
This website may at times receive a small affiliate commission for products that we shared with you in our posts. Although we may receive a commission for linking certain products, there's no additional costs to you and all of our opinion and suggestions are 100% our own and unbiased. That's our promise to you!