This Oat Flour Pie Crust is gluten-free and nut-free and so easy to work with! It uses oat and tapioca flour and doesn't need to be chilled! It's great for both savory and sweet pies and is so easy to work with.
Flaky Oat Flour Pie Crust
This oat flour based crust is for all of those people out there who can't tolerate gluten OR nuts but still want to be able to make (and eat) a delicious pastry crust, and that's easy to boot! And truly, this dough is SO EASY. Unlike other crusts that need chilling time, this dough comes together in a food processor in a few minutes and can be rolled out immediately!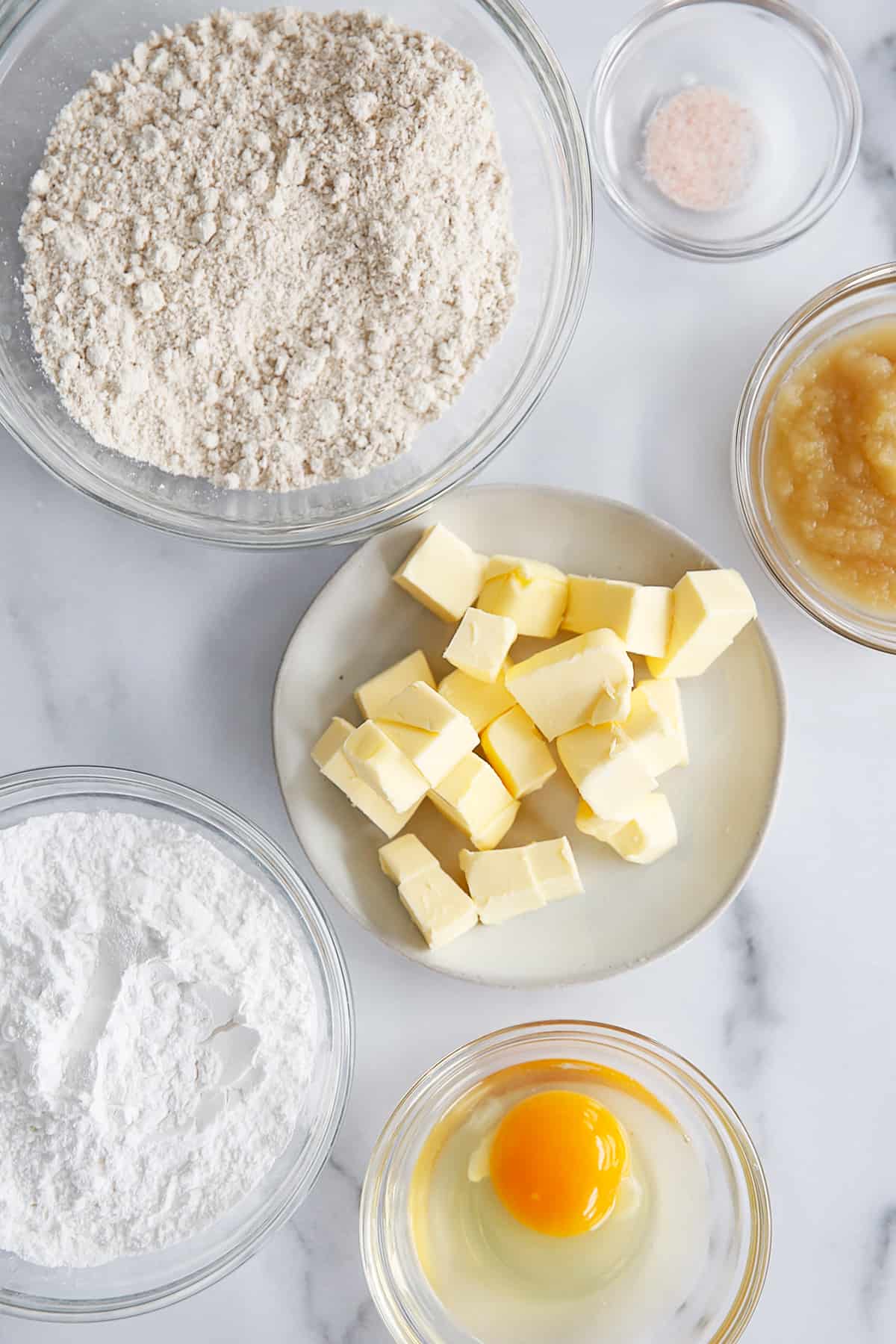 What Ingredients Are Needed for this Oat Flour Crust
Oat flour (we recommend store-bought)

½ cup cold butter

1 egg

½ cup apple sauce (this contributes to an improved flavor and texture, but you can't tell there is applesauce in it)
1 tablespoon maple syrup
Why You Should Measure Your Ingredients (Especially Oat Flour)
We've discovered that oat flour is a bit difficult to measure out properly in the cup measurement because sometimes it is more densely packed in the bag than others. If you have an electronic kitchen scale at home, it's best to use it here to measure oat flour. So we've included the weight in grams in the recipe. Any electronic kitchen scale can switch between grams and ounces, and grams are more precise so we're offering that. If you don't have a scale: lightly packing the oat flour into the cup measurement gets you as close to the correct measurement as possible.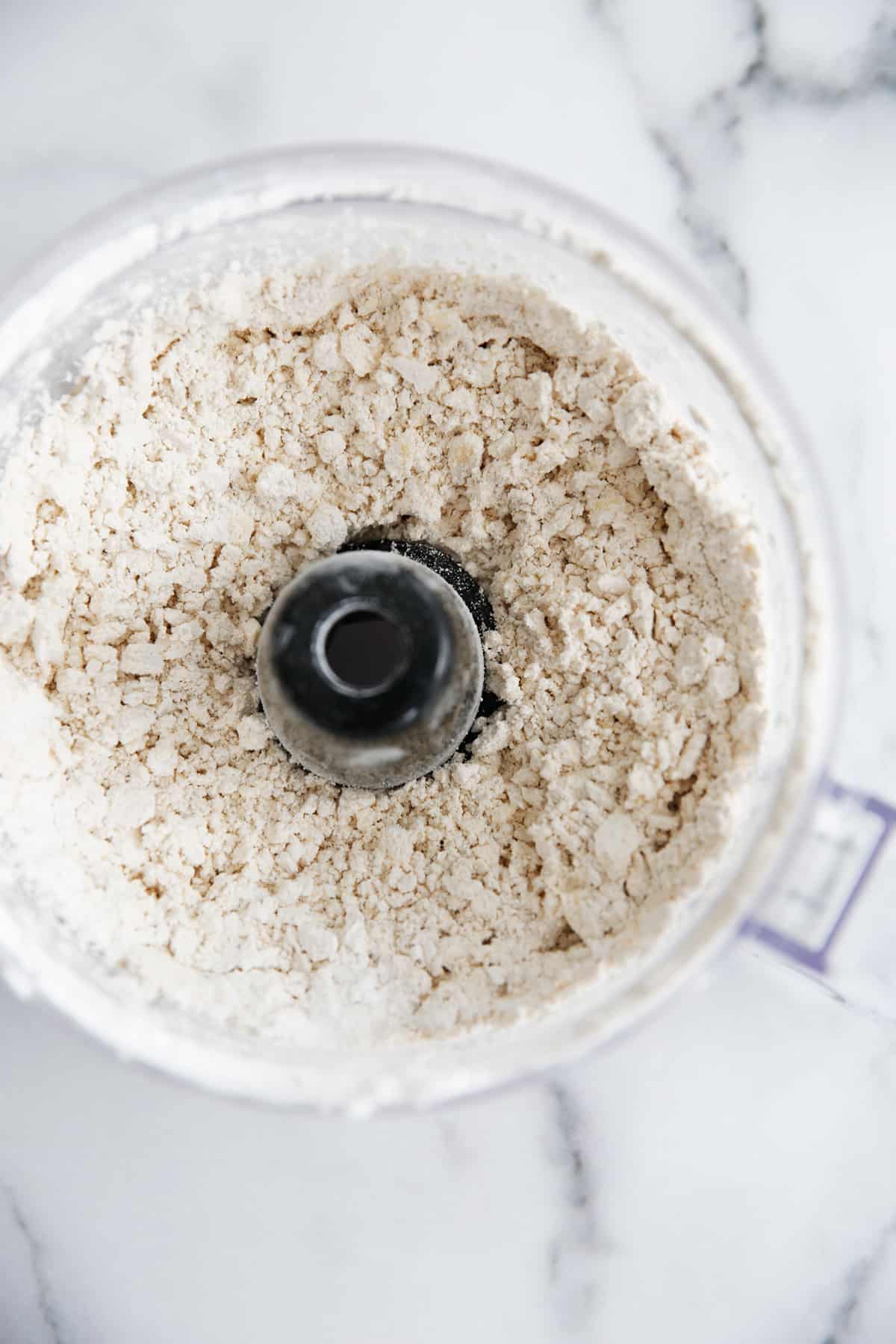 What Kind of Oat Flour Should You Use
As we've said in previous oat flour recipes, we recommend you buy premade oat flour. It isn't expensive and easy to purchase in stores these days. It's harder to get homemade oat flour to be as consistent as store-bought and feel the final result is effected by it. However, if you want to make your own oat flour, you certainly can. We just recommend you try to get it as fine as possible.
Tips for Making the Dough:
Get all of the ingredients prepared before you begin: Measure the flour, mix together the wet ingredients and cut the butter and make sure it is chilled.
Don't over-process the dough: Once it has come together stop running the food processor.
If the dough looks too wet (reference the picture of the dough in the food processor) it's likely the oat flour hasn't been measured properly. Add a tablespoon of oat flour at a time until a shaggy dough forms.
If you aren't rolling out the dough right away form the dough into a disk and tightly wrap in plastic. Place in the refrigerator for up to two days.
Tips for Rolling Out the Dough:
You can roll the dough right away! The oat flour crust works best when it is made, rolled and baked all at the same time (though you can break it down into steps, see below)
If you are working with cold dough made previously, let it warm up a tiny bit before rolling (about 5-10 minutes depending on how warm your kitchen is).
To roll it out we suggest using plastic wrap. Place a piece of plastic wrap down, then place the dough on top, then place another piece of plastic wrap and roll out between the two. We don't normally tend to suggest using plastic for anything, but with this dough it really works out better on plastic vs. parchment. If you don't own plastic wrap (we don't blame you!) parchment paper can work too. Wax paper might work as well, but we did not test that.
Once the dough is rolled out, invert into the pie pan right way and parbake the crust to ensure no soggy bottoms! Once you have par-baked the pie you MUST bake it with the filling immediately after. If you wait in between par-baking and filling the shell there is a chance the crust can crack a bit. It's not the end of the world if it does, as the pie will still bake up alright, but it's an easy mistake to avoid by making sure you par-bake the crust and bake the filling together without waiting in between those two steps.
Tools we used for this recipe:
Essential items: Bowls, Whisk, Spatula
If you like this how to, check out these others:
How to Make a Nut-Free and Gluten-Free Pie Crust
This Oat Flour Pie Crust is gluten-free and nut-free and so easy to work with! It uses oat and tapioca flour and doesn't need to be chilled! It's great for both savory and sweet pies and is so easy to work with.
Ingredients
1

cup

120g store-bought oat flour (see note)

1

cup

120g tapioca flour

½

teaspoon

salt

½

cup

butter

cold

1

egg

½

cup

apple sauce

see note

1

tablespoon

maple syrup
Instructions
To Make the Dough:
In a food processor combine

oat flour

,

tapioca flour

, 

salt

, and cold butter and pulse until the butter is broken down into pea-sized pieces.

In a small bowl whisk egg, apple sauce and maple syrup together. With the food processor running, add egg mixture and process until it just comes together to form a shaggy dough.
To Roll the Dough:
Place dough on a large piece of plastic wrap and top with another piece of plastic wrap. Roll out into a 12" circle and take off the top piece of plastic. Invert into a 9" pie pan and crimp the edges.
To Par bake the Crust:
Place a piece of parchment inside the crust and fill with pie weights (or dried beans or rice) and bake in a pre-heated 350ºF oven for 10 minutes. When done, remove parchment and bake the pie per the filling instructions.
Notes
Make sure to read over the posts for tips and tricks on how to make this oat flour crust.
We tested this with homemade oat flour made in a high-speed blender and do not recommend using this. We had much better results using store-bought (gluten-free) oat flour.
If you find that your pastry is on the wetter side, add in a bit more oat flour until it feels workable. Oat flour can be a bit tricky to measure out because sometimes it is densely packed in the container, and sometimes not. For a foolproof way to measure weigh it out instead of using a cup measurement.
The instructions for this oat flour crust are intended for a single crust pie, but you can feel free to double this recipe in use it for a double crust, or you can use it in other recipes calling for pie dough, like this Gluten Free Pigs in a Blanket (Nut-Free, too!) recipe.