Around here, we're always looking for opportunities to empower you and your family to clean up as many areas of your life as possible. We focus a lot of our efforts on food, skin care, and household products, but the (unsettling) truth is that there are less-than-safe ingredients lurking in places where you might not expect them. I hate to be the bearer of bad news on this, but your kids' art supplies might be one such place. 
Non Toxic Art Supplies for Toddlers and Kids
How to keep your creativity safe.
---
Here's a fun fact about me: Before I started running Lexi's Clean Kitchen full-time, I was an elementary art teacher! I quite literally spent my days working with kids and teaching them how to cultivate their creativity through art projects. It's no wonder that now I have strong opinions about what's in the supplies we give our children to use when they're ready to create! Parents and teachers — I want to arm you with allllll the information you need to make smart choices about the supplies you keep on hand. So here's the deal… 
Unfortunately, we've all gotten a little too comfortable with the ever-presence of toxins and chemicals in pretty much everything around us. Sure, we can fight back by cooking clean in our own kitchens and purchasing safe products for our homes and bodies, but beyond that, it can feel overwhelming to consider what needs to be cleaned up. If we're going to let our kiddos get their hands dirty with art supplies, we just have to accept that those supplies might be made with ingredients that are less than squeaky clean. Right? Wrong — especially when you stop and think about how much littles can be affected by chemicals in their art supplies.
If you've been around a child for more than a few minutes, you already know that they tend to put everything in their mouths. As if it's not enough for them to be covered head to toe in paint or markers, those color-spattered fingers somehow always manage to make their way into a mini-artist's mouth, no matter how much you try to redirect them. As a result, whatever is in those supplies is absorbed in multiple ways — through the skin, through the mouth, and even in the air they breathe. And since young immune systems are not as strong as their adult counterparts, kids are that much more at risk from absorbing chemicals. 
Unfortunately, the mainstream art supply industry has done very little to address this problem. Products are not subject to substantial health regulations, so your kids' favorite art supplies can contain everything from lead and other heavy metals to formaldehyde to ammonia to rubber cement to to varnishes.
Non Toxic Art Supplies Options
Before you throw out all of your child's favorite supplies and tell them that craft time is over for good, though, hear me out! There are plenty of alternatives out there that you can feel really good about sharing with your kiddos. Non toxic art supplies are here to save the day! We tried out some of the highest rated non-toxic art supplies and materials out there to give you our take. Food Editor Kelli Avila's kids were happy to help out and give their honesty 4 and 5 year-old opinion as well!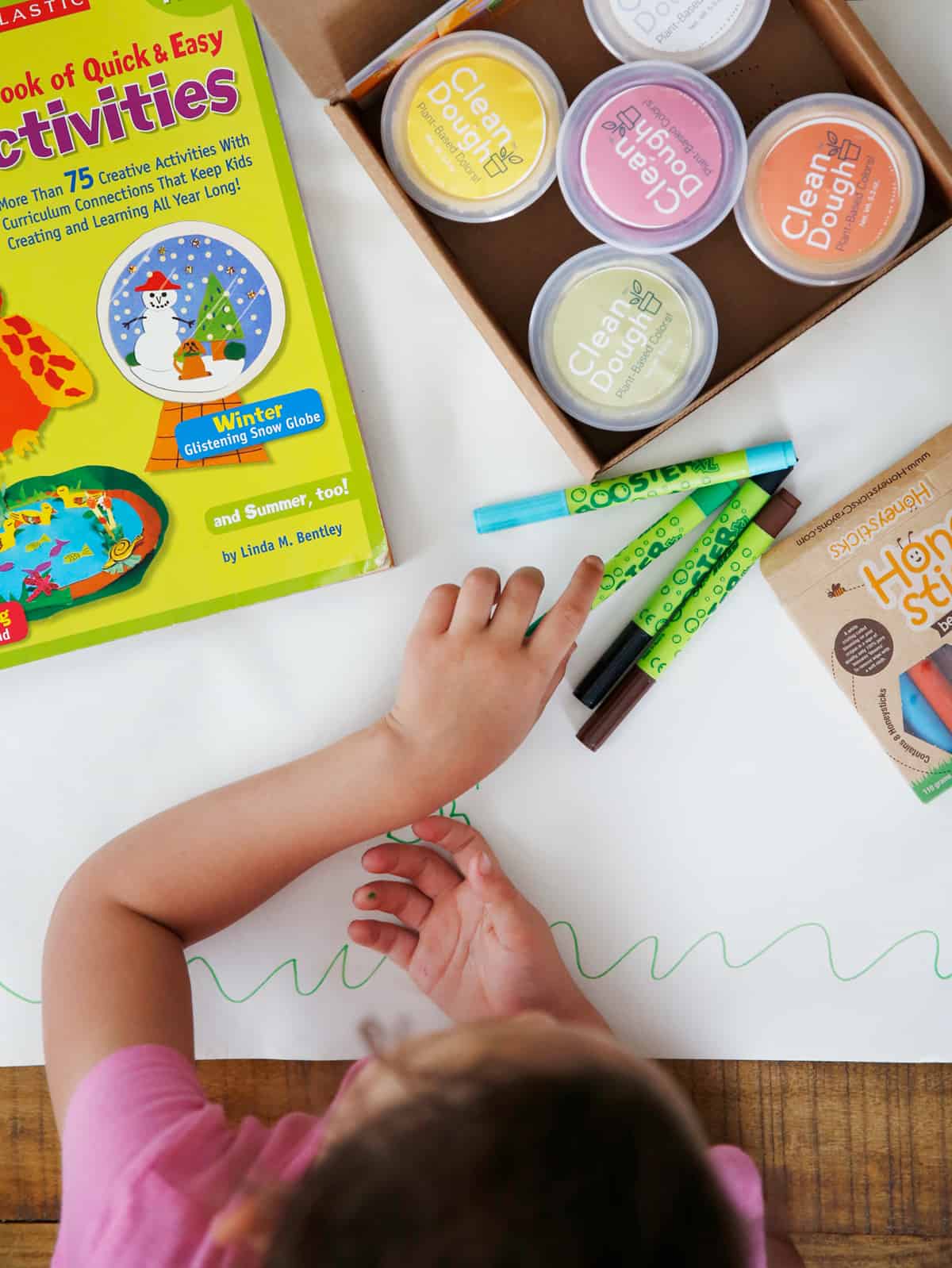 Natural Kid's Paint
The options: Next time you pick up paints for your kids, try to stay away from anything oil-based or containing pigments from highly toxic metals like cadmium, arsenic, and lead. These can contain formaldehyde! Now that you know what not to look for, here's what's good: water-based paints! The Earth Paint Kit from Natural Earth Paint arrives as powders that are then mixed with water. It's made with natural earth pigments, organic corn starch, and tree sap, so you don't have to worry about any of the dangerous toxins that you might find in an oil-based option.
If your kids really like to get their hands dirty, you might also want to check out finger paints from eco-kids! They're made from non-toxic, natural ingredients, so your little ones can go as crazy as they want with them… well, until they start painting on your furniture, I guess. At least you know they're safe, right?
Our verdict: We've tried out both of these eco-friendly and safer options and we are over-the-moon with the ingredients. But we can say that they don't work quite the same as a standard commercial kid's paint. Our verdict would be that these are such a better option for kids that are potentially ingesting paint, or kids who are covered in paint at the end of their creative play to limit any severe exposure. Older kids who are used to regular paint may not be as thrilled about these safer paints if they are used to the traditional ones.
Non Toxic Crayons
The options: Most crayon brands use petroleum-based paraffin wax and chemical-based colors. Your better options are the ones made with beeswax or soy wax and non-toxic pigments. There are lots of great brands out there! Check out Earth Grown Crayons, eco-kids, Stockmar, Azafran, Honeysticks, Filana, and Crayon Rocks. Your kids will love them all! 
Our Verdict: There is virtually no difference for kids between these safer crayons. Our favorites were the Honeysticks!
Non Toxic Colored Pencils
Colored pencils can have many of the same toxicity issues as crayons, plus they're often coated with toxic varnish. You can keep your kids away from these chemicals and show a little extra love to the Earth by opting for pencils made from sustainable wood. Trimax pencils, for example, are made from reforested wood and with a natural-lacquer finish. Eco Highlighter pencils from Stubby Pencil Studio have similar benefits, and are a great alternative to highlighter markers, which are not sustainable or recyclable. Faber-Castell EcoPencils come in every color your kids could wish for, and pencils from Lyra and Tombow are also safe, fun choices. 
Our Verdict: Similarly to the crayons, there is virtually no difference for kids between these safer pencils and traditional colored pencils. We also loved the natural look of some of the colored pencils!
Non Toxic Markers
The option: Like paints and crayons, markers can get all over your kiddos' hands… and then straight into their mouths. Since many traditional marker formulas contain alcohols and harsh chemical solvents, this is definitely not ideal! The artificial scents from some markers can be fun to sniff, but they also generate less-than-safe fumes. Unscented, water-based markers like the European brand Jolly are a much safer choice. 
Our Verdict: The kids loved playing with these and they lasted well!
Gluten Free Playdough
The options: Protect your kids from the PVC material found in many polymer clays by choosing natural clays, instead. eco-kids makes a super fun party pack which you can purchase ready-made! Or you can check out the unscented brand Aroma that is safe from the top 8 allergens.
Our verdict: The kids didn't notice any difference between the gluten-free play dough without any harsh chemicals but we did notice it was slightly more crumbly than traditional wheat playdough. However, it's a small price to pay for safer materials for your kids (who didn't notice the difference anyway!).

Other Options for Safer Art Supplies
Going beyond just the standard crayons, markers and play dough there are lots of other options out there for safer materials for craft time. Here are a few:
Non Toxic Glue
Glue can be especially dangerous for kids, since many brands emit toxic volatile organic compounds, which become vapors or gases that tiny artists can breathe in. Say goodbye to rubber cement and set your sights on water-based glues, such as TessaBunnys, which makes a vegan, non-toxic, non-GMO, petroleum-free alternative. 
Safer Sidewalk Chalk
Nothing says summer quite as well (or as colorfully) as sidewalk chalk. Steer clear of any chalks that contain artificial dyes and be wary of brands that might even be contaminated with heavy metals. Chalks colored with vegetable dye are the best bet! Give Prang a try. 
Pads/Paper
All art paper is not created equal! While you're cleaning up your kids' art supply collection, you might as well try out some more eco-friendly paper brands so that you can be sure that you're being kind to the environment while you're being kinder to your family's health. eco-kids and Strathmore fit the bill.
---

I can't wait to see what your kid's create with their safer supplies!
---
Pin it for later: