Not all healthy kitchen swaps are created equal! We're sharing 10 of our favorite swaps in the kitchen to incorporate into a healthy lifestyle!
All too often, I think people get intimidated by the prospect of pursuing a healthier lifestyle. If you're new to it, I get it! You see people on social media and blogs and TV talking about all of the things they're doing to overhaul their diet and skin care and household goods and you're like… Where do I even begin? Is it worth it? When you're feeling overwhelmed, it's easy to be tempted to quit before you even get started. 
Making the decision to try to incorporate healthier lifestyle choices also gets dicey when we start thinking about certain foods and other items as "bad." As soon as this happens, we tend to panic that we can't enjoy our favorite things and be healthy at the same time. It creates an all or nothing mentality… and that doesn't help anyone! 
Let's get clear about something. I'm not here to tell you what foods are "bad" or what foods you need to eliminate from your routine entirely. That's just not my style. And it's not realistic! We're all about balance and moderation around here — and I'm here to help you find opportunities to add more nutrient-dense food into your existing routine when it works for you. 
Since we're officially done with sorting foods into "good" and "bad" categories — seriously, we're done! — it really doesn't have to be scary and overwhelming to make healthy changes in your home and routine. You can start small by swapping out certain less healthy items for better, healthier options. If you really want to approach all of this with baby steps, you can literally begin with making just one swap when you can and then building from there. Since some of the healthier swaps tend to have a higher price tag than their traditional counterparts, going with the baby steps method will also make things less expensive.
You can see which swaps make a positive impact in your life and keep incorporating them. If a swap doesn't work for you? Just keep on movin'! 
Ready to get started? Here are ten healthy swaps you can make for a healthier kitchen: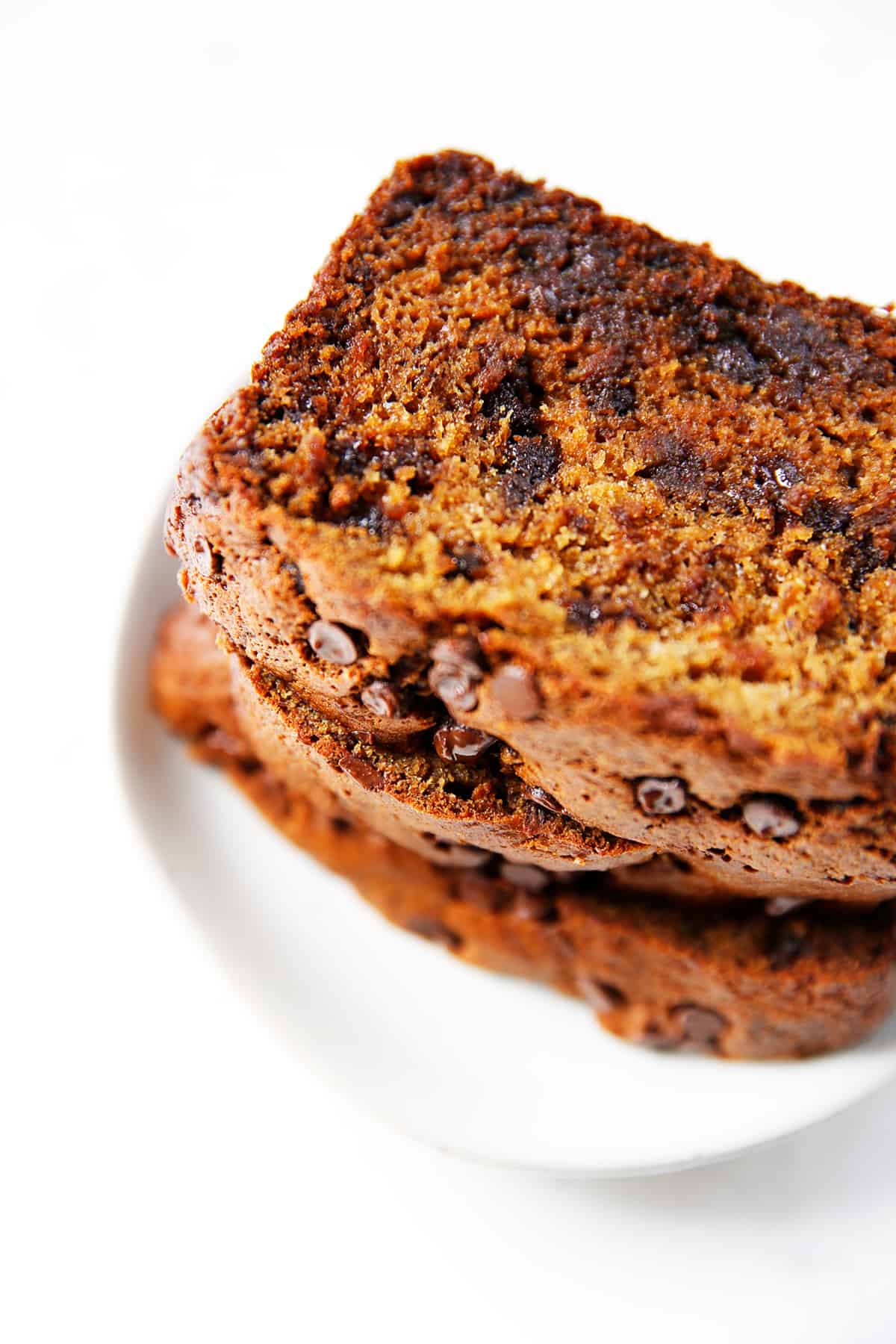 Swap out white flour for almond or oat flour.
You may be so used to using white flour in the kitchen — especially in your baking projects! — that you haven't considered other options. Or maybe you figure that if you're baking DIY treats to indulge in, you might as well just accept that they don't add anything to your nutrition.
It doesn't have to be that way! There are many swaps you can make to your baking routine, specifically — and it starts with flour. Almond flour and oat flour are two of my favorite, nutrient-dense alternatives to white flour. 
Per Healthline, almond flour is a good source of magnesium, omega-3 unsaturated fats, plant protein, and vitamin E, which is an antioxidant. It can improve insulin resistance and lower blood pressure and bad cholesterol. 
Oat flour is made from whole grain oats, which have many health benefits, as well. Healthline notes a few of those health benefits — they contain antioxidants, they lower cholesterol, they help with blood sugar management, and they're great for digestion… and the list goes on! 
However, there is one big caveat. You cannot just simply swap it out. Look for recipes that are specifically designed to work for almond and out flour. Here are a few of our favorites:
Swap out refined sugar for unrefined honey, maple syrup or coconut sugar.
Now that you know some of the swaps you can make for flour when you're baking, let's talk about sugar. My favorite healthier white sugar counterparts are coconut sugar, honey, and maple syrup. 
Per Healthline, coconut sugar is a natural sugar made from coconut palm sap. It's not the same as palm sugar, though! Coconut sugar retains some of the nutrients found in the coconut palm, like minerals, iron, zinc, calcium, and potassium. It also contains a fiber called inulin, which can slow glucose absorption.
Honey and (real) maple syrup are both natural sweeteners that are cleaner than refined table sugar. Plus, they're delicious — and you might already have them around the house to swap into recipes! 
All of the recipes on this site use unrefined sweeteners. If you are curious how to use them in your everyday cooking, browse around our different recipes, especially our baking recipes and see how these white sugar alternatives can work!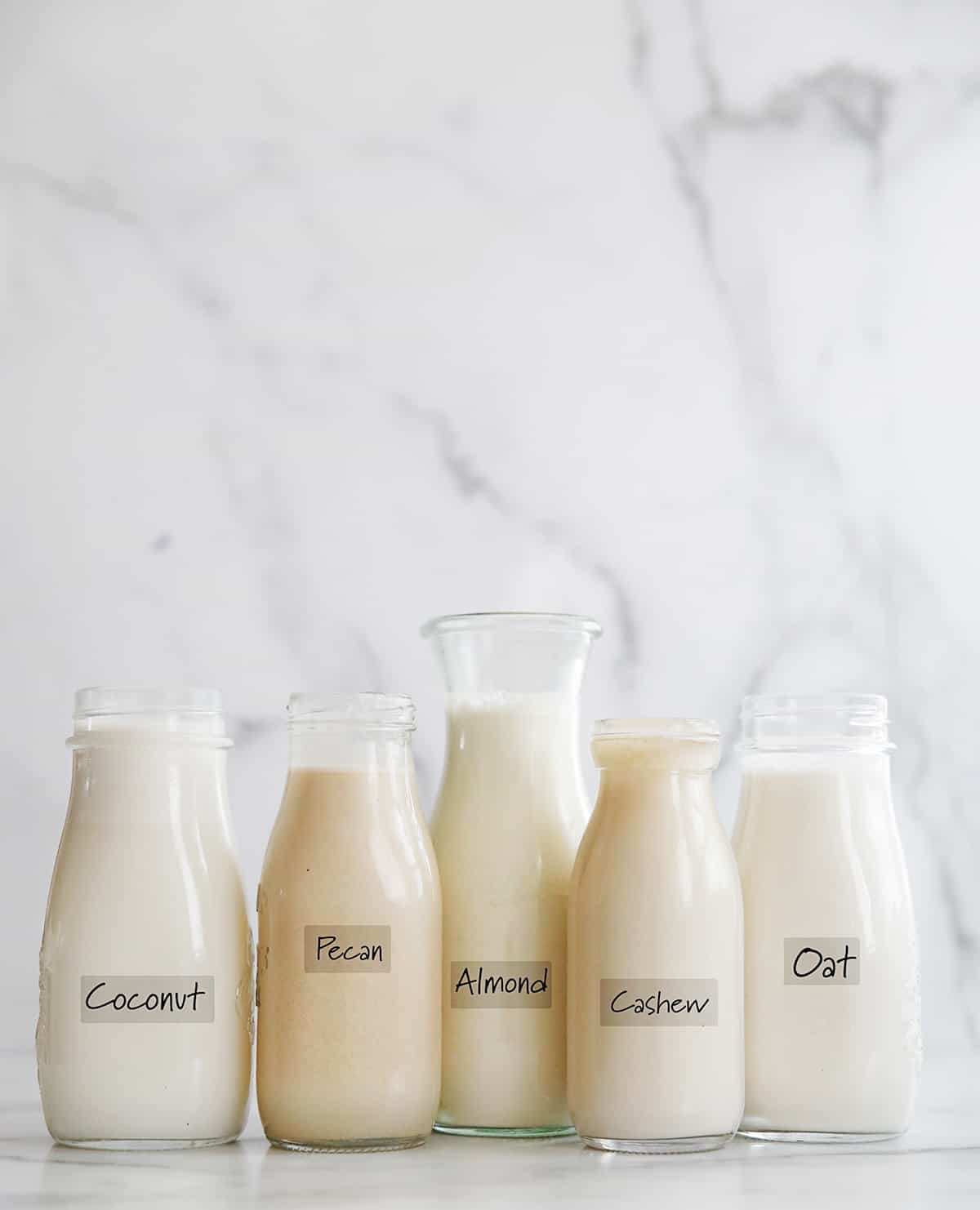 Swap out dairy milk for plant-based milks.
Dairy milk has its own health benefits, but if you want to shake things up and try some options that bring other nutritional advantages to the table, there are plenty of choices. When it comes to healthy milk alternatives, I tend to recommend almond milk and oat milk. 
Here are a few benefits of oat milk, per Medical Daily:  
It contains essential nutrients, including fiber, vitamin E, vitamin B12, and vitamin D — plus calcium! The calcium thing is big, since so many of us drink dairy milk for that very reason.

It can lower cholesterol. 

It prevents anemia because it contains iron. 

It boosts immunity! And don't we all need a little of that?
And here's what Healthline has to say about the benefits of almond milk: 
It's low in calories.

It's low in sugar. 

It's high in vitamins. 

It's a good source of calcium. 
Want to try making your own? It's super simple. We have a whole Dairy-free Milk Guide. And here are some recipes:
Swap out canola oil for avocado oil, olive oil or coconut oil.
While canola oil is often categorized as a healthy alternative to other vegetable oils (and it is!), there are still better-for-you alternatives. You may want to give them a try! 
I am suggesting avocado oil, olive oil, and coconut oil. Here's why: 
Avocado oil

is rich in healthy fats, enhances the absorption of important nutrients, can reduce the symptoms of arthritis, reduces cholesterol, and improves heart health. 

Olive oil

is probably the best-known of the healthy alternatives to canola oil. Like avocado, it's rich in healthy fats, plus it has large amounts of antioxidants and has strong anti-inflammatory properties. It protects against strokes and heart disease. 

Coconut oil

shares many of the properties of avocado and olive oils. It also can encourage fat burning and may reduce hunger, according to

Healthline

. 
Swap out white rice for cauliflower rice.
White rice isn't necessarily a bad or unhealthy option, but cauliflower rice is a whole lot better! This means that if you like the experience of eating something with a hefty side of white rice, you may be better off switching it out for cauliflower rice! You'll have some added peace of mind knowing you're doing something a little better for your body.
Healthline notes that cauliflower is much lower in carbs and calories than traditional rice. It also has enough fiber to feed the healthy bacteria in your gut, which can reduce inflammation and promote gut health. Cauliflower is also a good source of antioxidants, especially vitamin C. 
I have an easy recipe for cauliflower rice here! 
Swap out table salt for sea salt.
It's no secret that a high-salt diet presents its fair share of potential health risks. But let's be serious — salt is a key recipe in pretty much every recipe out there. What are we supposed to do?
Switching in sea salt for traditional table salt when you can is one potential solution, since it has a lot going for it. Here are a few of the health benefits of sea salt, according to What Great Grandma Ate: 
It keeps you hydrated.

It reduces fluid retention and doesn't cause bloating.

It's a good source of minerals. 

It balances electrolytes. 

It prevents muscle cramps.

It's good for your skin.

It improves digestion.

It helps regulate blood pressure. 
With all those benefits, why wouldn't you make the swap? 
Swap out pasta for spaghetti squash.
I'm not saying give up your classic pasta dishes. You know I love them! It's also no secret that I'm a fan of spaghetti squash. I shared a basic recipe for preparing it here, and I've come up with other ways to make it even more delicious! Try Spaghetti Squash Alfredo, Spaghetti Squash Boats, and Italian-Style Casserole! 
Spaghetti squash is a lower carb, lower calorie alternative to traditional pasta, and it has plenty of its own health benefits. I love a nutrient-dense pasta lookalike! Per Healthline, spaghetti squash is a great source of fiber, vitamin C, manganese, and vitamin B6. It supports weight loss and digestive health and is rich in antioxidants, which means it helps reduce damage to your cells. 
And it's really delicious. You might actually prefer the taste to pasta!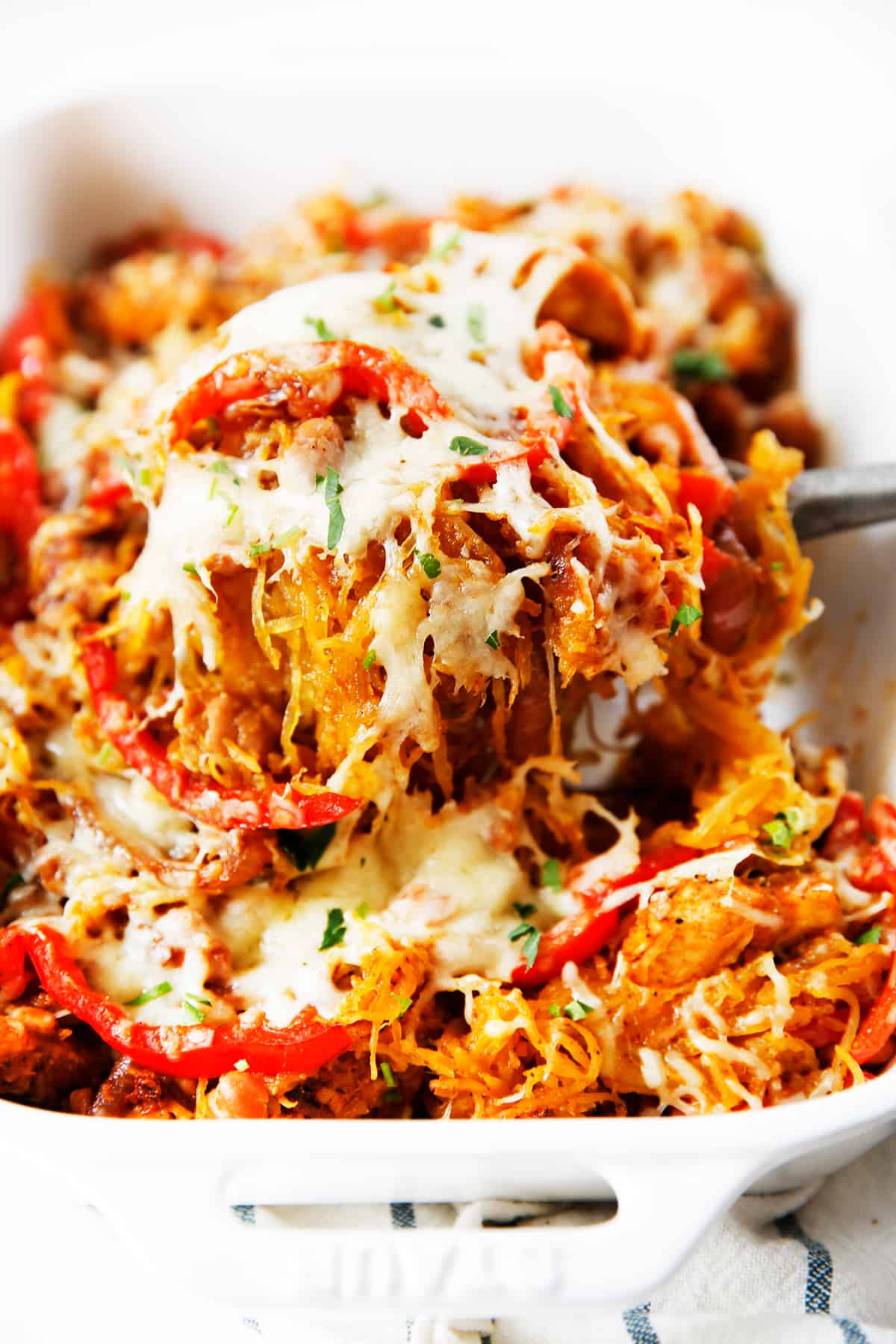 Swap out coffee with tea or matcha.
There's something pretty magical about having a morning coffee routine. For a lot of us, it's a little bit of quiet time before the chaos of the day really starts to pick up. It's rituals like this that help us tap into self care regardless of what's happening in the world around us. 
While you're testing out healthier swaps, you might consider trying tea or matcha in place of your coffee every once in a while! Here are some of the healthiest herbal teas you can find, according to Healthline: 
Peppermint tea

supports healthy digestion and is full of antioxidants, plus antibacterial, anticancer, and antiviral properties.

Ginger tea

minimizes inflammation in the body and boosts your immunity.

Hibiscus tea

can lower high blood pressure.

Sage tea

has been linked to brain health!
Coffee just doesn't quite pack this kind of punch, so you may want to switch it up every once in a while!
Matcha gets its own moment, because we're seeing it just about everywhere lately. I also am tolerating matcha better than coffee these days. Per Healthline, matcha tea is high in antioxidants, can protect liver health, boosts brain function, promotes heart health, prevents cancer, and more. 
If you just can't quite get on board with giving up your morning coffee, you might want to try cutting back on how much coffee you have and sipping on some of these other options throughout the day so you can reap their awesome health benefits.
Swap traditional pizza crust with veggie pizza crust.
You already know that veggies are chock full of nutritional value. If you're looking for more opportunities to fuel your family with those nutrients, packing veggies into your pizza crust is a good way to go. 
Try my Cauliflower Pizza Bites or Eggplant Pizza Crust. It's a great way to keep pizza night interesting! 
Swap out plastics for reusable stainless steel, glass, silicone.
Having a healthier kitchen is about more than just what you put in your body. The material you store your food in makes a difference, too. Your best bet is to stay away from plastic. I'm always looking for ways to reduce plastic in an effort to be kinder to the environment, but plastic food storage isn't great for your health, either. 
According to the experts at Harvard Health, studies have found that certain chemicals in plastic can leach out of the plastic and into the food and beverages we eat. These chemicals have been linked to health problems such as metabolic disorders, obesity, and reduced fertility. And since you can avoid these problems by using alternative food containers, why wouldn't you?
I recommend reusable stainless steel, glass, or silicone containers, none of which have those chemical issues. Here are a few of my favorites:
---
If you're doing just one thing, read labels and ingredients and become an informed shopper! You'd be surprised how many random things are in some store-bought items that don't need to be there!
What would you add to this list?