Healthy Spinach & Artichoke Dip
Bound to be a hit at your next party, this Healthy Spinach Artichoke Dip has all that creamy flavor without any dairy. This paleo, vegan and Whole30 friendly appetizer is simple to put together and nobody will know this isn't the classic version.
Healthy Spinach Artichoke Dip
Is there anything better than Spinach and Artichoke Dip? It is such a classic appetizer that everyone loves. We wanted to update it to make it a bit more healthy so we took all the flavors to create a nutrient-dense dip that is so creamy and delicious without any actual cream! We did leave an option to top it with cheese and broil it, but the dip itself is so flavorful it won't be missed if you need to leave it off for a totally dairy-free dip.
This crowd favorite is perfect for parties, or for an appetizer for a night in. It's simple to make, made with mostly pantry staples and can even be made ahead of time (no more than a day) and reheated.
Ingredients Needed
How to Make Healthy Spinach Artichoke Dip without Dairy
To make this dish free from any dairy, we turned to cashew cream. Cashew cream is simply soaked cashews that are blended until they are smooth and creamy. It's a great replacement for heavy cream or in some recipes cream cheese. It can be used for both savory or sweet recipes! We've used in so many different dishes, and it's our number one choice to replace dairy where it fits.
We left it optional to add a bit of cheese on top of the dish to get that traditional spinach and artichoke dip feel, but you won't miss it too much if you omit it to make this dish totally dairy-free.
What to Serve with this Dip
Serve this dip with crackers (homemade or store-bought), tortilla chips, and cut up veggies.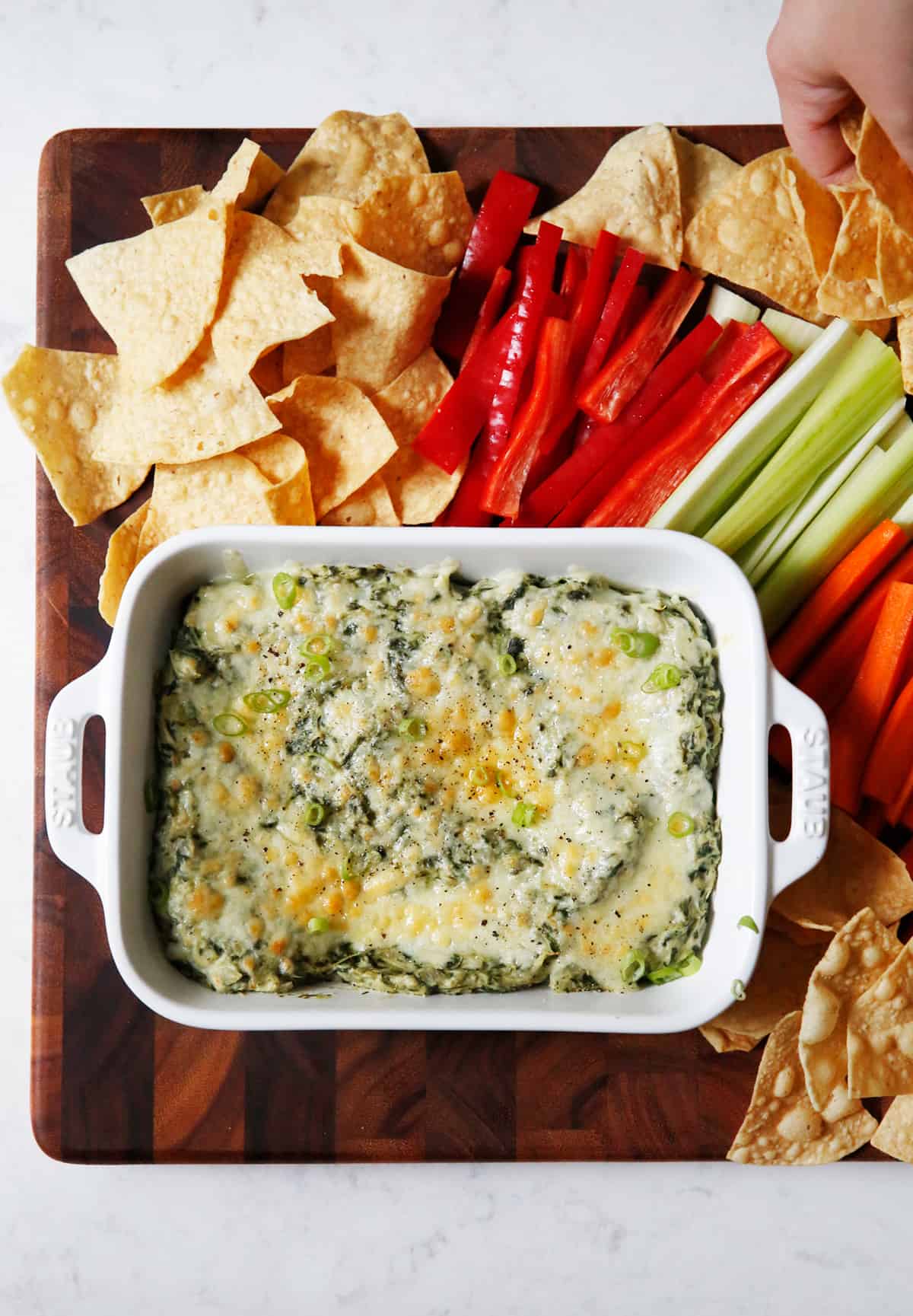 If you like this healthy dip recipe, check out these others:
If you like this spinach and artichoke recipe, check out these others:
[yumprint-recipe id='244′]
Healthy Spinach & Artichoke Dip
This Spinach Artichoke Stuffed Spaghetti Squash recipe is the ultimate comfort food, lightened up! All the classic flavors of spinach and artichoke dip made healthy and stuffed into a low-carb and nutrient-rich spaghetti squash! You can optionally add-in chicken to make it heartier, or leave it as a vegetarian main dish. Make it dairy-free using cashew cream, or not.
Spinach Artichoke Spaghetti Squash
Fall is the perfect time for spaghetti squash! Spaghetti Squash is the a healthier alternative to pasta and it works so well here with this Spinach and Artichoke recipe. It is like a dinner version of the Spinach and Artichoke dip (we've got that here, too) but more nutrient dense and hearty! What I love most about this recipe is that it can be made classic with some cheese or made dairy-free thanks to my favorite dairy-free swap: cashew cream!
Want to make this vegetarian? We gave the option to add-in chicken if you want, but feel free to omit to keep it vegetarian and vegan if you use the dairy-free option.
Love spinach and artichoke dip? Check out this chicken dish, this dip and this stuffed mushroom recipe.
Ingredients Needed
Dairy-free Options
It's hard to believe but we absolutely could not taste the difference between the version we tested with dairy using cream cheese and the version we tested using cashew cream and nutritional yeast. Even the nutritional yeast is optional if you prefer to skip it in the dairy-free option! We've talked about cashew cream at length on Lexi's Clean Kitchen because it's one of our favorite swaps to make dishes creamy without any dairy. To make it you blend soaked cashews until it's rich and creamy. It's used in the same way heavy cream or even greek yogurt would be.
How to make Stuffed Spaghetti Squash
The truth is, you don't actually have to stuff the spaghetti squash to make this recipe. You can either bake this as a casserole in an 8″x 8″ dish (or something similar) or you can bake this Spinach and Artichoke dinner directly inside the spaghetti squash halves. To do that:
Roast the spaghetti squash (or cook in an Instant Pot) following these directions.
Meanwhile, make the spinach artichoke mixture.
Once cooked and cooled, scoop out the spaghetti squash strands and combine with the spinach and artichoke.
Place back in the empty shells of the spaghetti squash and top with shredded cheese, if using.
Place under the broiler until the cheese and melted and the mixture is completely heated through.
If you like this spaghetti squash recipe, check out these others:
Spinach and Artichoke Spaghetti Squash
Need a delicious light dinner that doesn't require much cooking and is so DELICIOUS? Then this Instant Pot Lemon Chicken with Artichokes and Asparagus is just what you need to make tonight! This seasonal and bright dinner is perfect for a night you still want something delicious but don't want to cook much. It's also gluten-free, paleo, low carb and whole30 friendly. Made in partnership with my friends at Shenandoah Valley Organic (SVO Farmer Focus)!
Easy Instant Pot Lemon Chicken Recipe
This Instant Pot Lemon Chicken recipe with asparagus and artichokes is exactly why we love the Instant Pot! It cooks up delicious meals, using mostly hands-off cooking, and quickly! We love how flavorful this dish is with the bright lemon that compliments the earthy artichokes, asparagus and hearty chicken. This meal is pretty low-carb on its own, but if you'd like you can serve it alongside pasta, rice or cauliflower rice.
Of course, not all of the ingredients cook at the same time so there are a few steps in this recipe. It's not difficult though, and it makes it so that you are mostly just placing ingredients inside the instant pot, and then letting it work it's magic!
Here's what you need:
How to Prep Asparagus
Asparagus is in season throughout the spring. Look for asparagus in the store with medium sized spears that have dry tips. Try giving the tips of the asparagus a quick smell, it should be earthy and fresh. If it smells funky, pass on them.
To clean asparagus rinse the spears to remove any grit. The end of the spear is woody. You can snap off the bottom and they will naturally break where the woody part is. Alternatively, if you prefer not to lose too much asparagus you could cut off 1″ of the stem and peel a few layers off of an additional 1-2″ of the spears.
How To Cook Asparagus in the Instant Pot
The timing for this asparagus is based off of fairly average supermarket asparagus. If your asparagus is very thin, you might be better off cooking the asparagus on the saute mode in the lemon broth instead. Simply saute until al dente. For average asparagus:
Clean the asparagus

Place in instant pot and cook on low pressure for ZERO minutes. The Instant Pot is cooking the food while it's coming up to pressure and this is just the correct amount needed to cook the asparagus.

Use the quick release function
I am so happy to partner with my friends at SVO Farmer Focus to bring you today's easy Instant Pot chicken recipe! Shenandoah Valley Organic (SVO) is my go-to trusted, farmer focus, chicken company for years now because they pride themselves in producing the highest quality chicken grown on family-owned farms.
These days you can go to the grocery store and *think* that you are picking up chicken that comes from an all-natural sounding brand that does things right, but then unfortunately if you look further into who owns that chicken company, you might be surprised to find out that it's just the giant chicken manufacturer in this country.
Shenandoah Valley Organic is building partnerships with growers through a Farmer Focus Business Model
I love that with SVO Farmer Focus you know that they are supporting their farmers and is a company that is working hard to do things right and truly raise and produce the highest quality chicken! Every SVO Farmer Focus product includes a 4-letter farm I.D. that traces your chicken to the farm that raised it. How cool is that? So aside from the best quality chicken (truly), Farmer Focus also delivers the peace of mind that I am supporting hard working family farmers.
SVO chickens are humanely raised and fed a diet free from animal byproducts, pesticides, and antibiotics. On their website you can see where all of the farms are located, so you know just where your chicken was raised!
You can also use their easy store locator to find where you can get this amazing quality chicken near you.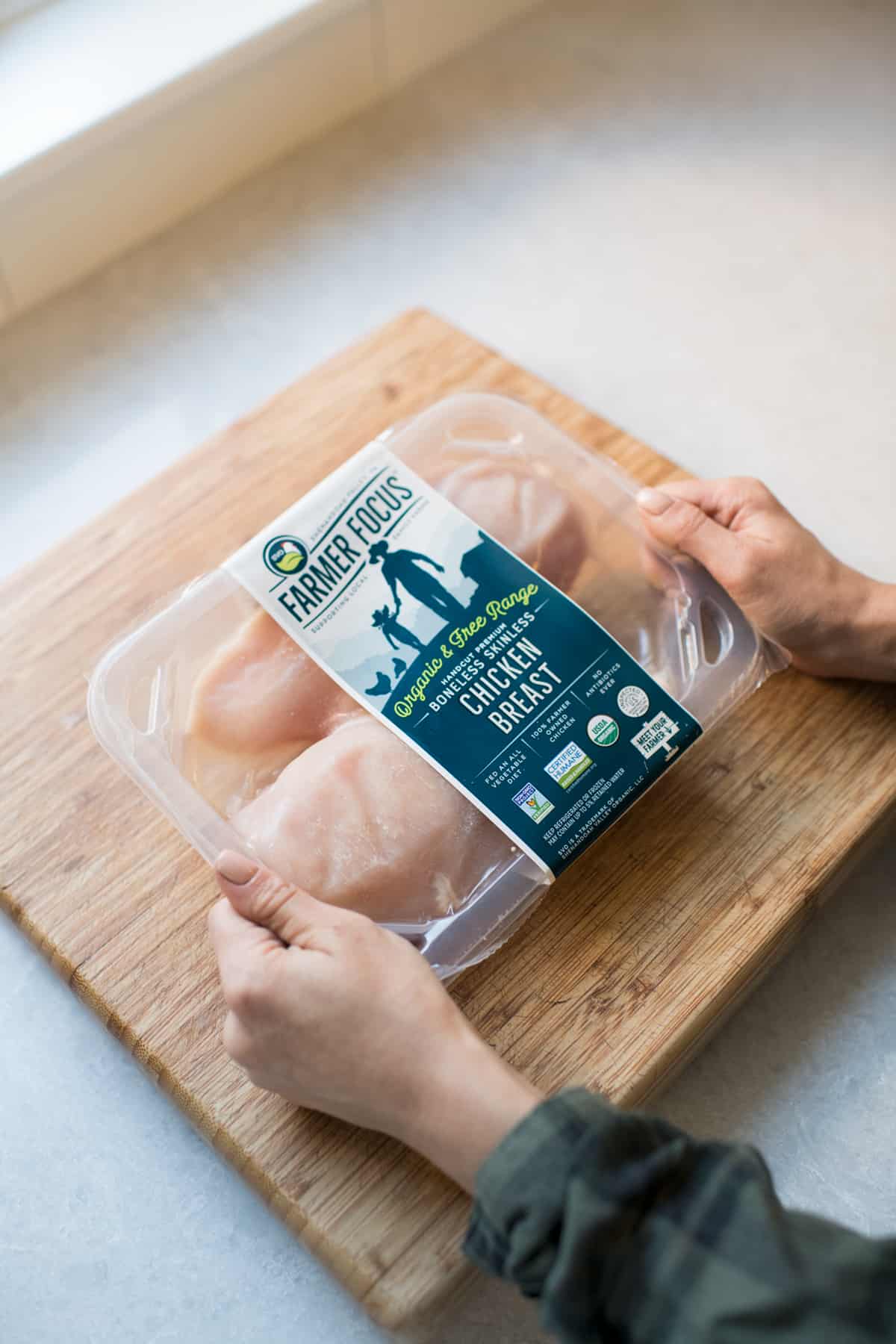 If you like this chicken recipe, check out these others:
If you like this Instant Pot Recipe, check out these others:
Watch the video:
---
---
This post is sponsored by Shenandoah Valley Organic! All thoughts and opinions are always 100% my own! I love the integrity of their products and think you'll love them too. Thank you for continuing to support LCK and the brands I work with!
Instant Pot Lemon Chicken with Artichokes and Asparagus
This Creamy Spinach and Artichoke Chicken is comfort food turned easy weeknight dinner! This optionally dairy-free dish is so creamy and tastes just like spinach artichoke dip but with fresh healthy ingredients served for dinner! This dish is Paleo, Keto and Whole30 friendly and so delicious!
Creamy Spinach and Artichoke Chicken
Another easy weeknight dinner coming your way! And if you are a fan of spinach artichoke dip (but…who isn't?) then you're going to love this one. We took all the flavors of that classic dip and updated to create a healthy nutrient-dense dinner that is so creamy and delicious without any actual cream! Ok…we did include a note about how to use cream if you prefer to keep this nut-free. So you decide which version works better for you!
Ingredients Needed:
If you want to keep this nut-free and tolerate dairy substitute heavy cream for cashew cream and parmesan cheese for nutritional yeast. Either way, it's going to be good!
Why do we use cashew cream in this recipe?
We love using cashew cream as a dairy-free alternative to make things CREAMY! Unlike coconut cream or coconut milk that can often leave a taste, cashew cream makes things instantly creamy, without any coconut taste! It's totally dairy-free, and delicious. You can use it in savory or sweet dishes. But even without the health benefits, cashew cream is just totally delicious.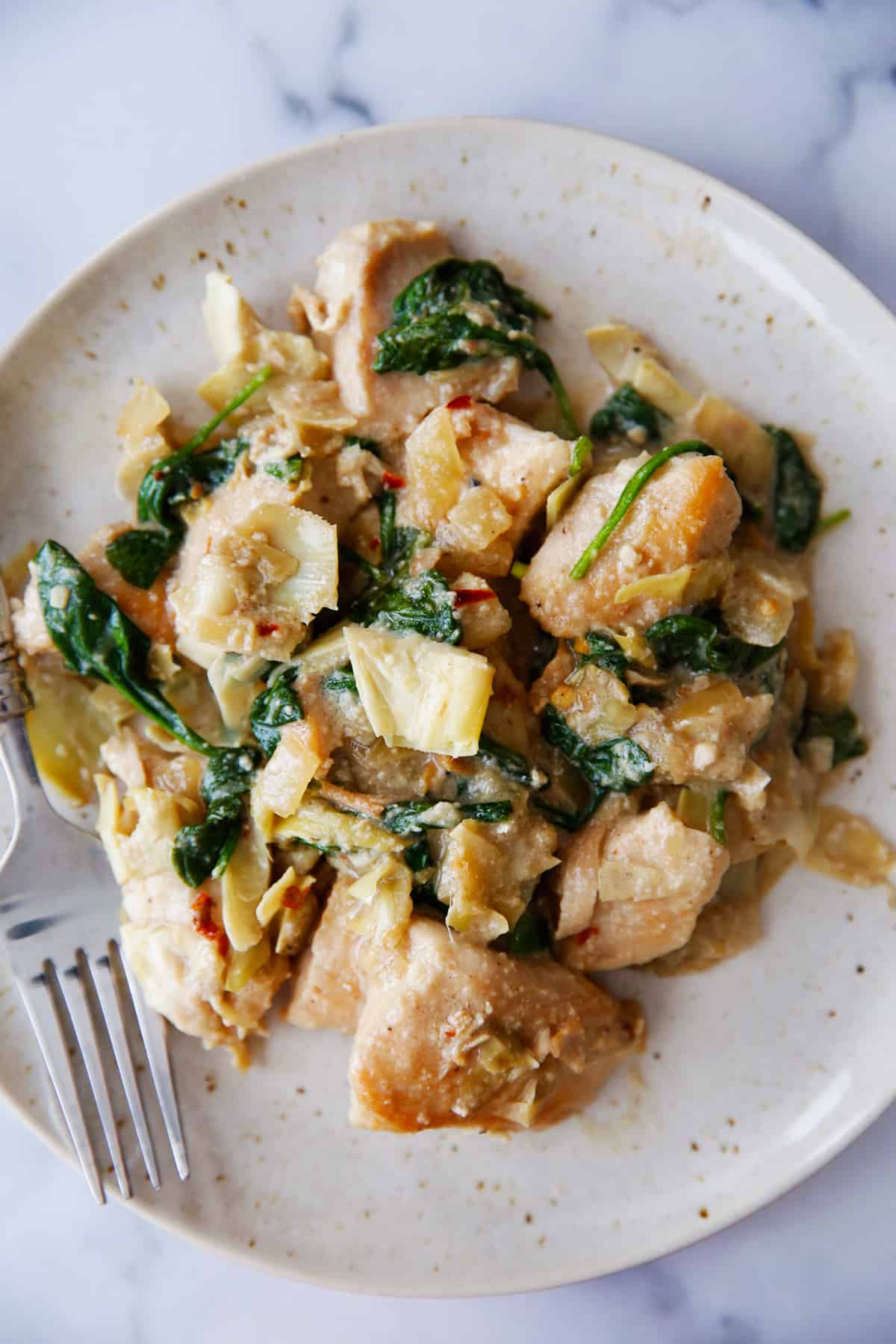 What to serve with Spinach and Artichoke Chicken:
There are so many options to serve this delicious dish with. Try:
If you like this simple weeknight chicken dinner, check out these other favorites:
Creamy Spinach and Artichoke Chicken
Artichokes can be one of those intimidating vegetables that you just don't know how to prepare, cook or even eat! We've surrounded ourselves with artichokes here at the LCK test kitchen to make ultimate guide on how to prepare artichokes. In addition we also tested many different ways to cook them and we are sharing our conclusions and our favorite method, as well as a recipe to go along with it. Scroll down for everything you need to know about artichokes!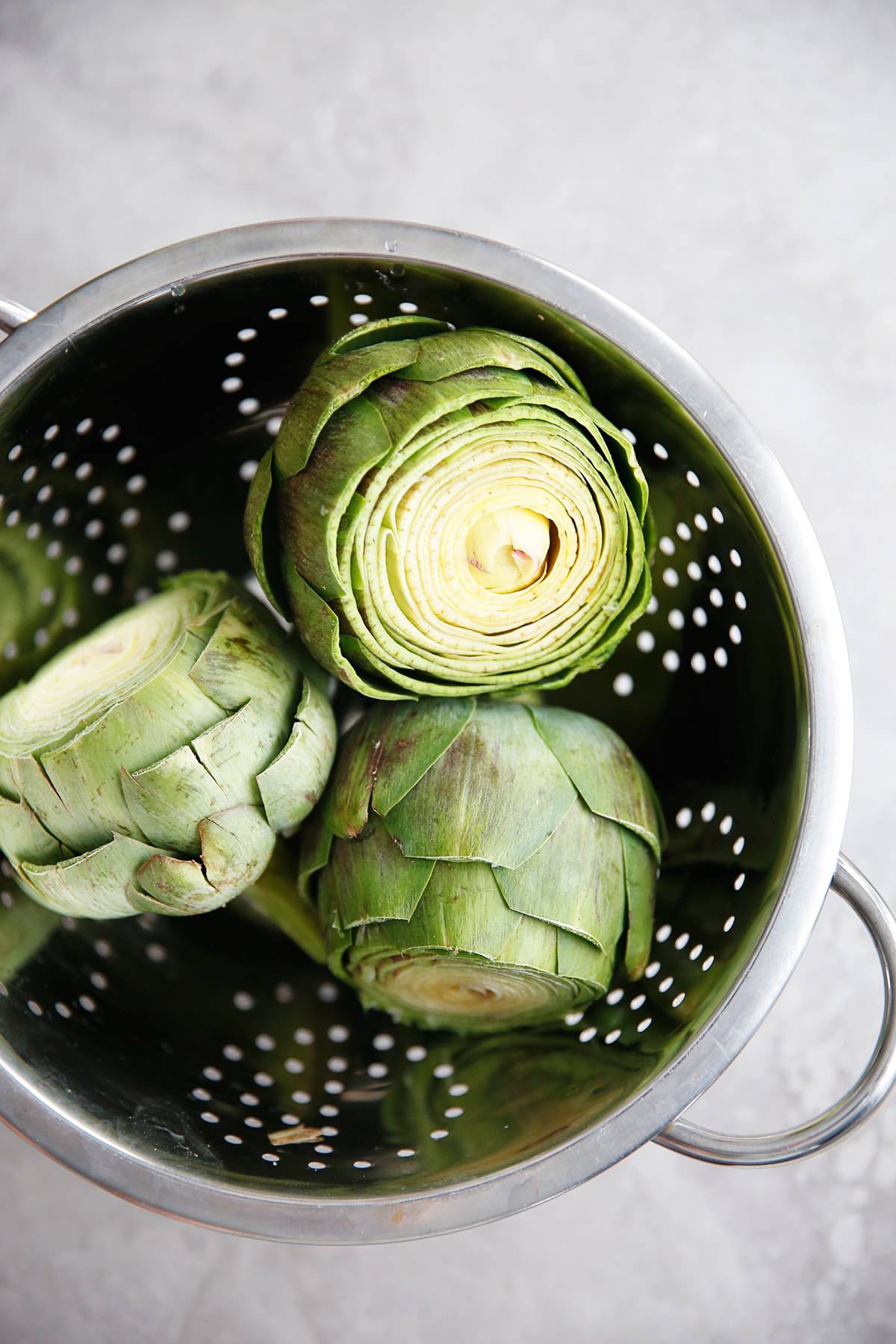 Everything You Need to Know How to Prepare Artichokes
Let's be honest, cooking and eating an artichoke is NOT the easiest or fastest way to get a meal on the table. But these vegetables are a special treat, both in health and taste, and when spring rolls around they're a great way to celebrate the season. Artichokes are a good source of fiber, vitamin C and are rich in anti-oxidants. But more importantly, their nutty and rich taste is well worth the effort it takes to prepare them.
What Kind to Buy
Artichokes are typically available in season between March and May, and sometimes again mid-fall. The most common type of artichoke you will find in the store is the globe artichoke. They are typically available fully grown, or can also be found as "baby" globe artichokes. Choose artichokes that feels heavy for their size, indicating that it has a good amount of moisture, with tightly closed leaves. The artichoke should not have a lot of bruising or brown spots.
How To Prepare Fresh Artichokes For Cooking
The most important part in cooking artichokes is the preparation beforehand! The globe artichoke, which in it's raw form is actually a botanical flower, is not all edible. The edible part is the "heart" found at the bottom of the artichoke. You'll be removing a good portion of the top part of the artichoke as this is not edible at all. There is a little bit of work involved in getting the artichoke ready before you actually cook it, but we have all you need to know here to make it super simple:
Trim off the dry tip of the stem (or if you do not like the taste of the stem you can remove the whole thing) and peel it using a vegetable peeler.
Trim off the top 1/3 of the artichoke and squeeze a bit of lemon juice on to cut areas to prevent browning. Using a serrated knife is easiest.
Using kitchen sheers trim off the remaining thistles on the outer leaves. Be careful as they can poke you!
Gently open up the artichoke by pressing on it to push open the leaves and rinse really well under cold water, getting water inside of the leaves to get out any debris. If it is really dirty submerge it in a large bowl of ice water and allow all of the dirt to come out of the leaves.
Depending on your preferred cooking preparation at this point you will either leave it whole to cook, or you will cut it in half. If you are cutting it in half you will need to remove the choke before cooking as this is not edible (and like the name suggests can in fact cause you to choke if consumed). This is the purple / pink inner leaves extending down to the white fuzzy hairs. Simple scoop it out and discard.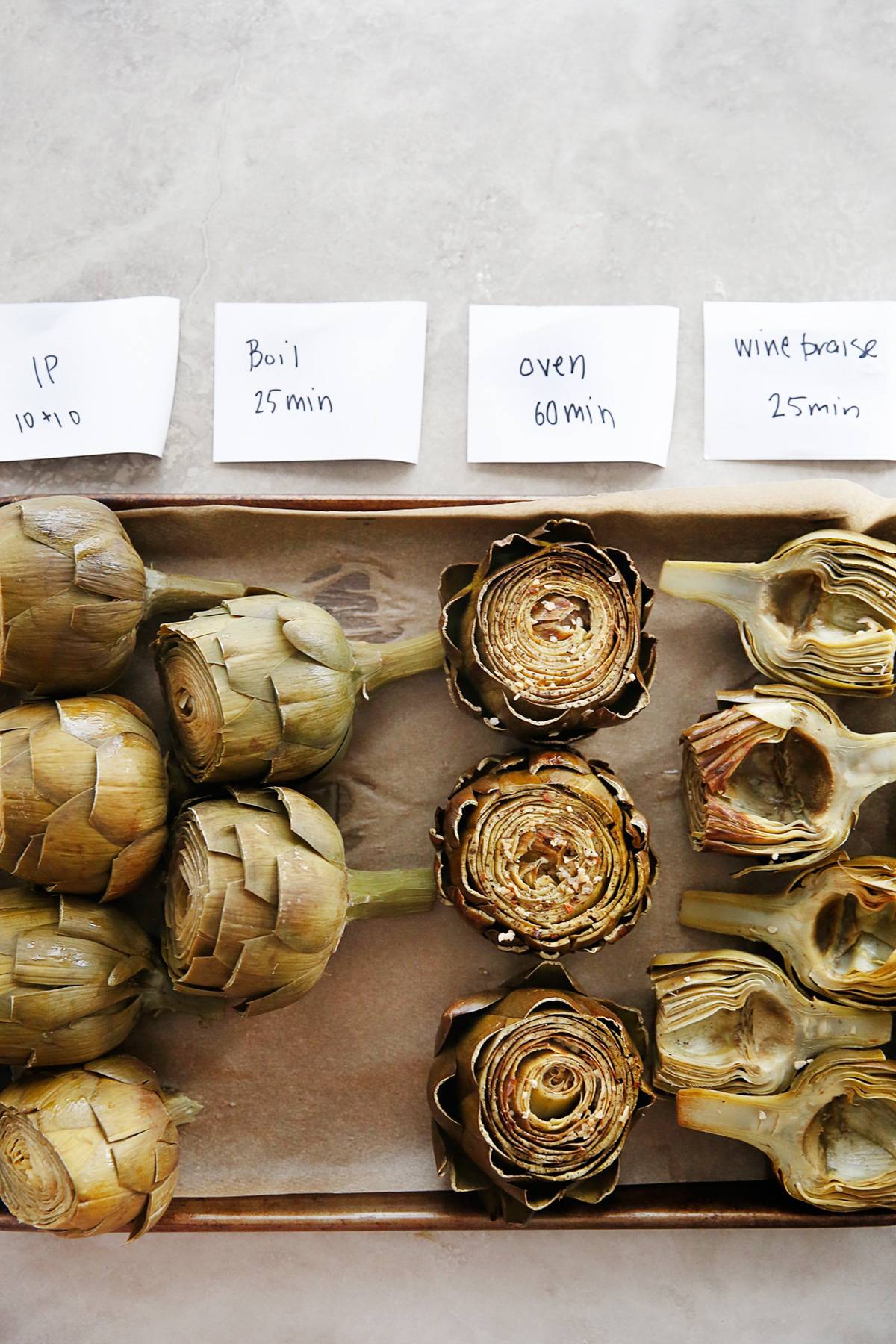 How Do You Cook An Artichoke?
We tested a lot of methods for cooking artichokes! We tried roasting in the oven, boiling, steaming in the Instant Pot and braising them. For us we really wanted to keep all that delicious moisture and flavor in the artichokes! In the end, our favorite method was braising them. Check out our recipe for Braised Artichokes with Garlicky Pecan Bread Crumbs for more details. But using other methods of cooking has it's place as well!
Sear artichokes.
Add braising liquid and braise until tender, about 20-25 minutes.
Top with breadcrumbs and broil.
Baked Artichokes:
Pre-heat the oven to 425º F and prepare and clean the artichokes for cooking (instructions above).
Place desired amount of artichokes in a foil packet. Make sure to seal it tightly to prevent any moisture from escaping.
Bake for 50 minutes. Take care when opening up the foil packet as some hot steam may come out.
Boiled Artichokes:
Fill a large pot with salted water and 6 garlic cloves and heat on high.
Prepare and clean 4-6 artichokes for cooking. Make sure to leave the artichoke whole.
Place prepared artichokes in water and boil for 25 minutes, or until the artichoke can easily be pierced with a knife.
Instant Pot Artichokes:
Set the steam basket inside a 6 or 8 quart pressure cooker and fill it with 2 cups of water.
Prepare and clean 4 artichokes.
Place artichokes stem side down in the pressure cooker and close the lid and set to sealing.
Cook on manual high for 10 minutes with a 10 minutes natural pressure release. Once 10 minutes NPR is finished, carefully release any remaining steam.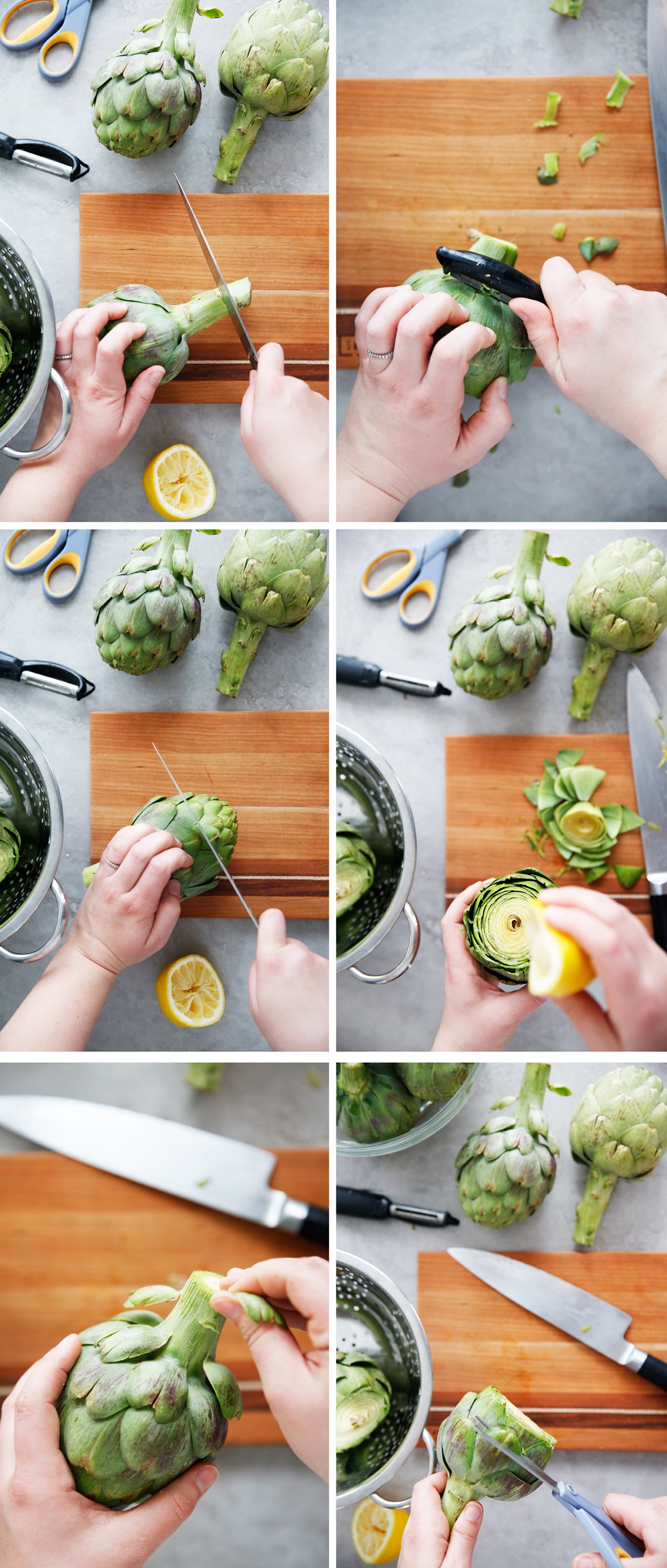 How Do You Eat An Artichoke?
Artichokes are delicious eaten hot, room temperature and even cold! To eat, you remove the leaves, one by one and scrap the soft pulp with your teeth. It is good dipped in sauce, melted butter or even just with a touch of salt! Once you remove all the leaves, if your artichoke is whole you will need to remove out the choke. It is the fuzzy center of the artichoke on top of the soft heart at the bottom. Simply scoop it out with a spoon and discard. The heart is the bottom soft portion above the stem. The stem is also edible, though some people find it too bitter to eat. We here, at LCK, love it!
Love artichokes? Try these other artichoke recipes:
Watch the artichoke guide video:
---

Artichoke 101: How To Prep, Cook, and Eat Artichokes!
This one-pot Lemon Roasted Lemon Roasted Chicken with Garlic, Capers, and Artichokes is such a flavorful and hearty dish! The perfect dinner for those nights you want as little clean-up as possible! Whole30 compliant, paleo-friendly, nut-free, and egg-free!
Lemon Roasted Chicken with Garlic, Capers, and Artichokes
It's starting to feel like Winter is on the horizon. Heavier jackets have started coming out, and I woke up to a text of a backyard cover in snow this morning! In lieu, this week's Savory Sunday is here with a cozy Autumn/Winter meal that is loaded with bright and delicious flavors. This dish was a major hit; the chicken fell right off the bones and it is extremely simple to throw together, a one pan wonder! Perfect for a Sunday night family dinner, or a meal prep for your work week.
How to make roasted chicken
Want other chicken recipes? Try these: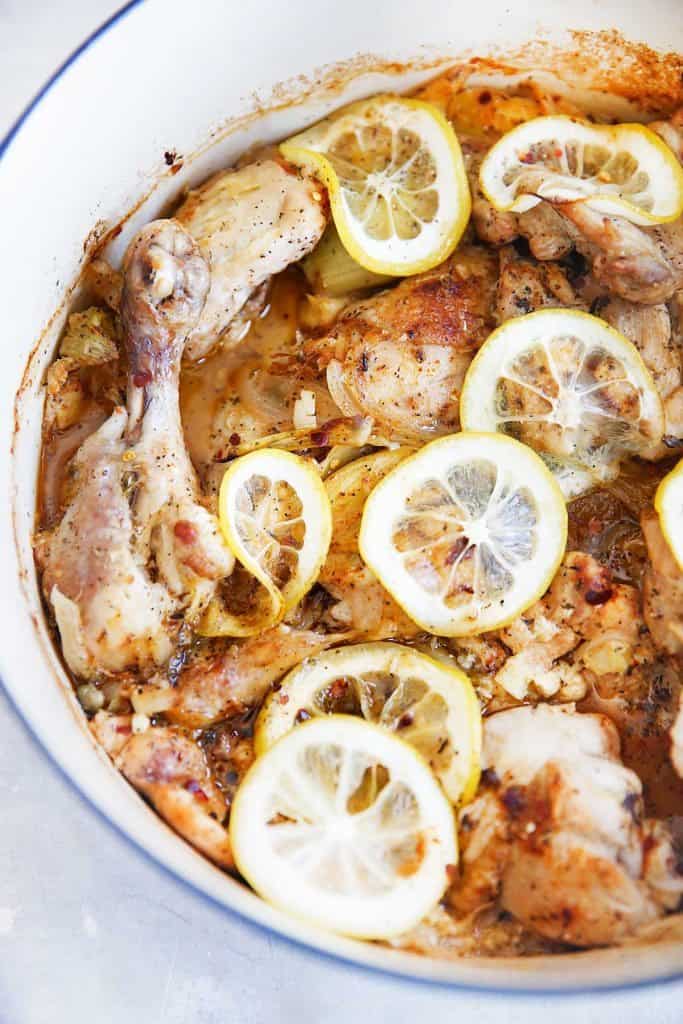 What is your go-to cozy Autumn/Winter meal?