Easy Stir Fry Veggies
Don't let the ease of making this dish dissuade you, this Stir Fry Veggies recipe is simply delicious! Make as a side dish, or pair it with a protein for a complete meal. This vegan, Whole30 and Paleo-friendly dinner idea will be a hit with everyone.
Easy Stir Fry Vegetables
Sometimes the simplest dinners are the most delicious, and this easy Veggie Stir Fry is one of them! Take whatever veggies you have on hand, saute them up before dosing them in a yummy stir fry sauce and you've got yourself a 20-minute dinner! While we outline our favorite stir-fry veggies, you certainly can swap in with what you have at the moment, and have given some guidance below for how to do that. We love to serve this as a vegetarian main, along with some rice, rice noodles or even roasted spaghetti squash. It's vegan, Whole30 and Paleo-friendly and might even be good enough to convince the kids to eat some veggies for once!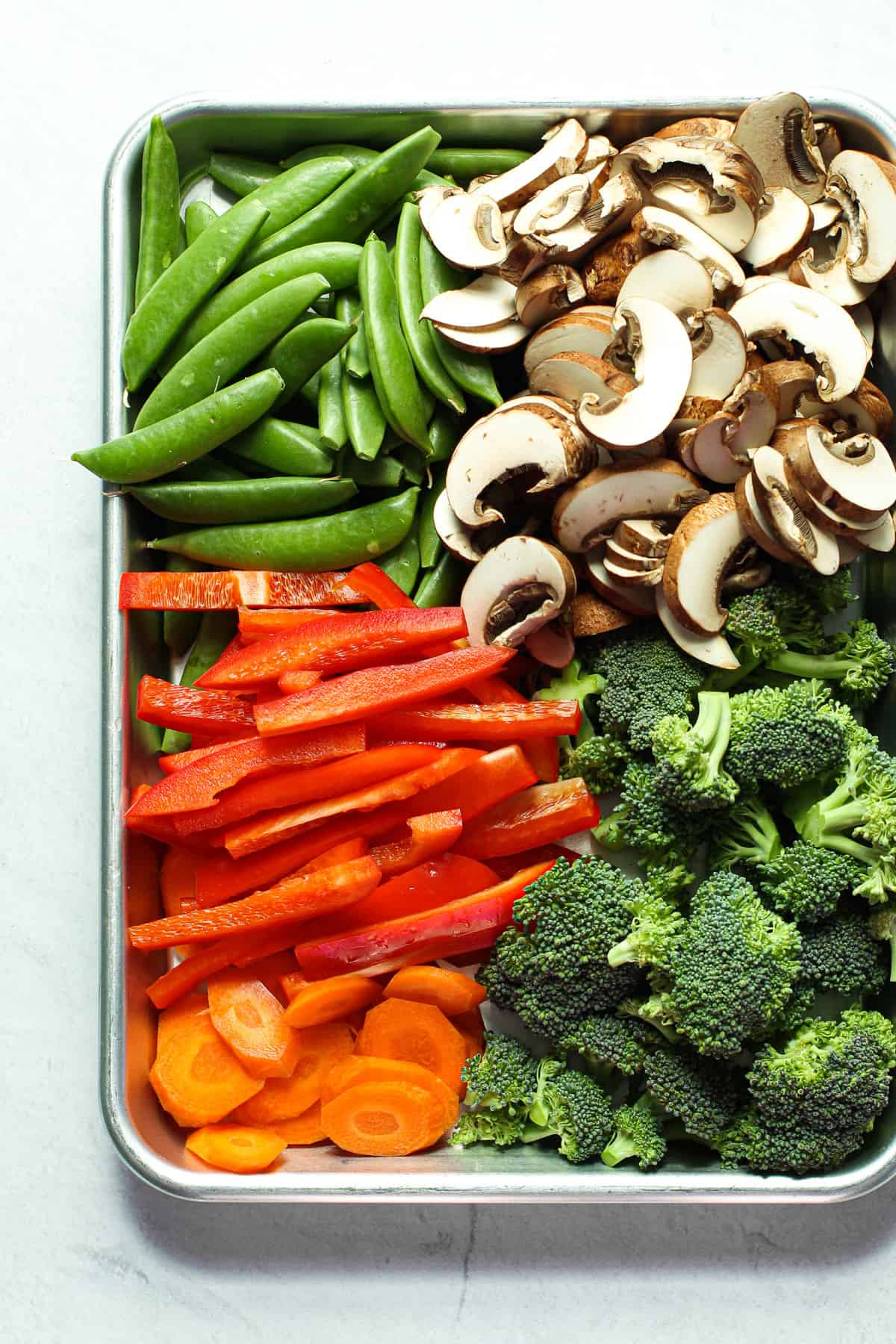 Veggie Options for Stir Fry
A stir fry typically calls for cooking the ingredients in stages. That way it ensures each ingredient, or group of ingredient, is cooked perfectly. Then they are all brought together in the end with a stir fry sauce.
For this Stir Fry we've chosen:
Broccoli

Carrots

Fresh Mushrooms

Bell Peppers

Snow Peas
This stir-fry is cooked in stages, pairing vegetables together that cook in the same time. If you want to swap in some vegetables that you have on hand, make sure to pair them together with veggies that will cook at the same time. Here are some veggies that work well for a stir-fry, grouped together by quicker cooking and longer cooking:
Quicker Cooking Veggies for Stir Fry:
Zucchini
Spring Onions
Asparagus
Green Beans
Greens such as Bok Choy, Kale, or Spinach
Longer Cooking Veggies for Stir Fry:
Cauliflower
Brussels Sprouts
Winter Squash such as Butternut or Spaghetti
Root Vegetables
Onions
Cabbage
The Importance of Cutting Veggies the Same Size
Regardless of what veggies you use, make sure to cut the veggies to be a similar size, that way they cook evenly. For instance, broccoli florets should all be cut about the same size as each other. Make sure to cut the carrot slices about the width.
Pro-tip: Prep up everything before you begin cooking. Because a stir fry is a very quick cooking time, you want to make sure the veggies all cook evenly.
Stir Fry Tips
A stir-fry isn't hard to make! But here are some tips for making it successfully:
Make sure all your ingredients, including the sauce, are prepped up before you start! Everything happens quickly so you don't want to be caught chopping veggies when you should be paying attention to the stir fry.
As mentioned above, cut the vegetables evenly.
Make sure your pan gets really hot! It gives the veggies good flavor and the correct cook of crisp, but tender.
What to Serve with Vegetable Stir Fry
Serve this stir fry with rice, rice noodles, veggie noodles or as a side dish along with some protein.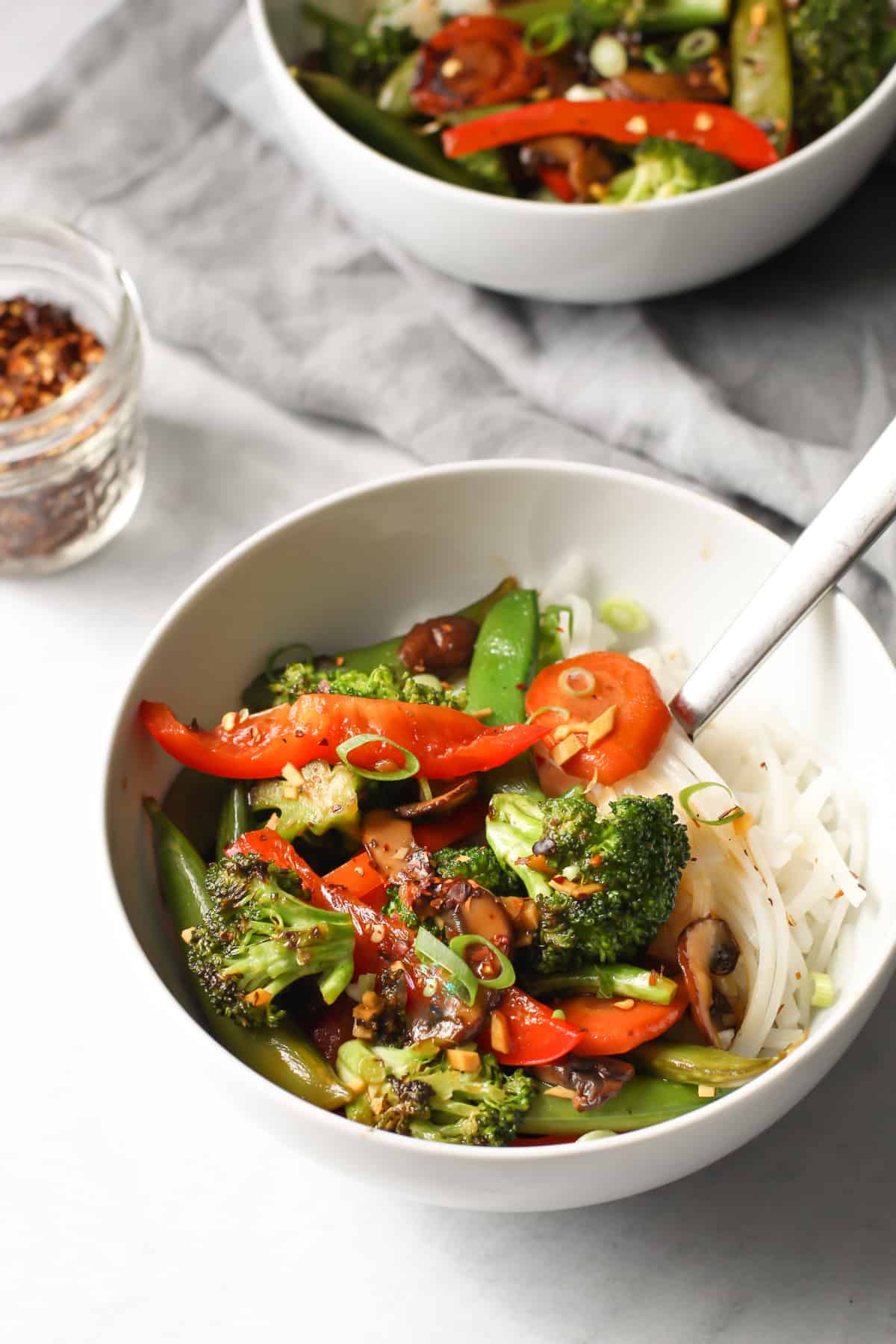 If you like this plant-forward recipe, check out these others:
Easy Stir Fry Veggies
Stuffed Pepper Soup is the perfect cold weather meal! Loaded with all of your favorite stuffed pepper flavors, but without the hassle of having to actually stuff peppers. It's easily cooked in either the crock pot or the Instant Pot and this hearty soup is also gluten-free and optionally dairy-free.

Stuffed Pepper Soup
Are you guys ready for soup season yet? I am just about ready. And today we're bringing an oldie but a goodie out from the archives. This Stuffed Pepper Soup has been a favorite at LCK for a while. It's hearty, flavorful and dead-simple to make. We've updated the photos and have now added instructions so that you can make it either in the slow cooker or the Instant Pot. This soup has all that stuffed pepper flavor we love, but doesn't require a lot of the steps needed to actually make stuffed peppers. It's gluten-free and optionally Paleo and Whole30 friendly, if you omit the rice and cheese.
Stuffed Pepper Soup Ingredients
Ground Beef
Tomato Sauce
Diced Tomatoes
Beef or Chicken Stock
Bell Peppers
Uncooked Rice (omit for Paleo or Whole30)
Onion
Coconut Palm Sugar (omit for Whole30)
Garlic
Paprika
Salt and Pepper
To make this Whole30 and Paleo friendly omit the white rice. You can substitute in cauliflower rice to cook at the end until heated through.
How to Make Stuffed Pepper Soup
There are a few different ways you can cook this soup! I love the choice of being able to use either the crock pot or Instant Pot when making soup depending on what my day looks like, so we're including instructions for both. Additionally, this soup is easily made on the stove as well.
To Make Crock Pot Stuffed Pepper Soup:
To make this in the slow cooker, all you need to do is brown the meat and then add the remaining ingredients and cook on high for 4-6 hours. When I originally published this recipe I listed in the instructions to add in cooked rice at the end. Adding fully cooked rice right at the end prevents too much liquid from being absorbed by the rice during cooking. However, we've updated the recipe to use a small amount of raw rice instead. The reason for this is because using raw rice enables this to be a truly set-it-and-forget-it meal that doesn't need any preparation such as making rice beforehand. The rice does lose its shape a bit, but we actually found we liked how it thickened the soup, just like a stuffed pepper would. However, if you do happen to have leftover rice and wish to add that in at the end of cooking just to heat through, feel free to do that instead. Additionally, the longer this soup sits, the more liquid the rice absorbs, the same as it would any soup with added rice.
To Make Instant Pot Stuffed Pepper Soup:
To make this in the Instant Pot, you brown the meat, add the remaining ingredients and then cook on manual high pressure for 10 minutes with a natural pressure release for 5 minutes. It's truly a super simple quick way to get dinner on the table!
To Make Stove Top Stuffed Pepper Soup:
Don't have a slow cooker or Instant Pot and still want to make this soup? No problem! To cook on the stove:
Heat a large pot and add a teaspoon of oil.
Once hot, add the ground beef and cook through until no longer pink. Drain off all excess fat except 1 teaspoon.
Add in the peppers and onions and cook until beginning to soften, about 5 minutes.
Add in the remaining ingredients and cook until the vegetables and the rice are tender, about 20 minutes. Add any additional broth as needed to thin out the soup.
Serve immediately with garnish of choice.
If you like this soup recipe, check out these others:
If you like this stuffed pepper recipe, check out these others:
Stuffed Pepper Soup
These delicious Pizza Stuffed Peppers are everything you want in a dinner! Stuffed with ground turkey (or beef) and all the pizza fixings, this family friendly dinner will leave everybody happy. Plus it's a great dish to prep ahead of time!

Pizza Stuffed Peppers
I basically would eat anything if you flavored it with "pizza". Especially when it's actually a healthy and delicious dinner that is kid-friendly! These Pizza Stuffed Peppers using a base of ground turkey or beef and all the pizza fixin's like mushrooms, peppers, onions, pepperoni and cheese! There is plenty of room to customize based on what you want or have on hand.
What I love about stuffed peppers is that while they take a few pre-cook steps of getting the meat and veggies soft, the bulk of the cooking time is hands-off in the oven, and they are a great make ahead dish. You can either prep the whole thing ahead of time and bake when ready, or you can cook the stuffed peppers entirely and use them for meal prep dinner or lunch.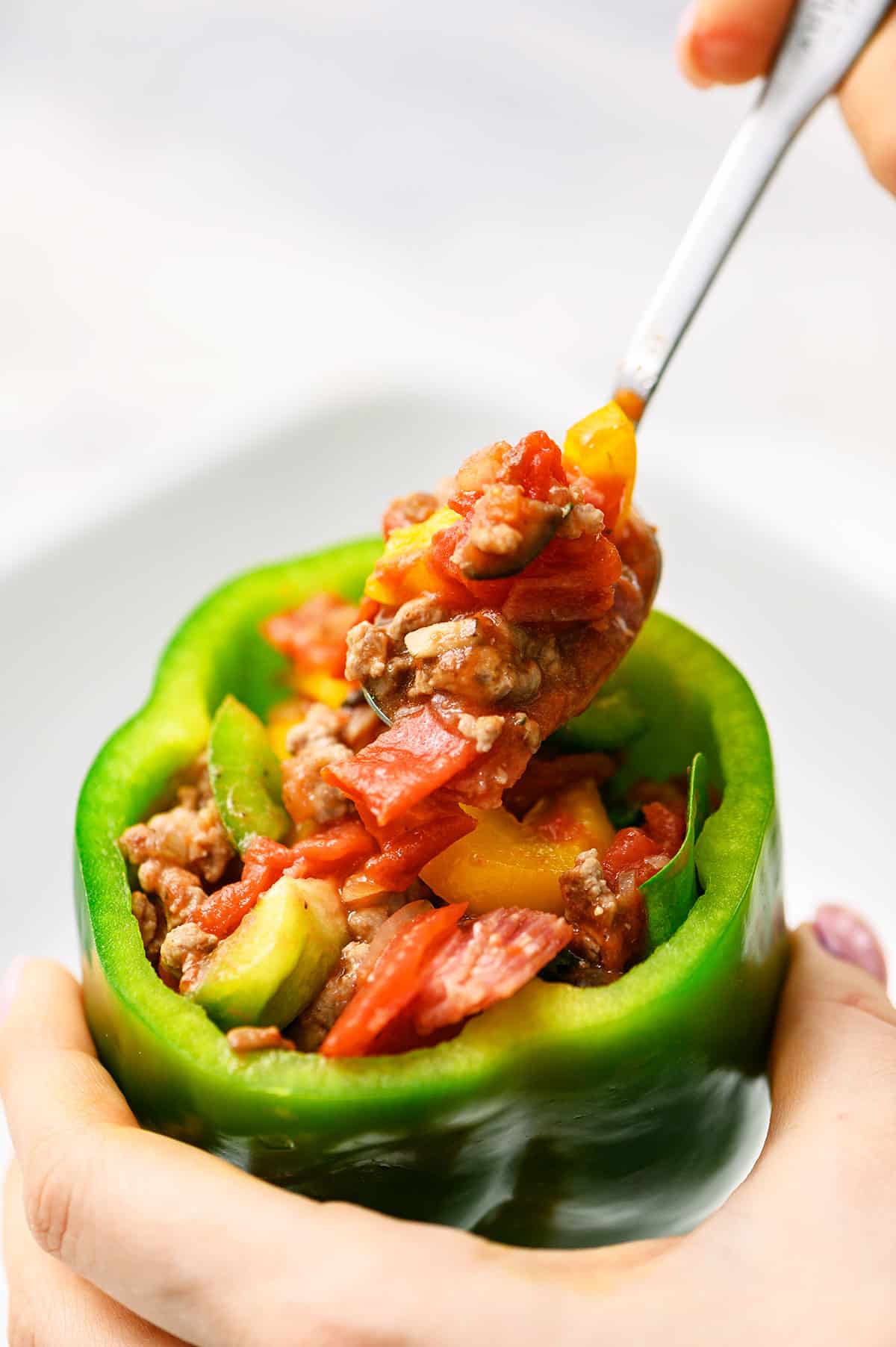 Ingredients Needed
Bell Peppers

Onion + Garlic
Mushrooms

Ground Turkey or Ground Beef

Canned Tomatoes

Salt + Pepper + Spices
Pepperoni

Fresh Spinach

Mozzarella Cheese

Fresh Basil
Do You Cook the Meat before Stuffing Peppers?
Yes! As with most stuffed peppers recipes, everything is precooked before going into the stuffed peppers, except the bell peppers themselves.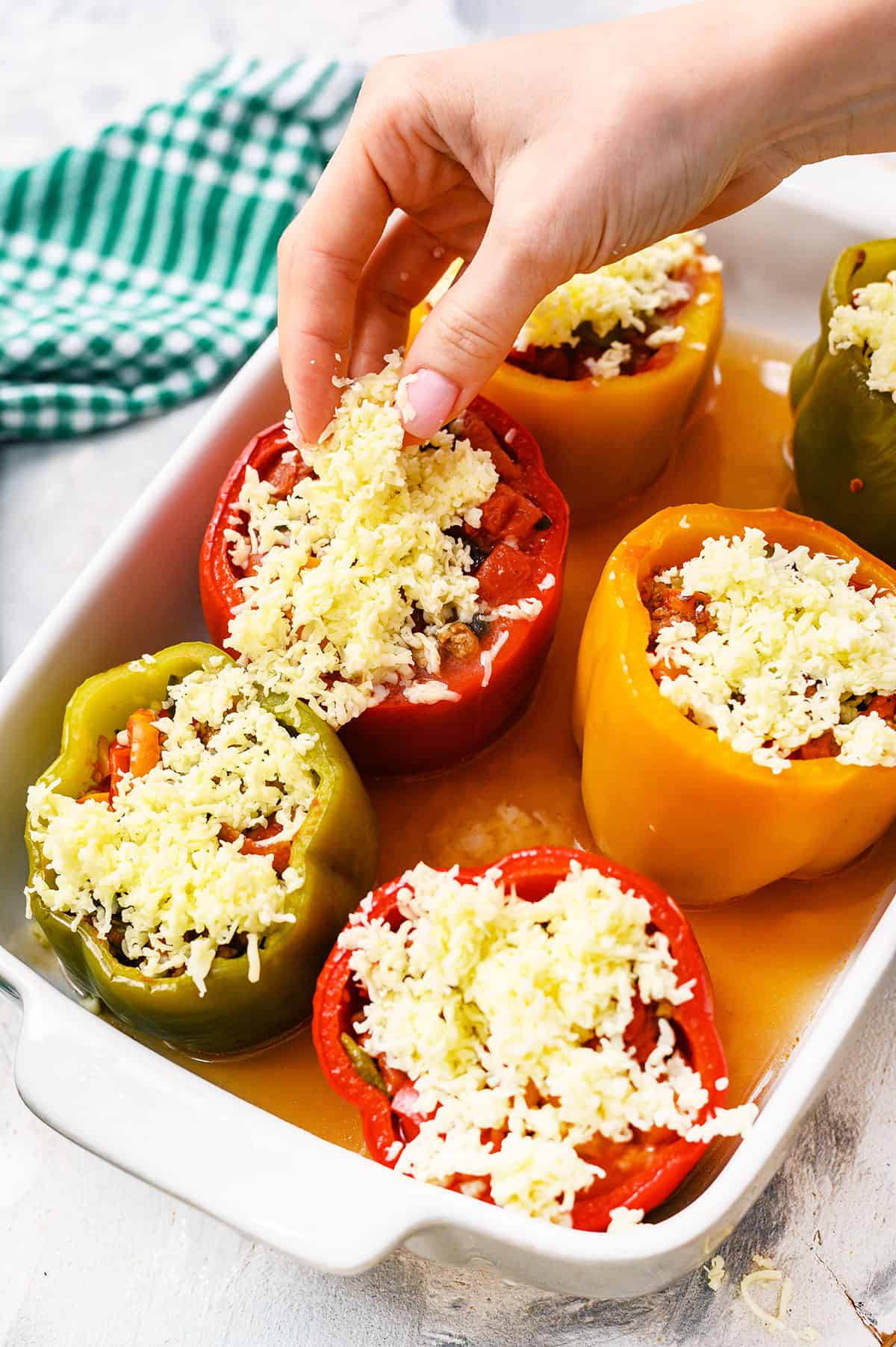 How To Make Stuffed Peppers
Prep all the ingredients
Cook the meat and veggies
Stuff the Peppers
Then bake!
How do you eat Stuffed Peppers?
There might be some controversy with this: Some like to eat the filling first and then cut up the pepper and eat it. Others might like to cut up the whole thing and eat the peppers with the filling. You do you, and choose which method of eating it sounds good to you!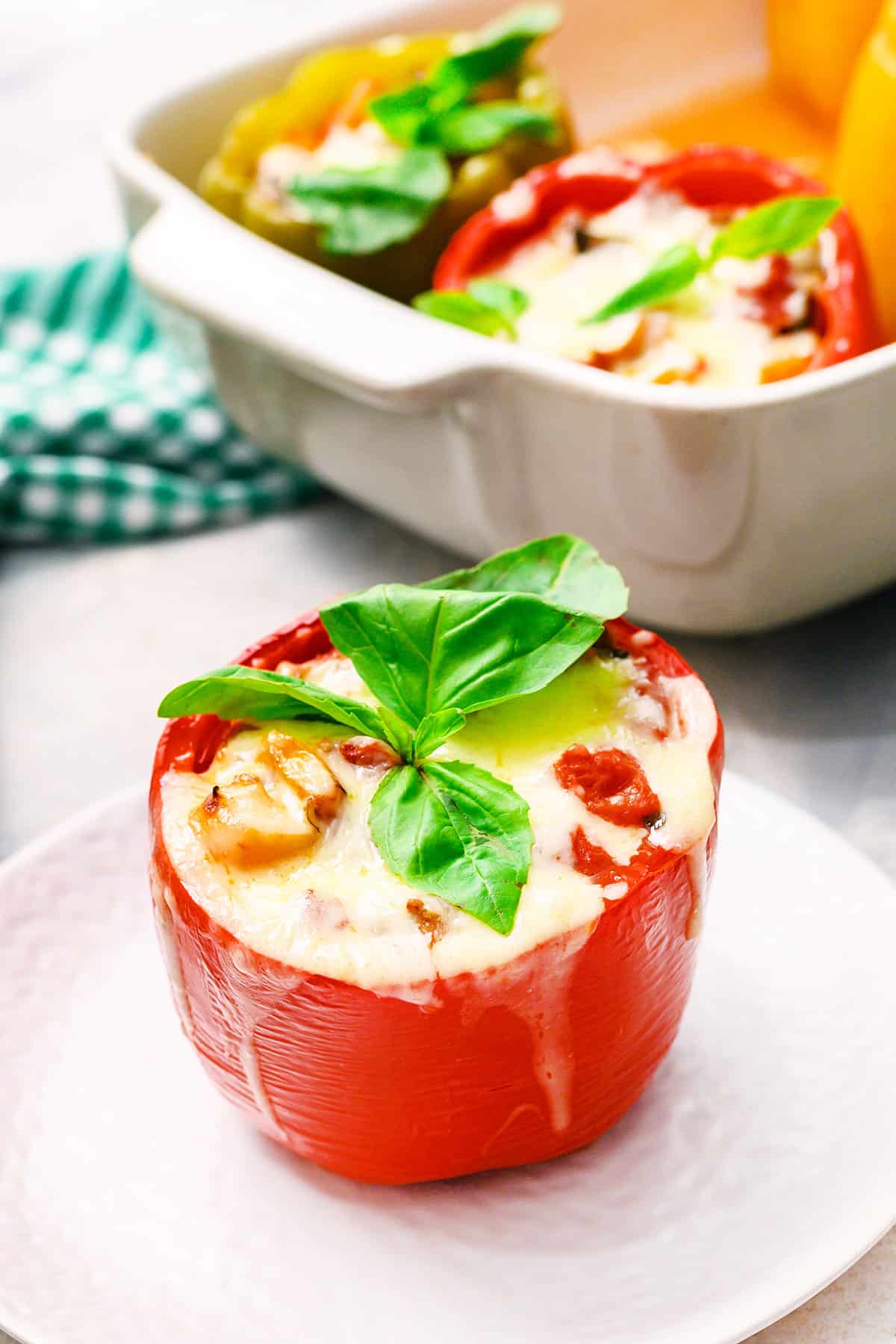 Watch the video:
If you like this pepper recipe, check out these others:


This post is sponsored by my friends at Tuttorosso Tomatoes. All opinions are 100% my own!