When your garden is overrun with cucumbers this summer, this is the salad to make! Or, when you just are really in need of a refreshing, flavor-packed, and super simple salad to throw together. This Easy Cucumber Salad with Herbs uses all of the fresh herbs (parsley, dill, and mint) and features the fresh, cool cumber to complement any dish you're serving up this summer
Easy Cucumber Salad Recipe
This recipe is for when you have found yourself googling: "How do you use a lot of cucumbers?" this summer. Throwing together this Easy Cucumber Salad with ALL THE HERBS is just the answer! This recipe is light, refreshing and a great side salad to accompany all of your grilling mains, seafood or chicken dishes this summer! And it's a great way to use up all those fresh herbs you have too!
This recipe works with either farm fresh large cucumbers you find in the summer, or if you're craving a refreshing side it can also work with store-bought English hot house cucumbers. If you are using extra large cucumbers from your garden or the farm feel free to scoop out the seeds and slice in half moon shapes.
Here's what's in it:
2 large cucumbers, thinly sliced
3 tablespoon extra-virgin olive oil
lemon juice
dijon mustard
dill
parsley
mint
salt and pepper
garlic powder
Pinch of red pepper flakes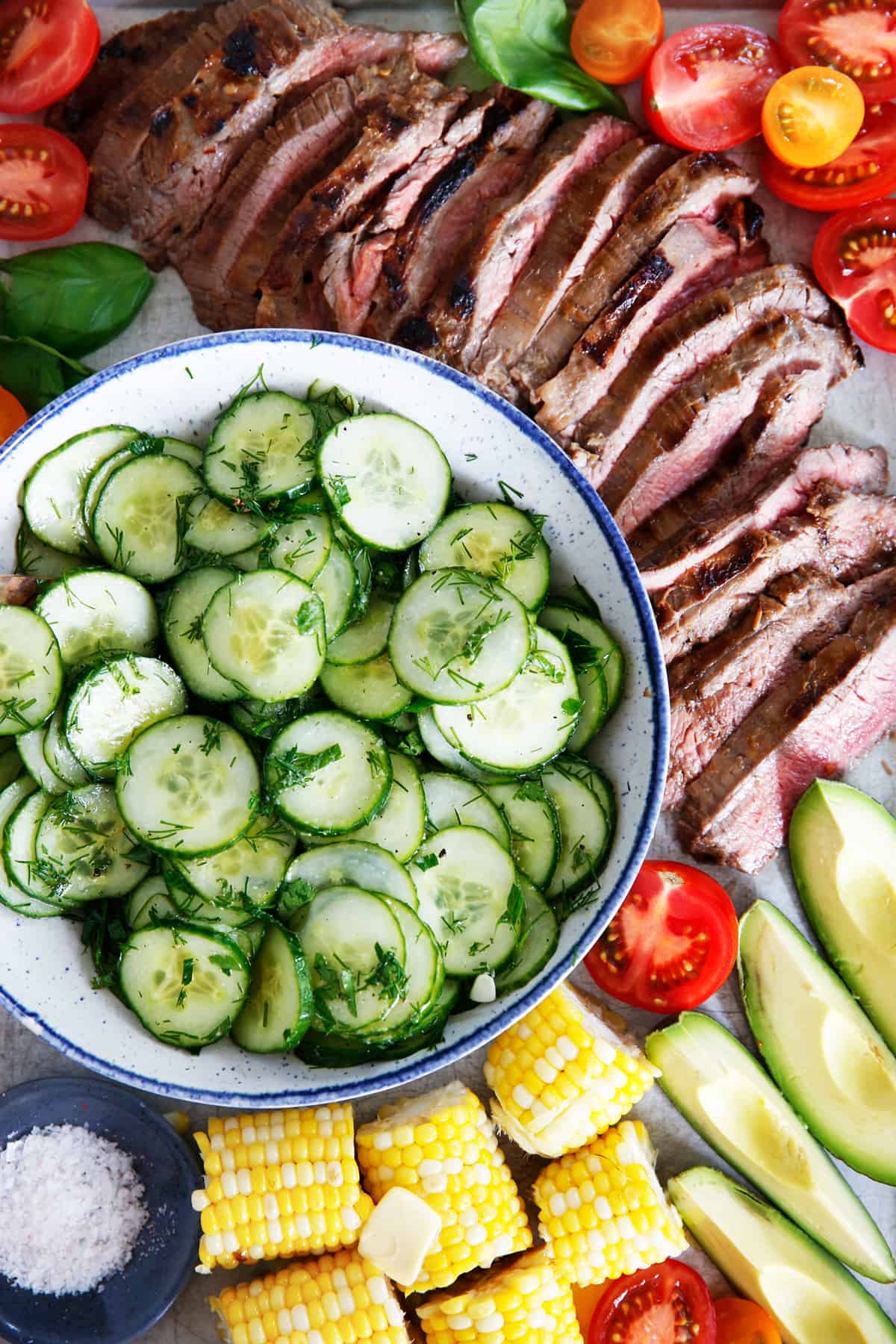 What goes with cucumber salad?
To begin, the best thing about this cucumber salad is that it is oh-so-versatile! It can go with just about anything! It's great to serve as a side for a barbecue, alongside seafood or just about any chicken dish. Here are some of our favorites that go great with this clean cucumber salad:
Looking for more summer sides recipes, check these out:
[yumprint-recipe id='369′]