Easy Dill Pickles (Plus Everything To Know For Canning!)
Have you ever wondered how to make easy Dill Pickles at home? With the abundance of cucumbers and fresh dill at the farmer's markets and CSA's, let's do something other than tomato cucumber salads, shall we? I love this recipe because it's EASY to make. We are going to walk you through the canning process too so you don't have to feel intimidated to process and make your own pickles this season!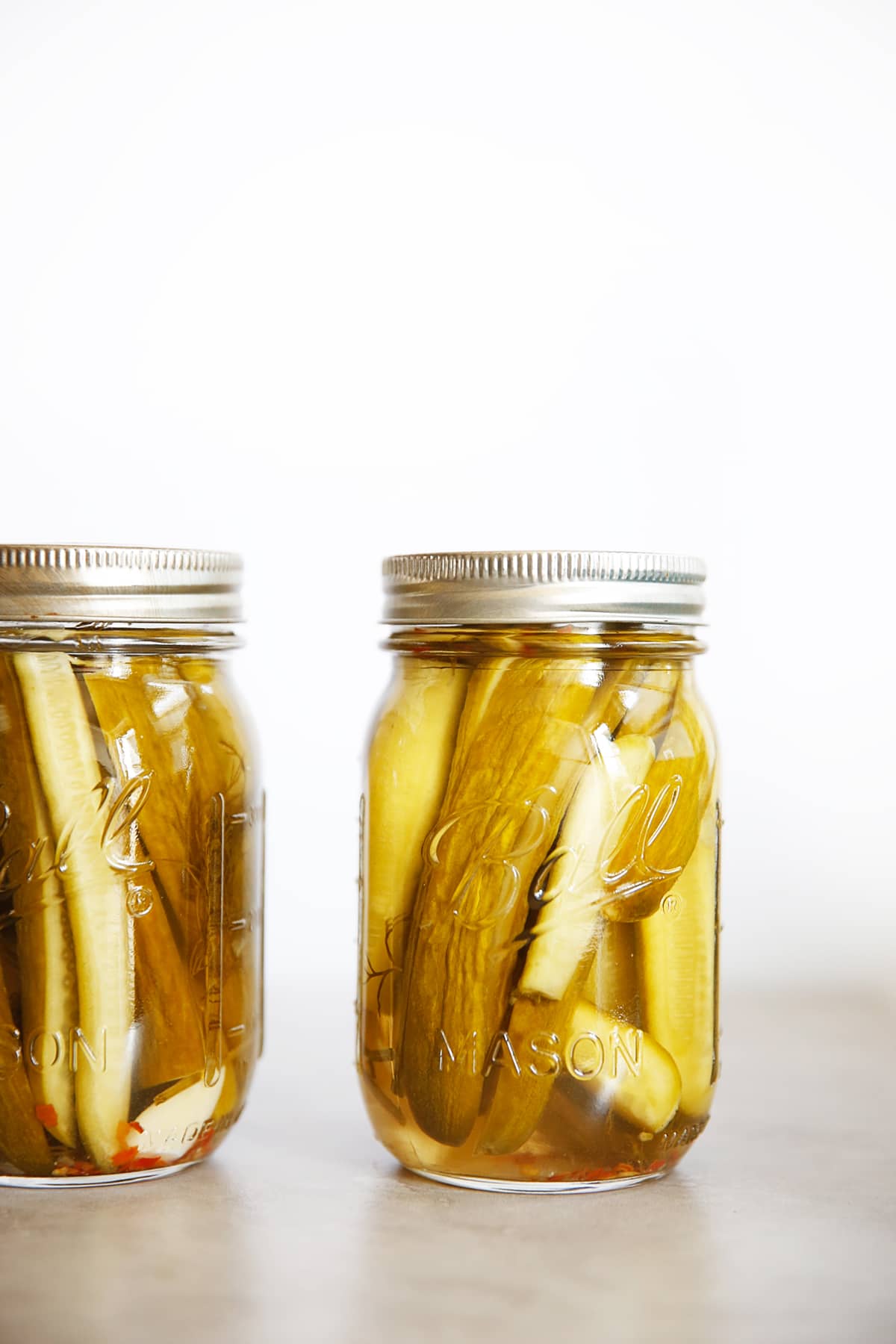 Easy Dill Pickles
Pickles are the best! Especially pickles made from the abundance of in-season cucumbers found at the end of the summer. We want to share with you an easy recipe to make dill pickles that you can either process in mason jars to preserve the taste of summer all year long, or to quickly put up in the refrigerator to use up your cucumber supply now!
What type of cucumber is best for pickling?
Either way, let's start with the basics: what kind of pickle should you use? Definitely always start with the best possible produce you can find when you want to preserve something. Let's face it, if you preserve a mediocre vegetable in some vinegar, it isn't suddenly going to turn in to a better vegetable just because you place it in vinegar.
So for our dill pickles you want to source out small and freshly-picked cucumbers that are not bruised or damaged in any way. We like the smaller and younger cucumbers because they stay crunchier than the more mature large cucumbers that have larger seeds and softer flesh.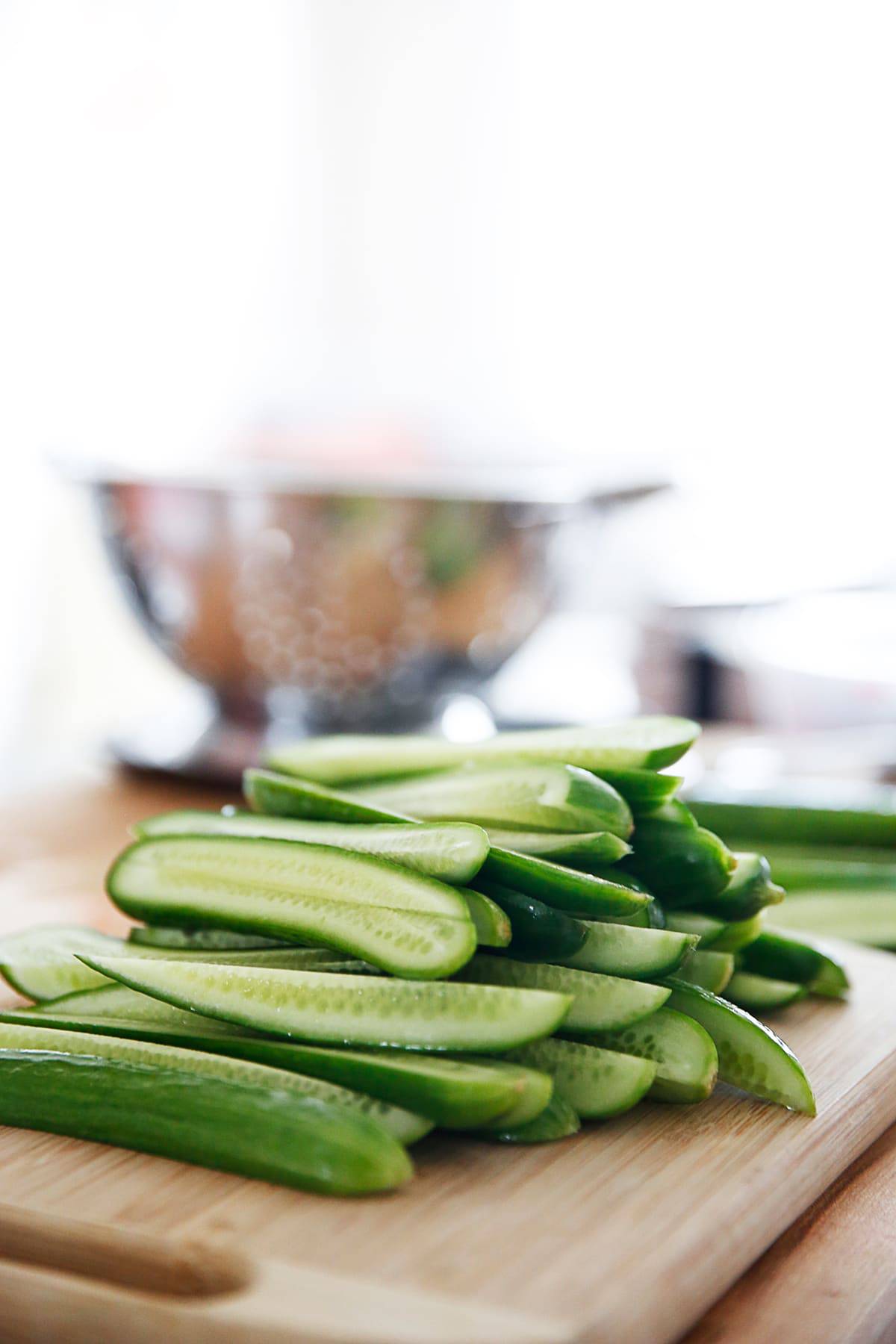 How do I make cucumber pickles?
Once you have found the best cucumbers, you can decide whether you want to preserve the cucumber in canning jars using a boiling water canning method, or you can make refrigerator pickles. If processed properly, canned pickles are shelf stable, unopened, for about a year. Refrigerator pickles will keep for 3 months in your refrigerator. We've included instructions for both in the recipe. It's slightly more complicated to process using a boiling water canning method but we've got you covered with some tips below.
Canning 101: 
Canning is simply the process of preserving food in jars to become shelf stable. To do this you need to use clean and intact jars and submerge them in a boiling water bath for a specified period of time. This process eliminates any oxygen from the jars making the food shelf stable. However, this lack of oxygen could create a dangerous environment for the growth of a bacteria called botulism. This is super rare and can be prevented by following a few basic rules to assure you are canning safely. Once of the most important aspects of canning is to make sure that your food has a high level of acid. If the food isn't naturally high in acid, like say cucumbers, you need to create a pickle liquid that is high in acid, like one that is made up of vinegar, to assure that nothing dangerous can grow in your processed jars. Below are some tips to help you safely process your pickles:
Follow the recipe. Whether it is our recipe, or a recipe from another reputable source, follow it to assure you are using the correct amount of vinegar to water.
Follow the instructions: Take care to follow specific instructions when a recipe tells you to leave a certain amount of headspace or not to disturb the canning jars after they've been processed. They all play a roll in making sure the lid seals properly.
Check to make sure that the lid has sealed after going through the canning process by pressing down in the center of the lid. If it doesn't move when you press down on it, it has likely sealed. To take it one step further, remove the band and try to remove the lid. If it doesn't come off easily your jar has sealed properly. You can store the jars with or without the bands on.
For additional information on canning safety and procedures check out The National Center for Home Food Preservation.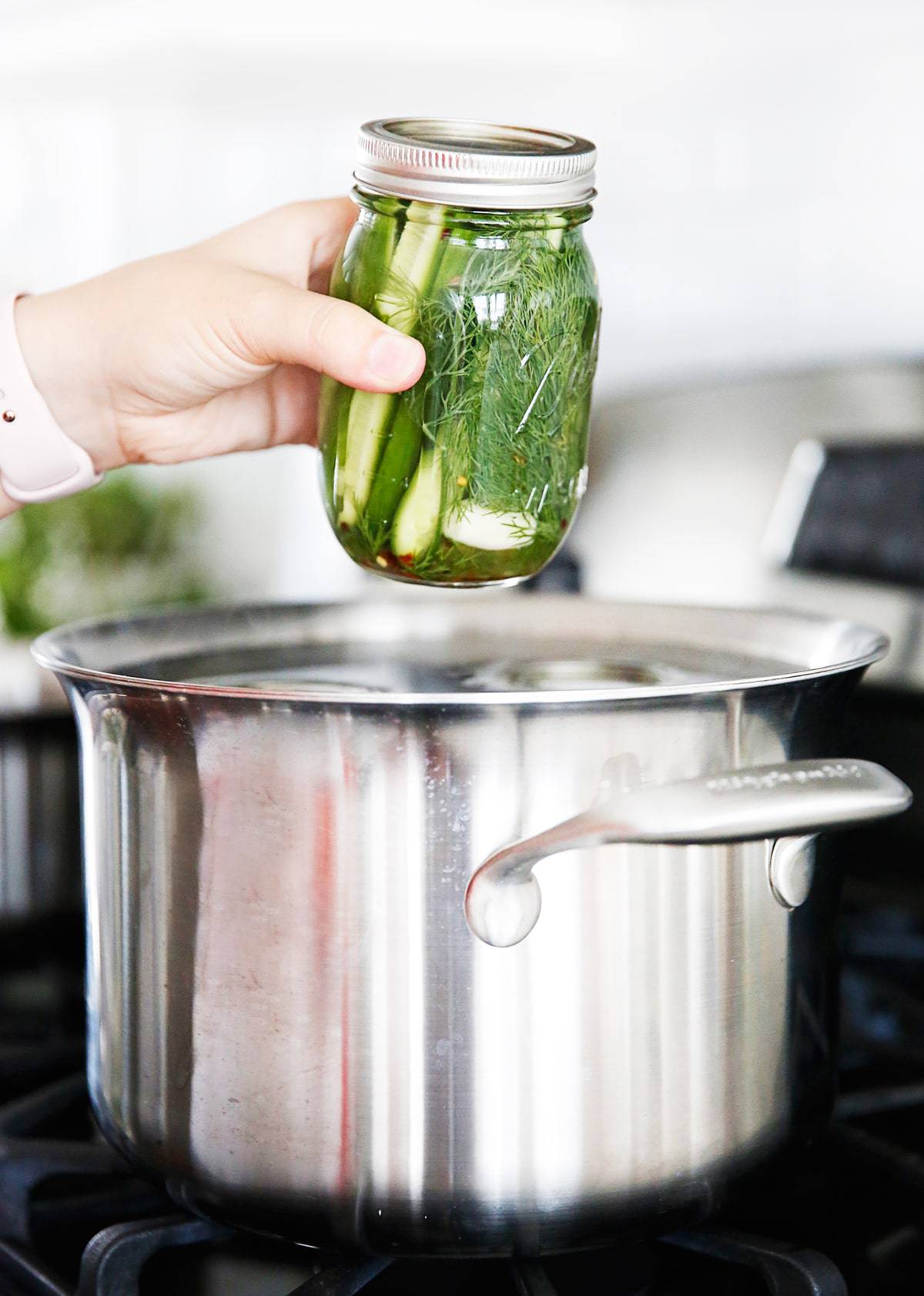 What equipment do you need to can?
While they sell many kits and specialized pieces of equipment to can, you really need just a few basic things to start. If you feel like you are going to process a lot of fruits and vegetables, it might make sense to invest in them, but if you are just starting out begin with this small list: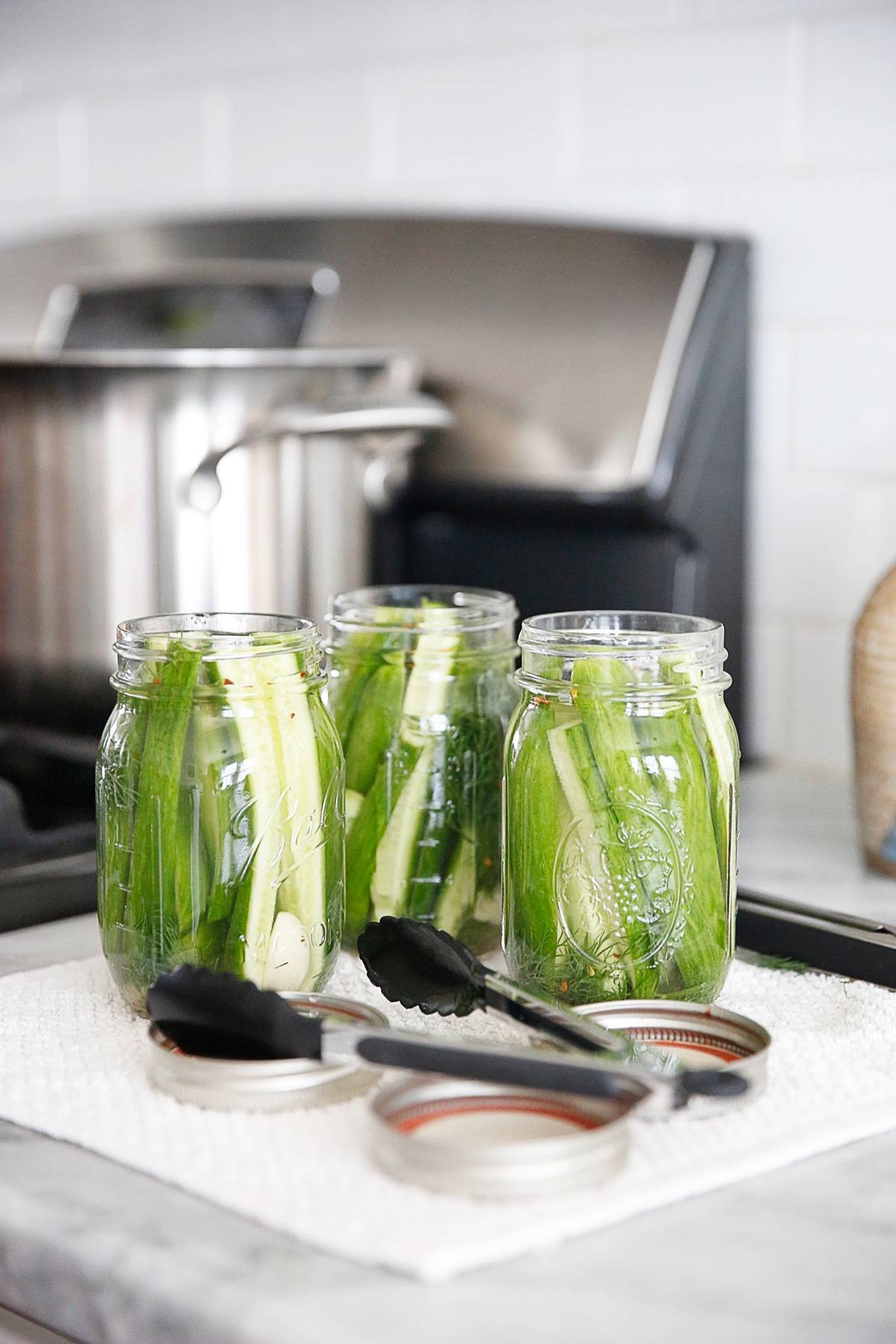 How long do you have to boil jars for canning?
Each recipe should give you a specific instruction on how long to process each jar. It depends on what you are processing. For our recipe we are processing pints, so we recommend to process for 15 minutes in boiling water, and then let sit for 5 more minutes before removing to rest for 12-24 hours because checking the seal.
How do you sterilize canning jars?
You can clean jars, lids and bands in warm soapy water and then place in water to boil for 5 minutes. The lids and bands do not have to be warm when beginning the process of canning, but the jars do, so if it's best to leave them at a temperate of at least 180ºF after sanitizing. The jars need to be warm to prevent them from breaking when your pour in the hot pickling liquid. Another method to sterilize the jars and bring them to temperature is to put them through a sanitizing cycle in the dishwasher right before you are to begin the process.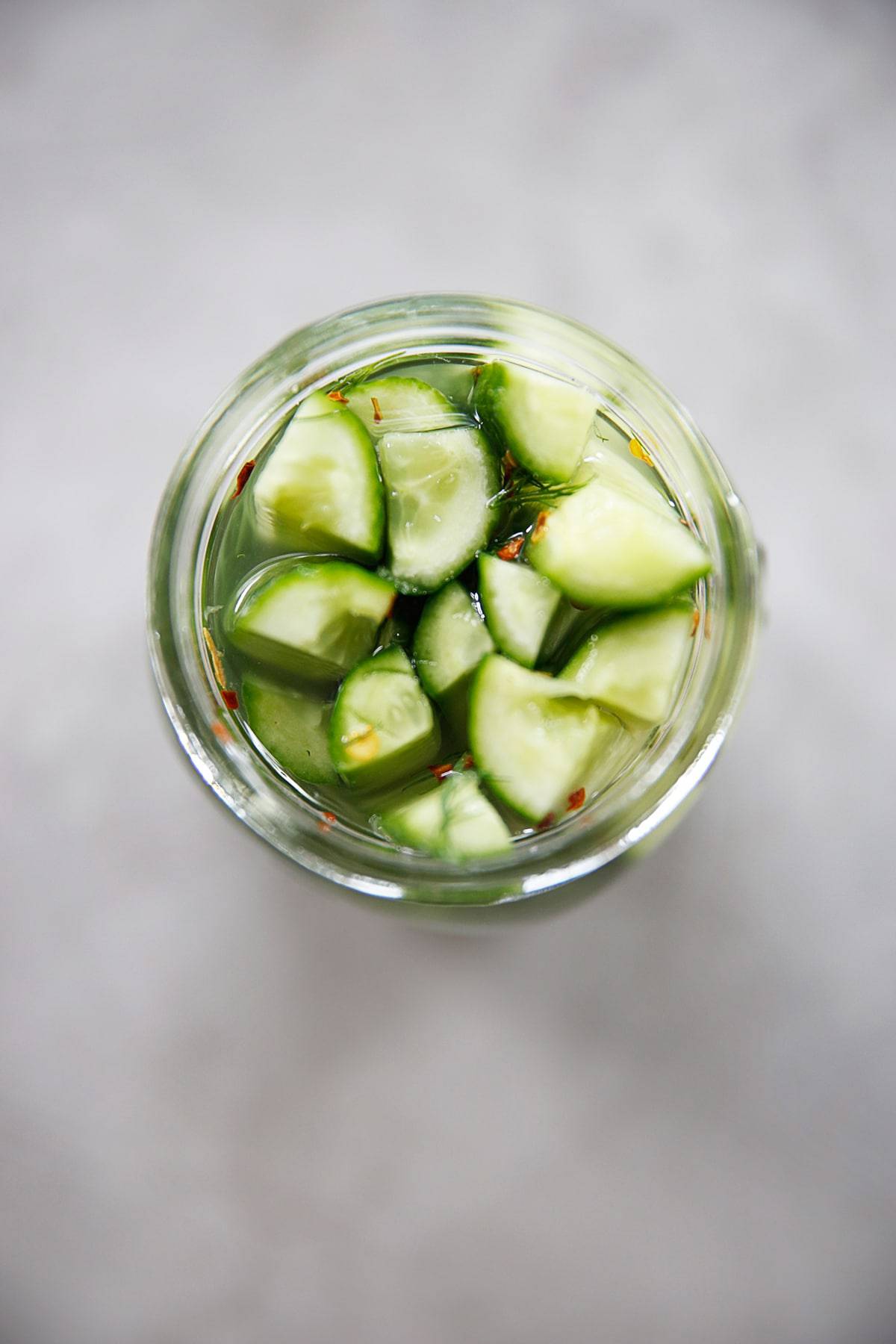 A beginner's Guide to Canning
Food canning can seem daunting since there's a little science that happens, but it is actually easy and can be great for those who have a garden or an abundance of food to use up (especially in the Summer), since you can preserve it and store it for winter when things aren't as in season! When you properly can foods, the container will be airtight to prevent spoilage (you want that pop at the end)! Depending on the type of food, you can keep it stored for differing lengths of time, typically about a year! Canning is just so cool.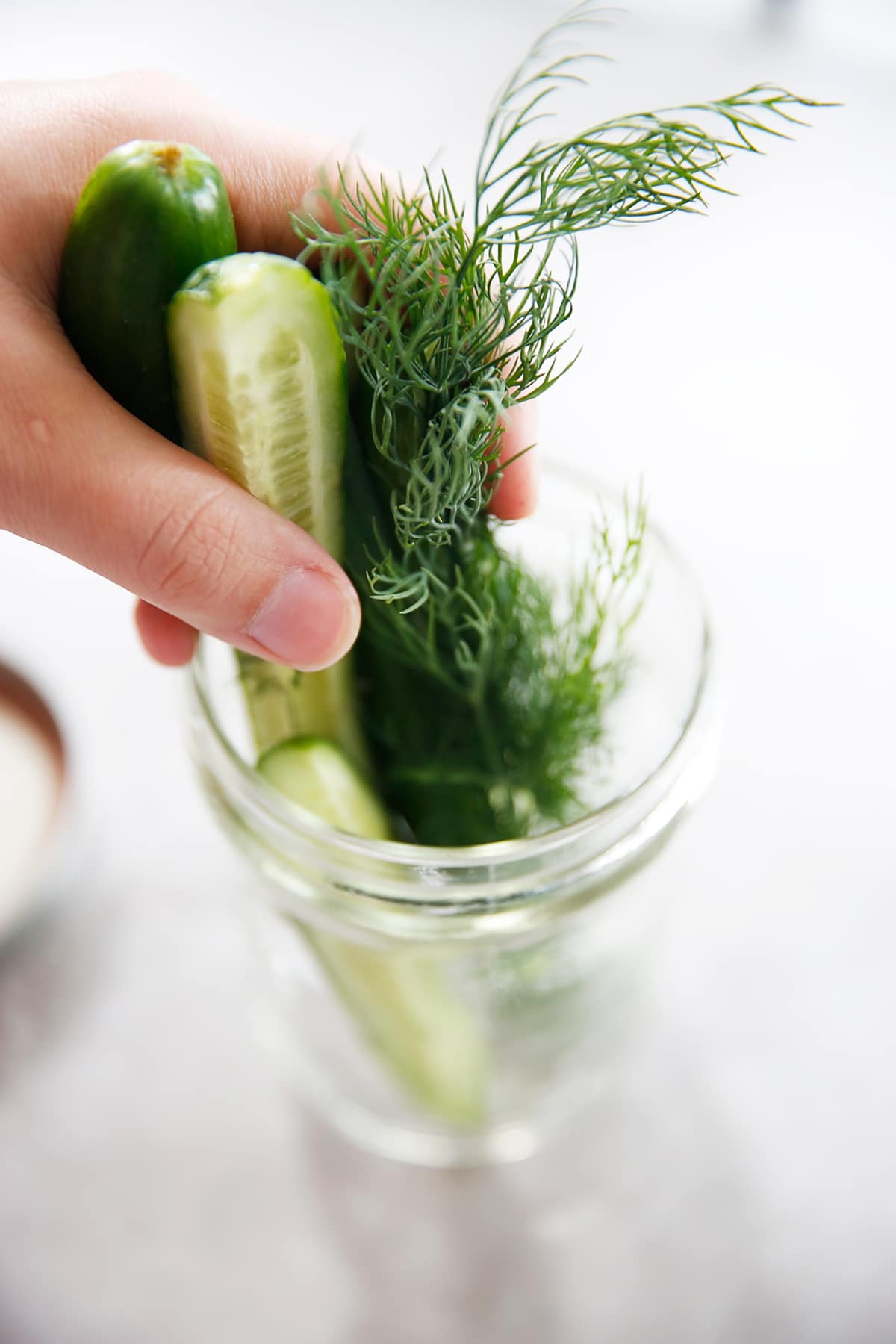 Have cucumbers but don't want to make pickles? Try these cucumber recipes that we love: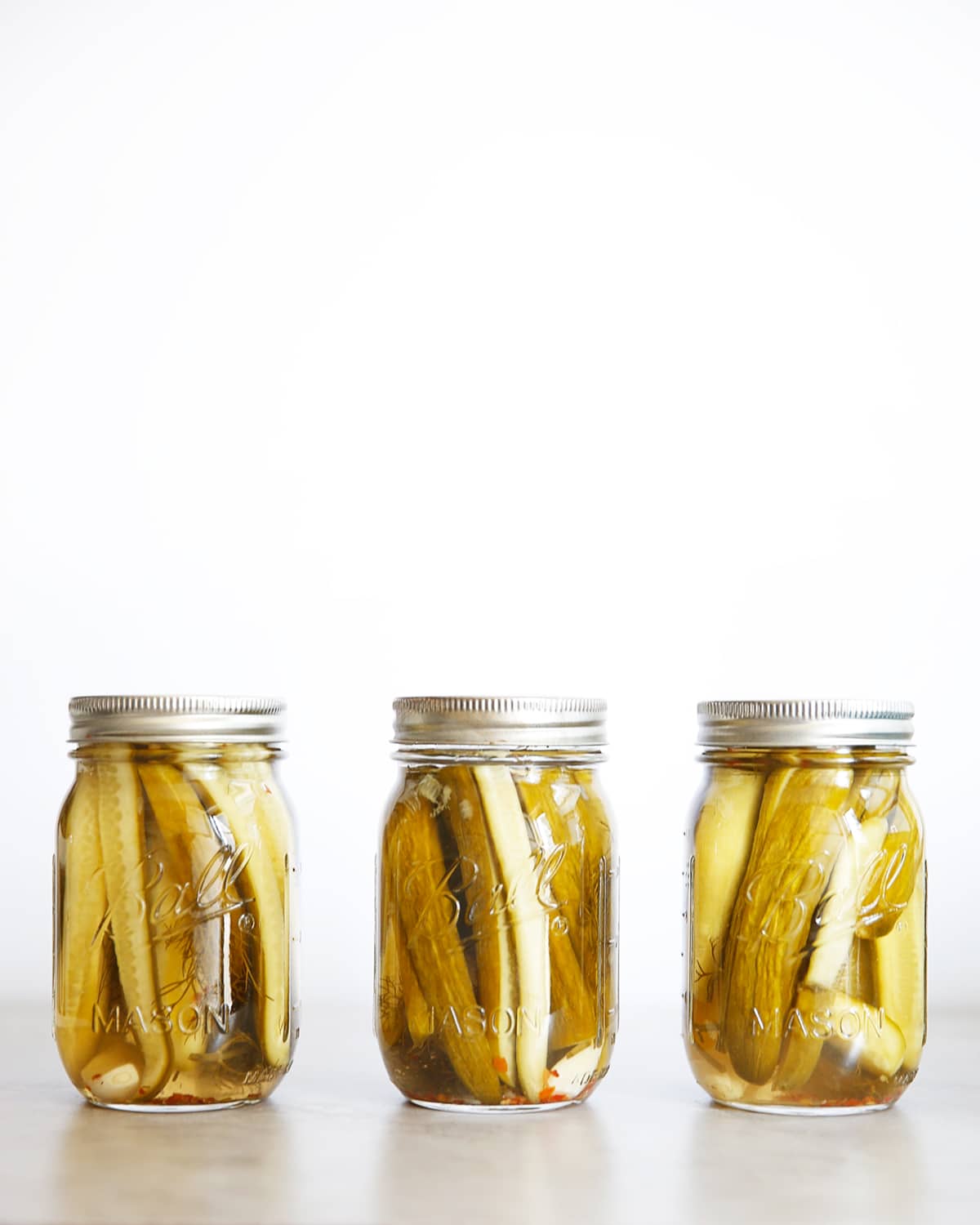 Print
Easy Dill Pickles (Plus Everything To Know For Canning!)
Author:
Yield:

3 pints

1

x
2 cups

white vinegar

2 cups

water

3 tablespoons

pickling / kosher salt / fine sea salt (see note)

6

garlic cloves

6

sprigs fresh dill

1

–

1/2

pounds pickling cucumbers, washed and dried
pinch red pepper flakes
Instructions
To Make Refrigerator Dill Pickles:
Begin with clean and dry mason jars. Place on a towel on the counter.
In a medium sauce pan bring vinegar, water and salt to a boil.
Meanwhile prepare cucumbers: Slice off the top and the bottom so that they fit into the pint jar with 1/2″ of space below the top of the jar. Then slice in to spears.
In each jar pack 2 cloves garlic, 2 sprigs dill, and as many cucumbers that will fit.
Once the pickling brine has boiled, carefully pour the hot brine into the jars. Let cool cool to room temperature uncovered.
Once cooled, cover and place in refrigerator for up to 3 months. Pickles can be enjoyed the next day, but for best flavor let it sit at least 1 week.
To Preserve Dill Pickles in Canning Jars:
Begin by washing with warm soapy water 3 Ball or Kerr mason jars and BRAND NEW LIDS and seals. Inspect the jars to make sure there are no cracks or fissures anywhere.
Fill a large pot that is fitted with a rack with water. Make sure the pot is big enough to have water cover the pint jars on rack by 1-2 inches. Place clean jars inside of water and bring to a boil to sanitize. If using any other equipment like tongs or a funnel you can sanitize in water at this point too. Once boiled, let water sit to at least 180º until you are ready to can. An alternative method is to place all jars, lids and utensils in a dishwasher and start the canning process right before the dishwasher has finished so that by the time you are ready to can the jars are ready as well.
In a medium sauce pan bring vinegar, water and salt to a boil.
Meanwhile prepare cucumbers: Slice off the top and the bottom so that they fit into the pint jar with 1/2″ of space below the top of the jar. Then slice in to spears.
Carefully remove hot jars from canning pot (or dishwasher) and place on a clean kitchen towel on the counter.
In each jar pack 2 cloves garlic, 2 sprigs dill, and as many cucumbers that will fit, taking care to leave 1/2″ of headspace.
Once the pickling bring has boiled, carefully pour the hot brine into the jars.
Place lid in the center of the packed jar and then place on band and tighten. Repeat with remaining jars.
Return packed cans to the canning pot and make sure water covers the jars by at least 1-2 inches. Bring to a boil and process for 15 minutes.
Let cool for 5 minutes before removing from pot and placing on a clean kitchen towel. Leave undisturbed for 12-24 hours. At some point during this time you may hear a pop, when the jar has fully sealed.
After 24 hours check to make sure they have been processed correctly by pressing down on the center of the lid. It should not move at all. Additionally you can remove the band and try to gently open the lid. If it doesn't open easily it has sealed correctly. If for any reason it has not sealed correctly immediately place in the refrigerator and consume within 3 months. Properly processed pickles can keep unopened at room temperature for 1 year.
Notes
If you are new to canning and pickling, read through the entire body of the post for additional information.
It's important to use a salt here that does not have an anti-caking agent added to it. Use a salt that is labeled for pickling, kosher salt without any additives or a natural sea salt with fine granules.
Have you tried canning?!
12 comments
August 31, 2018
This website may at times receive a small affiliate commission for products that we shared with you in our posts. Although we may receive a commission for linking certain products, there's no additional costs to you and all of our opinion and suggestions are 100% our own and unbiased. That's our promise to you!
Subscribe to get our FREE clean eating guide!
Join our email list TODAY to start recieving our newsletter weekly, access to exclusive content and deals, *and* a FREE complete 24-page clean eating guide!