Gluten Free Cornbread Stuffing (Vegetarian)
This Gluten Free Cornbread Stuffing is the perfect side for your Thanksgiving meal! It's sweet and savory and packed with herbs and cranberries and the best gluten-free cornbread! This vegetarian stuffing is easy to prepare and will definitely be a winner on your holiday table.
Gluten Free Cornbread Stuffing
Whether you are looking for a Gluten Free Cornbread Stuffing recipe or a Gluten Free Cornbread Dressing recipe, we're here to help! While technically this isn't a stuffing, as we don't advise you to actually stuff it and bake inside of your turkey, we're from the Northeast so we always call it stuffing, instead of dressing! We worked so hard on our Gluten Free Cornbread recipe that when it came time to prepare for Thanksgiving recipes we knew we wanted the chance to use it again and give you all the choices when it came to stuffing!
We do have a grain-free Easy Gluten-Free Stuffing recipe that we did last year if you are looking for a different recipe if you do tolerate grains, so check that one out too!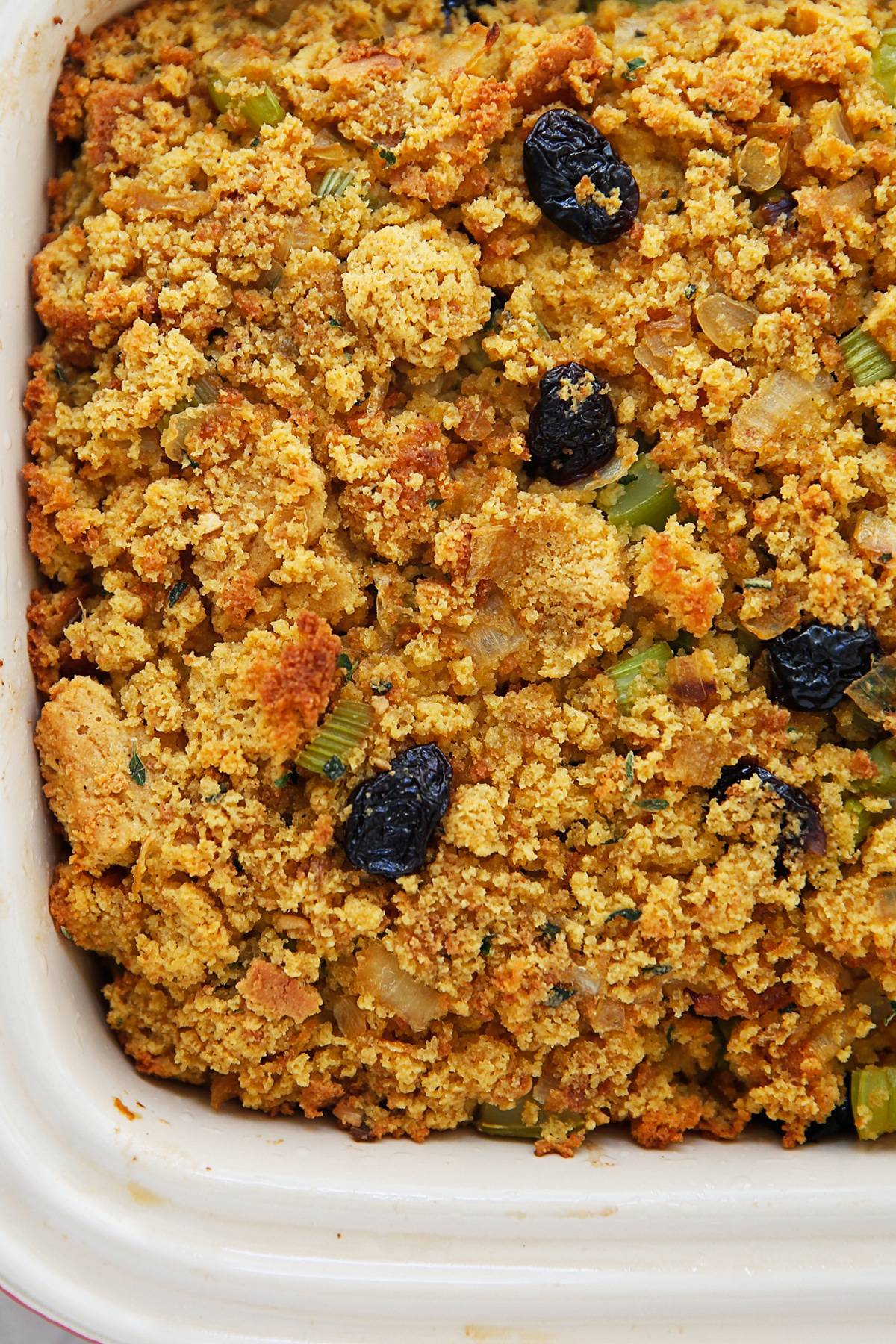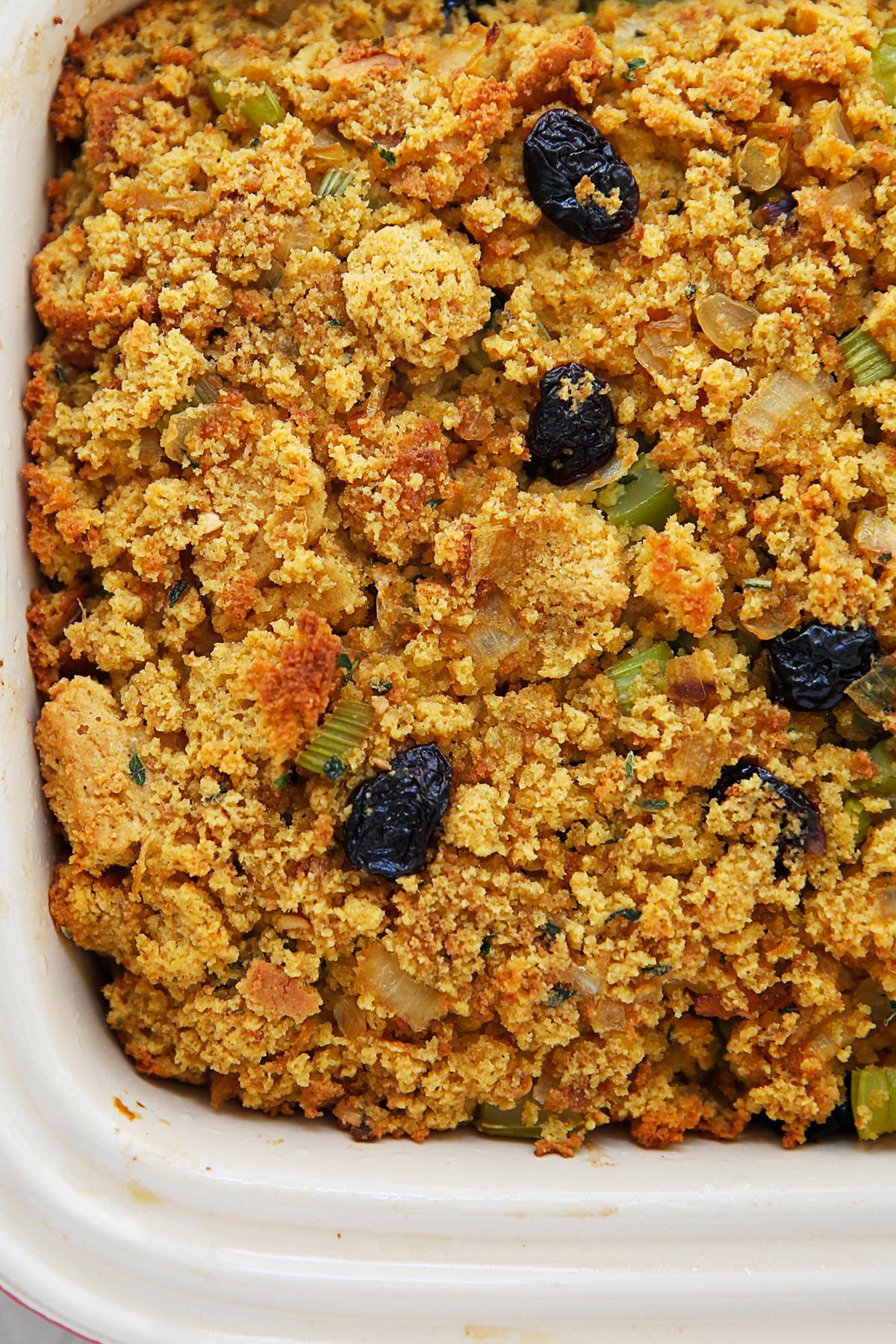 Is cornbread gluten free?
The short answer is no. Most cornbread, or cornbread mixes that you will find in the store have wheat flour in them along with cornmeal. We are so happy with how are Gluten Free Cornbread recipe came out, so we of course recommend you use ours. It is simple to make! If you choose to use a cornbread with wheat in it, you may need to add in a bit more broth than we did. Please see the notes in the recipe for more information on this.
How do you make gluten free cornbread stuffing?
To start you need your cornbread! Our recipe calls for about 6-7 cups of cornbread, or about a batch baked in an 8″ x 8″ pan.
You'll need to dry out the cornbread out and you can do this in two ways, either crumble it and leave it out on a sheet pan the night before, or you can toast it in your oven.
Cook off your aromatics
Whisk together the wet ingredients
Combine with dried cornbread, herbs, dried fruit.
Bake uncovered for 30 minutes!
Watch the video: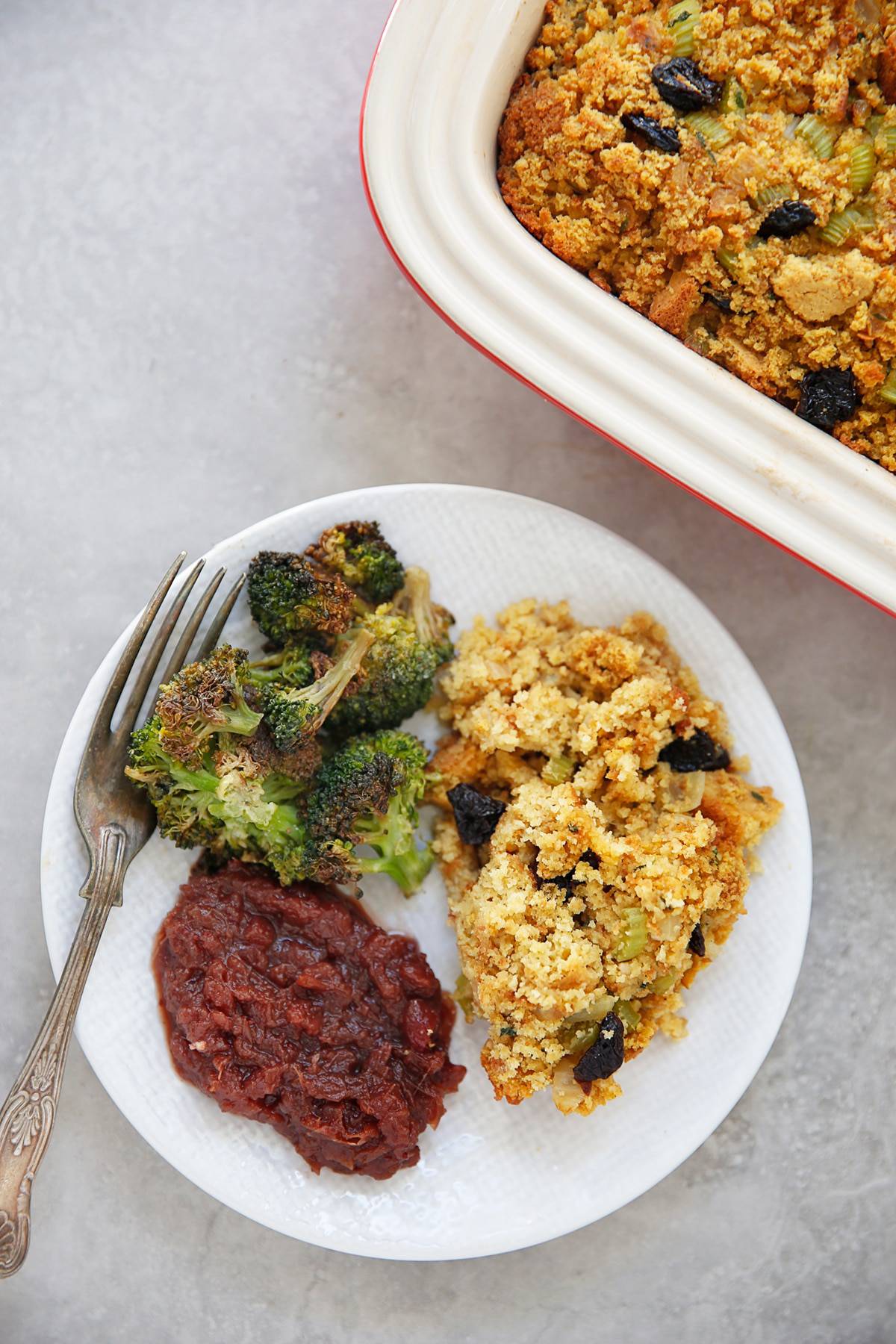 Check out these other Thanksgiving recipes:
Gluten Free Cornbread Stuffing (Vegetarian)
This Harvest Salad has all the ingredients you'll want in a Winter kale salad recipe! Packed with chopped kale, roasted squash, pomegranate seeds, toasted pecans and topped with a super easy & delicious Maple Balsamic Dressing for the absolute perfect holiday salad all Fall and Winter Long!
Harvest Salad with Maple Balsamic Dressing
My fabulous blogging girlfriends are here with me today bringing you healthy sides for your Thanksgiving feast. I am in love with this month's round up because I mean… check out these recipes! Gorgeous, delicious, and good-for-you! I call it a WIN. Your family and friends will thank you, too!
You guys, I've been putting this dressing on EVERYTHING. It is my favorite dressing that everybody loves and it is SO easy to make. You need to make it immediately.
Want other salad recipes?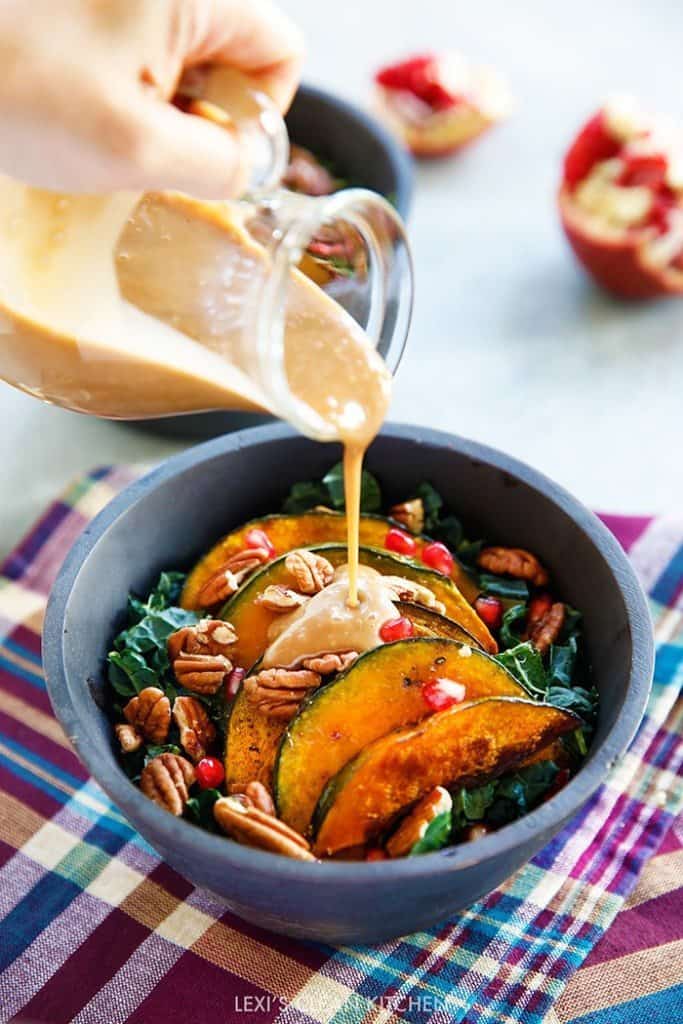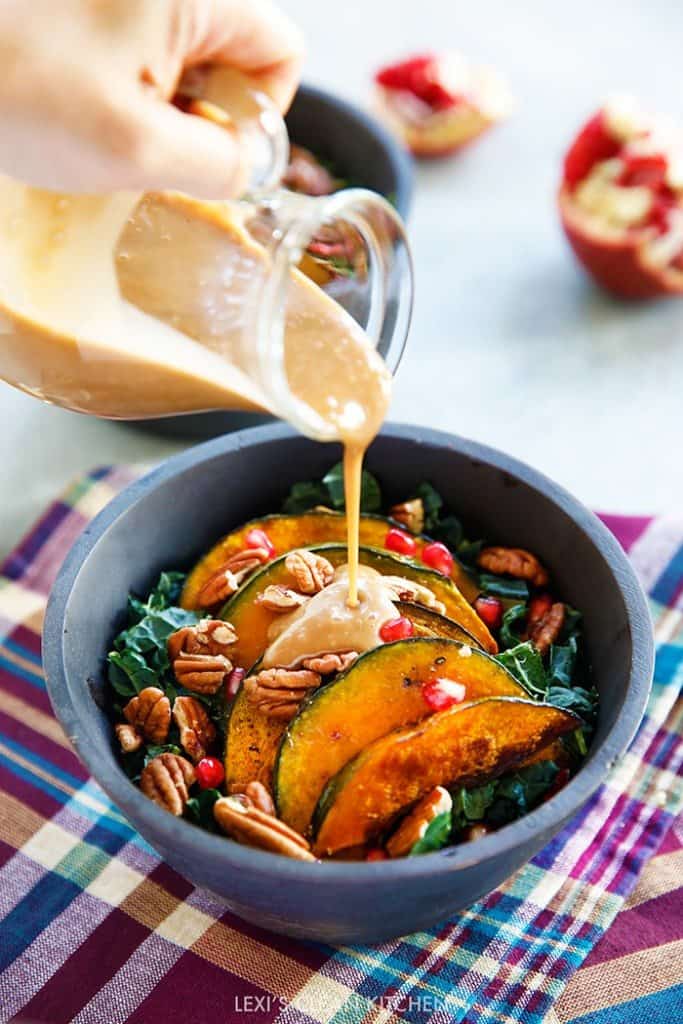 How do you soften kale for a salad?
To prepare kale for a salad, massage the kale with oil and lemon for 1-3 minutes.
Can I use anything aside from kale?
Yes, use any leafy green that you love!
Watch the video:
Cauliflower Stuffing from The Healthy Maven
This healthy, low-carb cauliflower rice stuffing will convince your Thanksgiving guests to jump on board the cauliflower rice train, while secretly getting them to eat more veggies! Plus it's ready in under 20 minutes.
Green Beans with Caramelized Shallots and Almonds from Eating Bird Food
Add some green to your holiday table with this flavorful recipe for tender crisp green beans tossed with caramelized shallots, toasted almonds and fresh parsley.
5-Ingredient Slow Cooker Cranberry Sauce from Running to the Kitchen
This simple cranberry sauce is made with just 5 ingredients. Make it in the slow cooker and save the stove-top space for all the other Thanksgiving sides.
Vegan Scalloped Sweet Potatoes from Food Faith Fitness
These easy scalloped sweet potatoes are SO creamy and flavorful, you'll have a hard time believing they're secretly healthy and paleo and vegan friendly!
Balsamic Sea Salt Brussels Sprouts from Fit Foodie Finds
Make these delicious Balsamic Sea Salt Roasted Brussels Sprouts this holiday season for the most delicious vegan and paleo side that everyone will gobble up!
Harvest Salad with Maple Balsamic Dressing (Video)
This Sriracha Lime Chicken Chopped Salad is bursting with flavor. Bold, zesty chicken and juicy sweet pineapple make this chopped salad one of our absolute favorites!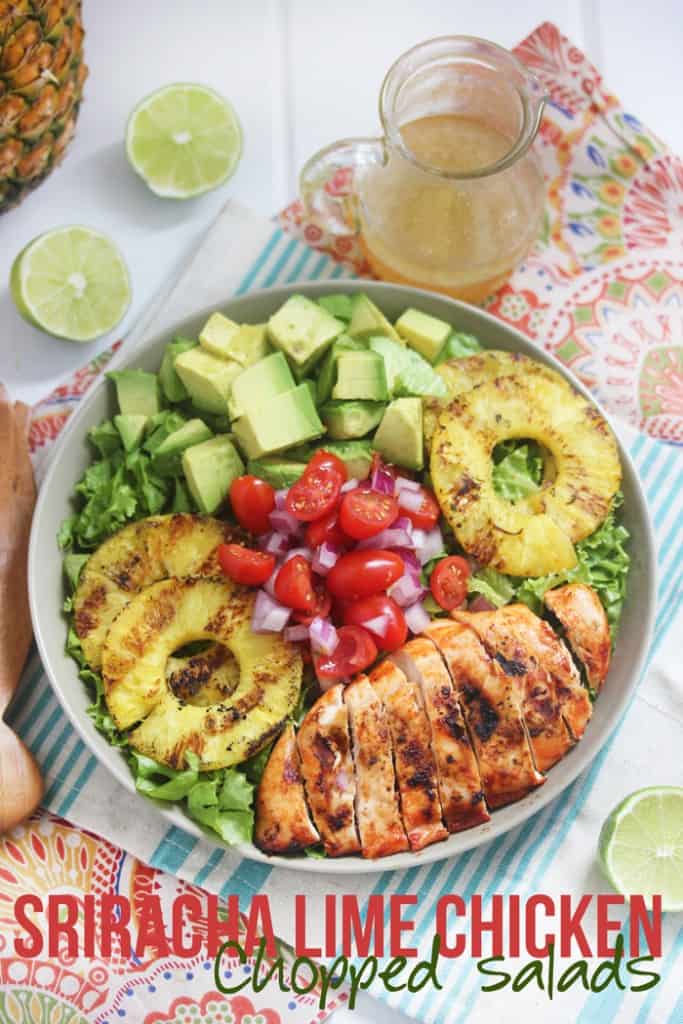 It is so hot here in Boston, and that's coming from the girl who was just visiting Florida in June. Wheeeew, hot. In leu, turning on the stove the past two nights wasn't quite in the cards. The grill was though, paired with this Sriracha Lime Chicken Chopped Salad that is just bursting with flavor.
Let's see what we got: spicy and bold chicken, sweet and juicy grilled pineapple, refreshing crisp local lettuce, local tomatoes, and finally, avocado. Count me in any day of the week. Oh, and don't forget the light and easy lime vinaigrette.

This salad is one of the most popular recipes on the blog, and for good reason! It's simple, flavorful, with a deliciously bold chicken!
A little spice, a little sweet, a perfect dinner! The Sriracha and lime together make for a fabulous marinade that comes together quickly!
Healthy, low-carb, and perfect for summer!

Sriracha Lime Chicken Chopped Salad [VIDEO]
This Thai Ginger Basil Arugula Salmon Salad takes less than twenty minutes to throw together and is loaded with delicious fresh and bright flavors!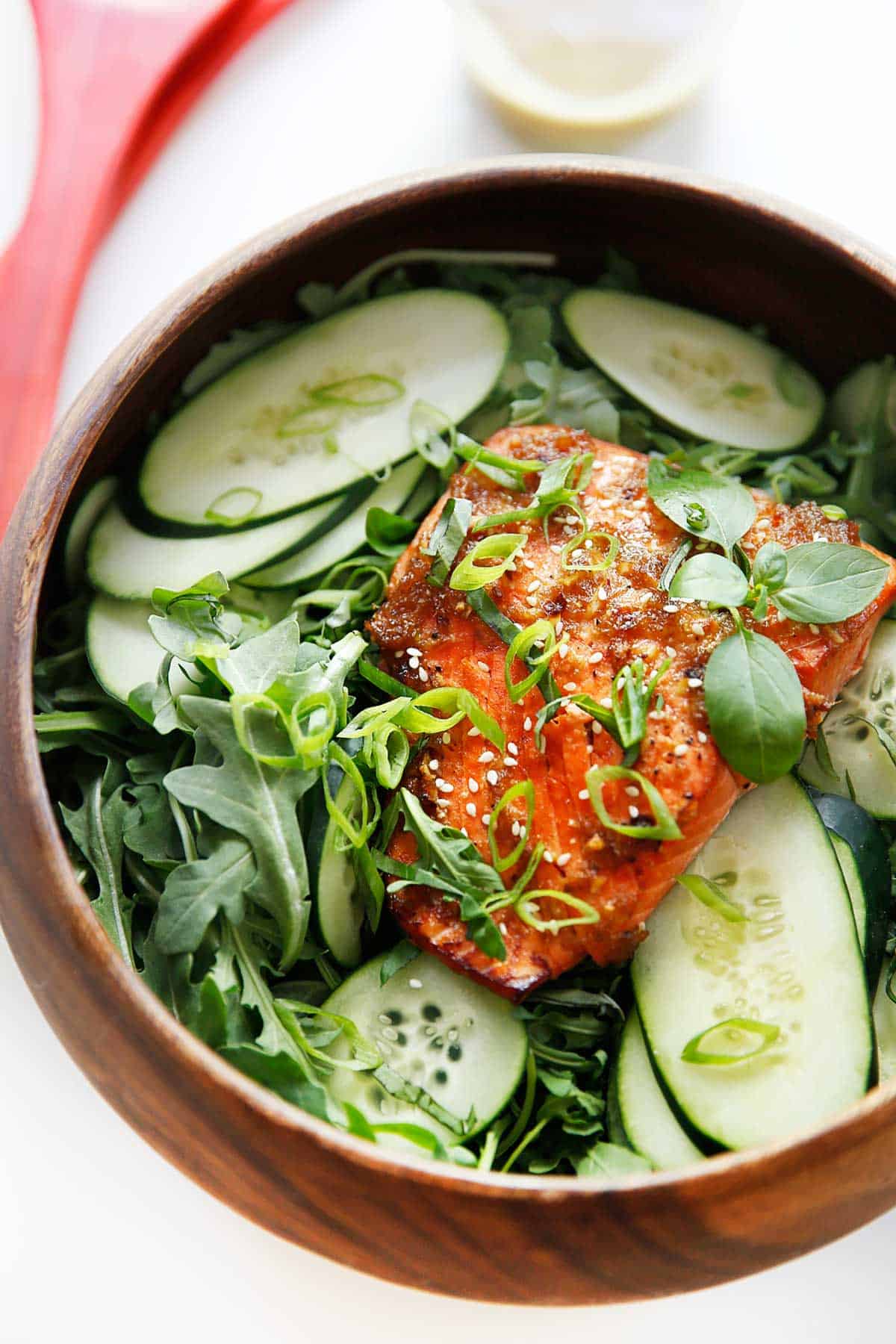 Dairy-free, Grain-free, Nut-free, paleo-friendly, low-carb and whole30 compliant… does it get any better than that? The perfect light and healthy meal for any day of the week!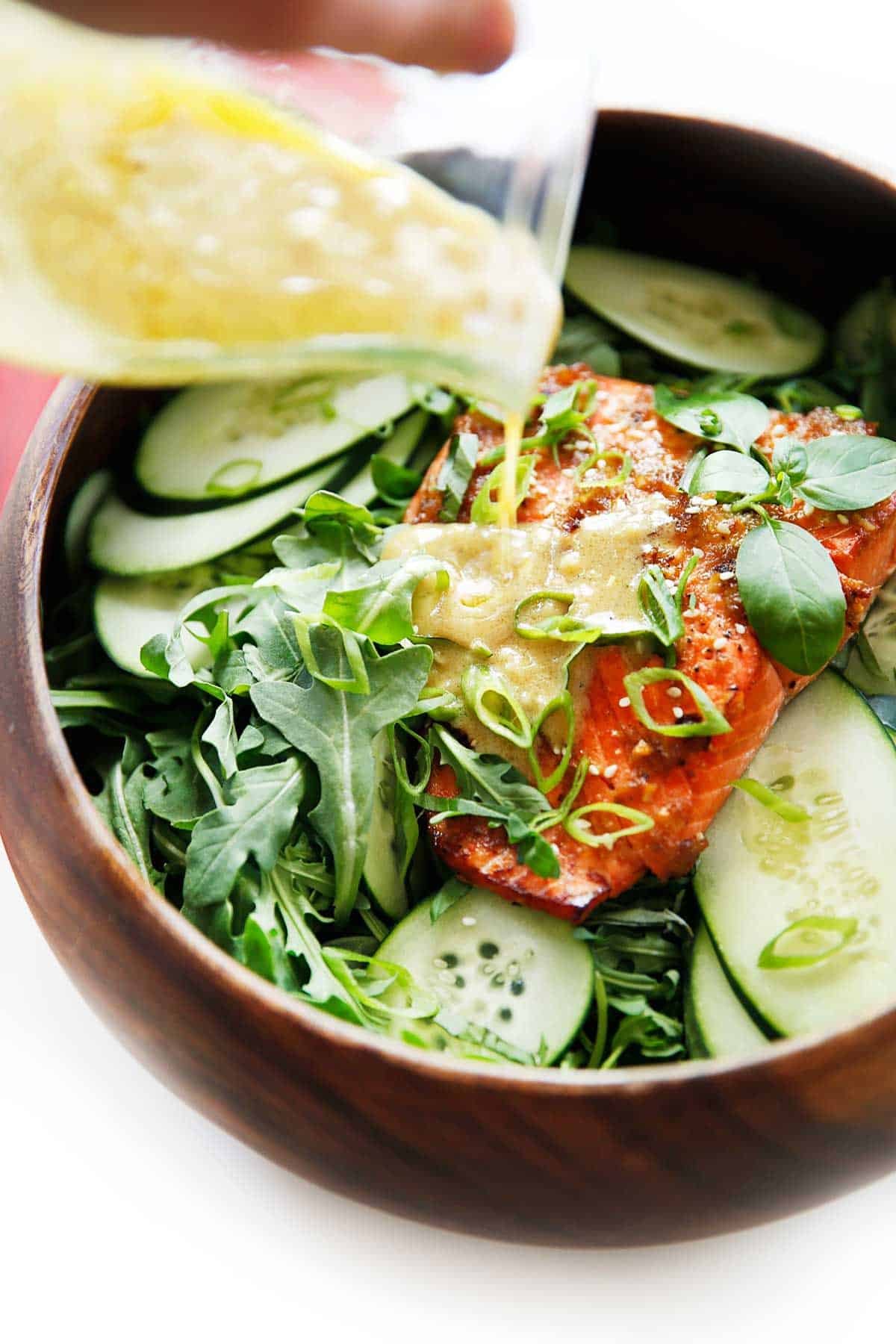 It's finally feeling like Spring here in Boston!
The sun is out, the birds are chirping, and I'm upping my workouts to get that Summer body ready. We've had a busy few weeks and sometimes a quick, yet delicious and nutritious dinner filled with healthy fats is in order.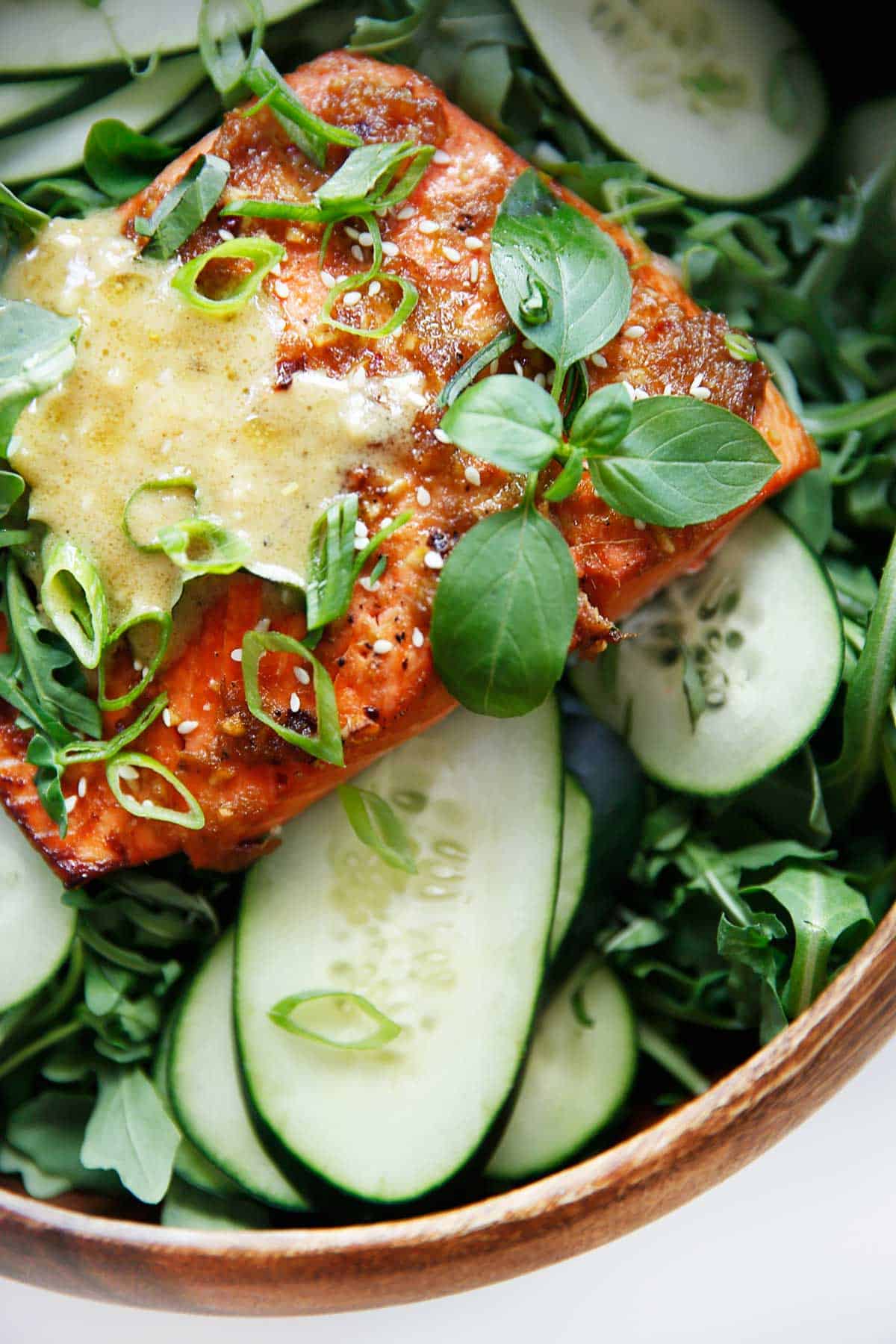 I've loved this ginger dressing since I made it way back when with my Seared Ahi Tuna Salad.
I'll often whip up a batch and keep it in the fridge to spruce up an ordinary salad. It complements this dish perfectly and is so so delicious with the salmon and cucumber!
The basil flavor combined with the crunchy cucumber, ginger marinated salmon, and dressing = a refreshing light salad with bold flavor!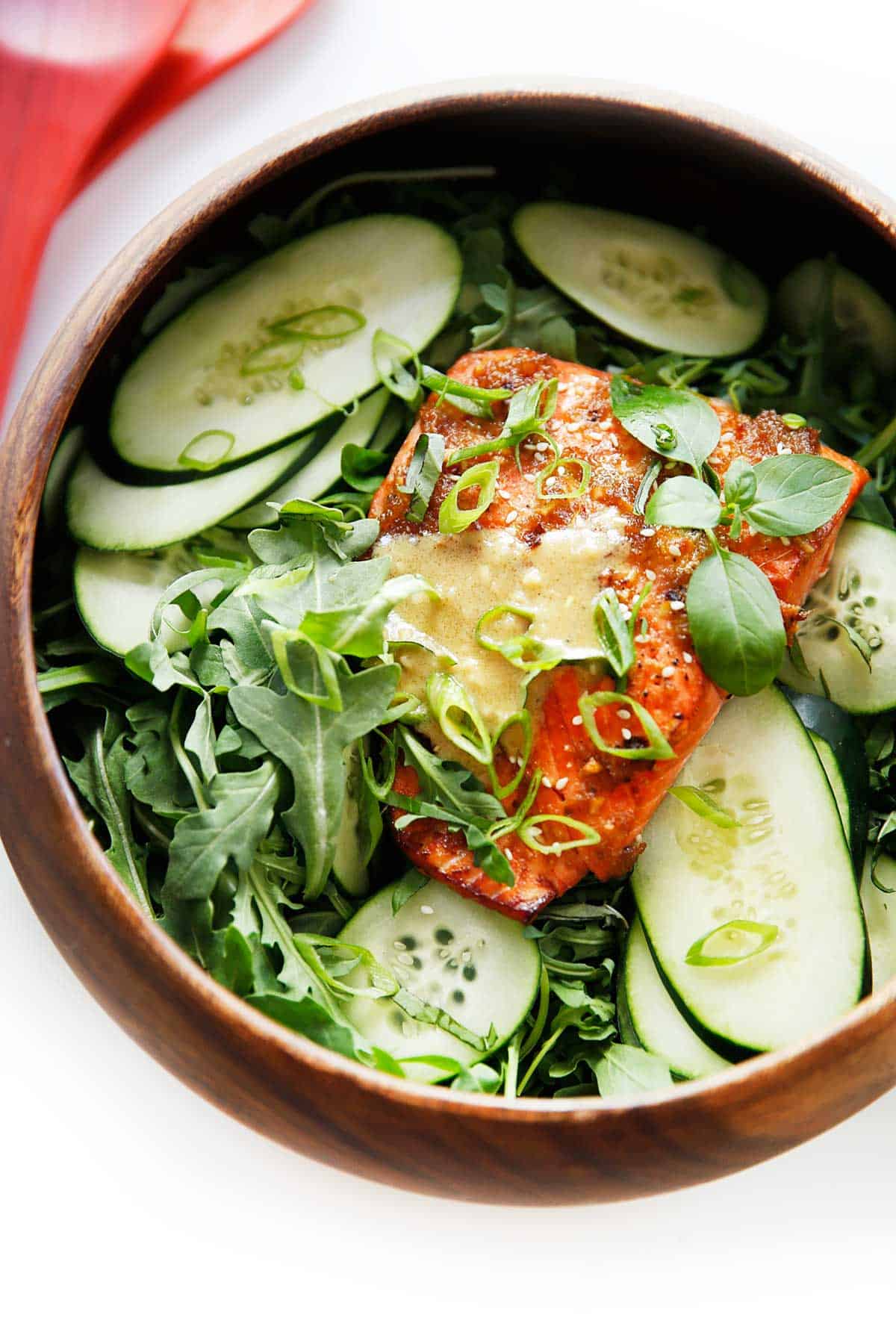 What is your all-time favorite salad mix-in?

Thai Ginger Basil Arugula Salmon Salad
Let's start with this… I love salads. But sometimes in the winter I want something warm. Now let's combine the two… a warm salad for the perfect meal starter (or hey, add some protein and make it your entire meal)! Warm baked apples, roasted sweet potato and onions drizzled with walnuts and a homemade dressing. Sweet, Savory, and flavorful perfection. Assembling this salad is a breeze, and you can shop Membership Rewards points along the way!
[yumprint-recipe id='88']
In this recipe:
I was selected by American Express to help educate consumers about how to use Membership Rewards points. As such I was paid for my services, but all gift choices selected and opinions about the gifts and American Express are my own. http://t.cmp.ly/68ee5b1be62ebaeb5a

Warm Harvest Salad with Honey Walnut Vinaigrette
This Grilled Peach, Crab and Avocado Salad with Peach Dressing is Summer appetizer perfection! It's such a great low-carb summer side to serve this season. It's Paleo and gluten and dairy-free too
Grilled Peach Salad with Crab
The flavors on this Grilled Peach and Crab and Avocado Salad are so delicious! It's light and the perfect summer time meal. It's easy to throw together for a quick appetizer for a dinner party, or to serve as a light main dish.
This salad is grain-free, dairy-free, egg-free, and low-carb! That means this is the perfect allergy friendly salad for entertaining! If you need to leave out the crab for a seafood allergy, that's totally fine. You can substitute in extra grilled peaches or avocado to make it heartier.
Ingredients Needed:
Peaches
Arugula
Avocado
Red Onion
Crab Meat
Honey
Lime Juice
Cinnamon
Salt and Pepper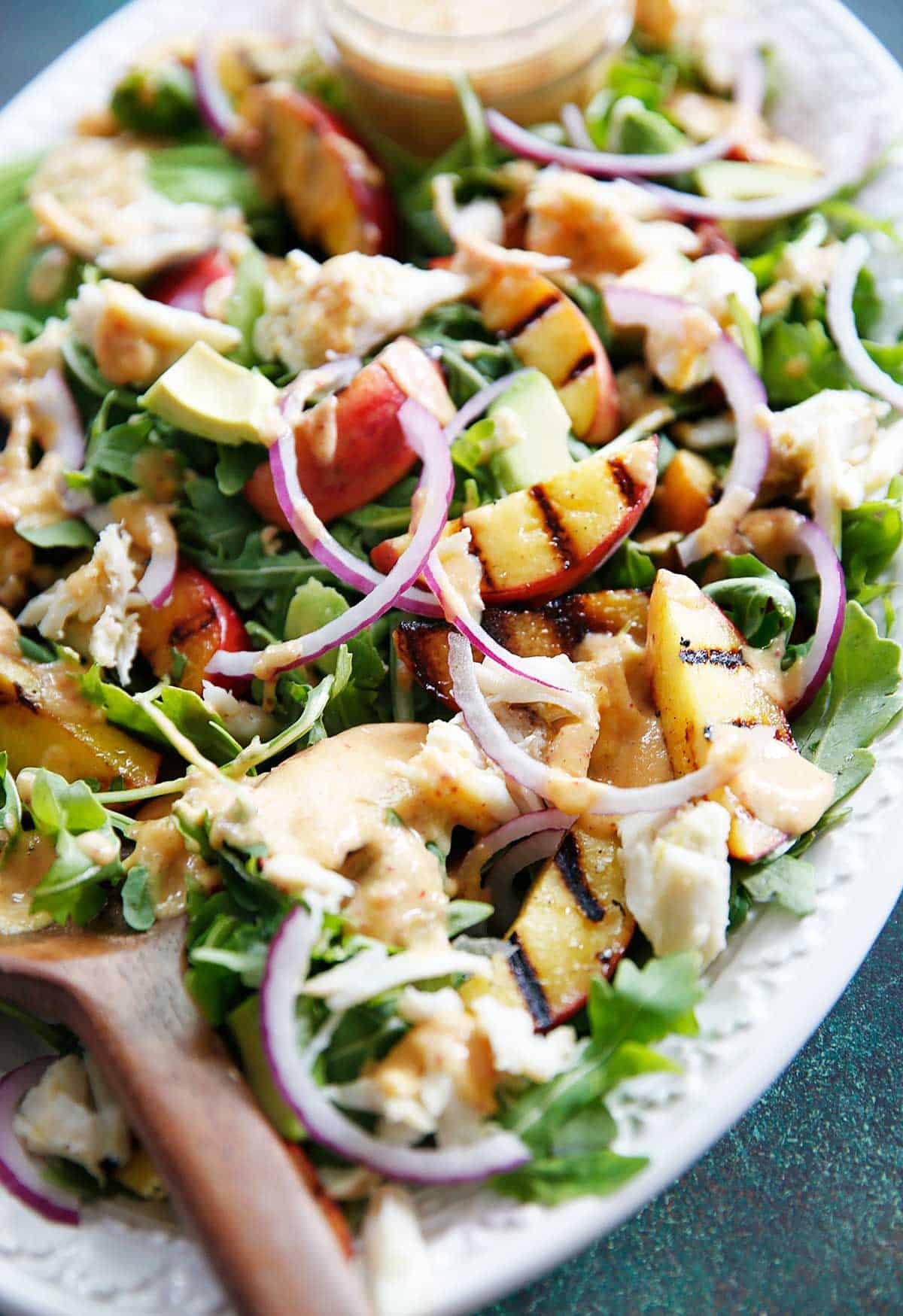 If you like this simple summer time dish, check out these others:
If you like this salad recipe, check out these others:
Grilled Peach, Avocado, and Crab Salad with Peach Dressing
This Homemade Strawberry Vinaigrette adds such delicious flavor to any salad. The combination of fresh, local, sweet strawberries with tangy balsamic vinaigrette is salad dressing perfection. This vegan salad dressing is also Paleo friendly and will be loved by all!
Strawberry Vinaigrette Recipe
This vinaigrette screams summertime! Made with fresh strawberries, tart balsamic vinegar and salt and fresh ground black pepper to round it all out it will be perfect for a spring or summer salad! I also like to use it as a marinade for chicken of for a tart and sweet dip for fruits or veggies.
It's a great way to use up all those fresh, ripe strawberries! They can be slightly overripe, just be sure to test a strawberry from your batch to make sure it tastes good on it's own.
How to use this Berry Vinaigrette:
It works well as a salad dressing when you want a little sweet with your savory salads
Use it as a marinade for chicken
Add to to fruit salad
Use it as a dip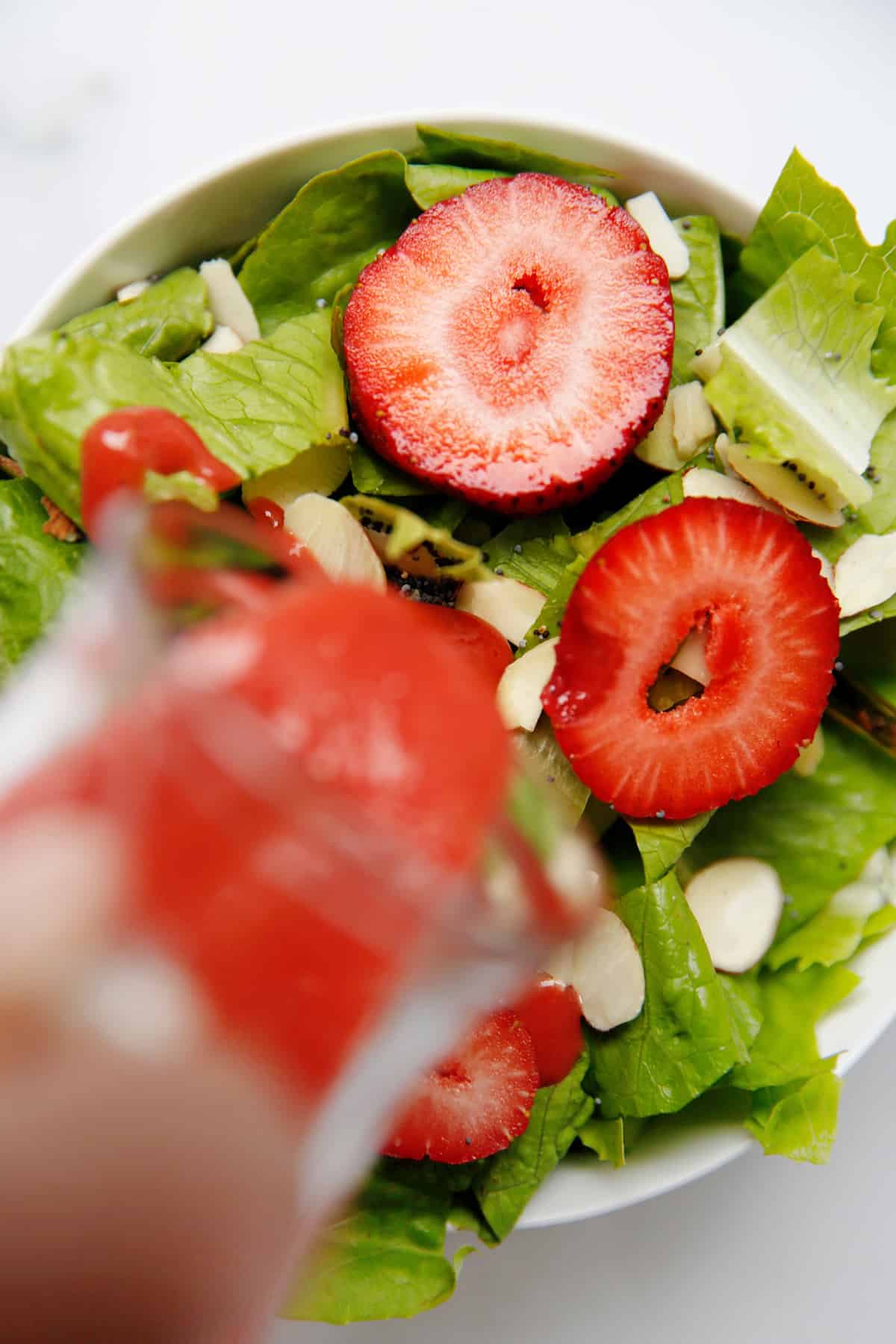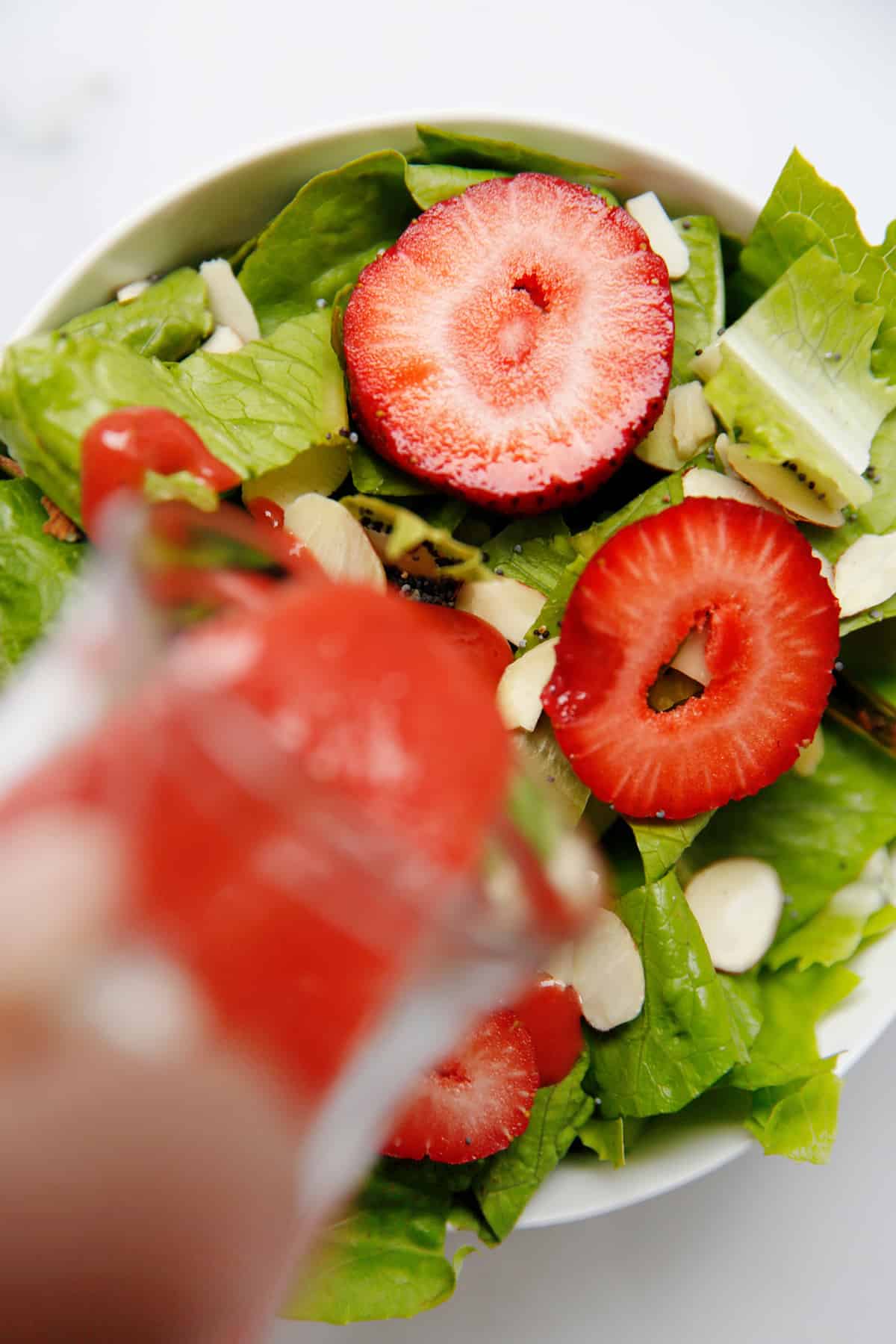 If you like this strawberry recipe, check out these others: