This Harvest Salad has all the ingredients you'll want in a Winter kale salad recipe! This healthy Harvest Salad recipe is packed with chopped kale, roasted kabocha squash, colorful pomegranate seeds, and toasted pecans. Tossed with a super delicious (and easy!) maple balsamic dressing, it's the perfect fall and winter salad. Filling and flavorful, everyone loves this delicious salad.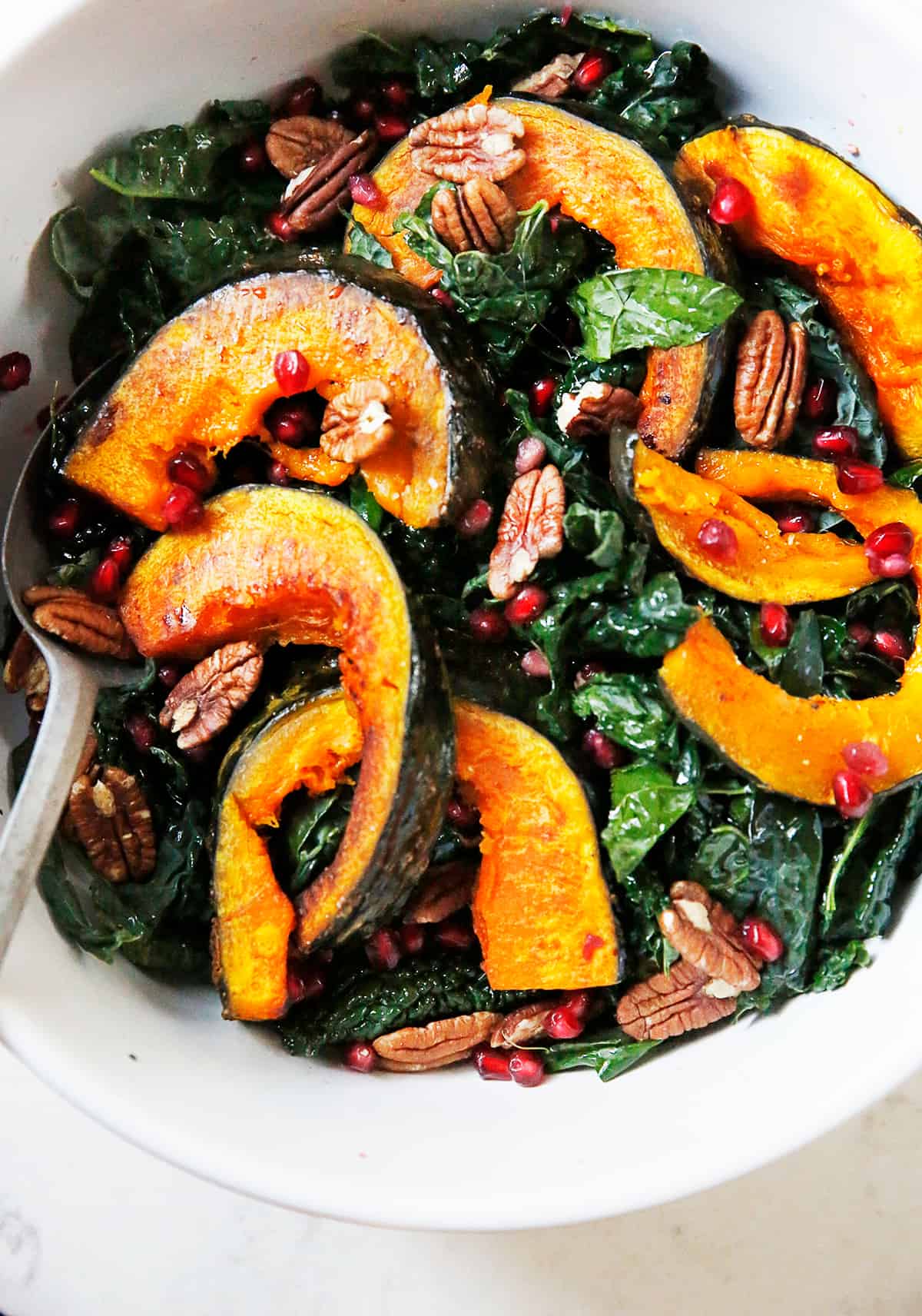 Harvest Salad with Maple Balsamic Dressing
With the change of seasons, comes a change in cravings. We crave meals that warm from the inside out. While comfort dishes have their place, I like to balance everything out with lighter fare. Enter: this Harvest Salad with Maple Balsamic Dressing recipe. It's one of my favorite salads of ALL time. We put the dressing on everything, and eat this salad almost weekly in the Fall and Winter months.
After a night of lots of yummy cookies, this kale salad saves the day. It's nutritious and hearty, and SO yummy. Best part is, you can prep the ingredients ahead of time. Throw it together for a last-minute, healthy meal! It's great as a holiday side dish, or a weeknight vegetarian option. Brimming with colorful ingredients and my favorite dressing, it's a delicious celebration of the harvest season.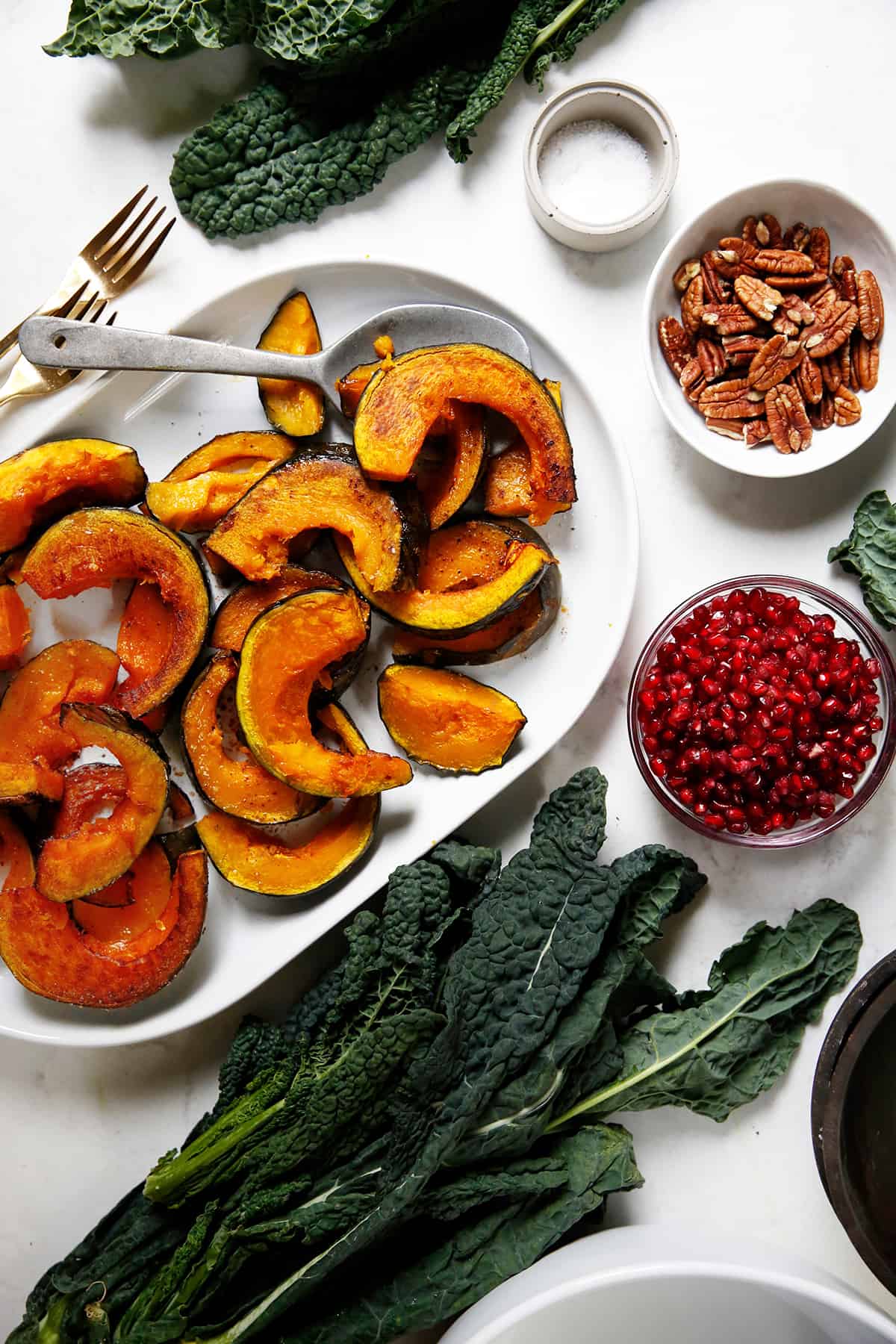 Ingredients Needed
Kale: For this harvest salad recipe, I prefer using dinosaur kale! Dinosaur kale—also known as lacinato kale or Tuscan kale—is less tough. It's always my first choice. No need for the ribs and stem. Remove those and chop it up super fine. Don't forget to massage your kale.
Kabocha Squash: Kabocha squash, also known as Japanese pumpkin, is perfect for roasting, stuffing, pureeing, and more. It's easily one of my favorite squashes. We have a guide on roasting kabocha squash, too!
Extra-Virgin Olive Oil: For massaging your kale!
Pecans: Toasted pecans take this harvest salad to the next level. Warm and crunchy, they're a must.
Pomegranate Seeds: In season during the fall, pomegranate seeds add bursts of flavor. They're also packed with antioxidants! You can also sub this out for dried cranberries!
Avocado oil: A neutral oil, it's key for my delicious maple balsamic dressing.
Balsamic vinegar: This richly flavored vinegar is the key to adding a mellow tartness to the dressing.
Dijon mustard: This is my salad dressing secret weapon. It keeps the oil and vinegar from separating.
Pure maple syrup: For a hint of sweetness!
Sea Salt: The best flavor enhancer.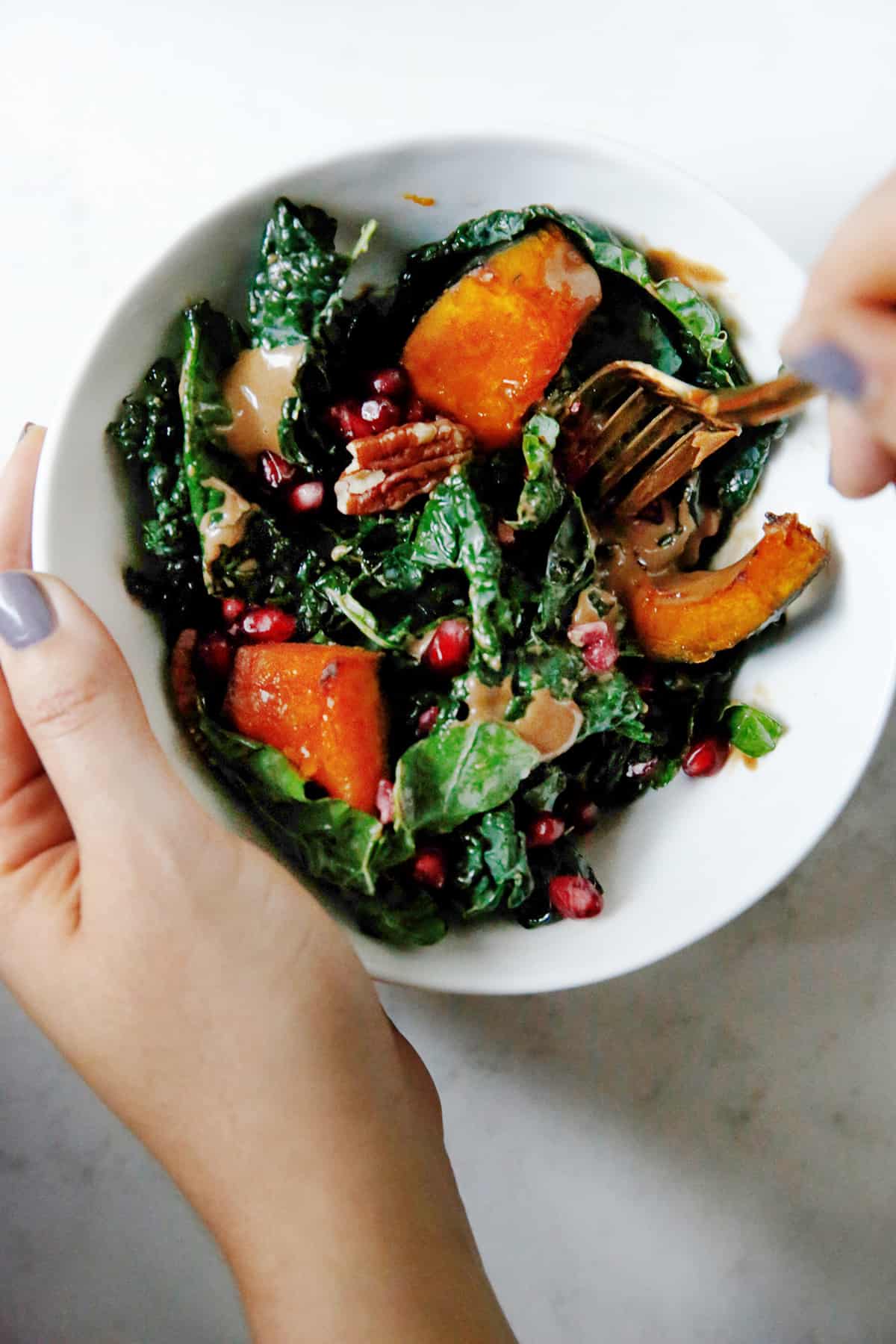 How to Customize Your Harvest Salad
Customize it with other add-ins/toppings:
Avocado
Pumpkin Seeds
Other Squash of Choice: Acorn, Delicata, Butternut, you name it!
Other Nuts of Choice (toasted or not): Slivered Almonds, Sliced Almonds, Walnuts, etc.
Add cheese: A cheese would work so well as a salty component to this harvest salad. Leave cheese out to keep this harvest salad vegan and dairy-free.
Feta Cheese
Goat Cheese
Sharp Cheddar
Gorgonzola Cheese
Shaved Parmesan
Manchego Cheese
Add a protein:
The Best Kale To Use
I recommend using dinosaur kale in this recipe. Also known as lacinato kale or Tuscan kale, in my opinion, dinosaur kale is way less tough than others! For kale salads especially, it's always my first choice.
How Do You Soften Kale For A Salad?
To prepare kale for a salad, massage the kale with oil and lemon for 1-3 minutes. Super easy.
Can I Sub The Kale For Another Green?
Yes, use any leafy green that you love! Arugula would add peppery undertones and spinach would make this salad more tender.
What Does Kabocha Squash Taste Like?
If you haven't heard of kabocha, it's a delicious Japanese squash. Flavor-wise, it's a cross between sweet potato and pumpkin. It has a fluffy texture, similar to chestnuts. Kabocha squash is packed with nutrients, like iron and vitamin C.
The Easiest Way To Open A Pomegranate
Much like kabocha, pomegranates require a bit of prep (unless you're buying them de-seeded from the grocery store). I promise, those juicy, vibrant seeds are worth the effort. Here's the best way to get them out of their shell:
Fill a large bowl with cool water.
Using a sharp knife, cut the pomegranate in half. Then in half again. You'll end up with quarters.
Submerge one of the quarters into the bowl of water. Using your thumb, gently nudge the seeds out of the skin.
Repeat with the remaining quarters.
Don't want to use pomegranate seeds?
No problem! You can also absolutely sub them out for dried cranberries or dried cherries! Yum!
The Best Maple Balsamic Dressing
I've been putting this salad dressing on EVERYTHING. Truly. It is my go-to salad dressing. Everyone loves it, and it is SO easy to make. You'll always want a jar of it in your fridge.
Can I Prep This Harvest Salad Ahead Of Time?
Yes! This salad is very meal prep-friendly.
Kale: You can massage your kale a few hours before serving or even the day before. I try to do it as close to serving as possible!
Kabocha Squash: Bake the kabocha squash ahead of time. I like to serve it warm, so pop it back in the oven for 5-10 minutes before serving. However, it can also be eaten cold.
Dressing: Make this a day or two ahead and store in the refrigerator. Dress the salad just before serving.
If you prefer to eat this salad with a protein (like chicken), go ahead and meal prep the protein too. That way, the meat can be heated up on its own. And of course, with most salads, you'll want to keep dressing separate. Add right before serving.
That said, be mindful of substitutions. An ingredient like sliced avocado isn't ideal for meal prep. Keeping all of this in mind, this salad will keep well for 3-5 in the refrigerator.
If you love this salad recipe, try some of our other popular salads:
Watch the video: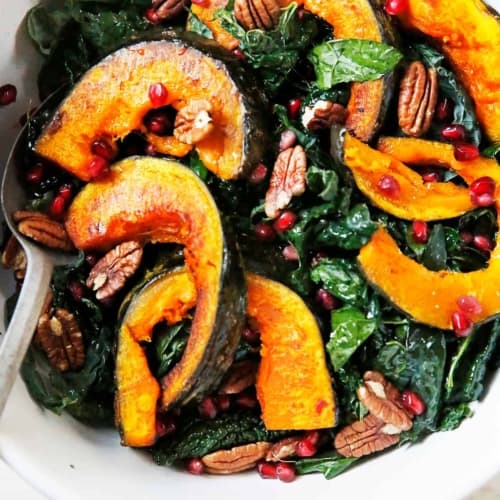 Harvest Salad with Maple Balsamic Dressing (Video)
This healthy Harvest Salad recipe is packed with chopped kale, roasted kabocha squash, colorful pomegranate seeds, and toasted pecans. Tossed with a super easy maple balsamic dressing, it's the perfect fall and winter salad.
Ingredients
Salad:
1

large kabocha squash

1-2

tablespoons

oil

1/2

teaspoon

fine sea salt

1/2

teaspoon

cinnamon

4

cups

dinosaur kale

chopped

1

cup

raw pecans

toasted

1/2

cup

pomegranate seeds
Maple Balsamic Dressing:
1/3

cup

avocado oil

1/4

cup

balsamic vinegar

2

teaspoons

dijon mustard

2

teaspoons

pure maple syrup

Pinch

of salt
Instructions
Roast the Squash: Preheat oven to 400°F and line a baking sheet with parchment paper. Slice kabocha squash into wedges or cubes and toss with oil, salt, and cinnamon. Place a lined baking sheet. Roast squash for roughly 20 minutes, or until fork tender. Remove and set aside.

Make the Dressing: In a blender combine all dressing ingredients and blend until smooth. If too thick, add more oil, 1 tablespoon at a time, or a bit of water.

Place pecans on a baking sheet and place in the oven for 5-7 minutes, tossing halfway through, watch to avoid burning.

Massage kale with olive oil for 1-2 minutes.

Assemble Your Harvest Salad: In a large bowl add kale, squash, pomegranate seeds, and toasted pecans. Top with dressing and toss to combine.
Nutrition
Serving:
4
g
Calories:
250
kcal
Carbohydrates:
44
g
Protein:
6.5
g
Fat:
6.4
g
Saturated Fat:
1.1
g
Sodium:
61
mg
Fiber:
8.7
g
Sugar:
23
g