Sriracha Lime Chicken Chopped Salad [VIDEO]
This Sriracha Lime Chicken Chopped Salad is bursting with flavor. Bold, zesty chicken and juicy sweet pineapple make this chopped salad one of our absolute favorites!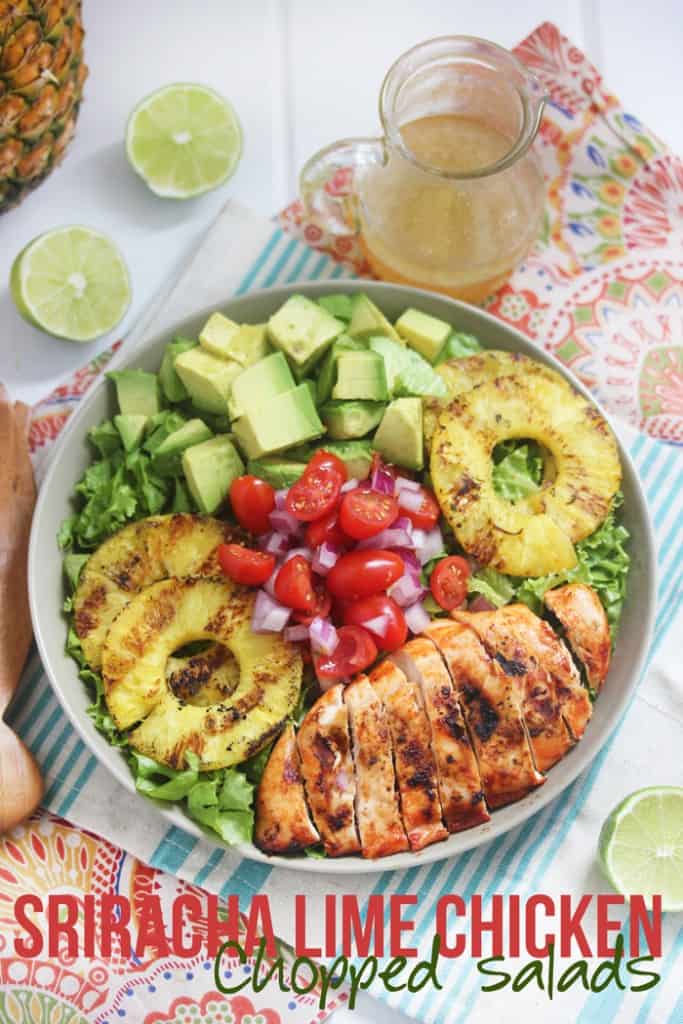 It is so hot here in Boston, and that's coming from the girl who was just visiting Florida in June. Wheeeew, hot. In leu, turning on the stove the past two nights wasn't quite in the cards. The grill was though, paired with this Sriracha Lime Chicken Chopped Salad that is just bursting with flavor.
Let's see what we got: spicy and bold chicken, sweet and juicy grilled pineapple, refreshing crisp local lettuce, local tomatoes, and finally, avocado. Count me in any day of the week. Oh, and don't forget the light and easy lime vinaigrette.

This salad is one of the most popular recipes on the blog, and for good reason! It's simple, flavorful, with a deliciously bold chicken!
A little spice, a little sweet, a perfect dinner! The Sriracha and lime together make for a fabulous marinade that comes together quickly!
Healthy, low-carb, and perfect for summer!

Sriracha Lime Chicken Chopped Salad
---
---
Directions
Heat the grill to medium heat.
Season chicken with salt and pepper. In a bowl or marinade dish, combine sirarcha and lime.
Add chicken and let marinade in the fridge for at least 20 minutes, the longer the better.
Once ready to cook, add chicken to the greased grill.
Cut pineapple using pineapple corer and add to grill, grill for 3-4 minutes on each side.
While they are grilling, chop lettuce, then chop avocado, tomato, and red onion and add to serving dish.
Whisk together dressing, taste, and adjust seasoning as desired (i.e. more lime, additional sea salt, additional vinegar)- place in fridge until ready to use.
Once chicken is done cooking, assemble the salad, toss with dressing and enjoy!
Recipe Notes
*Nutrition info per serving: 373 calories, 38 grams of protein, and 30 carbohydrates*
---
Nutrition
Loading nutrition data...
Subscribe to
Lexis Clean Living
Join our email list to get instant updates and weekly summaries of our top content and special exclusive offers along with our free clean eating kickstart guide!
This website may at times receive a small affiliate commission for products that we shared with you in our posts. Although we may receive a commission for linking certain products, there's no additional costs to you and all of our opinion and suggestions are 100% our own and unbiased. That's our promise to you!