This Sriracha Lime Grilled Chicken Salad is bursting with flavor. Spicy grilled chicken, sweet and juicy grilled pineapple, crisp lettuce, tomatoes, avocado, and a sweet and tangy lime vinaigrette.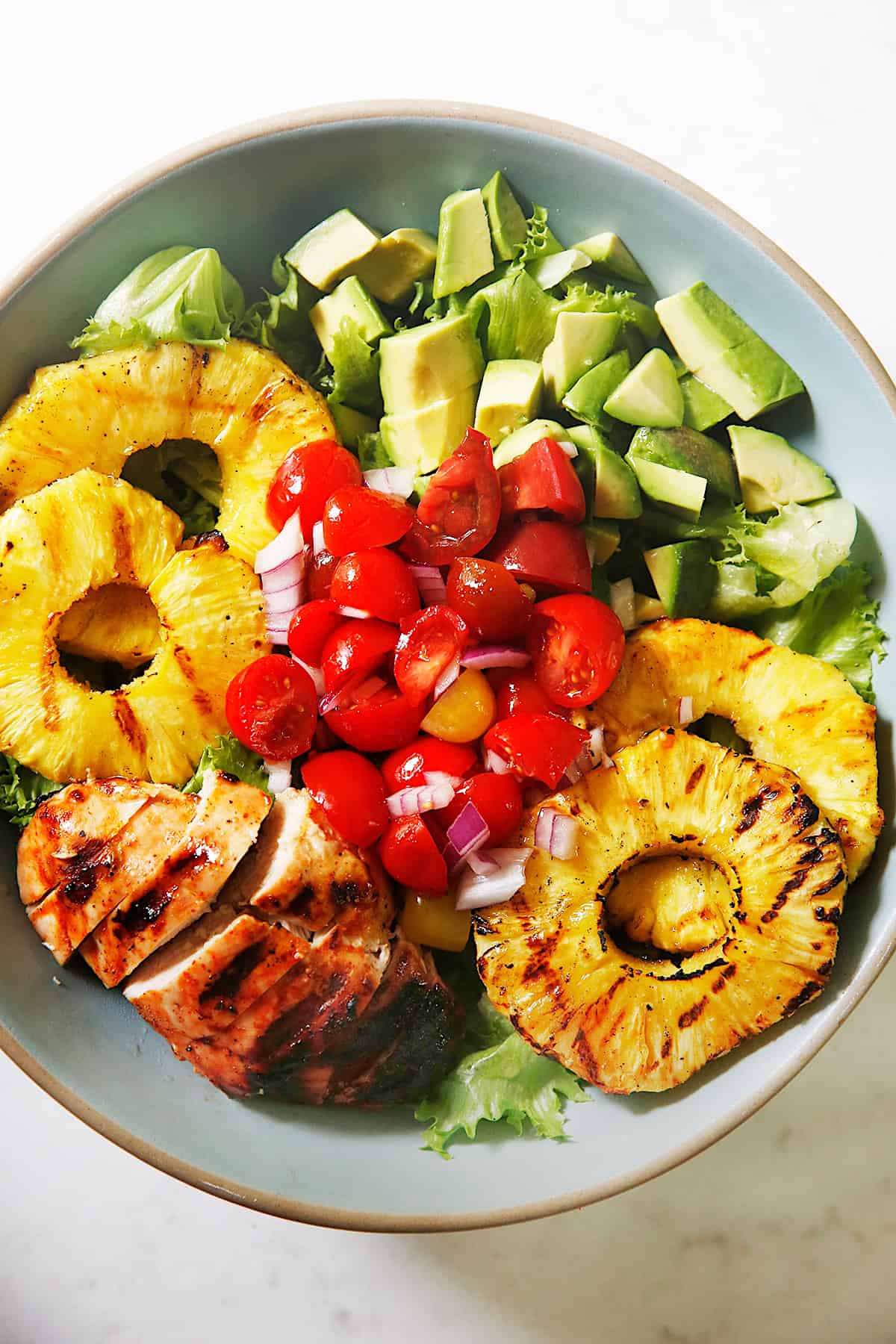 My Favorite Grilled Chicken Salad Recipe
This Sriracha Lime Chicken Salad Recipe is one of the most popular recipes on the blog since 2014, and the first viral recipe on LCK. And for good reason! It's simple, flavorful, and topped with deliciously bold grilled chicken.
A little spice, a little grilled sweetness… soft, crunchy, hot and cold…this salad is the perfect dinner with all the contrasting flavors and textures you could want! This grilled chicken salad is healthy, low-carb, and perfect for summer! It's loaded with fruits and veggies, lean protein from the chicken, and topped off with a simple, good-for-you dressing. Nothing bad here!
Ingredients Needed:
This grilled chicken salad recipe is packed with simple yet flavorful ingredients! Here's what you'll need:
Sriracha Lime Grilled Chicken
Chicken Breasts: you'll need 2 chicken breasts to serve 4 people with this delicious salad.
Sriracha and Lime Juice: you'll quickly marinate the chicken in a mixture of Sriracha and fresh lime juice to add flavor and make it more juicy and tender.
Salt and Pepper: season the chicken with salt and pepper before marinating to give it just the right amount of extra flavor.
The Rest of This Grilled Chicken Salad Recipe
Lettuce: just use your favorite lettuce! I like to chop it up so it incorporates well with all of the other fruits and veggies.
Pineapple: grilled for a sweet and smoky flavor and insanely juicy texture. I use a pineapple corer to make the slices just the right size.
Tomato: I use halved grape tomatoes.
Red Onion: since red onion has a pretty strong flavor, I recommend chopping it up pretty small so you don't get way too much in each bite.
Avocado: chopped avocado adds delicious creaminess and provides another source of healthy fat.
Quick Lime Vinaigrette: we're making a simple lime vinaigrette with olive oil, apple cider vinegar, lime juice, raw honey, and a sprinkle of sea salt.
How to Make a Great Grilled Chicken Salad
This Grilled Chicken Salad Recipe comes together in just 25 minutes! Just prep your ingredients, grill your chicken and pineapple, and mix everything up!
Marinate the chicken: Heat the grill to medium heat and season the chicken all over with salt and pepper. In a dish, mix sriracha and lime juice, then add in the chicken and marinate for 20 minutes minimum.
Grill: Grease the grill, then add the marinated chicken on. Cook until 165ºF. Meanwhile, cut the pineapple and add that to the grill as well. Cook for 3-4 minutes each side.
Prep the salad and dressing: Chop and dice the remaining salad ingredients and mix together all of the dressing ingredients.
Assemble and serve: Pull the chicken and pineapple off the grill, rest for a couple of minutes, then slice, assemble your salad, and dig in.
How Do You Make a Pineapple Ring Without a Corer?
A pineapple corer is a fun tool to have to cut pineapple, but honestly is a tad wasteful in that it takes off a lot of the pineapple meat! Here's how to make pineapple rings without one:
Cut off the top and bottom of your pineapple.
Cut off the green skin.
Cut into slices.
Use a tablespoon to scoop out the center piece in each slice!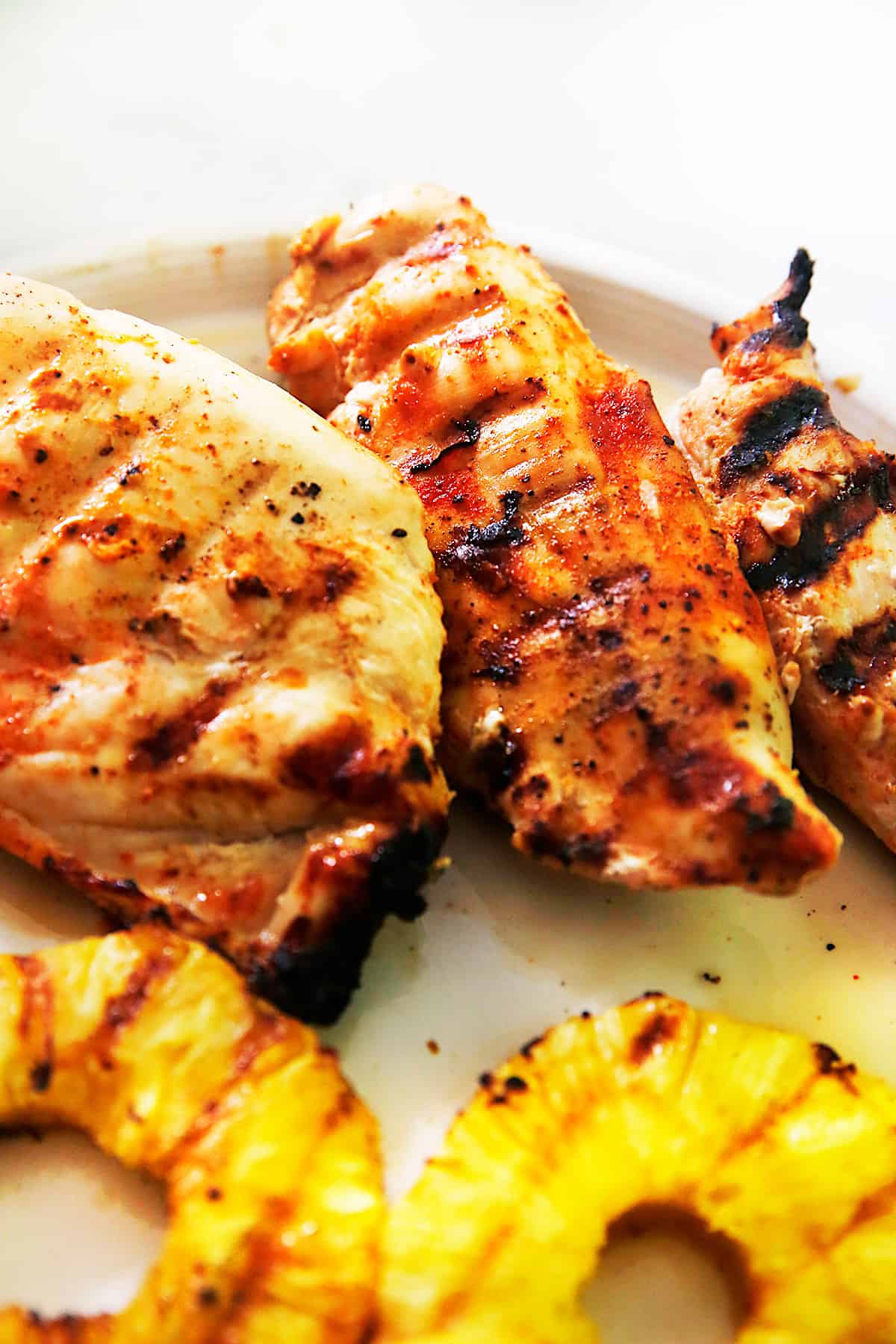 Do You Put Eggs in This Chicken Salad?
This grilled chicken salad recipe doesn't call for any eggs. BUT, you can totally add them if you want! Just whip up a batch of hard-boiled eggs, then peel and crumble them over the salad.
Tips and Notes for Sriracha Lime Chicken Salad
Marinating time: the chicken needs at least 20 minutes to marinate in the Sriracha and lime juice mixture, but if you have time to let it sit longer, do that. The longer it sits, the more flavorful and tender it will be.
Check the temp. Before pulling the chicken off of the grill, double check that the internal temperature is 165ºF.
Serve immediately. Once the chicken salad is fully assembled, it's best served right away so everything is nice and fresh.
Prep ahead of time. You can grill the chicken in advance and store it in the fridge for 3-4 days or in the freezer for 2-3 months. You can also make the dressing in advance and store it in the fridge for a couple of weeks. When you're ready to serve the salad, simply assemble as directed. Add the chicken cold or warm it up first.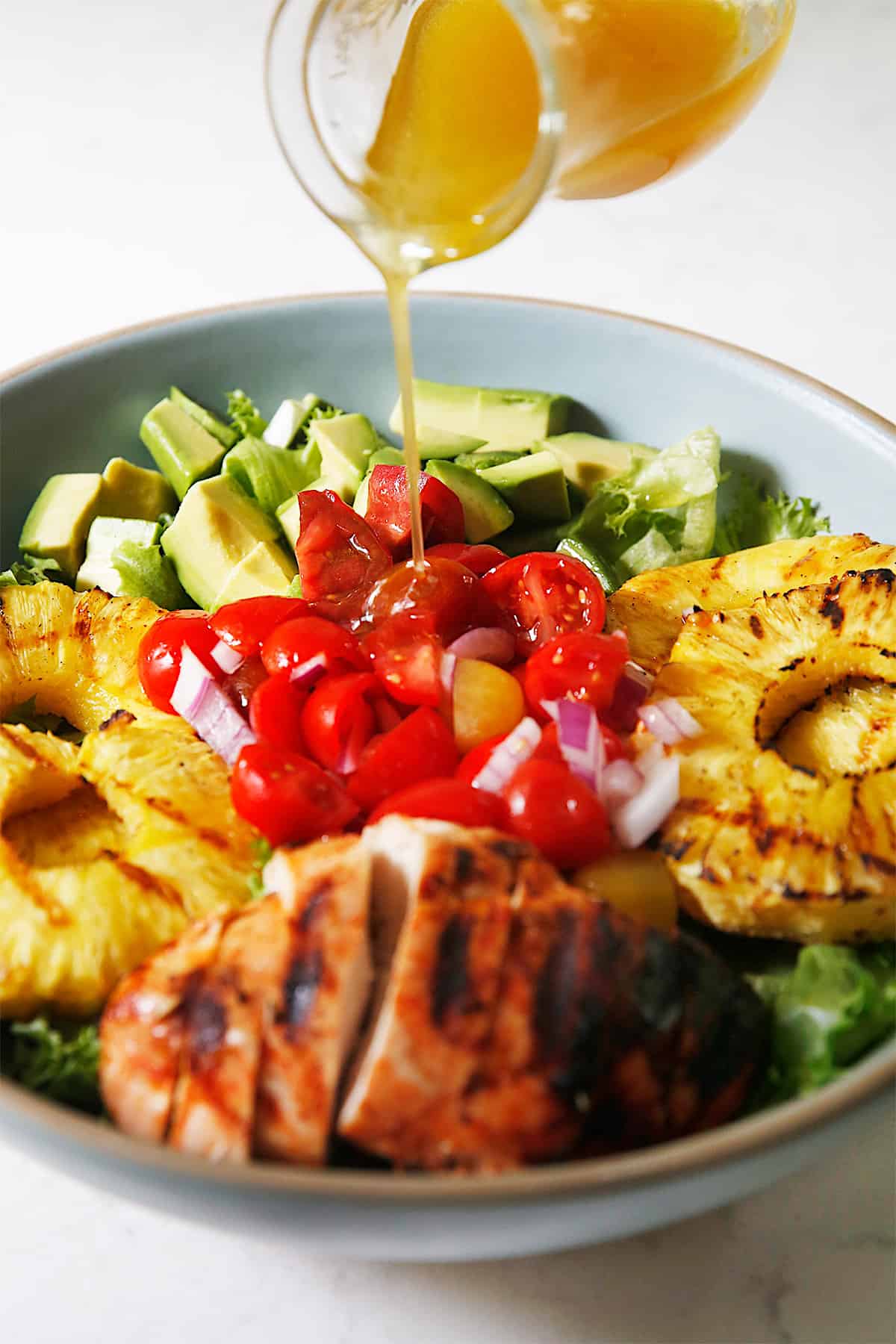 Can You Freeze It?
No. Unfortunately, you cannot. The texture of the fresh ingredients will not hold up well in the freezer. You can, however, freeze the chicken to thaw for the salad later on. It will last for 2-3 months!
How to Meal Prep a Salad
This salad is great to make for meal prep, with a few modifications. Meal prep this salad to have a separate container for the salad components and another for the chicken, that way the meat can be heated up on its own or eaten separately if desired.
And of course, with most salads, you'll want to keep dressing separate and add right before eating.
Just be careful about what salad components you choose. Obviously, something like sliced avocado will not keep well, so don't use something that won't keep well if intending to make this for meal prep.
Keeping all of this in mind, this salad will keep well for 3-5 in the refrigerator.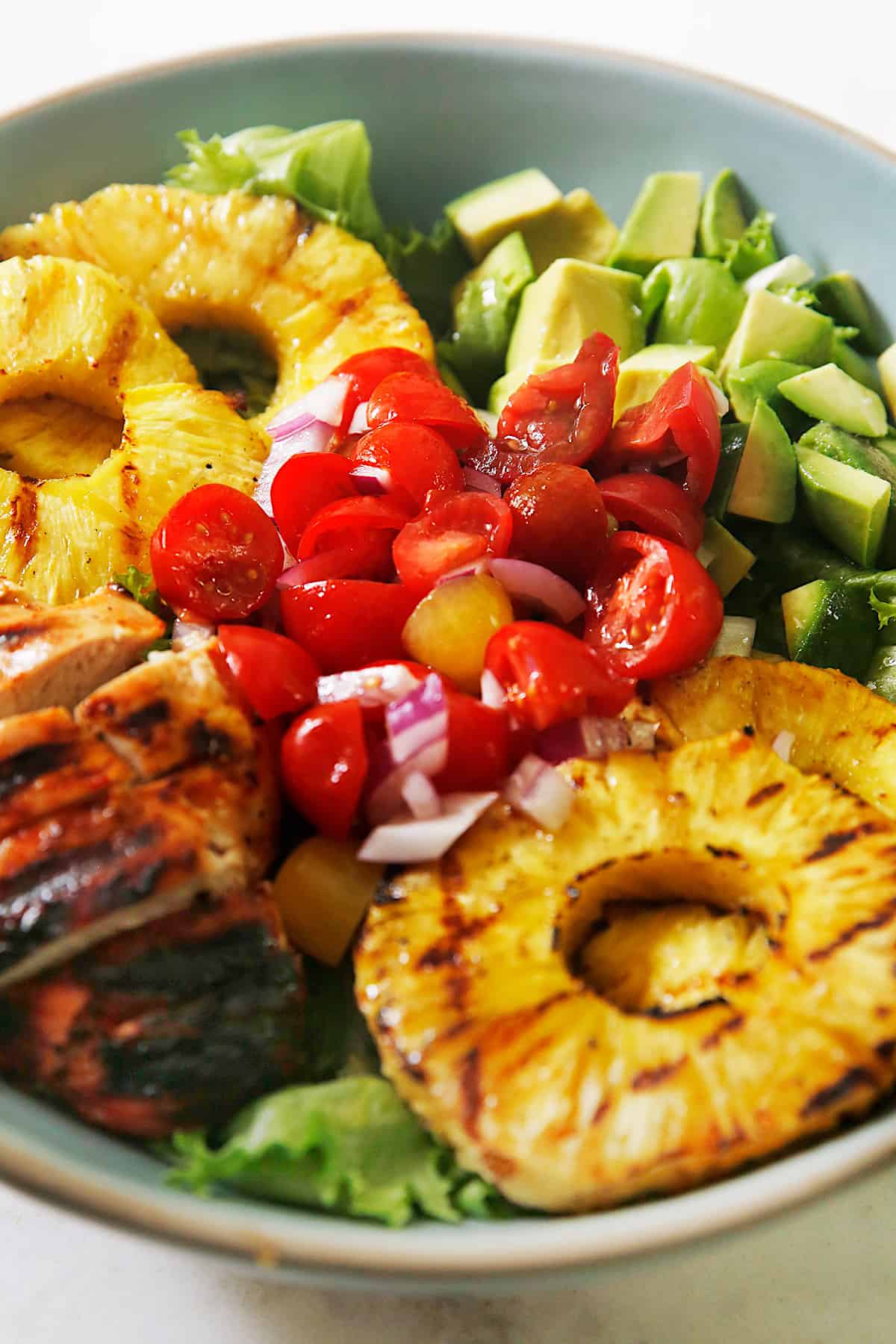 The Easiest Way to Meal Prep This Chopped Salad Recipe
The best way to make this for on-to-go meal prep? Make it a Mason Jar Salad! Mason jar salads are not just a trendy way to serve a salad! Because of the unique way of layering the salad vertically, it preserves the freshness of the salad for longer.
It's just about how to layer your ingredients. You want to layer your ingredients in terms of their moisture content, hardiness and density (as in–how heavy they are!).
Layer in the wettest ingredients first. And then in ascending order move all the way up factoring in how hardy an ingredient is (such as how absorbent they are) and how heavy they are.
More Fresh Summer Salads You'll Love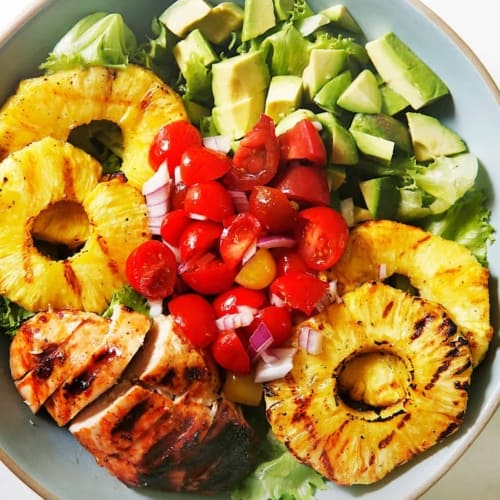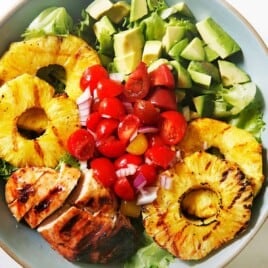 Sriracha Lime Grilled Chicken Salad
This Sriracha Lime Grilled Chicken Salad is bursting with flavor. Spicy grilled chicken, sweet and juicy grilled pineapple, crisp lettuce, tomatoes, avocado, and a sweet and tangy lime vinaigrette. 
Ingredients
Sriracha Lime Chicken:
2

chicken breasts

1 pound

3

tablespoons

sriracha

1

lime

juiced

1/4

teaspoon

fine sea salt

1/4

teaspoon

freshly ground pepper
Salad:
4

cups

lettuce

chopped

8

pineapple slices

using pineapple corer

1

cup

organic grape tomatoes

1/3

cup

red onion

finely chopped

1

avocado

cubed
Lime Vinaigrette:
1/3

cup

olive oil

1/4

cup

apple cider vinegar

2

limes

juiced

2

teaspoons

honey

Dash fine sea salt
Instructions
Heat the

grill

to medium heat.

Season chicken with salt and pepper. In a bowl or marinade dish, combine sirarcha and lime.

Add chicken and let marinade in the fridge for at least 20 minutes, the longer the better.

Once ready to cook, add chicken to the greased grill.

Cut pineapple into 1" rings using

pineapple corer

or the above method and add to grill, grill for 3-4 minutes on each side.

While they are grilling,

chop

lettuce, then chop avocado, tomato, and red onion and add to serving dish.

Whisk together dressing, taste, and adjust seasoning as desired (i.e. more lime, additional sea salt, additional vinegar)- place in fridge until ready to use.

Once chicken is done cooking, assemble the salad, toss with dressing and enjoy!
Notes
Nutrition info per serving: 373 calories, 38 grams of protein, and 30 carbohydrates*
Nutrition
Calories:
499
kcal
Carbohydrates:
20.9
g
Protein:
40.9
g
Fat:
29
g
Saturated Fat:
4.5
g
Cholesterol:
98
mg
Sodium:
346
mg
Fiber:
4.5
g
Sugar:
11.8
g